This is by far, the #1 question people ask us when we say we are about to leave to travel the world full time for 2 years. I totally get why. It sounds like a dream. How to save money to travel seems pretty obvious, and some of the advice we are about to give you are no-brainers. However, not a lot of people do any of it.
We hope you find this post useful and makes you think about the little things you can do every day in order to reach your savings goals. Whether it is for traveling full time or to buy a house. The earlier you start saving money, the better.
Estimated reading time: 18 minutes
Ready to learn how to save money to travel? Let's go!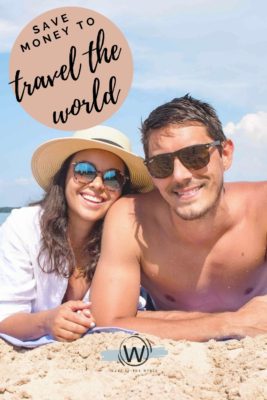 How it started for us
In 2017, we decided we wanted to live an alternative lifestyle and try to make a living while traveling the world full time. We read a lot about other people doing it and we thought that if they did it so could we.
For some reason, a lot of people assume we had really amazing, six figure jobs. We didn't. My last year blogging full time on Ways of Style was a good one, but most of our savings happened the first 2 years after we opened our savings account in October 2017. We had ZERO money back then, but we were highly motivated to make this dream a reality. Turns out, it's not about how much money you make, it's about how much you spend.
It wasn't clear that our goal of traveling the world full time was going to become a reality. Still, we started saving anyways because we were in our early thirties and had no money saved. Why? That's a story for a different day. Lets just say, our twenties were not the easiest decade for either one of us.
I wish I could share with you some kind of magic formula to save money, but truth is, there isn't. You just have to be careful where you spend your money on. Always ask yourself this question before swiping that credit card: Do I want short term or long term satisfaction?
How much does it cost to travel full time?
If your goal is to become a full time traveler, how much money you'll need depends on what type of traveler you are and the places you want to visit. According to our research, one year of full time traveling in a comfortable (not luxurious) way costs between $30,000 and $40,000. We've heard of people doing it with a lot less ($10-$15k a year!!), but again, it depends on how and where you travel.
For the most part, we will be staying in Airbnb's, hotels average $55/night and we prefer to save money in food because we try to eat healthy most of the time. However, we like to spend money on activities like scuba diving and booking local guides to support the communities we visit. These things add up. That's why you have to figure out what travel style is realistic to you.
After you set your budget, it's time to set some goals and work hard every day to make them happen.
How to save money to travel full time
Step 1 – How we started to save money to travel
We started by writing down all of our monthly expenses. This way we could easily see where our money was going month to month. We quickly realized that A LOT of our money was going towards eating out, taking a lot of shared rides instead of public transportation (we didn't have a car), shopping and random subscriptions.
Writing your monthly expenses is an annoying task, but if you multiply those $$$ for 12 months, you'll realize the crazy amount of money you spend each year on that 'harmless' $4 cup of coffee every day, or eating out 3 times a week or even that $8 Uber ride. For example:
Coffee: $4 Mon-Fri = $1,000/year
Eating out (with a couple drinks): $60 x 3 times/week = $9,200/year
Lunch at work: $10 Mon-Fri = $2,600/year
Ride sharing apps: $8 x 5 times/week = $2,064/year (we were taking more than 5 rides a week)
That's almost $15,000!!!!!
Write down your expenses and open your eyes to how much money your small, every day habits add up in a year. That's how you'll be able to really see how much money you could actually be saving to travel, or to buy that dream house, or to go on vacation once a year.
After you start making changes, keep tracking your expenses every month. It's the only way to actually see where your money is going and what you can do better.
Step 2 – Keep digging
Don't stop there. Yes, the obvious things will save you some money, but your lifestyle is what will determine the rest and this is the hardest part. You have to learn how to live well below your means. This is a very hard thing to do in the United States. There are so many things to have, Pinterest photos to recreate, things to do and places to eat, but again, ask yourself if you want long term or short term satisfaction.
Some of the things that helped us saved a lot money to travel full time
Creating a strict budget
We needed to save X amount of money each month, so everything else moved around that. Always put money in your savings account first and then work around what's remaining, not the other way around. Your savings accounts should always go first!
Saving $ on rent
We kept our tiny apartment in Chicago because rent was cheap. Moving somewhere nicer, meant at least $600 extra dollars a month, so we decided it was best to keep our eyes on the price (even though we were DYING to move out!). If you can have a have a roommate or move back in with your parents, then by all means go for it!! Saving on rent is huge and it will help you reach your goal so much faster.
Hello travel hacking!
Gordon became obsessed with travel hacking. We have almost 1,000,000 miles saved on our credit cards and we'll use those to book most of our plane tickets for year one. I promise, we'll share more about this subject later on.
Less date nights but more quality time
We only had one nice date night a month (sometimes none). I know this sounds silly, but whatever… we really like dating each other! We were going out/ordering like 3 times a week, so this was a major adjustment.
Our dates consisted of picnics, cooking together, walks in the park, playing tennis, cocktails at home, going to the beach, etc. It was kind of fun to get creative with this because it pushed us to try different things and we loved it!
Extra Jobs
Taking extra jobs here and there helped too. We did online surveys, completed tasks for a company called Dscout and I did a lot of babysitting jobs to save some extra cash. Every penny counts and those little babysitting jobs here and there payed over $6,000 in 3 years! That's a lot of extra cash!
Other small things that add up:
No shopping unless absolutely necessary.
We always had coffee at home.
Vacations were scarce. We traveled a couple times in the past 3 years, but most of our vacation days were spent in Florida, where we have where to stay (thank you G's parents!!). We tried to make the best out of it and enjoyed the beach and ate out a little more often than usual, but that was it. This was by far the hardest thing to do because we obviously love traveling! We also had issues with my green card (Aimara) and passport, so I couldn't leave the country, but that's a story for a different day.
We canceled our cable subscription and only kept Netflix.
Gordon brought his lunch to work every single day. He also had breakfast every day at home. Since I worked from home, all of my meals happened at home as well. When COVID-19 hit the US, we both started working from home permanently, so that helped too.
Being careful with Uber, Lyft, Via… any shared rides. We tried to walk and use public transportation for the most part.
I can't think of anything else we did to save money, but these were the main things. By itself, they don't seem like much, but trust us, when you put them together they start adding up… and fast! That's why you have to audit all of your expenses. This way you can clearly visualize where your money is going and can make adjustments on time.
Keep your eye on the prize. It will take some time (depending on your income), but the satisfaction when you quit your job and buy that first ticket is 100% worth it.
Step 3 – Where you keep you money matters.
Opening a savings account on Marcus.com helped a little bit because they have better interest rates than most banks (until 2020). We also open a couple of CD's (certified deposit accounts) to get a higher interest rate, but that meant we couldn't touch the money for at least a year, so keep that in mind.
Also, last year when the market crashed because of COVID-19, we invested some money in stocks and it really paid off. If we combine that, with the interest we earned from our savings accounts, I'd say we bought ourselves extra 5-6 months of traveling full time, which to me, is a lot! Although we do not intend to touch the money we invested in the stock market, it's nice to know we have some kind of backup if things go south after 2 years of traveling.
This is not a finance blog, but if you know the basics, you understand what we are talking about here.
Interested in more useful resources? We'll let you know when we publish the next one. Just leave your name and email below.
One last thing about how to save money to travel…
I know saving money is not an easy thing to do. For most people, saving money means a change in lifestyle and that can be very hard! At least that was the hardest part for us.
It meant saying NO to a lot of things we wanted to say YES to. We had to get creative at finding free stuff to do together. Everyone around us seemed to be living their dreamed life and doing what they wanted, so again, it was hard! It took a little bit longer for us to get there, but here we are… about to leave and spend all of our money on a business we don't know if it's going to work out, but hey, we saved the money for it!
Hard work and patience pays off. That's really all you need. Be willing to make sacrifices and be consistent. Keep it up. Everything adds up.
The most important thing is to be honest with yourself and have clear goals. Is it traveling or buying a house? Is it being debt free or retiring early? Name your goals, set a time frame, make a plan, execute it and stick to it. It is possible. If we did it, so can you. I promise there's nothing special about us.
Thanks so much for stopping by!
We hope this post inspires you to look at your finances and that it encourages you to start saving money for the things that matter to you. Don't hesitate to reach out if you have any questions 🙂 You can always leave a comment or message us on Instagram.
Sincerely,
Aimara & Gordon
Did you learn anything about how to save money to travel? Please pin it!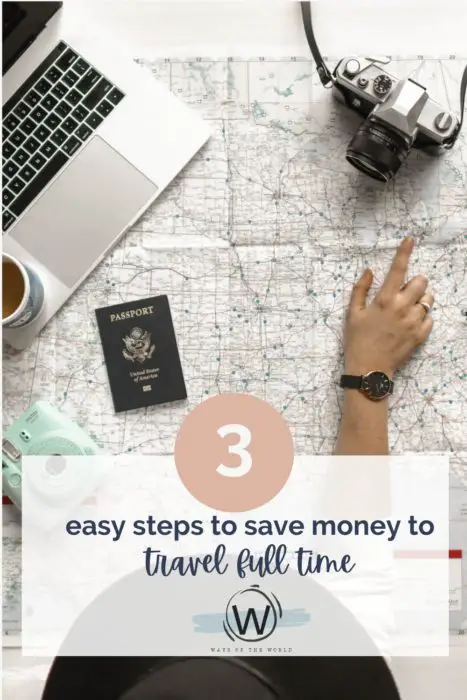 Related posts you may also like: