Somehow we can fit a lot in our medium sized bags. We travel with 2 suitcases and 2 backpacks. Packing light and smart makes traveling easier and it's important to know how to do it right, what to bring and what NOT.
I would have never imagined we would carry most of our belongings with us at all times, but it's been a lot easier than I thought it would be. We hope you find this post useful and if you have any questions do not hesitate to reach out. We are always happy to help!
Estimated reading time: 16 minutes
Disclaimer: *This post may contain affiliate links as we are part of Amazon's affiliate program which means we receive a commission if you shop for anything at no extra cost to you. We honestly appreciate you using our affiliate links and help us with our goal of turning our 2-year trip around the world into our full time jobs. So, thank you SO MUCH in advance 🙂
So, what's in our suitcases?
Essentials for travel photography & video equipment
Our cameras and accessories take a big chunk of our precious and limited space, but we fit most of that stuff in our gear backpack, which we use as a carry-on bag for safety reasons. We depend on all of this equipment to create content for this blog and YouTube channel, so we don't have a choice.
DSLR Camera: This is the camera we use to take most of our photos and B-roll videos. We rarely use it for daily vlogs because it's bigger and a lot heavier than our vlogging camera. We've had this DSLR for over 5 years and it still works great! These are the accessories we carry with it:
Vlogging Camera: We love this camera and also use it for a lot of our photos. It's small, easy to carry around and produces great quality footage. We got these accessories separately:

2 Extra batteries
Microphone (works on both cameras)
GoPro: We have a Hero 6 and a Hero 8. Obviously we like the 8 better, but the 6 it's good for now. These are all the GoPro accessories we use:

Underwater housing for Hero 6 (Go Pro's are water proof, but you need this if you go scuba diving)
Extra batteries (they both use the same ones)
Other accessories: Yes, there's more!
PS: We've listed ALL of our gear in our Amazon Store. It includes everything mentioned above, plus more things we add as we buy them. Check it out here!
Our suitcases, backpacks & packing cubes
Pro packing tip: Pack a separate packing cube into your backpack if you use it as a carry-on. Bags get lost or delayed, so it's very useful to have some basic toiletries, underwear and an outfit or two with you at all times. Trust us, we've been there.

You're welcome!
Essentials to stay healthy while on the road
Vitamins & supplements: Health comes first to us. We've always eaten super healthy and have taken all of our vitamins, however when we left for this trip, we had to narrow it down to just the basics because of space. Check them all out here (If you're too lazy to click on the list, this is what we bring with us: vitamin C, vitamin D, vitamin E, Maca and Diim).
Travel Pill Organizer: We are not animals. Obviously we organize all this stuff properly so they take the least amount of space.
Workout bands: We make sure to work out a few times a week and do our best to stay active while on the road. We rely on our workout bands for strength exercises when we don't have access to gyms.
Medicines & other health stuff: Shit happens. Literally. It's better to have this type of stuff with you and hope to never need it, than to find yourself in the middle of nowhere with a nasty rash, allergies, a fever or well, diarrhea… If you are going to travel full time, we strongly encourage you to take these basic things with you:

Imodium
Dramamine
Cortizone Ointment
Tylenol
Aleve
Insect repellant
Zyrtec (we both have allergies. Skip it if you don't)
Cystex (only if you are prone to these)
Sudafed (not a must, but G uses this before diving)

Reef safe mineral sunscreen: It's hard to find good sunscreen while you are traveling and if you do, it's not going to be cheap. What is good sunscreen? I don't want to get into explain it here, but make sure it's 2 things: mineral and ocean safe. We have this spray that we love for beach days and a fancy body lotion with SPF. And for our faces, we use this one.
Water bottles with filters: We are still getting used to how the water tastes with these filters. We try to only use them when necessary. When we don't need to, we simply remove the filters. We have this one and this one.
Travel essentials for digital nomads
Gotoob+ silicone travel bottles: These are not the cheapest, but God they are the best because you can squeeze the last drop! It's the little things when you're on the road full time. We use these for conditioner, additional body wash and body lotion.
Shampoo bar and body wash bar: This has been a game changer! Not only because it's the most sustainable option (no plastic waste!), but because it works. Who knew shampoo bars where a thing? We are putting together a blog post with all the sustainable travel essentials we use, so stay tuned for that! (We store them here)
Clear Toiletry Pouches: We bought this set of 6 thinking we would only use a couple and ended up using all 6 of them. They are great for your carry on bag because you can it take it out easily when scanning at the airport. You will look like a total travel pro! We also use a couple of these to keep things even more organized in our equipment backpack.
Laundry Sheets: These tiny things work wonders and take almost no space from your suitcase. They are definitely useful to have if you need to do laundry on the road.
Travel adaptor: Did you know every country has different plugs? Even though you can find these on airports and even local gift shops, we travel with these ones so we have one less thing to worry about.
VPN: We use this to keep our information safe while we work on different wifi networks. We definitely recommend having a VPN, even if you don't travel. (Sign up here)
Travel Insurance: Thankfully, we haven't had to use this, but we have it just in case.
Interested in more useful resources? Let us know and we'll send them your way!
I think that's it. We will do our best to keep this post updated with other travel essentials we discover while we continue to travel the world full-time, as well as items we get rid off along the way.
If you have any questions, don't hesitate to ask in the comments below or message us on Instagram.
Thanks so much for stopping by!
XO,
Aimara
If you think this packing list was useful, please share it on Pinterest!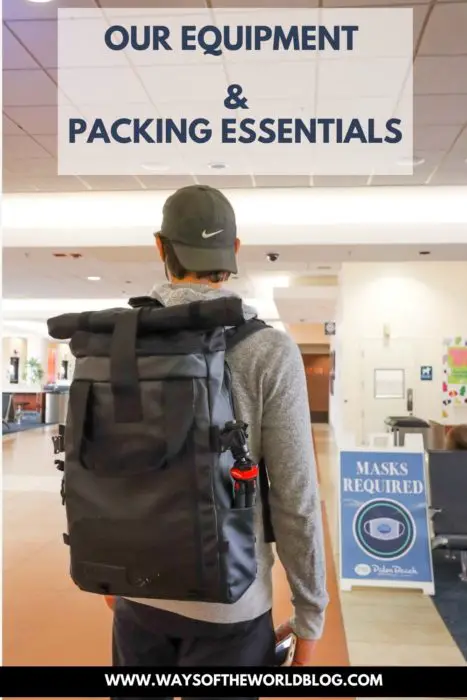 Related posts you may also like:
*This post may contain affiliate links as I am a part of Amazon's affiliate program which means I receive a commission if you shop for anything at no extra cost to you.