You'll find that there is no shortage of options when planning what to do in Dubrovnik. This little city on the sea has a lot to offer to the average visitor. But how do you know which Dubrovnik activities are worth it and which you can reconsider? Well, that's what we are here for.
We spent 8 nights in Dubrovnik and had an unforgettable trip. The activities were great, but also we had so much fun just slowing down and soaking in the Adriatic summer living. Below is our honest review of the most popular activities, and some unique ideas from our favorite experiences to help you have an unforgettable vacation. Our advice is to pick a few of the activities featured in this blog post, and save enough time for slowing down. We hope this helps you to plan your trip!
Find Out What to do in Dubrovnik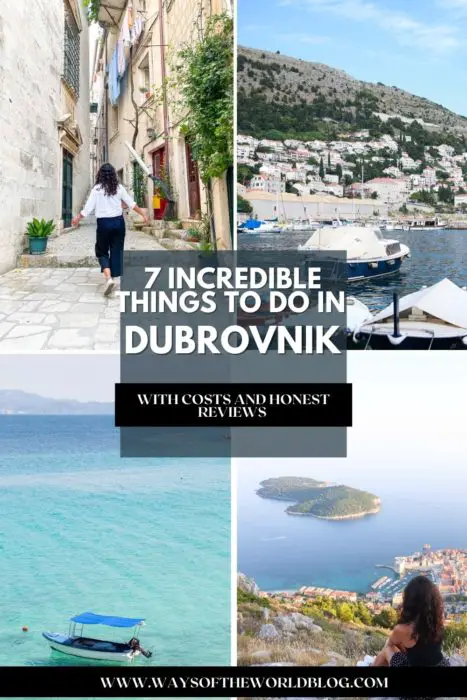 Estimated reading time: 17 minutes
WHAT TO DO in Dubrovnik
#1 Get Lost in Dubrovnik Old City
Price: Totally free!
Hours: 24 hours – people live here, so they never close the gates to Dubrovnik's old city
Time needed: We visited almost daily, because that's what you do here. If you want to capture everything in one visit, then probably 3-4 hours is enough the see all the landmarks, wander through the alleyways and take your pictures for the gram.
Ways of the World (WOTW) rating: 5/5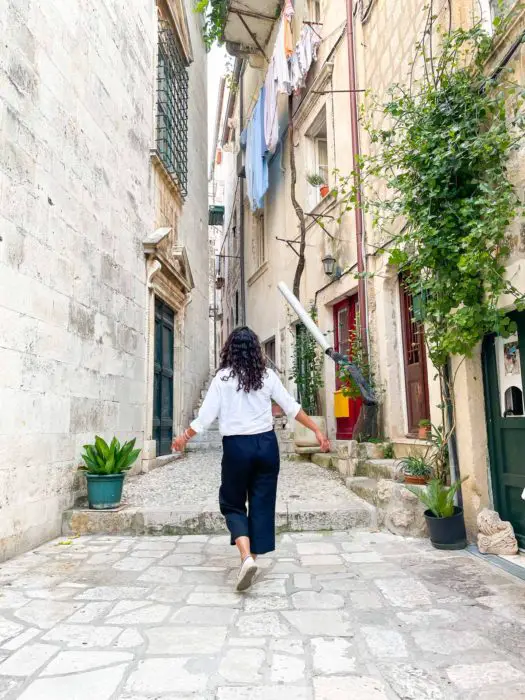 The first activity on the list is easy – just walk yourself into Dubrovnik's old city and allow yourself to get a little lost. In addition to being easy, it is also free to do. The old city is open to everyone, and because people still live within the city walls, it doesn't close to visitors. Wandering through the picturesque alleyways is a wonderful way to spend several hours and it's easily a highlight of any Dubrovnik visit.
If you read our other Dubrovnik post, you know that a downside of visiting Dubrovnik can be the large crowds and hot weather in the popular summer months. Walking through the Dubrovnik old city at sunrise will make it feel like the city is your own, and it is a great way to see how the locals wake-up and go about their daily lives. If you are looking for photo opportunities the morning is a great way to avoid crowds and (some) of that summer heat.
Note: Sunrise in July is around 5:30 am. This is obviously pretty early, so don't plan your early wake-up after cocktail night.
#2 Walk the Dubrovnik City Walls
Price: Adults: 200 Kunas (about $31 US) Children: 50 Kunas (about $8 US) Children under 7: free
Hours: 8 am-7:30 pm June/July; 8 am-6:30 pm April/May & August September; 8 am-5:30 pm October; 8 am-3 pm November-March
Time needed: 1-3 hours, depending on how busy and how many pictures you like to take
WOTW: 4/5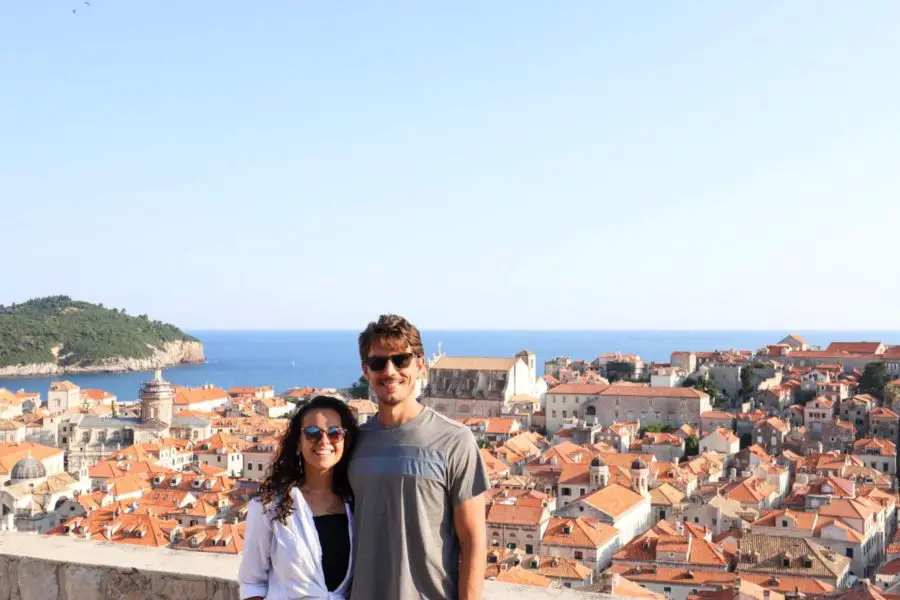 The most popular of the Dubrovnik activities is walking the city walls. While technically inside the old-city, walking on the walls that outline the historic center is listed separately, because well, it's not free. The city must make an absolute killing from these entrance fees because it's easily the most popular thing to do, and it isn't exactly cheap at about $31 US per person. But the revenues appear to be put to good use considering how clean and manicured Dubrovnik is.
Note: the city walls are a wonderful way to observe the old city from above, and it is definitely the top activity people think about doing when visiting Dubrovnik. But there are so many things to do here, so if you need to be selective, our opinion is that you don't miss out on the Dubrovnik experience if you decide that paying $31 to see people jousting with their selfie sticks is not for you. Walking the city walls might be a game-time decision after observing how busy it is and the temperature. Even at around 6 pm our walk was a very sweat endeavor.
WOTW tip: go later in the day, as it seems to be less crowded. Also check cruise schedules, if there is a cruise ship in port, skip the city walls for that day.
#3 Visit Dubrovnik Beaches!
Price: Free to go; $16 for lounger and umbrella combo
Hours: N/A
Time needed: N/A
WOTW rating: 5/5
There are several Dubrovnik beaches easily accessible from the center of town. Amenities like beach umbrellas and lounge chairs are often available for a fee. This is great because not having shade during the Croatian summer will make you regret your life choices for the rest of your trip.
Aimara and I love the beach, so hitting the Dubrovnik beaches was a refreshing and cheap way to enjoy the easy Mediterranean living (is it still Mediterranean if it's the Adriatic? I don't know…) Note that plaža means beach in Croatian – it's pronounced sorta similarly to playa in Spanish.
Plaža Banje:
The Dubrovnik beach closest to town is Plaža Banje. Being so close to active old city ensures that this beach definitely gets crowded. There is a bar/restaurant directly on the beach, and the vibe gets more festive towards sun-down. If you are looking for more party vibes, this is a good place to go! After 10 am the fee for a lounger and umbrella is 100 Kuna (about $16 US).
Plaža Divovici:
This beach was very close to our apartment, and we used to to cool off after sweaty days wandering through the old city. There are no amenities, and no sand, so you could argue the beach label. There are some places to lay down your things and hang out, but the main idea here is to jump into the beautiful Adriatic for a refreshing swim.
This beach does not get crowded and seems to be a bit of a hidden gem. Or maybe most people prefer to lay on sand versus rock. We came here 3 times because we loved the views of the city and having a more chill place to relax and cool off.
Plaža Sveti Jackov (Sweaty Jacob Beach – get it?) JK (:
From the Dubrovnik beaches we visited, this one is in our opinion the best all around. The water is crystal clear, there are beautiful views of the Dubrovnik old city, there are amenities, including a small bar/restaurant, showers, and you can rent beach umbrellas and loungers. Beach umbrellas were 50 kunas ($8 USD) for the day.
All these beaches are on the east side of town (Ploce), which is where we were based. We heard from locals that if you are staying on the opposite side of the old city that there are several beaches in Lapad worth visiting. These are a quick 10 minute Uber from the center of town.
PS: one of the most beautiful beaches we've ever visited is located about 2.5 hours from Dubrovnik. More details below. Trust us, it's 100% worth it.
#4 The Dubrovnik Cable Cars: Maybe Not?
Price: Adult one-way: 90 Kunas (about $14 US) , Adult round-trip: 170 Kunas (about $27 US), Children: 50 Kunas (about $8 US), Children under 4: free – You can book online, but really don't need to. But if you really want to here's the link.
Hours: 8 am-7:30 pm June/July; 8 am-6:30 pm April/May & August September; 8 am-5:30 pm October; 8 am-3 pm November-March
Time needed: 4 minutes to the top – don't blink. And some minutes waiting in line. Time to soak in the view from the top 15-60 minutes depending if your style and picture-taking requirements.
WOTW rating: 2/5 (let us explain why)
Another popular option when planning what to do in Dubrovnik is taking the cable cars for the amazing views for the top of the mountain. The cable cars go up from the the east side of the old city (Ploce), and are easy to find. Heads-up, the ride is pretty quick. Aimara and I were having a conversation and barely looked outside, before we knew it the ride was over.
While the cable cars are not one of the essential things to do in Dubrovnik Croatia, witnessing the view from the top of the mountain is. There is an upscale restaurant at the top near the cable-cars which can be a great place to grab a nice drink or meal. If you are into finding the perfect photo, just wander to either side of the building to see beautiful views with decent places to set up your camera. If you walk west of the building past the museum you should have some amazing views of the sunset over the many islands that dot the coast.
From the top of the mountain you can also walk down to a restaurant that serves Croatian food using a traditional cooking method using an iron bell covered with wood embers. It is a little touristy, but delicious and super fun. You should definitely consider the 20 minute walk down the hill to Konoba Dubrava.
Pro-tip: Don't talk on the way up. In fairness, a beautiful view is always nice, but weighed against what we thought was a steep price, we don't think the cable cars are a 'must' do. Ubers and taxis easily take you to the same spot for a more reasonable fee.
#5 Take a Day Trip From Dubrovnik
Price: In total we spent about $200 – most of which went to a last minute car rental and gas.
Hours: N/A
Time needed: 10-15 hours (it's a long day!)
WOTW rating: 5/5
Our favorite activity from our visit was a packed day trip from Dubrovnik to the Pelješac peninsula. Pelješac is a renowned and accessible wine region near Dubrovnik. Because wine is great, and because visiting wineries somehow feels like a cultural experience, we felt like this was a great way to go outside of Dubrovnik and experience some other Croatian gems.
Here is our full itinerary from that day:
Note: we left Dubrovnik around 9:30 am and returned around 11 pm.
Stop 1: Cappuccino Break in Ston
First stop – Ston Croatia. Stony is a tiny historic city known for two things, crab cakes and football. Wait, no – oysters and the second longest preserved fortification system in the world, behind the Great Wall of China. Ston is a nice little town to wander around for a bit, with a number of cafes and restaurants to sit outside and take in the slow pace of life here. We stopped for cappuccinos, and they were delicious after a week of Nescafe, but most would stop here for oysters. Oysters from this region are considered the best in the world, but being that we were here in the morning, oysters seemed aggressive.
You can hike the great wall of Croatia, and surely it seems like a lovely thing to do, but if it's summer time you might have want to think twice before we commit. Again, due to aforementioned sweat. So we passed on this delight to move to the star of the show…
Stop 2: Plaža Divina – Is This Real Life?
Dubrovnik beaches are no doubt beautiful in their own regard, but Plaža Divina tops them ALL.
From Ston, you continue through the Pelješac peninsula driving pass the different wineries through winding roads that were curvy enough to give us both some first-time car sickness. No puke though! After about an hours drive that included some beautiful views of the sea from the mountains, we arrived to Divine beach. It was oh so divine.
Plaža Divina is not totally hidden, but it definitely felt like more local tourists come here. The water is again crystal clear and the backdrop is stunning. There are mountains in view from all sides, and it just feels like a secret paradise for us non-locals.
Shade is limited, so bonus points if you have a beach umbrella. They were renting paddle boards, but nothing else. There is also a tiny restaurant serving hamburgers, hot dogs, sandwiches and sausages – all for around $4 US. The also serve up some unknown cocktails like the Stinger and Caribbean Delight, but we overcame the temptation. Croatian wine was in the forecast.
Stop 3: Croatian Wine! – Girgić Vina Vineyard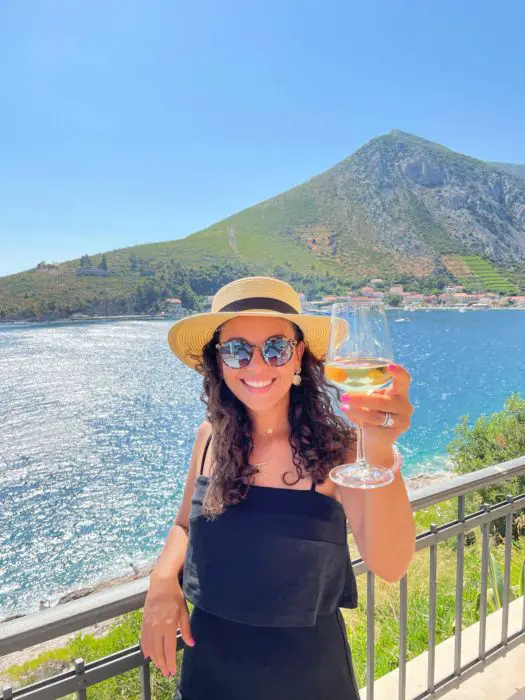 I didn't do a great job of recording our planned itinerary for this day, and remembered the name of this stop as the Jerry Gergich winery. That's a Parks & Rec reference, so it will only be moderately amusing to those familiar with the show. Anyways, this was a great place for us to try some refreshing Croatian white wines and enjoy some spectacular views, all while feeling cultured as hell.
The winery sits on-top of an impressive cliff with beautiful views of the water and mountains. They serve red and white wines (yes, that's the extent of the wine description), and typically they would serve food here, but because of Covid, things were slow and the full kitchen wasn't open. So we just munched on their palate cleansing crackers for a snack. Also, bonus points for the staff here being super fun to chat with.
Hours: The winery is open 9 am. They were still open beyond official closing times, so it likely depends on how busy it is.
Stop 4: Short Visit Down the Road to Tristenik
Tristenik is a tiny little fishing village 10 minutes down the mountain from Girgić Vina. This is a cute little town that is fun to take in for a bit. It is well set-up with outdoor restaurants catering to visitors, but also has a nice local feel to it. Think old- people-sitting-outside-ice-cream-shops-gossiping kind of local. It was definitely worth it to pop in and take a short stroll around town. And if you have the wine munchies you definitely would find some food options here.
Stop 5: Visiting Cavtat – Did We End Up in Monaco?
Cavtat is about 30 minutes south-east of Dubrovnik. So we had to pass Dubrovnik to get here. But since we only had the car for one day, we decided to make the drive during our day trip from Dubrovnik. Cavtat is definitely worth a visit unless your all self-conscious about not owning a super yacht. Besides for being a bit fancy, it is also a very beautiful place that's perfect for some sun-set drinks.
Despite having a fancy vibe, it's also possible to witness some local life happening. If you are lucky like we were, you might see the local kids waterpolo team playing a match during sunset. It was a beautiful setting.
For dinner we stepped away from the core of the town to the end of the marina for some pizza. If you end up at Desteka Pizzeria, the small pizza is enough for 2. We ordered two smalls, and granted we both almost finished them because it's pizza, but realistically sharing one is totally legit.
Interestingly, the large pizza is the same size as the small, only with more toppings. And more interestingly, they will ask if you want ketchup and mayonnaise with your pizza because apparently these are used as dipping sauces for the crust. The waitress gave us a disappointed look when we declined this option.
Note: paid parking is available in Cavtat in a giant lot. Turn right at the end of the street as you arrive at the town and really can't miss it. It is cash only.
#6 Renting Kayaks
Price: $30 for a basic tour OR $65 for a full-day guided tour with different activities
Hours: Depending on the tour, they start as early as 8 am, and are available until sunset.
Time needed: 2.5 – 8 hrs
WOTW rating: N/A
Kayak rentals from the old city are abundant, and you can either go with a guide or rent one for yourself. From the old city you can constantly see groups kayaking around Lokrum island and getting awkwardly close to the different yachts parked in the channel. Most tours last 2 hours and go around the island and stop at a small cave beach. There is also a popular sunset tour where it looked like you eventually just bobbed around in the water waiting for the sun to hide behind the city walls. I'm sure it's a nice view from out there, but it didn't seem super exciting to just be sitting there in my humble opinion.
We really enjoy kayaking, and searched far and wide for a tour with a little more to offer. We booked a half-day tour with Outdoor Croatia that would have taken us to a different group of islands and included a stop in old fishing towns. Unfortunately we had to cancel last minute due to a change in itinerary as a result of a lack of guides. This was all Covid related, and from our perspective, excusable. Everyone is trying to do their best to manage during these times. The company and excursions seem to get great reviews, and are likely a better option if you are looking for more unique experiences in Dubrovnik. Their website is wonky – if you are having trouble you can also find their tours on Trip Advisor.
#7 Take the Ferry to Lokrum
Price: Admission fees for Lokrum is 96 kunas (around $15 USD). The official ferry will have the fee built into their price, which is officially 200 kunas (around $31 USD), but there are several operators so you could find something slightly cheaper. The price for children 5-15 is 50 kunas (around $8 USD)
Hours: The first boat leaves at 10:15 am. The last boat returns at 7:30 pm
Time needed: 2-4 hours in Lokrum; ferry takes around 15 minutes
WOTW rating: N/A
Lokrum is a small island visible from the east side of Dubrovnik . It's only a few hundred yards from the mainland and it becomes a familiar sight when visiting Dubrovnik. Visiting Lokrum is easily one of the more popular Dubrovnik activities. The island has beaches and walking trails through pine forest that you can take up to a little fort where you will have beautiful views of the city. There is also a botanical garden and old monastery to check out.
In full transparency – we hit the skip button on Lokrum. After looking into it, it seemed like a lovely place, but we decided it wasn't for us. It seems that much of the popularity is because of it's convenience, so if you only have a few days and prefer to have your days filled with activities, then it could be an easy thing to add to the mix. But in our opinion many of the things to do in Lokrum are also available on the mainland side, so we decided to opt out.
Final thoughts
Dubrovnik far surpassed our expectations. In full transparency though, I do tend to get discouraged when places are overwhelmingly crowded, so maybe I would have had another perspective during any 'normal' summer. Also, over-tourism has been an issue in Dubrovnik during pre-pandemic years. So while we encourage you to visit this beautiful part of the world and experience all the activities mentioned above, consider coming outside the high-season to maximize your experience.
Also, make sure to take the time to just relax and enjoy the Adriatic lifestyle. We spent some amazing afternoons with local wines and charcuterie that we picked up from the supermarket and just found some relaxing spots to take it all in. There are several parks throughout the city where you can create your own little picnic, and we highly recommend doing something like this.
If you have any questions please add them to the comments below or shot us a message via Instagram. If these Dubrovnik activities motivate you to plan a trip to this beautiful part of the world, be sure to read our other blog post which goes over everything you need to know about visiting Dubrovnik.
Thanks!
G
Liked this post about what to do in Dubrovnik? Please share it on Pinterest!
Other posts to read next: