Dubrovnik is by no means a hidden gem. Yes it can be crowded, and yes there are souvenir shops targeting the summer cruise-ship and Game of Thrones crowds. But guess what, like all places that attract large crowds of tourists, there is a reason why visiting Dubrovnik is so popular – it is stunningly beautiful!
Get lost through the narrow alleyways that are still home to locals going about their daily lives. Marvel at the clear turquoise water and dramatic cliffs that run up and down the coast. Slow down at the end of the day to enjoy sunsets that paint the sky pink behind the ancient city. Simply embrace the Southern-European living.
We consider ourselves very lucky because we visited this beautiful ancient city in July 2021. Europe had just re-opened for tourism and we got to experience Dubrovnik with hardly any crowds. Our time there was filled with long walks getting lost inside the city walls, lounging by and swimming in the Adriatic and discovering new places we didn't even know existed in Croatia.
Also read: What to do in Dubrovnik
Here's everything you need to know before visiting Dubrovnik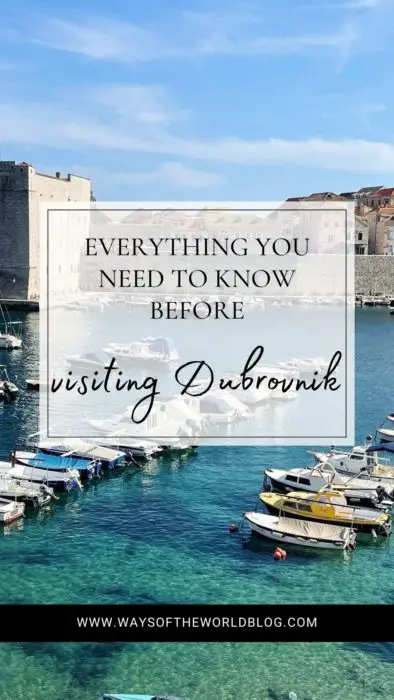 Estimated reading time: 20 minutes
What to expect while visiting Dubrovnik
Visiting Dubrovnik means going to one of those places where the best thing to do is to soak in the good life. The old city is gorgeous, like one-of-a-kind beautiful. The main streets are paved with glistening white marble that is so clean and polished, that just walking on it will make you feel slightly more important.
You might notice some serious French Riviera vibes when visiting Dubrovnik; with flowers covering the walls of the city and those tall skinny pine trees everywhere that let you know you are somewhere where you should just grab a glass of wine and kick-back. Never been to French Riviera? Me neither! It may be nothing like this, but I'm telling you, it has that vibe.
If you're already like, ok all of that sounds great, but I want to have some adventures while I'm there. Well, so did we! There are enough activities in Dubrovnik to make you regret not staying longer. So if you are planning on visiting Dubrovnik, let me tell you way in advance, go ahead and do it, but book extra days. Just freaking book the extra days!
Important things to know before visiting Dubrovnik
We think a little cultural context can make visiting Dubrovnik more rewarding.
Dubrovnik is an ancient city. So what does that mean? Well, it means that when visiting Dubrovnik you will be stepping foot into an 800 year old city that has been fought for by the Turks, French and Austrians.
The old city developed as a popular trading post when Dubrovnik was under self-rule in the 15th century. It was a wealthy city which is still obvious today. Remember the white-marble streets I mentioned?
Entry requirements
Croatia is part of the European Union, so very limited visa rules apply to countries like the US, Canada, UK, Australia, New Zealand, etc. If you have spent any time in Europe visa-free, then you will have no problem traveling to Croatia for up to 90 days in any 180 day period. If you are from a different country than the ones mentioned above, then it's probably worth checking the Visa requirements online.
Currency
The first thing to note is that while Croatia is in fact part of the EU, it does not use the Euro. The currency there is the lovely Kuna.
The exchange rate at the time of writing this post was 6.34 Kunas for $1 USD (September 2021).
Language
A little fun-fact, Croatians speak Croatian.
Croatian is a Slavic language that is similar to Bosnian. Having a base in Germanic and Latin languages will do little for you. It will be 'fun' to fumble through the basics. Locals are more than happy to try and teach you a few words, and they just watch in amusement as you try and shove 5 consonants into a one-syllable word.
Many people around the city speak great English, and those that don't are more than happy to communicate with hand gestures and smiles.
The Dubrovnik people (our experience)
One of the great discoveries we made while visiting Dubrovnik was that the people we interacted with are on another level with their acts of kindness.
One night our waiter drove us back to the city centre because he thought Ubers were too expensive – they were about $10 for the drive back into town. How's that for an example of the hospitality you might experience during your Dubrovnik holiday? Shout-out to Ivan for being the nicest person on the planet. In transparency Ivan is Bosnian, which is why now thanks to Ivan, Bosnia is high on our list of places to visit. By the way, eating at Konoba Dubrova was one of the highlights of our trip, but more on that below.
Another night we went to Beach Bar Dodo, a highly recommended bar by several locals. We enjoyed some cocktails and local craft beer, but when we left to catch our dinner reservation we found out that it was cash only! After explaining the situation to the server, she let us go without paying, telling us "I know you will come back". We came back to pay cash 3 hours later and it was like nothing happened!
Seriously – those experiences are what make traveling the absolute best! Don't you agree?
Covid restrictions when visiting Dubrovnik
As of August 2021, something called a covid registration (we think?) is necessary for traveling to Croatia. This is an easy online form that your airline will ask about before boarding your flight. They will provide either the form or the link for you to complete it online.
At the time of our visit (July 2021) a negative Covid test was not officially required, nor was proof of vaccination. Although the customs agent did ask for it (and kind of – sort of – pretended to look at it). We had it because we transited through London and it was a requirement there. Keep that in mind.
In our opinion, the responsible thing to do when traveling these days, regardless of your vaccination status or country entry requirements, is to get a Covid-19 test before your trip.
Planning a trip to dubrovnik? START HERE
How many days to spend in Dubrovnik?
People visiting Dubrovnik often give the charming little area too little attention. If you Google 'How many days do you need in Dubrovnik' – you may be convinced that 2 nights is enough. And if all you care about is taking pictures of the old town, it may be. But the area offers so much more, which is why our answer to 'how many days in Dubrovnik' is at least 7.
In our opinion you can also use Dubrovnik as a solid base and just stay there for 7-14 days. If you don't want to move around much during your trip, and are happy with enjoying your lodging, taking day trips, and having a slower-paced holiday, there are enough high quality bars, restaurants and activities to keep you entertained for that long.
We wrote a separate post about 'What to do in Dubrovnik' that it's worth checking out after this one.
Where to stay in Dubrovnik?
You are not going to be short on options when considering where to stay in Dubrovnik. And because of it's relatively small size, you probably will end up within a 15 minute walk to the old city.
The are two entrances to the old city, one on the east side in Ploce, where we stayed, and one on the west side, in Pile. In both areas there are hotels and Airbnbs for you to rest your weary body. In terms of the vibe, there doesn't seem to be a huge difference. Pile appeared a bit busier, and it's closer to some of the trendier dining options, and Ploce has the steep cliffs if you are looking for a view. But because things are so close you really can't go wrong when deciding where to stay in Dubrovnik.
Airbnbs and hotels in the old city are also available. This would probably be a pretty cool experience if you want to wake up early and have the city to yourself.
We stayed at this exact Airbnb with our host Dalibor and his lovely wife. The apartment had a private terrace with epic views of the Dubrovnik old-city and Lokrum. At $94 per night you could definitely find cheaper options, but watching sunsets on our terrace with Croatian wine and charcuterie was a highlight of our trip and probably saved us money in the long-run. You should definitely consider staying here if you are up for a little climb up and down the stairs to Dalibor's apartment!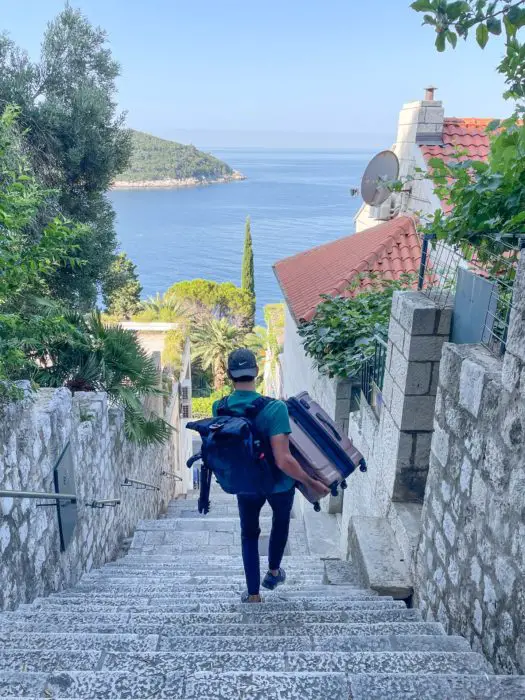 How to get to Dubrovnik?
Dubrovnik is located on the eastern shores of the Adriatic Sea – if you travel from Dubrovnik to the west by plane, you will find yourself more or less in the middle of Italy. If you go east by car you can make it into Bosnia and Herzegovina in about 20 minutes. If you follow the coast south(ish) you can make it to the boarder of Montenegro in about one hour by car. Hence all the popular day trips from Dubrovnik to these countries.
Getting to Dubrovnik by air: Getting to Dubrovnik by air is relatively easy. Routes have changed a bit since the Covid s**t-storm, but American Airlines and United had direct flights to Dubrovnik from Philadelphia and Newark, New Jersey during the summer months.
If you are not based in one of these areas, you will likely end up connecting through them when visiting Dubrovnik, or transiting through one of the major European hubs (London, Rome, Frankfurt, etc.). If you are already in Europe, then you will have abundant options to enjoy the continent's budget airlines to start your Dubrovnik vacation.
Note: the airport is about 25 minutes outside of Dubrovnik. Getting an Uber was relatively painless and ended up costing about $26 US. This will be cheaper than the private taxis outside of the airport. You can also take a bus into town for about $8.50 USD per-person. Buses leave every 30 minutes following an arrival, so this could be a convenient option, but consider that you will need to walk or take a taxi from the drop-off location (near the cable cars). There is no train into the city.
Getting to Dubrovnik by car: This can be a little funky. Let me explain. Croatia is a funny country geographically, and the speck of territory where Dubrovnik lies is actually separated from the larger part of Croatia by Bosnia-Herzogovina. So that means you will have to cross a border. Bosnia-Herzegovina is not part of the EU, but thankfully Croatia and Bosnia-Herzegovinia have an agreement to let tourists pass through without going through customs. Teamwork for the win!
Getting to Dubrovnik by train: This is not going to happen. So put your Eurorail card away.
Best time to visit Dubrovnik
The best time to visit Dubrovnik without large crowds is in the shoulder seasons: mid-September to October and April to mid-June. The weather will be relatively cooler, so don't expect to be dipping your sun-burned body into the turquoise waters outside of the summer months. However, the shoulder seasons can still be the best time to visit Dubrovnik as the accommodations will be cheaper, and most of the bars, restaurants and activities will still be available.
Visiting Dubrovnik during Summer – do you like to sweat? (like A LOT?)
The best time to visit Dubrovnik depends on your travel style and when you can take days off. No doubt most people visiting Dubrovnik do so in the summer. This is when Europe is on vacation and when the cruise ships start rolling into port to supply the ancient city walls with crowds that would make Times Square feel like rural Mongolia.
Summer is also when the days are long, the Adriatic is warm, and the European summer living comes out in full force. Summer is the best time to visit Dubrovnik if you are looking for activities on the water, abundant nightlife options and getting that golden Mediterranean tan.
Visiting Dubrovnik during Spring, Fall & Winter
Spring, Fall and Winter may also be a good time for visiting Dubrovnik if you are not into crowds and if you don't mind the chilly temperatures and higher chances of rain. Bars and restaurants can be closed depending on the exact month, so make sure you have access to cook your own meals (especially in winter). Zagreb is famous for its winter market, so adding a few nights to visit Dubrovnik before/after enjoying Zagreb, is totally possible around Christmas.
When we do visit Dubrovnik again, we will likely consider June, September or October. While the best time for visiting Dubrovnik is subjective, going during those months would give us the best combination of nice weather with fewer crowds.
Getting around Dubrovnik
By foot: The city center is very manageable by foot if you don't mind excessive sweating in the summer. Once you are in the core of the city, a car doesn't even make sense and it will take you longer to drive than to walk. In the Croatian summer you will want to shower and change 3 times a day if exploring the city by foot. This is especially great when your sweat stained shirt is all you can see in your city-wall picture…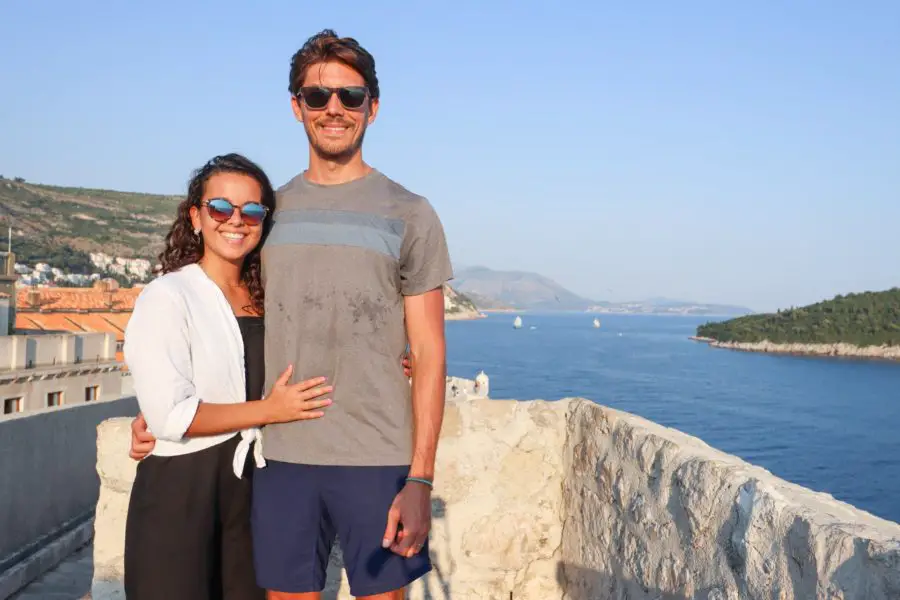 By Uber:

Ubers are easy to order, arrive quickly, and are cheap.
By taxi:

Taxis tend to hang around the entrances of the old-city and have some other dedicated stations. There is a set fee from these areas to various locations around the city. It seemed pricey, and we didn't end up using a taxi because, well, Uber.
By scooter:

Scooter rentals go from about $32 USD per day. This could be a decent option if you are visiting the different beaches outside of the city-center. People do drive pretty aggressively, so just be careful if you decide to scoot around town.
Food & Drinks when Visiting Dubrovnik
Strangely, we found it difficult to find Croatian food. We saw sushi, Italian, Asian-fusion, but very few Croatian restaurants in the city center. Our final night we made reservations at a Bosnian restaurant, Taj Mahal (huh?), that we were pretty pumped about because they have delicious cocktails and that's Aimara's #1 favorite thing in the world. But the power went out in the kitchen and we sadly ventured back into the night with our stomachs empty. But apparently those things happen in 800 year old cities.
Dubrovnik caters to international tourist with a little extra spending money. We found some great restaurants, but while the food was delicious, they may not be the best options if you are traveling on a budget. These are the places we liked:
This a great little place on a beautiful side street. The cuisine is Asian-fusion – not very local, but yes very delicious. We did have Croatian white wine so we did our best under the circumstances.
Cost for 2: about $100 US (with alcohol)
We mentioned this one earlier – remember Ivan? (: This was a very cool spot to taste traditional food from the region. The traditional plates are slow cooked in an iron bell covered by wood coals. They will happily take you to the kitchen to show you how it's done! Food here was delicious and abundant, and of course we had some wine. Keep in mind that you will have to put in your order the day before because of how long it takes to cook the traditional plates.
Cost for 2: about $85 USD (with alcohol)
It's hard to rate this place because the power went out and we didn't eat a single thing. But Taj Mahal is a highly-rated restaurant in the city center serving Bosnian food (think different types of grilled meats) . We did try their cocktails because fancy cocktails are one of Aimara's hobbies. They were delicious but almost the same as Chicago prices! ($13) We would definitely come back, but we'd consider this a special occasion restaurant.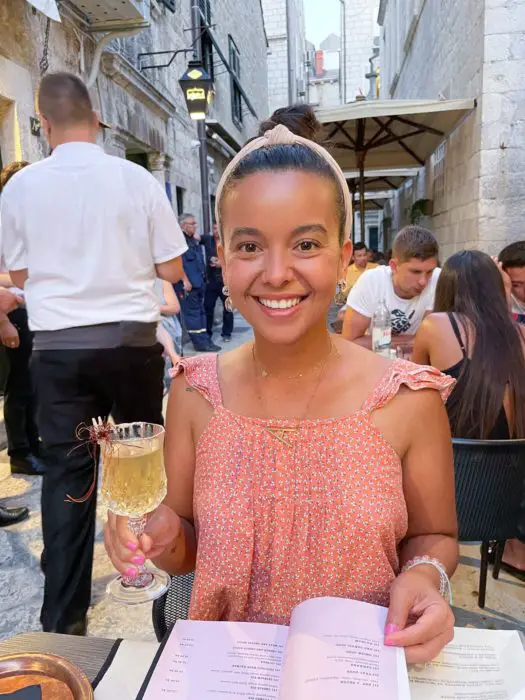 Breakfast:
A quick breakfast of croissants, burek (meat and/or cheese pastry) and cappuccino in the city center set us back about $11 US.
For drinks we recommend:
Bistro Revelin:
You will find this spot right as you enter the eastern gate (Ploce) of the old city. The restaurant/bar has great views of the city walls over the little marina and is a wonderful spot to grab a drink in the shade. They even had live music one night! It is not a cheap option, but also won't empty your wallet, with a large beer and wine about $6 US a glass.
A cool spot with higher-quality cocktails and some different beer options. You can watch locals swimming in a small bay and enjoy the small space away from the center of town. (this is where we paid our bill 3 hours after we left!)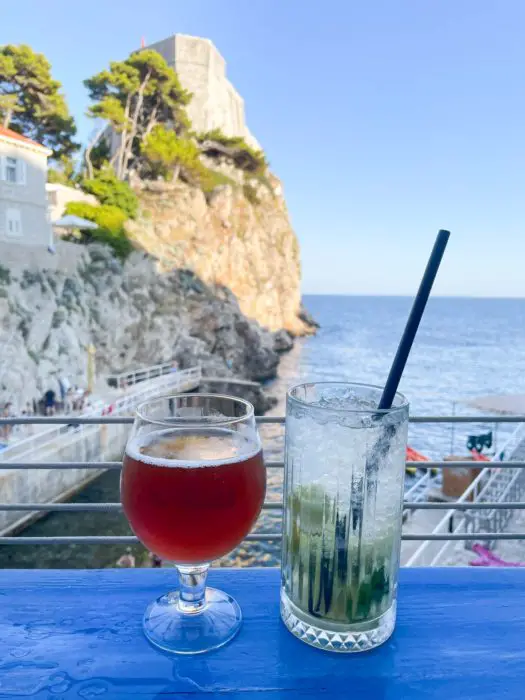 Groceries are totally reasonablly priced and a good way to save money and eat healthy when staying for more than a few days. We always like to book stays with kitchens, because after a few restaurant meals we begin to crave healthy home-cooked meals. Also, we like shopping in local markets and grocery stores.
We love trying local produce, new spices and and the opportunity to awkwardly interact with locals. Eating Croatian charcuterie, cheese and wine were essentially our favorite activity in Dubrovnik. Ignoring my last point, shopping locally and cooking at home makes it easier to travel healthier. Also, interacting with locals, supporting their markets and discovering their foods are rewarding ways to connect with local culture.
Story time: shopping for our meals when traveling can lead to some those hilarious memories. For example, hunting for Greek-style yogurt, I noticed a big jar labeled in Croatian next to other yogurts. The only word I recognized was antioxidants, so hey, must be a healthy option! Fast forward to the next day's breakfast, the yogurt looked a little thick and had an unfamiliar smell. Aimara and I both took a healthy dip with our fingers and we still couldn't pinpoint the taste, hmmm?? A quick look on Google Translate and we learn that our Croatian yogurt is a jar full of pig lard! Not the healthy breakfast we were looking for (:
Are you convinced to visit Dubrovnik yet? Read our very honest opinion on 7 popular Dubrovnik activities next.
Practical tips when visiting Dubrovnik
How to pay during Dubrovnik holidays
While it's always good to have some cash, card is widely accepted, including US credit cards from Visa or Mastercard. I was able to use my American Express card at the more touristy places like the cable cars and city walls, but most restaurants and grocery stores don't accept it. That's generally true in Europe, so be aware of it and bring a back-up card.
Also, for our American friends, check if your card has the tap function. My chip card often didn't work, so you might be stuck if you don't have tap to pay. Most newer cards will have this function, but it will be good to check before you leave.
Of course Kunas are accepted everywhere, and ATMs are widely available. So if you do have issues with your credit card, then cash is an easy fallback option.
Note: ATMs in Dubrovnik didn't take our SoFi debit card ): We got this card specifically because it offers no international withdrawal fees, but maybe that's because you can't use it. Boooo SoFi! SoFi now offers no international withdrawal only at certain ATM 'brands' which are mostly found in Mexico and Canada, but not in many other countries. We switched to the Charles Schwab debit card which also offers no international withdrawal fees. We'll let you know how that goes!
Is Dubrovnik Expensive?
A Dubrovnik vacation is not cheap. Chatting with our Uber driver he mentioned that it is much more expensive than the rest of Croatia. So much so, that Dubrovnik is not accessible to most local tourists due to the high prices. It does appear to cater to a certain type of tourist and prices for many restaurants and tourist attractions would probably not align with budget travelers.
Lodging is fairly expensive when compared to the rest of the country, but if comparing to US and Western European prices, it does run slightly more affordable. Here are some general prices for reference:
Drinks: Drinks in the old town will run about $6 USD for a pint of beer, and similar prices for a glass of wine.
Transportation: Uber is pretty cheap, with a ride across town (7-10 minutes) setting you back around $5 USD. Also, there are set prices for taxis from the old town to the main destinations around the city.
Groceries: Groceries are also reasonable. We planned a longer visit to take advantage of the many things to do in Dubrovnik, and frequently run into the small local grocery stores so that we could cook at home and enjoy the amazing views from our terrace.
Restaurants: A dinner at somewhere slightly upscale with drinks will likely get you around the $100 mark for two people. Make sure to check the menu beforehand.
Do You Tip in Dubrovnik?
Tipping at restaurants is customary but not a requirement. 5-15% depending on what kind of restaurant and the level of service is typical. At bars or cafes rounding up or 5% max is appreciated.
Final thoughts about Visiting Dubrovnik
When visiting Dubrovnik know that it gets busy. Depending on your expectations or people tolerance, large crowds can take away from your experience. We were visiting Dubrovnik when international travel was just beginning to open for the summer after the Covid lockdowns.
Even then our Dubrovnik holiday was busy with other travelers. What we heard from locals though was that what we saw, was not close to the usual volume of people that visit. In the high season tourists can outnumber locals 6-1, and considering the relatively small size of the main touristic area, you are unlikely to have the place to yourself.
That said, Dubrovnik is definitely amazing, and we loved our time in this stunningly beautiful city! Local experiences are out there if you get up early to beat the crowds and diverge from the city center. We saw old ladies gossiping during an early morning swim, a kids water polo match in the Cavtat bay, and unforgettable local beaches. Check out the details on those Dubrovnik activities here.
See you next time! Don't hesitate to leave your questions below.
Thanks for stopping by!
Gordon
Did you like this post about visiting Dubrovnik? Please share it on Pinterest!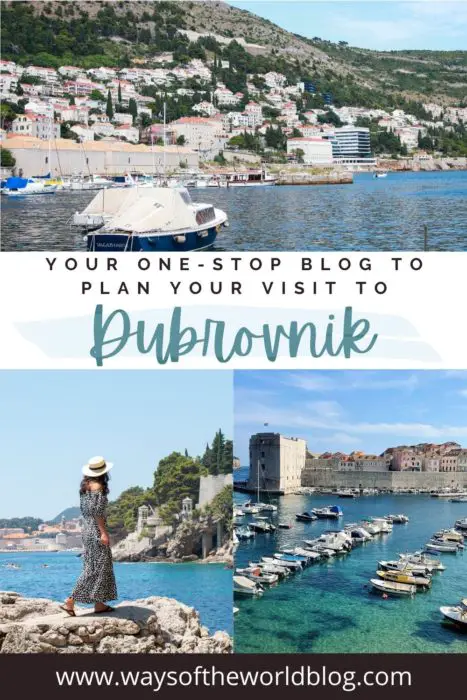 Read these posts next: