Estimated reading time: 18 minutes
Ready to Learn About Paragliding in Fethiye? Let's Jump In!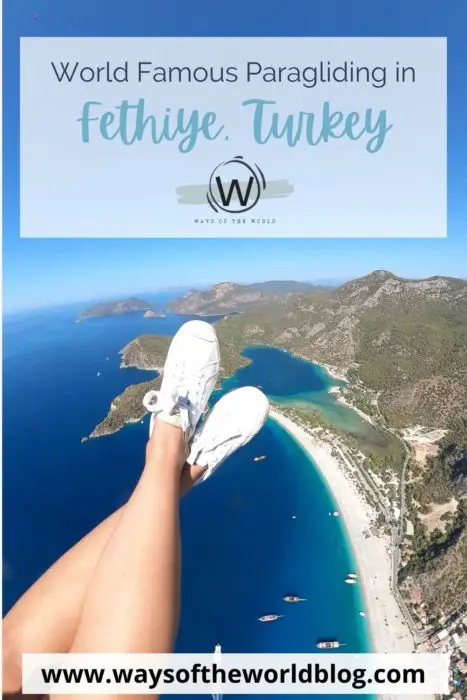 How It Happened: Our Story About Paragliding In Fethiye
I was aware that paragliding was one of the most popular things to do in Fethiye before arriving town. But I also read that it was available in Kas, Turkey. And we also planned on visiting Kas. So I didn't feel a ton of urgency to book our paragliding adventure. I am also afraid of heights, so why not just delay the inevitable? That's a healthy coping mechanism.
But during our first week of adjusting to life in Turkey, I researched 'tandem paragliding Fethiye' and quickly learned that this was one of the most epic places to paraglide in the entire world! So I quickly got in touch with our operator – Sky Sports Fethiye and the next thing we knew, we were booked for a Monday morning flight.
Check Out Our YouTube Video About Paragliding in Fethiye Here!
It Was a Sunny Monday Morning…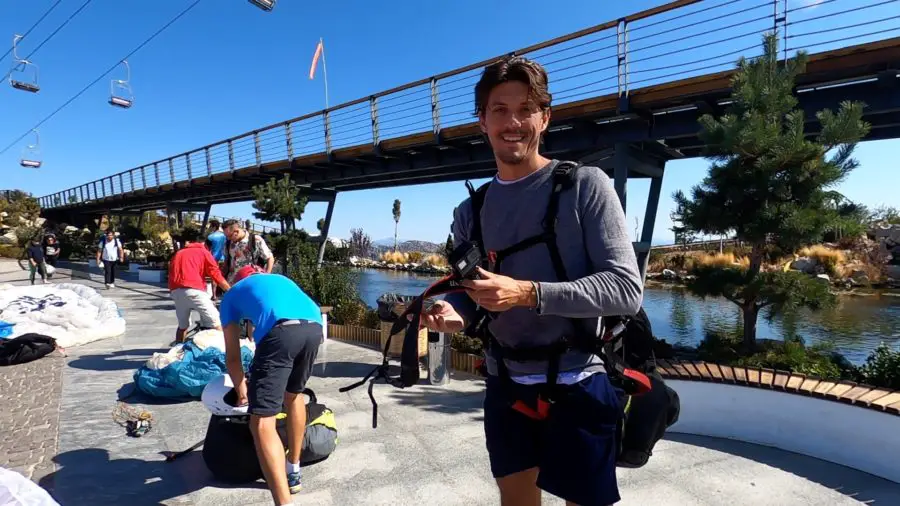 Monday morning we charged our GoPros, popped some Dramamine, and hopped into the van to get ready to go paragliding in Fethiye. After a short ride to Ölüdeniz, we signed some waivers and jumped back into the van with our paragliding pilots. This is when s*** gets real. As the van winds up Babadag Mountain, you start becoming very aware that you're about to jump 6,650 feet (1,965 meters) off a mountain… whose idea was this again?
When you are at the launch pad, the set-up starts to happen in no time at all. The parachute is laid out, you're strapped in your little seat (with all the appropriate safety checks) and you start to see the other people in your group running towards the edge and paragliding away into the horizon. Then it's your turn. It's all systems go within about 15 minutes – no time to text mom to tell her you love her.
After a short "walk, walk, walk…Run! Run! Run!" instruction, you quickly find yourself soaring about a mile above sea level. Everything happens so fast that you barely have time to get nervous.
Once in the air the most unforgettable views quickly turn your tension into amazement. The mountains and the beautiful turquoise water below make you incredibly grateful for being able to live this bucket-list experience of paragliding over one of the most beautiful spots in all of the Mediterranean.
The Flight Details
The paragliding flight itself is kind of 'choose your own adventure' experience. Aimara doesn't love roller coasters or similar activities, so she was perfectly happy to soak in the amazing views gliding calmly in the air for nearly 45 minutes. My pilot, Oscar, asked me if I was up for some acrobatics. So I confidently replied, 'sure, maybe moderate acrobatics?' But I don't think they offer different levels of intensity like your local Thai restaurant.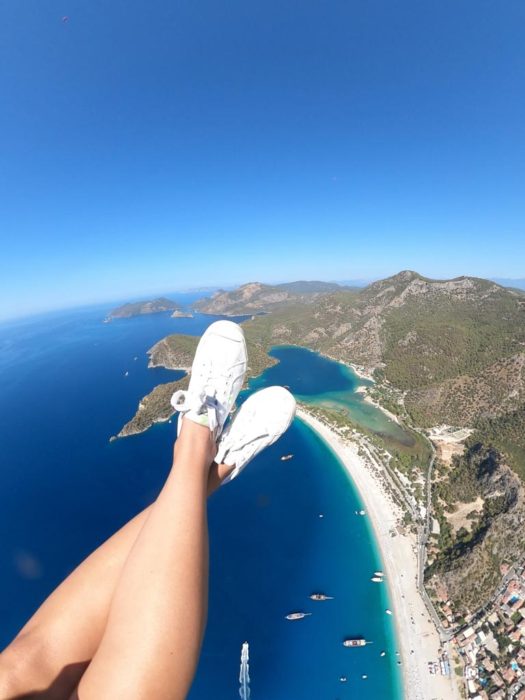 So there we were, still about a half-mile above the sea doing flips (I think) and spins to feel g-force that made my lower body numb. Annnnnd then we did it again. We have some pretty funny footage of the exact moment where my paragliding trip takes the turn from relaxing to terrifying.
All I can remember is Oscar saying 'Look up! Look up!' so that I could see that they sky was no longer up. Instead I was looking 'up' towards the ocean!! So much for moderate acrobatics. I had no idea that this could be part of the paragliding experience, but it was definitely the highlight for me!
After coasting into the beach area, we softly landed directly outside of town and that was the end of paragliding in Fethiye for us. Thanks to our pilots Oscar and Onur for the incredible flights. I actually got some flashback vertigo while writing this – thanks Oscar!
Sign-up To Our Newsletter To Receive Useful Travel Tips From Our Next Destinations!
Why You Should Paraglide In Fethiye During Your Vacation
The simple reason? Paragliding in Fethiye is world famous. This location in Turkey is recognized by professionals, hobbyists and non-flyers as being among the most epic paragliding destinations for several reasons:
The conditions created by the sea breeze blowing up the mountains allow for flight times much longer than in many other places. Depending on how much acrobatics you go for, you can stay airborne for 30-45 minutes. (more tricks = less time)
The most popular launch point from Babadag Mountain is one of the highest in the world for this type of commercial paragliding. You run off the mountain 6,650 feet (1,965 meters) above sea level – more than a mile in the sky! This creates amazing views and also extends your flight time.
Speaking of views, the surrounding mountains beautifully surround Ölüdeniz beach and the famous Blue Lagoon. From the sky you can also see dozens of jagged islands to all sides. All together there is so much to take-in while tandem paragliding in Fethiye that you will be consistently amazed.
The trained paragliding operators in Fethiye make you feel safe and confident, even when spinning through the air like an insane person like I did. Everyone was super friendly and professional which definitely helped ease our nerves.
Which Company to Choose for Tandem Paragliding?
There are many companies to choose from when booking your tandem paragliding in Ölüdeniz. We chose Sky Sports Fethiye and we are so happy we did! Sky Sports has been around for 30 years and are one of the big names for paragliding in town.
The booking via Whatsapp was easy, and the team was experienced and friendly. They also include insurance in the price, which seems most (if not all) companies do. We never had any doubts about running off the side of a mountain with them!
Sky Sports Fethiye contact info:

Whatsapp: +90 538 445 99 21 Email: [email protected]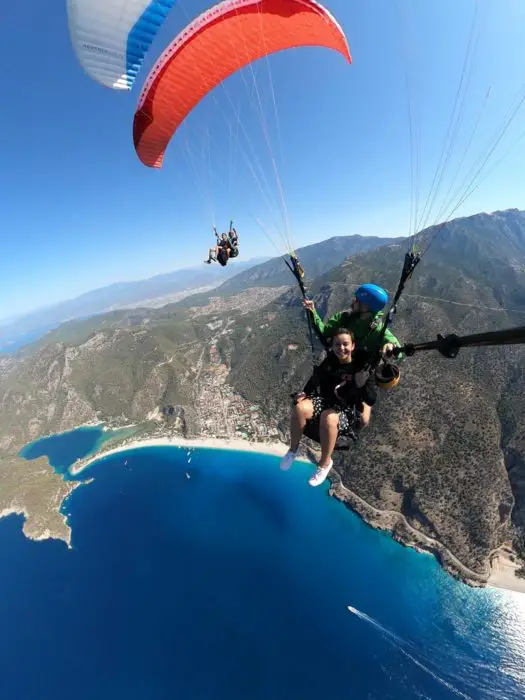 These are some other companies we have also heard good things about:
Reaction Paragliding: they have been around since 2003 and have a very user friendly website. You are able to choose your pilot and they have a perfect safety record. Transport from Fethiye and surrounding towns are an extra cost.
Gravity Paragliding: these guys have also been around for a while (2008), and have a pretty snazzy website. Their home-page also shows that they were the company-of-choice for Chinese reality show 'Divas on the Road.' No divas were harmed during filming.
Walking around Ölüdeniz town you will have many people trying to sell you paragliding trips. I'm sure they can refer you to some great companies, but the three listed above are consistently mentioned as being among the best.
---
Rather book online to secure your spot? Check out this 5-star tandem paragliding adventure with over 1,000 5-star reviews!
---
Breakdown of Paragliding Fethiye Price
Many operators don't list their paragliding Fethiye price online, as prices vary depending on the season. We paid the following with Sky Sports:
Flight: in 2021 the total was 90 British Pounds per person. At the time a $30 US deposit was required through PayPal (yes, a bit strange). As of July 2022 the cost for tandem paragliding is hovering around $180 US.

Sky Sports can convert the balance (the total minus deposit) to USD, Euros or Lira using the day's exchange rate. You can pay with cash or card.

Photos and Video: you should not bring your cell phone on the flight without some kind of mount. If you don't have a GoPro or similar camera then the pilots can record your flight for 250 Lira (about $29 US). This is a cash only expense. The photos will be uploaded to your cell-phone, so make sure you have enough storage available.
Tip: we did tip our amazing guides about 10%. I wasn't sure if this was customary, and was told it was 'up to you.' I think it really was up to me, so we decided to thank them financially for bringing us down to earth safely.
Note: Aimara and I each had GoPros to film the flights, but we did opt for one package of photos. The pictures are pretty stunning, and if you are flying with two people they can get you both in the same shot. It's not super cheap, but we thought it was worthwhile for the memories of the epic day.
Other Useful Details About Paragliding in Fethiye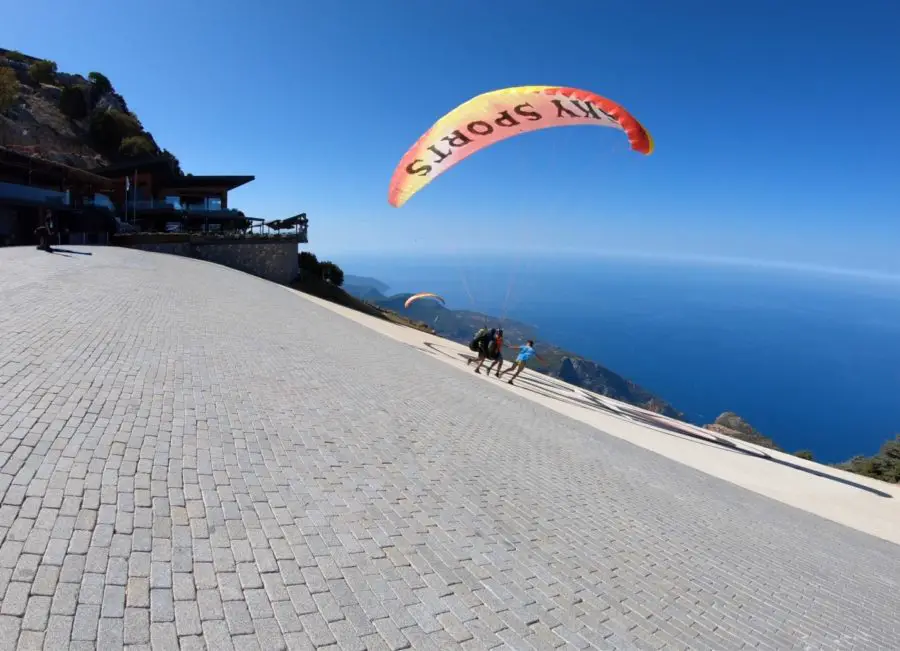 Clothing: Wear athletic-style shoes. They also recommend a sweater – we both wore one and we were very comfortable during our flights.
Flight times: When we flew with Sky Sports our options for flight times were 10 am, 12 pm, 2:30 pm & 4:30 pm.
Weight limit: 105 kg, or about 230 lbs.
Transport: Sky Sports picked us up for no cost from our Fethiye Airbnb at around 9 am. This is only an option if you choose the 10 am flight time. They also dropped us off at no additional cost, leaving Oludeniz at 6 pm. This worked out fine for us because we had lunch in town and relaxed at the beautiful beach. If you have a need to get back, you can find a taxi and dolmus (Turkish public transportation) stand near the beach when walking towards the blue lagoon.
Taxis have a set price of 80 Lira to the city center (around $9.50 US). I don't know the fee for the dolmus, but it would be less than a taxi.
Would We Go Paragliding in Fethiye Again?
Ask us if we would go paragliding in Fethiye again and the answer is a million times, yes. It was not a cheap day, and it definitely pumped up the daily average for our Turkey budget, but paragliding in Fethiye is a once-in-a-lifetime experience. I still feel the adrenaline when I look at the pictures and videos (which I do all the time)!
Final Thoughts About Paragliding in Fethiye
We absolutely loved paragliding in Fethiye. Soaring above the Turkish coast was absolutely unforgettable. The views, the adrenaline and the feeling of gliding through the sky like a bird all make you feel very alive. The price wasn't cheap, especially considering we are trying to stretch our budget. But if you are visiting for vacation I didn't think it was too aggressive.
Ways of the World (WOTW) rating: 5/5. Easy!
Thanks for reading!
G.
Have any questions about paragliding in Fethiye? Are you ready to run off the side of a mountain? Let us know your thoughts in the comments or DM us on Instagram!
Planning a Trip to Turkey? Check Out These Posts Next :
---
Tired of reading? We have an entire Turkey travel series on YouTube! Don't forget to Like & Subscribe 🙂
---
Want to Add Paragliding in Fethiye to Your Bucket List? Save it to Your Pinterest!