What comes to mind when you think of Isla Holbox, Mexico? Is it calm, tropical waters and hammocks lazily swaying underneath palm trees?
Holbox, Mexico markets itself as a laidback, eco-friendly destination. And it is often described as one of the Yucatan Peninsula's dreamiest beach spots. Imagine yourself sipping fresh coconut water on virgin beaches with nothing but the sound of waves gently rolling onto shore. Sounds perfect. Right?
But what if we told you that our experience in Isla Holbox wasn't the fairytale that others make it out to be? The uncomfortable truth is that Holbox Island is no longer a rustic paradise.
Ready To Discover 10 Things Nobody Tells You About Isla Holbox Mexico?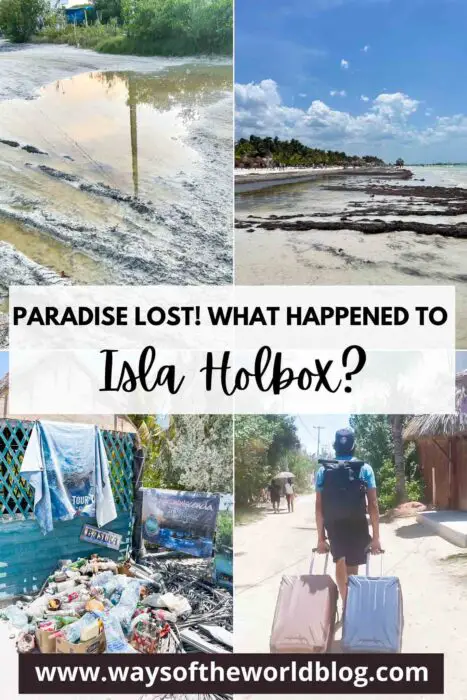 We didn't know what we were getting into before arriving to Isla Holbox. And as our trip approached, we were excited to discover what this increasingly popular island was all about. So what did we find out after spending 4 nights in Isla Holbox, Mexico? Sadly, we saw the results of over-tourism and uncontrolled growth.
This may not be one of our most popular articles. But as travel writers, we feel the responsibility to call out when visitors and destinations can make better choices to support responsible tourism. Would it have been easier to just ignore all these problems and pretend we didn't even go there? Sure! But we also think people deserve to know about negative travel experiences, so it's easier to make more informed travel decisions.
This post describes what we believe is an example of 'paradise lost.'
We are not just calling out the negatives. We also share ways travelers can help influence change, so that tourism can remain a positive force for both locals and visitors.
Estimated reading time: 19 minutes
---
Planning a trip to Mexico? Make sure to read these posts next:
---
The Basics About Isla Holbox
Isla Holbox is a relatively large island located just off the northern tip of Mexico's Yucatan Peninsula. The island is found within the protected natural area Yum Balam Flora and Fauna Protection Area. The regulations in place help preserve Holbox's unique and fragile ecosystem. Well, in theory.
Map Of Isla Holbox Mexico
What we saw firsthand while visiting Holbox, Mexico is not what you would expect from a protected area. I'm not saying that Isla Holbox's protected status does nothing to support the sustainable management of the reserve. But I am saying that Holbox Island's protected status is confusing, because it's pretty obvious that environmental protection is not top of mind in Holbox Island.
In full transparency, many people love visiting Holbox. And that's fine. We are not here to shame anybody or dismiss their experiences. We are just hoping to raise awareness about a place that is potentially at the brink of irreversible damage.
How To Get To Isla Holbox?
As the name implies, Isla Holbox is an island. And getting there requires travelers to take a short ferry from the town of Chiquila. The 20 minute ferry runs frequently, and tickets can be purchased online in advance to skip the slightly confusing and chaotic line.
Note: it takes about 2 hours to get to Chiquila by bus from Valladolid, Cancun or Playa del Carmen. These places have several direct buses leaving daily.
10 Things Nobody Tells You ABOUT Isla Holbox Mexico
1. Much Of Isla Holbox Is An Open-Air Dump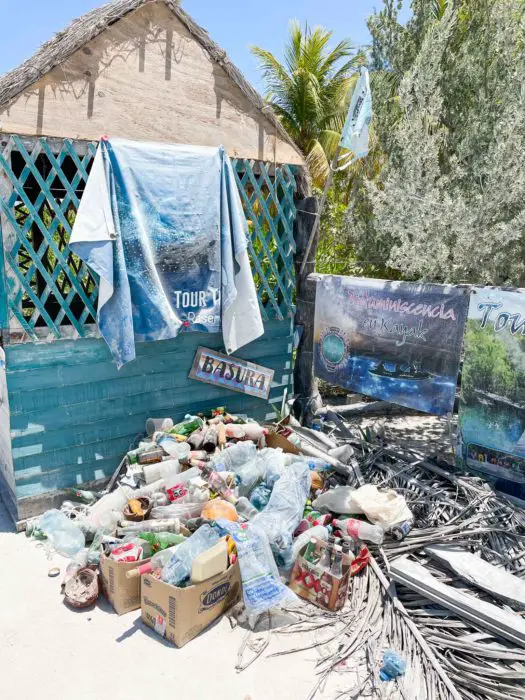 We struggle to be overly critical of places in developing countries with garbage problems. There is typically a huge gap in resources and education to help overcome this type of issue. But Isla Holbox is part of a nature reserve. And it presents itself to tourists as an eco-destination. So we can't ignore the infrastructure problem responsible for the island being an open-air landfill.
I know. 'Open-air dump' sounds dramatic. But in all honesty, much of Isla Holbox is covered in trash. And we're not talking just beverage containers and food wrappers. No, no. You will find discarded mattresses, old shoes, and basically anything else you can think of strewn around the entire island.
To share a sadly ironic example – one of the upscale "eco-hotels" had a color-coded collection site for different types of recyclable materials. But when you went to place your trash in the designated slot, there was not even any kind of bin to collect anything. The recycling was not being separated at all. It was simply a dumping place for random garbage disguised as a cute recycling center.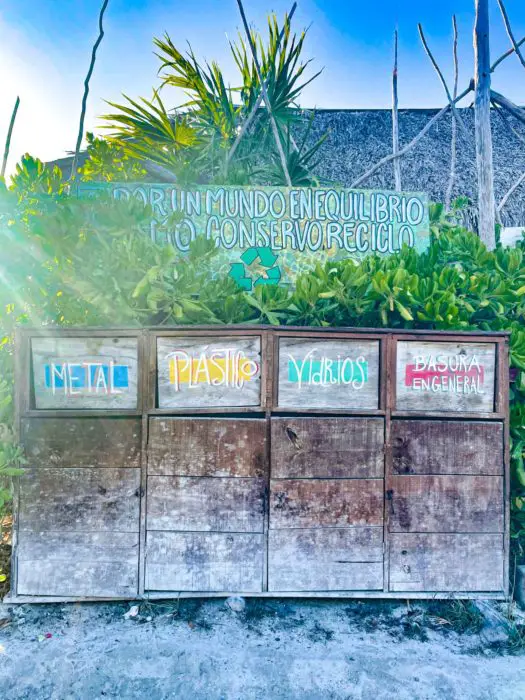 This is a small example of a larger story in Holbox, Mexico. It sells itself as an eco-destination, but you only have to peek behind the curtain to find a place that's suffering from overdevelopment.
Quoting from Yucatan Magazine (2021): "The tourism industry in Holbox generates up to 10 tons of garbage a day. Since recycling the waste is so expensive, much of it ends up in the ocean, dumped illegally or buried underneath the sand." 
2. You Will Face An Unwelcome Arrival From The Isla Holbox's Taxi Drivers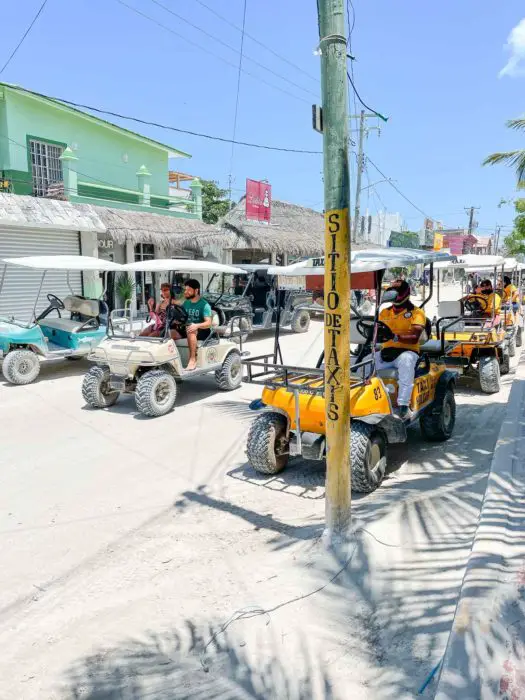 We realize that overcharging visitors is very common in many popular tourist destinations. But that doesn't mean that it doesn't suck when it happens! In our experience, the frustration felt when being overcharged is greater than the actual impact. Even if it's just a few dollars, knowing that you are getting taken advantage of always sucks!
The worst culprits in Holbox are the taxi drivers that whizz tourists around in their supped-up golf carts and ATVs. You are introduced to their aggressive pricing the minute you step foot on Isla Holbox. There's a board that used to have the taxi fares on display, but it was conveniently covered. The quote we received for getting from the ferry to our hotel was $15 US. For a 5-minute ride!!! Needless to say, we walked 15 minutes to our hotel.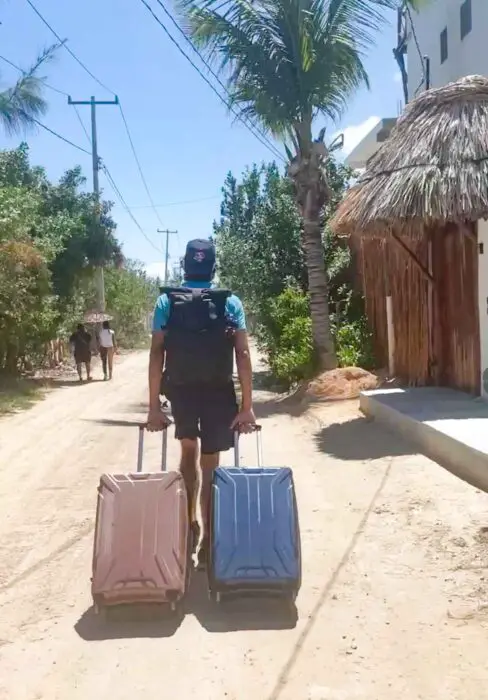 This is a really crappy way to arrive at any vacation destination, and it left us with a bad taste in our mouths for the rest of the day. We never took a taxi for the rest of our time on the island.
This type of short-sighted money grab feels like the rule, not the exception, in Isla Holbox. And local authorities should do more to make pricing more transparent for visitors.
3. The Car-Free Island Is An Illusion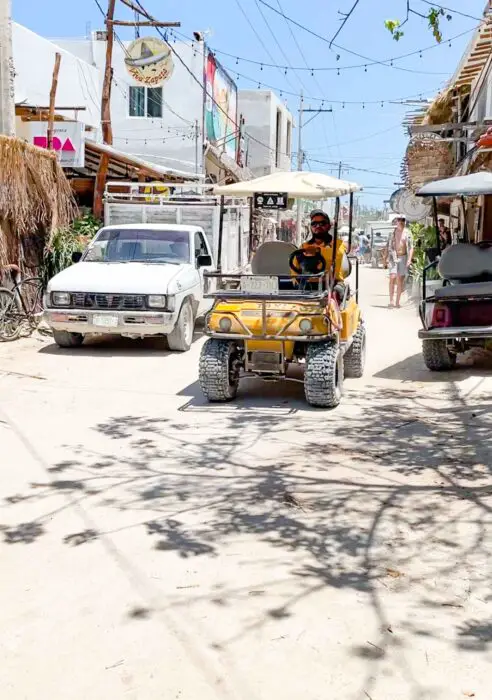 You will read that no cars are allowed on Holbox Island's sandy streets. How rustically charming does that sound?
2023 update: cars, trucks, motorcycles, gas-powered golf carts, and supped-up, John-Deere style ATVs race around the island's dusty and/or muddy streets. Many vacationers are disappointed after encountering what other blogs call 'golf carts.'
But these aren't the battery powered carts that you might be familiar with. Nope. These are loud, gas-powered carts and ATVs most commonly used as taxis. And besides being noisy, they show little regard for pedestrian traffic as they kick up dust while going full speed around the island. We literally saw someone crash their ATV into the back side of a hotel on day one (see below).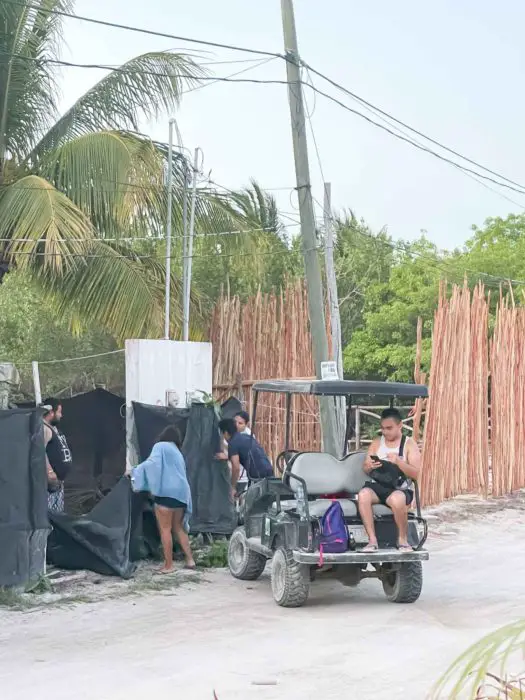 So, no. Holbox is not a laidback, car-free island anymore. In fact, it sounds more like you are in the parking lot of a Trump rally. I'm not kidding. Those massive ATVs are working with some serious horsepower!
4. Isla Holbox Has Sewage Problems…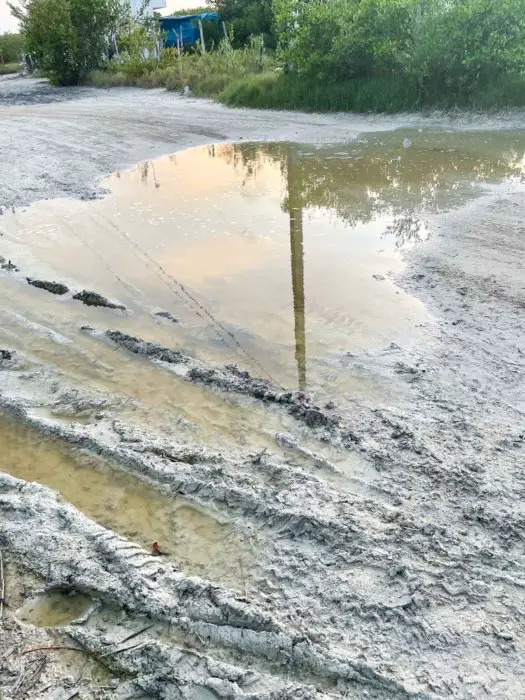 Isla Holbox lacks the infrastructure to properly manage the growing number of visitors to the island. While the garbage scattered around the island is one example of what happens when a place can't support the number of visitors it receives, the ubiquitous puddles around town are another.
You will notice a lot of standing water in Holbox's sandy streets. The massive puddles (and sometimes completely flooded streets) are a major logistical hurdle when getting around the island after a tropical downpour. However, these stagnant pools are also around when there has not been a ton of rain. Hmmm…something smells fishy. Or is it, sh!%%y?
That's right, friends. Holbox Island has a sewage problem. The lack of investment and planning means that the sewage system meant for a small fishing village simply can't keep up with the swelling number of visitors.
---
"Waaay too many tourists, trash, rubble and stench everywhere, toxic mud puddles…"

Member Review From TripAdvisor
---
The stinky puddles are a gross nuisance for travelers. But even worse is the environmental impact that the runoff could have on the protected Yum Balam Nature Reserve. Holbox has an insufficient water treatment plant, and investment funds have disappeared. Therefore, much of the dirty water spills into the sea, negatively impacting the area's wildlife.
Wastewater has a huge affect on delicate ecosystems. The sewage can infect and/or kill the plants and animals around the coastline. This has a domino effect on other species, and eventually, the entire ecosystem can be disrupted.
But you might wonder how Holbox got this way. When scanning the top Google results for 'Isla Holbox Mexico', you'll find descriptions like, "laid back paradise", "best-kept secret", and "virgin tourist destination." These romanticized words bring me to my next point…
5. Travel Writers (And Fellow Travelers) Are Not Helping Educate Others
Aimara and I didn't major in sustainable development in college. But we did stay in a Holiday Inn Express before visiting Holbox. (Can we still use that joke in 2023?)
But seriously, search online for Isla Holbox (or any destination), and 99.9% of the time you will find travel writers focusing on all the wonderful things about it. Rarely do people take the initiative to call out when something isn't as it should be.
We think that this is wrong. Travel writers have a responsibility to try and educate and influence better travel habits. And until that happens, Holbox will continue to get promoted as an idyllic eco-destination, missing on a great opportunity to help educate others about responsible travel.
You'll find many other travelers disappointed by their experience on the island when reading reviews about Holbox, Mexico on Google or TripAdvisor. We hope that reading posts like this one and considering these types of comments will help people think more critically about the impact of their travel decisions.
The goal is to increase awareness so that people can make better decisions over time. We want all the beautiful places in the world to be enjoyed by future generations, too!
6. You May Never Notice Isla Holbox's Blemishes If You Don't Leave Your Beachfront Hotel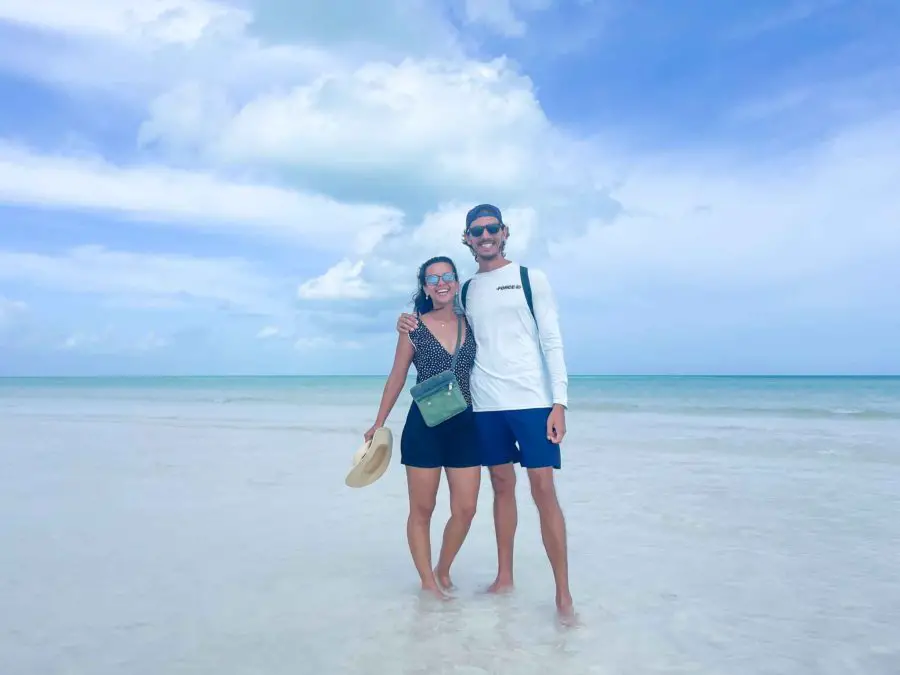 Higher-end lodging options line the east side of Holbox island. These beautiful hotels are located directly on, or across from, a calm and beautiful stretch of beach.
Travelers visiting this area can enjoy the beautiful views, eat at the hotel's restaurant, and relax on their loungers during their entire stay. All without ever having to spend any time in the downtown area where Holbox Island's problems come to light.
It's not hard to imagine that people can have an incredible vacation if they experience Holbox in this way. The challenge is that there is still a huge infrastructure problem. So even if you are not exposed to the same issues that you would if you were staying around Holbox's downtown, you still contribute to the waste and sewage issues that plague the little island.
7. Holbox Island Is Over Capacity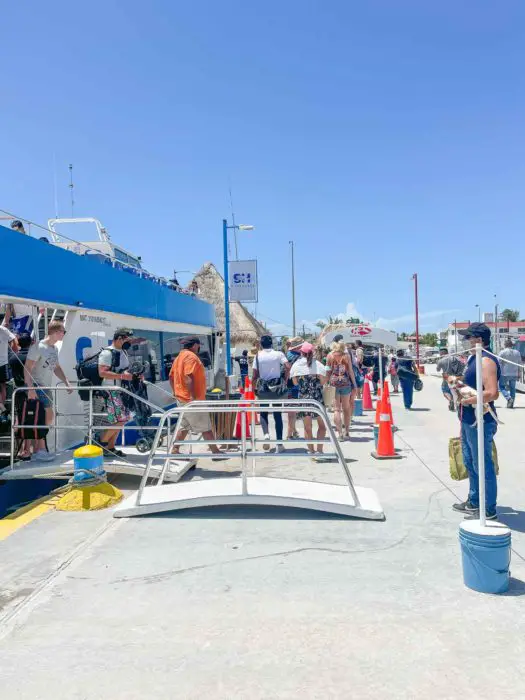 The flood of tourists to Isla Holbox has outpaced the island's ability to expand the basic infrastructure needed to support the growing number of people staying on the island. Yet things appear to be getting worse. And the island's growth has all the characteristics of a short-sighted money grab.
Greed and corruption are two of the main issues contributing to the unsustainable development of Isla Holbox. This is most notable in the continued construction of major hotel projects, even though the island already cannot cope with its current capacity.
---
Quoting from Yucatan Magazine (2018): "Its (Holbox) 1,200 or so hotel rooms are primarily in small hotels with about 30 guest rooms apiece. That is not likely to change because of the limited infrastructure and fragility of the island, said Dario Flota (Head of Quintana Roo's Tourism Promotion Council)." 
---
Fast forward to 2023, and construction is happening everywhere! A new Margaritaville property recently opened on Holbox Island in March 2022. And you will notice plenty of other new properties being built as you wander around the island.
So when community leaders announced in 2018 that "The island has reached its limit," it appears that there is no limit to the greed that continues to push the boundaries of Isla Holbox's ability to manage the growing number of tourists.
This is the current ferry schedule to go from Chiquila to Isla Holbox: (there's another company that leaves on the hour, so multiply the number of trips x 2).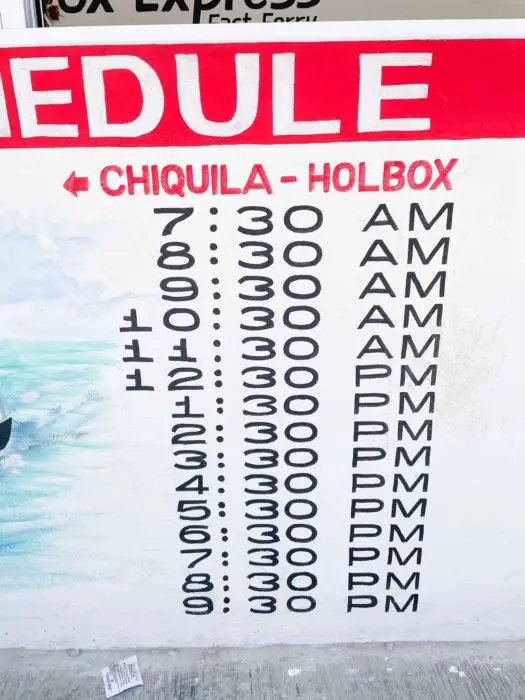 8. The World's Most Aggressive Mosquitos Live In Holbox, Mexico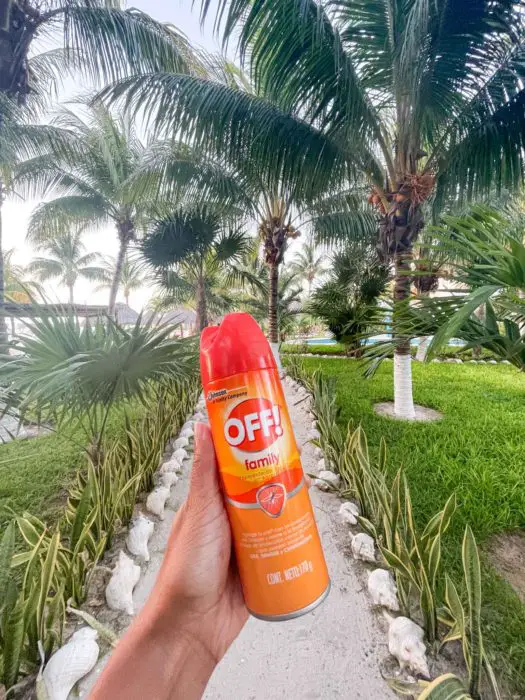 This Isla Holbox secret will literally save your life! And be literally, I mean figuratively.
For starters, mosquito repellent is essential. As dusk falls, swarms of these heat-seeking pests prey upon anyone who hasn't applied at least two generous layers of DEET repellent. And don't try to bring the all-natural mosquito spray. Isla Holbox's mosquitos will just laugh at your feeble attempt to drive them away with an organic spray. We learned that from the helpless Dutch family having dinner next to us. The situation was so unbearable for them, that they had to ask for their dinners to go!
We are typically not super bothered by mosquitos. And I also don't really think it's a huge issue. But I think this is a useful FYI after observing how other travelers were reacting to the swarms of mosquitos. It's also a fun thing to think about after realizing that much of the island's standing water is sewage.
9. Isla Holbox Is Over Priced
Isla Holbox was more expensive than most places we visited in the Yucatan Peninsula during our 70-day adventures. Though not significantly more than other island destinations like Punta Allen and Cozumel. Unfortunately in Holbox the quality usually doesn't align with the prices you're paying.
And while many travelers complain about high prices in Holbox, we can't confirm whether it is a matter of island pricing or if there is overcharging happening.
These are some of the prices we witnessed and got quoted:
Beers: $3 – $4
Cocktails: $10 – $13
Appetizers: $8 – $10
Entrees: $12 – $18
Golf Cart rentals: $18/hour – $30/2 hours – $125/24 hours
Taxis: based on what we were quoted, a 5 minute taxi ride is about $15.
10. Holbox Has A Great Animal Shelter Where You Can Walk Rescue Dogs!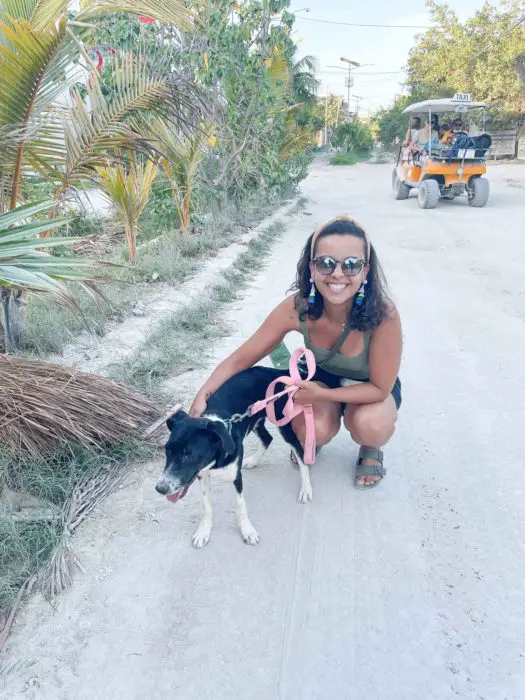 There is an incredible animal rescue shelter on Holbox Island. Visitors are welcome to come in to simply play with the many dogs and cats brought in from neighboring cities to rehabilitate them from physical or emotional traumas. Or you can go a step further and take some of the friendly puppies out for a walk.
It was great to see a thriving organization like this on the island. Based on the number of people volunteering each day, it was obvious that many people visiting Isla Holbox do care about giving back to places that they visit, and they don't just come to sit on the beach and leave. Which is part of the reason why we think people would be interested in a post like this. Many people really care.
Is Holbox Island Worth Visiting?
Even though Isla Holbox is a beautiful place, we do not think it's worth visiting. It may once have been a secluded piece of paradise for nature and ocean lovers. But, sadly, that is no longer the case in 2023. Even though we understand and have seen that every place in the world has good and bad things. For Holbox, Mexico, the bad definitely outweighs the good ones.
---
Heading to the Yucatan Peninsula? Check out to our favorite destinations in Mexico's Yucatan Peninsula! Just because we didn't like visiting Holbox doesn't mean we didn't love the rest. And don't forget to read about 30 Things To Know Before Visiting The Yucatan Peninsula!
---
What Should Be Done To Improve The Situation In Holbox Mexico?
Isla Holbox is a prime example of a destination negatively impacted by irresponsible tourism practices. But that doesn't mean that there are not ways to reverse some of the damage. The question is whether authorities will acknowledge the existing problems and actually do something about it.
In our very humble and non-professional opinion, Holbox can do three things to start helping the situation on the island:
1. Limit capacity to the island:
There is simply too much stress on Isla Holbox's infrastructure. The only way for the island to improve the garbage and sewage issues is by reducing the number of people allowed on the island at a given time.
2. Increase investment in utilities:
Holbox needs to upgrade its current utility infrastructure if it wants to become a sustainable tourist destination for years to come. I don't think anyone would disagree with that statement.
A Canadian company is in charge of developing a sustainable future for Isla Holbox. This is potentially a good thing. I say 'potentially' because this a company that proposed the construction of 9,000 new hotel rooms in the island's protected areas (come on!).
So, on the one hand, it is great that they are thinking about solutions. On the other hand, the plan being discussed supports more development. And who knows what that will bring?
3. Get locals involved:
Our feeling was that many locals were outsiders to many of the financial benefits of tourism growth and only experience the negative side impacts of over-tourism… which is unfortunately a garbage-filled island with inadequate resources.
Locals need to feel like they are part of Holbox's future plans. If tourism doesn't work to improve the general way of life for people in a particular destination, then how can we expect the locals to be stewards of a place and support in keeping it beautiful and friendly?
What Can Travelers Do To Help Support Sustainable Tourism?
If you were curious about visiting Holbox, Mexico, you might be surprised and let down by some the information in this post. And it's understandably hard to change people's habits when most resources out there only paint part of the picture about a destination.
It's also easy to feel helpless when you see irresponsible tourism in action. But with over-tourism and unsustainable travel impacting many destinations around the world, it is time for travelers to start thinking more critically about where and how we travel.
These are some easy steps we as travelers can take to make more conscious travel decisions:
Be informed: research places before visiting. Read in depth Google reviews of a place. Look at how recent the reviews are and also who's writing them! Sometimes it's just local travel agencies bumping up the ratings.
Let your wallet do the talking: avoid visiting places that fail in their responsibilities to their community – like Isla Holbox. Stakeholders will be more likely to make a change when their wallets are impacted.
Be honest: it's hard to admit when you make a mistake while traveling. It can be tempting to only share the beautiful things you experienced. But traveler-generated information can be an excellent tool for raising awareness about sustainability issues.
Demand better: speak out to local tourism boards or to broader travel communities (by leaving reviews) when you encounter irresponsible tourism. Flagging these issues gives you a voice! And over time, your voice can encourage destinations to act on concerns highlighted by the travel community.
Final thoughts About Visiting Isla Holbox Mexico
Sorry if this feels like a hit piece on Isla Holbox, Mexico. But we believe that the people that write about these destinations (AKA, us) have a responsibility to be transparent and encourage responsible traveling. That's the only way that things can get better in the future.
In the end, we don't regret visiting Holbox Island. Being on the island allowed us to reflect on the destinations that we visit and how we want to promote travel in the future.
We identified that we also need to become more conscious during our travels and do our best to avoid contributing to unsustainable tourism practices. It won't be perfect, and we still have a lot to learn as we go. But we are hopeful that together, we can make the future of tourism better for our world and more inclusive for local communities.
Thanks for reading!
G
Did anything on this list surprise you? Have any questions about visiting Holbox Mexico? Reach out in the comments or DM us on Instagram!
Planning a Trip To Mexico? Read These Posts Next:
---
Tired of reading? We have an entire Yucatan Peninsula travel series on YouTube! Don't forget to like & subscribe 🙂
---
Save This Isla Holbox Mexico Post To Your Pinterest!