Amasra is a wonderful fishing village situated along Turkey's Black Sea coast. Built on top of the ruins of an old castle, Amasra wraps around a gorgeous little bay to create one of the most picturesque spots we visited during our adventures through Turkey. And with only 6,000 full-time residents, the town's slow pace is a perfect change of rhythm after being in Istanbul or any other hectic Turkish city.
Amasra has a chilled-out vibe going for it that makes it one of those ideal destinations to just kick back and relax. Seafood restaurants with outdoor seating and little cafes line the waterfront, offering visitors incredible options to end the day with some local food and wines. As you wander lazily through the quirky cobblestone streets with rows of vibrantly colored homes, you will feel completely content that there are not many things to do in Amasra, Turkey. This is a place to simply be present and enjoy the easy living.
Besides our visit to Pamukkale, we didn't do a great job visiting smaller towns in Turkey. So as our Turkish visas were close to expiring, we decided to spend 8 days in Amasra before ending our Turkey travels in Istanbul. Despite having to brave through some chilly November weather, we loved this tiny fishing village! Curious to learn more about Amasra? Keep reading to discover the top things to do in this quaint little Turkish town.
Estimated reading time: 20 minutes
*Note: this post contains affiliate links. When you purchase from these links, we receive a small commission at no extra cost to you. Thanks in advance for supporting WOTW!
Keep Reading To Discover More About Picturesque Amasra, Turkey!
When To Visit Amasra?
Amasra is a popular vacation spot for residents of Istanbul and Ankara due to the town's proximity to these two cities. That being the case, the little village can fill up quickly with Turks looking to spend a weekend along the coast.
Here is a general guideline to help you decide when to visit Amasra based on your travel style:
Summer (June – Early September): perfect beach weather, but significant crowds.
Fall (Late September – November): pleasant weather, but maybe too cool for the beach. Amasra can be wet and a bit gloomy in November. Lighter crowds, but not totally dead.
Winter (December – February): cold, damp, and empty.
Spring (March – May): cool weather. Crowds will start to pick up again with the weather warming up in April and May.
How To Get To Amasra?
Due to its small size, a visit to Amasra, Turkey might be slightly more complex than your average intercity travel in Turkey. If you are traveling to Amasra by bus, your first stop may be neighboring Bartin, the province's capital city.
You have to find your way to the center of town from the Bartin bus station. A local mini-bus (dolmuş) can take you from Bartin's center to Amasra's tiny bus station. You will likely find direct buses to Amasra from Istanbul and Ankara if you are visiting during the busier summer season.
WOTW Tip: you can explore bus routes and purchase tickets at Obilet.com. We bought our bus tickets from Obilet.com most of the time, and we can vouch that they are a reliable company. They were even helpful in refunding my tickets for a bus trip that was canceled without notice.
Best Things To Do In Amasra, Turkey
1. Explore The Quirky Streets And Colored Houses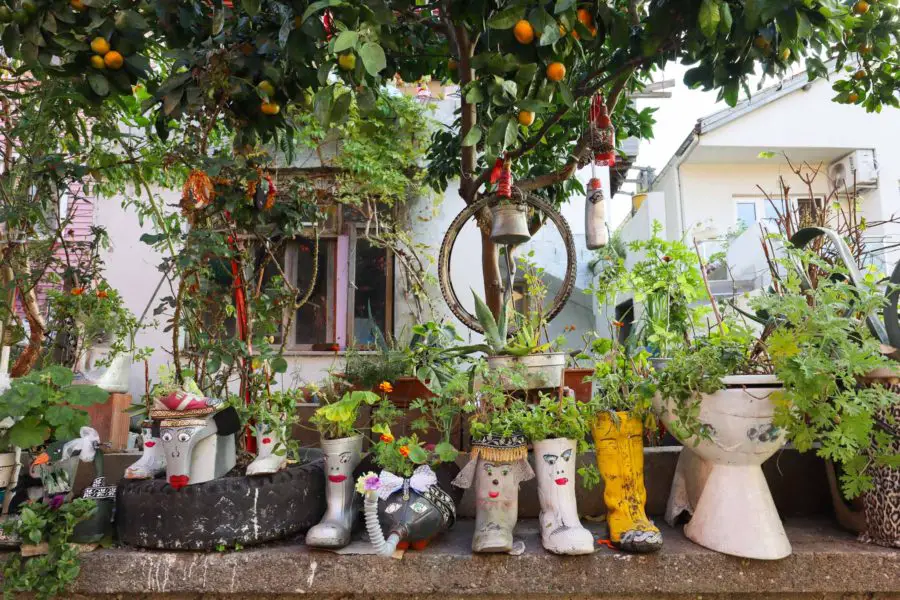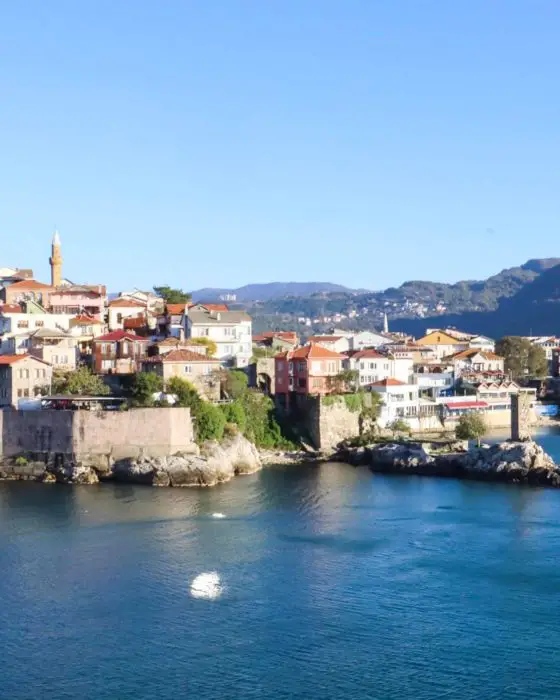 Price: free
Hours: N/A
Time needed: 1 hour
WOTW rating: 4/5
Amasra is built on the remains of a 9th-century castle. Today, the old castle walls blend together with homes and hotels to create fascinating views from nearly anywhere in town. But more than the ancient castle, this little fishing village is known for its colored homes with eccentrically decorated exteriors.
Wandering through some back streets will showcase the town's quirky side. Amasra's locals decorate their homes with plants growing out of old shoes, toilets, and other everyday items. You shouldn't leave town without getting lost in this sleepy town's narrow streets.
WOTW Tip: after crossing the bridge, you'll run into several vendors selling fresh fruits, grilled corn, and homemade jams. Some of the fruits we had never even seen before in our lives! These are definitely great to munch on as you explore Amasra's cobblestone streets.
Watch our video about Amasra if you are ready to see more of this adorable town!
2. Visit Kemere Bridge For Gorgeous Views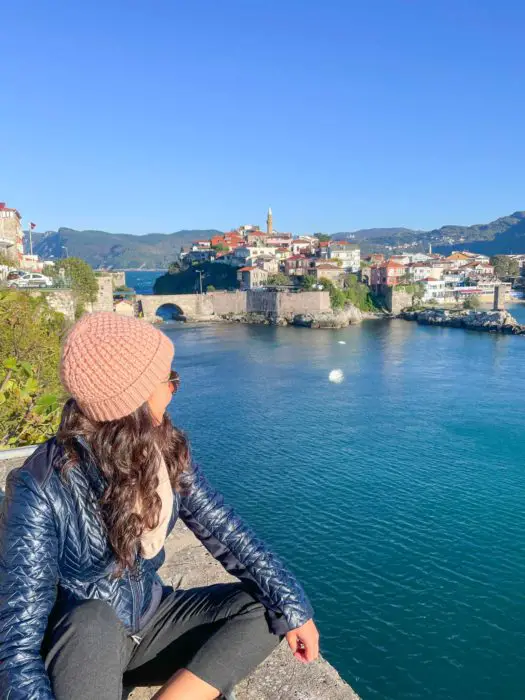 You won't need much time, but this historic spot is a great place for taking pictures of Rabbit Island and Amasra's beautiful bay. A stop at Kemere Bridge is likely the town's most popular attraction. See, I told you there weren't many things to do in Amasra!
Kemere Bridge is a 9th-century bridge likely built during the same period as the Amasra Castle. Kemere Bridge links Amasra's mainland to the minuscule Boztepe Island. To reach Boztepe Island by car, visitors need to cross the bridge before going through the most narrow tunnel we have seen in our lives! Make note of this if you plan to stay in Boztepe Island and have a car.
Save This Post To Your Pinterest for Later!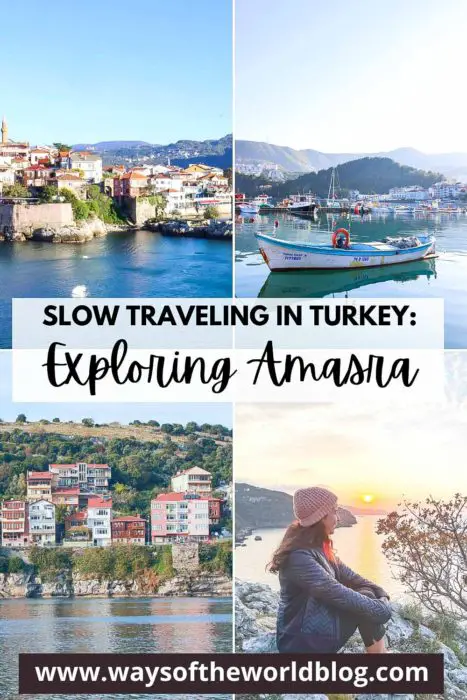 3. Relax On One Of Amasra's Popular Beaches
Visitors flock to Amasra during the summer months for its beaches. When we visited in November, the average high temperature was around 55 F (13 Celsius), so it was definitely not beach weather.
Nevertheless, we stopped by Amasra's most popular beaches to take a look. Objectively speaking, they aren't the most beautiful that we've ever seen. But if you are looking to escape the summer heat, there are definitely worse things to do than enjoy Amasra's beaches.
WOTW Tip: beaches in town can get very crowded during the high season. Don't have the expectation that you will be lounging on your own quiet stretch of sand if you are visiting Amasra in the summer months!
Curious about Turkey's other beach towns? Read these posts next:
4. Enjoy The Easy Living At Amasra's Waterfront Restaurants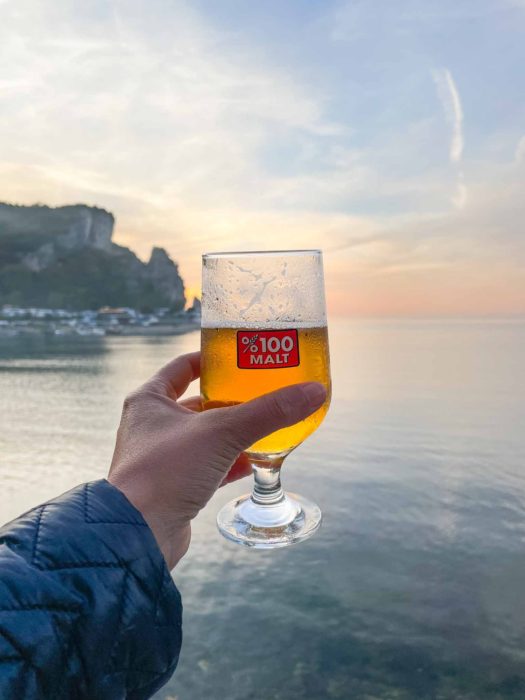 Price: $20-35 for a two-person dinner with drinks.
Hours: 12 pm – 12 am
Time needed: N/A
WOTW rating: N/A
Amasra, Turkey is renowned by locals for its prized seafood. Enjoying the local catch is literally why tourists visit this tiny fishing village. The bay and marina are lined with seafood restaurants offering up their fresh fish along with beautiful views. Order some white wine and grab a seat next to the local tourists to experience one of the essential things to do in Amasra.
We didn't indulge in Amasra's famous seafood because, well, we don't eat seafood. But we did try the best foods in all of Turkey in Gaziantep & Istanbul! Don't forget to read our posts about the best Gaziantep Foods, and incredible Istanbul foods!
5. Experience Sunset From Amasra's Most Epic Viewpoint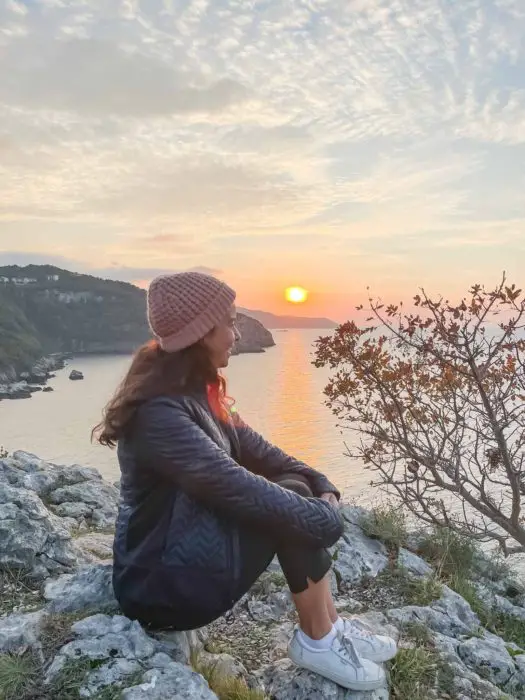 Price: free
Hours: sunset time!
Time needed: 1 hour
WOTW rating: 5/5
The cliffs surrounding Amasra are perfect for watching the sun set into the Black Sea. You can find the best spot to enjoy glorious sunsets just a short hike from the center of town. We spent almost every afternoon of our stay admiring the views from our favorite spot in Amasra. This place gets bonus points because we even saw dolphins one time!
Location: after reaching the viewpoint looking out to Rabbit Island, continue walking up the path until it becomes a dirt trail. Keep hiking for about 10-15 minutes to get to the viewpoint with excellent sunset views.
WOTW Tip: if the weather allows, it would totally be worth it to bring a little picnic set-up to the sunset spot. There are plenty of places to buy wine and beer in town, just don't forget your corkscrew!
Curious about other Black Sea destinations in Turkey? Don't forget to read our Ultimate Travel Guide And Itinerary For Trabzon and Rize, Turkey!
6. Go Souvenir Shopping At Amasra's Street Market
Price: varies
Hours: 9 am – 10 pm
Time needed: 30-60 minutes
WOTW rating: 3/5
Downtown Amasra is home to a bustling little street market where you can stock up on all the little souvenirs you could ever need. We did some Christmas shopping for our nieces and found some great bracelets and other little keepsakes. The vendors are very friendly, and the items for sale are all very affordable.
Amasra's street market is the perfect place for some last-minute shopping for all your loved ones back home.
WOTW Tip: locals always told us to bargain at these places, but the prices always seemed fair, and we ended up failing to work on our bargaining skills. We paid about $2 US per bracelet when shopping for our nieces. Maybe we were able to score better deals because we visited Amasra at the end of the tourist season.
Sign-up to our newsletter to get useful travel tips from our future destinations!
7. Take A Boat Tour Around Rabbit Island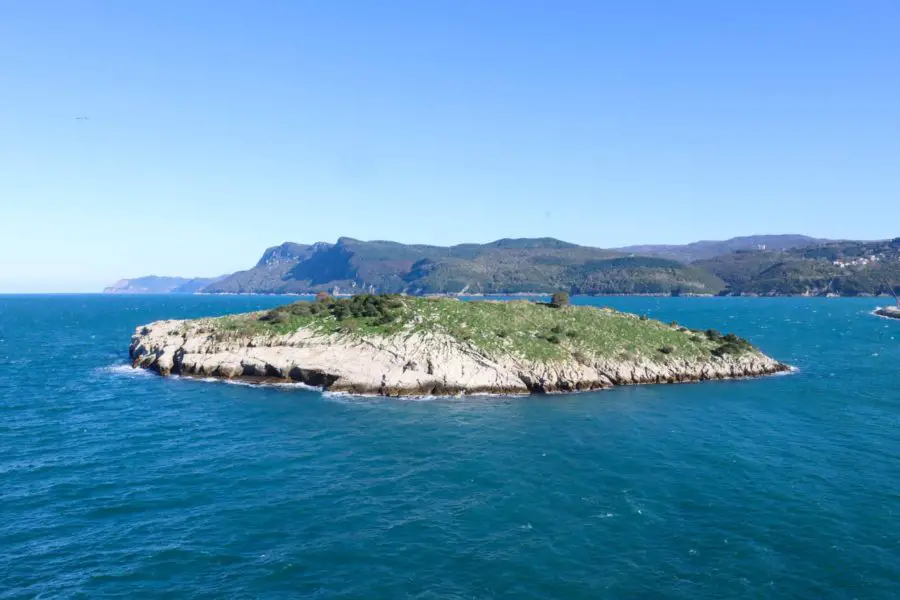 Price: I don't know 🙁
Hours: boats leave once they fill up.
Time needed: 40-60 minutes
WOTW rating: N/A
Several boats offer to take visitors on tours around Rabbit Island and Amasra's coastline. Just head to the marina and you will be sure to run into the captains and tour operators offering to take you out on the Black Sea. It is also possible to feed the rabbits on Rabbit Island!
The scenic boat tours take guests around Rabbit Island, along the rugged coastline, and into Amasra's bay. It is possible to see dolphins during the trip if you are lucky!
WOTW Tip: the number of boats going out gets more scarce after the summer season. The sea was often too rough to go out on when we were there in November. And on the nice days we only saw about 1 tour boat per day due to the lack of visitors.
Where to Stay In Amasra?
Because of its growing popularity as a tourist town, you won't struggle to find places to stay in Amasra. The most common lodging types are apartments and bed & breakfast style hotels called 'pansiyon'. Amasra is extremely walkable, so there is not much difference among the different areas of town. Though in our opinion, the views on the bayside are somewhat nicer than the marina side.
We searched the top-rated hotels in Amasra, so you don't have to! An epic view for your morning coffee or evening happy hour will go a long way to upgrade your visit to this sleepy little town!
WOTW Tip: we stayed in a cozy old Airbnb during our November stay in Amasra. It turned out that only two places in the apartment had heat! We were basically freezing every minute of our 8 days in Amasra. Maybe look for a more modern place if you are spending time in Amasra during the cooler months.
Final Thoughts About Amasra, Turkey
If you are a fan of quaint little villages that welcome visitors with seaside restaurants and picturesque vistas, then Amasra is for you! We expected that Amasra would be a sleepy little place, but even we were surprised by the slow pace of life when we visited in November. But even though Amasra lacks many notable activities and attractions, it is a charming destination that totally deserves a visit.
We would be thrilled if one day we could revisit Amasra. We had such an excellent time wandering through town and fully embracing the laid-back vibes. See you again, Amasra!
Thanks for reading!
G
Have any questions about visiting Amasra? Ready to check-out Turkey's Black-Sea region? Send us any questions or comments below, or DM us on Instagram.
Heading to Turkey? Read these travel guides next:
---
Tired of reading? We have a full Turkey travel series on YouTube! Don't forget to Like & Subscribe 🙂
---
Did You Like This Post About Amasra, Turkey? Share it on Pinterest!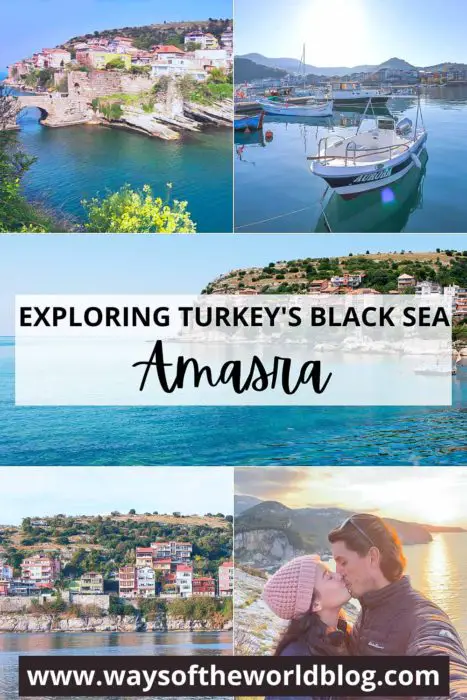 *Note: this post contains affiliate links. When you purchase from these links, we might receive a small commission at no extra charge to you. Affiliate income helps to keep us on the road producing content that we hope is useful to you!