Istanbul is one of the world's most fascinating cities. We fell in love with this place during a 12-day visit, and we can say that it is easily one of our favorite destinations in the world! Visitors are spoiled with an incredible collection of epic things to do, beautiful landmarks, and lively neighborhoods. But with so much going on, it's important to choose the best area to stay in Istanbul so you can make the most of your visit!
Istanbul's picturesque and historic neighborhoods each have pros and cons that you should consider when looking for a place to stay. In this post we highlight the characteristics that make each area worth staying in, and also the ones that may be unattractive based on individual travel styles. The goal is to help you plan your perfect trip to Istanbul!
Some of the neighborhoods in this post may be familiar. But hopefully you'll also discover some wonderful areas that you haven't considered for your stay! So whether you're visiting Istanbul on a short trip or hanging around on a more extended stay, you'll be sure to find the right neighborhood for your vacation.
This guide highlights these incredible Istanbul neighborhoods:
Sultanahmet
Eminönü
Karaköy
Galata
Taksim Square
Kadiköy & Moda
Balat
Beşiktaş
Cihangir
Estimated reading time: 26 minutes
*Note: this post contains affiliate links. If you make a purchase using these links, we receive a small commission at no extra cost to you. Thanks in advance for supporting WOTW!
Keep Reading To Make Sure You Choose The Best Area To Stay In Istanbul!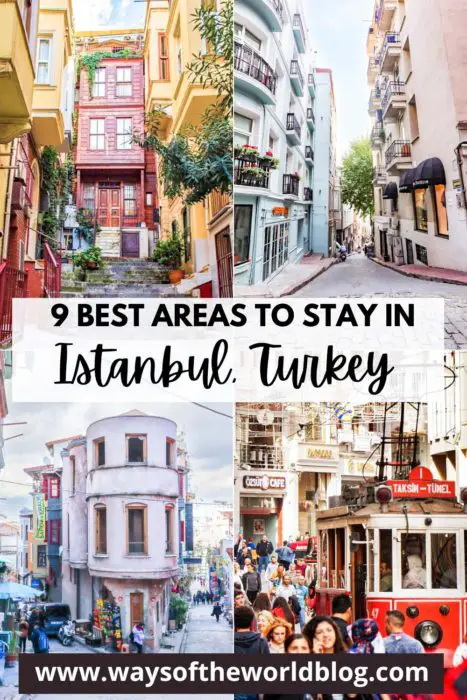 What To Know About Choosing The Best Istanbul Neighborhood?
Istanbul is a city of 15 million residents that spans two continents. It has 39 Districts that are home to many more distinct neighborhoods. And like any other major city, Istanbul's neighborhoods each have features that make them unique.
But don't worry, you don't need to consider dozens of different neighborhoods when picking the best areas to stay in Istanbul. The vast majority of places that give visitors what they are looking for are located around Istanbul's historic old city.
It's also good to familiarize yourself with Istanbul's waterways. The Bosphorus Strait, Golden Horn, and the Sea of Marmara give the city a ton of character. But these famous bodies of water are also situated along many of Istanbul's most popular neighborhoods. This is especially true for the beautiful Golden Horn.
Map Of Best Areas In Istanbul For you To Stay In
9 Of The Best Areas To Stay In Istanbul During Your visIt
Note that the Ways of the World rating (WOTW) in the following sections are based on whether the areas are good locations for visitors to stay in. For example, if a neighborhood is far away from many of Istanbul's popular sites, it may receive a lower ranking. But that doesn't mean we don't think you should visit!
1. Sultanahmet: The Best Area In Istanbul For Famous Landmarks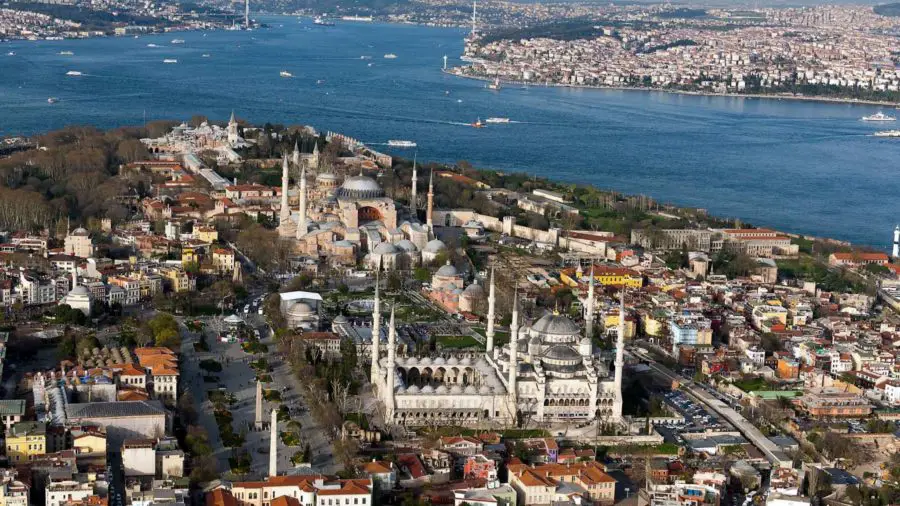 Pros of staying in Sultanahmet:

Walking distance to many important sights.
Situated in a gorgeous area.
Ideal for a shorter Istanbul itinerary.

Cons of staying in Sultanahmet:

Very busy with fellow travelers and tour groups.
Less 'local' feel compared to other neighborhoods.
Limited local life means that Sultanahmet becomes quiet at night.
Part of the Fatih district, Sultanahmet is the touristic core of Istanbul's old city. This area in Istanbul was previously the administrative and economic center of Constantinople, the capital city of both the Byzantine Empire (East Roman) and Ottoman Empire.
When you picture Istanbul's most famous landmarks, there is a good chance that they are located in Sultanahmet. Many of the most popular things to do in Istanbul can be found in this historic neighborhood. The Hagia Sophia, the Blue Mosque, Topkapi Palace are walking distance for those lucky travelers staying in this area.
While Sultanahmet scores high on convenience, it is also the most touristy neighborhood in Istanbul. Still, it is one of the best areas to stay in Istanbul for visitors on a shorter itinerary, families with children, and those who prefer not to walk long distances or take public transportation to reach Istanbul's most popular attractions.
Is Sultanahmet the best area in Istanbul for you? We found the highest-rated places for you to stay in the historic Sultanahmet neighborhood!
2. Eminönü: Istanbul's Hectic Bazaar Neighborhood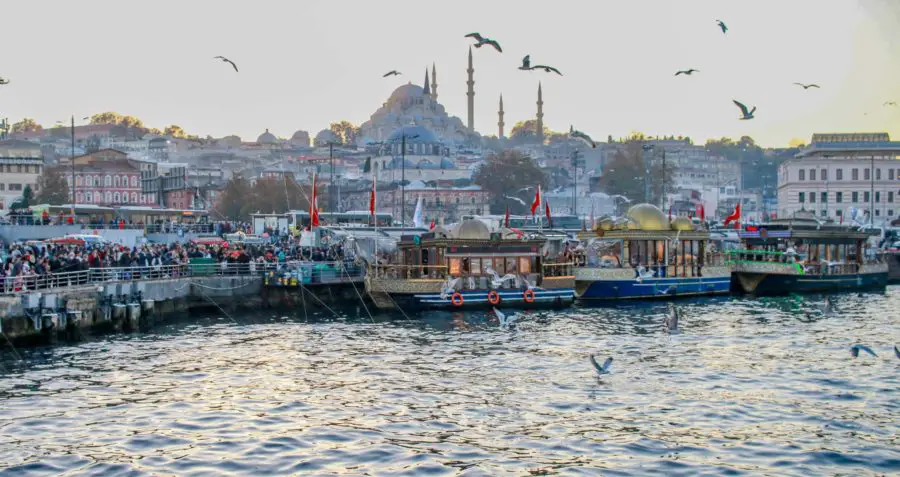 Pros of staying in Eminönü:

Easy walking distance to the major sights around old Istanbul.

Can find local life away from the touristy bazaars.
Slightly off from the major tourist crowds in Sultanahmet.

Cons of staying in Eminönü:

Relatively more busy with tourists than other neighborhoods.
Extremely crowded with locals and visitors during the day.
Limited local appeal in the evenings once shops close.
The Eminönü area is home to the Grand Bazaar, Sulemaniye Mosque, and the imposing Rüstem Paşa Mosque. Located directly next to Sultanahmet in Istanbul's old city, Eminönü is impressively packed with tourists and locals wandering the narrow streets around the city's famous bazaars.
Eminönü was previously one of Istanbul's incorporated districts. However, many residents left the neighborhood due to the growing influx of tourist establishments. That said, the area is still home to a maze of local shopping streets that are great for experiencing a taste of daily life for many of Istanbul's residents.
Located directly close to virtually all of the most famous landmarks, Eminönü is one of the best areas to stay in Istanbul for proximity to the city's major attractions. It is also a perfect choice for those who want to feel the chaotic energy that a city of 15 million residents provides. But being home to many famous landmarks, Eminönü also is extremely touristy. Similarly, there are limited local dining and nightlife options nearby.
Want to experience one of Istanbul's most crowded and energetic areas? Eminönü might be the place for you. We found the highest-rated places to stay in the neighborhood of the bazaars!
Note: it's not possible to filter lodging by the Eminönü area. The link above is for the broader Fatih district. If you are interested in staying in the Eminönü, use the map feature to look for hotels between the Galata Bridge and Ataturk Bridge.
3. Karaköy: The Best Area For Trendy Vibes And Waterfront Views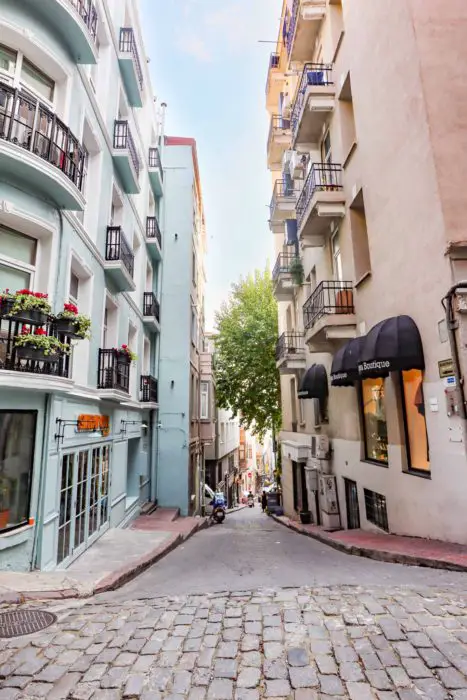 Pros of staying in Karaköy:
Cons of staying in Karaköy:

Slightly less convenient for visiting the old city's landmarks.
Becoming more expensive due to its growing popularity.
Located across the Golden Horn from Sultanahmet and Eminönü, Karaköy is one of Istanbul's best areas to stay for visitors looking for a convenient but stylish part of town. From Karaköy, you can easily cross the beautiful Galata Bridge or take public transportation to get to old Istanbul in no time. But you can also spend the day enjoying the more local atmosphere away from the tour groups and touts.
And if Karaköy wasn't already fantastic enough, this little neighborhood's waterfront is excellent for watching the chaotic boat traffic with the old city in the background. You can also catch some of the most beautiful sunsets from the promenade along the Golden Horn. Enjoy the unforgettable views as the sun drops behind Istanbul's most famous mosques!
Up-and-coming Karaköy is growing in popularity due to its charming and trendy local scene. This tiny neighborhood definitely will not disappoint travelers who appreciate hanging out in eclectic coffeeshop with locals as much as they do having access to Istanbul's iconic sites.
Convinced that Karaköy is the best area in Istanbul for you? We found the highest-rated places for you to stay in our favorite Karaköy neighborhood!
---
Guess what? We stayed in Karaköy during our 12 day Istanbul visit. Check out this video about our first impressions from this beautiful neighborhood and the surrounding area!
---
4. Galata: Coolest Area With Nightlife And Boutique Hotels
Pros of staying in Galata:

Vibrant neighborhood with great energy.
Close to historical sites and dining and nightlife.
Many boutique lodging options.

Cons of staying in Galata:

Can be busy at all hours of the day.
The area directly around Galata Tower is selfie central at night.
About a 30-minute walk to Sultanahmet.
Marked by the famous Galata Tower, Galata perfectly blends Istanbul's historic and modern influences. Visitors staying in Galata can explore the historical sites in one direction before heading to "modern" Istanbul to enjoy the shopping and vibrant nightlife.
Galata is a bustling district that comes alive at night. People come to enjoy the outdoor cafes and restaurants with views of the illuminated Galata Tower. There are also loads of boutique hotels, vintage shops, and cool cafes that attract the young and fashionable.
The Galata area is somewhat hard to distinguish from neighboring Karaköy. They both have similar colonial architecture and independent establishments. But even though they are directly next to each other, Galata is more crowded and noisy than Karaköy.
Want to stay with the cool kids in Galata? We think that's a great choice! Here are the highest-rated places for you to stay in our favorite Galata neighborhood!
Don't forget to read these related posts about Istanbul:
Save This Neighborhood Guide Post For Later!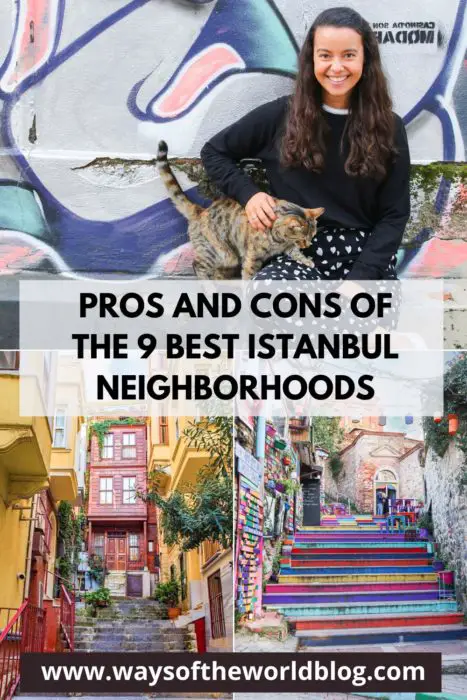 5. Taksim Square: The Best Area In Istanbul For Shopping And Partying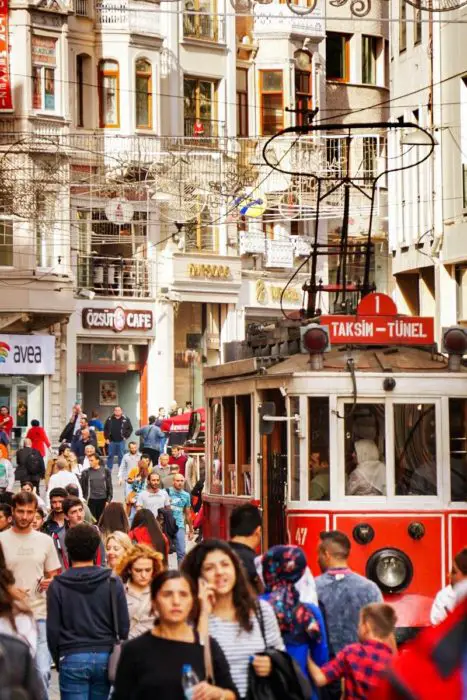 Pros of staying in Taksim Square:
Cons of staying in Taksim Square:

Super busy!
Far from Old Istanbul.
Not particularly beautiful.
Taksim Square is the bustling and festive flip side to the historical and slower-paced Sultanahmet neighborhood. Taksim Square is considered by many to be the heart of modern Istanbul. It's a very energetic area where you can find shops, restaurants, and nightclubs all in one place.
While the area is definitely lively, it is not the most convenient for first-time visitors. Taksim Square is not within walking distance of old Istanbul for most people. The best way to visit the iconic sites around Sultanahmet is by taking the metro. The total trip from Taksim to Sultanahmet is about 25-30 minutes.
Even though Taksim Square is one of the most popular areas to stay in Istanbul, we definitely think there are better choices out there. This busy place lacks much of the local charm found in the city's other neighborhoods.
Looking for Istanbul's party scene? We found the highest-rated places for you to stay in the Taksim Square neighborhood!
Interested in Receiving More Useful Travel Posts? Sign Up To Receive Our Weekly Email!
6. Balat & Fener: Istanbul's Most Photogenic Areas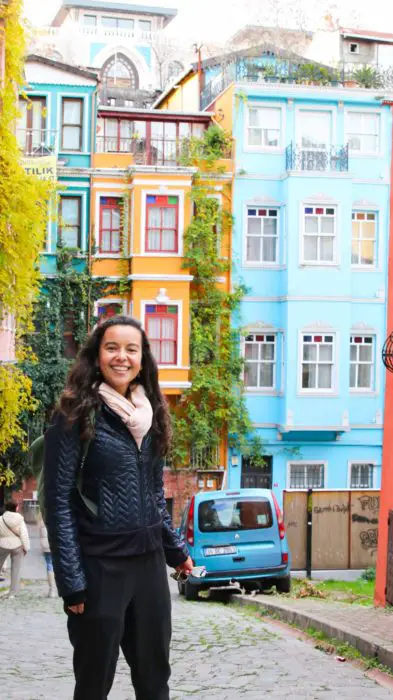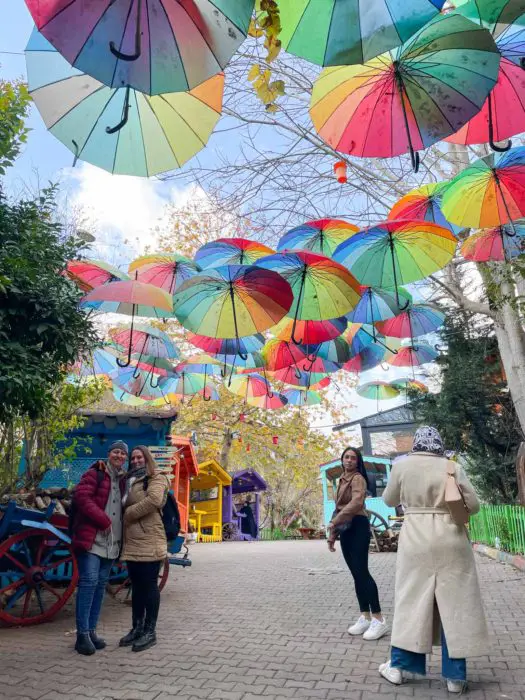 Pros of staying in Balat & Fener:

Great for photographers.
Away from tour groups and major crowds.
More affordable, but limited lodging options.

Cons of staying in Balat & Fener:

Somewhat of a 'made-for-Instagram' vibe.
Meaningful distance from Istanbul's major sites.
Not super convenient for taking public transportation.
The historic Balat and Fener neighborhoods are going through a transformation to restore what historically was one of the more beautiful parts of Istanbul. A large-scale renovation project is currently underway to restore the area's beautiful and historic buildings. Many of the old Ottoman homes are now popping with color, and the streets have a similar quirky appeal that we also found while visiting the picturesque town of Amasra. Walking through the winding streets is a photographer's dream.
Balat and Fener were previously old Greek and Jewish neighborhoods. However, these communities largely left the area, and the district began to attract more conservative residents. Today the area is a fascinating blend of religiously conservative locals living next to trendy cafes and restaurants.
Be aware that Balat and Fener are not within walking distance to Sultanahmet. These two up-and-coming neighborhoods are perfect for people looking for slightly off-the-beaten-path neighborhoods with a good amount of hip cafes and restaurants.
Do you love the idea of waking up in one of Istanbul's most photogenic neighborhoods? Take a look at the highest-rated places for you to stay in the Balat neighborhood!
Note: it's not possible to filter lodging by the Balat neighborhood. The link above is for the broader Fatih district. If you are interested in staying in the Balat area, use the map feature to look for hotels between Kariye Camii (Kariye Mosque) and Fatih Camii (Fatih Mosque).
7. Kadiköy & Moda: Best Neighborhoods In Istanbul For Repeat Visitors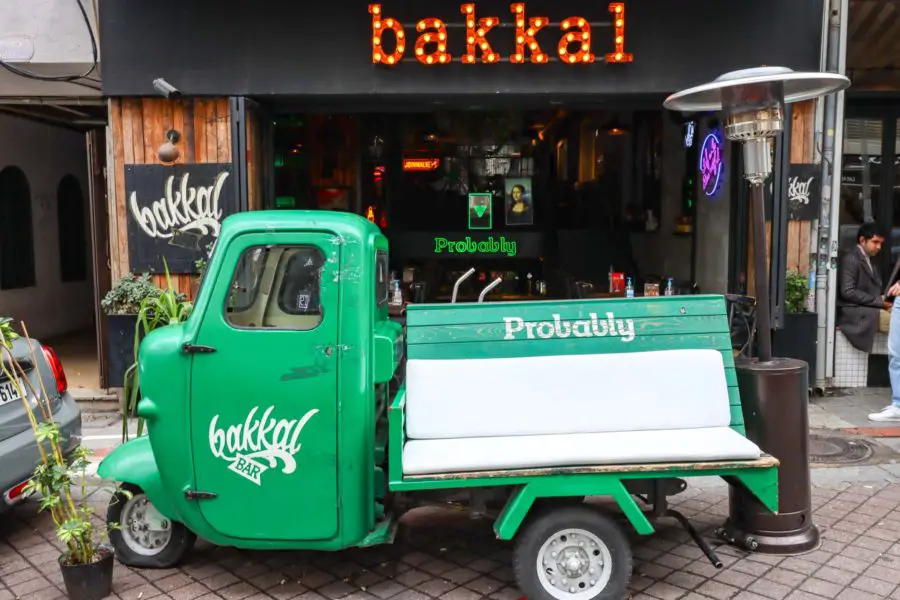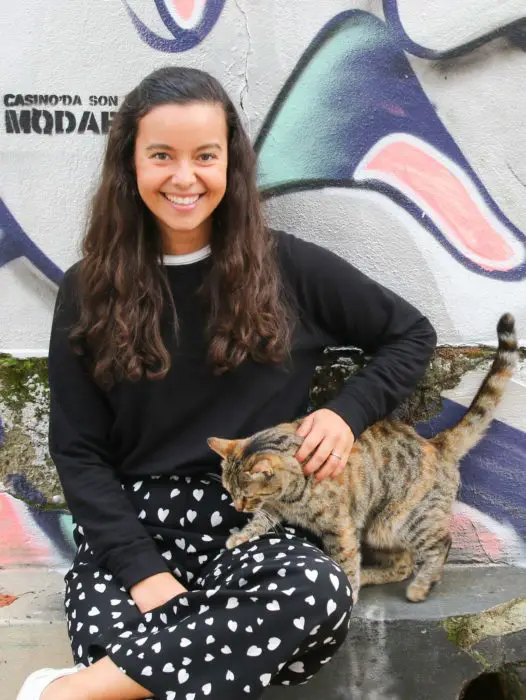 Pros of staying in Kadiköy:

Far away for major tourist crowds.
Plenty of restaurants, bars, and cafes.
Experience authentic local vibes.

Cons of staying in Kadiköy:

Not conveniently located for visiting most tourist sites.
Not many attractions in the neighborhood.
Located on Istanbul's Asian (or Anatolian) side, these seldom-visited areas have a reputation for having little to offer tourists. We spent an entire day exploring Kadiköy and Moda, and we couldn't disagree more. While it's true that there aren't many famous sites, these neighborhoods have some of the coolest vibes in all of Istanbul.
Kadiköy and Moda are where many of Istanbul's students and young professionals live. And there is definitely a bit of a party scene in this area. But the party scene here has a much more local feel than Taksim Square. There are also many eclectic coffee shops, great restaurants and boutique shops mixed in with the party spots.
In summary, Kadiköy and Moda are best for travelers looking to experience living in one of Istanbul's cool local neighborhoods. Also, you better not mind being a ferry ride away from Istanbul's famous sites. We think this area is perfect for travelers who have already spent time in Istanbul or those on a longer Istanbul itinerary.
Want to be in the middle of one of Istanbul's most vibrant neighborhoods? Take a look at the highest-rated places for you to stay in the Kadiköy neighborhood!
---
Want to see what it's like in Istanbul's Asian side? Watch our video from Kadiköy and Moda and find out why we think this part of Istanbul is totally underrated!
---
8. Beşiktaş: Istanbul's Luxury Waterfront Neighborhood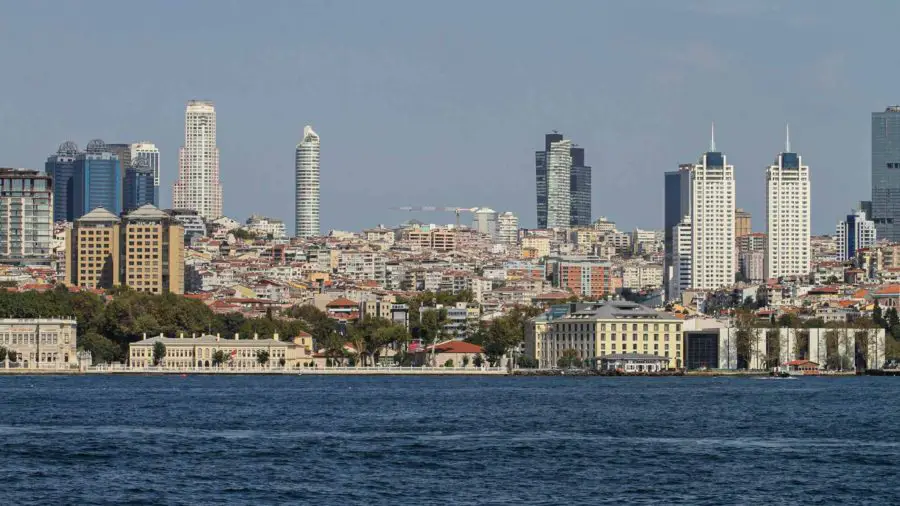 Pros of staying in Beşiktaş:

Close to the Bosphorus Strait & Dolmabahçe Palace.
More modern and luxurious than other areas on the list.

Cons of staying in Beşiktaş:

Far from major attractions.
The ferry is the most convenient way to visit old Istanbul.

More popular with business travelers.
Beşiktaş is a large waterfront neighborhood situated slightly farther down the Bosphorus Strait from Karaköy. Its location on the waterfront means that there is good access to all of Istanbul's best areas via ferry. But it's not super convenient for visitors hoping to spend a lot of time in old Istanbul.
This district has evolved into an important commercial area, and visitors will find many modern high rises mixed in with historic buildings. The most notable landmark in the area is the Dolmabahçe Palace. This lavish Ottoman palace perfectly showcases the previous grandeur of this once great empire.
If you want to stay in an upscale area of Istanbul far away from most tourist crowds, Beşiktaş would be a great choice. However, because it is over 4 miles (6 km) away from Sultanahmet and not easily connected by metro, the average visitor would find Beşiktaş's location less than ideal.
Interested in staying in the beautiful Beşiktaş area? Get ready for a taste of luxury. These are the highest-rated hotels we found in this waterfront neighborhood!
9. Cihangir: Istanbul's Bohemian Area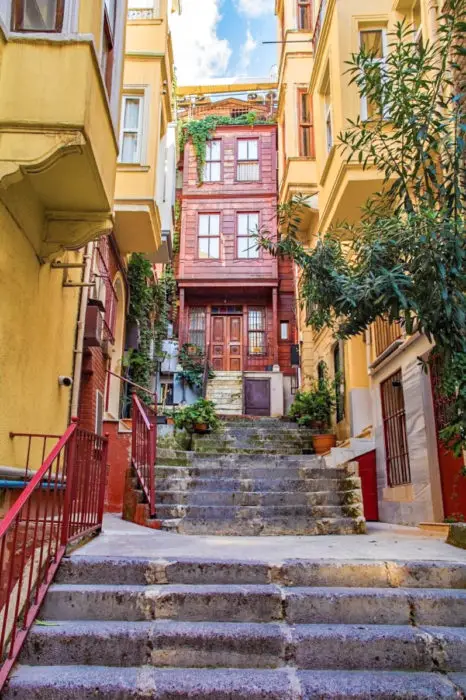 Pros of staying in Cihangir:

Located away from tourists.
Visitors can experience a more local part of Istanbul.
There are cats everywhere!

Cons of staying in Cihangir:

Distance from popular attractions.
Limited lodging options.
Located only a few minutes from Taksim Square's non-stop party is the sophisticated and bohemian neighborhood of Cihangir. While this area is not on most travelers' radars, it could be a good option for those who want to be close to Taksim's shopping and nightlife but don't want to be surrounded by the constant crowds.
In the 1970s, Cihangir became a magnet for Istanbul's artists and intellectuals. The bohemian atmosphere that these individuals brought to the neighborhood is still alive today. You'll find great outdoor cafes, cozy bars and quiet streets that will make you completely forget that you are in a city of 15 million people.
Objectively there is not much to see in Cihangir in terms of popular sites or attractions. But it is located close to the T1 metro stop, which takes visitors into Sultanahmet, and walking distance to the Kabataş ferry terminal along the Bosphorus Strait. And bonus points to Cihangir for being known as one of Istanbul's popular cat neighborhoods!
Looking for Bohemian vibes during your Istanbul stay? Check out these highest rated hotels around the Cihangir area!
Final Thoughts About Picking The Best Area In Istanbul
Istanbul was one of the highlights of our 3-month Turkey visit. This world-class city absolutely stole our hearts, and we can not wait to go back to keep exploring its beautiful neighborhoods and iconic landmarks.
No matter where you stay, you are likely to have an excellent time. However, we think choosing the best area in Istanbul will definitely help upgrade your visit! So whether you are looking for an area close to historic attractions, or hip neighborhoods with boutique shops and cool cafes, there will be a neighborhood in Istanbul that best fits your personality!
Thanks for reading!
G
Which one of these neighborhoods is for you? Have any questions about the best areas to stay in Istanbul? Reach out in the comments or DM us on Instagram!
Ready to plan the rest of your Turkey adventures? Read these posts next:
---
Tired of reading? We have an entire Turkey travel series on YouTube! Don't forget to subscribe to follow the adventures 🙂
---
Was This Istanbul Neighborhoods Post Helpful? Share it on Pinterest!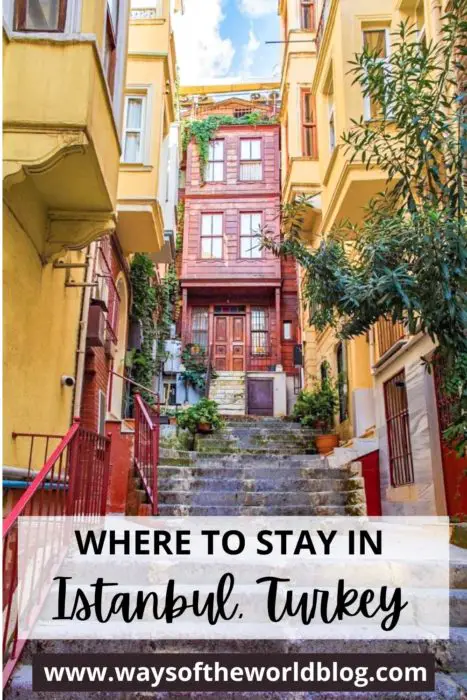 *Note: this post contains affiliate links. We receive a small commission if you purchase using these links, at no extra charge to you. Affiliate income helps to keep us on the road producing content that we hope you find useful!