Who hasn't dreamed of visiting the Yucatan Peninsula? Turquoise seas, sandy beaches and charming colonial cities have drawn lucky travelers to this tropical paradise for decades!
But we had so many questions before our 70-day adventure throughout this misunderstood place:
Can you get off the beaten path in this ultra-touristy part of Mexico?
Is it even safe to visit the Yucatan Peninsula?
Are the margaritas served frozen or on the rocks?
This post shares 30 things that nobody tells you about visiting Mexico's Yucatan Peninsula! We want to encourage others to get deeper into the Yucatan Peninsula. Like 391 feet to the bottom of a cenote deep. (That's the depth of the Yucatan's deepest cenote. Yes, I looked it up.)
We're including useful tips, places to avoid, and moderately amusing observations about one of the most popular tourist destinations in the world!
Estas listo (are you ready)???
Estimated reading time: 39 minutes
*Note: this post contains affiliate links. We receive a small commission at no extra cost to you if you purchase from these links. Thanks in advance for supporting WOTW!
What Nobody Tells You About Visiting Mexico's Yucatan Peninsula?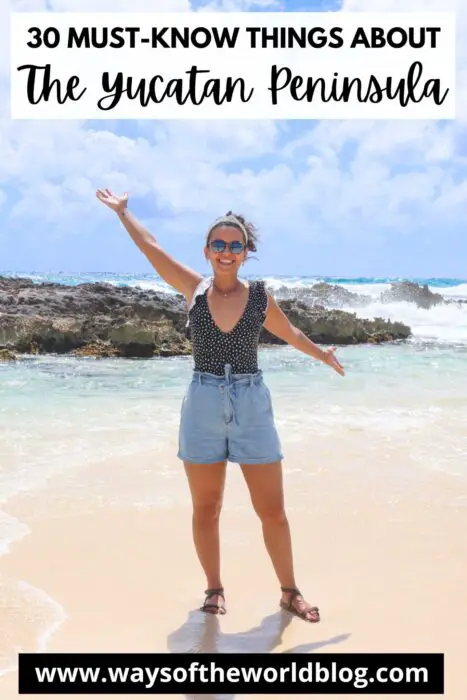 30 Things Nobody Tells You About Visiting The Yucatan Peninsula
1. The Yucatan Peninsula Is Not What You Think It Is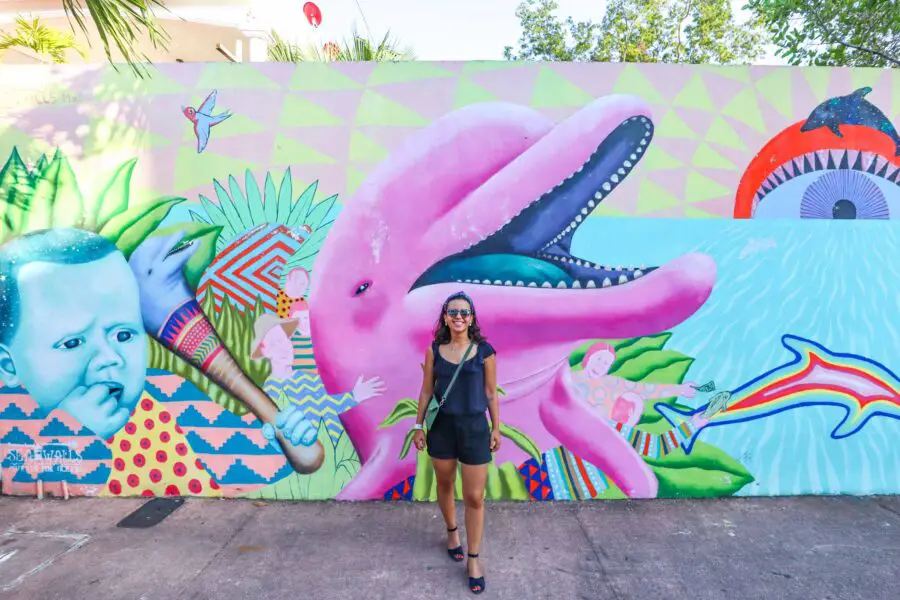 What comes to mind when you think about the Yucatan Peninsula? Is it all-inclusive resorts, spring break crowds and sunburned cruise passengers?
Let's face it, many people that visit the Yucatan Peninsula never leave their resort. Well, eventually they do… it's not like they just impulsively move to Mexico. I'm just saying that a lot of people don't venture out to explore the rest of the region.
But could there be something more to this place? What if we told you that visiting the Yucatan Peninsula can be a magical experience of mind-blowing foods, fascinating Mayan culture and unexpected adventures? What if we told you everything you know about the Yucatan is a lie???
Sorry, I got a little carried away…
2. The Riviera Maya Actually Is Exactly What You Think It Is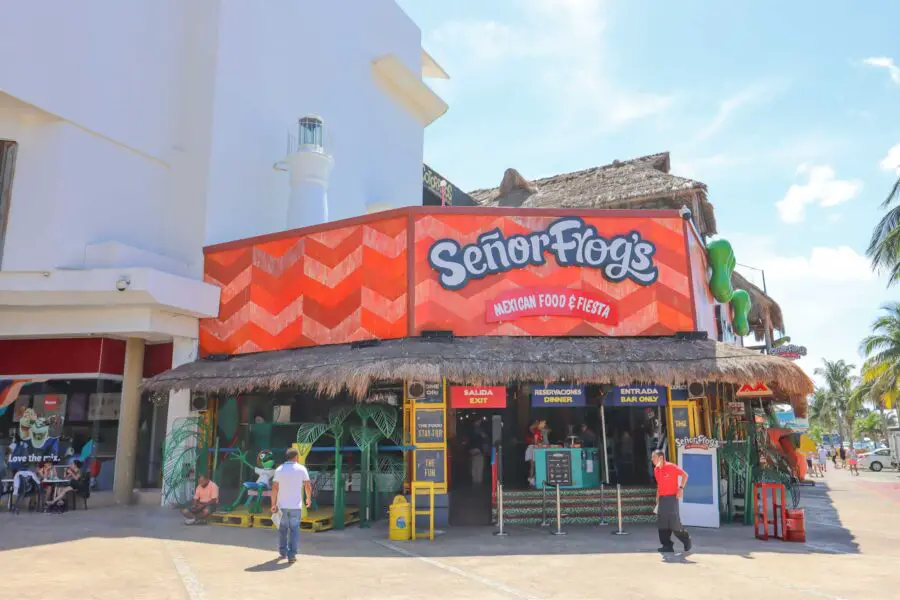 Nothing like a shameless contradiction to start this blog post! But let us explain…
About 40 million people visit Mexico each year, and the Yucatan Peninsula receives the highest percentage of those visitors. In fact, most travelers wind up in the Mexican state of Quintana Roo, which is home to vacation hot spots like Cancun, Tulum, Playa del Carmen and Cozumel. And these famous destinations are located in what is known as the Riviera Maya.
And, if we're being completely honest, most of the Riviera Maya is probably exactly what you think it is. This ultra-popular area feeds the stereotypical view of the region: party vibes, all-inclusive experiences, congested streets, and frankly, limited substance. The extent of cultural immersion for many visitors is saying 'Hola' to the guy at the omelette station.
And we're not trying to tell people how to travel – everyone has the right to spend their vacation how they want. All we're saying is that the Riviera Maya is touristy.
3. But There's Still One Place In The Riviera Maya We Love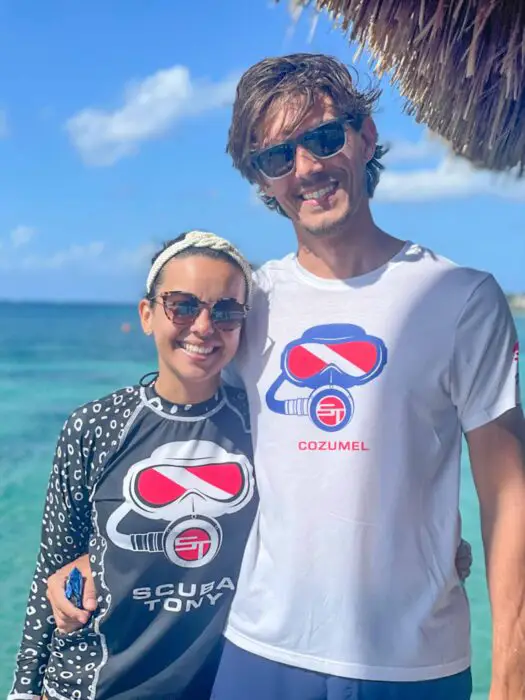 We spent almost two weeks on the tropical island of Cozumel. Two weeks! And we never ever wanted to leave.
Now you may be asking, 'doesn't Cozumel receive more cruise ship passengers than any other place in the Caribbean? And isn't it filled with cheesy theme restaurants like Margaritaville and Señor Frogs? And don't you guys usually try to avoid these kinds of places?'
Well, yes. Those things are mostly true.
But even though Cozumel does cater to the crowds of cruise passengers disembarking daily, there is still a very authentic and unexplored element to this lovely little island. Head to the local market to chow down on traditional Yucatecan dishes, or head to the island's east coast to visit Cozumel's untamed and less explored beaches.
Which meanders perfectly into our next point…
4. The Yucatan Is Actually A Super Laid-Back Travel Destination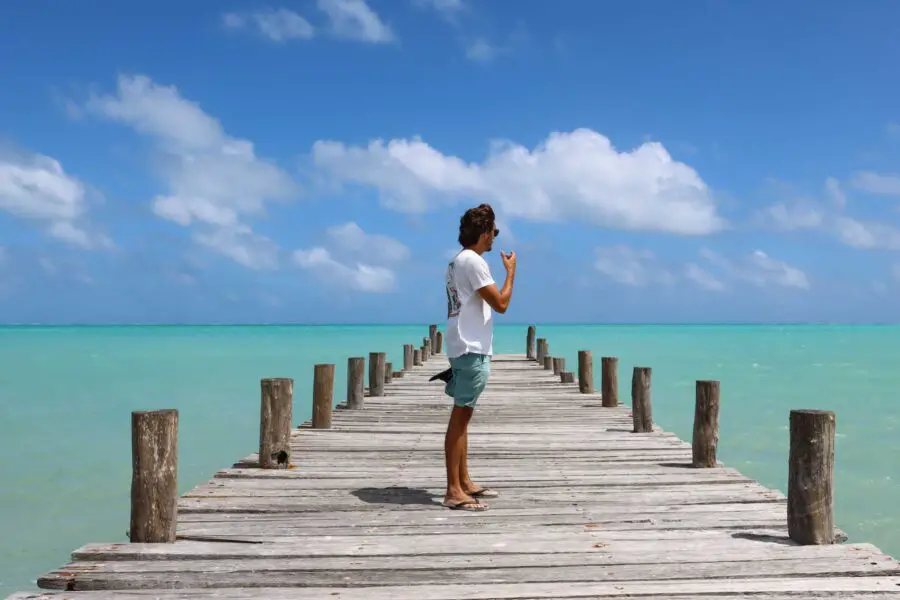 Go beyond the hectic streets and party atmosphere of the Riviera Maya's most popular spots and you can find a part of Mexico that is wonderfully laid back. It's true! The Yucatan has plenty to offer visitors looking to get away from the crowds to discover the region's true identity.
The Peninsula is home to virgin beaches, enchanting cenotes, fascinating Mayan ruins and much more! And if you take the time to look, you might even find yourself having a private cenote for the day or walking up an ancient Mayan temple with no other people in sight.
And speaking of those delightfully refreshing sinkholes…
5. Cenotes Are One Of The 'Coolest' Things About Visiting The Peninsula (pun intended)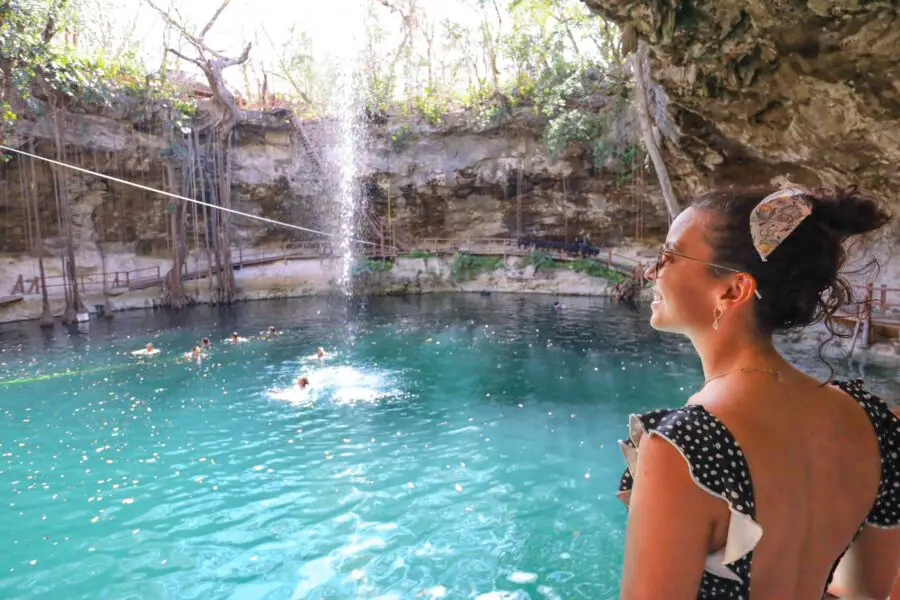 How many cenotes are too many? We're not exactly sure – but we were determined to find out! We visited a dozen cenotes during our trip around the Yucatan. And, no, that wasn't too many 🙂
Never heard of cenotes and have no idea what we are talking about right now? Well, cenotes are limestone sinkholes that have been filled with groundwater. And there is seemingly an infinite number of these awesome natural wonders located around the Yucatan Peninsula.
Want to find the best cenotes to visit in the Yucatan? We loved the undiscovered cenotes near Merida and Homun!
Cenotes are great places to cool down and connect with the Yucatan's energy. That's because the local Mayan communities considered cenotes sacred gateways to the underworld. Cool!
This brings us to our next point:
6. The Yucatan Is A Great Place To Experience Mayan Culture
Exploring indigenous cultures might not be top of mind when planning a trip to the Yucatan Peninsula. We totally get that the Caribbean beaches and picture-perfect cenotes are why most people visit this part of Mexico.
But the Mayan civilization thrived in this region for many centuries. And it continues to be an important part of the region's identity to this day.
You can still hear local communities speaking Mayan dialects and ladies wearing traditional clothing! So even though the ancient Mayan cities have collapsed, the Mayan culture is still alive and well in the Yucatan. That said, you'll have to go beyond the Riviera Maya to really connect with Mayan communities.
And even if you aren't planning to visit the Yucatan for cultural experiences, we still consider the next thing on this list a 'must do.'
---
Do you like this kind of post? Read these next:
---
7. Don't Miss Out On Exploring The Yucatan's Mayan Ruins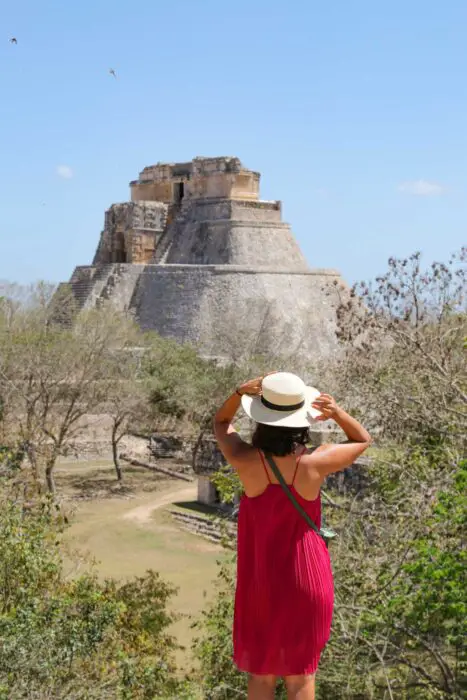 This part of Mexico is home to a mind-boggling amount of ancient Mayan cities. And they all vary in size, beauty, historical significance and popularity. And if you travel to learn about the places you visit (which we fully endorse), then there is no excuse not to visit at least one of these incredible remnants of one of the world's great ancient civilizations.
We promise that the Yucatan's Mayan ruins are worth a visit, even if you're not particularly interested in history or archaeology! We loved seeing the incredible details and enormous temples at places like Ek Balam and Uxmal. And we felt like the luckiest people in the world when we had the stunning ancient city of Edzna almost all to ourselves!
But guess what?
8. Visiting Chichen Itza Is Cool, But It's Not The Best Mayan City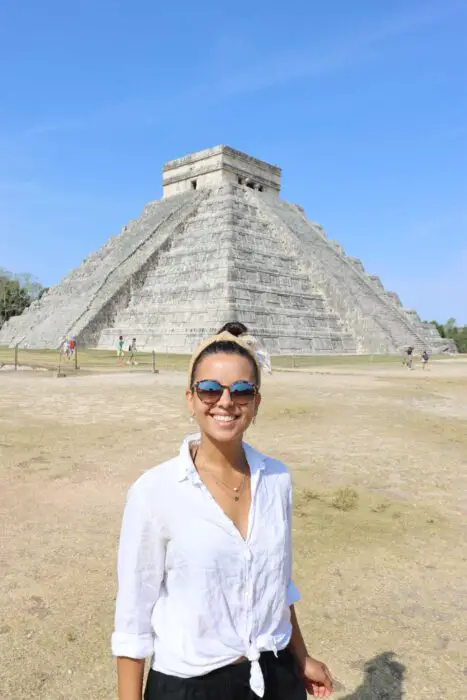 Yea, we realize that the 'best' is totally subjective. So just consider the above statement our own opinion.
Anyways, Chichen Itza is the most visited single attraction on the peninsula. And it is a beautiful, interesting and convenient place to add to your itinerary. But we can vouch that its reputation for being super busy and commercial totally holds up.
Check out our vlog about Chichen Itza if you want to see what it's like!
It's a place where many people seem to go to get the perfect photo for social media rather than immerse in the place's incredible history. In that sense, it's a bit like Pamukkale's famous Cotton Castle.
If you are spending most of your time around the Riviera Maya and have to choose only one Mayan ruin to visit, consider Ek Balam instead of Chichen Itza. We found it more impressive and much less commercialized!
Chichen Itza is also less appealing because there is hardly any shade. Which, you will surely notice because…
9. The Yucatan Peninsula Can Get Sweltering Hot
We traveled throughout the peninsula from early February to late April. And we dealt with triple-digit heat (+37 Celsius) for the last month and a half of our adventure.
This kind of heat is so intense no matter what you are doing. But it can become especially overbearing if you are climbing Mayan ruins or exploring colonial cities located miles away from the nearest beach.
We felt our brains slowly melting away after a few weeks of dealing with the intense Yucatecan heat. We struggled to pull together any coherent words or thoughts. Make sure to drink plenty of water and consider channeling your inner Wim Hoff by taking cold showers.
So now you may be wondering: is the heat the only thing I have to worry about during my vacation?
Sadly, no…
10. Mosquitos In The Yucatan Peninsula Are Relentless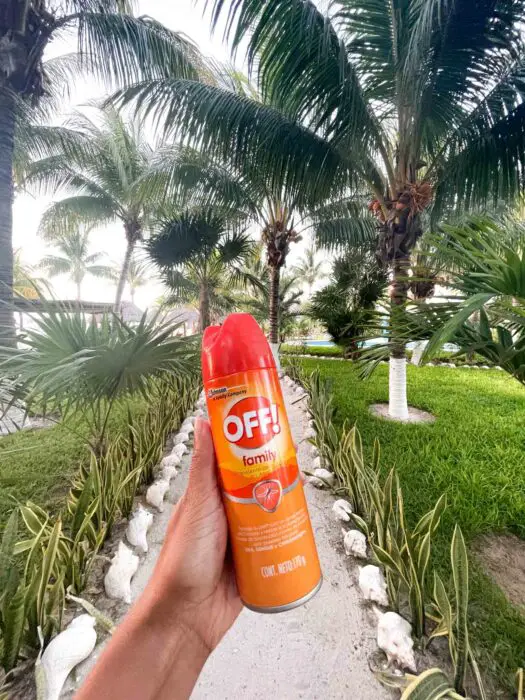 We call South Florida 'home,' so rendezvous with Jumanji-sized mosquitos are nothing new to us. But the pesky little f'ers we encountered while visiting the Yucatan Peninsula are cut from a different cloth.
You better run for cover at sundown – because the mosquitos in the Yucatan come after you like heat-seeking missiles. We literally saw people spraying themselves from head to toe with mosquito repellant. And yes, that even includes locals. We've never seen anything like it!
So make sure you bring some bulletproof repellant when visiting the Yucatan, especially if you will be there during the rainy season.
Don't say we didn't warn you!
Okay, so now you know that it gets hot and there are demon mosquitos – but is there anything more serious to worry about while visiting the Yucatan Peninsula? Good question. You'll be happy to read the next thing on this list:
11. The Yucatan Peninsula Is The Safest Region In Mexico
Bring up 'Mexico travel,' and the issue of safety will inevitably arise. But did you know that you have little to worry about when visiting the Yucatan Peninsula?
The states of Campeche and Yucatan (which make up the western half of the peninsula) are the safest in all of Mexico! And even Quintana Roo is statistically very safe – despite the shocking news that comes out of places like Cancun and Playa del Carmen from time to time.
We drove through the countryside, traveled by bus, walked around cities at night, and almost always had our cameras out. And we always felt perfectly safe. So even though people love to portray all of Mexico as a lawless country, nobody tells you that the Yucatan Peninsula is actually a super safe place to visit!
Just avoid getting involved with the wrong people (aka drug dealers) and it is unlikely that anything bad will happen.
And you won't have to worry about anything when visiting #12 on this list.
---
Curious about everything from prices to our favorite spots? Just hit play!
---
12. Punta Allen Is The Peninsula's Most Underrated Rustic Retreat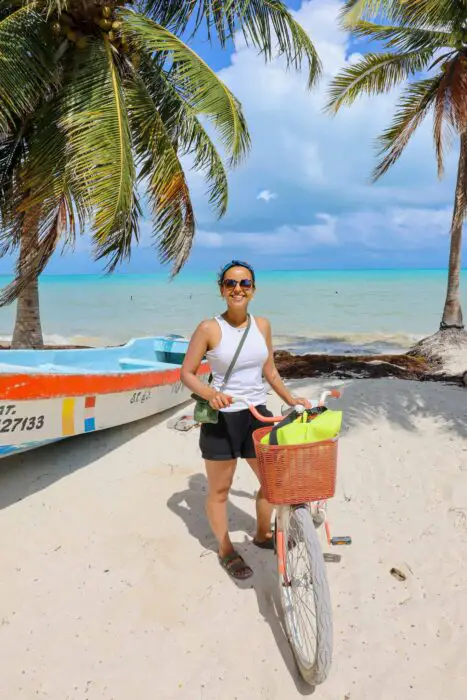 Punta Allen, Mexico is located only a short distance from Tulum. Still, it is a world apart from its trendy neighbor to the north.
This little fishing village was by far the most remote place we visited. We had to drive the world's bumpiest road and take a small boat just to get there! But we were happy to find out that you can still discover hidden gems in the Yucatan Peninsula.
Punta Allen is free of paved roads, ATMs and anything even remotely resembling the flashiness of the popular coastal cities in the north. And that's why we fell in love with it! It's a place to embrace lazy walks on the beach, long morning coffees and a simpler way of life.
Check out our vlog about magical little Punta Allen (video includes beach pups and sea turtles).
There are crocs in Punta Allen, but they only come out at night in a spot outside of the main town. So just don't go wandering off in the middle of the night!
Want to know about another favorite and (slightly) under-the-radar destination? (Hint: we tell you in number 13 on this list of what nobody tells you about visiting the Yucatan Peninsula.)
13. Beautiful Bacalar (And The Crocodile-Free Lagoon) Are A Must-Visit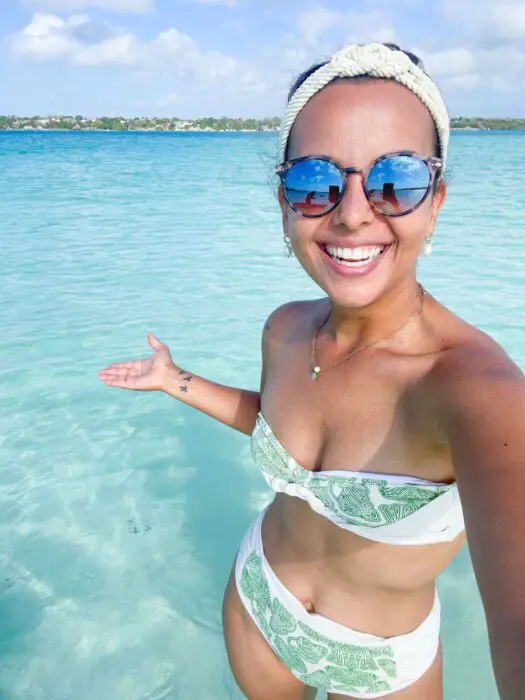 Would you believe it if I said that the photo above was not taken from some tropical beach? That's right, what you are looking at is Bacalar's famous '7-color lagoon,' a slice of fresh-water paradise!
Yep, you guessed it – we also have a vlog dedicated to the beautiful town of Bacalar. Check it out!
We have to mention that Bacalar is becoming a trendy destination. And you'll have no problem finding glamorous lodging options, wellness retreats and even açai bowls. But even though it is changing fast, it is still a beautifully relaxed little town that has yet to attract the mass-tourist crowds.
So while there are definitely some hidden gems to discover in the Yucatan, it's made more difficult by the fact that…
14. Many Blogs About The Yucatan Peninsula Don't Paint The Full Picture
Bloggers are all liars!!!
Just kidding, that's obviously not true. But people in our industry tend to portray every destination as a bohemian paradise that just HAS to be added to your itinerary. And when these statements are combined with perfectly edited images, it becomes pretty easy to influence people's perceptions of a place.
That's why we do our best to be transparent with our blog. We don't appreciate when places are misrepresented by bloggers. We also read blogs to get informed about places, and we have definitely been led astray before! Actually, the next spot on this list of things nobody tells you about the Yucatan Peninsula is a perfect example of being misled by bloggers simply trying to get clicks.
15. Las Coloradas Is The Yucatan Peninsula's Biggest Tourist Trap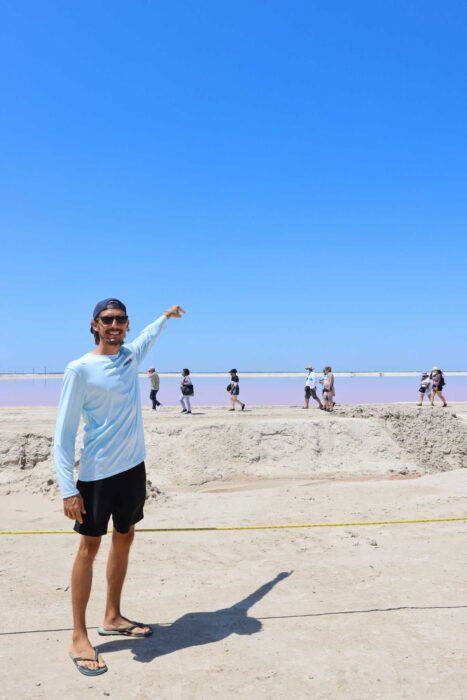 Damn you, Colorado Pink Lakes!!!
The highly Instagrammed 'Las Coloradas' is Exhibit A in the tourist trap playbook. Just typing the name makes my blood boil.
You may have seen pictures on social media of the famous Las Coloradas Pink Lakes. And we can't blame anyone for thinking that this place is a unique natural wonder you just have to visit. But the reality is that Las Coloradas is actually a total tourist trap.
So why are the pink lakes a tourist trap, you wonder. Well, we have several reasons:
The pink lakes are much less colorful in real life than in photos.
They charge a ridiculous $30 US to 'enter' the pink lakes, even though you have the same views from the parking lot 25 feet away.
Las Coloradas isn't even a natural phenomenon. The pink 'lakes' are a byproduct from the adjacent salt factory.
Don't be influenced by the pretty pictures on Instagram! We promise it's not worth it.
But that's not all…
WOTW Tip: even though the crazy pricing at Las Coloradas is transparent, we witnessed people (mostly Americans) being overcharged for tours and at popular cenotes. Do your research beforehand to know what you are supposed to be paying, and don't let people upsell you a package of activities that you don't want or need.
16. Even Places Like Valladolid & Isla Holbox Are Not What People Say They Are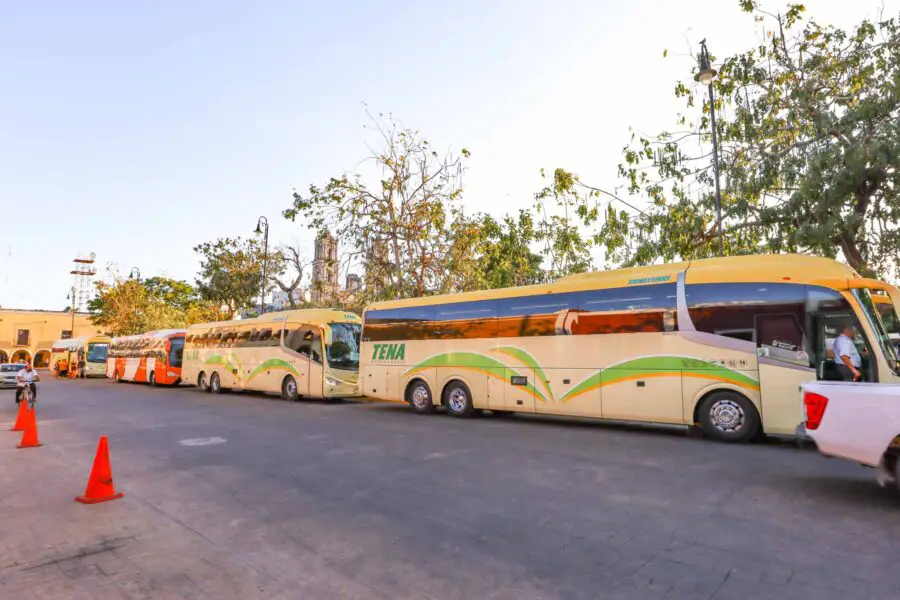 Let me start by saying that we really liked Valladolid (we can't say the same for Isla Holbox). But dig into the top Google results for Valladolid and Isla Holbox and you'll find the following messages:
Valladolid: 'incredible hidden gem,' 'off-the-beaten-path,' 'escape mass tourism' and 'underrated.'
Isla Holbox: 'best-kept secret,' 'relaxed car-free island,' and 'bohemian.'
Okay, so what is nobody telling you about these places?!
Well, even though it is a lovely town, it is impossible to call Valladolid a hidden gem. The main square is surrounded by tour buses with eager day-trippers every afternoon. The center of town swarms with people visiting on packaged excursions. So, hidden gem? We think not.
And Isla Holbox is literally popping at the seems from overcrowding. And do people even know what bohemian means anymore, or is it just a fun word to use?
Bohemian: socially unconventional in an artistic way.
Anyways, all that to say that it's easy to be misinformed when looking for your vacation spot in the Peninsula.
And now that's off of our chest, we can continue talking about other things we love about this part of Mexico!
17. The Yucatan's Colonial Cities Are 100% Worth Checking Out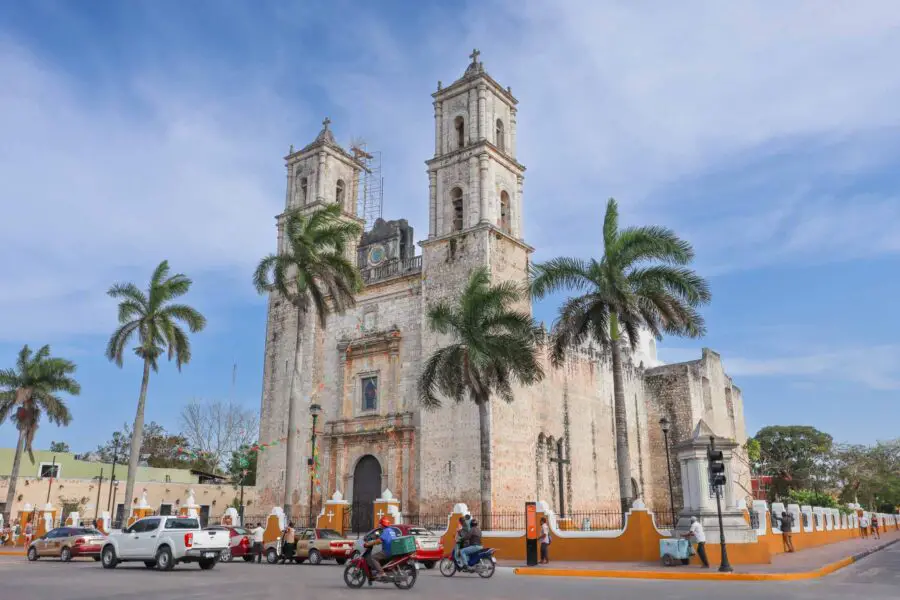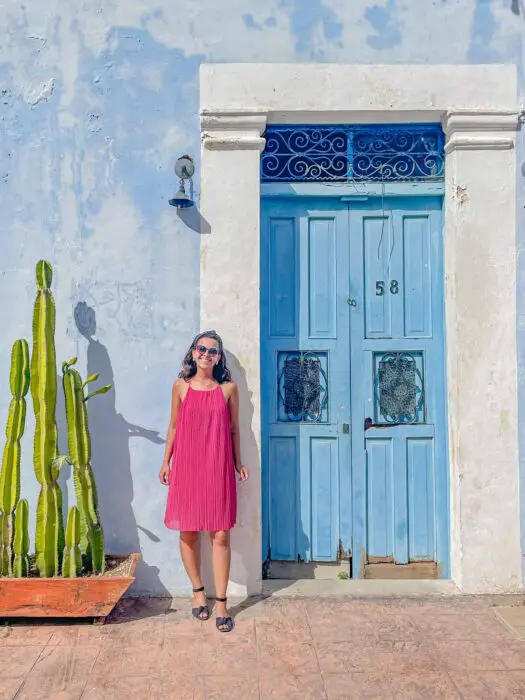 Maybe visiting historic colonial cities isn't one of the first things you think about when planning a trip to the Yucatan Peninsula. But it should be! Cities like Merida, Campeche and Valladolid are full of history, culture and colorful charm.
From the bustling streets of Merida to Campeche's charming walled city, there is so much to see and do in these places. Exploring the well-preserved colonial architecture and fascinating history is the perfect change of pace from the lazy beach days you'll have on the coast.
Want to learn more? Check out this post where we compare colonial cities in the Yucatan!
Not yet sold on visiting some of the coolest cities in the Yucatan? Do yourself a favor and proceed to number 18 on this list of things nobody tells you.
---
You may also be interested in…
---
18. Colonial Cities Are Home To The Yucatan's Best Cantinas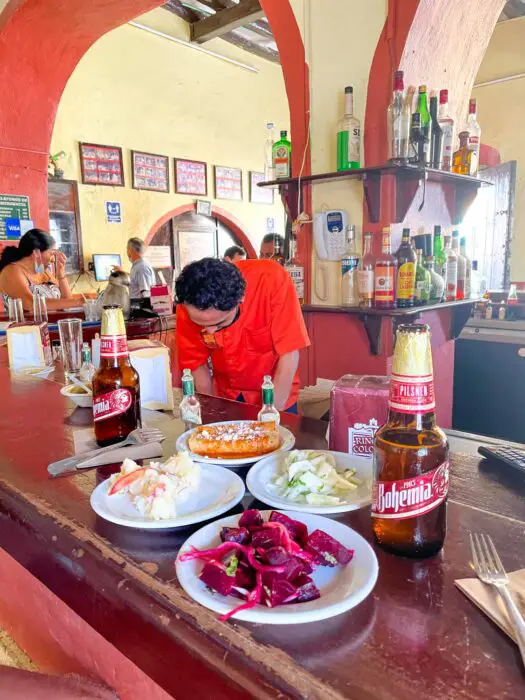 This may sound silly, but the Yucatan Peninsula doesn't always feel like the Mexico portrayed in popular culture. This region was the last to become part of Mexico, and the culture has a huge Mayan influence. We even learned that the citizens here didn't consider themselves Mexican for decades, even after officially becoming part of the country.
But one crucial element of traditional Mexican culture that thankfully made its way onto the Peninsula over the years is the glorious cantina. Visiting these local drinking establishments is top 3 on my personal list of favorite things to do in the Yucatan!
Grab a few ice-cold beers, enjoy the free tapas-style snacks known locally as botanas, and do your best to sing along to classic Mexican tunes! Cantinas are a highly underrated thing to do in the Yucatan Peninsula.
Want exclusive travel stories & our honest thoughts about the places we visit? Sign up for our weekly email!
19. The Yucatan Peninsula's Most Beautiful Views Are Underwater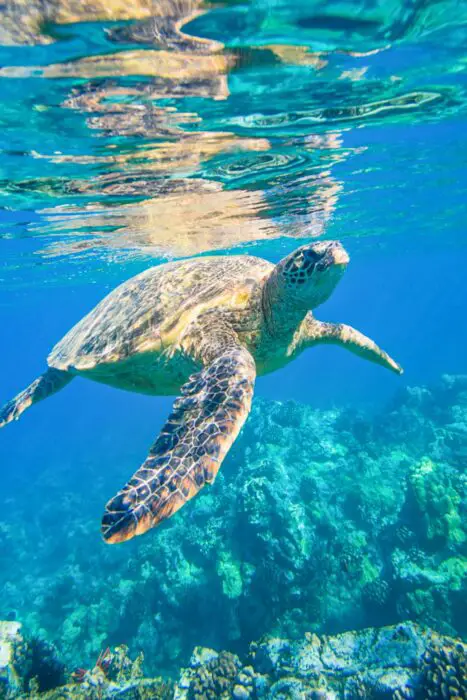 Yes, the above is totally a biased statement. But the highlight of our trip has to be snorkeling and diving in the Yucatan Peninsula's tropical waters. We were lucky to go scuba diving six times during our stay in Cozumel. The service was beyond first-class, and the amount of life we saw beneath the surface was mind-blowing!
We weren't super positive about the Riviera Maya earlier in this post. But it is impossible to deny the incredible diversity of life that can be found in its surrounding water. Fun fact: the Great Mayan Barrier Reef is located in the Yucatan's Caribbean waters. It's the second-largest reef system in the world, and it is beautiful!
We can only say that the diving and snorkeling along the Peninsula is out of this world. We saw more turtles than we could count, octopuses, sharks, eagle rays and every tropical fish you can name. This is why we can not wait to go back to Cozumel.
But don't worry if you prefer your views of the turquoise seas to come from above the surface…
20. The Yucatan Has Plenty Of Tranquil & Unspoiled Beaches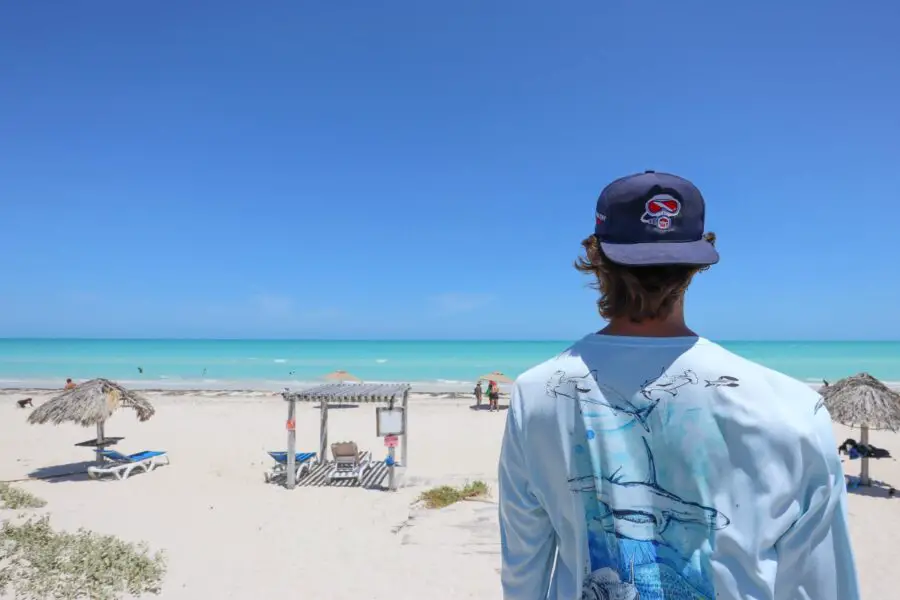 The beaches around Cancun, Tulum and the other popular spots draw the vast majority of people vacationing in the Yucatan Peninsula. And while these beaches are admittedly beautiful, they are also quite developed and can get crowded.
But not to worry. There are also plenty of more remote stretches of sand where you can enjoy the peace and quiet of nature. Here is a list of stunning beaches on the Peninsula ideal for those looking for a more rustic and tranquil tropical hideaway:
Cancunito near Rio Lagartos
El Cuyo near Rio Lagartos
Sisal near Merida
Isla Aguada near Campeche
And you are in for a treat once you work up an appetite from your day at the beach because…
21. Traditional Yucatecan Food Is Like Nothing You've Ever Had Before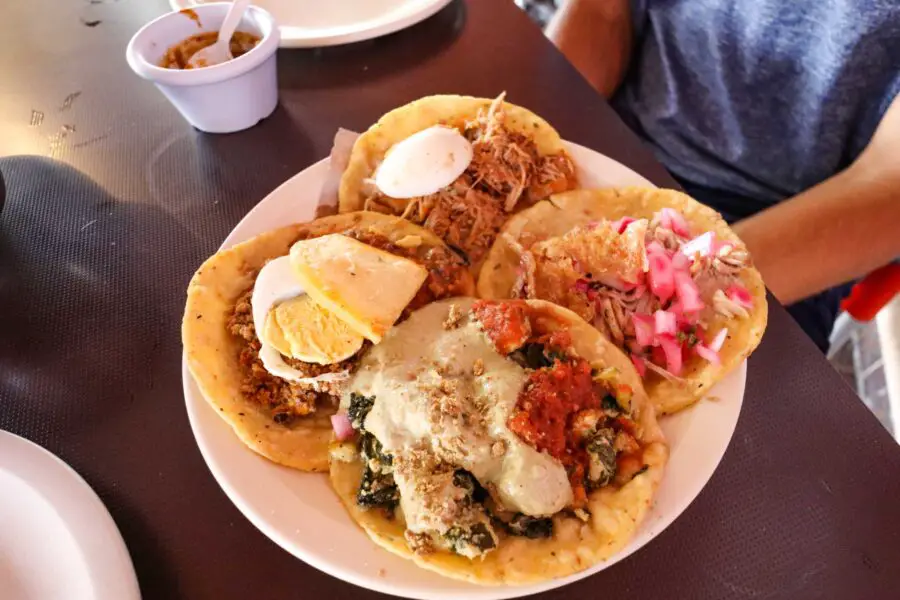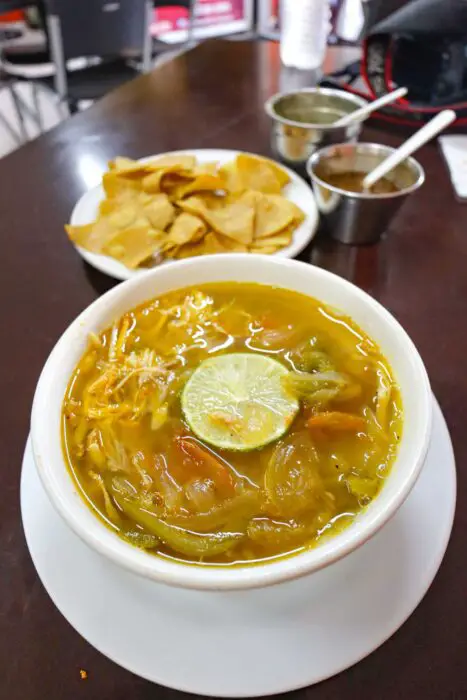 Traditional Yucatecan foods are freaking amazing!
Don't think that the typical dishes from your local Mexican restaurant will have anything in common with the Yucatan's unique cuisine. Ever heard of 'Salbutes' and 'Panuchos?' What about 'Brazo de Reina' and 'Polcanes?' All of these delicious traditional foods were brand new to us!
The dishes are often rooted in Mayan cuisine, with many popular foods still using traditional ingredients and cooking methods! We won't talk about all these different foods, but we have three YouTube videos highlighting the best food in the Yucatan Peninsula.
But keep reading to find out about one of the world's most incredible foods. That's not an even exaggeration!
---
We figured Yucatecan Food was important enough to include a video. Enjoy!
---
22. You Haven't Been To The Yucatan If You Don't Try Cochinita Pibil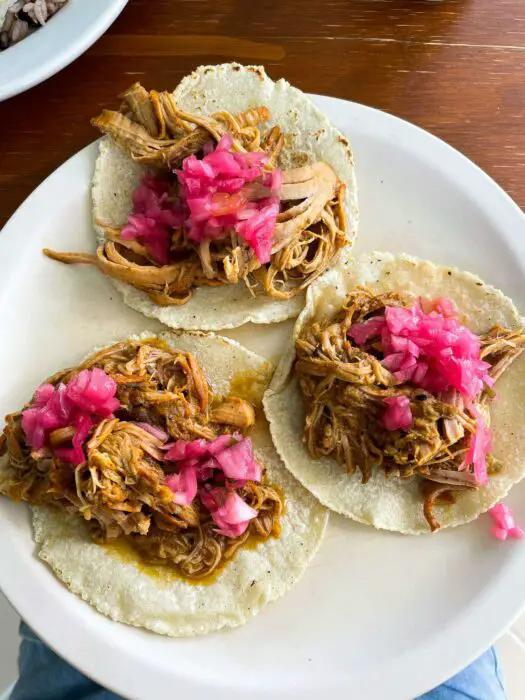 Have you already visited this part of Mexico but have yet to taste the famous Cochinita Pibil? We hate to inform you that you haven't had the complete Yucatecan experience…
Obviously, we are kidding!
But, seriously – Cochinita Pibil is a 'must try' when visiting the Yucatan Peninsula. This dish is not only delicious, but it is also a true taste of the region! It is made from pork marinated in a spice blend and then slow-cooked underground until it is fall-apart tender.
Throw the succulent pork into a fresh tortilla with some pickled onions and habanero sauce, and you have one of the world's great culinary creations. And that's not an overstatement. It really is that good!
And definitely don't miss out on trying the Yucatan specialty next on this list.
WOTW Tip: even though you can find Cochinita Pibil throughout the week at more touristy places, it is typically a Sunday dish. Ask around where to find the true local experience to get your Sunday fix. And make sure to get there early – the cochinita can be gone by noon!
23. Relleno Negro Is The Yucatan's Most Delicious Surprise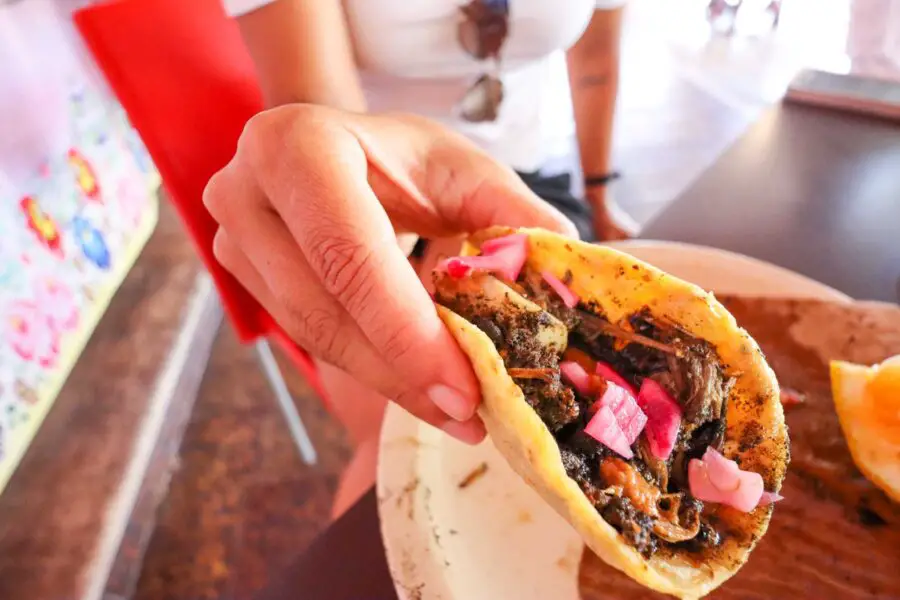 Have you ever heard of Relleno Negro? Neither had we! In fact, we even have a foodie friend in Mexico City who didn't know about this awesome dish. It is Mayan to the core.
Intrigued by these unfamiliar foods? Check out our post about the 40 mouthwatering Yucatan Foods & Drinks that you have to try. You will be booking a one-way trip in no time!
Relleno Negro consists of turkey or chicken that has been cooked in a black recado paste. Burnt chilies are used to make the recado paste that gives this traditional Yucatan food its smokey flavor and strange black color. Don't let the peculiar appearance throw you off! Relleno Negro is an exciting and delicious food to try during your vacation in Mexico!
Are you eager to try some traditional foods but need help finding find them? Just keep it moving to the next item on this list!
24. Don't Avoid Eating In The Yucatan Peninsula's Local Markets!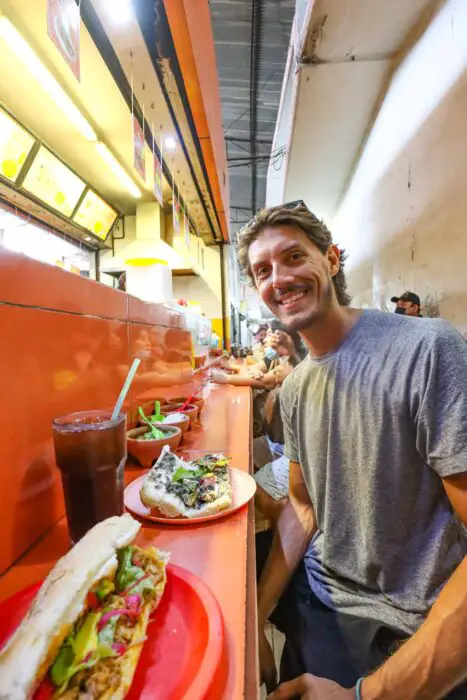 You will get hungry at some point during your visit to the Yucatan Peninsula. Maybe even several times a day. And there's one thing you definitely must do when you get hungry: pay a visit to the local market!
We know what you're thinking – you don't want the infamous Montezuma's revenge to ruin your little tropical vacation. Many visitors avoid eating at the markets because they aren't sure what to expect. But here are a few things you should know about eating in the local markets:
The food is fresh and typically very safe to eat (we never got sick once from eating at a market).
You can find many traditional Yucatecan dishes and other classic Mexican cuisines.
The prices are very reasonable.
The atmosphere is lively and vibrant.
So don't believe the horror stories about travelers' food poisoning in Mexico. The local markets are a safe way to experience an authentic part of local life on the Peninsula. Though there is one thing to keep in mind if you are a healthy eater:
25. You Might Have Trouble Finding A Salad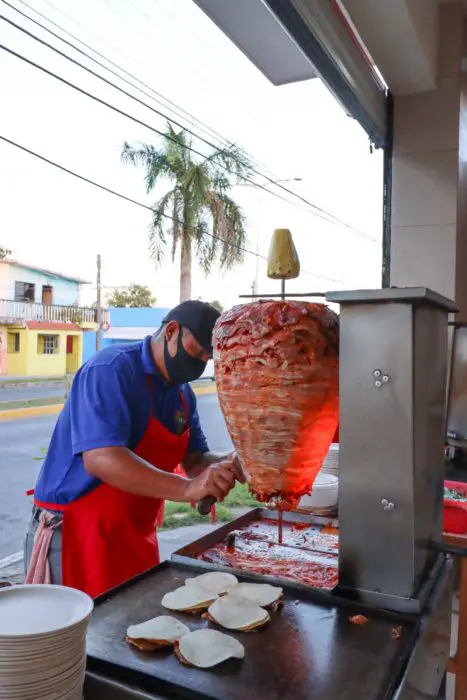 Pork is the Yucatan's favorite vegetable. And freshly fried tortilla chips are part of almost every sit-down meal. So unless you go to Tulum, Bacalar or other trendier places, then you may find a healthy meal hard to come by.
This might not be the worst thing in the world if you are only visiting the Yucatan for a short vacation, but after being there for 10 weeks, we couldn't wait to eat some things that grow out of the ground.
We can only advise to enjoy the incredible Mexican food while your vacation lasts. You'll have plenty of opportunities to eat healthy when you go home.
The Yucatan Peninsula's epic foods aren't the only reason traveling here is so great!
26. Getting Around The Yucatan Peninsula Is Pretty Easy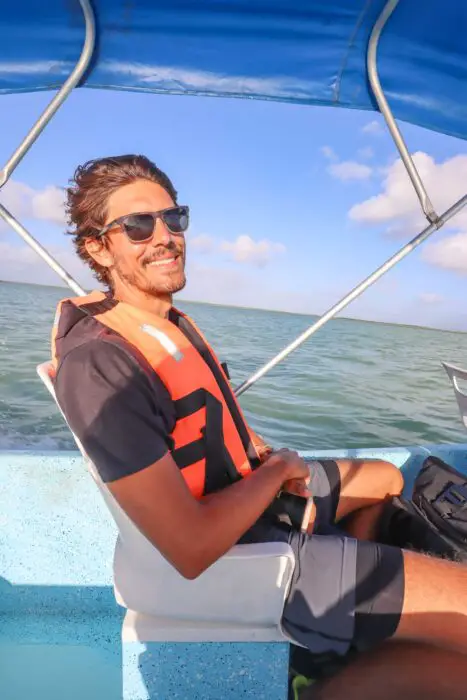 Getting around the Yucatan Peninsula is easy, safe, and (usually) comfortable.
We took countless buses, taxis, some ferries, and even a couple of speedboats to move from place to place. Here's the summary of our experience:
Bus travel along more popular tourist routes is incredibly straightforward.
Taking local mini-buses (colectivos) between places can be extremely cheap, but less comfortable.
You can negotiate for taxis to drive you longer distances, but having a local arrange the price for you is best.
Colectivo taxis also exist between cities or towns located a reasonable distance from each other. These are shared taxis that depart when full. They are more expensive than the colectivo bus, but cheaper than a private taxi.
Speedboats are the most fun way to travel…. by far!
Driving is also an easy way to get around. But we would be remiss if we didn't mention number 27 on this list of things nobody tells you.
WOTW Tip: ADO is the best company for planning regional bus travel. The buses are brand new and reliable. Most cities will have an ADO station where you can book your trips, but you can also book online for most routes. That's what we did 🙂
27. Car Rentals Can Be A Pain In The Butt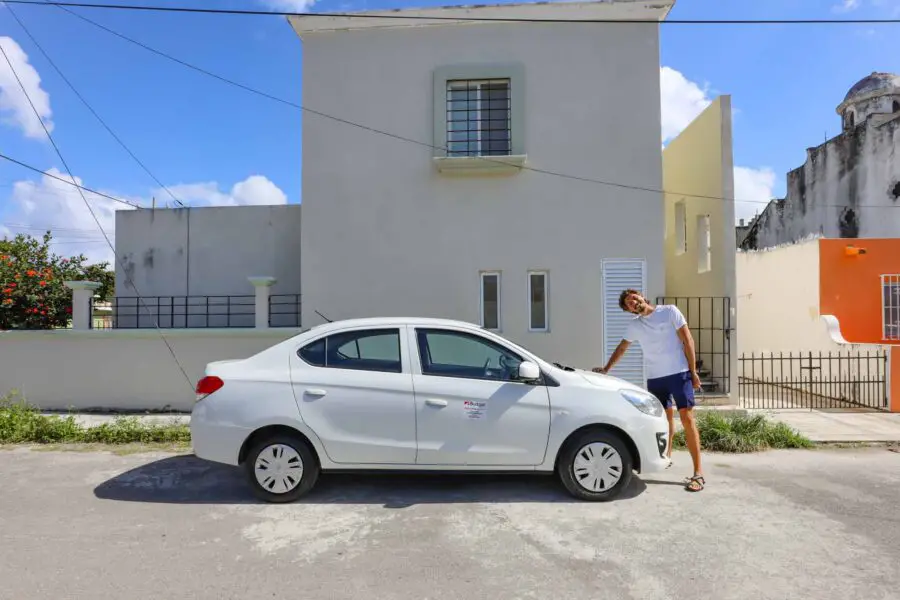 Wait, didn't we just say that driving around the Yucatan Peninsula was easy? So what gives?
Let us explain. We rented a car on five separate occasions during our visit, and most times were disasters. The worst experiences happened in Chetumal and Campeche.
Both times we booked through well-known rental companies. However, when we showed up on the day of our rental, we found that the office was closed or that they didn't have any more cars. Mind you that both times we received confirmation for bookings!
We still recommend getting a rental car to visit more remote places, but keep the following in mind:
Car rental is quite pricey.
Inventory of automatic vehicles is limited.
Most places are closed on Sundays.
Smaller rental agencies often require a two-day minimum.
Google business hours are not reliable.
Bring your passport when picking up your vehicle.
Have some extra cash to bribe the traffic police.
Big time jk on that last point! You shouldn't worry about crooked cops when driving around the Yucatan Peninsula (in our experience). But it is always good to keep some local currency on hand.
28. Many Places Accept Dollars, But It's Best To Use Mexican Pesos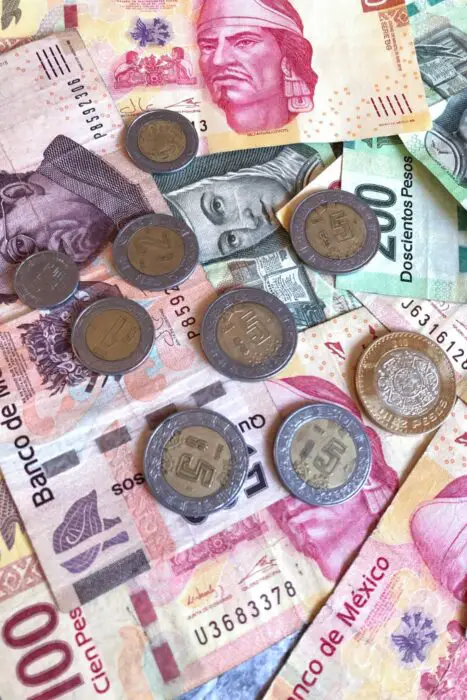 While the official currency of Mexico is the Peso, many places on the Yucatan Peninsula will accept American Dollars. This can be helpful for visitors who do not want to deal with exchanging money. But also, it's something we wouldn't necessarily advise.
We noticed that you could use US Dollars at restaurants, for tours and even at grocery stores in the more touristy areas around the Peninsula. And the exchange rate offered by these places was okay.
But having Mexican Pesos is the way to go if you plan to explore deeper into the Yucatan. Dollars and also credit cards are not widely accepted once you get outside the most touristy areas.
29. You Don't Need To Know Spanish (But It Does Help)
Knowing a bit of the local language is always helpful. And we encourage fellow travelers to learn some basic words and phrases in Spanish before heading to Mexico. Not only will it help you to get around easier, it is also a fun way to connect with local people and to show respect.
That said, don't make your limited Spanish skills an excuse not to visit. English is widely spoken in the more touristy areas. And even when its not, the locals are extremely friendly and patient with foreigners. Between speaking with your hands and some laughs you can usually get your point across.
So you don't have to speak fluent Spanish to have a great time. And we'll close with one more thing that we are sure of…
30. Everyone Will Find Something To Love When Visiting The Yucatan Peninsula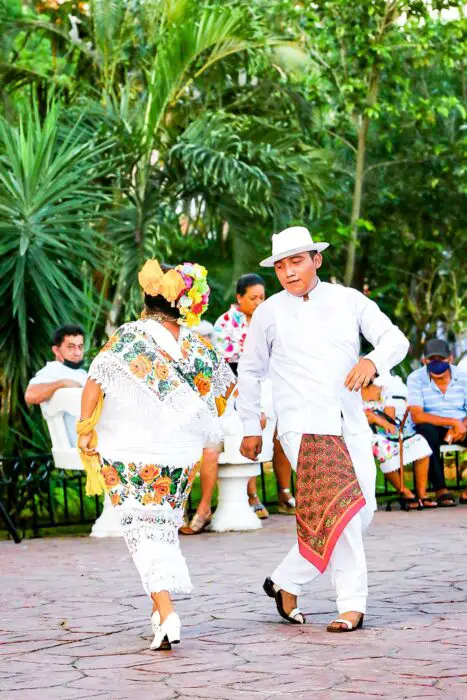 Beach bums, history buffs, adventure seekers, foodies and basically everyone will have an excellent time visiting the Yucatan Peninsula. This region is so full of magic and adventure that you would be challenged to have a bad time.
Hopefully, you've learned by now that there are infinite ways to enjoy a vacation in this diverse region. And with a little bit of effort, it's not difficult to get off the tourist trail to discover those things that make the Yucatan an extraordinary place to visit.
Time to pack your bags for Mexico! Please remember to eat some Cochinita Pibil tacos for us while you are there 🙂
Thanks for reading!
G
Have any questions about visiting the Yucatan Peninsula? Reach out in the comments or DM us on Instagram!
Want to explore more of the Yucatan Peninsula? Read these next:
Tired of reading? We have an entire Mexico travel series on YouTube! Don't forget to subscribe while you're there to follow along with the adventures 🙂
Share This 'What Nobody Tells You About The Yucatan Peninsula' Post On Pinterest!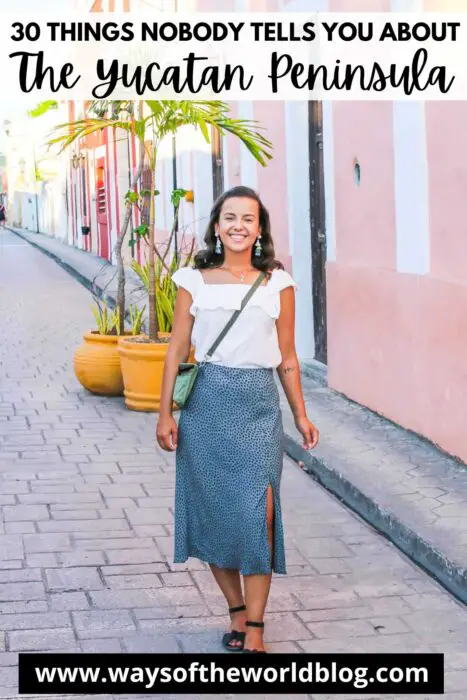 *Note: this post contains affiliate links. We receive a small commission when you purchase from these links, at no extra charge to you. Affiliate income helps keep us on the road creating content that we hope is useful to you!