Cappadocia, Turkey is just so dreamy. The only way to describe this land of hot air balloons, fairy chimneys and otherworldly landscapes is 'magical.' I can confirm that all the YouTube videos and Instagram posts you've seen about Cappadocia do it zero justice. This is one of those rare occasions when a place is better than it looks on the internet.
Cappadocia is best known for its bucket-list-worthy hot air balloon rides. But you should know that it is so much more than just these balloon rides and sunrise photoshoots. And while it definitely is some of that, Cappadocia also offers some of the most unique landscapes found anywhere on earth, along with a fascinating history that shaped our modern world. So yes, Cappadocia is magical, but for reasons that go way beyond those famous hot air balloons.
Are you thinking about visiting one of Turkey's most memorable spots? Want to know how to make the best of your trip? Keep reading to discover 21 things you need to know before visiting Cappadocia. You will find tips for hot air balloon rides, things you shouldn't do, and everything that makes Cappadocia, Turkey one-of-a-kind.
Estimated reading time: 27 minutes
Ready To Find Out The 21 Things Nobody Tells You About Cappadocia, Turkey?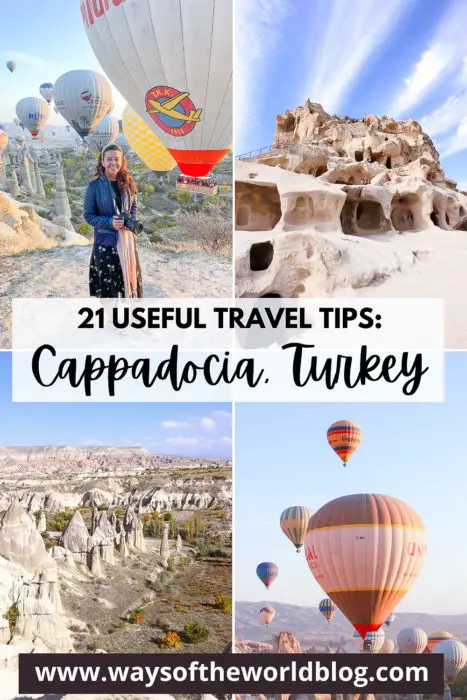 21 Things You need To Know Before Visiting Cappadocia, Turkey
1. Cappadocia Is Not The Name Of A City In Turkey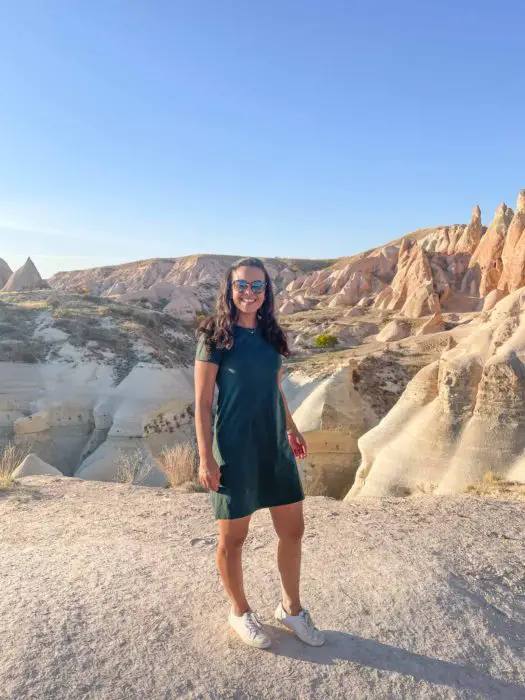 Oh you want to go to Cappadocia? Well you're going to have to get more specific, because there is no town or province in Turkey that goes by that name.
In fact, Cappadocia is the name of a historic region in central Turkey. This means that the area used to have political and cultural significance. The Kingdom of Cappadocia was an independent empire whose prominence was around the years 330 BC – 20 AD.
Today Cappadocia is still used to refer to this popular region, but most visitors stay in Göreme, which acts as the region's tourism hub.
2. Pass On Göreme If You Want To Get Away From The Crowds
Let me start by saying that Göreme is not a bad place to stay. It is central to many of the activities around Cappadocia, and there are plenty of beautiful lodging options in Göreme. But it is also the busiest town with visitors, so you will have ATVs, Jeep tours, buses and general crowds creating a bit of a hectic atmosphere.
Because of all the hustle and bustle, and the amenities targeting travelers, there are not many locals who call Göreme home. So spending your vacation here makes connecting with locals more challenging. On the other hand, we stayed in nearby Avanos and were invited on hikes with local guides (for free), spent evenings drinking wine by the fire with our new friends, and even had dinner at their homes (twice!). These types of experiences would not have happened if we had stayed in Göreme.
WOTW Tip: our preference for staying in less touristy places does come down to personal travel style, and we recognize that it can also be great to be among fellow travelers. We just want to share our experience so you can have the information to make your own travel experience the best for you.
Here is the exact link to the hotel where we stayed in Avanos. It got a solid 5-star rating from WOTW.
3. Cappadocia Probably Won't Be Close To Anything Else On Your Itinerary
Turkey is HUGE. As an American, I am required to measure the size of a place by using Texas as a benchmark. And guess what? Turkey is 1.2 times bigger than Texas!
Also, Cappadocia is right smack in the middle of Turkey. Which means that it probably won't be very close to whatever else you want to add to your Turkey itinerary. If you are also visiting some other destinations on your trip to Turkey, then you will have to go on a bit of a journey to get to Cappadocia.
WOTW Tip: the closest airport to Cappadocia is Nevşehir. But depending where you are flying from, you may not be able to find direct flights to Nevşehir. Also check flights to Kayseri if flying is the best option for you. It's a little further away, but its a larger airport where you have a better chance of finding a direct flight.

Also know that Cappadocia is well connected by bus, but be prepared for some long rides.
4. You Can Stay In An Actual Cave In Cappadocia!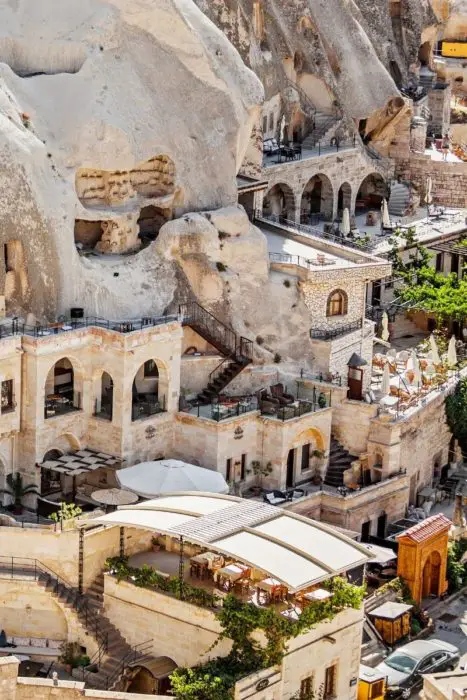 Want to get a taste of what life used to be like in Cappadocia, Turkey? Well, you can spend the night in a cave hotel!
Okay, maybe it's not exactly like how the early Cappadocians lived in caves, I mean, I doubt there used to be running water, wifi, and heated towels. But many cave hotel rooms are actually old homes built into the rocks that were renovated to accommodate guests. So there's a chance that you will literally be sleeping in someone's old home.
We already looked into some of the most incredible cave hotels in Cappadocia. Check them out here!
---
Planning a trip to Turkey? Make sure to read these posts next:
---
5. Cappadocia Gets Packed With Visitors
3.8 million people visited Cappadocia in 2019! Turkish travel authorities were expecting 5 million visitors in 2020 before the Covid s***storm. Remember 2019 when the world was normal??
What I'm trying to tell you is that Cappadocia gets pretty busy, particularly in the summer months. We were there in October 2021, and while it was easy to book a hot air balloon (more on that later), certain activities like the sunset view-points and Goreme's Open Air Museum were slammed with people.
The Open Air Museum was so busy that there were lines to observe some of the individual sites within the museum! We felt some major Pamukkale, Turkey vibes at that place.
WOTW Tip: consider visiting Cappadocia, Turkey outside the summer months to avoid the major crowds.
6. Cappadocia Can Get Pretty Toasty…And Chilly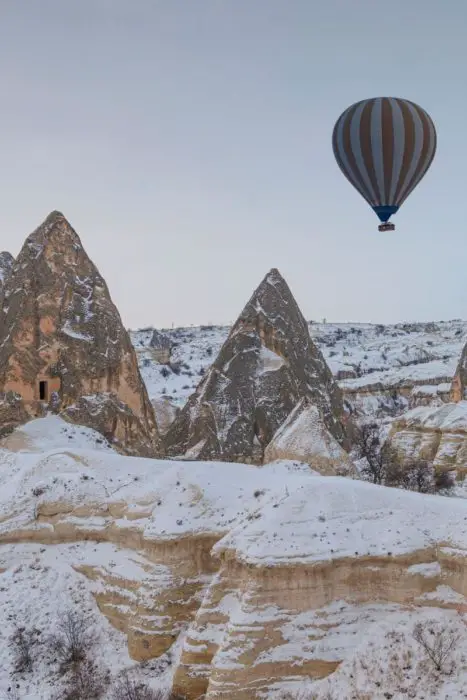 In the summer time, the Cappadocia region offers its visitors a nice dry heat to compliment your outdoor itinerary. Daily highs average around 90 F (32 C), but temperatures frequently reach 100 F (38 C). Because nearly all activities are outdoors, and crowds are large, these day-time temps may result in an abundantly sweaty vacation.
On the flip side, and entirely to my surprise, Cappadocia, Turkey also gets FREEZING cold in the winter. It even snows! Granted, we saw some photos of snow-covered Cappadocia, and it looks absolutely incredible! So if you can tolerate the lower temperatures, the winter could still be a great time to visit.
7. Hot Air Balloon Rides Are Worth The Hype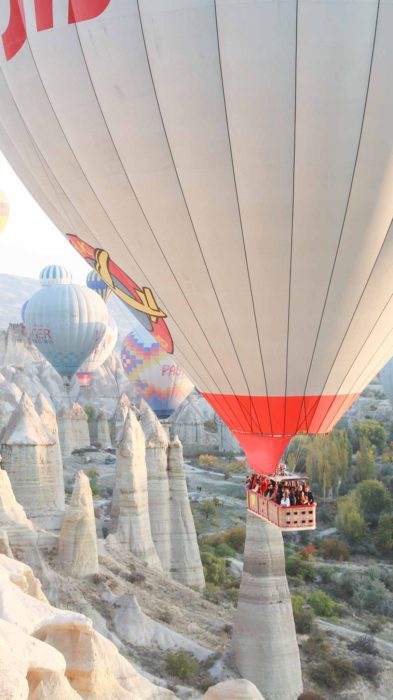 You will not regret spending a decent chunk of your vacation budget to go on a hot air balloon ride in Cappadocia, Turkey. This is one of the best places in the entire world to check this off your bucket list, so if your wallet allows, then you absolutely won't be disappointed.
Aimara cried happy tears. The sweet Turkish lady next to us was asking the balloon pilot to translate to us that what she was seeing was a dream. There is no other way to put it than being up there with nearly 165 other hot air balloons is pure magic. The experience of floating through the morning sky and watching the sun come up behind historic volcanos was worth it in every single way.
Sign-up To Our Newsletter To Receive Useful Travel Tips And Amusing Anecdotes From Our Next Destinations!
8. Don't Worry If You Are Afraid Of Heights (Like Me)…Just Don't Look Down 🙂
I am afraid of heights, that is a fact of life. And somehow I was more anxious about hot air ballooning in Cappadocia than running off of a mountain to paraglide in Fethiye (you can watch our paragliding video here). For me this was because you aren't really secured to the balloon. Seriously, where are the seat belts?
That said, I didn't feel super terrified by being almost 1 kilometer above the Earth. Let's just say I found a good spot in the middle of the basket and held firmly to the handles provided to secure yourself for landing. But if you are also afraid of heights, know that it really isn't that bad as long as you focus more on the horizon and don't look straight down.
9. Book Your Hot Air Balloon Ride In Advance!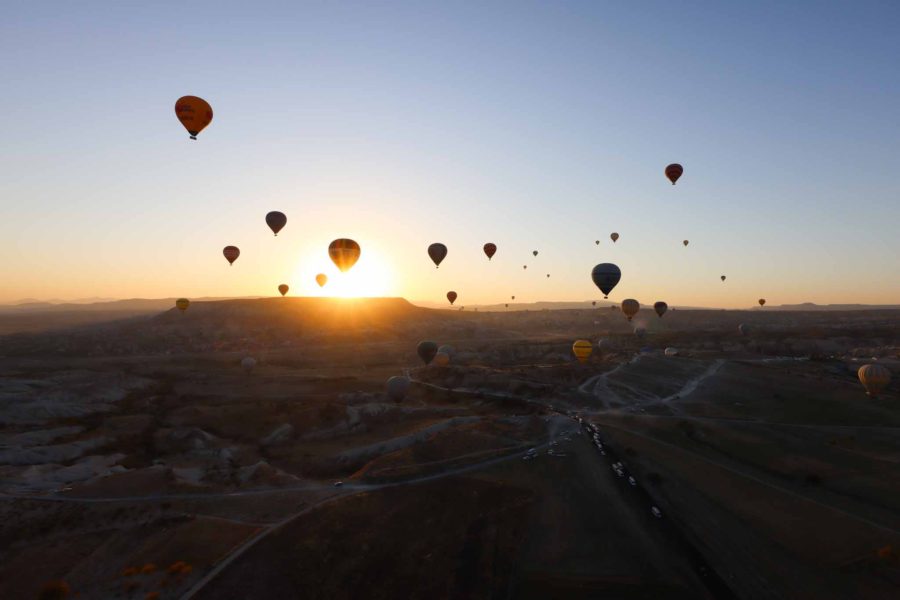 If you are sure that the hot air balloon ride is a must for your Cappadocia itinerary, then please please please book it in advance! Remember when I told you it gets busy? Well all these international travelers have a secret, they always book things through tour groups. So a huge number of tickets get blocked-off for pre-bookings.
Don't get left on the ground – book in advance! You can book highly-rated hot air balloon rides on Airbnb Experiences for a good price. While many things in Turkey should not be booked in advance because it's better to negotiate in-person, this is not one of them.
Save This Post To Your Pinterest for Later!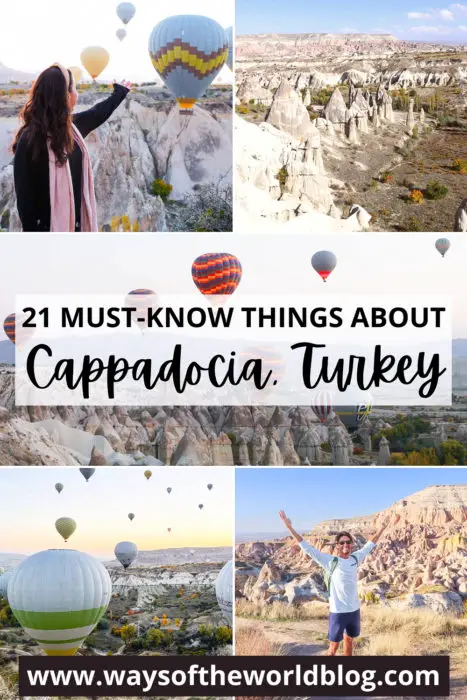 10. Kids Under 5 Are Not Allowed On Hot Air Balloons In Cappadocia
I don't really know how else I can say it. Children under 5 are not allowed on hot air balloons in Cappadocia. So if you are traveling with children, just leave them in bed while you go and check this off your bucket list. You will be back at your hotel around 10 am, just in time for breakfast.
JUST KIDDING!
11. No Budget For A Hot Air Balloon? No Problem – Do This Instead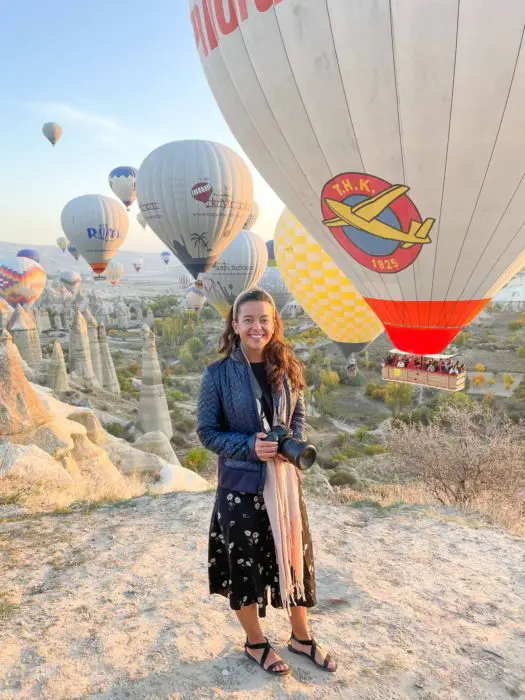 Even if you don't go on a hot air ballon ride, you can still experience one of the most amazing sights from the ground. Watching the dozens of balloons rise up into the morning sky from the ground is totally epic.
We went to the top of Love Valley and loved it (it was a local's recommendation). Just look at those views!! You will have to wake up very early and drive there or take a taxi, but just do it! It's 100% worth it.
WOTW Tip: there are several spots where you can get great views for free. You don't have to shell out to reserve a terrace viewpoint from a hotel or restaurant. Your only expense might be the taxi and the copious amounts of coffee you will need to stay alert for the rest of the day. Or be like us and take a 2 hour power nap.
12. Cappadocia Is So Much More Than Hot Air Balloons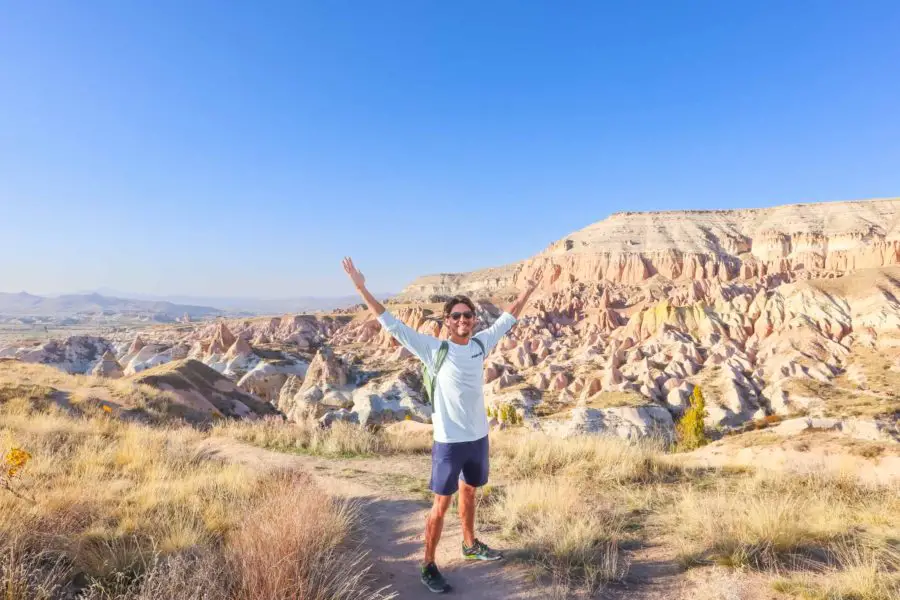 The price of a balloon ride is a solid chunk of change, and the cost simply isn't reasonable for many travelers. But don't feel bad if you don't go on a hot air balloon ride. There are so many great things to do around Cappadocia, Turkey!
The biggest surprise from our visit was learning how central hiking and outdoor activities are to the true Cappadocia experience. We heard from several locals – 'if you don't go hiking, then you haven't really been to Cappadocia'. Even beyond hiking, there is so much more that Cappadocia, Turkey has to offer to travelers fortunate enough to explore this incredible place.
WOTW Tip: we were lucky that there were steep discounts for hot air balloon rides due to the lower number of visitors in 2021. But if prices would have been the typical pre-Covid amount, we probably would have had to skip it.
13. Cappadocia Is Filled With Fascinating Human History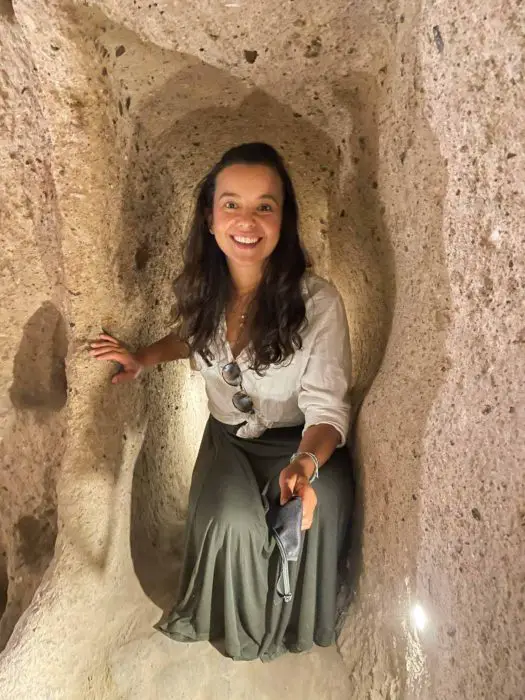 Civilizations in this region of Turkey have been living in caves for thousands of years. Historians are not even sure who were the first civilizations to start digging their communities into the mountain side. Also, there are entire underground cities! Once you get passed Cappadocia's incredible natural beauty then it just comes and surprises you with fascinating stories of human history. This place has it all!
I could write essays about all the amazing history in Cappadocia, but one of the most significant stories from the past is about the world's first Christian monastery. Early Christians in the region built their communities into the sides of the rock formations in order to hide from the Roman empire, which persecuted Christians during that period. Having a community safely hidden in the rock allowed Christians to gather and start teaching and spreading their message.
You can imagine the importance of Cappadocia's historic sights when thinking about how significant Christianity has been in shaping the culture of today's world.
14. If It Wasn't Magical Enough, There Are Even Fairy Chimneys In Cappadocia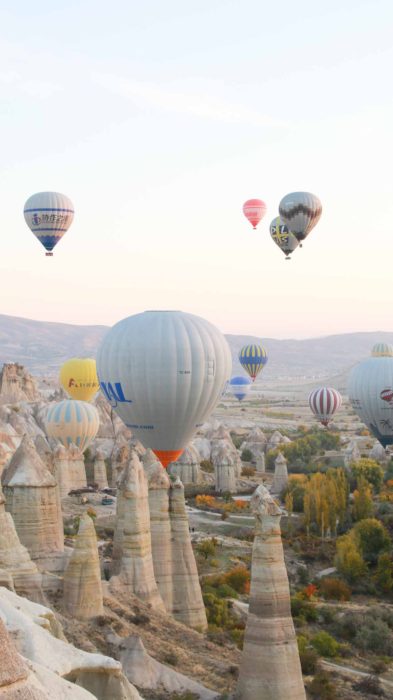 Millions of years ago, the Cappadocia region was blanketed in thick layers of volcanic ash that hardened to produce a soft rock known as tuff. The soft tuff was eventually covered in basalt, a much harder type of stone. Over millions of years, natural erosion wore away the softer tuff more quickly than the top layer of basalt, resulting in the 'mushroom' shaped pillars known as fairy chimneys.
Today, these fairy chimney sprout up all around the Cappadocia region, adding to its otherworldly and enchanting landscapes.
15. What NOT To Do In Cappadocia, Turkey
ATV and Jeep tours are popular ways to explore Göreme valley, but they take away from the experience for other visitors AND they are bad for the environment. For one, the noise and dust pollution impacts all the other people enjoying the valley. The volcanic ash that blankets the valley is very light, and gets kicked up easily to create clouds of dust that you breath in and also obstructs the views.
The ash also covers the native plants and the fairy chimneys. We heard from local guides that all the ash accelerates the erosion rates for the fairy chimneys and it suffocates the native plants. Those are bad things for the future of Cappadocia!
Finally, in the peak season, ATVs and Jeeps race around the valley in huge numbers, and stop at view points with countless people to see the views behind clouds of dust just created. The whole thing just doesn't make for a pleasant experience for your fellow travelers.
Read #16 for the more responsible options.
16. Hike Or Ride Horseback Through The Valley (If Possible)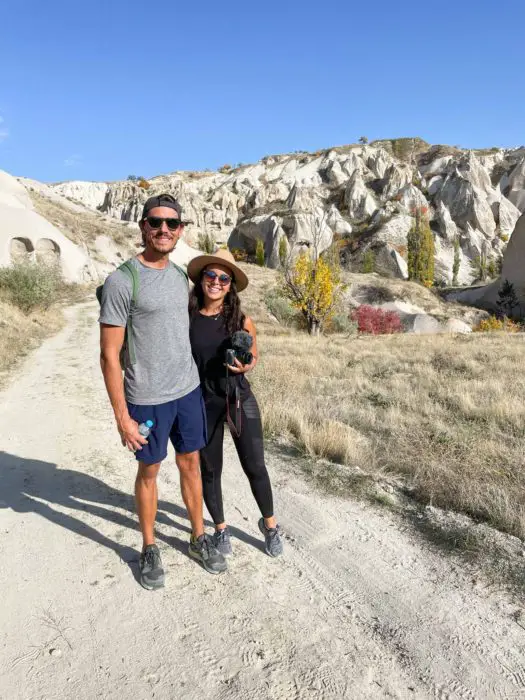 The most sustainable way to hike through Göreme valley is on your own two feet, or on a horseback riding tour. While many hikes are not super challenging, you do need some physical fitness to go up and down sometimes slippery and uneven paths.
Of course this is not for everyone, but if you are capable, then we encourage enjoying Cappadocia by hiking or on horseback as much as possible.
17. You Will Need A Car To Adventure Through Cappadocia
The Cappadocia region is not small. If you want to venture out to hikes and other historical sights around the area, and want to do so on your own schedule, then you will need a car.
Driving in Cappadocia is generally pretty easy to manage. Göreme is a little bit hectic, and you don't want to run over any tourists, but outside of Göreme it's mostly country roads with more tractors than cars. In fact, I really enjoyed driving through Cappadocia.
The good thing is, there are plenty of car rental companies in the area. The bad thing is, that automatic cars are not always easy to find.
WOTW Tip: you should be able to find an automatic car in Göreme or Ürgüp. For whatever reason I never thought to check in Göreme and we took a taxi to Ürgüp to pick up our rental. I'm wondering why I didn't just get an automatic car in Göreme. It would have saved us a little bit of money on a taxi ride. Oh well, don't make the same mistake!
19. Cappadocians Are The Friendliest People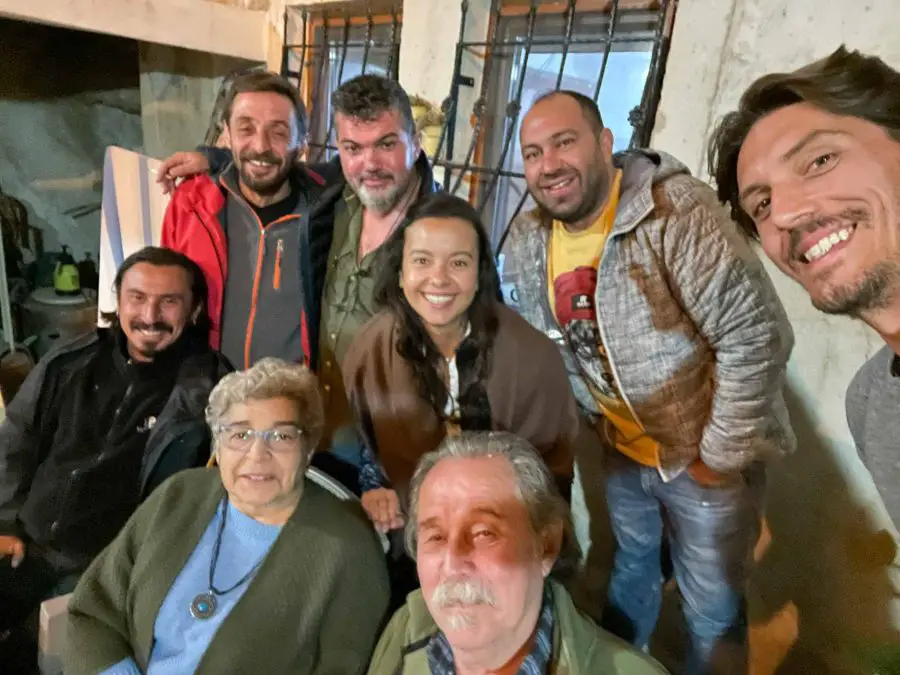 If you have read any of our other posts, or seen our Turkey travel series on YouTube, then you are probably sick of us mentioning how great Turkish people are. If you have not read or seen those posts, then let us fill you on a little secret – the people of Turkey are the absolute best! And in Cappadocia, they bring kindness and hospitality to an entirely different level.
We were invited to hike with private guides for free, just because we became friends over some fire-side drinks. We had homemade dinner in a cave home, that ended with a traditional Turkish guitar performance and songs. We were lucky enough to help prepare the meal and got a taste of home cooking in Turkey. All accompanied with a nice glass of wine.
And speaking of wine…
19. Cappadocia Is A Wine Region!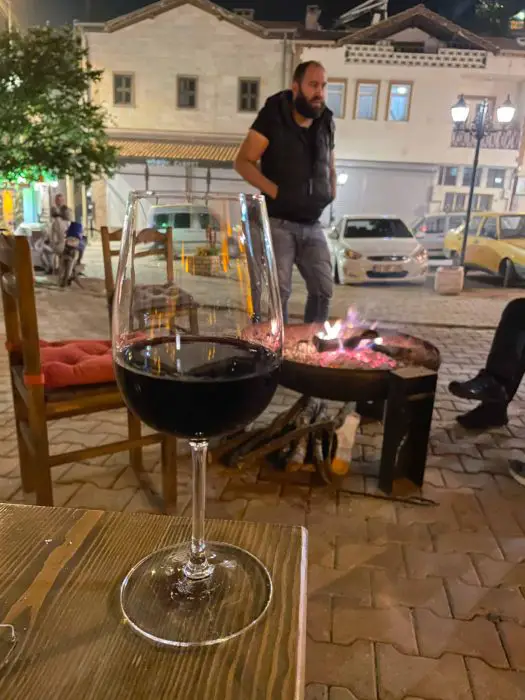 If Cappadocia wasn't magical enough, all that pre-historic volcanic soil is good not just for making fairy chimneys, but it's also perfect for making wine. The unsung heroes of Cappadocia are definitely the volcanoes. Shout-out to those fiery mountains of delight.
After visiting Konya, where it is very hard to find alcohol as a tourist, Cappadocia was a welcomed change of pace. Not that we were desperate or anything, but enjoying some red wine by the fire on chilly nights was a great way to wind down after our days out exploring the area.
There are many wine tasting opportunities in Avanos. After visiting one and trying several wines, Aimara and I both preferred the red. That was a joke. We both like wine – but we are still learning about it! Also, wine in Turkish is 'şarap' – which sounds vaguely like 'shut up'. This is our favorite inside joke after traveling in Turkey for 3 months.
Head over to Avanos and find a nice wine shop to sample some real Turkish delight. We enjoyed Kocabag Kalecik Karasi, but again, we are not connoisseurs by any stretch of the imagination. Have fun!
20. People (Including Us) Don't Give Enough Time To Cappadocia
We spent 5 nights in Cappadocia. But after being there for half a day we realized that it wasn't going to be enough time to fit in everything we wanted to do. Looking back after 3 months in Turkey, we feel comfortable saying that Cappadocia should definitely be on your Turkey itinerary, and you can definitely spend an extended time there – especially if you love the outdoors.
Planning a trip to Cappadocia? Read this post to learn about 21 Magical Things To Do In Cappadocia.
21. You Will Want To Come Back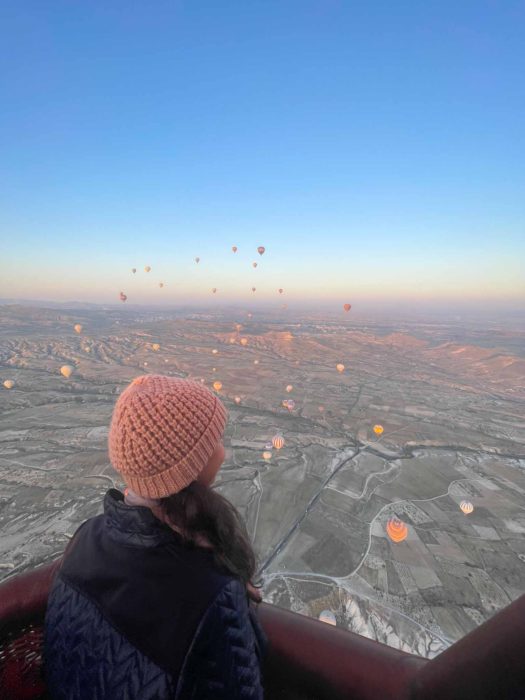 Honestly, before visiting Cappadocia, I pegged it as an Instagram destination. But thankfully my preconceptions were wrong. I had no earthly idea of how diverse and interesting this place would be. Now we can easily say that it is one of our favorite places that we visited during our 3 month trip through Turkey, and it is high on our list of places to revisit.
Cappadocia is an absolute highlight of any visit to Turkey. And the effort to get to this remote part of the country to experience the incredible beauty, fascinating history and hospitable people, will be rewarded with unforgettable memories of one of the most unique places we've ever seen. Trust us, Cappadocia, Turkey is worth the hype!
Thanks for reading!
G
Did anything on this list surprise you? Have any questions about visiting Cappadocia? Let us know your thoughts in the comments or DM us on Instagram!
Planning A Trip To Turkey? Read These Posts Next:
---
Tired of reading? We have an entire Turkey travel series on YouTube. Follow the link! Don't forget to Subscribe to follow along with the adventures 🙂
---
Save these Cappadocia, Turkey Travel Tips to Your Pinterest!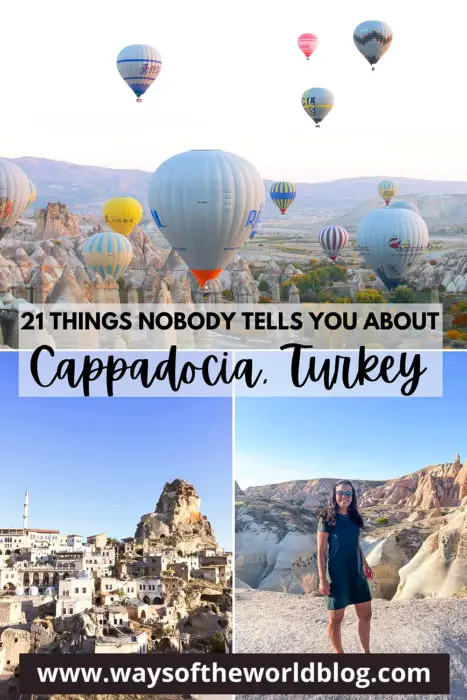 *This post contains affiliate links. We receive a small commission if you purchase using these links, but there is no change in the price for you. This helps support us to stay on the road and to produce useful travel content!