I'm sure you have seen IG pictures of Pamukkale's magical turquoise pools and snow-white cliffs. You know, those pictures that leave you thinking – 'is that place even real'? Pamukkale is, without a doubt, one of the most photogenic places in the entire world.
Aimara and I had different thoughts about adding the famous 'Cotton Castle' to our Turkey itinerary. Knowing how crowded it can get, I wondered if Pamukkale was worth visiting. Aimara, on the other hand, wanted to see what all the fuss was about. But even she was filled with nightmare images of a place filled with thousands of people jostling to get the perfect picture.
So after spending 4 nights in Pamukkale, Turkey – what did we find out? Is Pamukkale as perfect as it looks in the pictures? Or does it have some dirty little secrets? And what does being a social-media superstar mean for visiting Pamukkale, Turkey? Going to a place just for an Instagram picture is definitely not the type of responsible travel we want to promote on this blog.
This post gives you all the juicy gossip nobody mentions about this internet darling. But don't worry, I also give exciting facts along the way. After all, we are creating some high-brow content over here at Ways of the World. Step aside, Rick Steves.
Without further ado – here's our list of useful, not at all useful, and slightly amusing things nobody tells you about Pamukkale, Turkey!
Estimated reading time: 42 minutes
Ready To Discover 37 Things Nobody Tells You About Pamukkale Turkey?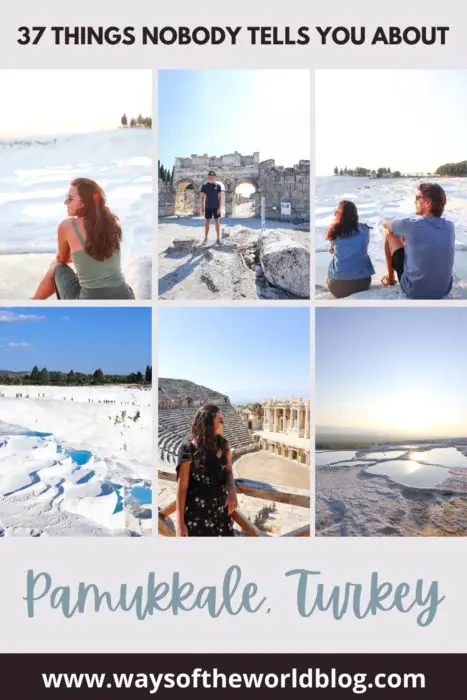 Planning a trip to Turkey? Make sure to read these posts next!
37 Things Nobody Tells You ABOUT PAMUKKALE Turkey
1. Pamukkale Literally Means Cotton Castle
'Cotton Castle' isn't just a fun name for Pamukkale's travertine cliffs. Cotton Castle is also the literal translation from Turkish.
Pamukkale does sort-of resemble cotton from far away, but to me it looked more like cauliflower. In Turkish, 'cauliflower castle' would be Karnabahar Kalesi. I will soon be petitioning for a name change.
2. Nobody Actually Knows What a Travertine Pool Is Before Visiting Pamukkale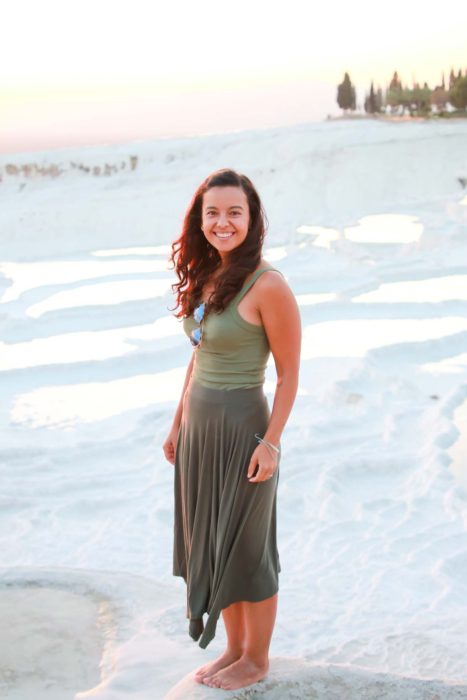 Wait, you're not a geologist? Neither are 99.99% of people! Don't feel bad when you don't understand even the most basic elements of what the terraces actually are before going to Pamukkale, Turkey. Thankfully you've come to the right place, because we want you to be smarter than your friends – so here's a definition I found on the internet:
Travertine (noun): a type of limestone formed by mineral deposits (in many cases calcium) commonly found around hot springs.
Still not really sure?
No worries, just read #3.
3. The Travertine Terraces Are Created By Pamukkale's Calcium-Rich Spring Water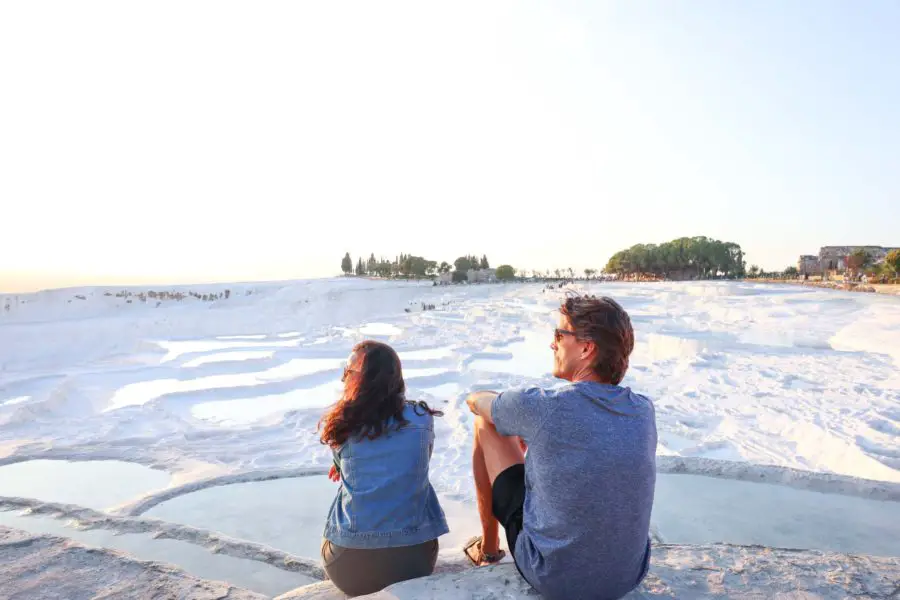 I hooked you with the definition of travertine, now let me reel you in with more geological facts:
There are 17 hot springs in the area that makes up Pamukkale's travertine terraces.
Pamukkale sits over a fault line that generates frequent earthquakes. Cracks in the earth created by the earthquakes allow thermal waters to reach the surface to create the hot springs.
Hot springs deposits calcium over the terraces as the water trickles over the cliffs below.
Over time, the water dries and the calcium petrifies, leaving the Cotton Castle with that perfect white color.
Thousands of years of calcium deposits being layered on-top of each other creates the amazing travertine pools that you see today!
Much better right? 🙂
4. Pamukkale Gets Absolutely Packed With People! (Beyond Anything Else We've Ever Seen)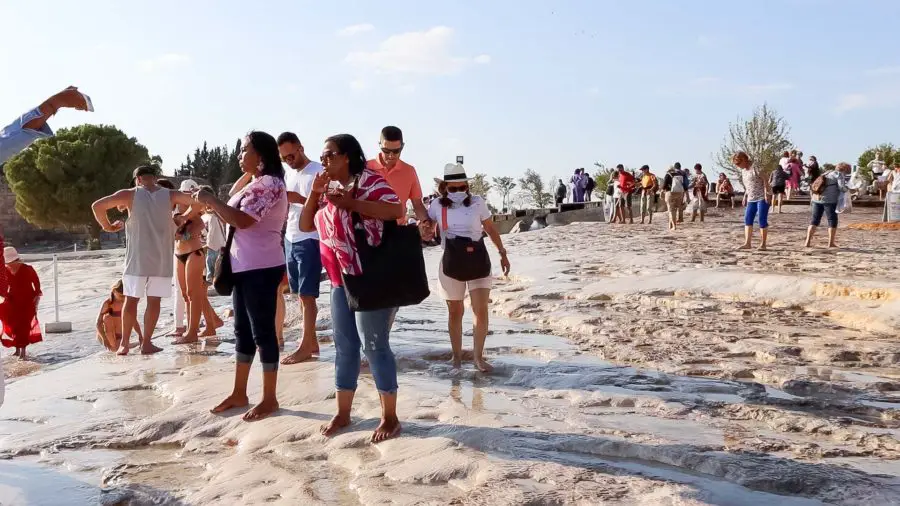 Want to get that one picture of yourself on the edge of a beautiful pool with a perfect reflection of you dipping your toes in the water? Oh you do? Well so does everyone else! Be ready to crop your favorite pictures, master photoshop to edit people out, or be very very very patient.
We visited Pamukkale at the beginning of October 2021, when global travel was still slowly recovering. It seemed to us that Pamukkale did not get the memo. But apparently what we saw was quiet. I don't even want to know what it looks like when it's open to all global travelers again.
At the same time, I hope it happens soon because the local economy needs it! (Assuming visitors are supporting the local economy and not just showing up on a bus and heading back to wherever they came from without ever stepping a foot in the town.)
WOTW Tip: you will find the least amount of people if you go by sunrise. Ironically, sunrise is not the best time to get that perfect photo. More on that next.
5. Sunrise Isn't Really The Best Time To Visit Pamukkale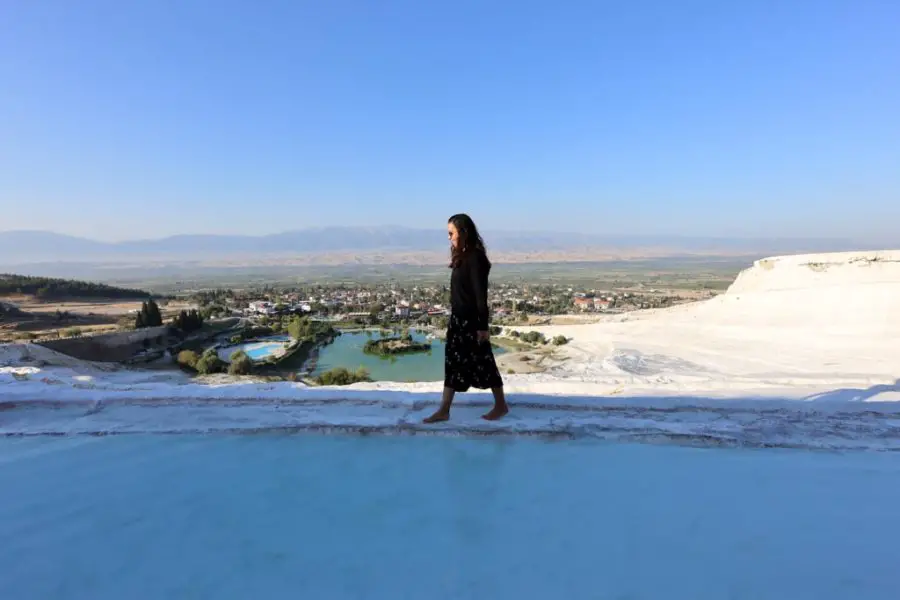 Everyone tells you that the best time to visit Pamukkale is sunrise. And it's true if you are just trying to avoid the crowds. But what nobody tells you is that it takes the sun being higher in the sky to get the amazing colors and reflections that Pamukkale's pools are famous for. The sun rises from behind Pamukkale, so by the time the sunlight hits the pools it's already later in the morning.
Also, if you made it in by sunrise you're probably thinking, 'great, I have the entire place to myself.' And you will, but just for a brief second (30 minutes or so). Don't take this time for granted – those first tour buses get there pretty early too. Hurry up and take your pictures, damn it!
Heading to Pamukkale? Don't forget to read 15 Incredible Things To Do In Pamukkale, Turkey!
6. Sunset Is Actually The Best Time To Visit The Cotton Castle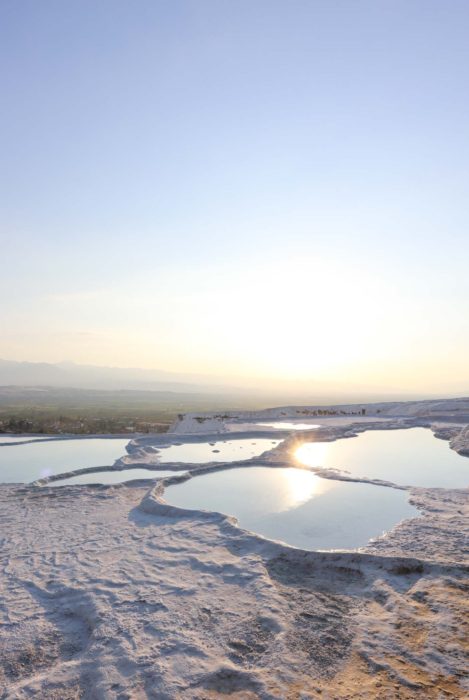 Pamukkale's pools directly face the sunset side, not sunrise. So when the sun goes down is when the absolutely incredible colors are reflected in the pools. Sunsets in Pamukkale are magical.
But what about the crowds, you ask? Well, #7 is definitely what nobody tells you about visiting Pamukkale Turkey!
7. There Is A (Somewhat) Secret Spot To Watch the Sunset!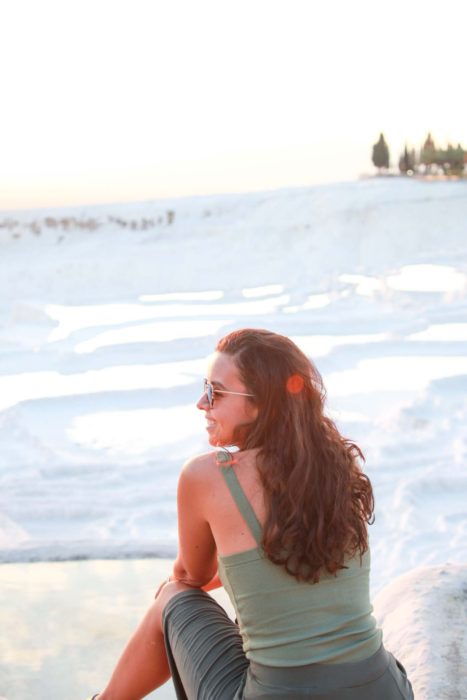 Here's the secret plan for escaping the crowds and enjoy the most epic sunset:
Let's call Pamukkale's main area 'The Cluster'. When the sun starts to set, walk to the top of the pools past 'The Cluster' (trust us, you will know where that is). At the concession stands, make a right and head down along the wooden walkway. Do you see brides taking their pictures at the end of the walkway? Good job, you are going in the right direction.
Where the pools end, you can have one of the most unforgettable sunsets of your life! There are some people there, but because you are not allowed to enter into this set of pools (which are different than the crowded ones), it seems like this spot gets ignored by the crowds.
Views of the sunset sky reflecting on untouched pools is really one of the best experiences in Turkey. Plus, you can take photos with the most perfect light and NO PEOPLE! Take this suggestion to the bank.
8. Pamukkale Is The Most Visited Individual Site in All of Turkey!
Not Istanbul's Hagia Sophia. Not the ancient ruins of Ephesus. Not even Cappadocia's open air museum. Pamukkale is THE most visited site in all of Turkey. In 2019 (remember when life was normal?), 2.6 MILLION people visited Pamukkale's pools.
What we found very sad is that very few visitors stay in Pamukkale or in nearby Denizli. Meaning much of that tourism money is not staying in Pamukkale and the surrounding areas. This is one of the most devastating consequences of packaged-tourism, and it's exactly what we should try to avoid when we travel.
How do people get to Pamukkale then? Keep reading.
Ready for a break from reading? Check out our experience at Pamukkale! We also have an entire Turkey travel series on YouTube!
9. Most People That Visit Pamukkale Arrive From All Around Turkey In Giant Tour Buses
Literal bus-loads of people enter Pamukkale at virtually the same time.
Day trippers come from Izmir, Fethiye, Antalya, Bodrum and other surrounding cities to efficiently visit the sites. If you come on a day trip with a bus, then you will never have the chance to see the Cotton Castle without tons of people. That is a simple fact that nobody tells you about Pamukkale, Turkey.
It's also not good for the local economy. That's why we decided to stay in Pamukkale for 4 nights (although if you are only visiting the travertine pools you only need 2 nights). This way you support local hotels/guest houses, stores and restaurants.
Sign-up To Our Newsletter To Receive Useful Travel Tips And Amusing Anecdotes From Our Next Destinations!
10. Pamukkale Is Also The Name Of The Town Next To The Travertine Terraces
Maybe this should have gone at the top, but Pamukkale is the name of the actual town next to the travertine terraces.
The town of Pamukkale, Turkey probably doesn't have a full page dedicated to it in the Lonely Planet, but we think it's worth a short stay. Not only because it is a responsible way to support the local economy that you're visiting, but because how else would you get to see the sunset in Pamukkale? Or be there by sunrise when you can have the Cotton Castle to yourself?
11. You Should Totally Spend Time In The Town of Pamukkale, Turkey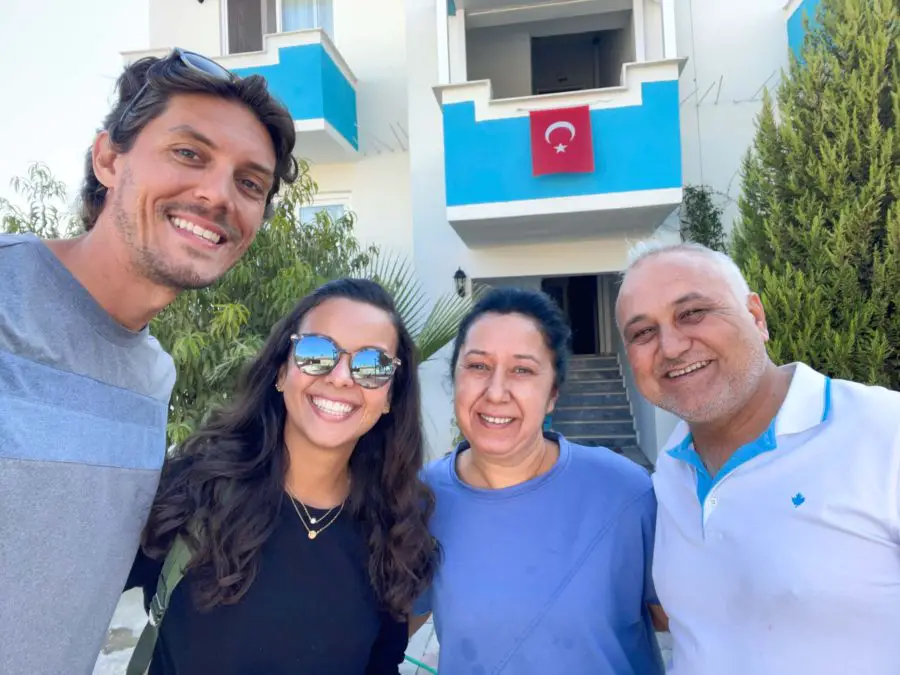 The town of Pamukkale gets dismissed by everyone we have spoken to – travelers and locals, alike. Frankly, they have no idea what they are talking about!
Pamukkale, Turkey is great for being a sleepy little town with not much to do. It's a town where everyone knows each other. When you tell your hosts where you are going for dinner they'll say – 'oh cool, tell Mustafa I say what's up.' It is all about the people to us!
Also, the town is walking distance to the Cotton Castle's lower entrance. If you want to get there right when it opens, then why not stay a couple of nights. There are also enough places to eat with great views of the Cotton Castle!
PS: This is the link to the hotel we stayed at. Tell Tufan & his wife we say hello!! Also, they love Baklava! Bring them some and enjoy it together with çai or coffee 😉
12. There Are Three Different Entrances To Pamukkale (With Different Opening Times)
There are three entrances to the Cotton Castle in Pamukkale, Turkey:
Pamukkale-town entrance: walkable for Pamukkale town.
North entrance: where to buses go.
The 'secret' entrance: less-interestingly known as the southern entrance. You need to take a taxi or car here.

Open from 6:30 am (shhhh).
Even though sunrise is not the absolute best time to visit Pamukkale, it is still the second best option. If you absolutely want be able to go into the pools with very few people, then sunrise is your best bet. You may need to go to the secret entrance to be inside the park by sunrise.
WOTW Tip: if you stay at the Cotton House, the owner, Tufan grew up in the area and actually knows everything there is to know about the travertine pools. Like literally, he grew up sleeping up there and his family has always been in the tourism business. He can give you even more insider tips!
13. Pamukkale's Travertine Pools Were Cool Long Before Instagram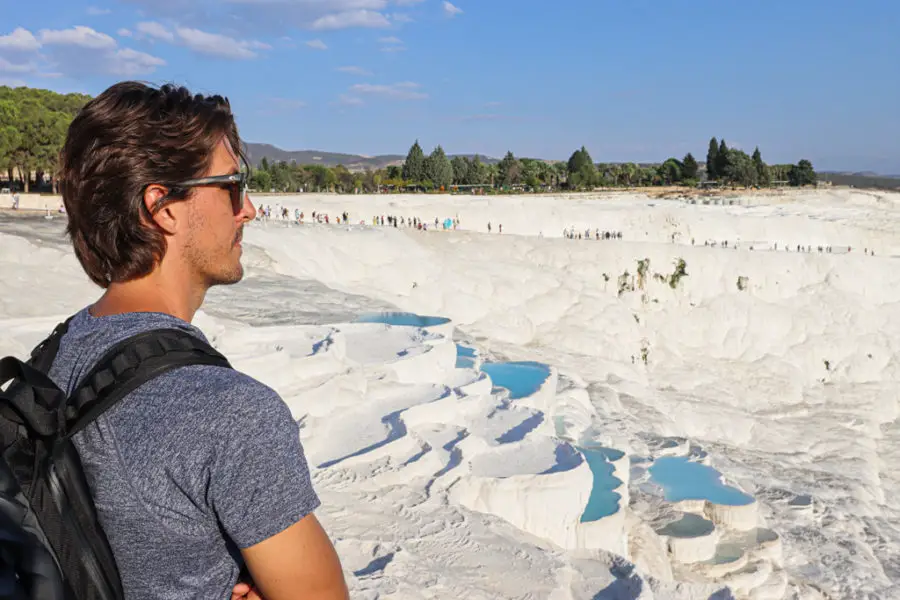 Despite the perfect correlation between Pamukkale's impeccable turquoise pools and peoples' IG feeds, historically they are unrelated. These travertine pools are actually a geological phenomenon – just like Mount Rushmore! (big-time just kidding)
The travertine formations are hundreds of thousands of years in the making, and Pamukkale has been a popular tourist destination since ancient-Roman times. Meaning that visiting Pamukkale is definitely not a modern phenomenon! Even the OG Cleopatra has been there before!
14. The Cleopatra Actually Had Spa Days In Cleopatra's Pool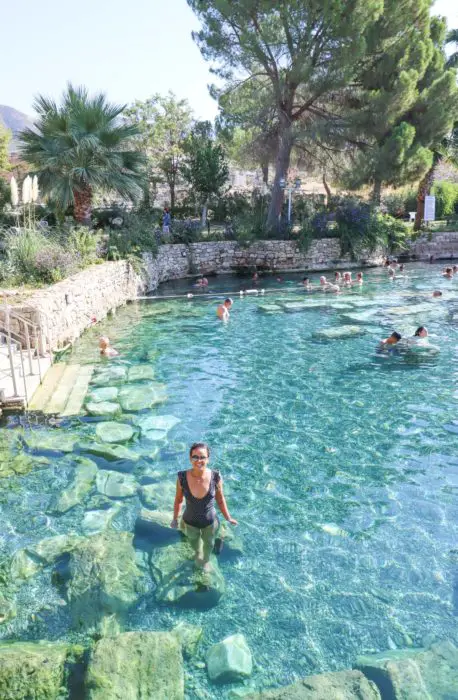 There used to be an exclusive thermal pool within a temple that Cleopatra and other fancy people used. It was a gift to Cleopatra from Mark Antony…I wonder what J-Lo thought? JK! We are clearly talking about this Mark Anthony. Be sure to read this article which narrates the scandalous love affair between these two powerful figures.
Anyways – the temple was destroyed in an earthquake and the ruins fell into the pool and are still there today! We literally sat on an ancient column while enjoying the warm healing waters. It was a pretty cool experience!
Save This Post To Your Pinterest for Later!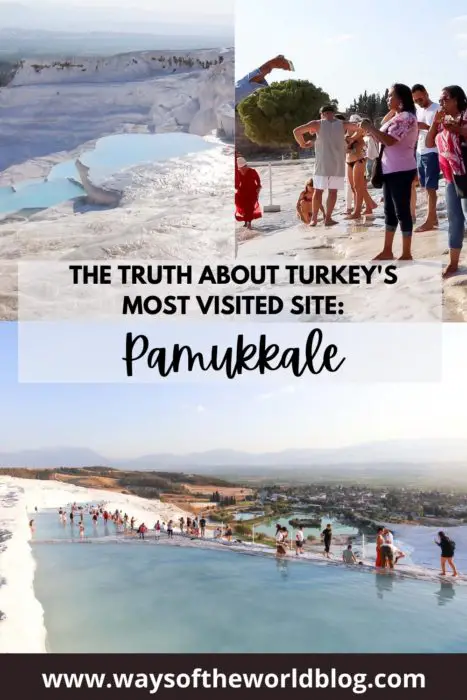 15. Cleopatra's Pool Also Gets Super Busy, So Go Early!
We arrived to the pools around 10:30 am, and it was relatively quiet. Around 11 am, the joint was packed. My self-proclaimed funniest observation while in Turkey was that it looked like we had zombies coming after us, as people carefully climbed over the ruins in the pool to get to the main area. Maybe you had to be there? I guess so!
After about 30 minutes in the water we had to escape the apocalypse. I personally really dislike sharing small pools and jacuzzis with large groups of strangers. Even if the water does circulate and has healing powers, I wasn't going to test my luck and end up with a staph infection.
16. You Need To Buy An Additional Ticket If You Want To Swim In Cleopatra's Pool
If there wasn't an extra fee to enter Cleopatra's pool, then it would probably get absurdly busy. In October of 2021, the additional fee was about $11 US. Was it worth it? We'll share it in our next blog post 🙂
17. You Will See A Lot Of People Posing Extremely Awkwardly For Photos (And Wearing Ridiculous Outfits!)
Lean back against the white limestone. Put the back of your hand on your forehead. Now look up and away introspectively. Congratulations – you're rocking the Pamukkale pose! On second thought, maybe this would look even better with angel wings! (go to #18)
It's hard to mock people for taking pictures for social media, because in a way we are doing the same thing. But I just hope that showing-off the perfect picture on social media isn't the main reason people are visiting Pamukkale, Turkey!
However…
18. There Is A Stand That Rents Out Angel Wings For Your 'Perfect' (??) IG Photo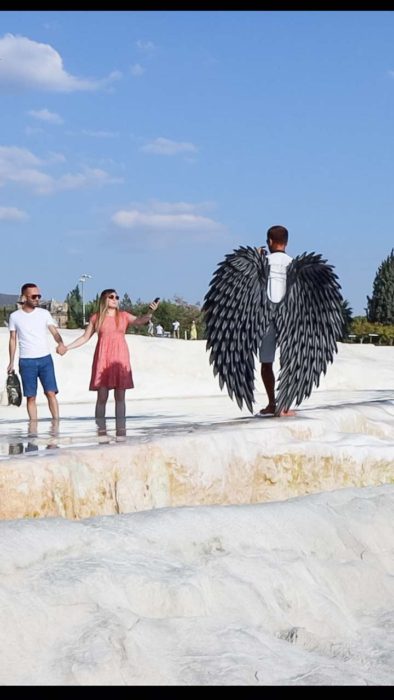 Somehow this is even more ridiculous in real life than it must sound to you as you read this post. Honestly, who thinks that angel wings are necessary to upgrade their Pamukkale photoshoot? I guess you should never be surprised about what people are willing to do for a photo.
When I first saw the angel wings, I thought it was just one guy who thought it was a cool idea. But then I realized he was trying to get people to wear them for a picture. And then I saw an entire stand providing said angel wings – which means there is actual demand for them! Some things are just not meant to be understood.
19. The Awkward Photo Situation Is Even More Of A Thing in Cleopatra's Pool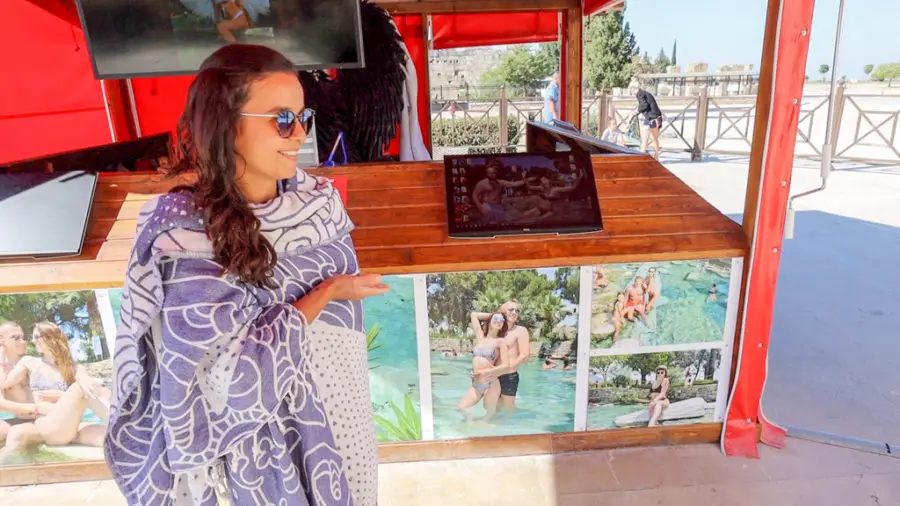 Remember the Pamukkale pose? Well, you will see even more cringe-worthy poses if you hang around Cleopatra's pool. Cameras are strictly forbidden when entering the pools. Not for everyone's privacy, but because there are photographers inside of the pool taking these type of photos for a fee!
I read on several blogs, and can confirm after being there in person, that Cleopatra's pool is very popular with Russian tour groups. For whatever reason, these awkward pictures are massively popular with our Russian friends. But what I want to know is, where do these pictures go? These are not going on Christmas cards or on-top of the mantel. If anyone knows, please leave the answer in the comments below so that I can stop losing sleep.
20. You Will Be Asked To Take Someone Else's Photo…. A LOT!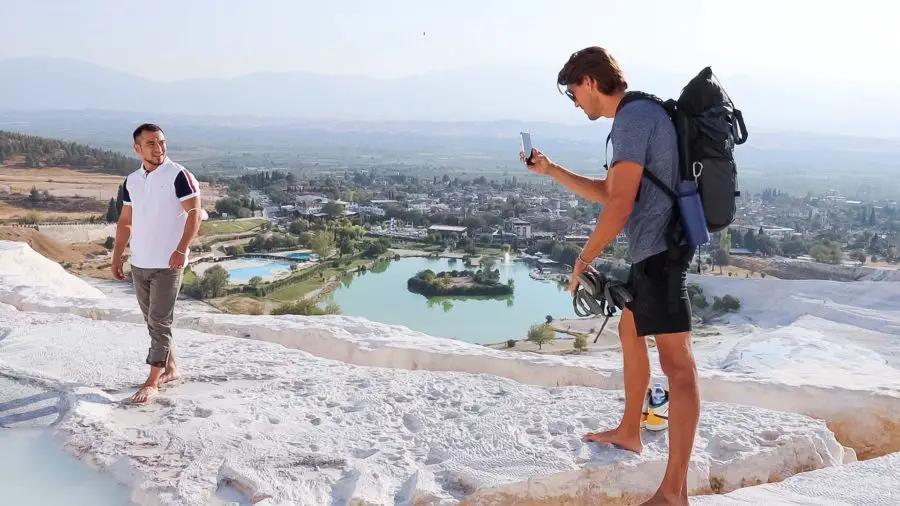 Obviously Pamukkale is photogenic beyond belief, and obviously we also did our best to capture some cool photos for our memories, but it's important to sit back and really take in this amazing site.
Pamukkale, Turkey is one of a kind. But the photoshoot vibe is intense and can be frustrating to be constantly surrounded by. So much about the place revolves around getting the perfect picture. It seems that there is more time being spent hunting for photo locations than actually enjoying this natural wonder.
Please don't make that mistake!
21. Pamukkale Produces The Most Blinding Reflection Of The Sun!
Ever been skiing? I have not. But I lived in Chicago, so I know the glare of the sun reflected off fresh white snow can be incredibly intense.
Well, it is no different in Pamukkale, Turkey. Once the sun gets to a certain height, the reflection is blinding. Try to take your sunglasses off at noon, I dare you!
22. The Travertine Pools May Look Warm And Inviting, But They Are Liars!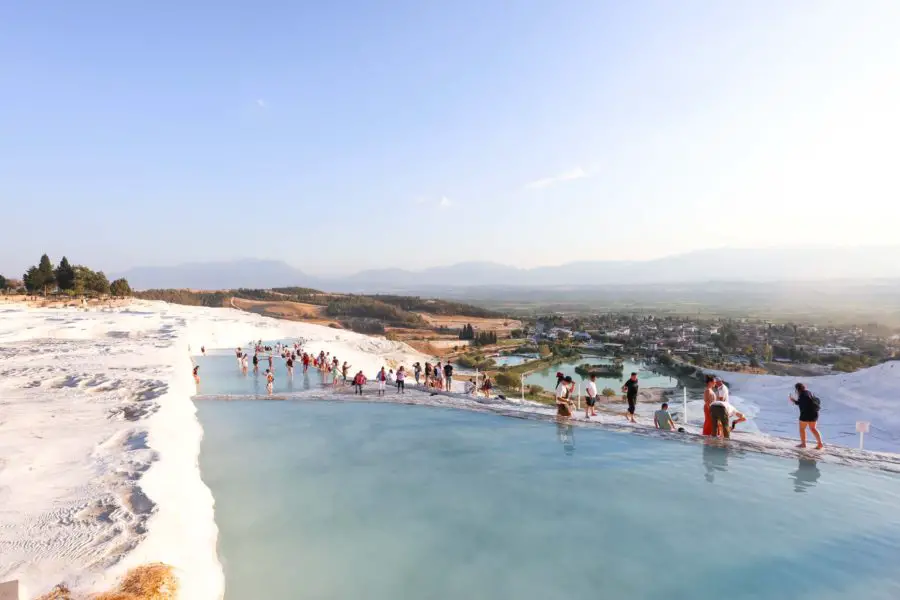 Want to bring your bathing suit and float in the travertine pools? Go ahead, but don't say we didn't warn you!
The pools are not filled with the warm spring waters I keep mentioning. You can only find a very weird, narrow stream at the top of the terraces with warm water. But the pools? They are pretty cold, and not very good for swimming, at all.
You are unlikely to have a great time relaxing in one of the pools – A) because it's chilly, and B) because there will be a million people wondering why the hell you are in their picture.
23. You Can't Actually Swim In The Pools You See All Over Instagram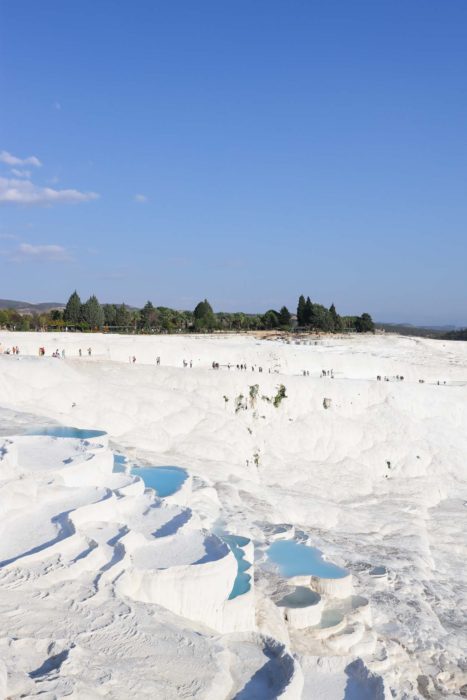 Sorry, but you can't actually go inside the set of travertine pools in the picture above.
Access to this area is strictly blocked. I think it used to be open a few years ago, but because of over tourism, they were starting to deteriorate. The responsible decision was made to close this area to the public. That's why there are never people in these photos you see all over social media! Duh!!
24. Don't Forget Your Camera – There's No Re-entrance To Pamukkale
Think you will check out sunrise in Pamukkale, then head back to your hotel for lunch and a snooze before returning for sunset? Think again!
Tickets used to be good for 24 hours, but visitors used to resell their entrance tickets to people arriving later in the day. So they stopped allowing people back in with the same ticket. And this is why we can't have nice things! (don't you just hate it when a small group of people ruin things for everyone else?)
If you are visiting Pamukkale and want to see sunrise and sunset from the travertine pools with one ticket, then be prepared for a VERY long day. There are places to sit and eat if you want to just go for it.
WOTW Tip: we went on two separate days and obviously paid for 2 separate tickets. They were about $11 each, so for us it was worth it. Mostly because we were making a video for our YouTube channel comparing sunrise VS sunset in Pamukkale, so it was more like a business expense 😉
25. There Used To Be A Hotel And a Road On The Travertine Pools (WTF!?)
In a shining example of irresponsible tourism, there used to be hotels and a road actually on top of the travertine terraces in the 1970s. The cars, sewage (gross) and people destroyed many of the travertine pools near the southern entrance.
26. Due To Mistakes Made In The 1970s, Some of the Travertine Pools Are Now Man-made
Man made pools can now be found near the bottom of the travertine hill. This area is where the road actually crossed through the travertines terraces, logically destroying the travertine.
If I didn't tell you about these, you may not even notice that they are man-made, and they are also very beautiful. I definitely did not suspect anything before Aimara filled me in on this fun fact.
27. To Preserve The Site, Barefoot Is The Only Way Allowed On The Cotton Castle
You will be required to take your shoes off when entering the travertine cliffs. There might as well be a 'No shoes. No shirt. No problem' sign at the entrance – *cue Kenny Chesney song*.
This is a good thing because it prevents Pamukkale from getting destroyed by the millions of visitors that walk on the Cotton Castle. But it is a bad thing because the path can be painful at times. The grooves created on the ground are uneven and can hurt your pampered little feet. But the pain is a small sacrifice in order to maintain this magical place for future generations.
WOTW Tip: bring a backpack so you don't have to carry your shoes. You'll need your hands free while walking, especially at the top area (also referred to as 'The Cluster'), where it can get very slippery and crowded.
28. Pamukkale Is Now A UNESCO World Heritage Site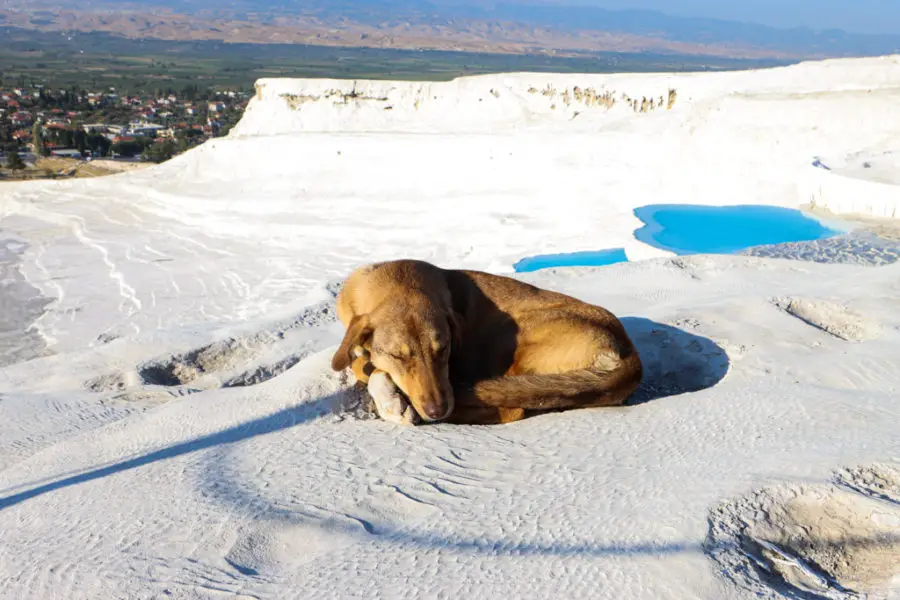 Thanks to the conservation support from UNESCO and national protection status, Pamukkale Turkey has recovered from the debacle of the 1970s, and is in good shape for the future.
If you want to contribute to the health of Pamukkale, consider visiting during the shoulder season so there is less stress on the site at any given time (June through August is considered peak season).
29. It Is Chilly In Pamukkale in October!
We visited at the beginning of October and we were shocked to see how cold it felt early in the morning and after sunset. It was like 45 degrees Fahrenheit (7 C)!
However, braving the cold for a few hours is a small sacrifice to make since the temperature during the day was absolutely perfect! 70 degrees and sunny every single day we spent there.
30. Pamukkale, Turkey Is Actually Part Of An Ancient Greco-Roman City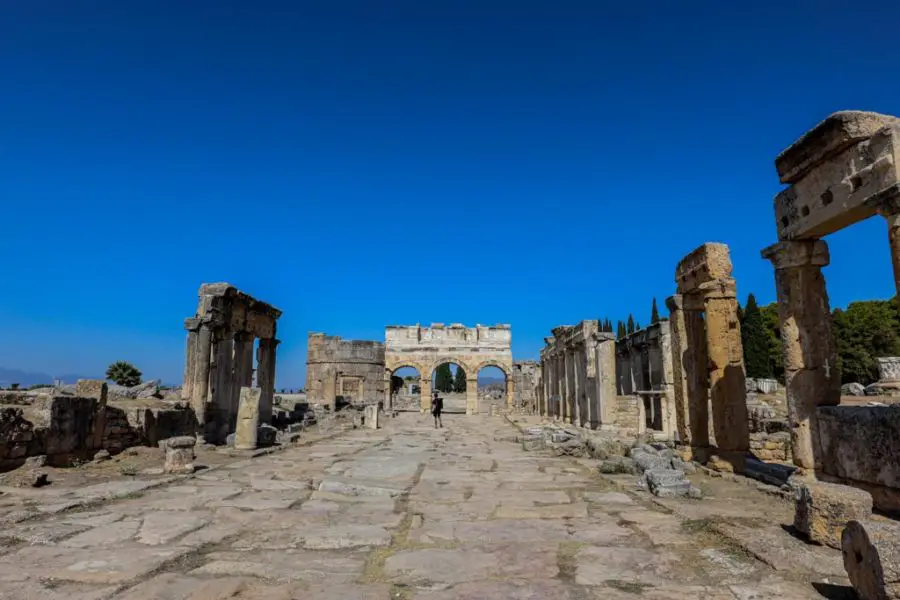 Directly next to the beautiful white pools is the ancient Roman city of Hierapolis. The thermal springs that created Pamukkale's spectacular travertine pools attracted ancient civilizations to settle there. The Greeks, and then the Romans, built the city of Hierapolis exactly to be next to the thermal springs and their healing powers. They sent more senior people to sort of retire here.
31. Visiting Hierapolis Is Almost As Cool As Seeing The Cotton Castle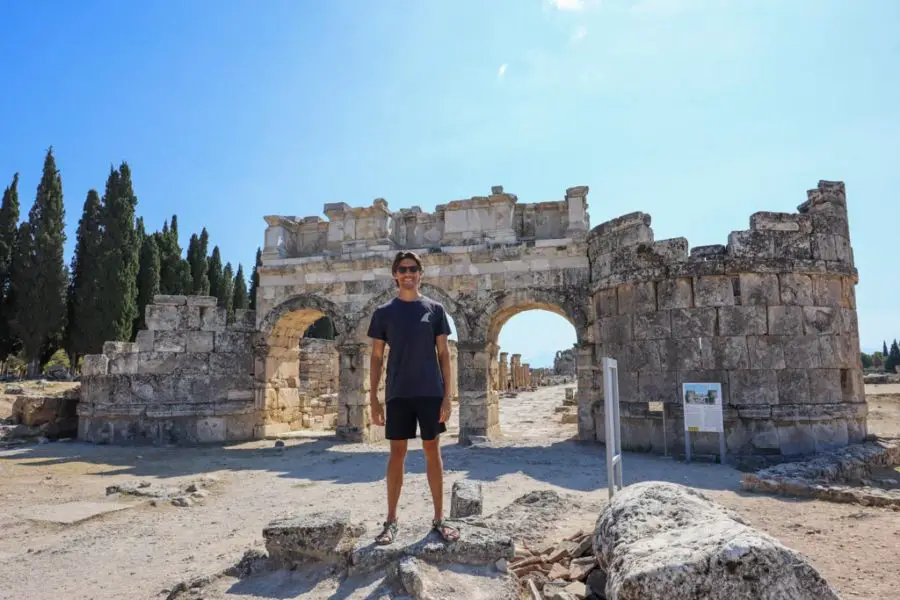 I know you are probably thinking that there's no way visiting the ruins is more enjoyable than exploring Pamukkale's natural wonders. But we honestly had a better time walking around the ruins than we did for most of our time around the travertine terraces.
We do acknowledge that the Cotton Castle is relatively more unique, but the ancient city is also beautiful and MUCH quieter. As far as ancient cities goes, Hierapolis is in excellent shape. It would totally be a top place to visit on its own even if it was not connected to the Cotton Castle.
32. The Hierapolis Theatre Is Really Really Amazing!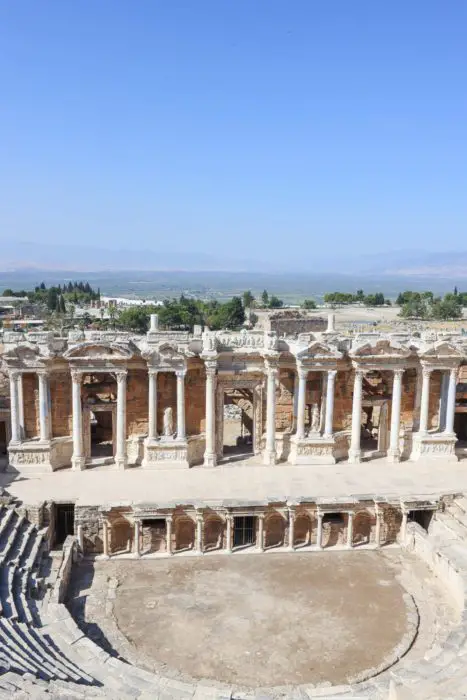 The theatre is the star of the show when it comes to the ancient ruins in Pamukkale Turkey. The decorative features are the best preserved in all of Turkey! It really is incredible to see in-person.
Of the people visiting the Cotton Castle that actually venture into the Hierapolis, most will head directly to the theatre. The only guided tours happening when we were there were in Russian, so I couldn't steal any information from them, but I did my research and can tell you the following fun facts:
It was built in the 2nd century AD while Hierapolis was under Roman control.
The theater has 50 rows and could hold 15,000 spectators.
During a period, the orchestra (the lowest area with the dome shape) was filled with water for aquatic shows. Ancient Roman synchronized swimming anyone?
Priests and dignitaries often received the seats of honor in the middle of the theatre.
But just because the theatre is the most famous, that doesn't mean you should ignore the other ruins, including an old Greco-Roman public bathroom! I'm so thankful society has advanced to the point where bathrooms are now a private activity. Especially because Aimara suggested public bathrooms sounded like a fun bonding experience to her! (I wish I was kidding)
33. Hierapolis Was A Spa-Resort Used By The Most Important Civilizations Who Ruled This Part Of Turkey
Pamukkale has been enjoyed by the ancient civilizations that ruled over this part of modern Turkey, including the Greeks, Romans, Persians, Byzantines, Ottomans, Seljuks (remember them? Me neither!) and more.
By the 3rd century AD, people were coming from across the Roman empire to soak in Pamukkale's healing waters. Hierapolis become a wealthy and bustling spa-resort, and was a destination for the elderly and sick. I bet nobody has ever told you that ancient civilizations had spa-resorts.
34. You Can Visit All Of Hierapolis And The Cotton Castle With The Same Ticket
Visiting Pamukkale Turkey is definitely more expensive than other sites in Turkey, so better make sure you take full advantage of the entire site. Hierapolis is an important part of Pamukkale's magic. There is no extra cost to visit the ruins, so why not step away from the crowds for a while and get a little taste of the area's history. I promise it is worth it!
35. Hierapolis Wasn't Just For Spa Treatments – It Also Has The Gates To Hell (MUAHAHA)
This fancy spa resort was totally haunted! Somebody call Scooby Doo and the Mystery Machine!
Somewhere in Hierapolis, there is a door to the underworld. A three-headed dog from ancient Greek mythology was believed to breathe toxic air from the cave door, killing unsuspecting victims for his master, Pluto. Priests of the time claimed these were the gates to hell, and they built a shrine to appease Pluto.
Priests would go into the cave with small animals, and when they came out, the animals would be dead. They would use this little trick to convince people of their holiness, but they weren't as exposed to the toxins because of their height. I personally think this is a pretty cool story – you can read more about it by clicking this link.
Later it was determined that this area actually does have a high concentration of toxic carbon dioxide thanks to the volcanic activity. So it totally is a place of death! But because the high concentration of carbon dioxide was lower to the ground, it impacted animals and not humans.
WOTW Tip: the gates of hell are planned to open to tourists toward the end of 2021.
36. There Are Many Things To Do In Pamukkale Turkey Besides Just Going To The Travertine Terraces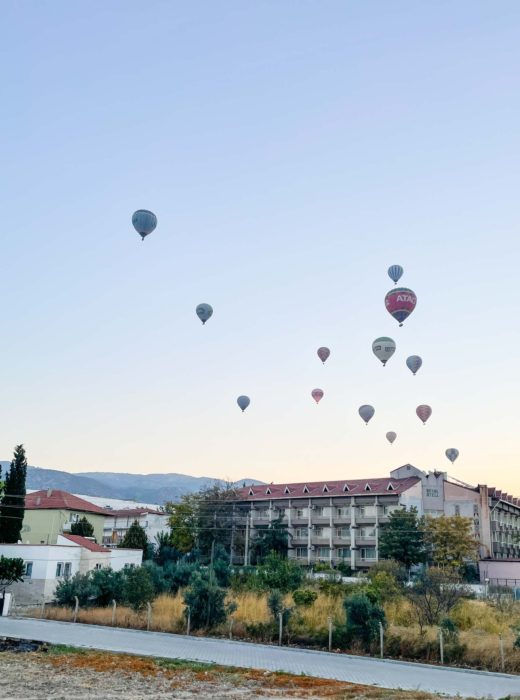 Think Pamukkale is all about walking on the Cotton Castle? Think again my friend. Here are some other great things to do in Pamukkale that you probably didn't even consider:
Go for a sunrise hot air balloon ride over the travertine terraces.
Go paragliding to avoid the crowds.
Visit the red-water springs of Karahayit.
Check-out the ancient city of Laodicea.
Stop by the Aphrodisias ruins.
Explore the beautiful crater Lake Salda.
See? I told you it's worth staying in Pamukkale.!
Leave Your Email Below And We Will Share More Details About All the Fun Activities To Do Around The Pamukkale Area And More:
37. Even Though Pamukkale Is Treated As An Instagram Photoshoot Location, You Should Still Visit!
Here are my final thoughts: even though the scene in Pamukkale can be a little intense at times, it is an incredibly unique natural wonder. Add Hierapolis and a charming town to the mix, and you have yourself a pretty nice little stop on your Turkey itinerary.
If you do your best to avoid the crowds and practice patience when it will inevitably be very crowded, then you can have an unforgettable time visiting the Cotton Castle. We sure hope these tips will help you make a more informed decision if you visit Pamukkale. Our main goal is to learn how to travel better and share it all with you!
Thanks for reading!
G
Did anything on this list surprise you? Have any questions about visiting Pamukkale? Reach out in the comments or DM us on Instagram!
Planning a Trip To Turkey? Read These Posts Next:
Tired of reading? We have an entire Turkey travel series on YouTube! Don't forget to Like & Subscribe 🙂
Save these Pamukkale Turkey Tips to Your Pinterest!