The best memories happen when you least expect them. After all, travel is all about the journey, right? We added Konya to our 3 month Turkey itinerary simply because we needed a convenient stopping point between the MUCH more popular Pamukkale and Cappadocia. But Konya surprised us both, leaving us with some of the most rewarding moments from our Turkey travels.
So why was Konya one of our favorite stops from our slow-travels through Turkey? Practically speaking, there are not a ton epic of things to do in Konya. But Konya was exactly what we needed after spending a month exploring Turkey's more popular destinations. Visiting Konya gave us a friendly and authentic taste of life in off-the-beaten-path Turkey.
Are you curious about getting off of Turkey's tourist trail and digging deeper into the country's diverse history and culture? Check out these 15 unforgettable things to do in Konya, Turkey. This city of Rumi, whirling dervishes, and historic mosques is a testament to the places you go with no expectations but leave with lasting memories.
Estimated reading time: 28 minutes
Ready To Discover 15 Incredible Things To Do In Konya?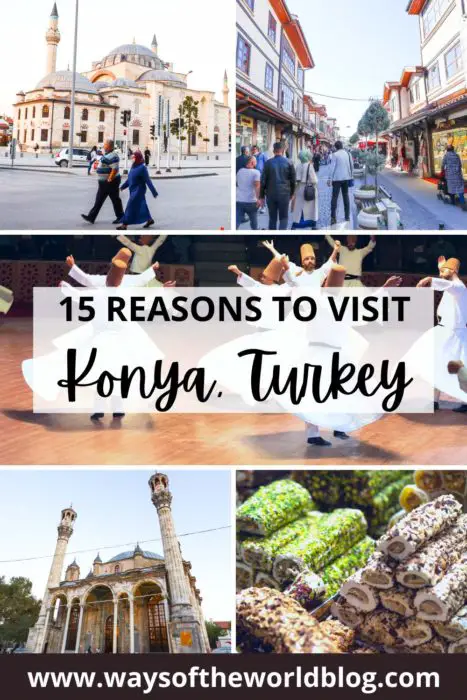 What To Know Before You Visit Konya, Turkey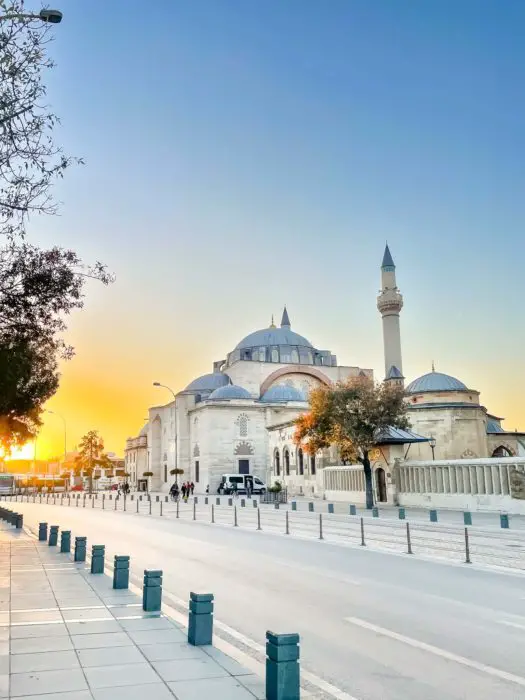 What Is Konya, Turkey Known For?
Konya, Turkey is often referred to as the most religiously conservative city in the entire country! We honestly were not sure what to expect after only spending time in the more touristy parts of Turkey. I remember Aimara auditing what all the women were wearing as our bus rode into town.
But to our surprise, we discovered that Konya is a modern and cosmopolitan city, and life happens here just like anywhere else in the world. Yes, you'll see more traditional, Islamic clothing. And mosques are EVERYWHERE. But Konya is also safe, clean and convenient. And as a college city, many of Konya's residents are pretty young and trendy. So much for expectations.
Is Konya Worth Visiting?
We definitely think that Konya is worth visiting during your Turkey travels. The city is beautiful, culturally fascinating, and as a bonus, the food is delicious! And because Konya is often overlooked by western travelers, you are sure to receive a warm welcome from curious locals.
Also, many of Konya's best attractions are conveniently located around the city center. And exploring all the great things to do in Konya is very manageable in a couple of days.
Is Konya Safe?
Unfortunately, religious conservatism is often associated with extremism. But this is an oversimplified and incorrect perspective. Even though Konya is more conservative than other popular cities in Turkey, the implication is that it is even safer!
Nobody will think about touching you or your personal property because their faith condemns that kind of behavior. We felt perfectly safe the entire time during our 12 day visit to Konya!
Keep reading to discover 15 unforgettable sites and activities in Konya!
Ultimate List Of The Best 15 Things To Do In Konya
1) Visit Rumi's Sarcophagus At The Mevlana Museum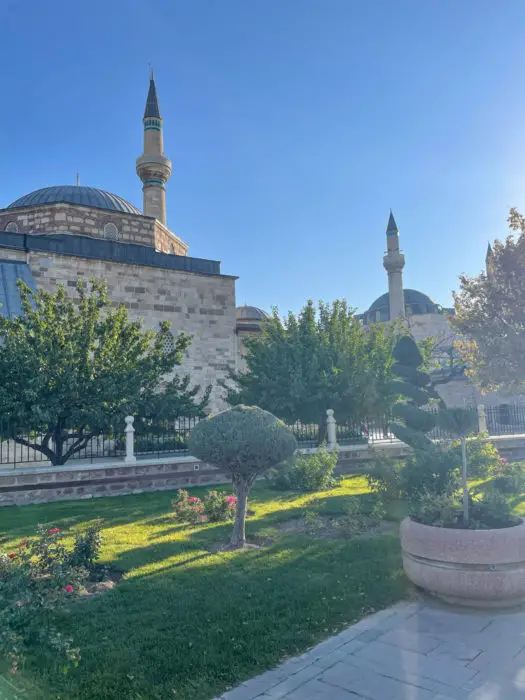 Price: free!
Hours: 9 am – 5:30 pm
Time needed: 1 hour
WOTW rating: N/A
The Mevlana Museum is a must-have on your list of things to do in Konya. The main attraction here is the mausoleum of the famous Sufi mystic, Rumi (Jalal ad-Din Muhammed Rumi).
Rumi was a Sufi scholar and poet whose teachings focused on developing one's inner character. He founded the Mevlevi Order of Sufism (dervishes), and followers of this particular school of Sufi Islam now visit the Mevlana Museum as a pilgrimage destination. Follow the link to learn more about Rumi and his role in shaping Konya's history.
Inside the mausoleum, you can find Rumi's sarcophagus, a mosque and a museum. The structure is also a functioning dervish lodge, where Sufis meet for spiritual sessions. Even though the site is fairly small, visiting the Mevlana Museum helps you appreciate Konya's significance as a religious and cultural center.
WOTW Tip #1: Rumi's popularity has grown in recent years in Western culture. Check out his poetry and inspirational messages to learn more about Rumi's ideas. Click the link if you want to purchase some of Rumi's works.

WOTW Tip #2: If you want a deeper understanding of Rumi and Mevlevi Sufism, then consider this Rumi-inspired Konya tour. It costs $110 US, per person. We didn't take the tour even though it looks fascinating – sometimes traveling on a budget sucks!
"Don't be satisfied with stories, how things have gone with others. Unfold your own myth."

"Respond to every call that excites your spirit."

"What you seek is seeking you."

"Raise your words, not voice. It is rain that grows flowers, not thunder."

– Rumi
2) Be Amazed By The Whirling Dervishes At The Culture Center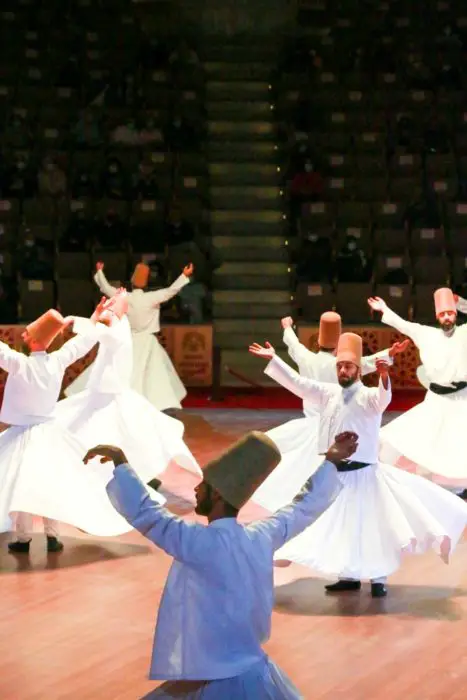 Price: 30 Lira, per person ($ 3.15 US). The facility is pretty large, so you don't need to purchase tickets in advance. In fact, that wasn't even an option when we made our Konya visit in October 2021.
Hours: SATURDAY'S ONLY!
Time needed: 2 hours
WOTW rating: 5/5
No list of things to do in Konya is complete without mentioning the Whirling Dervishes. During this one-of-a-kind religious ritual, Mevlevi Order Sufis spin in a constant rhythm to achieve a state of high consciousness. Reaching this state helps Sufis disconnect from distractions and connects them with their inner being and Allah.
The Whirling Dervish ceremony is distinctly spiritual. Watching the rhythmic spinning of the dervishes, with traditional music being played by an orchestra and chanting happening in the background is unforgettable. The entire atmosphere was just so completely foreign to us, in the best way possible. We felt very lucky to experience this unique religious ritual. How cool that we live in a world where we are so different!
Curious to see what it's like in what many people call the most conservative city in Turkey? Check out our vlog for an on-the-ground view of enchanted Konya!
3) Eat Etliekmek As If Your Life Depended On It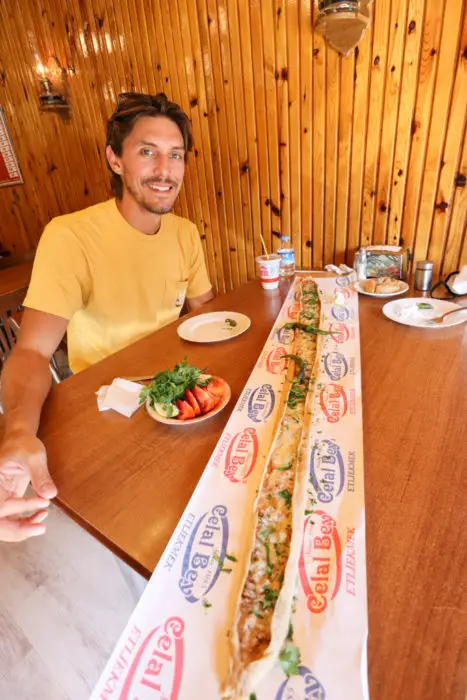 Price: 30 Lira ($3.25 US).
Hours: lunch seems to be a more popular time for this divine meal.
Time needed: 30 minutes
WOTW rating: 5/5
I typically wouldn't put food high on a list of city's top attractions, but eating etliekmek is a life-changing experience. That feels odd to write immediately after talking about Rumi and the Whirling Dervishes. But oh well, transformational moments can happen in different ways, shapes and forms. In this case, it comes in the form of a 4-foot long flatbread.
Etliekmek is made by topping ground beef, cheese (sometimes), and VERY thinly chopped onions, tomatoes, and peppers on a light and flaky dough. Each one is made to order, and you can usually watch the master chefs prepping your etliekmek before tossing it into the brick oven. Many etliekmek places specialize in just this one dish, and they do it ridiculously well.
We unforgivably didn't try etliekmek until our last day in Konya. LEARN FROM OUR MISTAKES! Eat etliekmek from day one!
WOTW Tip: we fell in love (with etliekmek) at Celal Bey Etli Ekmek. This is a great little spot located on the fringes of Konya's bazaar, directly across from one of the most beautiful mosques in town. The etliekmek was delicious, and the server had the biggest smile on his face the entire time. 5 stars all around!
Hungry for more delicious Turkish food? Check-out our posts about the best Gaziantep foods to try, and Istanbul's unmissable dishes!
4) Explore The Oldest Bazaar In Konya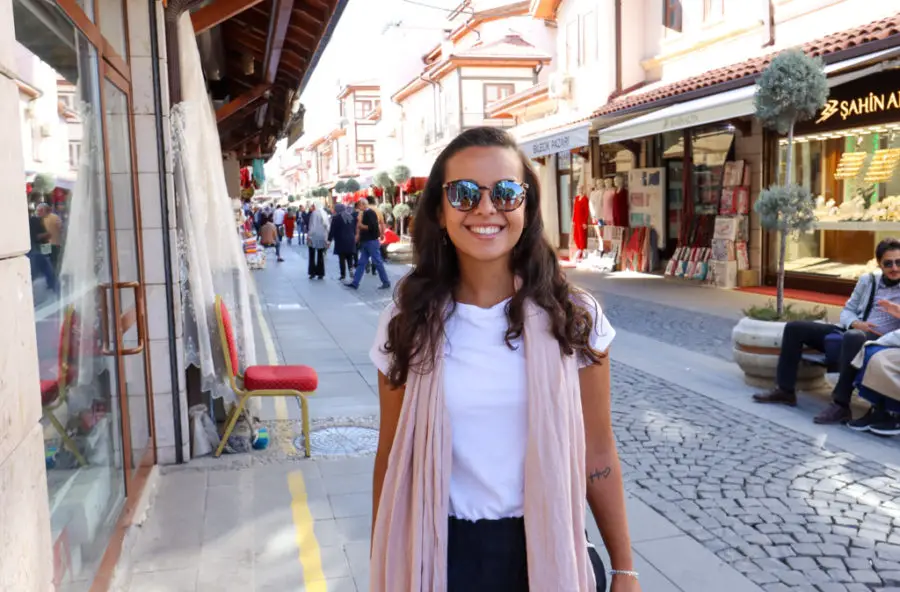 Price: free to explore.
Hours: 9 am – 6 pm. Closed on Sundays.
Time needed: 1 hour
WOTW rating: 4/5
Make sure to visit the Bedesten Bazaar while checking out the sights around the Mevlana Museum. Located about a 5-minute walk from the museum, the Bedesten Bazaar is considered the heart of Konya. This bazaar has been Konya's central shopping district since the early 1500s!
Enjoy walking through and feeling the energy of the bustling crowds, and pick up some spices or sweets while you are at it. Don't worry about the many stares at the bazaar. The people of Konya don't see too many international tourists. Consider it all part of the experience!
Save This Post To Your Pinterest For Later!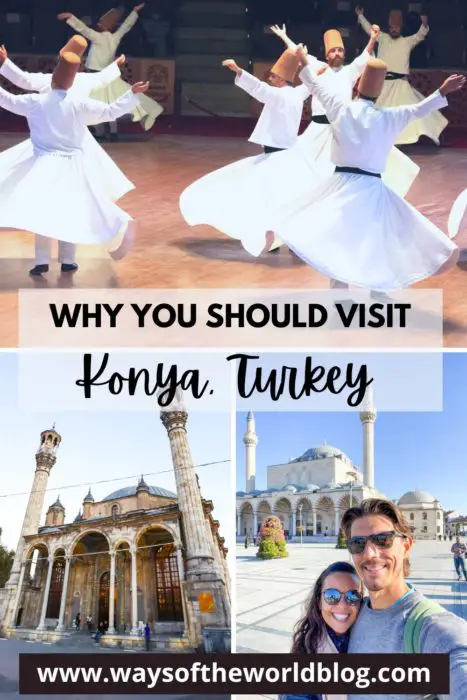 5) Visit The Beautiful Aziziye Mosque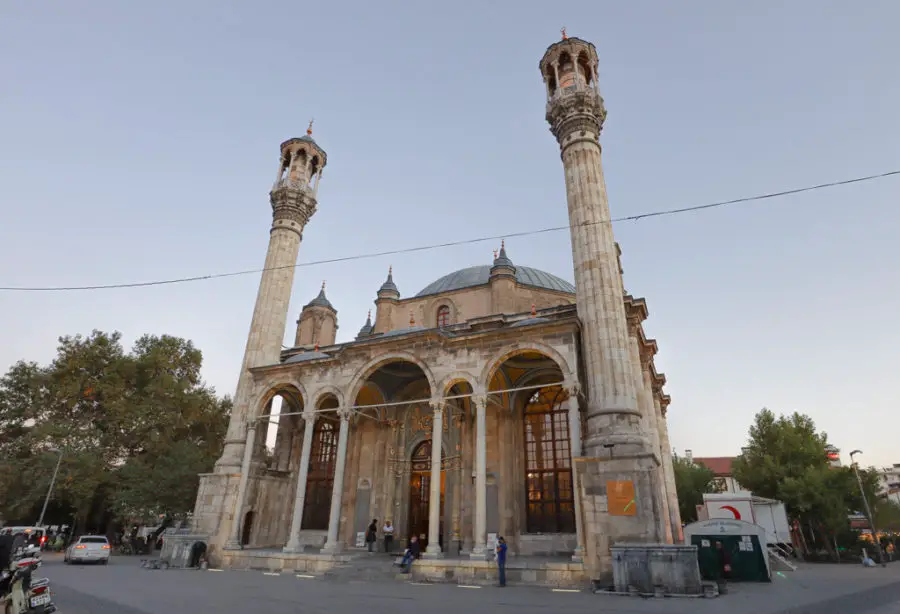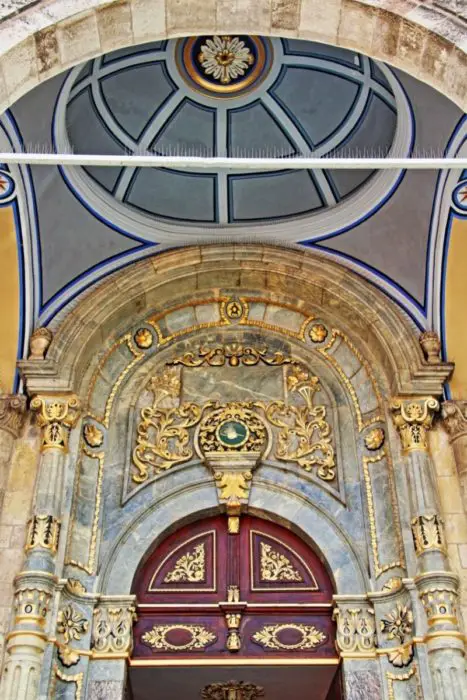 Price: N/A
Hours: N/A
Time needed: 15 minutes
WOTW rating: 4/5
The Aziziye Mosque is arguably the most beautiful mosque in Konya. Originally constructed in 1676, Aziziye Mosque fell victim to a fire and was reconstructed in the 19th century. The reconstruction makes the mosque so appealing, as it was rebuilt in a Baroque style that is distinct from the more familiar style of mosques.
Located within the Bedesten bazaar, the Aziziye Mosque is famous for its beautiful interior and massive windows that make it much brighter than other mosques we visited. Also, it's right across from an incredible etliekmek place – remember #3 on this list of things to do in Konya?
Sign-up To Our Newsletter To Receive Useful Travel Tips From Our Next Destinations!
6) Check-out The Iconic Selimiye Mosque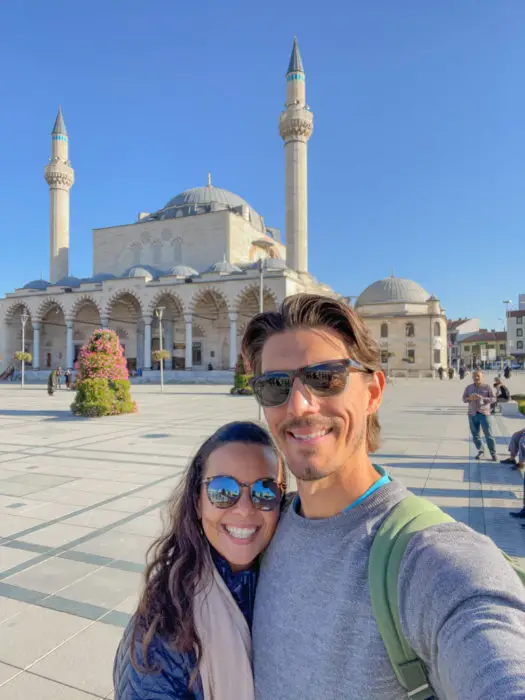 Price: N/A
Hours: 24/7
Time needed: 30 minutes
WOTW rating: 4/5
Selimiye Mosque is the most imposing structure in Konya's central area. This massive mosque dominates the cityscape in downtown Konya. Because of its size, you would be forgiven for thinking that this is the most important mosque in Konya. But while Selimiye is a very active mosque, it is actually not one of the more notable things to do in Konya.
That said, thinking back on Konya, the image of Selimiye Mosque is what immediately comes to mind. That and the whirling dervishes. And etliekmek…drool.
WOTW Tip: men and women can enter mosques regardless of religious affiliation. When we visited Selimiye Mosque, we noticed that all women entered through a side door specifically for women. But it appeared that women could enter through the main entrance after prayer times.
7) Act Like A Local And Drink Some Turkish Tea (Çai)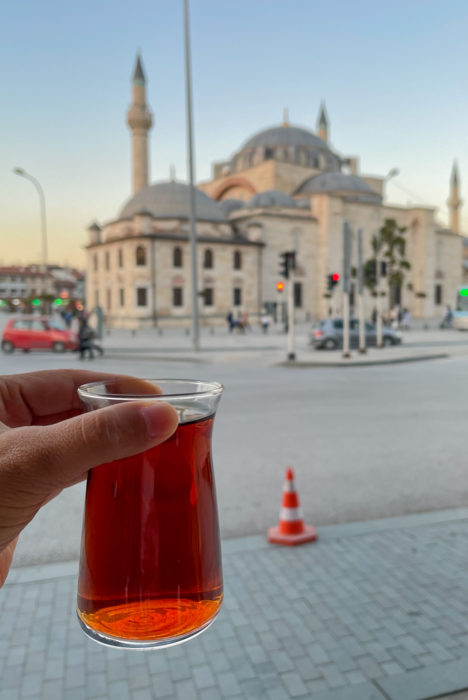 Price: about 2-4 Lira per cup.
Hours: it's always a good time for çai in Turkey.
Time needed: N/A
WOTW rating: 5/5
Newsflash, you will be hard-pressed to find any alcoholic beverages around Konya. But no need to worry – there is plenty of çai to be found around town! After exploring the mosques and museums around town, you have earned some time to just sit back and chill. Konya is a cool place to just take part in the local way of life, which in Turkey means drinking çai. Lots of it.
8) Go For A Stroll Through Alaeddin Hill Park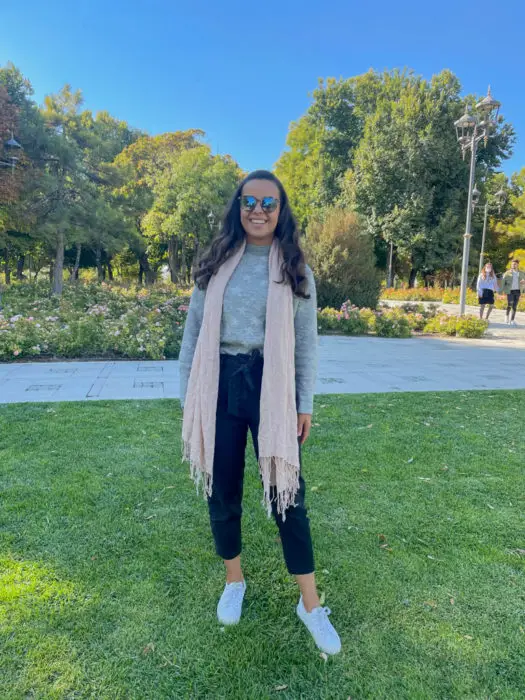 Price: N/A
Hours: N/A
Time needed: 30 – 90 minutes
WOTW rating: 3/5
Located in the center of town, Alaeddin Hill is a popular spot for Konya's college crowd to chill out on the lawns, drink çai, and socialize. Alaeddin Park is a pleasant place to enjoy the frequent sunny days in Konya, and step away from the bustle of the city.
If you want to combine this and #7 on this list of things to do, there is a cozy tea-house located on Alaeddin Hill.
9) Hop Into The Alaeddin Mosque – The Oldest Mosque In Konya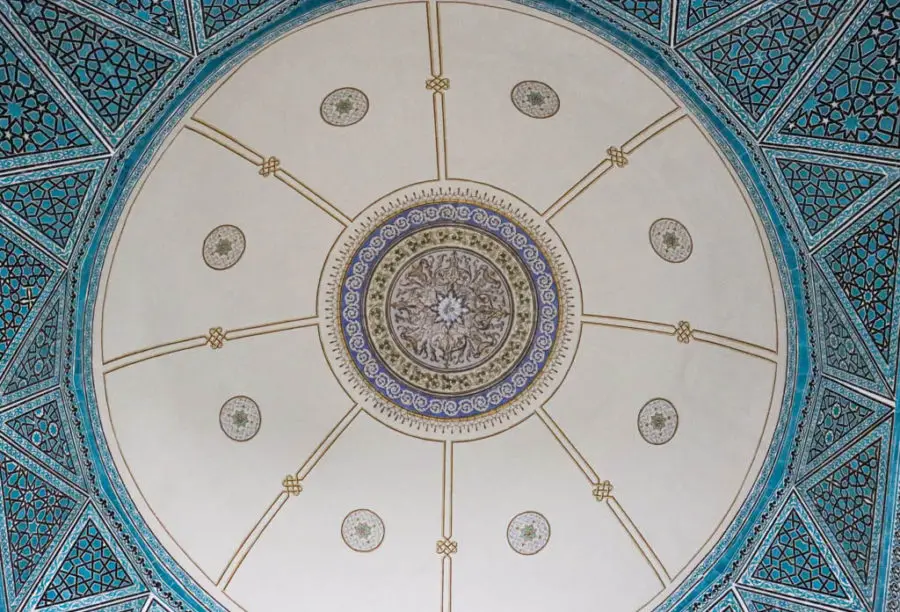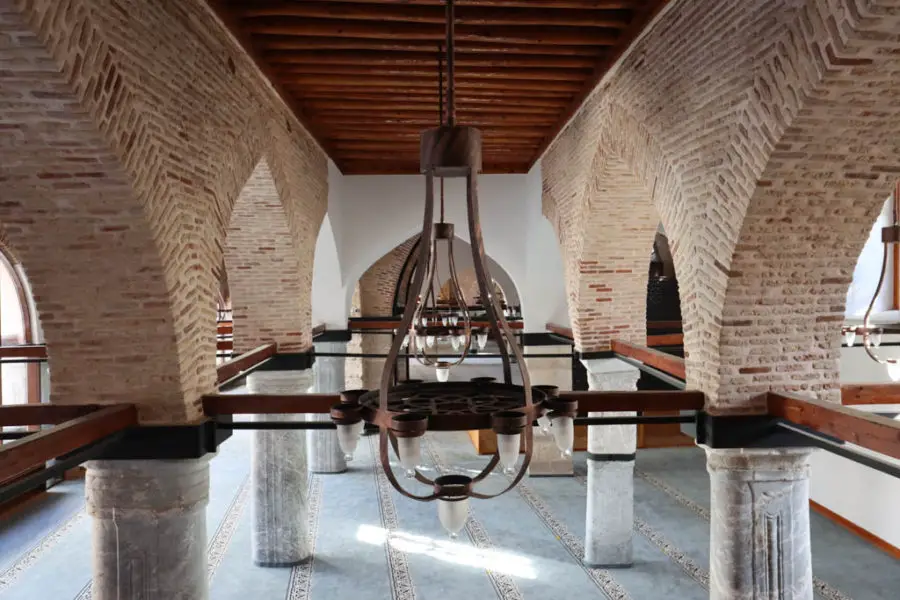 Price: N/A
Hours: 8 am – 11 pm
Time needed: 30 minutes
WOTW rating: 3/5
While walking around Alaeddin Hill, take a moment to enter Alaeddin Mosque. Completed in 1220, this mosque is the oldest Seljuk-era mosque in Turkey (the Seljuks were a Turk-Persian empire that ruled a large portion of the Middle East). This was also the mosque of Seljuk sultans. The tombs of several generations of sultans can be found in the complex.
Though the exterior of Alaeddin Mosque isn't obviously impressive, you can walk through and take some beautiful photos of the interior. There's also a nice courtyard area where there are excellent views of the city. Just make sure to put your shoes back on when you enter the courtyard (told from experience).
WOTW Tip: a heads-up if you enter the Alaeddin Mosque: a welcoming old man showed us around to the mosque's photogenic spots and learned about its history (in Turkish). Once the unofficial tour was over, he broke out his best English – 'Money. Money.' It felt a bit scammy, but we just laughed it off and gave him a couple Lira. I guess he did try to educate us on the mosque's history. We just didn't understand a word of it.
10) Visit The Kultur Park At Night And Have Çai, Again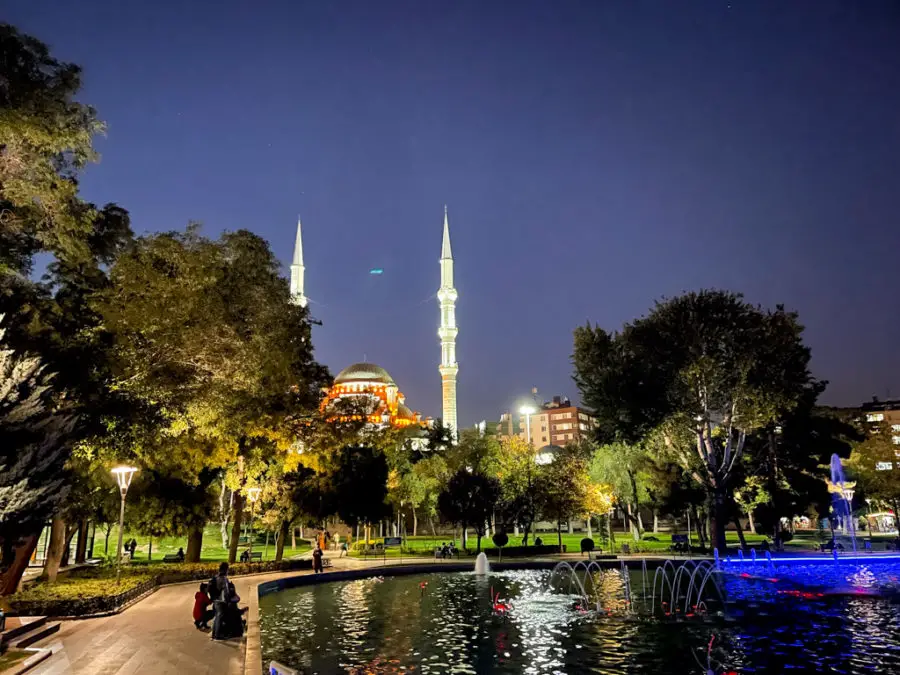 Price: free to walk around; I believe the tea was around 4 Lira, each ($0.45).
Hours: the park is open 24/7; the lights turn on around sunset.
Time needed: 1 hour
WOTW rating: 4/5
More çai? Yes, you are in Turkey. There is always more çai!
Kultur Park sits next to Alaeddin Hill, and it's a cool place to check out after a busy day of museum and mosque-hopping. Enjoy the large pool and the neon-light show, along with the incredible views of nearby mosques (there are also always more mosques in Konya).
There's a large outdoor area inside the park where you can get Turkish tea along with some small bites. These tea gardens are an essential part of Turkish social life, basically replacing the bar experience that you would get in other parts of the world. So just grab some çai, enjoy the atmosphere, and take part in one of the most local things to do in Konya.
11) Tired Of Doner, Pide, Shish and Kofte? Enjoy Konya's Varied Cuisine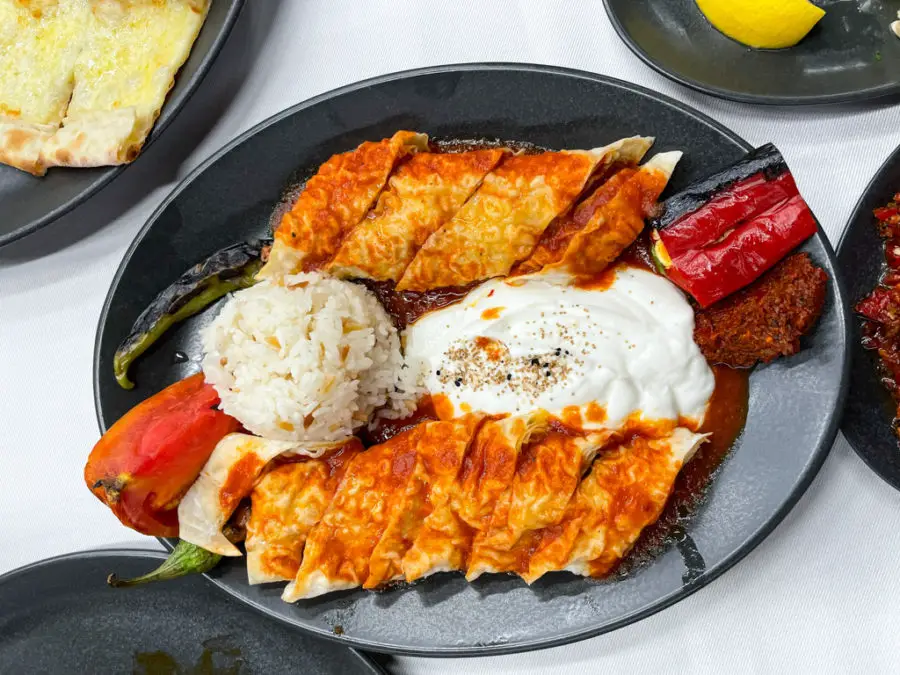 Price: we found the food in Konya cheaper than in more touristy towns. Don't worry if a restaurant looks fancy, your wallet will be just fine. The average price for an entree was $4.
Hours: dinner is usually at around 6:30 pm, and places start empyting around 8 pm.
Time needed: N/A
WOTW rating: 5/5
What's this we're seeing on restaurant menus? Variety?? After being in Turkey for over a month, we were starting to wonder how much doner and chicken shish a person could eat before going a little crazy. Don't get us wrong, Turkish food is delicious, but restaurants don't love to switch things up.
As we said before, Konya is a cosmopolitan city, and there are plenty of welcoming restaurants to go and enjoy some delicious food. We enjoyed Asya Lamachun & Kebap (several times), and tried Ottoman food at Somatci Fihi Ma Fi. The latter is located in a nice cobblestoned street with several slightly higher-end (but still very affordable) restaurants.
12) Explore A Prehistoric Settlement At Çatalhöyük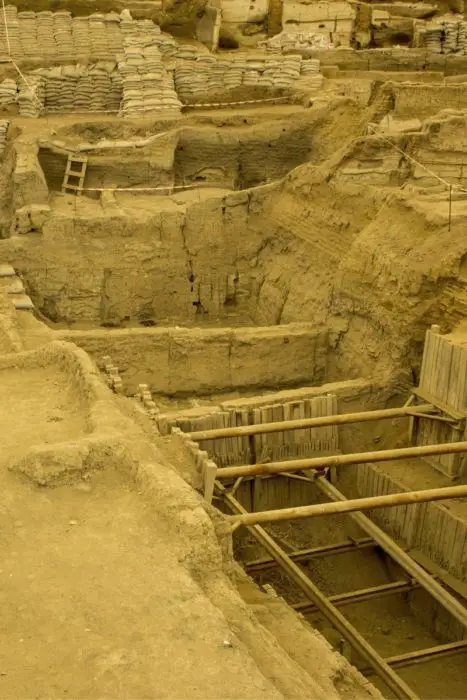 Price: N/A
Hours: 9 am – 5 pm;
Time needed: 1 hour to explore the site; about a 40 minute drive from Konya's center.
WOTW rating: N/A
While not one of the more photogenic things to do in Konya, Çatalhöyük is fascinating for travelers interested in early human history. This UNESCO World Heritage site is over 9,000 years old! Çatalhöyük is known for showing humans' shift from nomadic life and small tribes to urban societies.
When visiting Çatalhöyük, you can view the ancient city's excavations, in addition to models of what the structures would have looked like in the past. Çatalhöyük also contains wall art and figurines featuring human and animal depictions.
Fun fact about Çatalhöyük, there were no roads or sidewalks in the city. Citizens walked over the connected roofs to get around and climbed into the homes from a hole in the ceiling.
WOTW Tip: getting to Çatalhöyük is not super straightforward. The easiest option is taking a taxi from Konya, but it is somewhat pricey. Read more details on how to get to Çatalhöyük by clicking here.

Alternatively, you can take a guided tour of Çatalhöyük and avoid the hassle of arranging transportation.
13) Pop Into The Panorama Museum Before The Whirling Dervish Ceremony
Price: 5 Lira ($0.50)
Hours: 9 am – 5 pm; CLOSED MONDAYS
Time needed: 1 hour
WOTW rating: N/A
Located between the Mevlana Museum and the Mevlana Cultural Center, the Konyanuma Panorama Museum showcases life in 13th century Konya through oil paintings, wax figures, and other displays. Jump through this video if you want to get a visual of what to expect.
The museum is probably not on most people's radar of things to do in Konya, but definitely check it out if you are interested in learning more about life in Konya when it was the capital of the Seljuk empire. The displays also show miniature versions of Mevlevi lodges in the museum's courtyard.
While we didn't visit Konya's Panorama Museum, we heard great things from fellow travelers. It could be worth a short stop if you are looking for a more interactive and educational activity than visiting Konya's famous mosques. It's also a good option if you are killing time before the Whirling Dervish show that happens next door.
14) Ince Minare Stone Work Museum
Price: 2 Lira ($0.20)
Hours: 8 am – 6 pm
Time needed: 1 hour
WOTW rating: 4/5
Constructed in the 1200s, Ince Minare Madresi functioned as a theological seminary (madrasa) during the Seljuk Empire. The building itself is considered a masterpiece of Seljuk architecture. The most notable features include an incredibly detailed entranceway carved with calligraphy and a gorgeous minaret (tower) built with glazed bricks and green mosaic tiles.
Today Ince Minare functions as a stone-works museum and contains elaborately designed mosque doors, decorative panels, and other artifacts. If you dozed off just reading 'stone works museum,' don't worry, the main attraction is the architecture itself. The entranceway and minaret can be admired from the sidewalk outside. Phew!
15) Switch Things Up At The Tropical Butterfly Garden
Price: 17.50 Lira ($1.75)
Hours: 9 am – 5 pm
Time needed: 1 hour
WOTW rating: N/A
A butterfly garden in Konya? Sure, why not. Konya's Tropical Butterfly Garden's claim to fame is that it's the biggest in Europe! But aren't we in Asia?? Yes, we are! I'm confused, too :/ But the point is the same. This place is big enough to earn some major recognition.
Believe it or not, a visit to Konya's Tropical Butterfly garden is one of the most popular things to do in Konya. I personally think butterflies are great, but the garden is about a 25-minute car ride outside the city center, so we skipped this Konya activity.
This award-winning butterfly garden might be just what your Konya visit needs if you are traveling with younger kids who have had enough mosques and museums. Or if you simply have some extra time on your hands and want to admire some pretty butterflies.
Final Thoughts About Visiting Konya, Turkey
I'm reading articles about Rumi as I write and it reminds me of how lucky we were to visit Konya while slow-traveling Turkey. How cool to learn about these stories from their origin in Konya. There's just so much rich culture in Turkey. We can't get over it.
Konya is much more than an in-between city, and you will be rewarded if you take the time to visit and explore its incredible culture and history. While the internet claims that Konya is the most conservative city in Turkey, we found a welcoming and modern place easy to fall in love with.
So, yes, visit Konya. Enjoy the experience of daily life in a non-touristy Turkish city. And don't worry about the stares. Konyans just aren't used to many visitors yet.
Thanks for reading!
G
Have any questions about visiting Konya? Ready to buy that plane ticket to Turkey? Send us any questions or comments below, or DM us on Instagram.
Going to Turkey? Read these travel guides next:
---
Tired of reading? We have an entire Turkey travel series on YouTube! Don't forget to subscribe while you are there so you follow along with the adventures 🙂
---
Did You Like This Post About 15 Things To Do In Konya? Share it on Pinterest!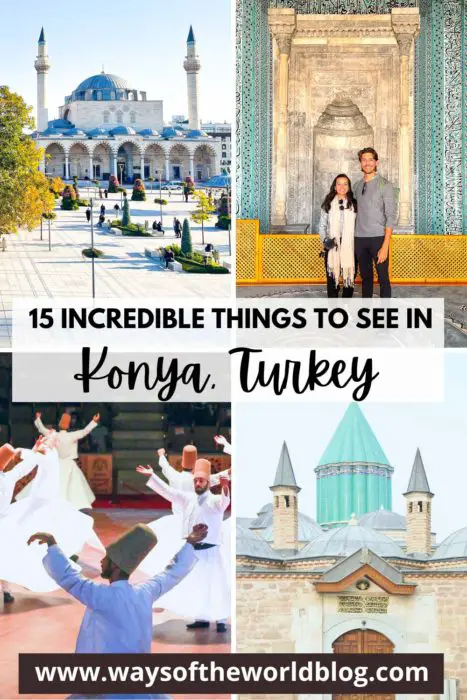 *Note: this post contains affiliate links. When you purchase from these links we might receive a small commission at no extra charge to you. Affiliate income helps keep us on the road and producing content the we hope is useful to you!