'How far do I go out of the way on my trip for a single attraction?' Pamukkale is a great example of this dilemma for many people visiting Turkey. Let's be real – Pamukkale is all about getting that perfect IG picture at the Cotton Castle, right? Think again.
We spent 4 nights in sleepy little Pamukkale during our 3-month saunter through Turkey. And we discovered that there are many things to do in Pamukkale besides just getting epic selfies in shimmering turquoise pools. This often-overlooked town definitely offers enough to fill your itinerary for a few days.
Pamukkale literally means Cotton Castle in Turkish, and the name refers to the travertine terraces and the town itself.
Do you want to experience Pamukkale beyond just the Instagram photoshoots on sparkling-white terraces? Let this be your ultimate guide to ALL the amazing things to do in Pamukkale! Keep reading to find out how to make the most of your trip to the famous Cotton Castle and the surrounding areas. We include prices, honest ratings, and valuable tips to help you make the most of your precious vacation time.
Estimated reading time: 29 minutes
Ready To Discover All The Incredible Things To Do In Pamukkale?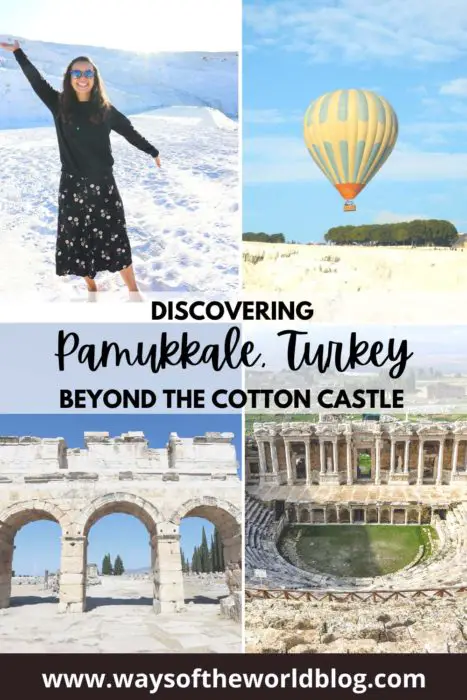 What To Know Before You Go:
When Is The Best Time To Visit Pamukkale?
I don't know if you know this, but Pamukkale gets totally, incredibly, ridiculously busy.
Tour groups descend on these travertine terraces with crowds of humans that do not logically fit in the space provided by mother nature. Also, something else you may not know, Pamukkale gets HOT. Like 5 alarm, 'am I in hell?', kind of hot. So with that in mind, let me give you some tips on the best times to visit Pamukkale: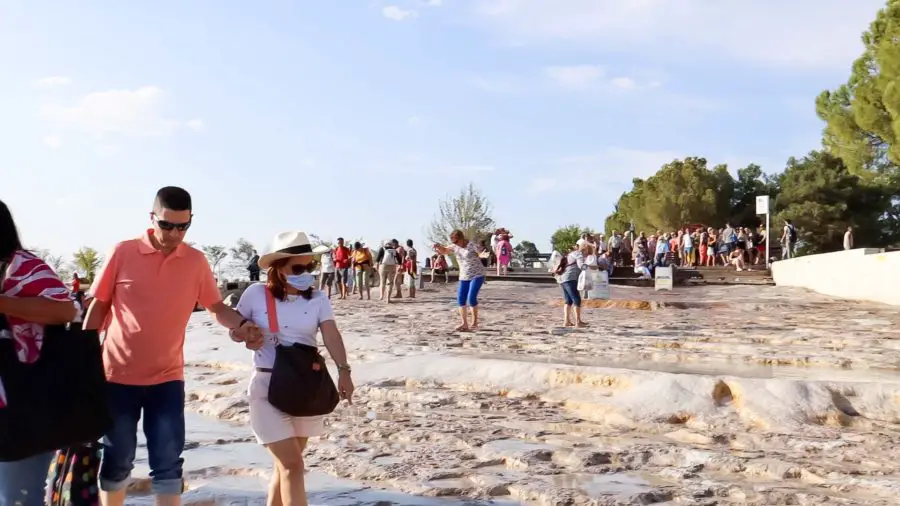 Summer (June – Mid-September): not ideal in our humble opinion. I realize this is inconvenient because most people can only travel during the summer months, but please understand that it will be very busy, and hot. Don't say I didn't warn you.
Fall (end-September – November); fall is a great time to visit. This is when Pamukkale begins to cool down and the crowds thin out.
Winter (December – February): winter in Pamukkale definitely gets chilly, but not freezing. While there may be some more rain than usual, there is no reason this isn't a decent time to visit. As a bonus, winter is your best chance to actually get Pamukkale to yourself.
Spring (March – May): along with fall, spring is the best time to visit Pamukkale. The weather is pleasant, and the major summer crowds have yet to arrive.
How Many Days Do You Need in Pamukkale?
Most people don't realize that there are plenty of things to do in Pamukkale to keep you busy for a few days. On top of that, if you have dreams of visiting the picture-perfect pools without a stampede of people, then your best bet is to wake-up in town and arrive to the gates when they open in the morning.
Here is a basic guide to help you decide how many days you need in Pamukkale:
1 night: good if all you want to do is visit the Cotton Castle. Spending one night will allow you to be there for sunrise and beat the crowds.
2 nights: good for a relaxed visit to the travertine terraces and one other activity.
3-4 nights: enough to see the most important things to do in Pamukkale, including some road trips. Recommended if you have a decent amount of time in Turkey.
WOTW Tip: most people visit Pamukkale on a day-trip with a packaged tour. The number of tour buses that come from the surrounding areas can be frustrating. Everyone arrives at basically the same time to fill the terraces for the better part of the day.
Where Should You Stay In Pamukkale?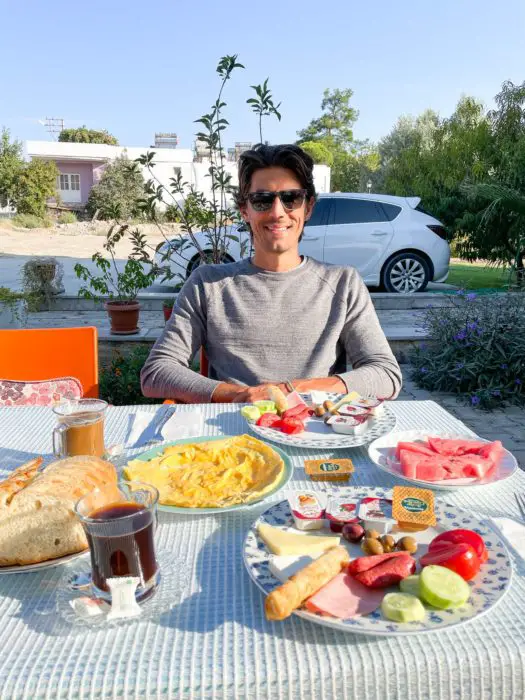 Pamukkale is a small enough town that you don't need to stress about the exact location of your hotel. We stayed at The Cotton House, and it was absolutely amazing. We 100% recommend staying there. Here is a link to the Cotton House in case you are ready to book!
Many people visiting Pamukkale choose to stay in Denizli, which is about a 20 minute drive from Pamukkale. This could be an okay option if you just really prefer staying in a city versus a quiet town. But you will not have the convenience of walking from your hotel to the Cotton Castle right when it opens in the morning. For us, Pamukkale wins, hands-down.
Ultimate List Of The 15 Best Things To Do In Pamukkale
1) Explore The Famous Pamukkale Cotton Castle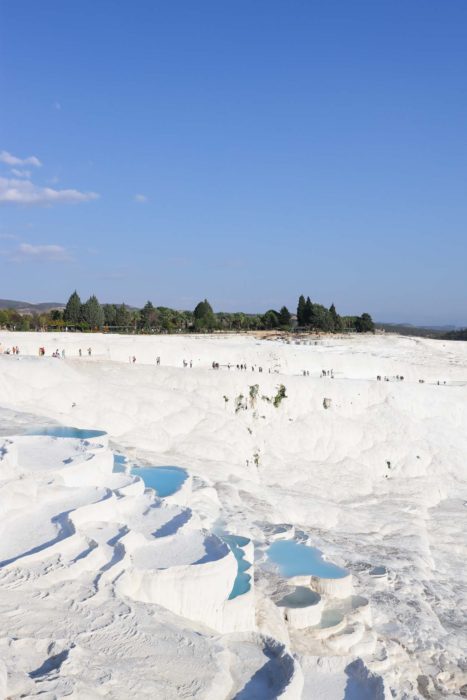 Price: 110 Lira ($11.30 US), per ticket; price includes access to Hierapolis ancient city.
Hours: opens at 6:30 am from April 1 – September 30, and 8 am from October 1 – March 31. Closes after sunset, but worth checking as it can fluctuate based on the season.
Time needed: 1-3 hours
Ways of the World (WOTW) rating: 3.5/5
There's no way this is missing from any Pamukkale itinerary. Not only is visiting the Cotton Castle is the thing to do in Pamukkale, but it is the most popular thing to do in all of Turkey! Be aware that when you go, it will likely be busy. Very, very busy. You will be exploring this place with hundreds of new friends, so your experience may depend on your tolerance for crowds.
WOTW Tip: our low-ish rating for the Cotton Castle is 100% because of the crowds. The travertine pools and cliffs are amazingly beautiful. But being somewhere that felt a bit like a giant-photoshoot was difficult for us to block-out.
2) Visit The Cotton Castle At Sunrise To Avoid The Crowds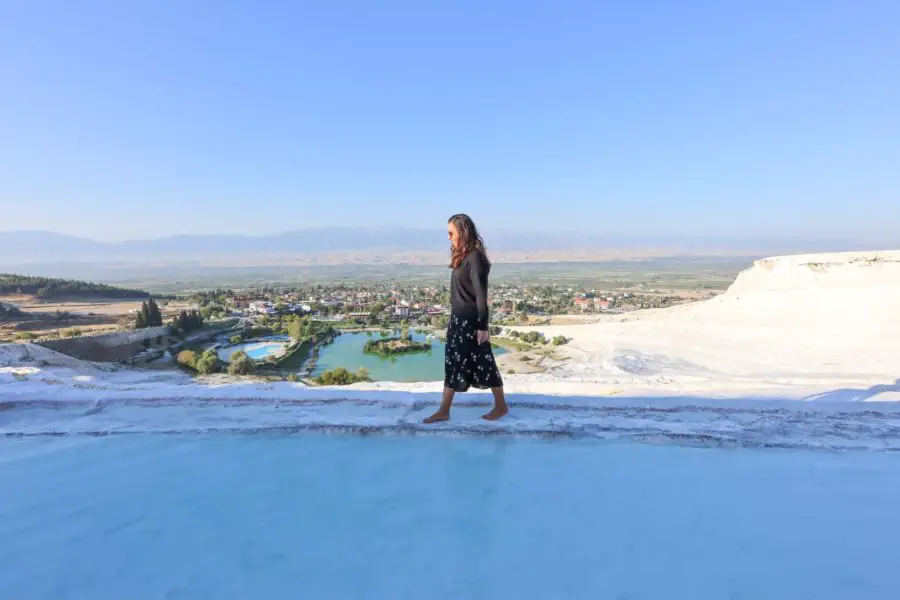 Price: 110 Lira ($11.30 US), per ticket.
Hours: check sunrise times online, or make a mental note.
Time needed: 1 hour
WOTW rating: 4/5
Read any blog (why are you reading other blogs?) and they'll tell you that the best time to visit Pamukkale's travertine pools is at sunrise. Being there at sunrise, allows you to briefly avoid the crowds and get those epic pictures without needing to photoshop a crowd of people out of your photos. Total win!
But while sunrise is the best time to visit the main pools without crowds, the tour buses arrive quickly. Make sure to take advantage of the short time while you are one of the few people visiting the Cotton Castle. No dillydallying up there.
WOTW Tip: notice the shadows over the travertine pools in the picture? That's why we don't think sunrise is the best time to visit Pamukkale for photos (ironically). Yes, you might experience it with much fewer people, but the amazing shots with perfect reflections in the pools are tough to capture at sunrise.
3) Watch The Sunset From Pamukkale's Secret(ish) Spot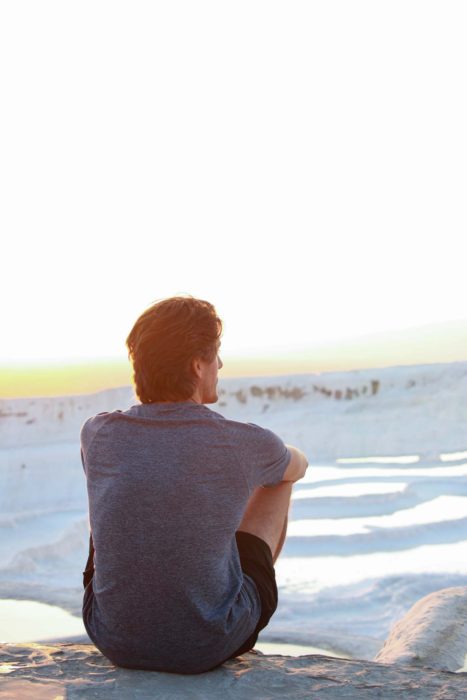 Price: 110 Lira ($11.30 US), per ticket.
Hours: check sunset times online, or make a mental note.
Time needed: 1 hour
WOTW rating: 5/5
If sunrise is for experiencing the terraces without people, then sunset is for the epic views! Our most memorable time at the Cotton Castle was seeing the travertine pools reflecting incredible colors from the sunset sky. Sunset from the top of Pamukkale is an unmissable experience.
Now for the secret spot – the large groups of people will congregate around the pools at the top of the hill. However, if you pass these pools and take an immediate right past the concession stands you will find a different set of pools. You can't enter these pools, which is probably why they are less popular, but you will have an AMAZING place to sit and watch the sunset with much less crowds.
If you take anything from this post, let it be the secret sunset spot!
Love finding out about Pamukkale's secrets? Find out what Nobody (besides for us) Tells You About Pamukkale, Turkey!
4) Be Sure to Visit the Incredible Ancient City of Hierapolis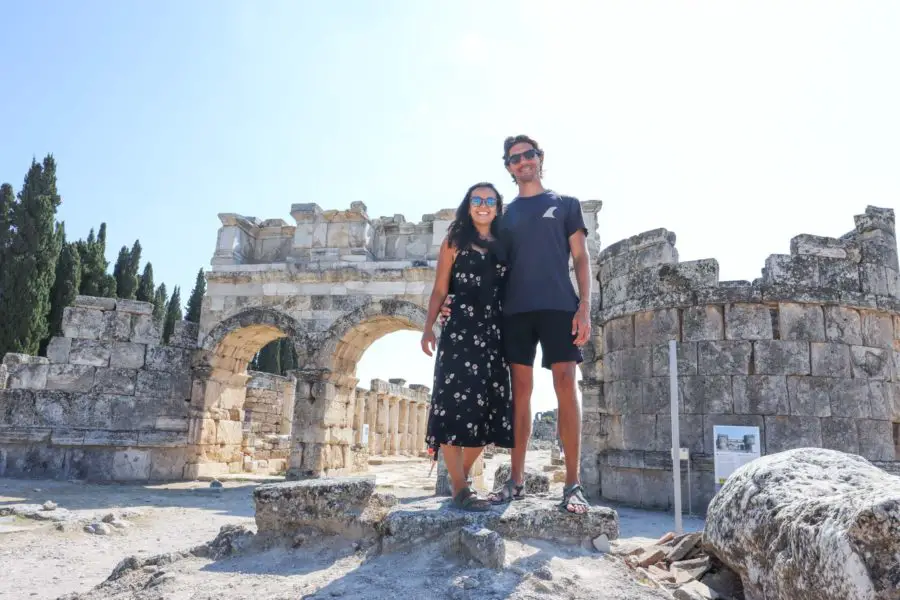 Price: included in the entry price to the Cotton Castle (110 Lira; $11.30 US).
Hours: opens at 6:30 am from April 1 – September 30, and 8 am from October 1 – March 31. Closes after sunset, but worth checking as it can fluctuate based on the season.
Time needed: the entire site is pretty huge. You'll need at least an hour to see a few of the main ruins, and you could spend half a day hiking to different parts of the ruins.
WOTW rating: 5/5
Exploring Hierapolis is easily one of the best things to do in Pamukkale! We noticed that Hierapolis is an afterthought to most people's visit to the Cotton Castle, and many visitors totally ignored checking-out these ancient ruins. But not spending some time walking around these beautiful ruins is a mistake. Exploring Hierapolis is a great way to escape the crowds and to learn more about Pamukkale's fascinating history.
The city of Hierapolis was founded by the Greeks, and flourished under Roman rule. Pamukkale's healing waters helped Hierapolis develop. The ancient city was effectively a spa resort for the Romans. It was one of the most important cities in the Roman Empire during the 2nd and 3rd centuries AD. And walking through the beautiful ancient city you really get a sense of how grand Hierapolis was during its peak.
5) Stop By The Hierapolis Theater – The Star Of The Show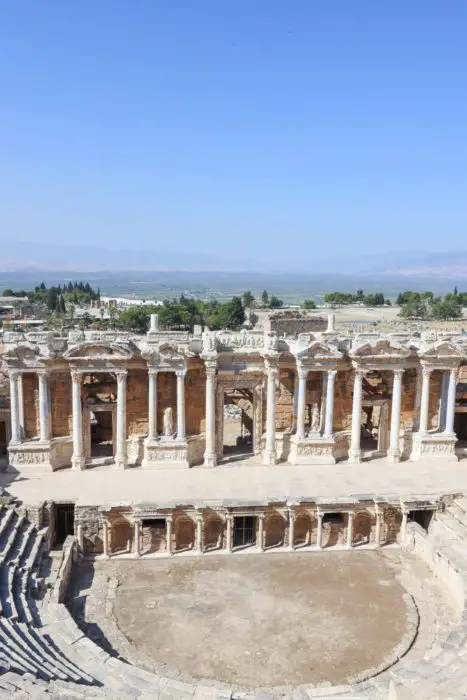 Price: included in the entry price to the Cotton Castle (110 Lira; $11.30 US).
Hours: opens at 6:30 am from April 1 – September 30, and 8 am from October 1 – March 31. Closes after sunset, but worth checking as it can fluctuate based on the season.
Time needed: 30 minutes
WOTW rating: 4.5/5
The famous Roman theater in Hierapolis should definitely be on your list of things to do in Pamukkale. The theater is the first stop for those curious travelers venturing away from the travertine pools into Hierapolis. And they are rewarded with a massive ancient ruin that still shows the incredible details of carved stone and statues. You really have to see it to believe it.
6) Cleopatra's Pool – Maybe Not Be Worth The Extra Fee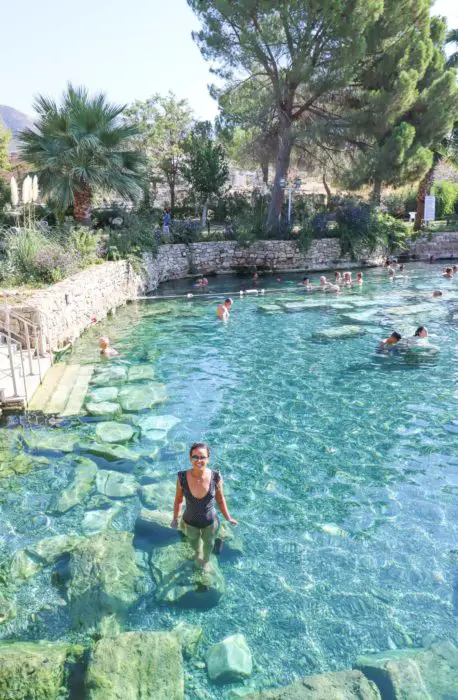 Price: 100 Lira ($10.30 US)
Hours: 8 am – 8:30 pm (June 1 – October 1)
Time needed: 1 hour is enough; there is reportedly a two hour max.
WOTW rating: 3/5
You'll find the warm and inviting Cleopatra's pool between the Cotton Castle and the Hierapolis Theater. Unlike Hierapolis, you will have to pull out your wallet again if you want to plunge into these warm waters.
The pool was once a gift to Cleopatra from Marc Antony (not the singer). Surrounding the pool was a temple dedicated to Apollo. However, an earthquake destroyed the structure and it collapsed into the pool. The ruins are still there, and you can actually sit on ancient columns while relaxing in the healing waters. How cool!?
Cleopatra's pool is a pleasant stop, but it also gets pretty busy, and we found that the additional fee was not quite worth it. In short, you won't miss anything if you don't go in. But if you really just want to soak in 95 F degree water, there are definitely worse things to do in life.
WOTW Tips #1: you can see Cleopatra's pool for free from the outside, but you have to pay the additional fee to enter the hot springs.

WOTW Tips #2: the ticket for Cleopatra's pool is good for one entry. You are not allowed to go in-and-out the pool. So use the bathroom before you go in!
Save This Post To Your Pinterest for Later!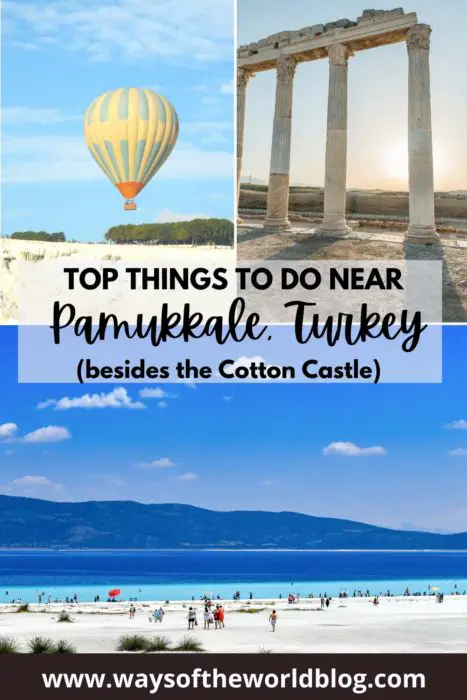 7) Visit The Newley-Opened Gates To Hell (Ploutonion)
Price: included in the entry price to the Cotton Castle (110 Lira; $11.30 US).
Hours: opens at 6:30 am from April 1 – September 30, and 8 am from October 1 – March 31. Closes after sunset, but worth checking as it can fluctuate based on the season.
Time needed: 15 minutes
WOTW rating: N/A
Ploutonion, or Pluto's Gate, is my favorite piece of history from Hierapolis. It is a religious site built for Pluto, the god of death. Ancient priests brought animals to ceremonies at the Ploutonion where the animals suffocated almost immediately after entering Pluto's Gate. But the priests entered the same gates and always emerged unharmed, proving their 'holiness' to the people of Hierapolis.
The tricky priests constructed the temple door right above an area where poisonous CO2 escaped the ground. The concentration of CO2 stays low to the ground, instantly affecting the animals which were closer to it. On the other hand, priests were able to avoid the toxic gases because they were simply taller. Pretty clever and deceiving those priests.
Unfortunately Pluto's Gate wasn't open during our visit, but it is worth checking-out and learning more about this fascinating story. If you are like us and enjoy reading about these crazy historical stories, then head to this article by the BBC.
Sign-up To Our Newsletter To Receive Useful Travel Tips From Our Next Destinations!
8) Educate Yourself At The Pamukkale Archeological Museum
Price: 5 Lira ($.60 US)
Hours: 8:30 am – 7 pm
Time needed: 30 – 60 minutes
WOTW rating: N/A
Need a break from the hot Turkish sun? The archaeological museum is a perfect place to let your sweat dry. The museum itself was once a Roman bath and gymnasium, and now it holds various statues, sarcophagi, jewelry and other smaller artifacts. The highlight at the Pamukkale Archeological Museum are the ornate sarcophagi carvings. The Romans sure treated their dead well.
WOTW Tip: the ancient ruins at Hierapolis offer plenty to see. If you are short on time, we recommend prioritizing the ruins over the museum.
9) Enjoy The Slow Pace Of Town With Some Çai (or Beer) And A View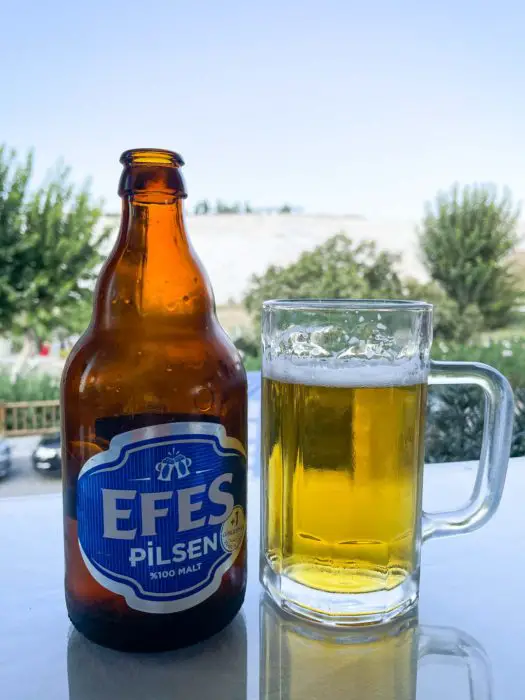 Price: $3.50/beer
Hours: N/A
Time needed: We are really, really good at enjoying a slower pace, and can easily observe life for a couple hours with a beer or çai in hand. This one depends on you and your ability to just sit and relax.
WOTW rating: 4/5
There is something charming about Pamukkale's small-town atmosphere. We spent several afternoons outside our hotel watching the locals (who all know each other) catch-up on the daily events. Hardly any cars passed by our hotel, and it felt so much different from other, more hectic, stops in Turkey.
Besides for just chilling at the hotel, there are a number of restaurants across from the Cotton Castle where you can grab a bite, and yes, a drink (something that has become increasingly rare in Turkey as we travel east). Just grab a seat, enjoy some warm çai, and take-in the incredible travertine terraces from a distance.
Disclaimer: we did not visit the following lesser known sites, and I wouldn't consider them 'must-do' recommendations. If you are spending more than 3 or 4 days in Pamukkale and need to fill up your itinerary, then these could be other good things to do in Pamukkale. This list was given to me by a local, so I'm not just listing things I found online 🙂
10) Enjoy Sunrise Over The Cotton Castle On A Hot Air Balloon Ride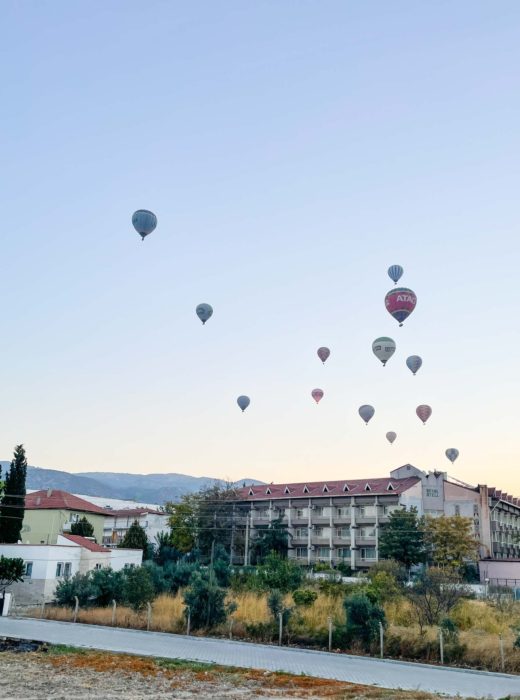 Price: about $100 US for a standard flight (non-private); this information is as of September 2021.
Hours: pick-up is around 6:30 am
Time needed: typically about 1 hour in the air. The full experience between pick-up and drop-off is close to 3 hours.
Hot air balloon rides and Turkey are like peas and carrots. Some things just go perfectly together. This is easily one of the most unforgettable activities in Pamukkale available to visitors. The hot air balloons take off before sunrise and glide peacefully over the terraces before most visitors get a chance to enter the park.
If you are planning a trip to Turkey, then chances are you have also seen images of hot air balloon rides in beautiful Cappadocia. We were lucky to experience this bucket-list activity during our stay in Cappadocia, and it was 1000% amazing. This epic experience is definitely worth the price.
WOTW Tip #1: These are some of the top-rated hot air balloon experiences in Pamukkale.

WOTW Tip #2: If you are also planning to spend time in that area, we would advise to save the experience for then…or do both if you are not on a tight budget because it is completely amazing!
11) Paraglide Over Pamukkale's Travertine Terraces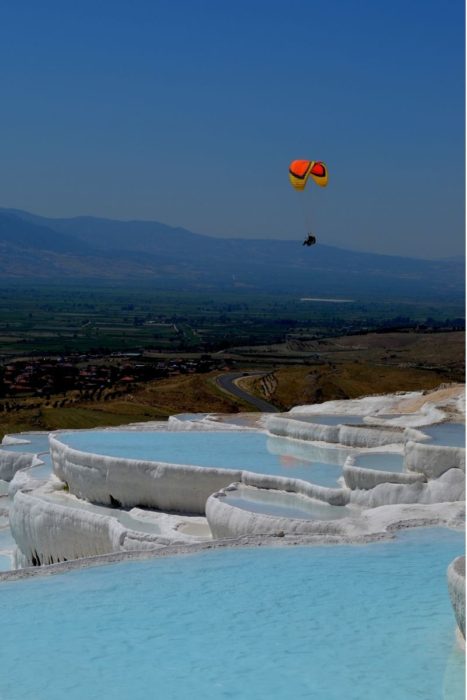 Price: about $70 US.
Hours: depends on weather conditions; most paragliders we saw were flying closer to sunset.
Time needed: 10-30 minutes in the air.
Every time I saw people paragliding in Turkey, I wondered why we aren't going on every opportunity that we get. Aimara and I went paragliding in Fethiye, and it was AMAZING! If you are not spending any time in Oludeniz, then going paragliding in Pamukkale would be a great option.
The experience of flying through the travertine terraces would definitely be unforgettable. Add paragliding to your list of things to do in Pamukkale if you are not doing it somewhere else!
Want to see why you have to go paragliding in Turkey and in life?? Watch this video of us flying over the Turkish coast!
12) Visit Aphrodisias – The Ancient City of Love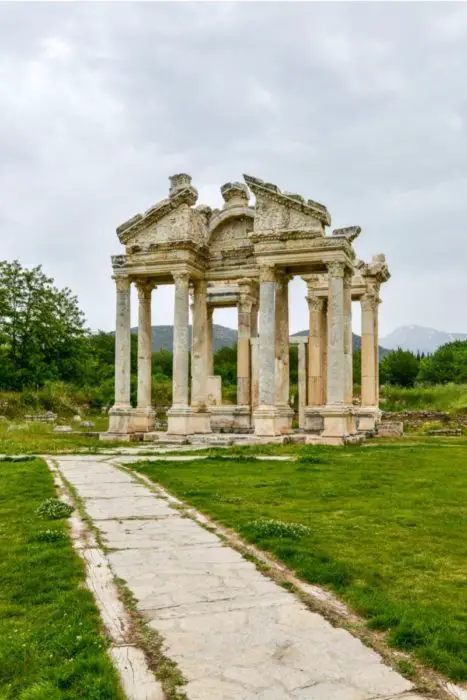 Price: 15 Lira ($1.60 US).
Hours: 8 am – 7 pm during the high season
Time needed: 1 – 2 hours
The under-appreciated ancient city of Aphrodisias is said to be one of the absolute best ruins in all of Turkey. Dedicated to the goddess of love, herself, Aphrodisias allegedly rivals Ephesus in its beauty. But unlike Ephesus, you might be able to have Aphrodisias all to yourself!
Aphrodisias is definitely worth a stop if you are interested in the ancient civilizations that called Turkey home.
13) Take A Day Trip To Salda Lake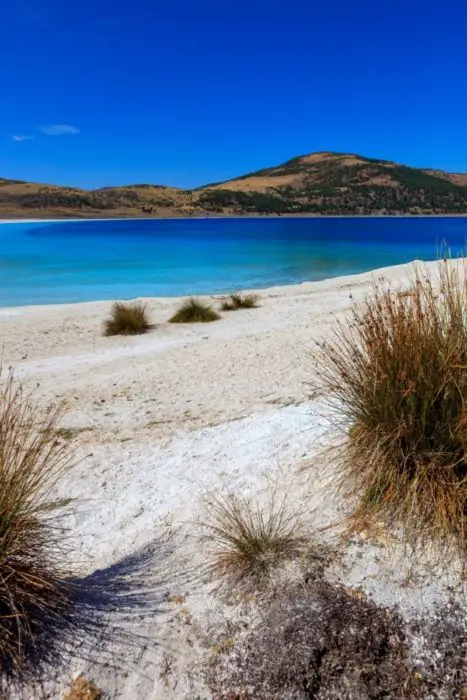 Price: 20 Lira for parking near the beaches ($2.20 US).
Hours: the main attraction is the beach, so your preferred beach hours will be best.
Time needed: 1.5 hour drive; plus time at the lake.
Like apparently everything in this region, Salda Lake is another natural wonder with magical blue colors created by mineral-rich water. The water literally looks like the Cayman Islands. Salda Lake is a crater lake and it is known for being pristine due to its remoteness.
There are 2 beaches at Lake Salda where you can spend the day pretending you are in the Caribbean, minus the fruity cocktails. This is a great day-trip option if you are missing the beaches of Oludeniz and Kas.
Fun Fact: the minerals found at Salda Lake are the closest match on Earth to the minerals found on Mars. So you don't need to wait for Elon Musk to get people to Mars if you want a little taste of the red planet. Just stop by Salda Lake!
14) Explore Kaklik Cave – The Underground Pamukkale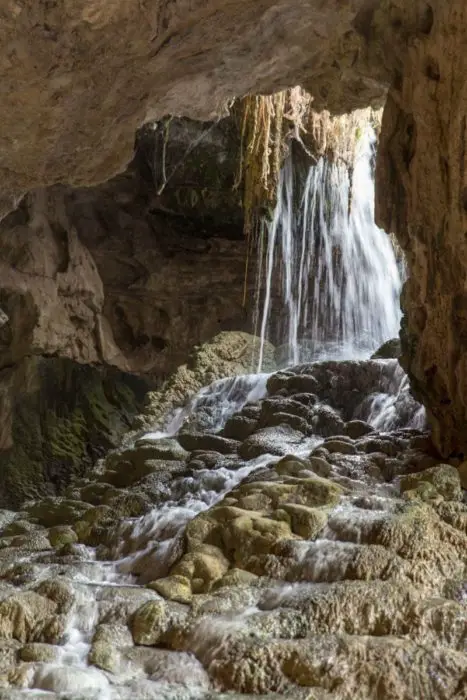 Price: 5 Lira ($0.60 US).
Hours: 8 am – 8 pm
Time needed: 30 – 90 minutes
An underground Cotton Castle? You bet ya. The same mineral-rich water that creates the travertine terraces in Pamukkale have created this similar natural wonder. But this time instead of climbing up a hill, you descend into a hole. The Cotton Dungeon, anyone?
Kaklik cave shows-off an incredible display of colors, with the white travertine, blue waters and green ferns all joining together to create a spectacular sight. If you are curious to see more photos, this blog paints a pretty good picture of the overall experience.
WOTW Tip #1: the walkway within the cave is partially submerged in some areas. So wear appropriate shoes.

WOTW Tip #2: if you are interested adding Kaklik Cave and Salda Lake to your list of things to do in Pamukkale, consider visiting both on the same day. You essentially pass by Kaklik Cave on your way to Salda Lake, so it is worth the short detour.
15) Have The Ancient Ruins Of Laodicea To Yourself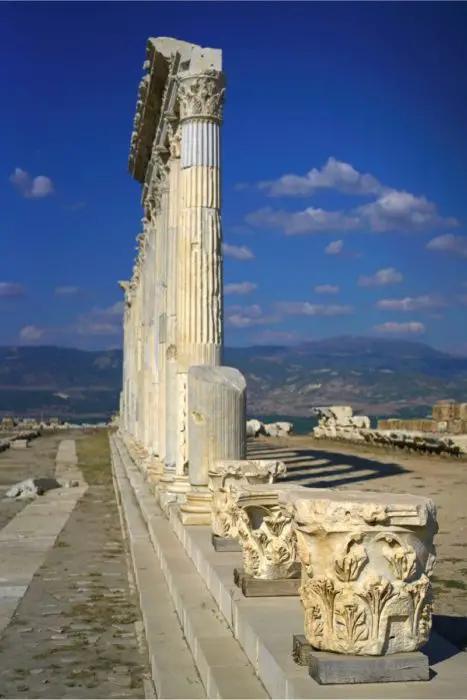 Price: 10 Lira ($1.10 US).
Hours: 8 am-7 pm in summer; 8 am-5 pm in winter
Time needed: 30 – 90 minutes
Built by the Greeks over 2,300 years ago, Laodicea was one of the most important cities when this area of Turkey was under Roman rule. Laodicea is quite low on most people's list of things to do in Pamukkale, so you are likely to have it the ancient ruins to yourself.
If you just want to enjoy a peaceful day strolling trough some ancient ruins while taking in beautiful views of the surrounding mountains, then consider adding Laodicea to your Pamukkale itinerary.
Final Thoughts On Visiting Famous Pamukkale
It is easy to see why millions of visitors flock to Pamukkale each year to see this unique natural wonder in person. The Cotton Castle is a unique natural wonder that you really do need to see to believe. That said, there is so much more to this place than just the travertine terraces. You will be rewarded if you slow down to explore more of the incredible things to do in Pamukkale, and most importantly interact with some of the nicest people we've met in Turkey.
After adjusting to the crowds, we ultimately had a great time in Pamukkale. That said, this is probably not one of the places that we'll return to when we do come back to Turkey one day.
Thanks for reading!!
G
Ever visited a place that was internet famous? Have any questions about visiting Pamukkale? Leave a comment or DM us on IG and let us know how you make the most out of these places.
Are You Planning An Epic Turkey Trip? Read These Posts Next!
---
Tired of reading? We have an entire Turkey travel series on YouTube! Don't forget to subscribe to following along with the adventures 🙂
---
Did You Like This Post About 15 Things To Do In Pamukkale? Share it on Pinterest!