Mardin was number one on my list of places to visit in Turkey before setting out on our 3-month adventure through this amazing country. Something about the city's remoteness, sweeping views, and unique architecture had me dreaming of being immersed in a Middle Eastern dreamland. Whatever Middle Eastern even means…
We spent 9 days in Mardin, and spoiler alert, it didn't quite live up to my own self-created hype. To be clear, it's not that I disliked Mardin. It is just that the overall vibe didn't match the romanticized story that I created in my head. Which is a lesson that you should try to travel without expectations! Aimara brought zero expectations, and she loved exploring Mardin.
But don't let my experience discourage you from visiting Mardin, Turkey. This gorgeous city offers visitors a great blend of historical sights, beautiful hotels, and fine dining, so you can mix culture with a little bit of luxury. And we are determined to return to this South East Turkey to experience this city the right way. So keep reading to discover everything you need to know before you visit and to get our honest reviews of 11 amazing things to do in Mardin.
Estimated reading time: 26 minutes
Keep Reading To Discover 11 Amazing Things To Do In Mardin, Turkey!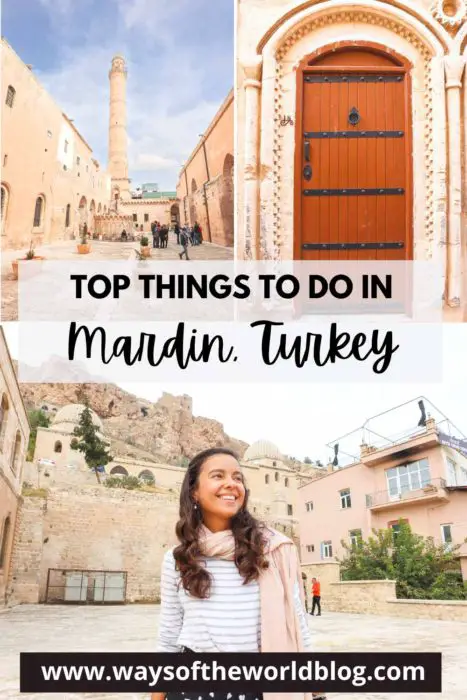 About Mardin, Turkey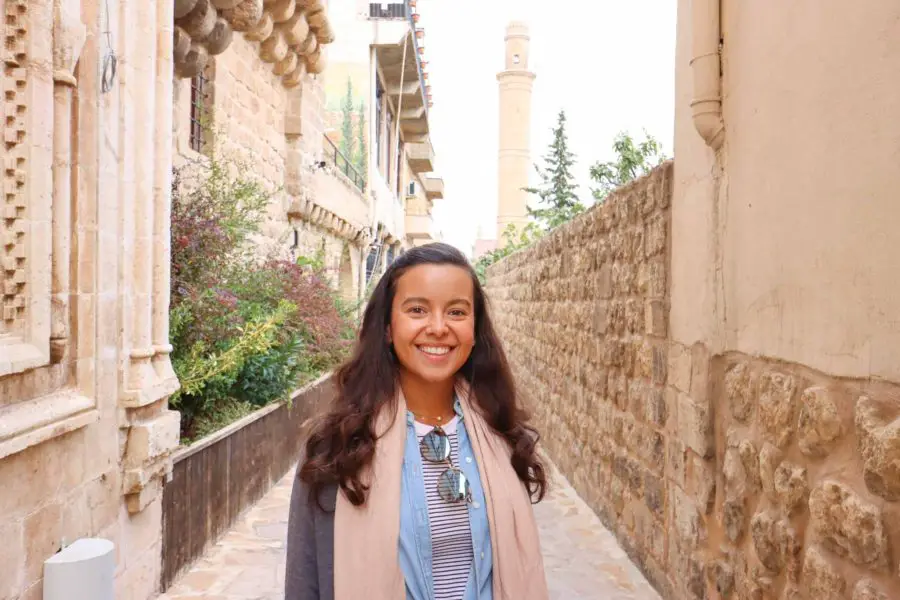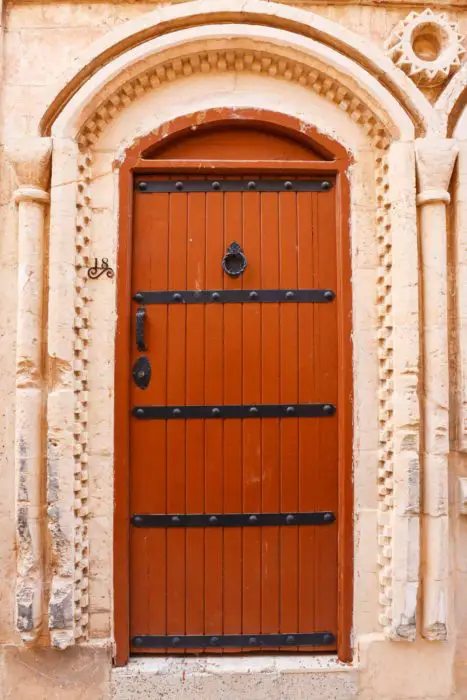 Mardin is quickly gaining recognition as one of Turkey's top travel destinations. The historic city is cherished for its sand-colored buildings that blend perfectly into the arid landscape. And while tourist crowds are growing, a detour through the city's cobblestoned alleyways will spark your imagination about what life used to look like in this enchanting town.
Built on top of a hill overlooking the vast plains below, Mardin was a strategic trading center for the different civilizations that controlled the city. Because the region's various cultural groups traded and lived together, Mardin has been known for centuries to be tolerant of diverse religions and ethnicities. Its citizens from different ethnic backgrounds have lived harmoniously together for centuries.
Mardin is one of the few cities in Turkey where you can still find stunning mosques built next to historic churches. And you'll find that donkeys are still the preferred form of trash collection, and local children pass the time by flying kites from their rooftops. In short, Mardin is a treat for the senses. Combine that with a fascinating history and you get an exciting destination to explore in Turkey.
Is Mardin Safe To Visit?
Our stay in Mardin was the closest we got to Syria and Iraq during our three months in Turkey. I don't want to say that I was worried about visiting that area of Turkey, but there was always that element of the unknown. Especially considering the mixed bag of safety information out there.
Well, guess what we found out? Mardin is extremely safe to visit. Everywhere you go, you will be welcomed by friendly smiles and curiosity. Locals were so happy to see that we were exploring places in Turkey that are traditionally off the beaten path for most visitors. Especially after they found out that we were visiting from America!
Funny story: after telling a shopkeeper that we were from America, he shouted with a smile: "Joe Biden! Texas!". It was a hilarious word association that perfectly sums up our experience in Mardin. Everyone is just happy to see foreign travelers, and they try to interact in the best way they can.
Are you curious to see what Mardin is like? Don't forget to watch the video for an on-the-ground view of the ancient city!
Where To Stay In Mardin, Turkey?
Mardin is not a small city, but the beautiful historic city where you will want to stay is relatively compact. There are many international chain hotels located on the outskirts of the old city. But this area is not ideal for a visit, trust us. We stayed outside of Mardin's historic center because everything in the old city was fully booked! Although we did like the part of town where we stayed, especially because the people were awesome, there is not much for visitors to see in this area.
WOTW Tip: note that Mardin is increasingly promoted as a tourist destination to local and regional tourists. It gets swamped with visitors, and it was difficult to find hotels when we visited towards the end of October. Don't forget to book in advance!
---
We searched the top rated hotels in Mardin so you don't have to! Mardin is one of those places where an epic hotel or apartment could make all the difference for your visit.
---
11 Amazing Things To Do In Mardin
Like Sanliurfa, Turkey, many of Mardin's top attractions are religious and cultural in nature. But don't worry if jumping from monastery to mosque sounds like a bit much. Mardin's surrounding areas are filled with ancient ruins, and there are plenty of places to end your day with some Turkish tea with a view (or wine!).
With no further ado, here are 11 of the most amazing things to do in Mardin, Turkey!
1. Visit The Historic Kasimiye Medrese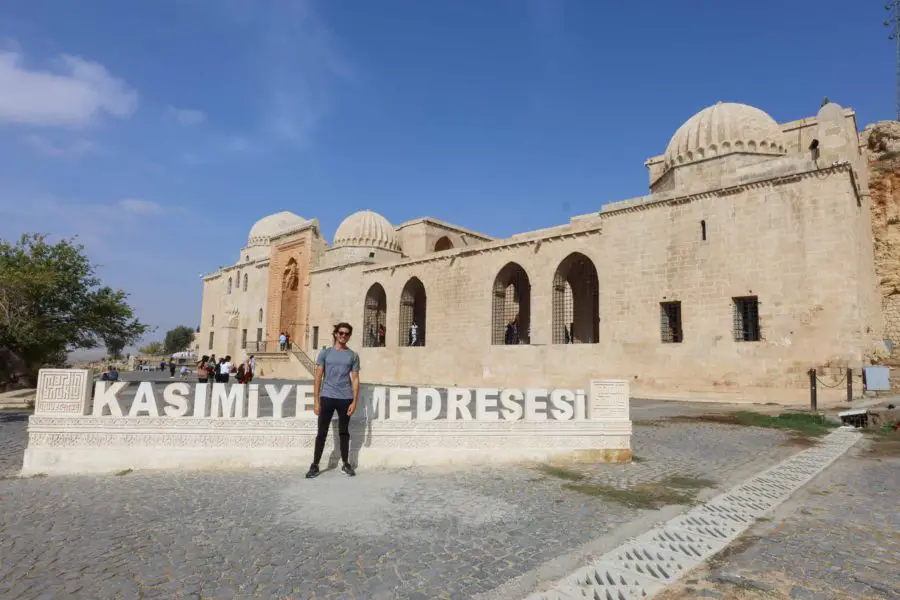 Price: 6 Lira
Hours: 9 am – 6 pm
Time needed: 30 minutes
WOTW rating: 3/5
Located slightly outside of Mardin's historic center, the Kasimiye Medrese is a beautiful example of Madrasa architecture that is a must-visit when exploring Mardin. This historic Islamic school was completed in 1502 and was proudly recognized as one of the most beautiful medreses in the world.
After walking through a beautifully inscribed doorway, you will enter an open courtyard featuring a small pool. The pool represents human life from birth to death and the afterlife. The interpretation is not very obvious, but some limited information provided nearby explains the pool's meaning.
Visitors are not able to pass through many of the rooms, so the main attraction is the gorgeous architecture. The medrese is a popular visit with tour groups and wedding photographers. However, despite the crowds and general lack of information, it is still an excellent addition to your list of things to do in Mardin.
WOTW Tip: #1: medreses were common religious schools used during the Ottoman period. But beyond just religious theory, medreses also taught other subjects, including sciences. The Kasimiye Medrese is no longer an active religious school.

WOTW Tip #2: Kasimiye Medrese is located slightly outside of town. Though it is possible to walk, a taxi is a quick and affordable way to get there. Otherwise, it is a downhill walk from Mardin's center, followed by – you guessed it – an uphill walk back.
2. Explore Mardin's Christian History At Deyrulzafaran Monastery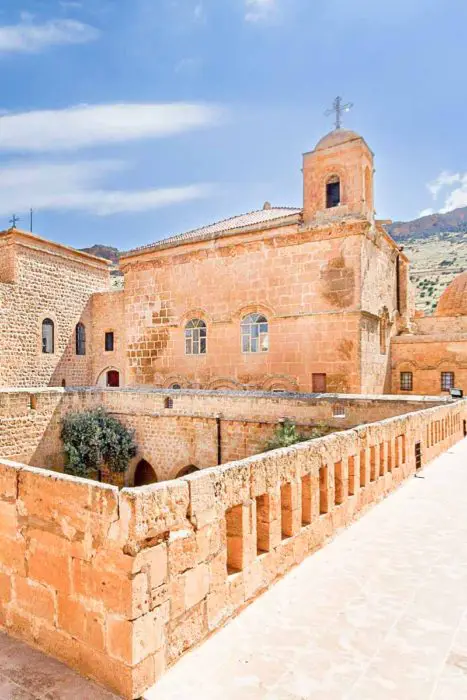 Price: 6 Lira ($0.50 US)
Hours: 8 am – 5 pm; Note there are still church services on Sundays.
Time needed: 1 hour; about 20 minute drive from Mardin.
WOTW rating: N/A
Also known as the Mor Hananyo Monastery, the Deyrulzafaran Monastery is a Syriac Orthodox monastery that exemplifies the coexistence of Christian and Islamic cultures in the region. Originally constructed as an ancient temple to a sun-god, additions were made towards the 5th century, and the structure was converted into a monastery.
Today the Deyrulzafaran Monastery is one of the centers of the Assyrian Church. Even though many areas around the monastery are closed to the public, exploring the beautiful interior courtyards is worthwhile for the fantastic architecture.
WOTW Tip #1: the Deyrulzafaran Monastery sits about 10 miles outside of Mardin. The easiest way to get there is with a taxi.

WOTW Tip #2: there are guides to take you around once a group forms, but the information will be presented in Turkish. Don't speak Turkish? Also, consider a walking tour if you are particularly interested in Mardin's history.
3. Visit The 900 Year Old Ulu Camii: The Grand Mosque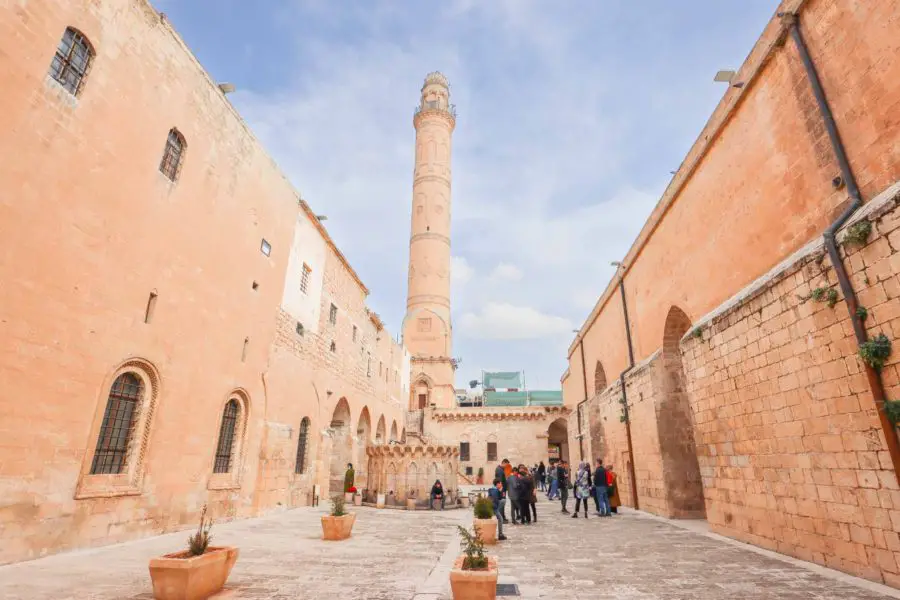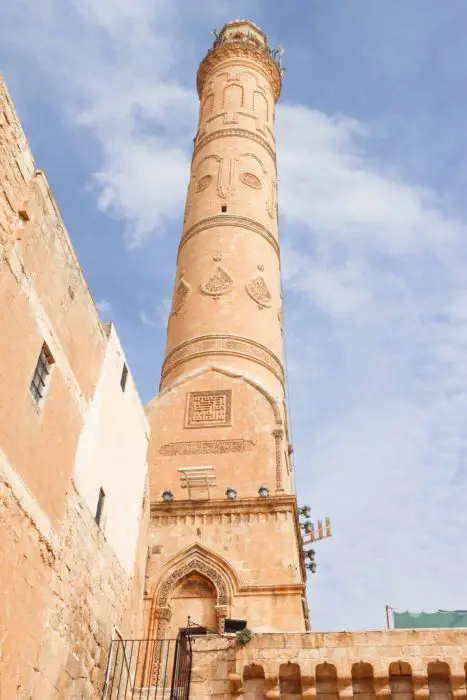 Price: free
Hours: 24/7
Time needed: 30 minutes
WOTW rating: 4/5
An excellent example of Mardin's famous Artuqid architecture, Ulu Camii is the old city's most iconic image. Built around the end of the 12th century, Ulu Camii is one of the oldest mosques in the region. It is especially significant for followers of Islam because the interior portion contains a piece of the Prophet Abraham's beard! You can find a small glass case that holds the bit of Abraham's beard on the wall opposite the entrance.
The building contains a gorgeous minaret with beautiful inscriptions from the different civilizations that controlled Mardin. Don't forget to look for these inscriptions on the minaret and the mosque's exterior walls! You can enter the mosque, though the exterior is the most notable aspect of this 900-year-old mosque.
WOTW Tip: Ulu Camii, or Grand Mosque, is an active mosque. You must have the proper attire to enter. This means modest clothing, covered shoulders, and a head scarf for women. And no shorts or cut-off shirts, for men. And remember to take your shoes off before entering!
---
Interested in Turkey's religious and cultural history? Read our post about the incredible things to do in Konya, the beautiful city of whirling dervishes and mystic Islam.
---
4. Explore The Courtyard Of Mardin's Old Post Office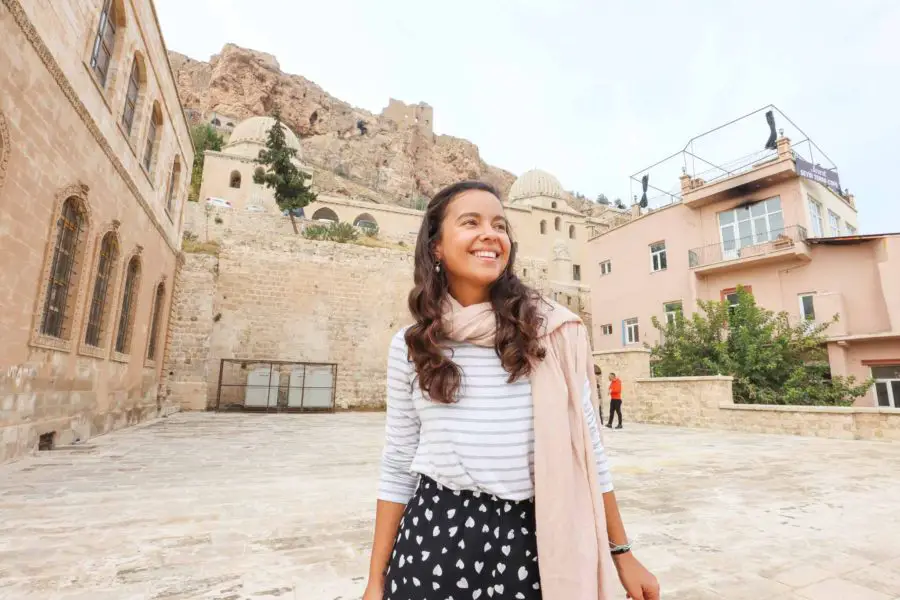 Price: free
Hours: N/A
Time needed: 30 minutes
WOTW rating: 3/5
Originally built as a family home in 1890, the gorgeous building sitting across from the Grand Mosque (Ulu Camii) was converted into Mardin's post office in 1950. You might recognize the trend here, but Mardin's post office is best known for its stunning architecture and for the views from its courtyard.
The old post office has become one of the more popular things to do in Mardin for people looking for their perfect vacation photo. We never got the memo before heading to the post office. Once we arrived, we saw everyone trying to capture that one picture where it looks like you are holding a building or monument from the top. You know, the Eiffel Tower picture?
Location: Mardin Post Office (I couldn't find the actual location, but the linked cafe is near the entrance).
Sign-up to our weekly newsletter to receive exclusive stories from the road!
5. Enjoy The Views From One Of Mardin's Many Terrace Restaurants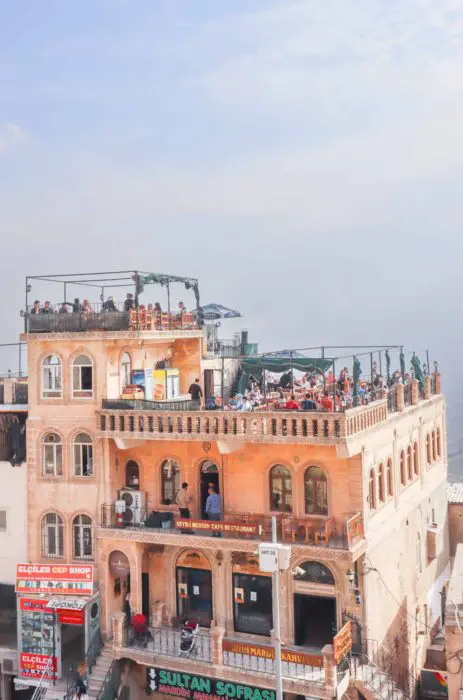 Hours: 9 am
WOTW rating: 4/5
The best way to enjoy the views of the beautiful valleys below Mardin is by grabbing some coffee or tea at one of the many terrace restaurants. The views over the stone buildings into the valley are glorious, and on a clear day, you can see the Tigris River.
On our last day in town, we were sitting above a courtyard where an old man was training his pigeons. You can train pigeons?? He had one glorious bird that did literal backflips in the air before taking off again to circle around the different mosque spires (minarets). It was pretty fantastic to see and somehow felt like total cultural immersion. Thanks, back-flipping pigeon!
WOTW Tip: if you are just going for a coffee or tea, just head for a terrace that looks fun and welcoming. There are also many great dining spots in Mardin – but you'll have to keep reading to get to those!
6. Take A Day Trip To Midyat To Experience A Slower Pace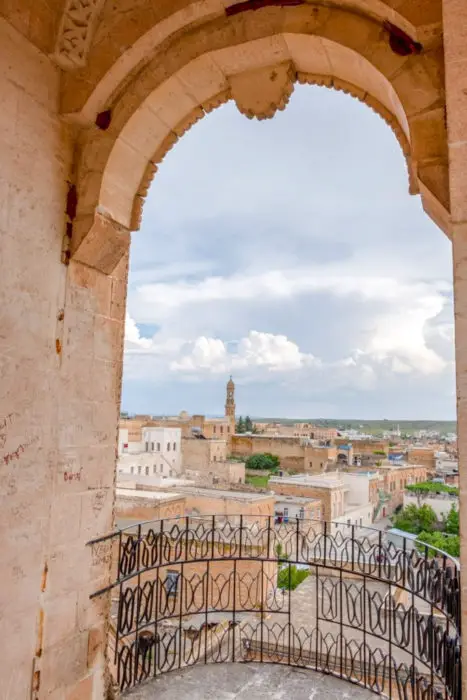 Price: N/A
Hours: N/A
Time needed: 2-3 hours
WOTW rating: N/A
Midyat is a historic town about a 1-hour drive from Mardin. A visit to Midyat will provide much of the same experience as visiting Mardin, though less touristy. Mardin's center is filled with shops geared towards visitors. Whereas Midyat caters to locals, potentially offering a more authentic experience, for lack of a better word.
Taking a day trip to Midyat is great for those travelers looking to get a bit further off the beaten path. Guided tours to Midyat are available with Mardin Tours Turkey. Unfortunately I can't vouch for their quality, but they are one of the few tour operators available Southeastern Turkey.
WOTW Tip: the easiest way to get to Midyat is by negotiating with a local taxi for the round trip tour. The cheapest way (besides hitchhiking) is with a local minibus. You will first need to head to Mardin's bus station, located about 2 miles from the old city.
Save This Mardin, Turkey Post To Your Pinterest for Later!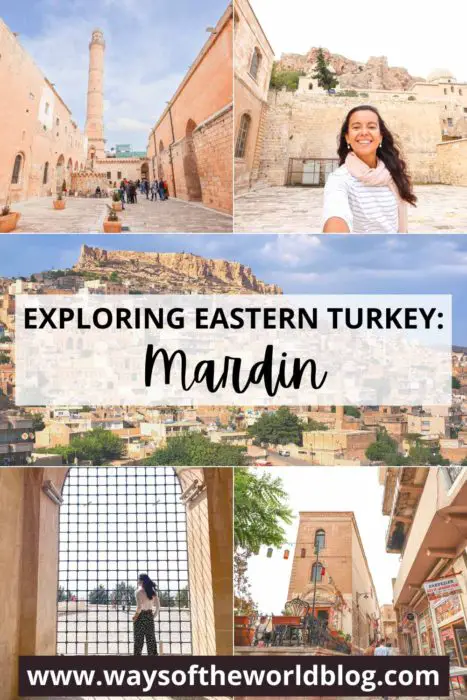 7. Stay In One Of Mardin's Gorgeous Hotels
Price: $40 – $400 US, per night. There are some pretty baller hotels in Mardin.
WOTW rating: N/A
Before visiting Mardin, I pictured waking up in a beautiful old, stone hotel with epic views over the old city and the valleys below. Well, it turns out that I would have to keep dreaming, because those hotels get booked pretty quick.
Mardin is just one of those places where having a nice cup of Turkish coffee on your hotel's patio is core to the experience. If you have some extra jangle in your pocket, Mardin is the perfect spot in Turkey to splurge on accommodation.
---
Check-out the highest rated hotels in Mardin!
---
8. Enjoy A Romantic Night Out At One Of Mardin's Beautiful Restaurants
Price: $40-50 US, for two (including wine).
WOTW rating: 4/5
Mardin has some beautiful and romantic restaurants perfect for a night out on the town. Enjoying Mardin's enchanting evenings with some fine Turkish dining and local wines is a no-brainer. Many restaurants have cozy, stone interiors or have outdoor seating that offers incredible views over the ancient city. I promise you won't regret splurging a bit more than usual for some fine dining in Mardin!
WOTW Tip: restaurants in Mardin are among the few in eastern Turkey that serve an adult beverage with dinner. If you missed enjoying a nice glass of wine with delicious food, then make sure to check-out Mardin's beautiful restaurants.
---
Curious about the absolute best food in all of Turkey? Read our post about Gaziantep Foods to discover the best dishes to try in Turkey's culinary capital!
---
9. Buy Some Turkish Delicacies On Mardin's Main Shopping Street
Hours: 9 am – 6 pm
Time needed: 30-60 minutes
WOTW rating: 2/5
Mardin's main street is an incomprehensible example of economic supply and demand. How many soap and nut shops can survive along a quarter-mile stretch of road? The answer is, unlimited.
Instead of letting the commercialization upset you, go ahead and give in and visit the nut shops offering unlimited samples. I think they're unlimited? You can also buy some soaps for that very special person in your life who loves soap. We stocked up on snacks for our 20-hour overnight bus to Rize, and I got to sample many little chocolate delights. So I guess that was a win!
10. Explore Byzantine Ruins At Dara Mesopotamia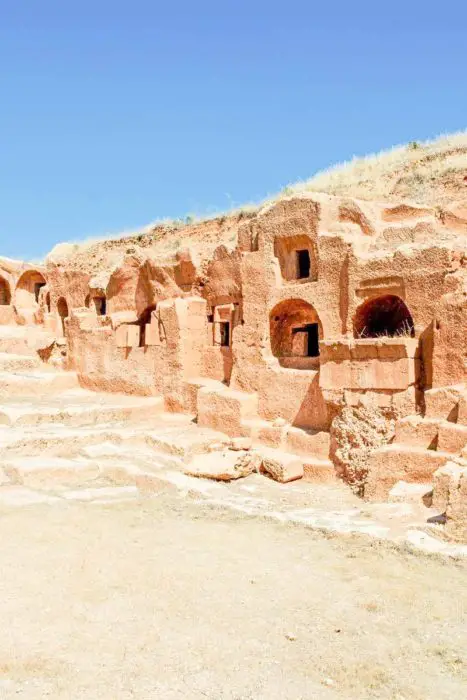 Price: free
Hours: N/A
Time needed: 1-2 hours
WOTW rating: N/A
Dara is a 6th century, Roman-Byzantine ruin. The ancient city was one of the most populated areas in Mesopotamia and acted as a critical fortress city for the Byzantine empire. Dara was built to allow the Byzantine army to prepare for its conflicts with the Persian troops and deter the Persian's westward expansion.
Today, visiting Dara Mesopotamia is one of the most memorable things to do in Mardin. Referred to as the Ephesus of the East, Dara is a great attraction if you are particularly interested in ancient history. Visitors are able to enter some of the rock-cut structures to observe how the Byzantine people lived in carved rock.
WOTW Tip: Dara may be best experienced with a guide to get the full historical significance. You may be able to find a guide ready to give you a tour. However, consider this private tour of Dara and other sights if you want to be safe.
11. Get Lost In Mardin's Old Bazaar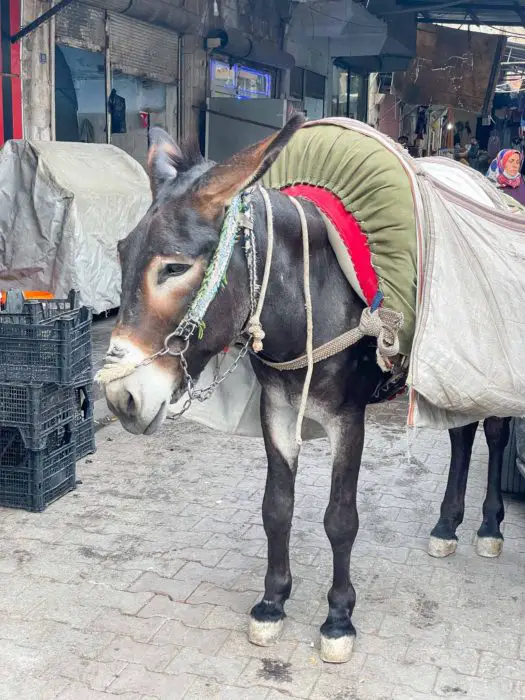 Price: free to visit
Hours: 9 am – 6 pm
Time needed: 30-60 minutes
WOTW rating: 3/5
Mardin has a wonderful bazaar with little shops built into the city's stone walls. Since ramping up as a popular tourist destination, many shops have evolved into little boutique shops selling beautiful crafts, high-end soaps, and trinkets.
Thankfully Mardin's bazaar still has some local appeal. If you try to get lost, you will start to find the local butcher shops, fishmongers, and vendors selling loose tobacco. All this while donkeys come through the alleyways to help collect the trash. Hopefully, these local shops will keep their place in Mardin's old bazaar rather than adapt to meet the needs of Mardin's growing visitors.
Location: the bazaar runs parallel, Cumhuriyet Caddesi, Mardin's main shopping street. Just start wandering downhill from Cumhuriyet Caddesi near the middle of town to find the bazaar.
Final Thoughts: Is Mardin Worth Visiting?
I'll be honest, Mardin took some wind out of my sails. After two incredible months exploring Turkey, I was a victim of my own lofty expectations. To be clear, Mardin and the surrounding area offer visitors many great things to do. And the ancient city is undeniably beautiful.
So what was the issue? Well, I had imagined ourselves getting off the beaten path in eastern Turkey. I romanticized Mardin as an undiscovered town, where you could walk down quiet streets and get a glimpse of a simpler way of Turkish life. And with its entire main street lined with touristy shops, and visitors dressed up in regional clothing and henna tattoos, Mardin just wasn't the hidden gem that I imagined.
Oh well. Those things happen while traveling. I should have done a better job adjusting to the great experiences that Mardin does offer. I'm hoping there will be a 'next time' in Mardin so that I can better appreciate it for what it is.
Thanks for reading!
G
Have any questions about visiting Mardin? Ready to head into Eastern Turkey? Send us any questions or comments below, or DM us on Instagram.
Going to Turkey? Read these travel guides next:
Tired of reading? We have an entire Turkey travel series on YouTube. Don't forget to Like & Subscribe 🙂
Did You Like This Post About 11 Amazing Things To Do In Mardin, Turkey? Share it on Pinterest!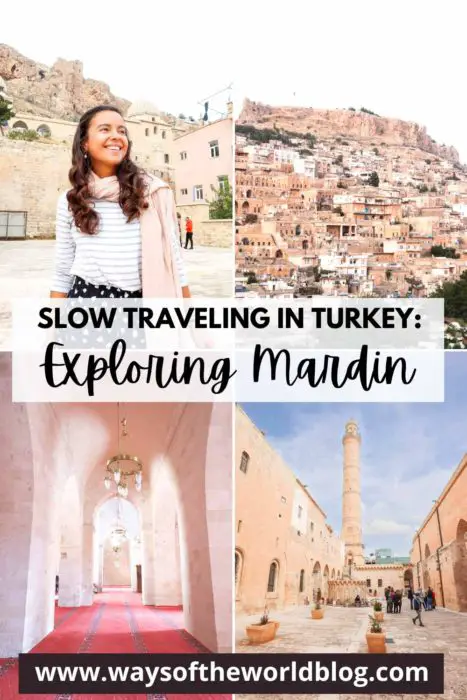 *Note: this post contains affiliate links. When you purchase from these links we receive a small commission at no extra charge to you. Affiliate income helps to keep us on the road producing content the we hope is useful to you!