Vibrant, gorgeous, and unexpectedly hip, Istanbul checks so many of the right boxes for curious travelers. You will experience sensory overload from the minute you step foot in this energetic metropolis of over 15 million people. This city is unforgettable. And you will be amazed by the number of incredible things to do in Istanbul.
We spent 12 nights in Istanbul at the very end of our 3 month trip through Turkey. We experienced many of the most unmissable things to do in Istanbul, including visits to the city's famous mosques, iconic landmarks, and trendiest neighborhoods. And after almost two weeks in town, we were still not even close to being ready to leave! We decided that Istanbul is our kind of city.
Curious to read more about one of the coolest cities in the world? This post highlights 27 of the most epic things to do in Istanbul. We promise you'll be ready to buy your plane ticket when you are done reading!
Note: there are so many awesome Istanbul attractions. We grouped the list of things to do in the following sections to help organize the post:
Famous mosques in Istanbul
Unmissable Istanbul activities
Iconic landmarks in Istanbul
The best Istanbul neighborhoods
Estimated reading time: 46 minutes
*Note: this post contains affiliate links. We receive a small commission at no extra cost to you if you purchase from these links. Thanks in advance for supporting WOTW!
Ready To Discover 27 Epic Things To Do In Incredible Istanbul?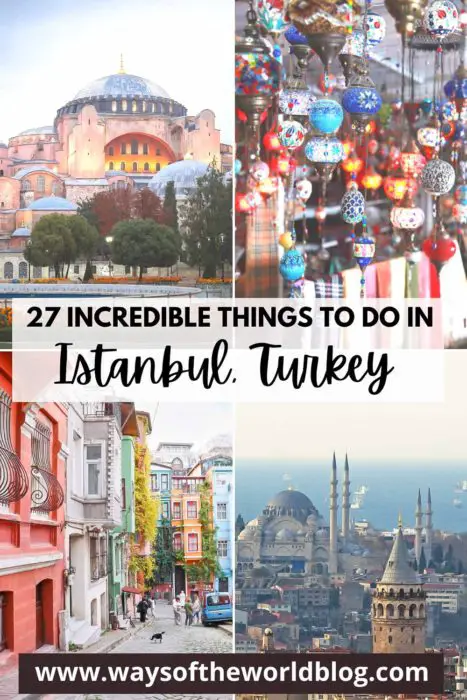 What To Know Before You Visit Istanbul
Istanbul is a visually stunning and culturally fascinating city. It is also one of the largest, most populated, and historically significant cities in the world. The point we're trying to make is that there is a lot to take in when visiting one of Turkey's best cities.
But you can hit the ground running once you arrive in Istanbul by understanding some key points about the city. Having some basic knowledge about this incredible city is also a great way to impress your fellow travelers. Here are 9 facts to know about Istanbul before you visit:
Istanbul is Turkey's economic and cultural hub. But Ankara is Turkey's capital city.
The Greeks were the original founders of Istanbul. The Greek colony of Byzantium was formed around 660 BC. Greek influences can still be found in the city.
Two of the world's most influential empires named Istanbul their capital city. Both the Byzantine and Ottoman empires claimed Istanbul as their capital. Though Istanbul was known as Constantinople during these periods.
It is the only major city in the world that straddles two continents.
Istanbul's population is officially 15.5 million people. That's over 5 times more people than our old hometown of Chicago!
The old and new parts of Istanbul are separated by the Golden Horn waterway. To get to Istanbul's Asian side, you have to cross the Bosphorus Strait.
Istanbul is built on 7 hills. Many iconic landmarks are located on the hills, creating the city's beautiful panoramas.
Istanbul is culturally and socially diverse. Conservative Islamic areas can be found directly next to liberal spots where the party never stops.
Istanbul is an extremely safe city. And while the locals are generally friendly and welcoming, there are some scams to be aware of!
27 Unforgettable Things To Do In Incredible Istanbul
Istanbul can be intimidating for first-time visitors because of its overwhelming size and seemingly infinite sites. It helps to come to terms with the fact that you are unlikely to see everything on your first visit.
But don't worry! You will definitely have the most epic experience in Istanbul. All you need is a bit of planning and prioritization based on your travel style. And that's why we are here to highlight all the essential things to do in Istanbul!
Not sure how to plan your time in Istanbul? We created a post with perfect 4, 7 and 10 day Istanbul itineraries to make your trip as stress-free as possible!
Famous Mosques In Istanbul
Any Istanbul itinerary isn't complete unless it includes its most famous mosques. But after being in Turkey for nearly 80 days, the idea of exploring more mosques didn't exactly get the blood pumping. That was until we got a glimpse of Istanbul's magnificent mosques.
Paying a visit to these gorgeous and historic structures is one of the essential things to do in Istanbul. And you could spend most of your vacation visiting all of Istanbul's mosques. However, we didn't want to overwhelm you, so we picked three of Istanbul's most iconic mosques.
Three 'must-visit' mosques in Istanbul include:
Blue Mosque (Sultanahmet Mosque)
Hagia Sophia
Suleymaniye Mosque
WOTW Tip: these are all active mosques that receive worshippers. Women and men should wear appropriate clothing before entering. This means head covering for women, covered shoulders, and long pants or skirts/dresses. No shorts or cutoff sleeves for men, either. And always remember to remove your shoes before entering a mosque!
1. The Fascinating Hagia Sophia (Aya Sofya)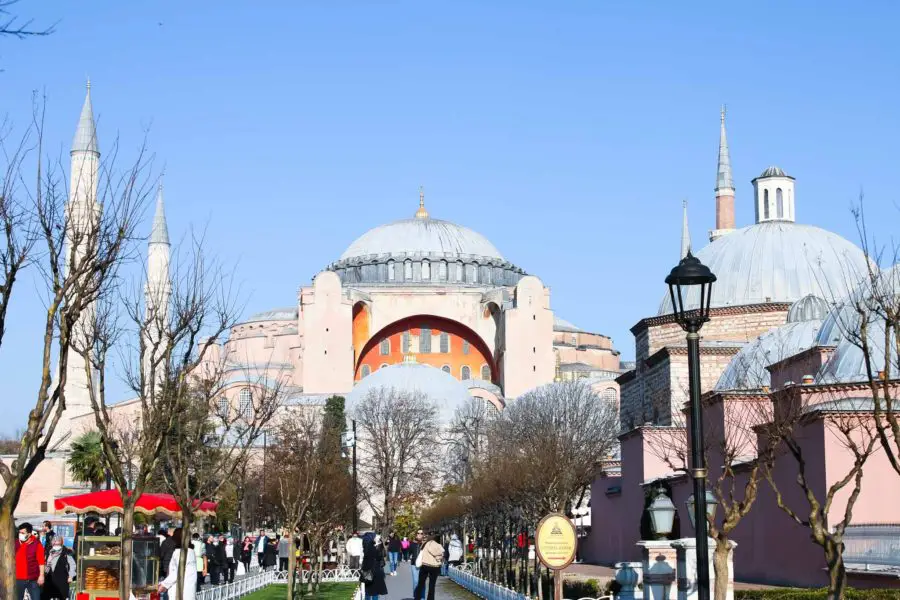 Price: free
Hours: open 24 hours (note that visitors are asked to leave during prayer times)
Time needed: 30-60 minutes
WOTW rating: 5/5
Located in the same area as the Blue Mosque, the Hagia Sophia is high on the list of can't miss things to do in Istanbul. Meaning 'Holy Wisdom in Greek, the Hagia Sophia has the most fascinating history out of all the mosques we visited in Turkey.
The original structure was built as a church during Byzantine rule. After the Ottoman Empire took control of Istanbul (Constantinople), the Hagia Sophia was converted into a mosque, and minarets were added to the original construction. The building was then converted into a museum in the 1930s after Turkey gained independence and became a secular state. However, a controversial decision was made in 2020 to turn the Hagia Sophia back into a mosque.
Besides having a fascinating history, the Hagia Sophia is also stunningly beautiful. Entering the Hagia Sophia's interior will stop you dead in your tracks as you soak in the immense prayer hall with stunning chandeliers and beautiful calligraphy.
Are you planning to hit Turkey's other most popular spots next? Don't forget to read about the best things to do in Cappadocia and the top attractions in Pamukkale.
2. The Iconic Blue Mosque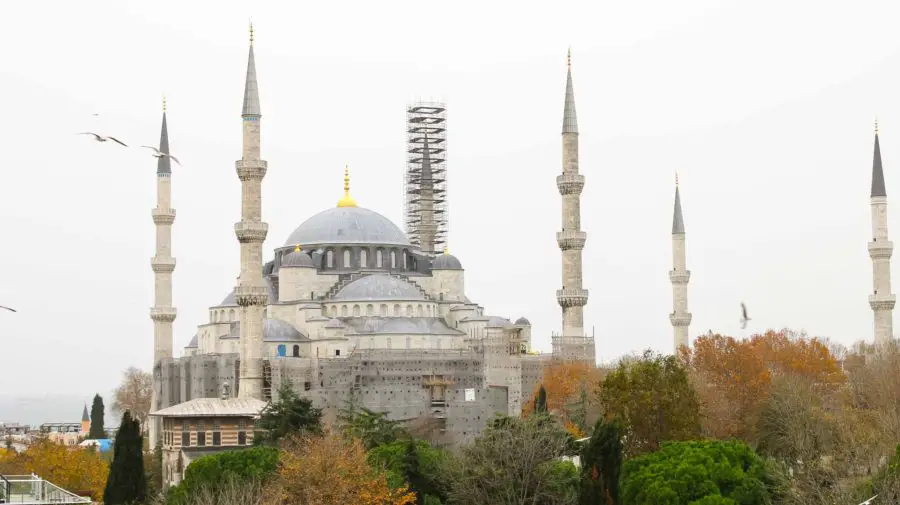 Price: free
Hours: 9 am – 7 pm
Time needed: The interior was filled with scaffolding as of November 2021. You only need 15-30 minutes when the interior is under restoration.
WOTW rating: 3/5
Despite perpetually being under restoration, the Blue Mosque is perhaps the most famous mosque in Istanbul. That being said, it is not the most recognizable mosque in Istanbul's skyline. That award goes to Suleymaniye Mosque. But the Blue Mosque has become one of the most popular mosques in Istanbul, partly because of its easy-to-remember name.
Built directly across the Hagia Sophia, the Blue Mosque was commissioned to be even larger and more grand than its neighbor. But while the mosque's exterior is extremely impressive, its claim to fame is the blue tiles that adorn the interior ceiling. Hence the name, Blue Mosque.
Note that the Blue Mosque's official name is Sultanahmet Mosque. This is also the preferred name among locals.
WOTW Tip: the Blue Mosque's interior was being renovated during our visit in November 2021. And according to our walking-tour guide: "it will be ready when it's ready." You can enter the mosque despite the renovations, but you will definitely not get the full appreciation of the iconic blue interior.
3. The Stunning Suleymaniye Mosque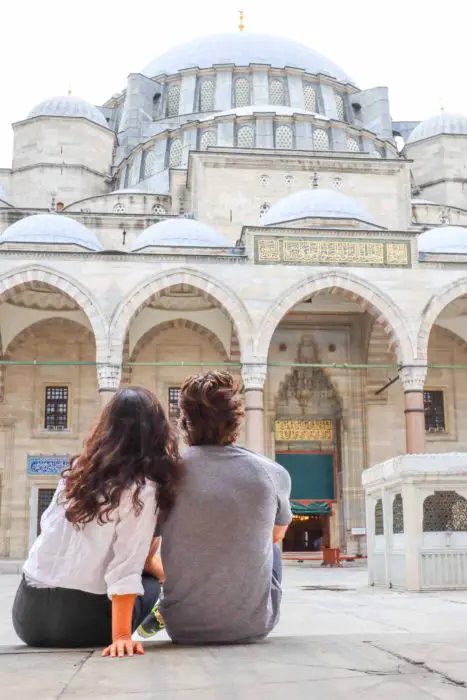 Price: free
Hours: 9 am – 6 pm
Time needed: 30 – 60 minutes
WOTW rating: 5/5
The Suleymaniye Mosque is perhaps the most beautiful in Istanbul. Located on top of one of Istanbul's 7 hills, the mosque is a dominating presence in Istanbul's skyline. Even though it is slightly outside the old city's core of attractions, a visit to Suleymaniye Mosque is an unmissable thing to do during your visit to Istanbul.
The ornate detail of the mosque's exterior is stunning, and the interior dome and stained glass are absolutely incredible. This famous mosque in Istanbul should absolutely be added to your itinerary!
WOTW Tip: we visited Sulemaniye Mosque twice during our stay in Istanbul. Once around 8 am, and the next time around 5:30 pm. In both instances, the crowds were very light. This is especially compared to what we experienced in the area surrounding the Hagia Sophia and Blue Mosque.
Are stunning mosques and religious history your jam? Be sure to add these fascinating cities to your itinerary:
Check out our Turkey Vlog series to get a taste of Konya's Whirling Dervishes, the famous Gobekli Tepe in Sanliurfa, and the charming city of Mardin!
Unmissable Istanbul Activities
There are an incredible amount of activities to choose from when visiting Istanbul. The following are the essential experiences that should definitely be on everyone's list of things to do in Istanbul! From traditional Hammam baths to delicious food tours, these activities are great to mix with visits to Istanbul's famous mosques and iconic landmarks.
4. Get Scrubbed Down At An Istanbul Hammam (Turkish Bath)
Price: between $40-60 per person.
Hours: 8 am – 11:30 pm (note that some Hammams have different hours available to women and men).
Time needed: 50-90 minutes
WOTW rating: 5/5
Are you ready to strip down and get roughed up in a traditional Istanbul hammam? Of course you are!
Our Turkish bath was one of the most memorable experiences that we had in Istanbul. The hammam culture is a remnant of Istanbul's Roman past. The practice was later adopted and upgraded by the Ottomans. Many of Istanbul's hammams have been around for centuries. But they are still an essential part of locals' social lives today.
Turkish baths are found all over Istanbul. And you will notice people marketing their spa services as you walk around the city's more touristy areas. But Istanbul's hammams are not all the same. So do your research and visit a well-reviewed place!
Getting intensely scrubbed at a Turkish bath is definitely one of the most epic things to do in Istanbul!
WOTW Tip: cheaper hammam baths can be found across Istanbul, particularly on the Asian side. The experience might not be as elegant as in higher end establishments, but it will definitely be more affordable.
Things To Know Before Visiting An Istanbul Hammam
Hammams do not allow women and men to share facilities. Some Istanbul hammams will have different sections, while others have different schedules for women and men.
The bath/massage is not private. And women are typically topless during the hammam experience. Both women and men are only covered by a light towel wrapped below the waist.
If you want to experience a more exclusive hammam experience with a small group or someone of the opposite sex, you will need to book a private hammam in Istanbul.
Want to know more? Check out our post covering useful tips, best hammams and what to expect from a Turkish bath experience.
5. Join A Delicious Istanbul Food Tour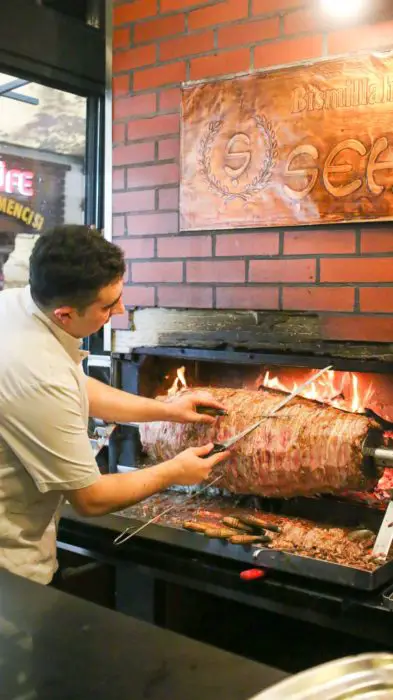 Price: around $45 for a guided food tour. Price includes food and information about Istanbul.
Hours: vary
Time needed: 3-5 hours
WOTW rating: 5/5 (for our DIY food tour!)
News flash: Turkey's food is on another level. And there is no better place than Istanbul to try the best of Turkey's diverse cuisine. While Istanbul definitely has its own local delicacies, a food tour will allow you to taste many of Turkey's most iconic dishes. An Istanbul food tour is especially great if you have limited time in Turkey and won't be able to sample the delicious foods from the different regions.
Go ahead and try kokoreç if you are feeling adventurous! Kokoreç is a lamb intestine sandwich that is an absolutely essential Istanbul street food!
Take a look at these options if you like the idea of a guided food tour:
WOTW Tip: we created our own DIY Istanbul food tour to sample the city's most popular dishes. We realized that after 3 months in Turkey, we had already tried many of the foods that would be enjoyed on the tours. So we decided that we didn't want to spend the money on this Istanbul activity.
Istanbul's food features delicious dishes from all around Turkey. But the country's culinary star is Gaziantep! Read our post about the best Gaziantep Foods to try if you're curious about the best food in Turkey!
And don't forget to watch our DIY Gaziantep food tour!
6. Hop On A Boat For A Bosphorus Tour In Istanbul (But Not The Wrong One Like We Did)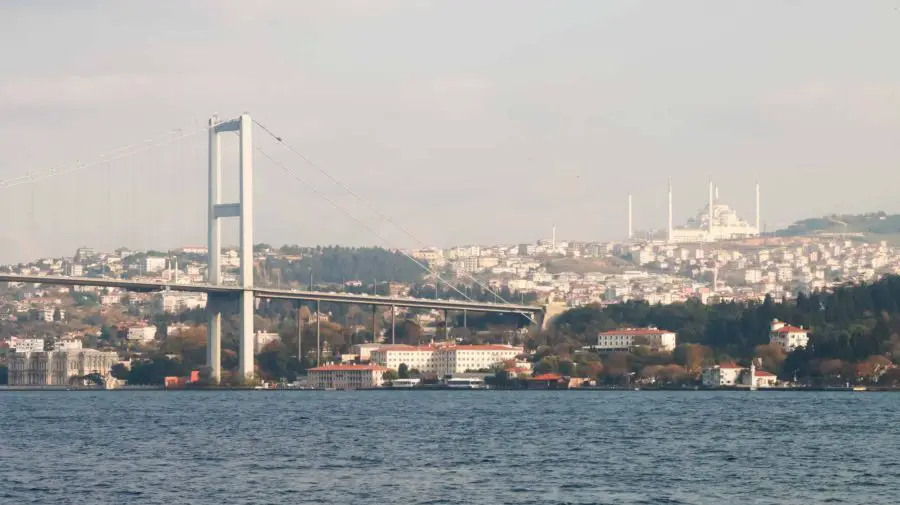 Price: $12-25 US. We received a 50% discount (10 Euros) in November 20201. It was unclear whether the discount was a marketing ploy that everyone gets, or if it was low-season pricing.
Hours: varies
Time needed: 90 minute to full-day tours are available.
WOTW rating: 4/5 (our experience with the wrong tour)
Many companies offer Bosphorus 'tours' in Istanbul, but they are definitely not all the same. We impulsively joined a Bosphorus boat tour while walking around the waterfront in the Karaköy neighborhood. We were excited to learn some relevant information about Istanbul to go along with the epic views.
However, we quickly figured out that we were on a borderline scammy 'tour', because there was literally zero information provided during the 1.5 hours of cruising. That said, being on a boat is always nice, and we were lucky to admire Istanbul's infamous skyline from the water.
Popular river tour options include:
7. Join A Free Walking Tour Around Old Istanbul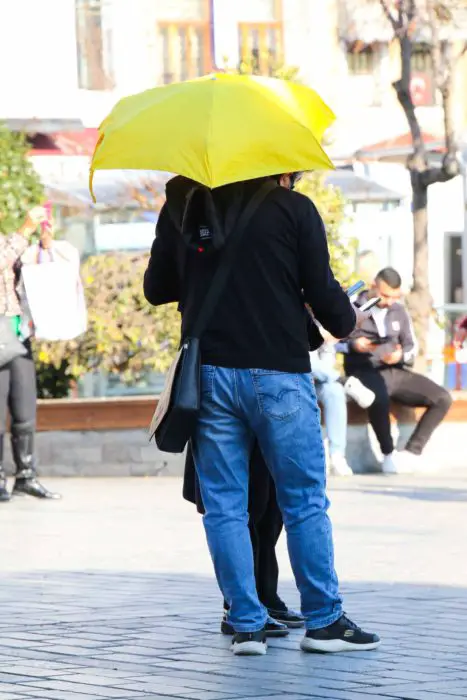 Price: tipping your guide is required. They are well trained and super friendly.
Hours: varies
Time needed: 2.5 hours
WOTW rating: 5/5
The free walking tour in Istanbul was our first experience with one of these 'free' tours. And we have to say that it was absolutely wonderful. Our guide was highly knowledgeable and showed us some of the most important historical sights around Istanbul's old city.
The free walking tour included stops at old Istanbul's most popular attractions, including the Hagia Sophia, Blue Mosque, Spice Bazaar, Topkapi Palace's garden, Hippodrome, and more!
The free tour is perfect for getting a crash course in Istanbul's fascinating but super-complicated history. We booked our Istanbul walking tour with GuruWalk, and couldn't recommend them enough. Our walking tour was surprisingly one of our absolute favorite things to do in Istanbul!
WOTW Tip: the free walking tour does not include entrance into Topkapi Palace Museum or anywhere else that isn't otherwise free to visit.
Save This Post To Your Pinterest for Later!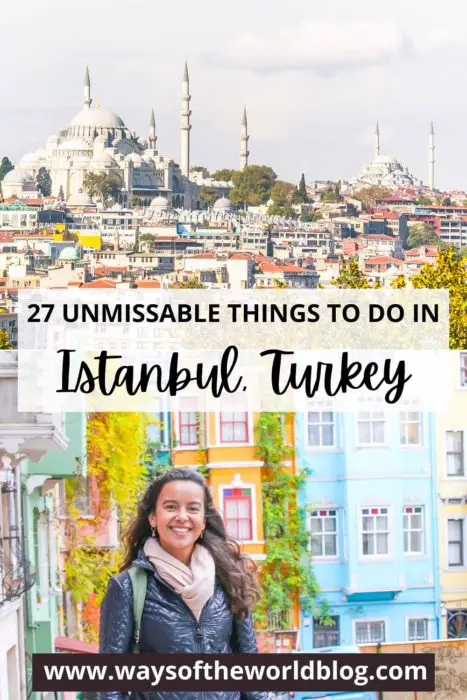 8. Escape Istanbul's Chaos In The Princes' Islands
Price: 7 Lira, one-way.
Time needed: half day or full day.
WOTW rating: N/A
In the Sea of Marmara lie the tranquil Princes' Islands. A trip to Princes' Islands is a perfect escape from Istanbul's sometimes overwhelming crowds and stimulation. Visitors to the Princes' Islands can enjoy peaceful bike rides through nature, beautiful beaches, and a relaxed atmosphere.
The group of tiny islands is located just a short ferry ride from any of Istanbul's main ferry terminals. There are also smaller boats that transport visitors between the islands.
This Istanbul activity is a little bit off the radar. But it is an excellent option for visitors on a longer itinerary. Visiting Princes' Islands is great for travelers looking for peaceful things to do in Istanbul outside of the hectic center.
Note: the islands can get busy on the weekends during the summer months, as Istanbul's locals come to escape the city's heat.
Fun fact: during the Ottoman period, the Sultan's sons who were born after the first-born son were banished to Princes' Island. The alternative to the banishment was getting killed. WTF!!! They did this so that the younger brothers would not kill the incoming Sultan. Again, WTF!!!
9. Get A Local's Experience At A Men's Barbershop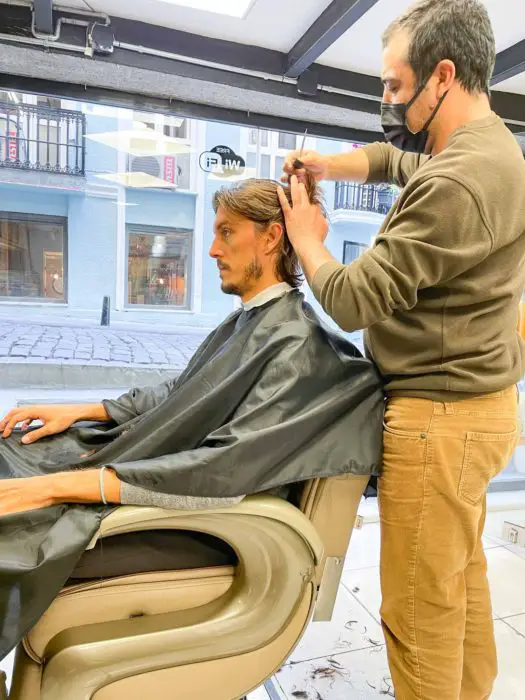 Price: 170 Lira ($13 US) for haircut and shave.
Hours: 9 am – 10 pm
Time needed: 30 – 45 minutes
Hours: 5/5
One of my favorite memories from Istanbul was getting a haircut and shave at one of the city's many barbershops. Men's barbershops are an essential part of Turkish social life, and you will see countless shops packed with men getting haircuts, facials, and shaves.
The best part of the experience was getting expertly shaved with a straight razor. After the straight razor, the barber takes a lighter across your face to get all the leftover hairs! It was strange but definitely a ton of fun! Add a visit to the local barbershop to your plans if you want to experience one of the most local things to do in Istanbul.
WOTW Tip: there are also great salons for women, but the experience obviously does not include the face shave.
10. Travel The Bosphorus In Style On A Private Yacht Cruise
Price: varies based on group size and trip time.
Hours: varies
Time needed: 2 hours to full-day options available.
WOTW rating: N/A
OMG a yacht cruise. YOLO!
Yacht cruises are a super popular way to tour the Bosphorus Strait and Golden Horn. And from what I can tell, yacht cruises in Istanbul are pretty affordable, and they get great reviews. Consider booking a yacht if you want to cruise Istanbul's famous waterways with a little more style than the ferry and standard boat tours. Interested? Check out these highly-rated tours:
11. Play With Furry Locals…Istanbul's Famous Cats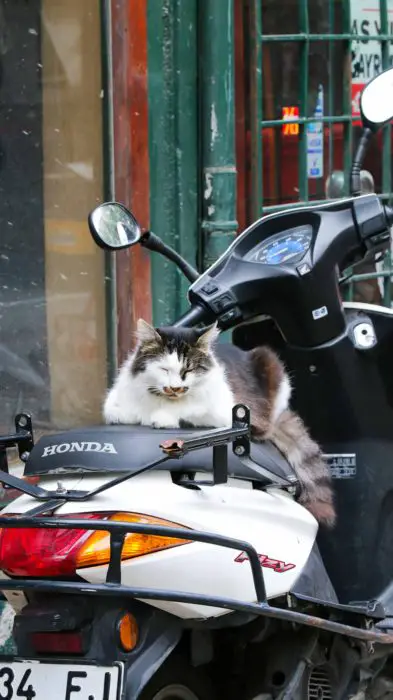 Istanbul is famous for its friendly locals. And none are more lovable than the hundreds of street cats that call the city home. Istanbul's cats are one of the city's iconic features, and they are adored by both locals and visitors alike.
You will find cat and dog food vending machines around the city where you can throw in some change to help feed hungry cats and dogs. And many cats will be happy to say hello and welcome you to their beautiful city. We even had a cat invite himself into our apartment almost every afternoon. Talk about spending time with the locals!
Location: Macka Park is famous for its cat population. But you will find them all over Istanbul.
Iconic Istanbul Landmarks
In addition to its famous mosques, Istanbul also boasts many iconic landmarks that should not be missed. A visit to these landmarks should definitely be added to your list of things to do in Istanbul!
12. Get Lost In Istanbul's Infamous Grand Bazaar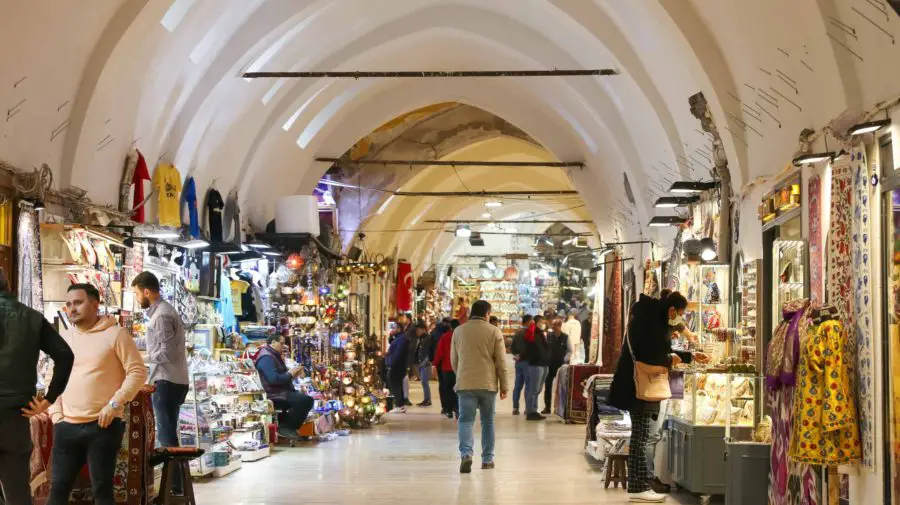 Price: free to enter. Remember to try and bargain if you go shopping!
Hours: 10 am – 6 pm
Time needed: 60 minutes
WOTW rating: 3/5
Istanbul's iconic Grand Bazaar is one of those places you have to experience during your visit. Even though it is still one of the world's largest bazaars, the Grand Bazaar is surprisingly easy to miss from the outside. But once inside, you can spend hours getting lost through the colorful and energetic indoor market.
Unfortunately, Istanbul's historic Grand Bazaar is no longer a local's market. Today it caters almost entirely to the vast number of visitors coming to check out this iconic landmark. It definitely has a touristy vibe, but it is still enjoyable to poke around the alleyways, do some shopping, and have a chat with the shop attendants.
Definitely add the Grand Bazaar to your list of things to do in Istanbul, but make sure to come with the right expectations.
WOTW Tip: don't feel shy about trying to haggle to get a cheaper price. Bargaining is a part of the shopping experience at the Grand Bazaar!
13. Explore The Colorful And Fragrant Spice Bazaar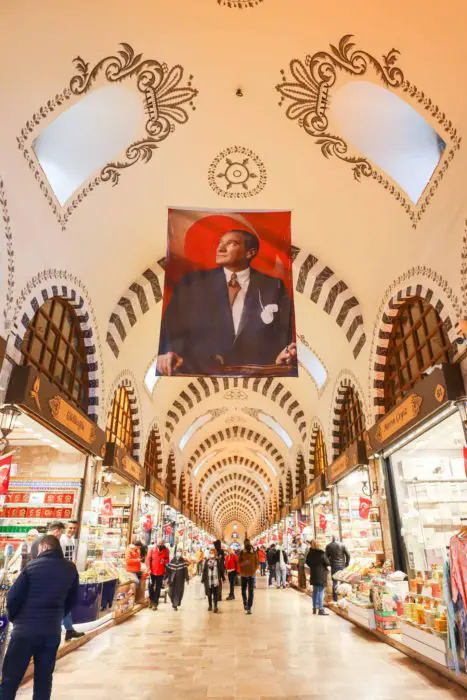 Price: free
Hours: 8 am – 7 pm (opens at 9:30 am on Sundays)
Time needed: 30-60 minutes
WOTW rating: 4/5
While not as famous nor expansive as the Grand Bazaar, the Spice Bazaar offers visitors a more colorful and easy-to-navigate bazaar experience. Constructed in 1664, the Spice Bazaar is also one of Istanbul's most historically significant bazaars.
The Spice Bazaar is the perfect place to sample some traditional Turkish delights. It is also great for buying some of your favorite local spices before heading back home. Make sure to go beyond the familiar and try some popular Turkish spices at the market.
WOTW Tip: don't be put off by the vendors calling you to try their products. They are all easygoing and happy to let you sample their products without pressuring you to buy anything.
Sign-up to our newsletter to get useful travel tips from our future destinations!
14. Complete The Bazaar Trifecta At Arasta Bazaar
Price: free
Hours: the bazaar is 'open air,' meaning the shopping street is always accessible. But shops typically open between 9 am – 9 pm.
Time needed: 30 minutes
WOTW rating: 4/5
Arasta Bazaar is the third of Istanbul's most famous bazaars. This open-air bazaar is a lovely row of shops located a short walk from the Hagia Sophia or Blue Mosque. And while you can definitely find all the typical souvenir shops at the Arasta Bazaar, the market also includes higher-end stores selling traditional Turkish rugs, towels, and ceramics.
The overall atmosphere at the Arasta Bazaar is slightly more organized and fancy than the Grand and Spice Bazaars.
WOTW Tip: the Arasta Bazaar definitely lacks the historic aura of the Grand and Spice Bazaars. That being said, Arasta Bazaar is the best of the three main markets in Istanbul if you are looking to shop away from tourist crowds. You will similarly experience less pressure from the various vendors while shopping here.
15. Enter The Lavish Topkapi Palace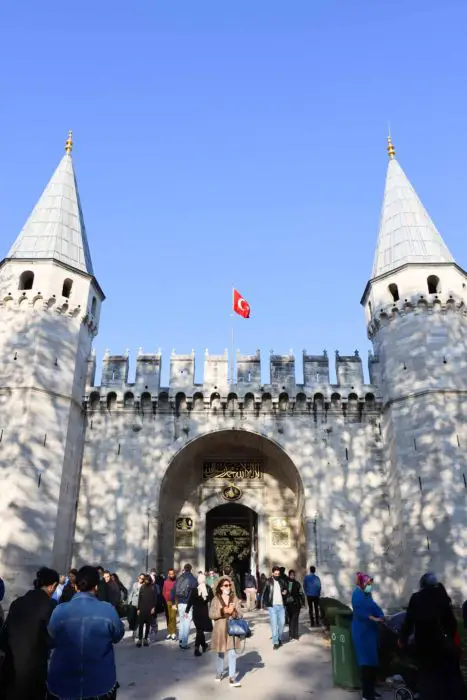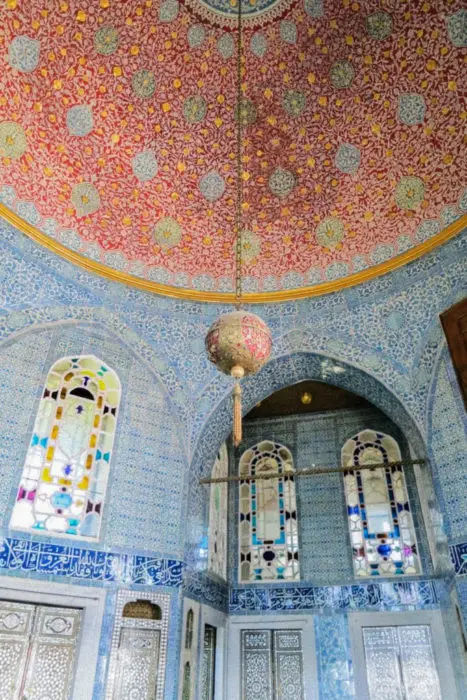 Price: free to enter the outside gardens. General admission is 200 Lira ($17 US). Full admission that includes the famous Topkapi Palace harem is 300 Lira ($25.50 US).
Hours: 9 am – 6 pm (closed Tuesdays!)
Time needed: 1 – 4 hours (the museum is huge, so the time needed depends on how much of the museum you are to see, and if you include a visit to the harem.)
WOTW rating: 5/5 (from the outside only)
A visit to Topkapi Palace is one of the most popular things to do in Istanbul. And while we visited the beautiful gardens twice, we didn't actually enter Topkapi Palace's interior museum. Sometimes you have to make decisions to support your budget when you are traveling full-time. And this was one of those times. But exploring all of Topkapi Palace will definitely be on our to-do list when we revisit Istanbul.
This old palace is a lavish remnant of the Ottoman glory days. It contains many extremely valuable artifacts, including the famous Spoonmaker's Diamond. This 86 karat diamond is the world's 4th largest!
Topkapi Palace's museum also holds several artifacts from the Prophet Muhammad, making the place an extremely important site for Muslims. Items related to the Prophet include pieces of his beard hair, a tooth (!), sword, letters, and more!
WOTW Tip: you can visit Topkapi Palace's gardens at no cost. You will have to pass through security, but there is no fee to walk around and admire the beautiful gardens and exterior of the palace.
16. Cross The Galata Bridge For Istanbul's Best Sunset Views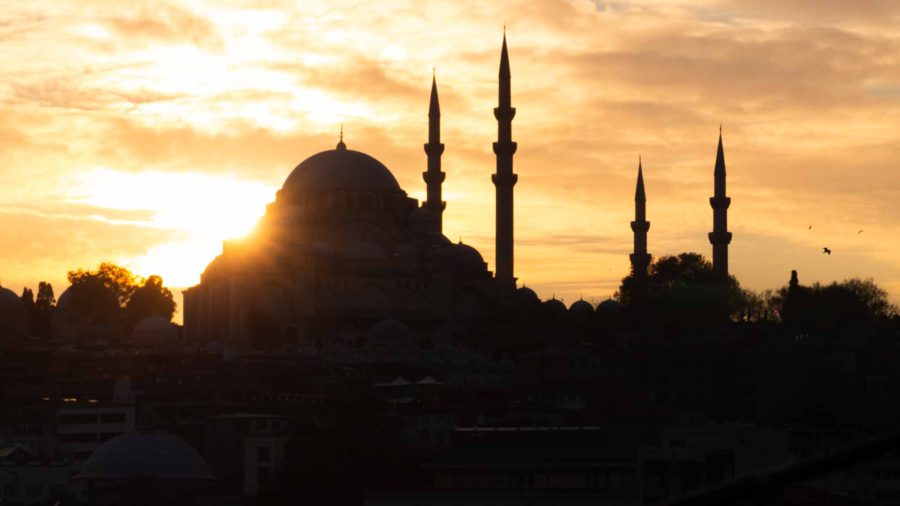 Price: N/A
Hours: at sunset time 🙂
Time needed: 30 minutes
WOTW rating: 5/5
The best way to experience the spirit of Istanbul is by walking across the Galata Bridge. And make sure to hang around until sunset to watch Istanbul's famous mosques turn bright orange as the day ends. The views of the old city from the bridge are ridiculous! Spending time on Galata Bridge is one of the most epic things to do in Istanbul! That is not an exaggeration.
The top of the Galata Bridge is lined with literally hundreds of local fishermen who lift up their lines just in time for passing ferries. You will hear seagulls squawking from above and traffic rushing from the busy street. And smells of Istanbul's famous fish sandwiches and roast chestnuts rise for the restaurants below. All of this happens while hoards of people move from one side of town to the other.
Walking across Galata Bridge at sunset is a treat to your senses. Take our advice and plan to watch at least one unforgettable sunset from here.
WOTW Tip: Galata Bridge is a historic bridge that crosses the Golden Horn to link Istanbul's old city with the more modern Beyoğlu district. It is also a symbolic connection of the traditionally more conservative old city to the historically secular neighborhoods on the opposite side of the bridge.
17. Enjoy Panoramic Views From Galata Tower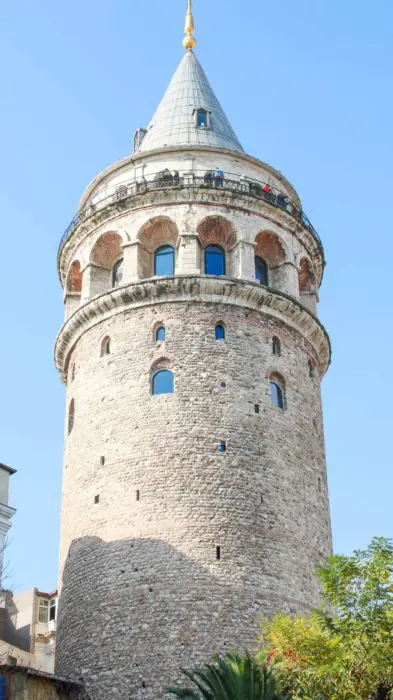 Price: 100 Lira ($7.50 US)
Hours: 8:30 am – 12 am
Time needed: 30 – 60 minutes
WOTW rating: N/A
Galata Tower is one of the most notable Istanbul landmarks outside the historic old city. Perched at the top of one of Istanbul's 7 hills, this ancient tower was once the tallest structure in Istanbul (Constantinople). Today the Galata Tower is a popular place to enjoy panoramic views of Istanbul.
This old watchtower can be found in the middle of a vibrant part of the Galata neighborhood. Galata is filled with lively outdoor restaurants, cool shops, and boutique hotels. But while the area alone is worth a visit, the spectacular Galata Tower should not be missed!
WOTW Tip #1: you obviously don't have to enter the tower and museum to enjoy it. It is a beautiful sight from the ground level, especially at night.

WOTW Tip #2: the plaza surrounding Galata Tower gets especially busy once the sun sets. The tower lights up beautifully, and the many restaurants in the area with outdoor seating attract plenty of excited visitors. Good luck not getting in the way of dozens of pictures!
18. Watch Istanbul's Famous Fisherman Around The Golden Horn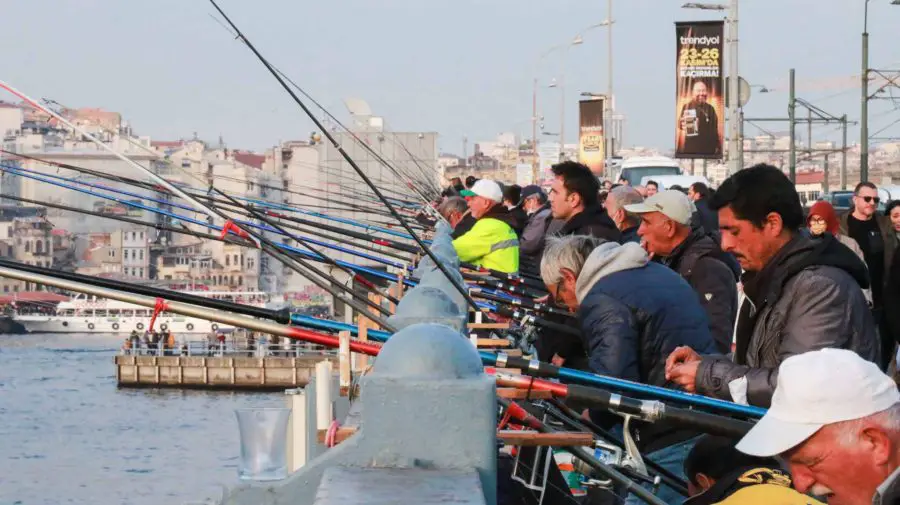 Price: N/A
Hours: you'll find them from sunrise to sunset
Time needed: 30 minutes
WOTW rating: 5/5
Istanbul's famous Golden Horn is surrounded by local fishermen passing the time with friends or catching their next meal. These fishermen are a ubiquitous sight around Istanbul's waterside. The most popular place to see them is Galata Bridge, where you'll find them standing shoulder to shoulder by the hundreds.
Fishermen sometimes sell to the local restaurants preparing Istanbul's famous grilled fish sandwiches. Known in Turkish as balik ekmek, these sandwiches are one of the city's most iconic street foods.
WOTW Tip #1: there are also dozens of restaurants on Galata Bridge's lower level where you can enjoy the views of the fisherman throwing out their lines from above!

WOTW Tip #2: note that the waterways around Istanbul are overfished. We typically don't eat fish due to overfishing, among other reasons. Still, watching Istanbul's fisherman is an essential experience while in town.
19. Wander Around The Ancient Hippodrome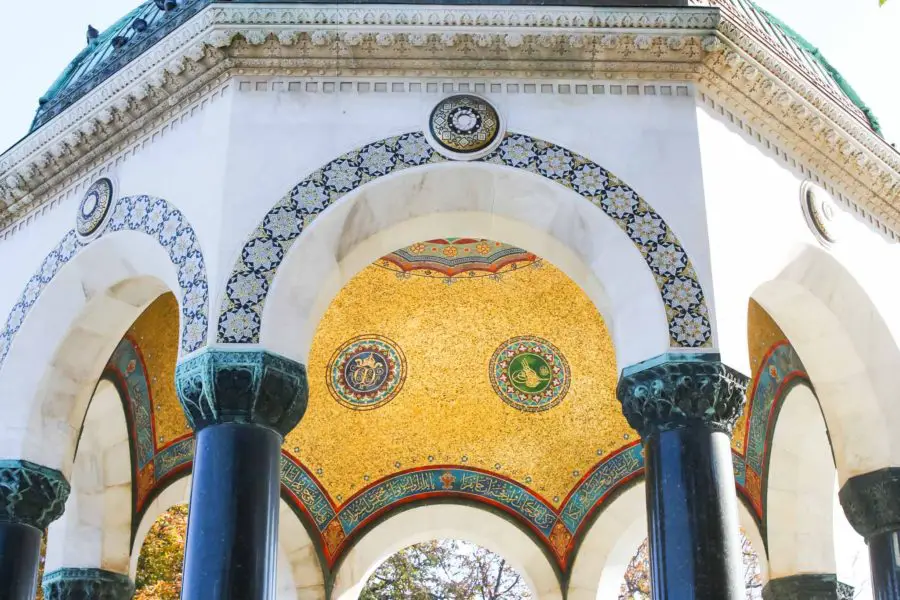 Price: free
Hours: N/A
Time needed: 30-60 minutes
WOTW rating: 4/5
Located not far from the Hagia Sophia in the old city, the Hippodrome is a relic of the East Roman Empire, which used Istanbul (Constantinople) as their capital.
For nearly 1,000 years, the Hippodrome of Constantinople was the city's heartbeat. Constantinople's citizens were brought together by the popular horse and chariot races that were held there. Once Constantinople fell to the Ottomans, the tradition of horse racing was forgotten, and the stadium surrounding the race tracks disappeared.
Today the area holds several other historical attractions, including an Egyptian obelisk, Serpent Column, and the German Fountain. These attractions add to the interesting stories contained within the tracks of the old Hippodrome.
Notes On The Other Attractions Within The Hippodrome
Known as the Obelisk of Theodosius, the Egyptian obelisk was brought to Constantinople to help adorn the center of the Hippodrome. The original obelisk was carved in 1450 BC, making it the oldest monument in Istanbul.
The Serpent Column was designed to honor the Greek army's defeat of the Persian Empire. The Column was moved from Delphi to the Hippodrome under the direction of Constantine the Great, the Roman founder of Constantinople.
The German Fountain was constructed in 1898 to recognize the visit of the German Emperor, Wilhelm II. It symbolized the close relationship between the German and Ottoman Empires.
20. Visit The Imposing Dolmabahçe Palace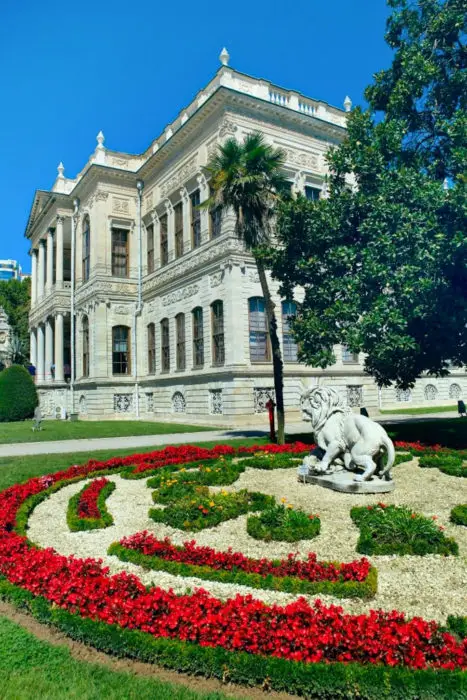 Price: 120 Lira for general admission. 150 Lira to include access to the harem. (If you don't buy the combo ticket at the entrance you will have to pay 90 Lira to enter the harem).
Hours: 9 am – 4 pm (closed Mondays)
Time needed: 2-3 hours (if taking a guided tour)
WOTW rating: N/A
Dolmabahçe Palace is a massive and incredibly gorgeous structure located along the Bosphorus in Istanbul's 'new-city' area. We found ourselves walking by the complex after getting dropped off by the ferry in the wrong part of town (oops), and we could not believe how grand this place looked from the outside. The palace is surrounded by massively high walls making it feel like a castle or presidential palace.
Dolmabahçe Palace acted as the administrative center for the Ottoman Empire during two separate periods. As the principal residence for kings and sultans, the palace just screams 'royalty.' The main reasons for visiting are to experience the opulent interior, which includes a chandelier weighing nearly 9,000 lbs (4,000 kgs) and a museum including fine works of art and calligraphy.
WOTW Tip #1: the palace is absolutely worth visiting if you want to explore beyond Istanbul's old-city highlights. It is a great excuse to get slightly beyond the average tourist trail and head into a neighborhood you otherwise may not have visited.

WOTW Tip #2: guided tours are included in the entry price. Tours start every 25 minutes during the low season and every 5 minutes during the high season.
21. Follow The Crowds To Taksim Square
Price: free to explore
Hours: the surrounding area is busier in the evenings
Time needed: 30-60 minutes
WOTW rating: 3/5
Taksim Square is considered one of Istanbul's most important attractions. If you love the energy of crowds, then this is a great place to stroll the main shopping avenue and eat some of Istanbul's famous street food.
Taksim Square is probably most famous for its nightlife and shopping. The main square and commercial street are slammed with people enjoying the buzz of the crowds. Definitely add Taksim Square to your plans if you want to get a sense of Istanbul's energy away from the old city. Visiting Taksim is definitely one of the most popular things to do in Istanbul, judging by the incredible number of people we saw.
22. Be Amazed By The Mysterious Basilica Cistern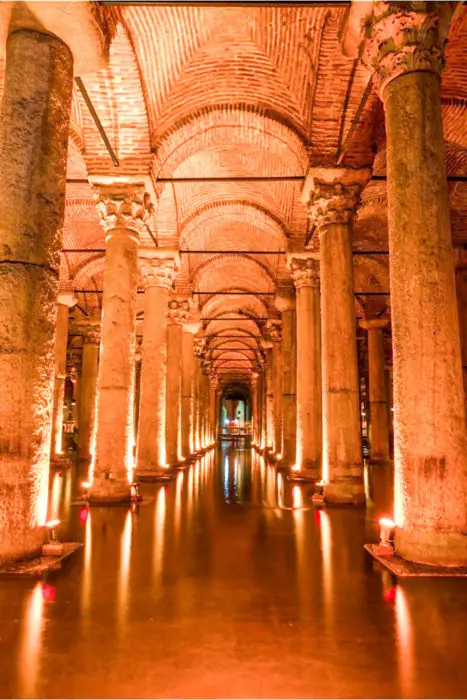 The Basilica Cistern is famous for its immense size and impressive detail. The incredible structure was carved from the earth by thousands of enslaved people during the early periods of Roman rule in Istanbul. A drop in the water level at the Basilica Cistern revealed two carved Medusa heads. Their origin and purpose remain a mystery to this date.
The Basilica Cistern was the key water source to the palace and other key administrative buildings during Roman and Ottoman rule. It is the largest of hundreds of cisterns found below Istanbul.
WOTW Tip: the Column of Tears is a beautifully designed column unique from all others. It can also bring good luck to visitors who are able to put their thumb in the ring of the tears and rotate their hand 360 degrees without removing their thumb. Your wish is granted if you pass the test! Definitely work on your wrist flexibility before visiting the Basilica Cistern!
Need some time on the beach after running around Istanbul? Read these posts next!
Best Neighborhoods In Istanbul
Exploring Istanbul's diverse neighborhoods is one of the best things to do while you're in town Being part of the scene in the city's vibrant districts is an incredible way to experience the city beyond its famous mosques and iconic landmarks.
If you are like us, you will be amazed by all the cool cafes, trendy locals, mural-covered walls, and overall cool vibe in these places. Exploring the neighborhoods is high on our list of favorite things to do in Istanbul.
23. The Must-Visit Sultanahmet Neighborhood
Many of the unmissable things to do in Istanbul are located in the Sultanahmet neighborhood. This historic district can be considered the center of old Istanbul. And if this is your first visit, you will no doubt find yourself spending considerable time in this part of town.
Sultanahmet can get very crowded with fellow travelers. But we recommend getting a little lost through the alleyways and shopping streets for a more local experience.
24. Enjoy The Vibe In Trendy Karaköy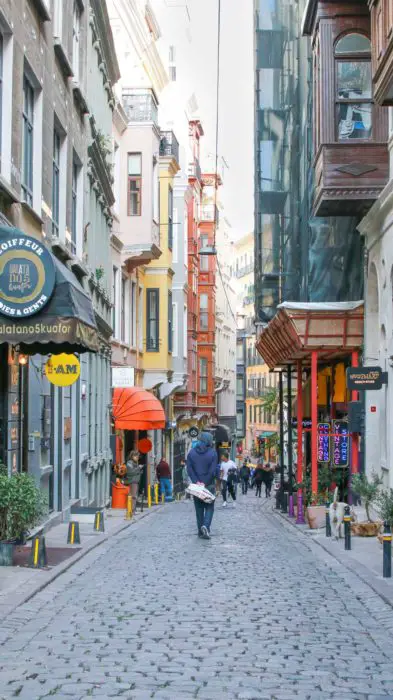 Located directly across the Galata Bridge from Istanbul's old city is the tiny but wonderful neighborhood of Karaköy. Karaköy was our home base in Istanbul during our 12-night stay in town, so we may be slightly biased, but we loved this part of town.
Wander through Karaköy's streets, and you'll find funky antique shops, cozy cafes, and plenty of local dining spots. And don't forget to stroll to the busy waterfront to watch the boats cross-crossing the Golden Horn. You'll get the added bonus of spectacular views of Istanbul's old city from the waterside.
25. Head To Asia For A Local Experience In Kadiköy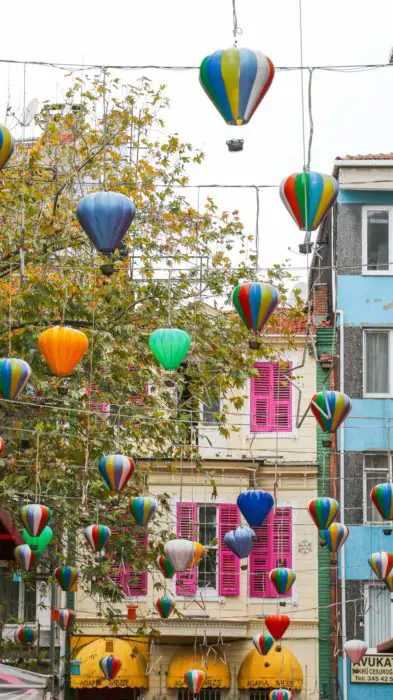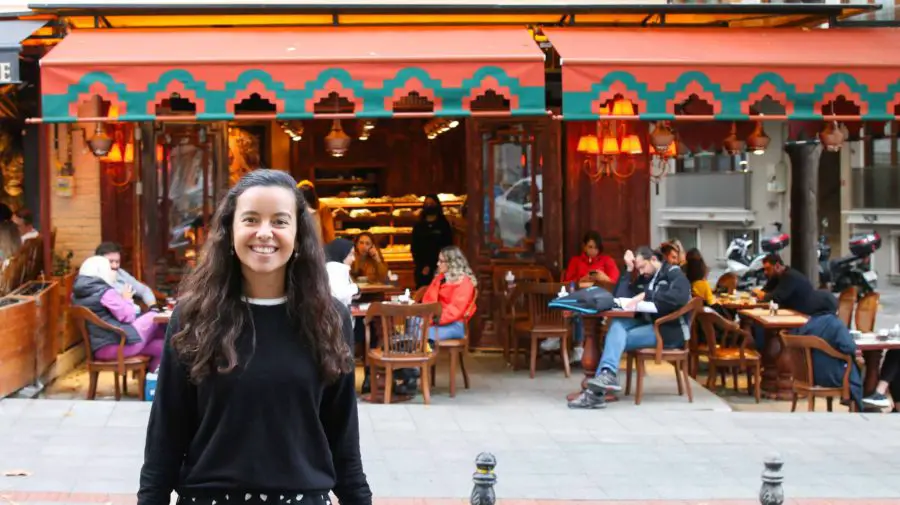 A short ferry ride across the Bosphorus, and just like that, you are in Kadiköy on Istanbul's Asian side. We visited Kadiköy without expectations because we read that there were not many things to do in this Istanbul neighborhood.
It didn't take long for Kadiköy to become one of our favorite neighborhoods in Istanbul! The flip side of not having many touristy sites is that it feels very local. Restaurants and bars were packed with young Istanbulites enjoying each other's company. We will definitely spend more time in Kadiköy when we return to Istanbul.
WOTW Tip #1: taking the ferry to Istanbul's Asian side is half the fun. Just make sure you're jumping on the right boat! You'll get to join Istanbul's commuters and tourists while zipping across the Bosphorus past enormous cargo ships, tiny fishing boats, and luxury yachts. Make sure to check out Istanbul's ferry schedule for more details.

WOTW Tip #2: the trip from the old city to Istanbul's Asian side takes about 25 minutes on the ferry. One-way trips cost around $0.50. And they operate from 6:30 am to 10:30 pm.
26. Explore The Small But Energetic Galata Neighborhood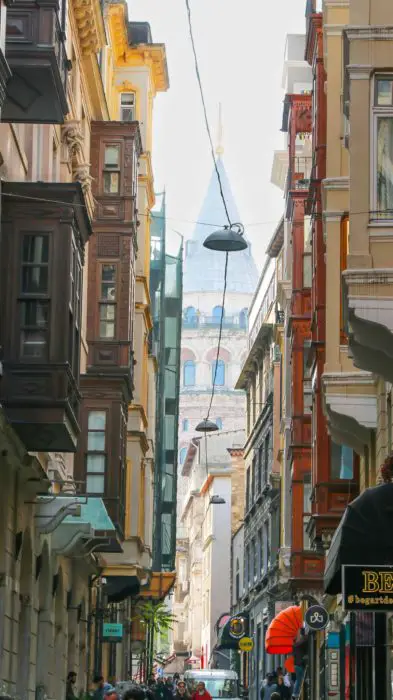 This vibrant little neighborhood centers around the beautiful Galata Tower. There are wonderful outdoor restaurants on the cobblestoned streets surrounding the tower. And you will also find cool boutique hotels and cute cafes next to historic churches in Galata. This old neighborhood is definitely worth checking out!
27. Visit The Colorful Balat And Fener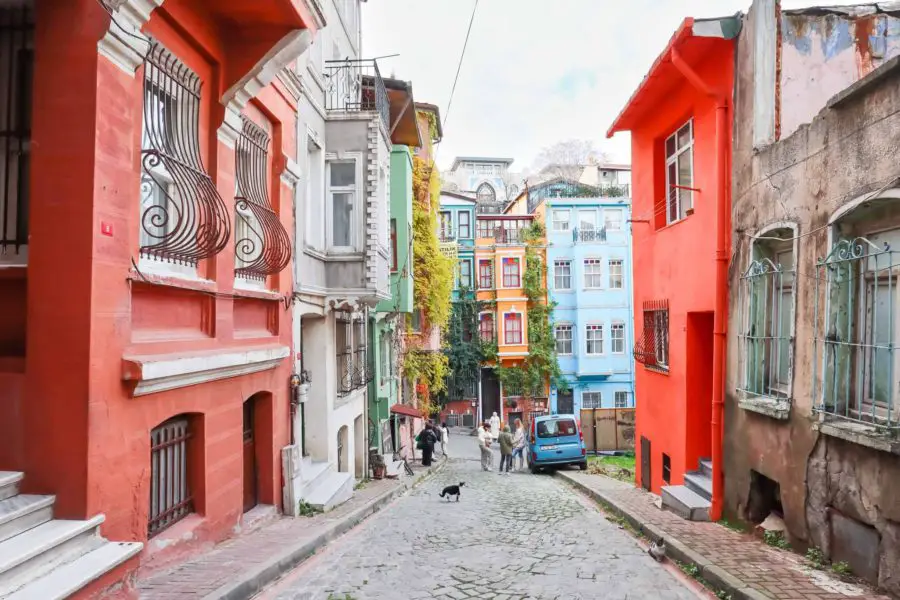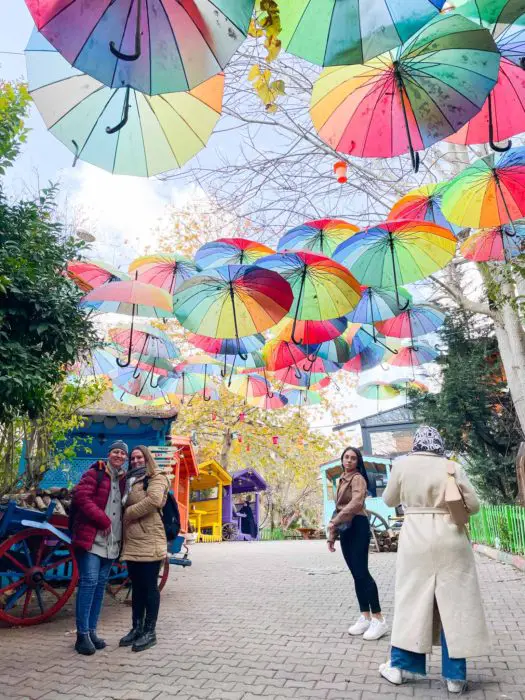 The Balat and Fener districts are home to some of Istanbul's most beautiful streets. A maze of winding pathways takes visitors past historic Ottoman homes. Many are in the process of renovation, and some have been brought back to life with gorgeous colors. The up-and-coming vibe can also be sensed by a growing number of eclectic coffee shops and restaurants.
There is a bit of a 'made for Instagram' feel to visiting the Balat and Fener neighborhoods. But it does feel like the investments being made to restore this area are also drawing in more independent shops and restaurants to push back on some of the more commercial attempts to bring visitors to this part of town.
How Many Days Do You Need In Istanbul?
There are so many awesome things to do in Istanbul. And the more days you add to your Istanbul itinerary, the more you can go beyond mosques and landmarks to discover the city's incredible neighborhoods and unforgettable activities. But no matter how long you stay, you will wish you had more time in Istanbul. Here is a basic breakdown of activities to help you decide how many days you need in Istanbul:
4 days: enough to see the most famous mosques in Istanbul, some landmarks and a Bosphorus tour.
7 days: perfect for the key historic sights, visiting a couple of neighborhoods outside the old city, and one or two tours.
10 days: ideal for exploring more of Istanbul's best neighborhoods in addition to the key sites and a few great activities.
Take a look at our post about the perfect way to spend 4, 7 or 10 days in Istanbul. No matter how long you plan on staying, we have tips on how you can make the most of your visit!
Best Areas To Stay In Istanbul
Deciding where to stay in Istanbul depends on how many days you will be spending in town. We recommend the following neighborhoods based on access to Istanbul's most popular attractions and our own opinions of the areas.
Sultanahmet
Ideal for: easy access to the most popular historic sights; best for short stays.
Not great for: escaping the tourist crowds; experiencing Istanbul's trendier side.
Karaköy
Ideal for: easy access to sites, but slightly away from major tourist crowds; more modern city vibes with hip cafes and boutique hotels.
Not great for: travelers with little time who are focused on seeing the old city's historic sites.
Kadiköy
Ideal for: travelers who prefer being part of a locals scene versus seeing all of Istanbul's sites; for second time visitors or those on a longer stay.
Not great for: convenient access to mosques, tours and landmarks; travelers who don't care much for trendy neighborhoods.
Want more information about Istanbul's amazing neighborhoods? Head to our post about the best areas to stay in Istanbul!
Final Thoughts On Visiting Istanbul
Did you get the sense that we are in love with Istanbul? For us, this city totally lived up to the hype. We have it bookmarked as the top 'catch up with work place' whenever we are on that side of the world.
Beyond all the incredible things to do in Istanbul, the city has such a unique presence that just energizes your spirit. Istanbul is stimulation overload in the best way possible! We think that this incredible place checks off almost all the boxes for what you could ever want when visiting a big city.
You better go ahead and add Istanbul to your bucket list. We promise you won't be disappointed!
Thanks for reading!
G
Have any questions about visiting Istanbul? Reach out in the comments or DM us on Instagram!
Planning A Trip To Turkey? Read These Posts Next:
Tired of reading? We have an entire Turkey travel series on YouTube. Don't forget to subscribe while you're there 🙂
Did You Like This Post About 27 Things To Do In Incredible Istanbul? Share it on Pinterest!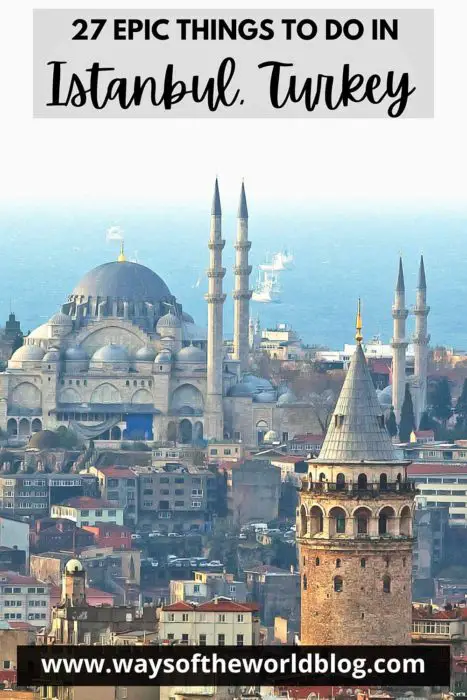 *Note: this post contains affiliate links. If you purchase anything using these links, we receive a small commission at no extra charge to you. Affiliate income helps to keep us on the road producing content that we hope is useful to you!