Are you thinking about traveling to one of the world's most fascinating countries? Exploring Turkey's beautiful destinations, rich culture, and delicious food is epic. We visited almost every corner of Turkey and fell head-over-heels in love with this enchanting country and its beautiful people.
Turkey was the very first country we visited after starting our life of full-time travel. After our three-month slow-traveling adventure, we think we know a thing or two about exploring Turkey. We experienced bucket-list activities, historic cities, gorgeous Mediterranean beaches, and off-the-beaten-path destinations. The diversity of Turkey's best places to visit is mind-blowing!
This post showcases everything we learned about this magnificent country while immersing ourselves in its magic. We include everything you need to know before your trip, unforgettable experiences, the best cities to visit, and hidden gems to discover while exploring Turkey!
Estimated reading time: 39 minutes
*Note: this post contains affiliate links. We receive a small commission at no extra cost to you if you purchase from these links. Thanks in advance for supporting WOTW!
Ready To Start Exploring Turkey? Keep On Reading!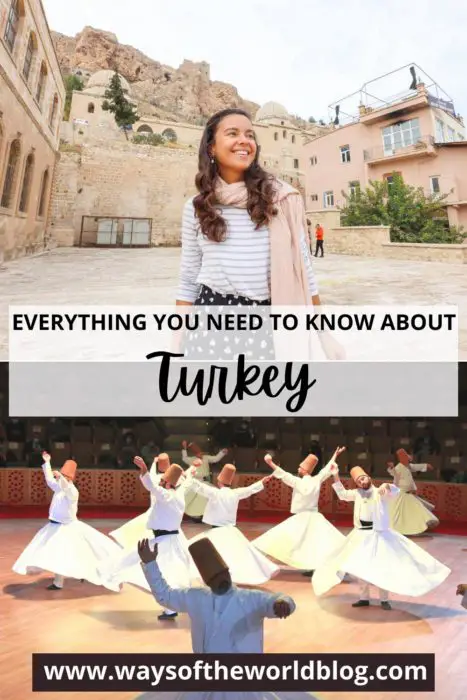 What To Know About Exploring Turkey Before You Visit
What Is Turkey Like?
There is no way to summarize what visiting Turkey is like in just a few words. This area was the commercial and cultural gateway between Europe, the Middle East, and Asia. And Turkey shares borders with Greece and Bulgaria to the west, Iran to the east, Syria and Iraq to the southeast, and Georgia and Armenia to the northeast.
These distinct cultures (and more) have influenced Turkey's current identity. And you will find that many of Turkey's regions share cultural similarities with the closest neighboring countries. The result is a captivating melting pot of cultural influences that define Turkey's different areas. For instance, Turkey's Mediterranean cities are more similar to Greece than to more conservative destinations in Eastern Turkey.
You will be amazed by Turkey's unique cultures and the diversity of its beautiful landscapes! But the kindness of the Turkish people is what will stick with us forever. They are welcoming, genuine, and kindhearted. Turkish people are the best!
Guess what? We made a video about everything you need to know before visiting Turkey! Check it out 🙂
Is Turkey Safe To Visit?
There is a large misconception about Turkey's safety among travelers. We can say that we have never felt as safe traveling anywhere as we did in Turkey. Even when we traveled in Eastern Turkey, near the Syrian and Iraqi borders, we never felt the need to worry about anything. And remember that we spend the entire day walking around with cameras strapped around our necks!
We noticed that there is a tremendous amount of respect for people's belongings and personal safety. While something can always go wrong, any negative experience is the exception, not the rule.
How To Get To Turkey?
Flying To Turkey
Most people visiting Turkey will arrive by plane. Several US cities offer direct flights into Istanbul. These include New York, Chicago, Washington DC, Miami, and Los Angeles. If you are not based around these metro areas, it's still likely that you will connect through them, or through one of Europe's hub airports.
If you are traveling from the UK you will have many more options to fly directly into Turkey's many regional airports to start-off closer to your final destination.
Do You Need A Visa To Visit Turkey?
Visitors traveling with a US or Canadian passport need a visa to enter Turkey. Visas on arrival are available, but you'll have to wait in line and pay cash. Visas on arrival cost 30 US, 25 Euros, or 20 GBP.
An e-visa is also available to most people traveling to Turkey. The e-visa is slightly more expensive, but the fees vary by country. You can find the prices for Turkish e-visa here.
Travelers from the UK, EU, or Australia/New Zealand can enter Turkey visa-free for visits up to 90 days. Not flying from one of these countries? Find Turkey's visa requirements for other countries here.
WOTW Tip: if you require a visa to enter Turkey, then you will also need to have proof of travel insurance.
How To Get Around Turkey?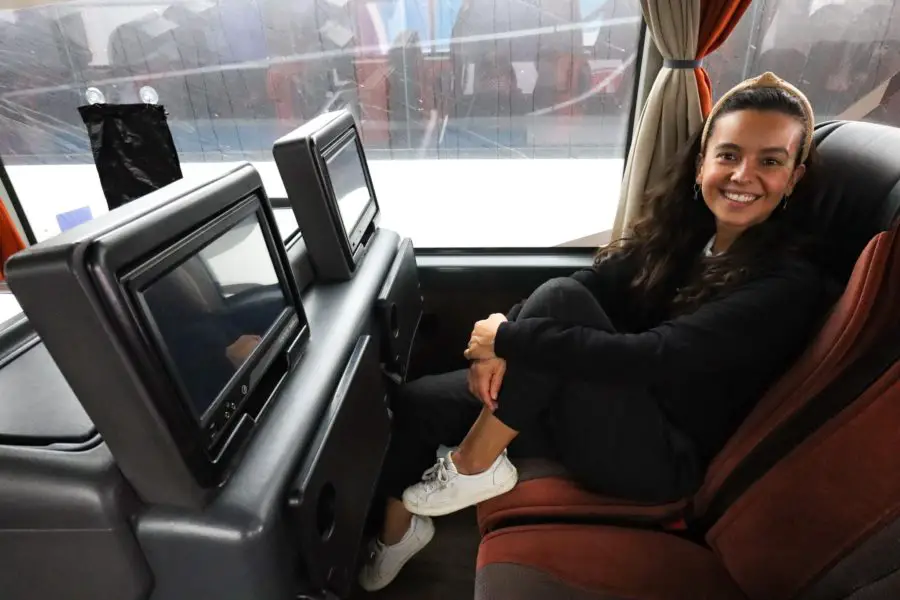 Turkey is a vast country, but getting around isn't as complicated as you might imagine. The country's phenomenal transportation system will make traveling through Turkey hassle-free. Your biggest issue will likely be long and exhausting travel days thanks to the significant distance between Turkey's popular destinations.
Getting Around Turkey By Bus:
The most common way for travelers to get around Turkey is by bus. There are many bus companies you can use for inter-city travel, and they are generally clean, punctual and affordable.
Local mini-buses (pronounced 'dolmush') help visitors get around within cities and between short-distance local connections. They are extremely affordable and it's worth figuring out the main routes for these mini buses wherever you stay.
WOTW Tip: we booked nearly all of our bus travel between cities on Obilet.com. We took like a million buses in Turkey and can totally recommend them. They even helped us get our money back when there was a last minute cancellation on one of our trips.
Curious to see what it's like getting around Turkey by bus? Well, you are in luck because we recorded all of our bus rides throughout the country! Check out the videos about bus travel in Turkey.
Getting around Turkey by car:
Turkey's highway system is terrific. And most of the best places to visit are easily accessed by road. The issue with getting around exclusively by car is that most car rental places don't let you pick up in one location and drop off in another. That's even true if you are renting from one of the big car rental companies.
But getting around Turkey by car is totally doable if you want to take some day trips or if you have a route that will bring you back to where you started. The only caveat I would add is that driving in Turkey's major cities can be pretty crazy. So choose wisely where you plan to drive.
Getting around Turkey by train:
Traveling by train in Turkey is an affordable, but generally inconvenient option. You will find that trains are cheap, safe and clean. But we also heard that they are super slow and they don't connect many parts of the country.
Train travel is also worthy of consideration if you're visiting the country on a budget or if you're not in a hurry. Check out the available train routes in Turkey.
Getting around Turkey by plane:
Domestic flights are often the most efficient option for long distance travel within Turkey. Domestic flights are cheap and offer good connections to the major cities in the country. In fact, it seems like every city in Turkey has a domestic airport.
The major airlines offering affordable domestic flights throughout Turkey are: Turkish Airlines, Pegasus Airlines, Sun Express and AnadoluJet.
Where To Stay During Your Turkey Visit?
Lodging options in Turkey are affordable and generally abundant. Most cities have plenty of hotels, Airbnbs, and Turkish B&B-style hotels (pansiyones) that you can choose to stay at.
Note that we had some trouble finding hotels in the center of town while exploring the Eastern-Turkish cities of Mardin and Sanliurfa. We were there in November, which coincided with some local or regional holidays, which made these destinations very busy.
WOTW Tip: Booking.com is blocked in Turkey. If you are an avid user of Booking and don't have a VPN, then you will have to make your lodging arrangements before you arrive.
How Many Days Do You Need In Turkey?
Well, how many days do you have? Exploring all of Turkey is impossible during a single visit. The country is huge and incredibly diverse. There is a seemingly never-ending amount of things to do and places to discover in Turkey.
Obviously 99.9% of people have limited time to visit Turkey. But here at Ways of the World we are huge proponents of slow traveling. We suggest picking only a couple of destinations for an average 7-14 day trip. The last thing you want is to be spending most of your adventures in a bus or airplane!
When Is the Best Time To Visit Turkey?
The best time to visit Turkey depends on your travel preferences. And mostly I mean your tolerance for different types of weather and crowds. While all seasons have their advantages, you can choose the best places to visit based on the following advice:
Visiting Turkey in the summer (June – September): summer is the most popular time to visit Turkey. The crowds in major tourist destinations like Istanbul, Cappadocia and Pamukkale will be intense, and so will the heat. Consider including Turkey's popular beach destinations to your itinerary if you are visiting during summer.
Visiting Turkey in the fall (September – November): we spent the entire fall exploring Turkey. The weather was consistently wonderful, and crowds everywhere were manageable. We also saw the leaves change color in Cappadocia and Rize! Just be aware that temperatures won't be ideal if you plan to visit Turkey's beach destinations later in the fall.
Visiting Turkey in the winter (December – March): if you don't mind braving a bit of cold and rain, then winter is a great time to visit Turkey without the crowds. Just note that many restaurants/bars and activities may be closed or unavailable along Turkey's coasts.
Visiting Turkey in the spring (April – June): moderate temperatures and fewer crowds make spring a great time to explore Turkey. Just keep in mind that some areas could be more rainy than usual.
How Much Do You Need For Your Turkey Travel Budget?
We found Turkey to be an extremely affordable country to travel through. In our three months traveling around Turkey, we spent about $1,750 US per month or $440 per week. Remember that we shopped at local markets, cooked for ourselves, and stayed at reasonable accommodations to keep down our costs of traveling full time.
WOTW Tip: Turkey's currency is extremely volatile, and the country also experiences high levels of inflation. That being the case, prices for everything from foods to entrance fees change regularly.
Experience Unforgettable Turkey Highlights
Note: We made videos about literally everything on this list of unforgettable Turkey highlights! Check out the travel series from our 3 months exploring Turkey if you want to get a better look at these bucket-list experiences!
Map Of Turkey's Best Experiences & Highlights
Enjoy A Hot Air Balloon Ride In Cappadocia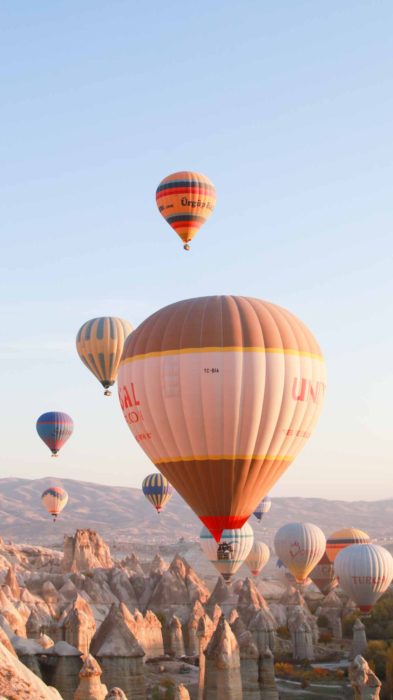 Price: $85 – $150 per person depending on season and demand; pre-pandemic prices were around $400 US p/p.
WOTW rating: 5/5
Tell anyone that you are going to Turkey, and they will ask if you are going hot air ballooning in Cappadocia. Floating over the area's alien landscapes is not only one of the best things to do in Cappadocia, it's also one of the most bucket-list-worthy activities in Turkey!
Before sunrise, about 100 hot air balloons rise simultaneously from Cappadocia's magical valleys. The balloons float in between fairy chimneys and over ancient cave dwellings before rising up to see the sunrise behind the area's massive volcanos. There is no better place to check 'hot air balloon ride' off your bucket list than in Cappadocia!
Check out the video of our amazing hot air ballooning experience in Cappadocia to see why this is at the top of the list of Turkey highlights.
Go Paragliding In Fethiye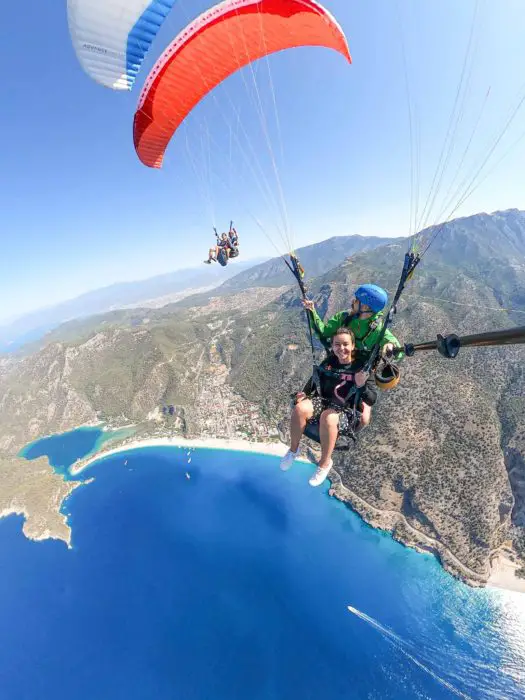 Price: $120 – $150 US per person.
WOTW rating: 5/5
Towering over Turkey's famous Turquoise Coast is Babadağ mountain, one of the best paragliding spots in the entire world. Consistent ocean winds and a stunning backdrop of blue ocean and rugged mountains make paragliding in Fethiye my personal Turkey highlight.
The feeling of gliding through the air for up to 40 minutes is indescribable. After the adrenaline wears off, the experience of paragliding is surprisingly relaxed as you soar like a bird over the picture-perfect sea.
Check out the blog post about our paragliding experience in Fethiye for more details. Or watch me almost pass out above Oludeniz beach as my paragliding guide decided it would be fun to let me experience the joys of g-force.
Try Turkey's Best Foods In Gaziantep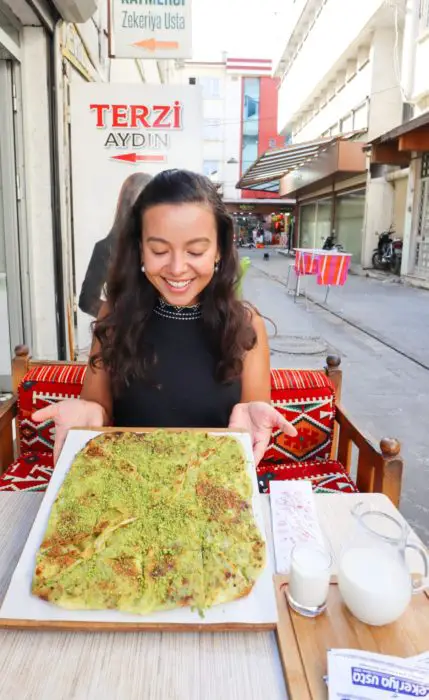 Gaziantep is the best place to go if you want to indulge in Turkey's best foods. From kebabs to baklava, this city is known around the world for its superb cuisine. Gaziantep's amazing dishes put it high up in the ranks of the world's best culinary cities.
If you would even remotely describe yourself as a foodie, then Gaziantep should be high on your list of places to visit in Turkey. Our mouths water when reminiscing about delicious kebabs and the world's best baklava. But remember that Turkish food is heavily spiced, so don't forget to drink plenty of ayran, and bring some heartburn medication. I'm not kidding!
Make sure to watch our DIY food tour in Gaziantep if you want to sample the best cuisine in Turkey!
Visit The Sümela Monastery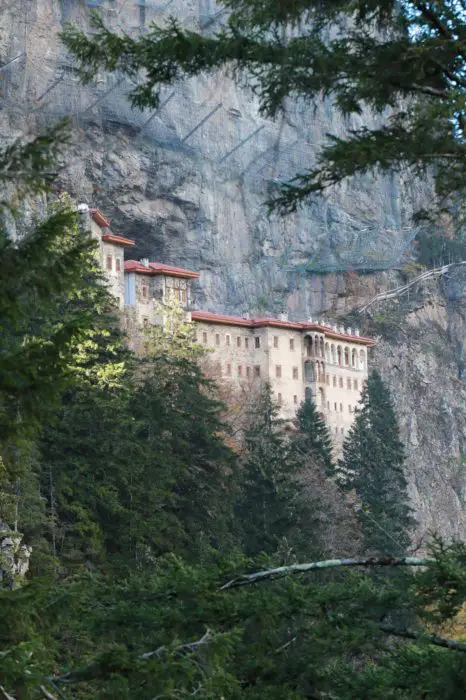 Price: 75 Lira, per person ($6.50 US).
WOTW rating: 5/5
A visit to Sümela Monastery is a must if you are lucky enough to explore Turkey's beautiful Trabzon and Rize regions. Hanging on the side of a mountain in Altindere National Park, Sümela Monastery is, without a doubt, one of the most beautiful monasteries in the world!
Sümela Monastery sits majestically perched in a beautiful mountain setting. It's unimaginable to think how the location was discovered and how construction began all the way back in the 4th century.
We couldn't enter Sümela Monastery due to it being closed for upkeep and maintenance. But those lucky enough to enter will find beautifully restored frescos and unforgettable views. A fresco of the Virgin Mary is even said to be painted by Apostle Luke!
WOTW Tip: want to add a little adventure to your visit ? Consider taking a guided hike to Sümela Monastery through the pristine national park to the monastery.
Witness A Whirling Dervish Ceremony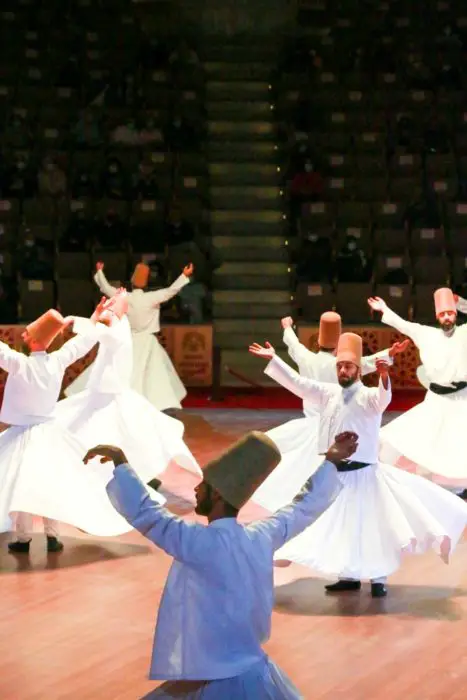 Price: 30 Lira per person ($3.15 US).
WOTW rating: 5/5
There aren't many Turkey experiences as unique as the Whirling Dervish ceremony. This ceremony is associated with the Mevlevi Order of Sufism based in Konya, Turkey. The dervishes enter a trance-like state as they spin to the traditional music played by musicians stationed next to them. This Whirling Dervishes are fascinating to watch, and the ceremony holds deep meaning for those who partake in it.
Watching the whirling dervish ceremony was hands-down one of the most unique Turkey highlights we experienced. We felt unbelievably grateful for the opportunity to experience a tradition and culture so unique and special. It is worth traveling to Konya, Turkey just to witness this enchanting spiritual event.
Bath In A Traditional Istanbul Hammam Spa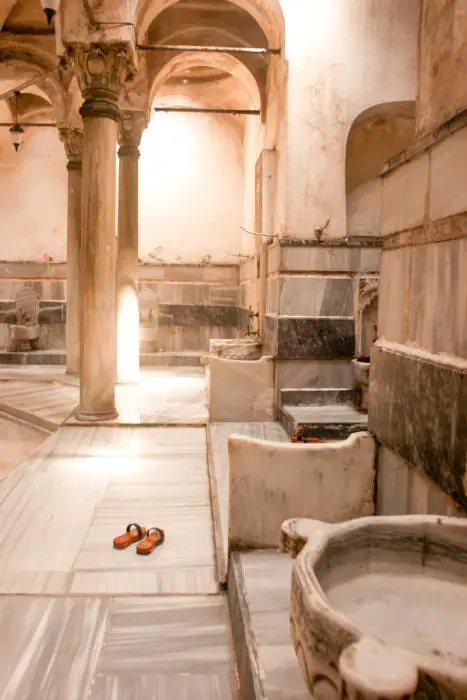 Price: $40 – $60 US per person.
WOTW rating: 5/5
You shouldn't leave Istanbul without experiencing a traditional Turkish bath. The Turkish bath, or hammam, is an activity that dates back to when Istanbul was still known as Constantinople. Many hammam spas were ornately built for important figures of the Ottoman Empires. And the experience today still feels super luxurious.
The hammam bath is a great way to experience an authentic Turkish ritual. And you won't find the real thing anywhere else, so add this to you itinerary when exploring Istanbul. You will feel like a sultan after getting scrubbed.
Explore Ground Zero Of Human Civilization At Göbeklitepe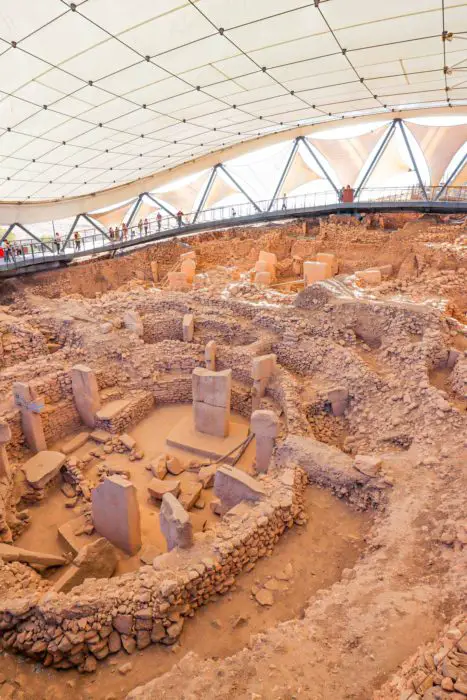 Price: 65 Lira per person ($5.50).
WOTW rating: 5/5
We'll be the first to admit that Göbeklitepe isn't the most picturesque place to visit in Turkey. But this ancient temple is believed to be the world's earliest place of worship. Göbeklitepe is described as the birthplace of human civilization. How cool is that?! The historic temple is estimated to be 11,500 years old! That's around 2.5 times older than the pyramids in Egypt!
Located near the Eastern-Turkish city of Sanliurfa, Göbeklitepe is one of the more undiscovered Turkey highlights on this list. And although the ruins themselves aren't epic, the opportunity to learn about the oldest human settlement from ground zero is unforgettable. If part of the reason you want to explore Turkey is its role in ancient history, then make sure to make time for visiting Göbeklitepe.
View Sunset From Pamukkale's Cotton Castle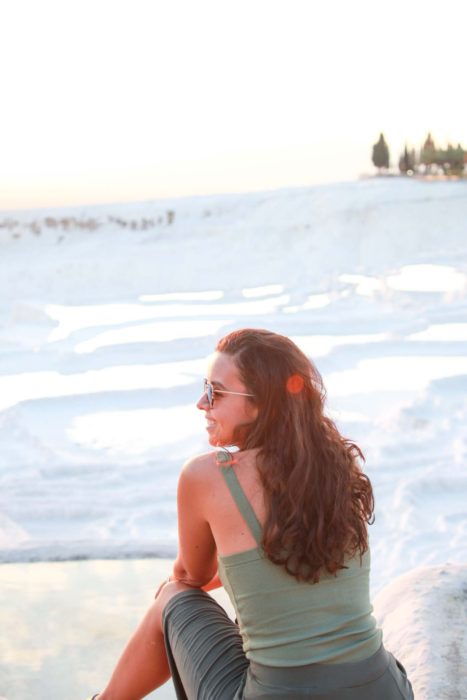 Price: 110 Lira per person ($11.30 US)
WOTW rating: 5/5
Pamukkale's Cotton Castle is a unique and stunningly beautiful natural wonder. With its white travertine cliffs that cascade down to form incredible aqua-marine pools, Pamukkale's landscape is unlike anywhere else. The downside is that it gets extremely busy. And depending on how you feel about crowds, your experience may be impacted by the massive crowds of selfie-stick wielding travelers.
But not to worry, many of the day-tripping tour groups start to leave around sunset time. Your patience will be rewarded with one of the best sunset views you are likely to experience in your life. Head down the walkway past to concession stands away from the entrance to the travertine cliffs, you'll find yourself a (somewhat) secret sunset spot where you can enjoy an unforgettable Pamukkale sunset.
WOTW Tip: its hard to exclude the Cotton Castle from a list of Turkey highlights, but besides for the epic sunset from our 'secret spot', we found the overall experience so-so. Check out our post about 37 things nobody tells you about visiting Pamukkale to find out why!
Be Amazed By Turkey's Turquoise Coast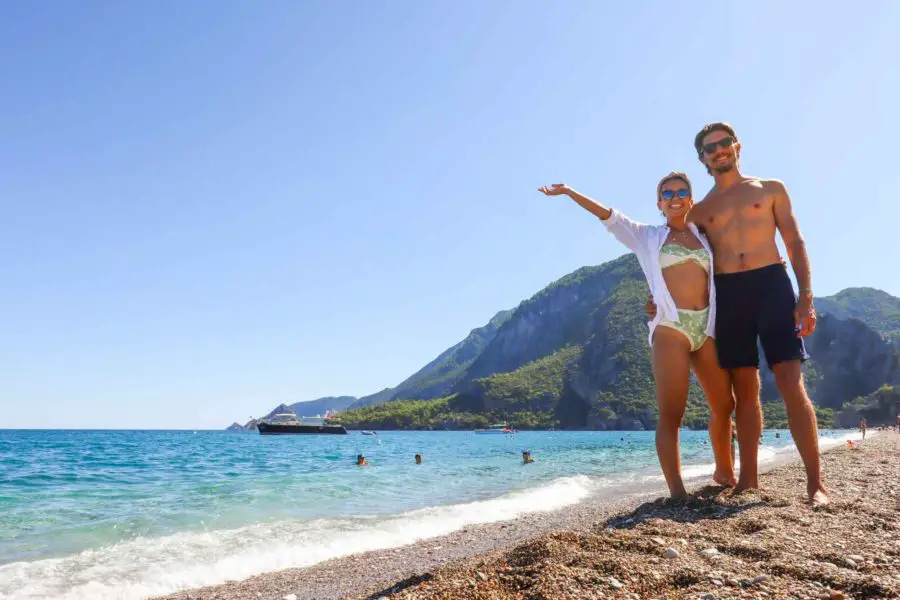 Price: N/A
WOTW rating: 5/5
Prepare to be amazed by this country's Turquoise Coast. Exploring Turkey's incredible Mediterranean coast is a highlight for any ocean lover. Get ready to experience rustic towns, crystal clear water, and beautiful beaches perfect for lazy days in the sun.
Adventurous travelers can find their own hidden coves and sandy beaches along the beautiful coast. All that's needed is your own transportation and a willingness to explore.
Discover Cappadocia's Magical Valleys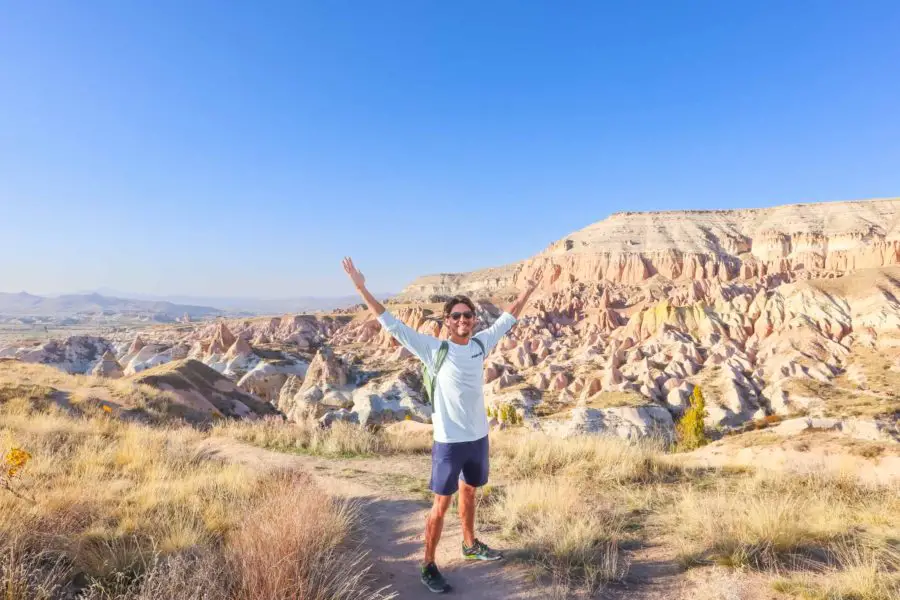 Price: generally free, though some valleys may ask a small fee to enter/park with a vehicle.
WOTW rating: 5/5
It's hard to put Cappadocia's surreal landscape into words. And there is no better way to experience the region's otherworldly beauty than by hiking through its valleys. Millions of years of erosion created some of the most unique landscapes you will ever see. Wandering around these valleys is an under-appreciated Turkey highlight.
With each step you take, you will enjoy beautiful views of the valleys while marveling at the ancient cave dwellings found all over Cappadocia. The famous fairy chimneys dot the landscape inside the area's beautiful valleys, and wandering around will make you feel like you are on a magical new planet.
Make sure to hike through Cappadocia's valley around sunset, when the sinking sun paints the valleys in an ever-changing display of pinks and reds. Trust us, you don't want to miss it!
Where to explore Cappadocia's magical valleys: Red Valley and Love Valley are two great hikes easily accessible from Cappadocia's main towns.
See Istanbul's Magnificent Mosques
Price: free to enter
WOTW rating: 5/5
While beautiful mosques can be found all over Turkey, nothing compares to the beauty and grandeur of Istanbul's most famous mosques. The Hagia Sophia, Sultanahmet (Blue Mosque), and Suleymaniye are three of the most magnificent mosques in town. Remnants of Istanbul's glory days as the capital city of the Byzantine and Ottoman Empires, these mosques feature stunning architecture, ornate interiors, and massive size.
Make sure to learn about the incredible history of these iconic mosques. While they certainly make for great pictures, understanding their role in Istanbul's complicated past will make your trip so much more rewarding!
Where to see many of Istanbul's most beautiful mosques: Istanbul's Fatih district is home to the incredible Hagia Sophia, Sultanahmet and Suleymaniye Mosques.
Save This Post For Later!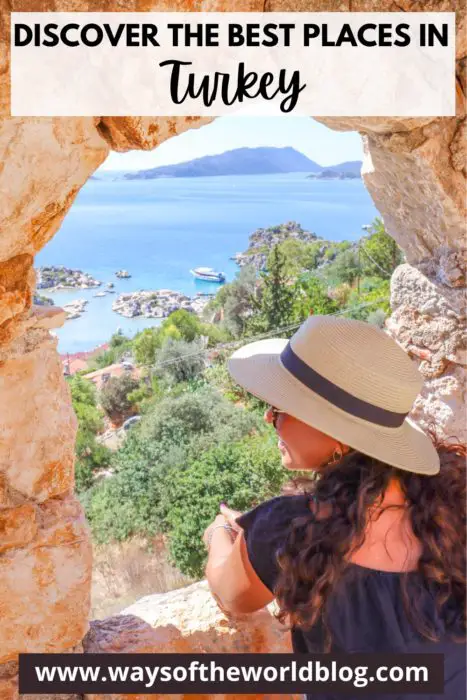 Best Cities To Visit While Exploring Turkey
Note: there are blog posts about all the incredible cities and regions mentioned in this section. Just follow the bolded link to discover more about the places in Turkey you want to visit! Or jump to our destinations page to see everything in one place.
Map Of The Best Cities To Visit In Turkey
Istanbul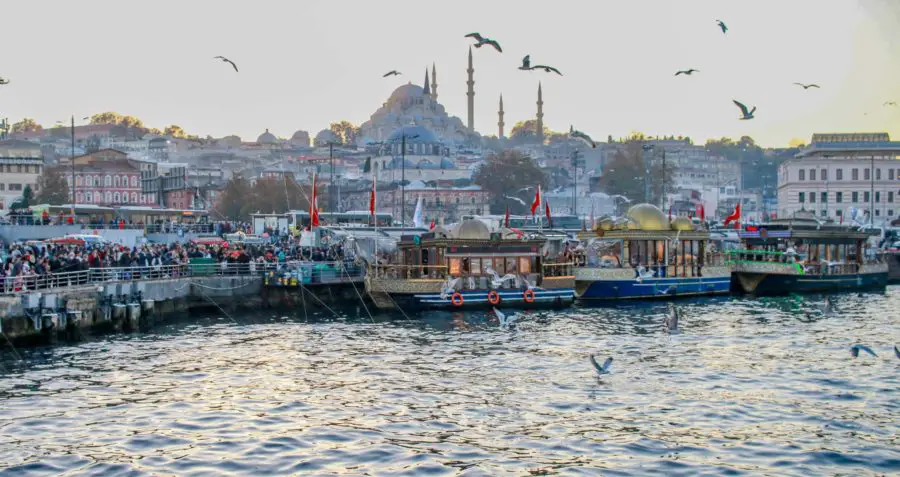 Istanbul has to be first on any list of best cities to visit in Turkey. This city on two continents offers so much to people lucky enough to explore it, and it exceeds expectations in every way. Exploring Istanbul's wonderful attractions is a must for people visiting Turkey.
Among Istanbul's famous landmarks are the iconic Hagia Sophia, Grand Bazaar, Golden Horn and Topkapi Palace. Some of these sites are directly out of a postcard, seemingly untouched by time.
Istanbul is grand, fascinating, hectic, delicious, and every other positive adjective you can think of. You'll never get tired of Istanbul's phenomenal foods, eclectic neighborhoods, epic sunsets, and constant stimulation. Whether you want luxurious or local experiences, trendy or traditional. We promise that Istanbul is everything you could ever dream of and more!
Konya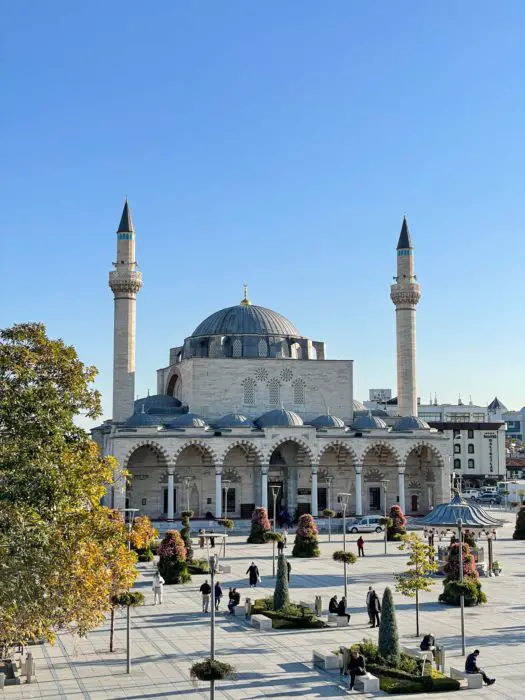 When we told people around Turkey that we spent a week in Konya, we were looked at like we were crazy. 'Why did you stay so long in such a boring place?' We could not have a more opposite perspective of visiting Konya.
Konya was easily one of the best cities we visited in Turkey. And it was the first place in Turkey where we got off the tourist trail and felt exposed to an entirely foreign culture. Konya is known as the most conservative city in Turkey. Spend time here, and you'll be sure to notice more traditional clothing and an incomprehensible amount of mosques.
We were fascinated by Konya's unique religious history, magnificent mosques, and delicious foods! But we were also surprised by how trendy and cool some areas felt. Konya is a city that defies all expectations!
Fethiye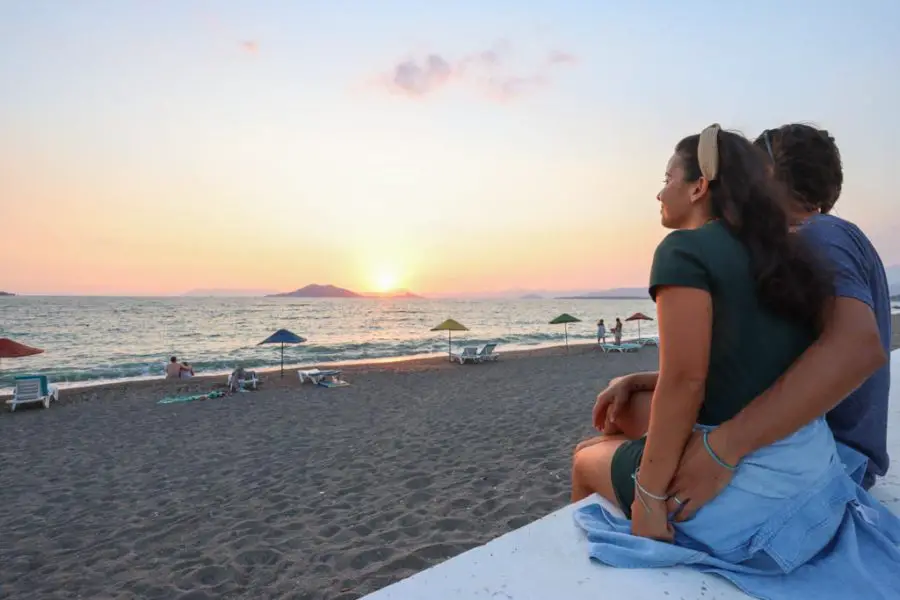 Fethiye was our first destination from our wonderful Turkey trip. It was a perfect welcome to a country that would completely steal our hearts. But while Fethiye would never get confused for being one of the best cities in Turkey for cultural immersion, it is a convenient place if you are seeking an action-packed beach vacation.
As one of Turkey's more popular tourist destinations, Fethiye has plenty of water-based activities and tours to keep visitors happy. But beyond island tours and water sports, the surrounding area is known for its beautiful beaches. There are also great day trips from Fethiye to Saklikent National Park and the ancient city of Tlos.
WOTW Tip: you will find pictures of heavenly beaches if you search Google images for Fethiye. But newsflash, most of those beaches are not in the city of Fethiye. Fethiye has an okay beach near the center of town, but most of the pictures are from neighboring Oludeniz.
Mardin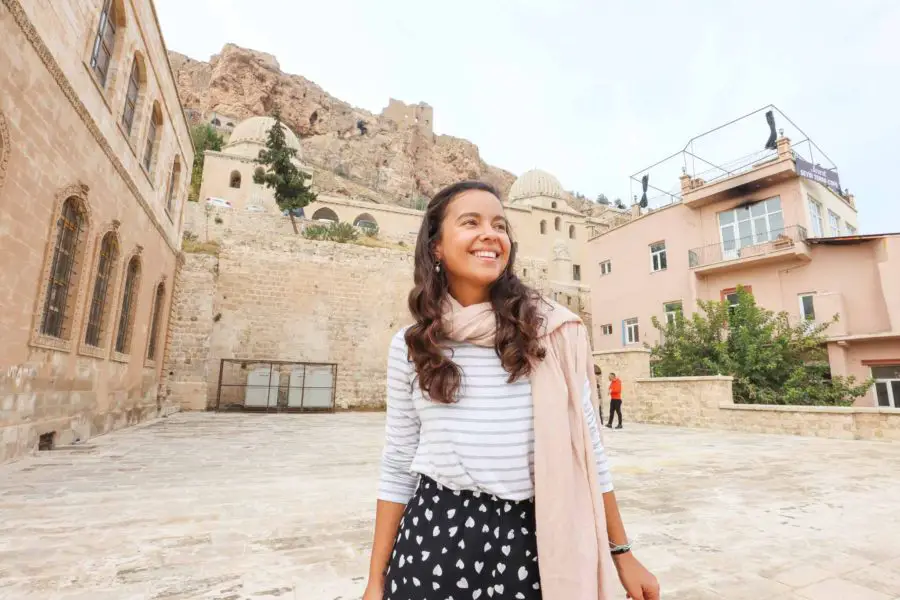 Mardin is a mountain-top city in Eastern Turkey relatively unknown to most people exploring Turkey. The picturesque ancient city is recognized for its gorgeous Assyrian architecture and its history of religious and cultural tolerance. Our favorite part of visiting Mardin was getting lost through the city's narrow alleyways.
Mardin is a great city to visit in Turkey due to the variety of sights combined with luxurious lodging and dining options. Because who doesn't love fine dining and luxurious hotels after exploring an area's cultural sites?
Cappadocia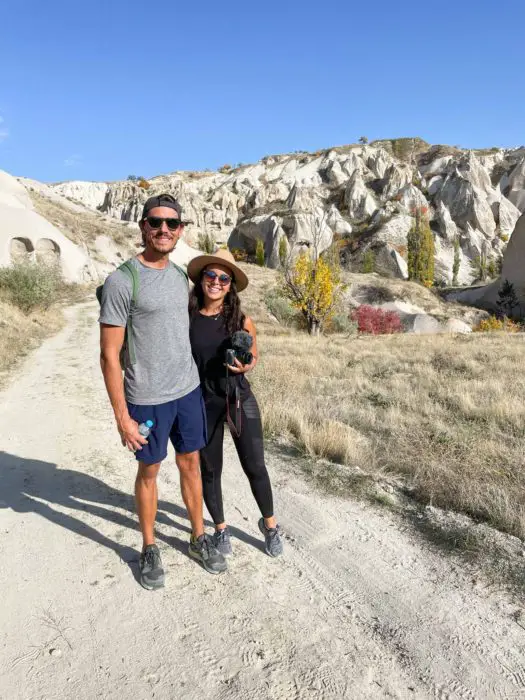 Okay, so technically Cappadocia is not a city. But the towns that make up what is frequently referred to as Cappadocia belong on any list of must-visit destinations in Turkey. Cappadocia is a dream. But not everyone knows that there are so many more fantastic experiences in Cappadocia beyond hot air balloon rides and cave hotels.
We think Cappadocia deserves a spot on Turkey's best cities thanks to its otherworldly landscapes, epic hiking, and rich history. Few places in Turkey offer such a diverse set of equally amazing attractions. You are guaranteed to have an unforgettable time exploring Cappadocia during your Turkey visit!
Curious to know more about one of the most famous destinations in all of Turkey? Make sure to read 21 Things You Need To Know Before Visiting Cappadocia!
Sanliurfa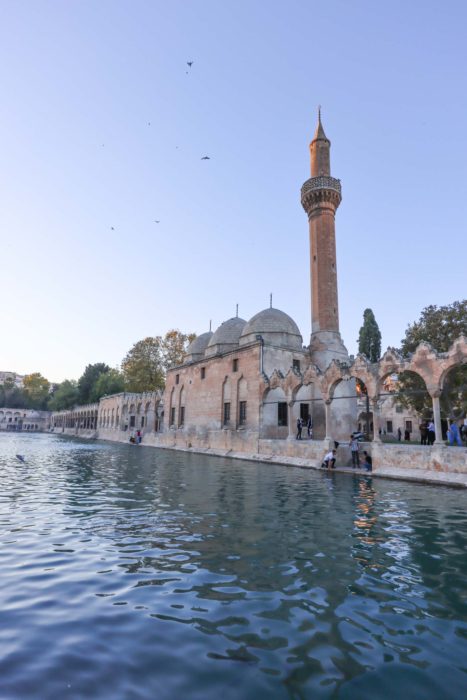 Known as the city of prophets, most people visit Sanliurfa Turkey for its large number of religiously and historically significant sites. It is home to several significant sites related to the prophets Abraham and Job. These fascinating attractions draw in thousands as a popular pilgrimage destination for Christians, Jews, and especially Muslims.
Being situated in eastern Turkey also gives Sanliurfa a more Middle Eastern feel than many of the country's coastal areas. Imagine hectic local markets, energetic streets, and beautiful stone architecture.
Don't miss adding Sanliurfa to your list of cities to visit in Turkey if you are a fan of religious history! You can get a sneak peak of what it's like by watching our video from Sanliurfa.
WOTW Tip: Sanliurfa can become pretty lively at night. Many visitors come to Sanliurfa for its Sira Nights, which are high-energy performances of traditional music. Sometimes hotels host these events in their courtyards (like ours did). The results can be highly unpleasant for people trying to sleep.
Exploring Off The Beaten path Turkey
This section is dedicated to our favorite Turkey hidden gems. Exploring these places was a highlight of our travels through Turkey. We would also describe previously mentioned cities like Konya, Sanliurfa and Mardin as off-the-beaten-path destinations.
Map Of Off The Beaten Path Destinations In Turkey
Kas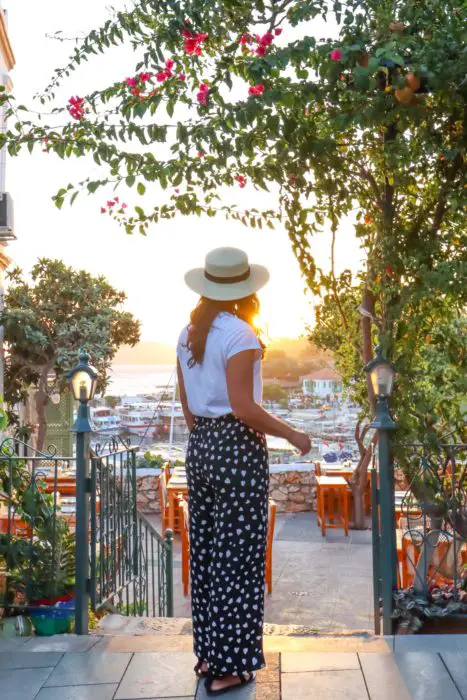 While it may not stay off-the-beaten-path for long, Kas is still unknown to most people interested in exploring Turkey. This little beach town is a 2-hour drive from major airports, making it just too far for most people visiting for a beach vacation. But you will be rewarded by putting in a little extra effort to discover this piece of Turkish paradise.
Kas has no major hotel chains and zero kitschy beach-town vibes. What it does have is gorgeous beaches, crystal clear water, epic day-trip opportunities, a great bohemian atmosphere, and terrific nightlife. Kas is so cool it's pronounced 'Cash.'
Kas was one of the most unforgettable places we visited in Turkey!
Amasra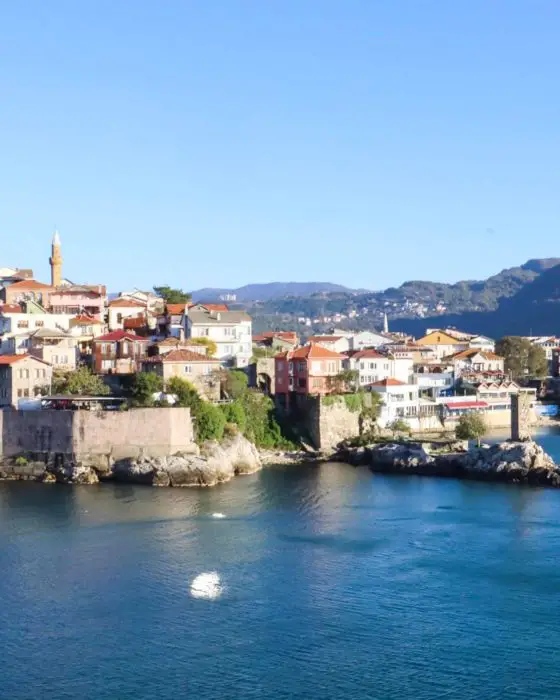 Located on the Black Sea coast in the Bartin province lies the town of Amasra, one of Turkey's hidden treasures. The small fishing village is popular with locals from nearby cities when they want to escape Turkey's hectic urban life for something a little more peaceful.
Amasra is tiny! And besides for having drinks along the water and exploring Amasra's quirky streets, there isn't a ton to do. Which makes it a perfect off-the-beaten-path destination for those that want to recharge in a postcard-worthy little town.
Avanos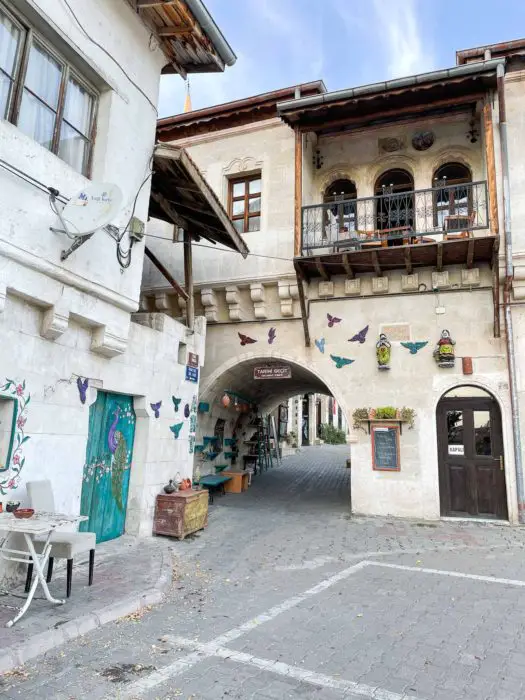 Staying in Avanos while visiting the Cappadocia area was one of the best travel decisions we ever made. We read that Avanos felt more local than the more famous towns around Cappadocia, which was 100% true. We made lasting friends while visiting Avanos and had the most unforgettable moments of our Turkey visit.
Cappadocia's main town of Göreme is super hectic because of the massive number of visitors it receives. Consider visiting Avanos if you are looking for a more local experience while exploring Turkey. This is a place we will definitely be returning to.
Bonus points for Avanos' wine bars 🙂
Interested in Receiving More Useful Travel Posts From Our Next Destinations? Sign Up To Receive Our Weekly Email!
Uzungöl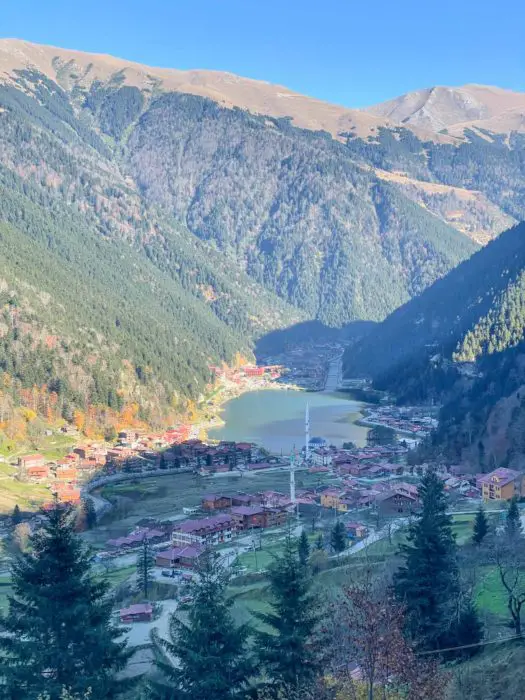 WOTW rating: 4/5 (though depends on the season you visit)
Location: Uzungöl, Turkey.
Uzungöl is a lovely little lake town tucked away in the Trabzon region's mountains. This town's setting is absolutely stunning, and one can easily spend the day strolling around the lake and taking in the views with a nice warm glass of Turkish tea.
We visited Uzungöl in November when the town was quiet, and many attractions were closed. But we loved having the place nearly to ourselves to just enjoy the serene setting. This remote area is wonderful for enjoying the peaceful surroundings and beautiful views from mountainside restaurants. And even explore some of the region's lesser-known yaylas!
WOTW Tip: Uzungöl is not off-the-beaten-path for everyone. It is very popular with Saudi Arabian travelers. And because of differing travel styles, the attractions in the town would likely come across as kitschy to western travelers.
Rize Province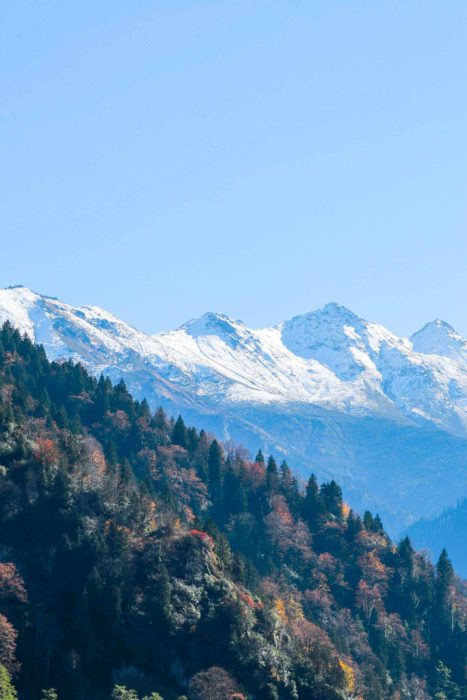 Tucked away in northeast Turkey lies one of the country's most beautiful places to visit. Local people's eyes lit up when we told them we were headed to Rize province. Rize is known for its pristine natural beauty. Think stunning snow-capped mountains, whitewater rivers, lush alpine meadows, and dense pine forests. Rize is an outdoors lover's dream!
Exploring Rize, Turkey is for those seeking adventure. And while the Çamlihemşin region within Rize is starting to gain recognition among travelers, this area is still prime for those looking for off-the-beaten-path experiences. And we understand why. It was one of our favorite places to visit in Turkey!
Other Cities To Visit While Exploring Turkey
Believe it or not, three months is not enough to see everything in Turkey. We had to save something for the next time we visit one of our absolute favorite countries! Here's our list of other cities we hope to visit when we explore Turkey again.
Izmir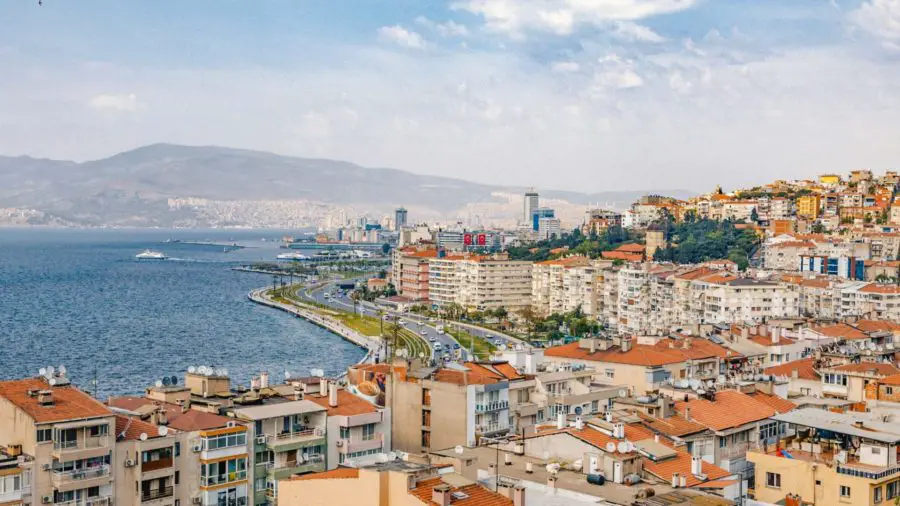 Izmir is a complete package of urban appeal, coastal living, and accessibility to some of Turkey's most popular attractions. Most people visiting Izmir come to explore the famous ancient-Greek ruins at Ephesus. But the city itself also has a rich cultural heritage, and travelers will discover bustling bazaars, lively squares, and beautiful mosques.
Izmir is often generally referred to as the area's beautiful coastal area, but many visitors actually spend their time in popular beach towns like Alaçatı and Çeşme. Nevertheless, the city of Izmir is still a great place to explore, with the added bonus of being well-situated to a diverse number of sites.
Bursa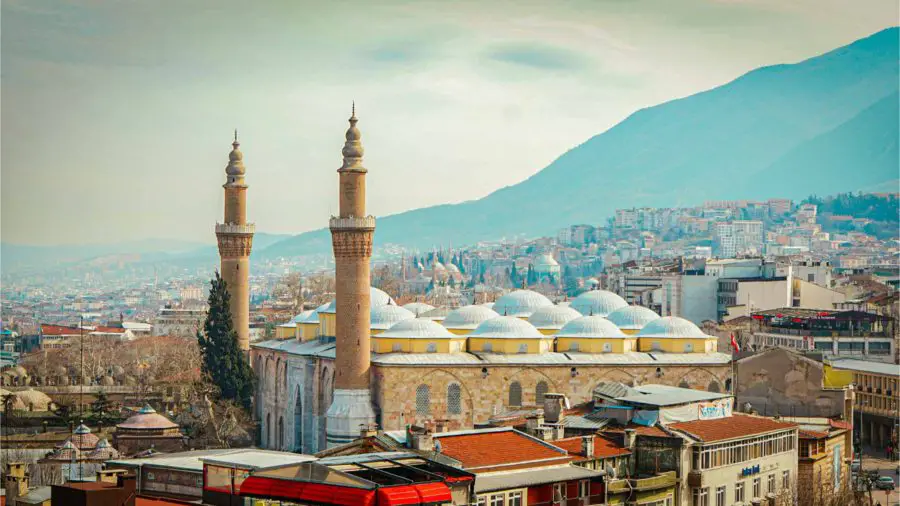 Along with Izmir, Bursa is the other major city we feel we missed out on while exploring Turkey. Located near Istanbul in northwestern Turkey, Bursa was the original capital of the Ottoman Empire. Today people visiting Bursa will find unique historical sites and modern neighborhoods to explore.
Bursa is a beautiful city, and it's known as the gateway to many of Turkey's most famous attractions. It has an old and new town, great markets, breathtaking mosques and palaces, and a lot more. This place is definitely worth visiting for any tourist!
Antalya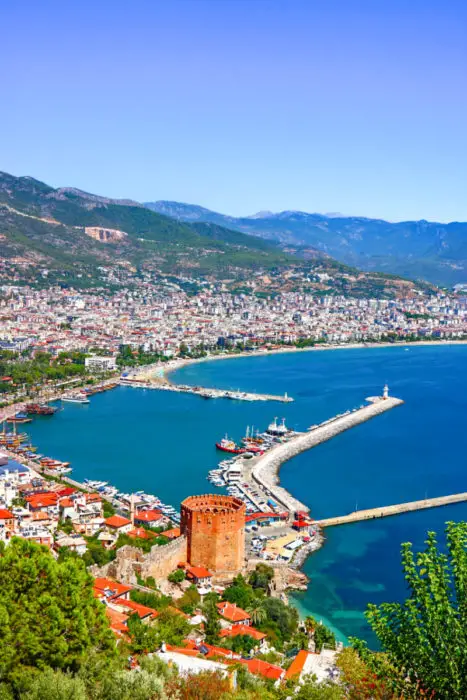 Located on Turkey's Mediterranean coast, Antalya strikes a balance between urban center, beach town, and historical destination. Want to have access to everything from one convenient spot? Then Antalya might be for you!
Some swear by Antalya's appeal due to its mix of coastal vibes with urban sensibilities. Other people dismiss it as just another city that should be used as a gateway to Turkey's better-kept secrets. While both perspectives are valid, it depends on what you are looking for at the end of the day!
Ankara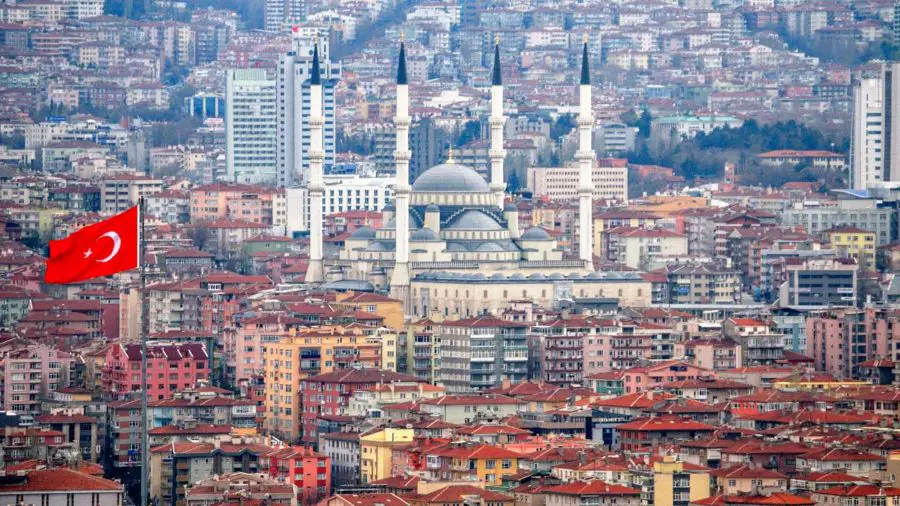 Ankara was originally part of our Turkey itinerary. However, some local feedback made us reconsider our plans. We ultimately decided to just slow down to spend more time in other destinations.
That's not to say we wouldn't love to one day visit Turkey's capital city. But in the grand scheme of things, Ankara offers travelers fewer attractions than Turkey's other popular places to visit.
As Turkey's second-largest city and political hub, Ankara is modern and developed. And passing through we noticed newly-built shopping centers, theme parks, and sparkling apartment complexes. Ankara is great for people who want to experience a bustling city without tourists!
Final Thoughts About Exploring Turkey
It's easy to fall in love with Turkey's beautiful places and friendly people. We could not recommend visiting this incredible country enough. Even after spending 3 months there, we know that we will be back to keep exploring Turkey.
We are beyond grateful for the genuine hospitality and friendship. There is no way we could have imagined a better start to our life of full-time travel. Thanks, Turkey!
We hope this list has helped you decide which cities and activities to experience during your own Turkey adventures. Have fun!
Thanks for reading!
G
Are you ready to buy that plane ticket to Turkey? Have any questions about exploring Turkey? Reach out in the comments or DM us on Instagram!
Ready to plan your trip to Turkey? Read these posts next:
---
Tired of reading? We have an entire Turkey Travel Series on YouTube! Don't forget to subscribe while you're there to follow along with with the adventures 🙂
---
Was This Turkey Guide Helpful? Share it on Pinterest!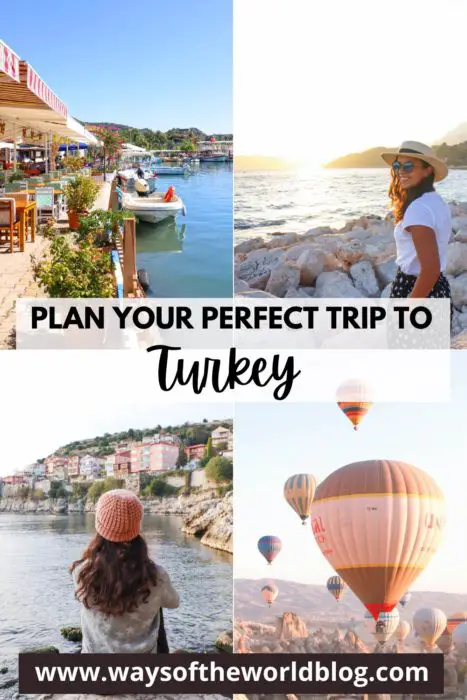 *Note: this post contains affiliate links. We receive a small commission when you purchase from these links, at no extra charge to you. Affiliate income helps keep us on the road creating content that we hope is useful to you!