Sometimes your travels call for something just a bit more stylish. Who are we kidding? We all like to enjoy the finer things in life from time to time. Kas (pronounced Cash) is a beautiful little town nestled along Turkey's turquoise coast. Compared to other beach destinations in the area, Kas offers visitors a more sophisticated but still laid-back experience. This bohemian gem is a perfect base for your travels – there are so many incredible things to do in Kas, Turkey!
We had the luxury of spending almost a month exploring Turkey's southwest coast while slow-traveling Turkey. And to be perfectly honest, some popular beach destinations leave a bit to be desired (I'm talking about you, Oludeniz!). But Kas is the complete Turkish-Riviera package. Its beautiful whitewashed buildings, hanging bougainvilleas, and gorgeous beaches help you slide effortlessly into vacation mode.
Are you interested to find out more about our favorite beach town in all of Turkey? Keep reading to discover all the incredible things to do in Kas! From unforgettable day trips to epic Kas beaches, we share everything you need to make the most of your holiday in Kas. And even though we fell blindly in love with this place, I promise that this is an unbiased Kas guide!
Transparency is key on this blog 🙂
This post was updated in June 2023.
Estimated reading time: 34 minutes
Note: this post contains affiliate links. We receive a small commission at no extra cost to you if you purchase from these links. Thank you so much for supporting Ways of the World!
Keep Reading To Discover All The Amazing Things to Do in Kas, Turkey!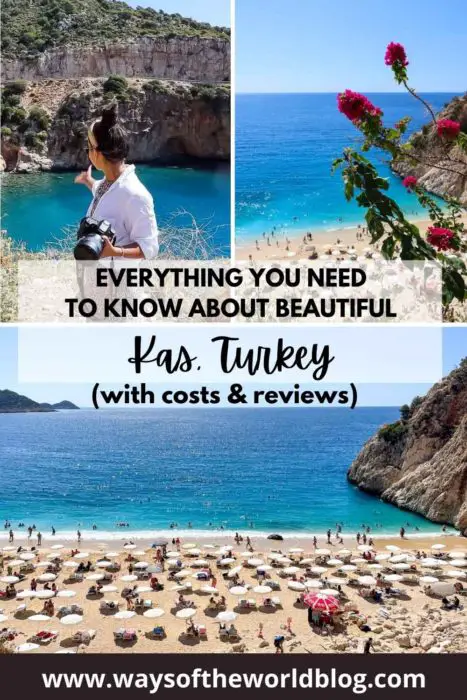 Your Ultimate Guide To Visiting Kas: What To Know Before You Go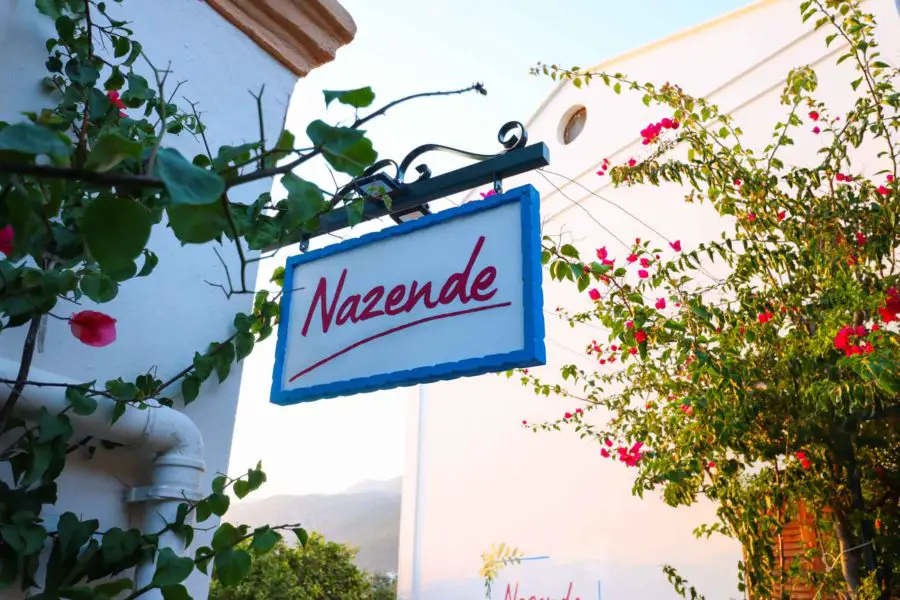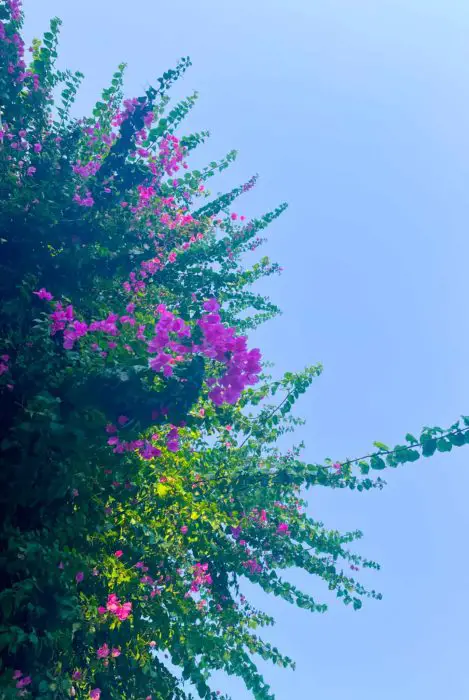 We spent about two hours in Kas before extending our stay for an extra week! There was an immediate sense of relaxation and bliss when we first stepped foot into this beautiful town. Hell, we almost stopped our plans of full-time traveling to move here! Okay, not really – but it was definitely love at first sight.
We enjoyed our time here so much that we think Kas should DEFINITELY be on your Turkey-travel radar. Keep reading to discover why Kas is a must-visit destination on Turkey's turquoise coast!
How To Get To Kas, Turkey?
Kas is located in Turkey's Antalya region in the southwest part of the country. Like most places in Turkey, a great bus system and convenient domestic airports make getting to Kas a breeze.
Getting To Kas By Plane:
To get to Kas you can fly into Dalaman Airport or Antalya Airport. Both airports are about the same distance from town. You will need to transfer to the local bus station in whichever city you arrive to arrange your trip to Kas.
Getting To Kas By Bus:
Turkey has an excellent bus system. And considering the significant distance from Kas to any major airport, it is very likely you will be taking a bus into town. No matter where you are departing from in Turkey, you can get to Kas with a maximum of one transfer.
Bus from Dalaman to Kas: 3 hours
Bus from Istanbul to Kas: 16 hours
Bus from Antalya to Kas: 4.5 hours (in a small local bus called a dolmus)
Bus from Fethiye to Kas: 2.5 hours
---
PS: we arrived to Kas by bus from Fethiye. Watch that travel-day video here if you are curious about bus travel in Turkey.
---
WOTW Tip: you can also check bus routes and prices online at Obilet.com.
How Many Days You Need in Kas?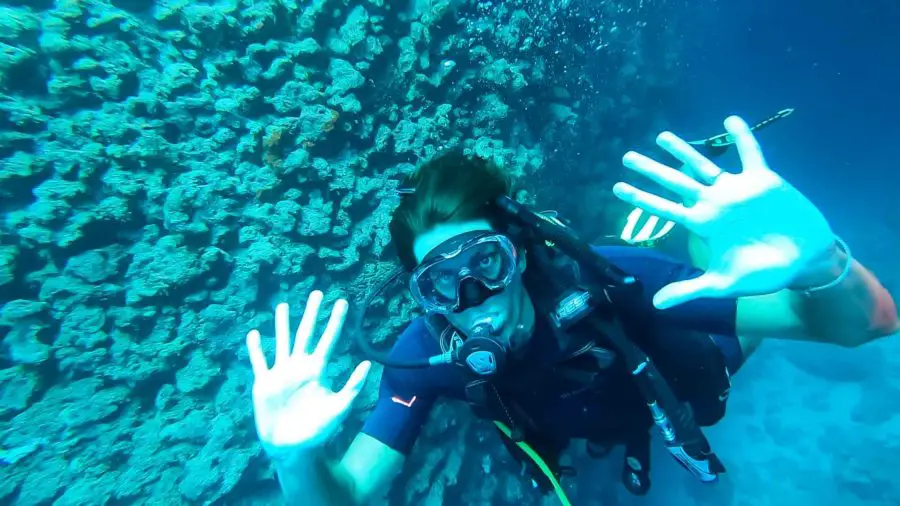 The answer to this question depends on what type of vacation you are going for. Let us break it down for you like this:
Beach vacation: 10-14 days. We found Kas such a comfortable place for a long stay. There are plenty of activities in the area to keep you busy for two weeks (as indicated by our list of 30 things to do in Kas!). And it is also a decent base for some nice day trips in the area.
Broader Turkey vacation: 3-5 days is enough to enjoy the main sights and nightlife before moving on with tears in your eyes.
Should You Spend Your Turkish Beach Holidays in Kas?
Our experience is that many of Turkey's beach destinations transform themselves to cater to a particular type of tourist. But not Kas!
Even though it definitely gets busy, Kas doesn't change who it is to cater to international visitors. Instead, it invites everyone to enjoy its own unique personality. And it's so damn charming, how could you not be smitten?!?
So if it wasn't already clear, you should definitely spend your Turkish beach holidays in Kas!
---
Not sure if Kas is your kind of place? Discover if Kas, Fethiye or Oludeniz is the right beach destination for you!
---
Can't wait to see what Kas, Turkey is like? Check out our vlog about the famous Kaptuaş Beach, Kas market and Kas at night!
Honest Reviews Of The Best Things To Do In Kas, Turkey
After spending two weeks in town, we experienced much of the great and not so great things to do in Kas. Let our detailed list of activities in Kas guide you to your own perfect beach vacation.
We want YOU to spend your valuable time off in the best way possible, so we'll always let you know our honest thoughts about a location or activity,
1. Head To Kaputas Plaji: The Most Famous Kas Beach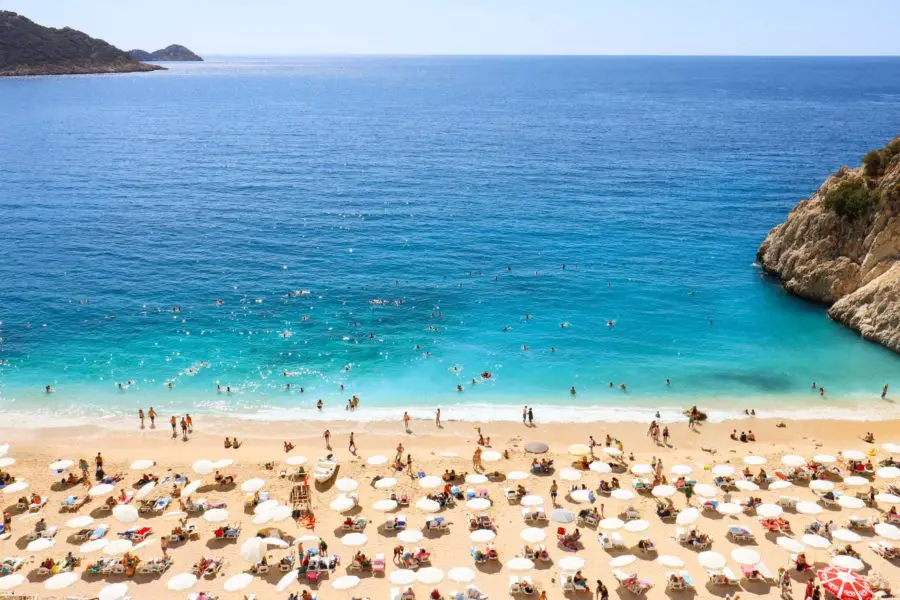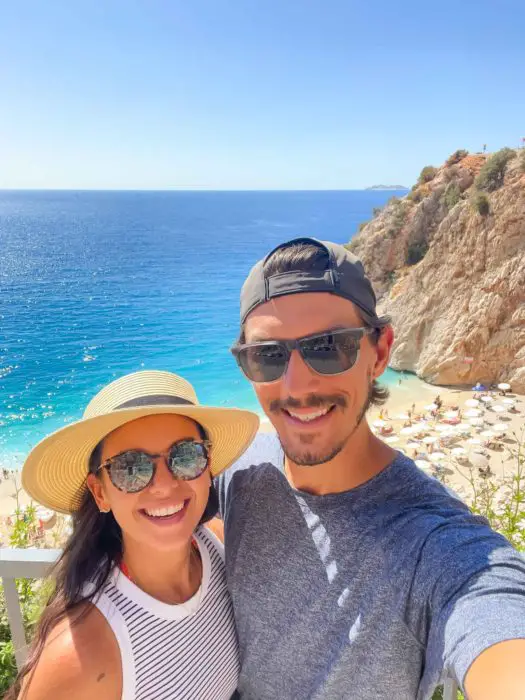 Price: free to enter. Sun-beds & umbrellas 75 Lira each ($3.20 US). Local bus is 20 Lira ($0.85 p/p) one way.
Hours: local buses leave about every 30-40 minutes during the summer months. You can confirm the schedule at the bus station.
Time needed: about a 20 minute drive.
Ways of the World (WOTW) rating: 4/5
Kaputas beach is now THE cool beach in Turkey – Oludeniz and the Blue Lagoon are so 2020. It is a gorgeous spot, but Kaputas also gets packed because it's the trendy beach around town (can beaches be trendy?).
I personally liked the Kas beaches closer to town just fine, and didn't think Kaputas was a major upgrade. Aimara really loved Kaputas, so this might be one of those things to do in Kas that depends on personal preference.
WOTW Tip #1: there are showers and a large sit-down restaurant next to the beach.

WOTW Tip #2: you can drive to Kaputas beach, but be aware that parking is a bit of an adventure. People just park along the side of the main road. And because of Kaputas' popularity, you might have to park very far from the beach.
2. Visit The Amazing Kas Beaches Around Town
Price: public beaches are free to enter and enjoy; sun-beds and umbrellas are 50 Lira ($2.10 US) each, at Kas Municipal beach.
Hours: N/A
Time needed: walking from the center of town to public Kas beaches takes about 20-30 minutes.
WOTW rating: 3.5/5
Visiting Kas beaches is a must. Otherwise, why are you even planning on visiting the Turkish coast? Even though there are only a couple of public beaches easily accessible from the center of Kas, they are worth a visit. While Kaputas and Big Pebble beach get more attention, the city's public beaches are still great options if you want to conveniently walk to a beach.
The public beaches located on the peninsula are İnceboğaz Çınar and Kas Belediyesi beach (Kas municipal beach). We went to the former, and even though there are no amenities, we found it a nice place to spend a couple hours. The Kas Municipal beach is bigger and has more amenities available.
3. Watch The Sunset From Big Pebble Beach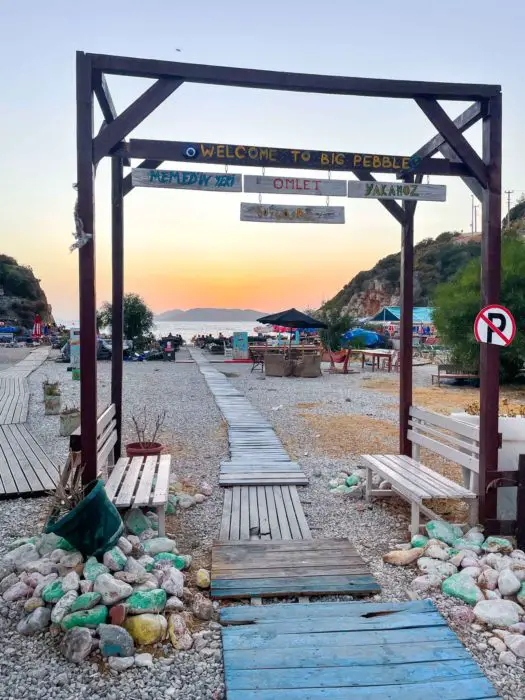 Price: free. But if you use the loungers you are expected to purchase something from the restaurant that own the loungers.
Hours: make a mental note of sunset time. Once it sets, it doesn't happen again until the next day :/
Time needed: 2 hours (depending on how many cocktails you drink).
WOTW rating: 4/5
Big Pebble is a narrow beach where you can catch great views of the sun setting behind the mountains. The beach consists of big pebbles (crazy, right?), so it's not the best place to lay down a towel. But grab a lounge chair, order a couple drinks, and all of a sudden you have yourself a nice little set-up for watching the sun go down.
Big Pebble has several bars and restaurants at the beach where you can grab food and drinks while soaking in the beautiful setting.
WOTW Tip: it is possible to walk to Big Pebble beach from Kas, but you will be walking on the side of a road with no sidewalks. It seemed a bit sketchy, especially after sunset. There was a 'fixed' fee of 25 Lira (around $2.60 using 2021 exchange rates) to take a taxi from Kas' marina to the beach. They are overcharging, but it's also not expensive. To return to Kas, just wait along the street for the local bus (dolmus). Don't worry, it will be there soon.
---
Planning on visiting some of Turkey's other popular destinations? Don't forget to check out our posts about the perfect Istanbul itinerary, Pamukkale beyond just the cotton castle, and Cappadocia's best attractions.
---
4. Stroll Through Kas' Cobblestoned Streets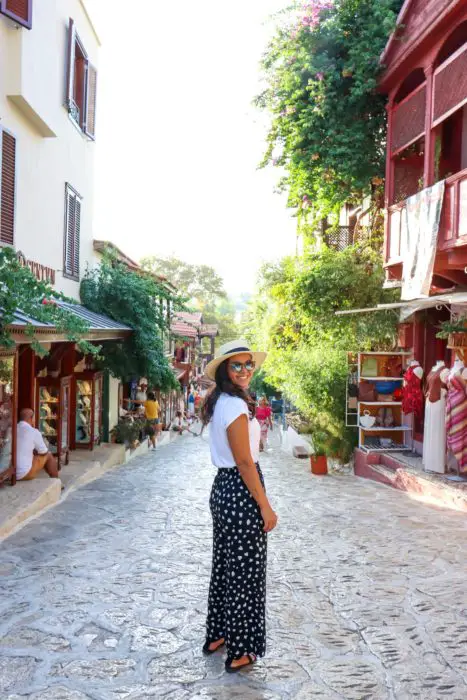 Price: N/A
Hours: shops start to open around 9 am, and the energy picks up between 11 am through late into the evening.
Time needed: you can easily walk through Kas' core in about an hour. But sit down, grab a coffee, and just people watch. Remember you are on vacation.
WOTW rating: 4/5
Kas is famous for its adorable aesthetic, independent shops, and laid-back atmosphere. You will find many photo opportunities of the beautiful whitewashed buildings and hanging bougainvilleas while walking around the small downtown area. If you are a shopper or enthusiastic browsers (like us), you're going to love the many galleries and independent clothing shops.
Curious to see more this beautiful town? Click to watch our video exploring some of the most popular things to do in Kas!
Loving These Incredible Things To Do in Kas? Don't Forget To Pin!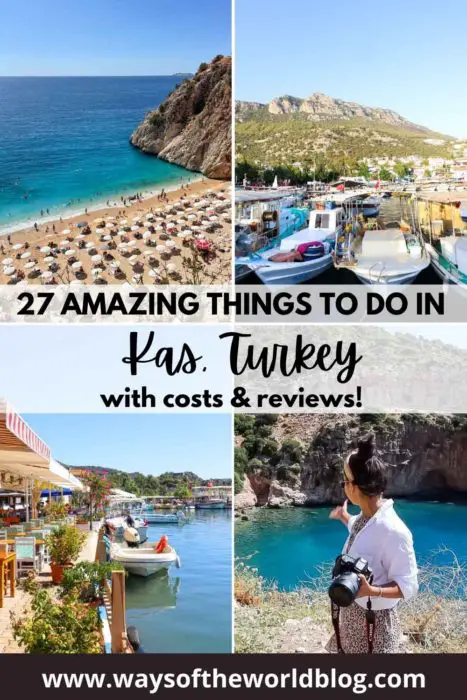 5. Enjoy Kas' Incredible Restaurants And Cocktail Bars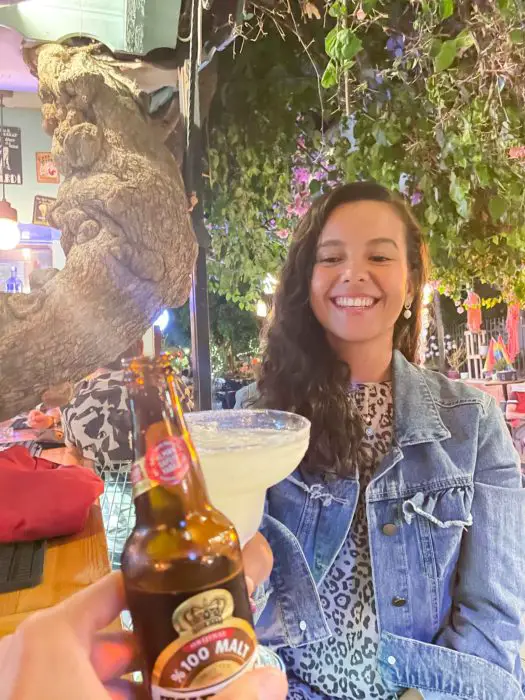 Price: craft cocktails can cost around $12 US! Food prices are reasonable, though more expensive than the rest of Turkey.
Hours: dinner here starts around 7 pm or 8 pm. Bars close between 12 am – 2 am.
Time needed: I'm not your mom, party as late as you want.
WOTW rating: 5/5
Enjoying the nightlife is conveniently one of the best things to do in Kas, Turkey. Who doesn't want to add a fun night out to their itinerary?
---
Don't have anyone to enjoy Kas' nightlife with? Take a look at this highly-rated and locally curated bar-hoping tour of the town's best after-dark venues!
---
I'm sure you will see some restaurants that you just have to try during your first couple of hours in Kas. We really liked the vibe in the area around the 'Kings Tomb.'
6. End The Night In A Cozy Patio Listening To Live Music
Price: some spots have a small entrance fee of around 50 Lira ($2.15 US).
Hours: live music starts between 9 pm & 11 pm, and ends between 12 am – 2 am (depending on the venue).
Time needed: N/A
WOTW rating: 4/5
We listened to some great live music as a nightcap to our Friday evening in Kas. It was awesome to see locals and visitors enjoying the music and energy from the artists. The only reason this isn't a 5/5 is because it seems like these types of venues are always understaffed, and it takes so long to get drinks! Some spots with live music include:
Pell's Kas: a Kas guide is incomplete unless it includes Pell's. We spent our Friday night here listening to a duo singing blues and jazz. These dudes had serious talent, and they were having so much fun jamming on their saxophone and harmonicas.
HiJazz: the most famous spot for live music. It's located in a small strip of live-music places, so you can pick your favorite. Note that they don't always play jazz!
Echo Bar: another iconic live-music spot in a cool stone building.
7. Visit The Ancient Antiphellos Theatre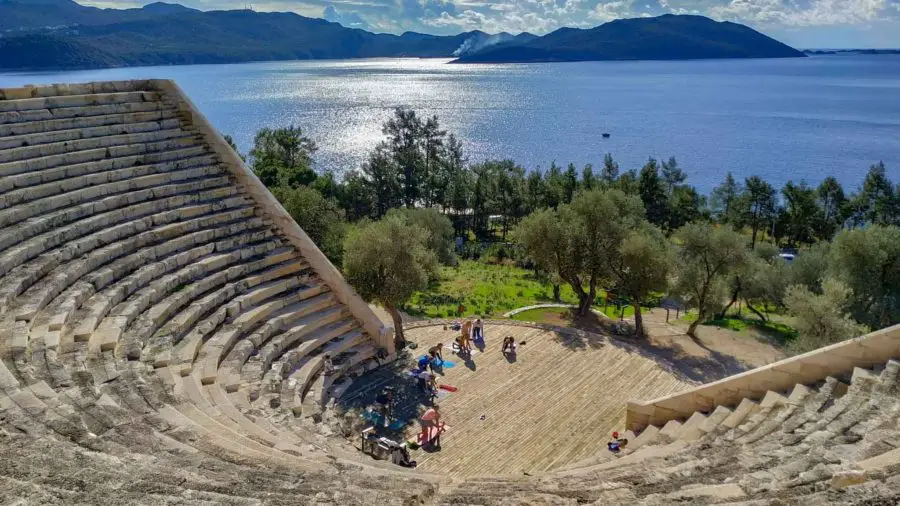 Price: N/A
Hours: 24/7
Time needed: 30 minutes is plenty to walk around and take photos.
WOTW rating: 3/5
Antiphellos is an ancient Greek theatre that is easily walkable from the center of Kas. Even though the theatre is nice, this barely makes it into our list of things to do in Kas because we literally spent only 20 minutes there. But, it is a thing to do, and it is easy to reach. So file this under 'why not?'
WOTW Tip: if you have the option, try to visit during a weekday. The Antiphellos Theatre seems to be a popular drinking spot during the weekends. There were tons of beer bottles and cans lying around when we visited on a Saturday morning, which made it lose some appeal.
8. Step Into Kas' Famous Art Galleries
Price: N/A
Hours: most shops will open around 9 am.
Time needed: N/A
WOTW rating: 4/5
Part of Kas' bohemian vibe can be attributed to the many artists that call this town 'home'. You will find handmade ceramics, artistic photographs, paintings and prints made by local artists. If you step inside these shops, be prepared to want to redecorate your entire home. Aimara has already made me promise that we will come back to Turkey to get our ceramics here when we finally have a home.
9. Hike The Lycian Way Trail To A Medieval Castle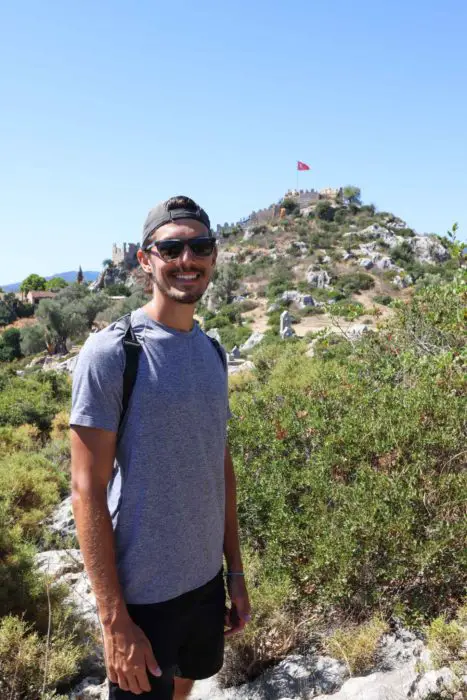 Price: free! You might need to pay for parking if you are walking the longer part of the trail.
Hours: 24/7 – but a nighttime hike seems risky for the ankles.
Time needed: 30 – 60 minutes for the hike; about an hour drive time from Kas to the area.
WOTW rating: 4/5
As for as hikes go, the one we made just barely fits the definition. But it was beautiful! We started at the bottom of a small hill and headed up towards Simena Castle. Once you get to the top, there are a number of old Lycian tombs to explore, along with incredible views of the sea between Simena and Kekova.
WOTW Tip: you can start the walk/hike from the town of Uçagiz. Most of the walk from Uçagiz is over a road paved with bricks. There are beautiful views along the way, so if you have enough time to walk to Simena, then it could be worth it. If you do hike from Uçagiz, note that there are no taxis back from Simena because there are no cars in town. So your walk will need to be both ways.
10. Visit Simena Castle For The Best Views In Turkey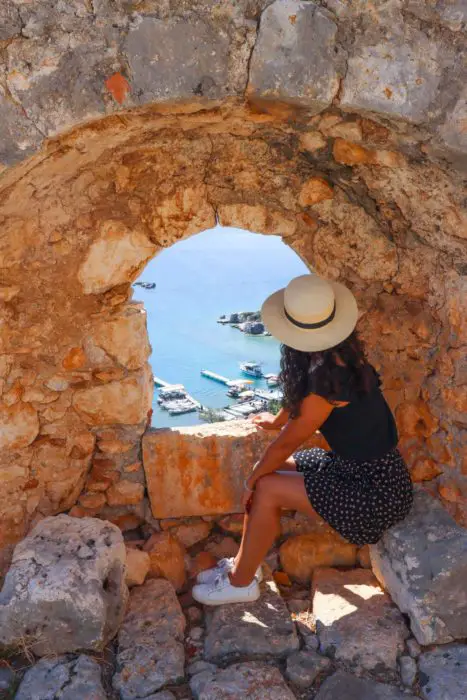 Price: 75 Lira ($3.20 US), p/p.
Hours: 10 am-7 pm
Time needed: 1 hour
WOTW rating: 5/5
Simena Castle can't be missed if you are visiting the town of Simena (Kalekoy). The castle is small, and the site doesn't offer a ton of historical context. But realistically, educating yourself on Simena Castle's history isn't the reason you're visiting. Visitors go for the AMAZING views! Seeing the stunning little islands dot the coast from up here is spectacular.
Don't forget to watch our vlog exploring Simena! It was one of our favorite day trips from our 3 months traveling through Turkey.
11. Spend The Day – Or A Couple Of Nights – In Simena (Kalekoy)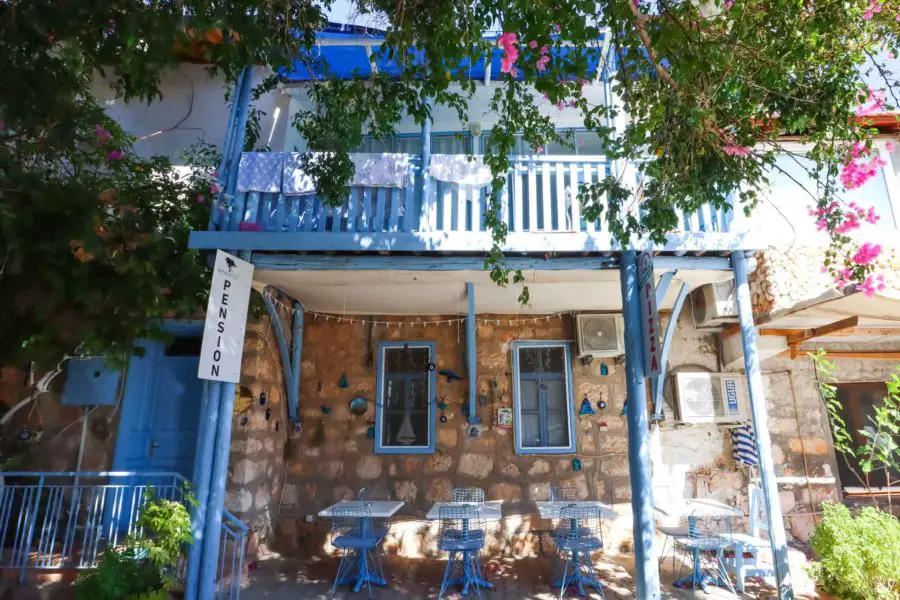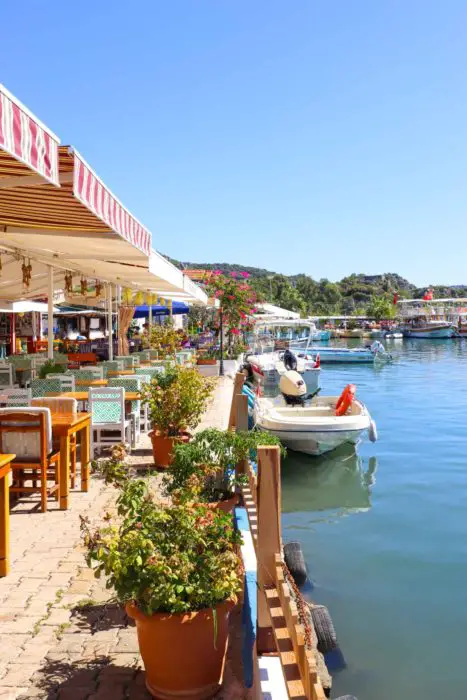 Price: you can visit the town for free. Lodging is more expensive because of the limited supply in the small town. You can expect to pay $70-140 US per night at a local bed & breakfast.
Hours: N/A
Time needed: Simena is tiny. Exploring the entire the town can be done in less than an hour.
WOTW rating: 5/5
Simena (also known as Kalekoy) was the one that got away. After spending an afternoon in this sleepy town, we immediately wished we had booked a couple of nights there. There are no cars in Simena. Not because they aren't allowed, but they can't even fit on the narrow paths that cross the little town. For us, waking up in a peaceful village like this, with gorgeous views of the sea, would have been paradise.
Simena is great for everything that it doesn't have. You can probably count the number of hotels and restaurants on two hands, and you will know your way around town within 30 minutes. When you start prioritizing your list of things to do in Kas, definitely include Kalekoy high on that list.
WOTW Tip #1: if driving to Simena, the best place to park your car is likely below the castle on the other side of the cliff that Simena sits on. From Ucagiz, Google Maps will take you as far as you can go. It is just a muddy lot, but it seems perfectly safe (like everywhere in Turkey!). Alternatively, you can park for a fee in Ucagiz and take a boat, or arrange a boat transfer from Kas.

WOTW Tip #2: The lovely people of Ucagiz charge hourly for using their lots, but prices are always negotiable in Turkey.

WOTW Tip #3: try the goat milk ice cream!!! You will thank me later.
12. Grab Lunch On the Water In Simena (Kalekoy)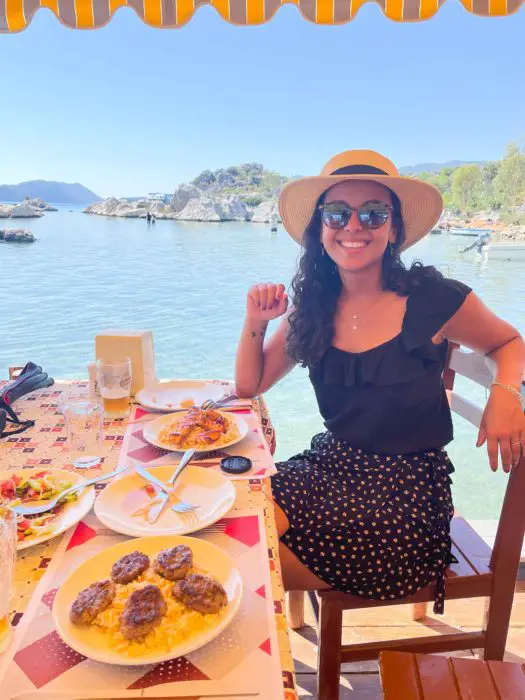 Price: standard Turkish prices for casual dining (about 30-60 Lira per dish).
Hours: restaurants open around 8 or 9 am.
Time needed: 1-3 hours
WOTW rating: 5/5
I somehow felt transported to the Florida Keys while enjoying lunch over the calm turquoise water (minus the country music and rum runners). It was so peaceful taking in the beautiful views of Kekova island and watching the little pufferfish below. Being there was one of those simple pleasures of life that made us feel like we were actually on vacation!
WOTW Tip: there are no ATMs in town, and restaurants don't accept credit card payments (only Turkish cards), so make sure to bring enough cash.
Sign-up To Our Newsletter to Discover Your Next Dream Vacation!
13. Snorkel Or Kayak In Simena From Your Lunch Spot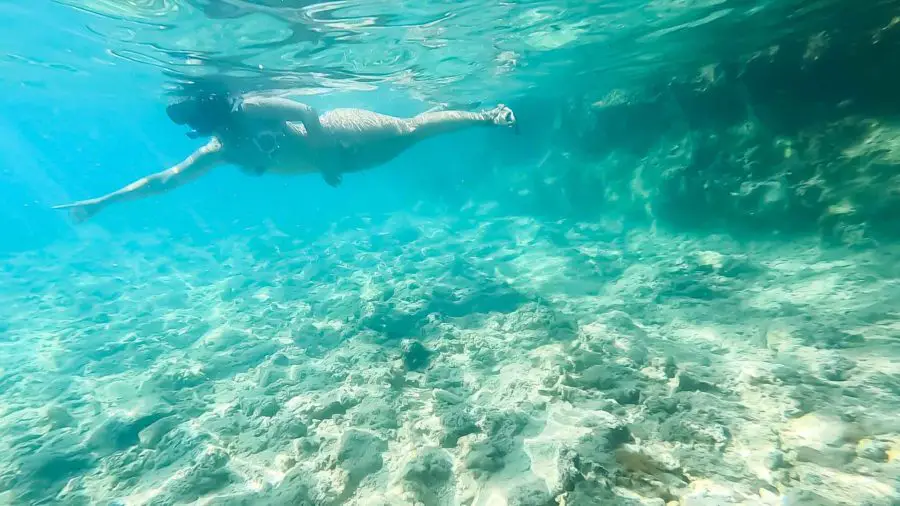 Price: free if you have lunch at one of the restaurants.
Hours: restaurants open around 8 am or 9 am.
Time needed: we snorkeled around a tiny island, and spent about an hour in the water.
WOTW rating: 5/5
Snorkeling from our lunch spot was one of the best experiences from our time in Kas. Not because the sea was filled with fish, but because of how unique it was. Simena has several small restaurants lined up along the water that allow you to jump in for a swim and snorkel. Some restaurants also have basic kayaks for their customers to use.
14. Take A Boat Trip To Kekova Island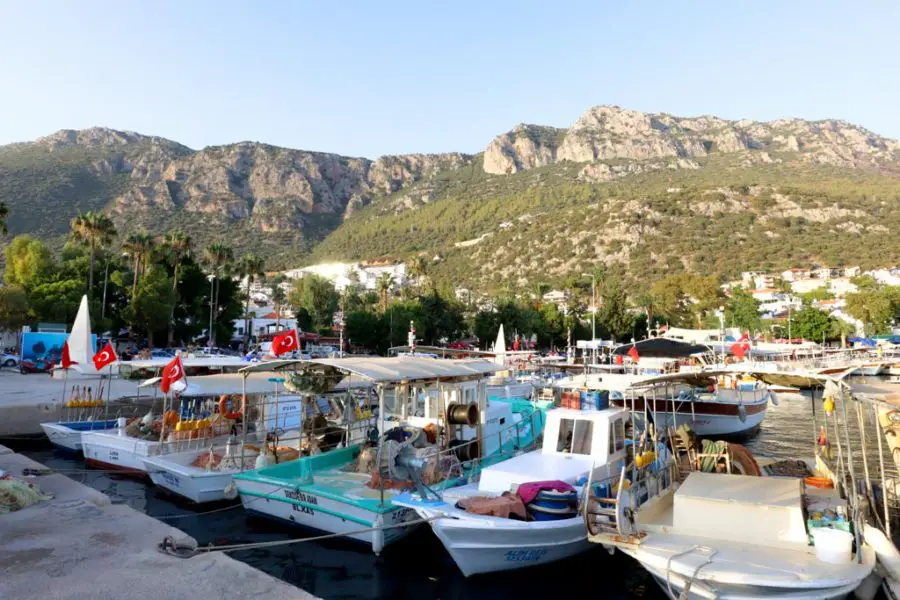 Price: about $10 US for a standard group trip on a larger boat; around $300-$450 US for private group trips (8 people).
Hours: boats leave around 9 am.
Time needed: 6-8 hours
Kas' marina is filled with boats offering tours to nearby islands, most commonly Kekova. Depending on your preference and budget you can choose a private tour or larger group tour. These experiences are highly rated by visitors and are probably the most popular activity in Kas.
WOTW Tip: don't book these types of activities before arriving to Kas. Shop around at the marina for the best price, and even try and negotiate for a better price.
15. Take The Ferry To The Greek Island Of Meis
Price: the official ferry 30 Euros one-way ($33 US) based on the most recent information found.
Hours: the ferry goes back and forth once daily during the high season. You can look at the schedules here when the borders open: Meis Express Ferry Official Site.
Time needed: 6-8 hours if you are dependent on the ferry transport.
Who knew that one of the best things to do in Kas was a day-trip to another country? The island of Meis is one of the most prominent sights when looking out to sea. It is so close that our cell phones welcomed us to Greece and linked us up to a Greek data plan.
Even though Meis is only a short boat ride away, the island is distinctively Greek! Go and wander around the small town, eat some delicious Greek food, and enjoy the beautiful colored houses.
16. Visit The Local Market On Fridays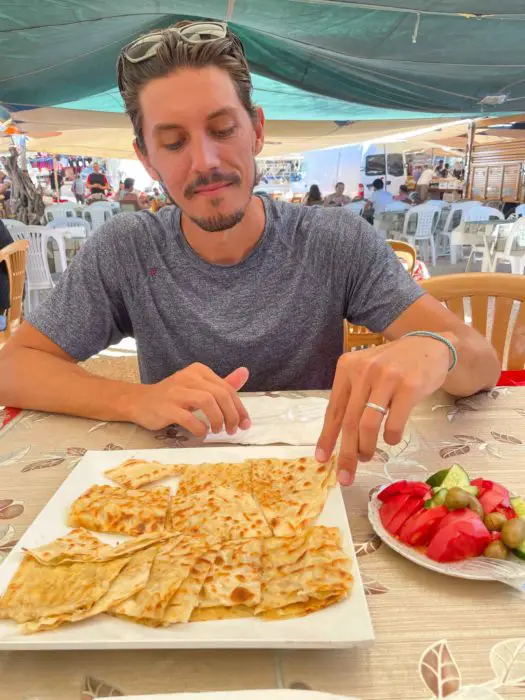 Price: N/A
Hours: starts around 9 am and closes in the mid-afternoon.
Time needed: 1-2 hours.
WOTW rating: 5/5
We loved visiting Turkey's local markets. Especially when we have our own kitchen to stock-up on delicious (and cheap!) local produce. Kas market is a great place to have a local breakfast of gozleme (Turkish pancakes/crepes), and then wander around the different stands.
Everyone at the market is so friendly, and it's so much fun to buy a few things just so you can interact in broken Turkish and English. Also, you get to support local farmers this way!
WOTW Tip: the olives in Turkey are delicious, and the shops let you sample them before you buy. You basically have an olive buffet in front of you. Take advantage!
17. Tour Historic Kas Turkey And Visit A Farm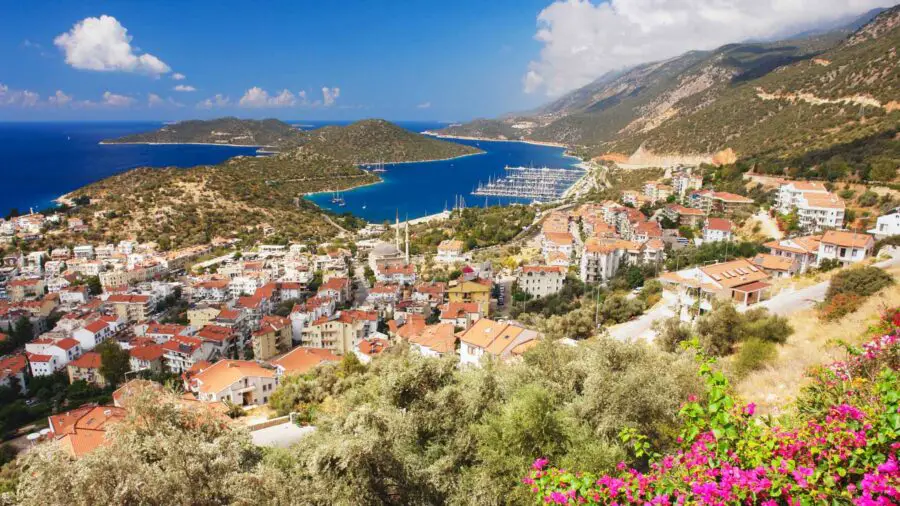 Price: $54
Hours: 12 pm-2:30 pm.
Time needed: 2.5 hours.
We consider this gorgeous town more of a lifestyle destination. That said, there are also cultural and historical things to do in Kas, Turkey, perfect for mixing things up between chilled-out days at the beach. Case in point: this highly-rated and super unique tour around Kas.
This experience conveniently hits all the key historical sites in the city before ending with a home-cooked meal at a local farm. This is a fantastic activity for anyone who loves to have a deeper understanding of the places they visit.
Note: this Kas activity wasn't available at the time of our visit in September 2021. So we can't vouch for the quality ourselves. But it does have a nearly perfect 4.95 star rating 😎
18. Visit The Beautiful Kas Merkez Mosque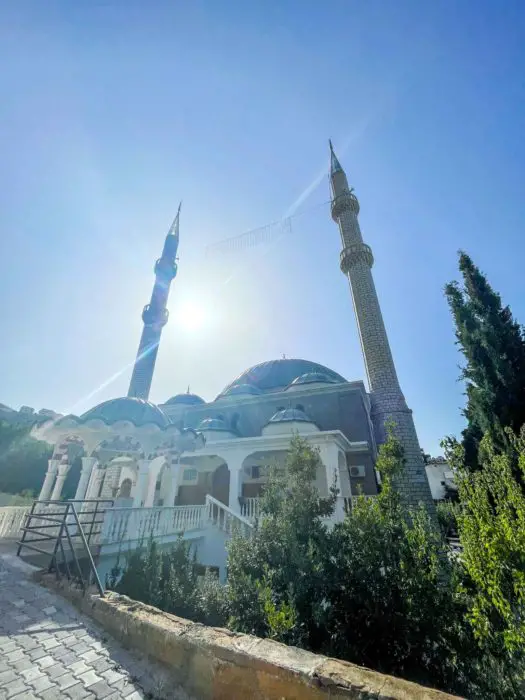 Price: N/A
Hours: 24/7
Time needed: 30 minutes.
WOTW rating: 4/5
If Kas is your only stop in Turkey, then it could be worth exploring its beautiful mosque. While most travelers likely won't have visiting a mosque in their plans of things to do in Kas, it is a nice stop away from the touristy center. And after all that time on the beach, you might be in the mood for something a little more cultural.
Kas Merkez Mosque is just a short walk from the center of town, and like many mosques, the details are gorgeous. Feel free to visit the inside to see the ornate chandelier and beautiful details. Just remember to take your shoes off before you go in!
19. Soar Over Kas On A Paragliding Adventure
Price: $150-$200
Hours: we saw people flying throughout the day, so several flight times should be available depending on weather.
Time needed: about 2 hours between pick-up and landing.
We did not go paragliding from Kas. Instead, we chose to go from the world-famous paragliding destination in Oludeniz. If you want the absolute best paragliding experience, then you will have to make the trip to Oludeniz. If you don't want to make the trip all the way to Oludeniz, paragliding in Kas is a great Plan B.
We loved paragliding so much, so definitely go for it! Either in Kas or Oludeniz.
---
Read our post about paragliding in Fethiye for info & tips. And watch our video paragliding over the Blue Lagoon to check out what it's really like 🙂
---
20. Take A Day-Trip To Incredible Cirali Beach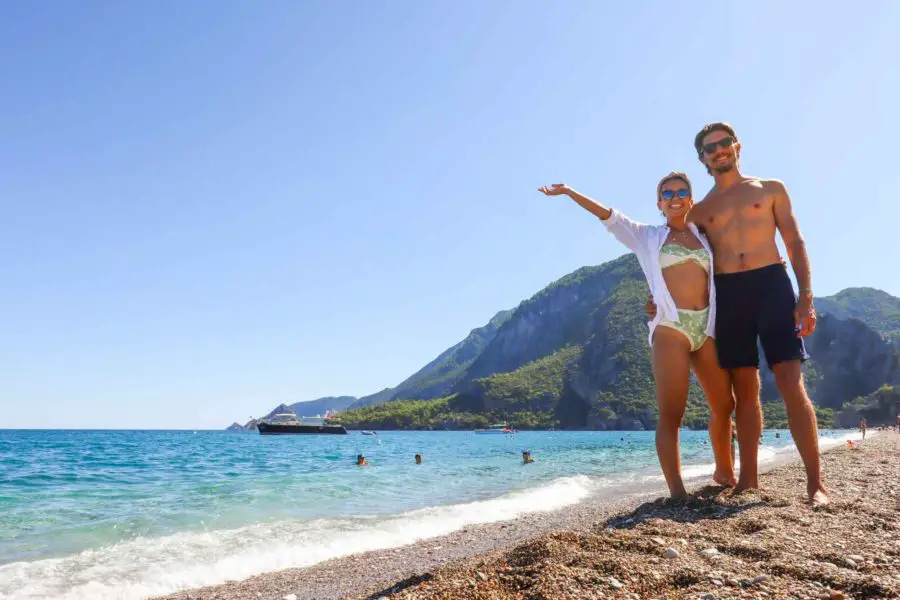 Price: free
Hours: N/A
Time needed: about a 2 hour drive from Kas, plus desired beach time.
WOTW rating: 5/5
Our personal Kas guide, Mustafa, recommended renting a car and visiting beautiful Cirali (pronounced 'Chirali'). We are grateful for his recommendation because Cirali is out-of-this-world beautiful. There are lush mountains that lead directly to the clear blue waters creating the most magical setting.
Cirali is a rustic town with some lodging and restaurant options along the beach, but the setting is absolutely stunning. Like Kalekoy, Cirali is a place we wished we had stayed a couple nights to just relax and wake up to this pristine beach. Oh well, definitely next time!
---
Want to see more of beautiful Cirali Beach? Take a look at the vlog from our day trip to one of the most beautiful beaches in Turkey!
---
21. Check Out Ancient Lycian Ruins At Olympos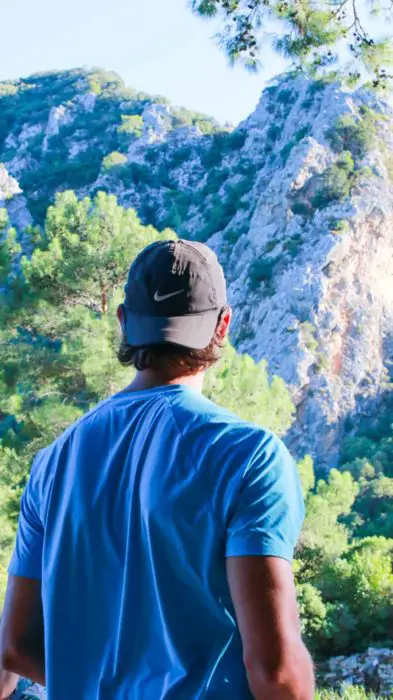 Price: technically 180 Lira ($7.70 US), which you might have to pay if you enter from the street. However, we somehow managed to waltz in for free by accessing from the beach..
Hours: N/A
Time needed: 1-2 hours.
WOTW rating: 3/5
Seeing the ancient Lycian ruins of Olympos directly from the beach is an impressive sight. These Lycians had great taste building their cities right next to some of the best beaches in all of Turkey! Our favorite part was bumping into different parts of the ancient city while walking through the forested area. The forest has reclaimed much of the ruins, which we thought added some character to Olympos.
WOTW Tip #1: the ruins can be accessed from Olympos beach, about a 15-minute walk from Cirali beach.

WOTW TIP #2: even though Cirali and Olympos beach are effectively the same beach, Olympos beach definitely has more of a party atmosphere. The town of Olympos is known as a popular backpacker stop. On the other hand, Cirali is said to attract older and 'free-spirited' (can we say hippie?) individuals.
22. Rent A Car And Go Find Your Own Private Beach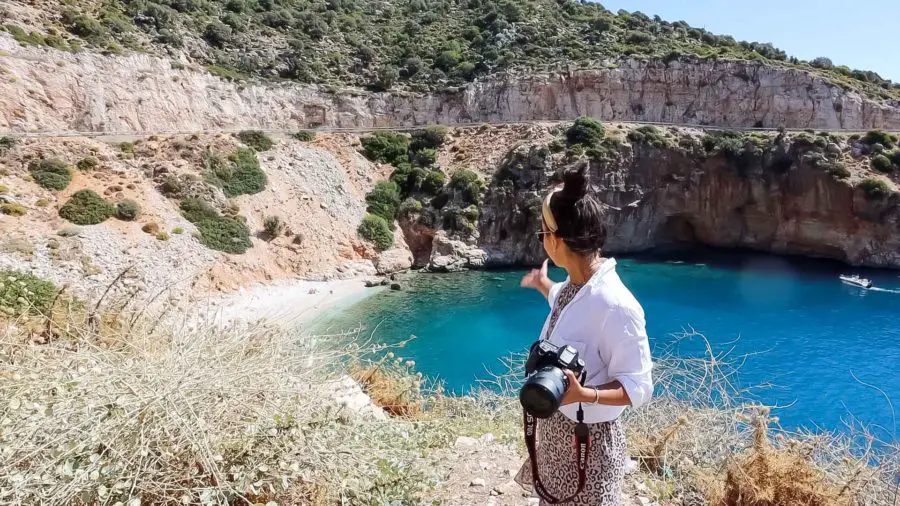 Price: about $40/day for renting an automatic car.
Hours: N/A
Time needed: about an hour east of Kas is when you will start seeing these road-side beaches pop up.
WOTW rating: 5/5
The drive from Kas to Cirali or Olympus will take you past countless little beaches where you can just pull off the side of the road and find your way down. You have to be a little adventurous because the trails aren't always perfectly obvious. But you might just have a little private beach to yourself if you are up for the adventure.
WOTW Tip: it might seem sketchy to pull over on the side of a relatively busy highway and hike down to the unknown, but trust us, it is totally possible. Most of these unexplored Kas beaches are found at curves in the road, and there is usually an area a little bit away from traffic where you can safely park your car. Don't look for parking spots, there aren't any!
23. Go Scuba Diving In Kas (Depending on Your Expectations)
Price: 400 Lira for 2 dives per person ($45 US).
Hours: dive times were 9 am and 2 pm. The 9 am option offers two dives, while the 2 pm option is only one.
Time needed: many dive sights are very close to the marina, so it only takes about 20-30 minutes to get to the site sailing at a leisurely pace. For our 9 am dive we left the marina by 9:30 am and returned around 2 pm.
WOTW rating: 2/5
Let me start by saying that we had a great day scuba diving in Kas. And since we were both only recently certified, we were happy to have the opportunity to refresh our dive skills. That being said, there were virtually no fish in the sea, but we did see one small turtle in the distance. Our second dive took us to some narrow cliffs, which were pretty cool, but again, not much marine life.
The dive boats have many instructors, and we had our own dive guide for a group of 4 divers. We are fairly inexperienced divers, so we really appreciated the extra attention. There are only good things to say about the level of service we received scuba diving with Sub Aqua diving in Kas. Unfortunately, we can't say great things about the level of marine life.
---
Curious to see what Kas is like underwater? Take a look at our video about scuba diving in Kas!
---
24. Get Your Adrenaline Fix While Canyoneering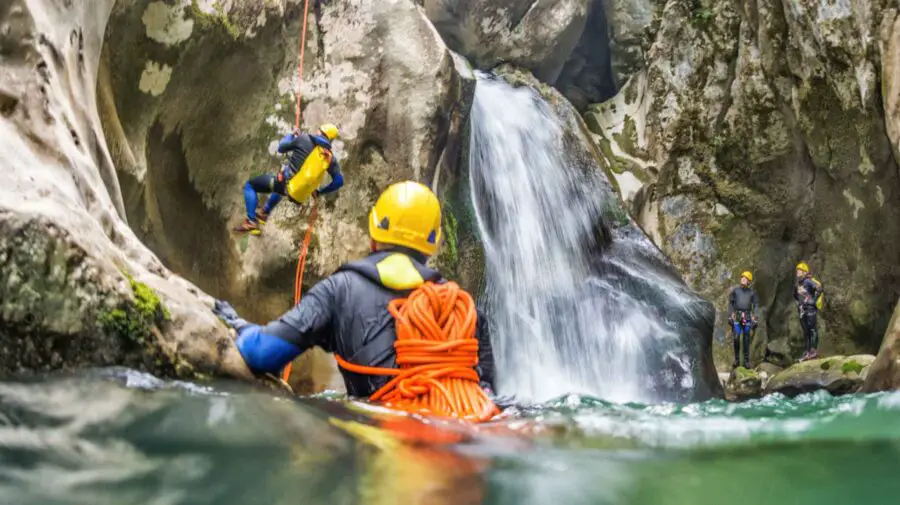 Price: $55 p/p.
Hours: 8:30 am – 5 pm.
Time needed: 8.5 hours.
This might be the most physically demanding of all the 30 things to do in Kas, Turkey. Canyoneering is a full day of action-packed adventure where thrill seekers repel down canyon walls, jump into ice-cold pools of mountain water, and trudge through narrow streams. All in the name of fun!
Canyoneering excursions visit nearby Cyprus Canyon and can be booked with Xanthos Travel.
25. Kayak Over Kekova Sunken City
Price: $40-90 US depending on the tour. You are paying for the quality of your guide and kayak. We usually find that it's worth paying for quality when on a guided tour. Learning is fun! And cheap kayaks are not 🙁
Hours: from Kas you are will get picked up between 8-9 am.
Time needed: many tours are up to 8 hours, and include early pick-up from Kas and lunch.
How cool does it sound to kayak over an ancient Lycian ruin that you can see through the calm and clear water? Well this popular Kekova kayaking experience allows you to do just that! Kayak tours over the sunken city are often a combined tour that includes a stop at the popular Kekova island.
Guides have a wealth of local knowledge, so you can learn about the region's amazing history while kayaking over some of the most transparent water you'll ever see.
WOTW Tip: Kekova's sunken city is protected, so you will not be allowed to exit the kayak to snorkel over the ruins. You will be viewing the underwater ruins from the kayak.
26. Cruise The Turkish Coast In Style On A Private Boat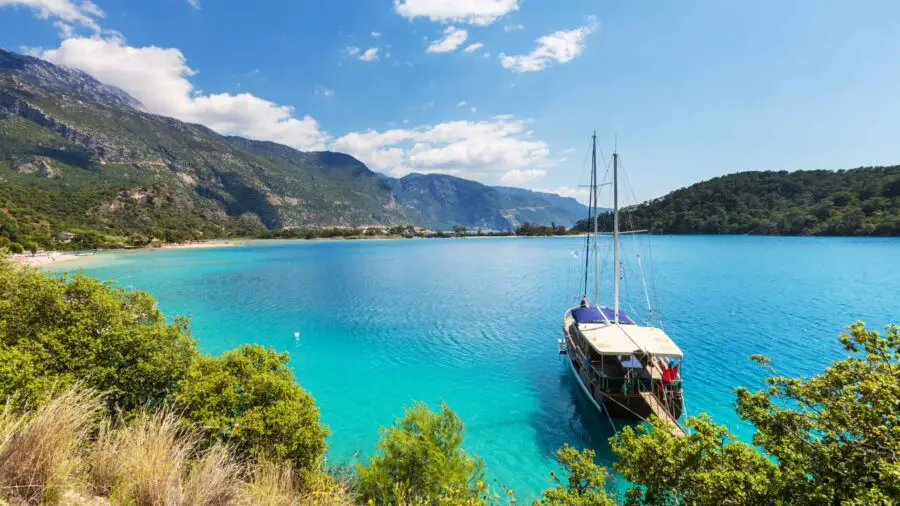 Price: prices for private cruises vary wildly.
Hours: up to you.
Time needed: 7-8 hours.
These luxurious private boating experiences are definitely a splurge. Needless to say, we didn't take part in this particular activity. But we could totally see how enjoying this stunningly beautiful coast from the comfort of your own boat could a nice thing to do while visiting Kas, Turkey.
Here are the highest-rated private boat excursions from Kas:
27. Just Enjoy – You're Doing Too Much, Do Less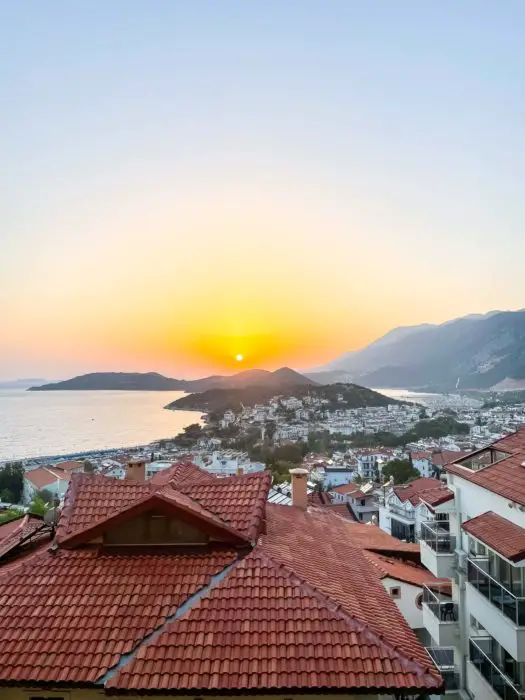 Is it just me, or is doing nothing one of the best things while on vacation? Sit back at your apartment or hotel (hopefully with a view), grab a drink, read a book, and just enjoy the sweet feeling of being in the Mediterranean. Enjoying some sunset drinks was one of our favorite things to do in Kas. #blessed
28-30: Day Trips From Kas To Saklikent National Park, Tlos Ancient City And A Secret Waterfall
Kas is a perfect base for an extended stay on Turkey's Turquoise Coast because it's close nearly all the major attractions in the area. This includes destinations like Saklikent National Park and Tlos that are often explored by travelers visiting Oludeniz or exploring Fethiye.
---
We wrote about these 3 activities in a post about the best things to do in Fethiye. Head there to see detailed descriptions of each, along with ratings and price.
---
28. Walk Through A Gorge In Saklikent National Park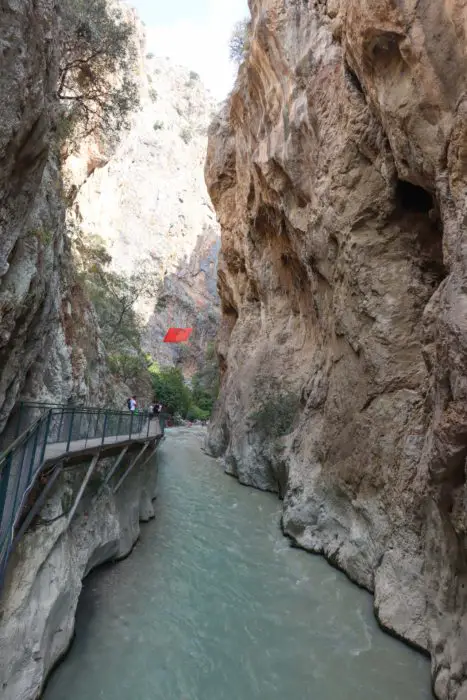 Saklikent National Parks is one of the most popular day trips for people visiting Fethiye and Oludeniz. Organized tours are now also available from Kas! A visit to this gorge an exciting day-trip option from to explore if you're visiting Kas for a longer period.
29. Visit The Ancient Lycian City Of Tlos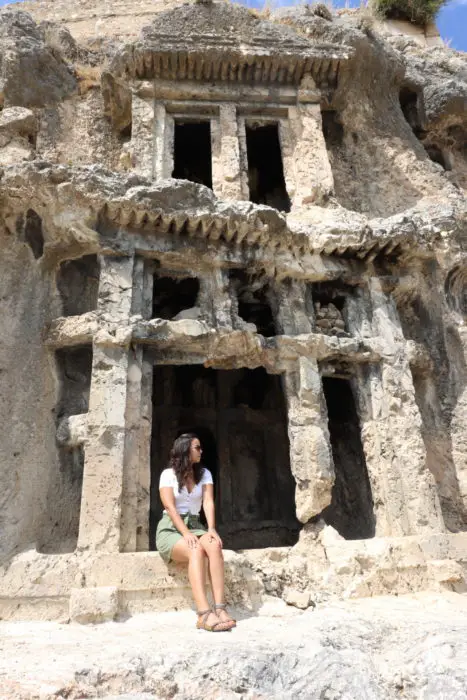 Tlos are a beautiful set of Lycian ruins located a short distance from Saklikent National Park. We totally thought this was a worthwhile addition to our excursion away from the coast.
30. Explore A Secret Waterfall At The Underrated Gizlikent Selalesi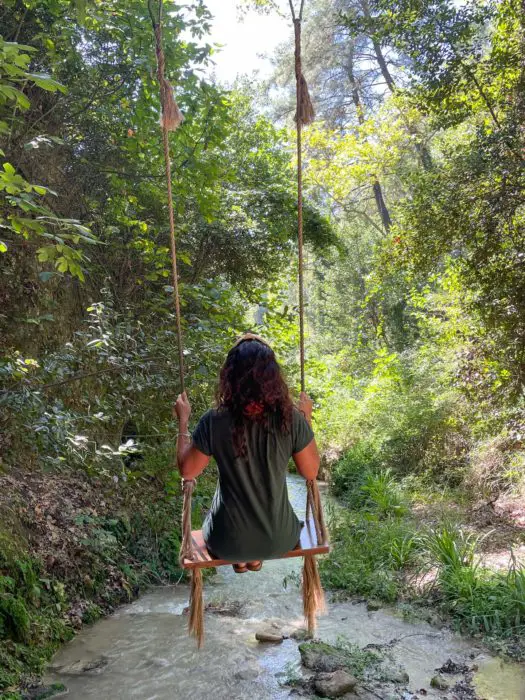 Gizlikent is only a stones-throw from the more popular Saklikent. And while it isn't as impressive, we had a more enjoyable time at Gizlikent because of the lighter crowds.
When Is The Best Time To Visit Kas?
Most people visit Kas for activities on the Mediterranean, sandy beaches, and warm evenings spent relaxing at beautiful restaurants and rocking live-music spots. Obviously, having nice weather is essential for njoying these things to do in Kas. With that in mind, here are the best times to visit Kas:
High-season (June – September): we visited in the middle/end of September. It was a great combination of warm weather and being fun busy, but not too busy. We heard that early September was still packed with people. So factor in your tolerance for crowds when deciding when to visit Kas.
Shoulder season (April – June): shoulder season is a great time to beat the crowds, but Kas won't get 'warm' until May. Likewise, water temperatures will be chilly until at least June, so your favorite Kas beaches might be best experienced from shore.
Shoulder season (end September – November): during this period, days are still warm, though nights start to cool off. Expect lighter crowds in October and November and a slightly higher chance of rain.
Winter (November – February): nighttime temperatures get pretty chilly, and water temperatures are cold for non-Canadians. Many things to do in Kas slow down during this season, and many hotels, restaurants, and activities close shop.
WOTW Tip: when we visit Kas again, it would ideally be in early October. The air and sea temperatures are still warm, and the crowds are smaller, but not too empty that it kills Kas's lively atmosphere.
Where To Stay In Kas?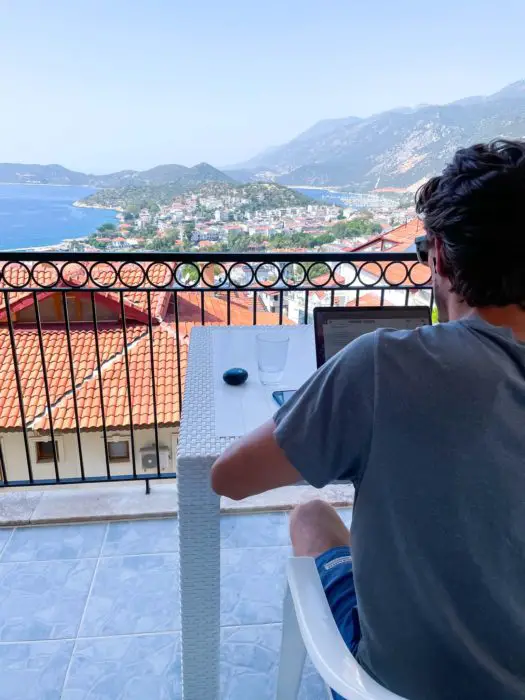 This town doesn't have any major hotel chains, but there are some epic places to stay in Kas. Popular lodging options include boutique hotels, apartment rentals or guesthouses (pansiyon in Turkish).
But even though the town is small, not every lodging option will give you the same access to all the things to do in Kas. Consider the following areas when deciding where to stay in Kas:
Kas peninsula: if you look at a map of Kas, there is a big peninsula jutting out into the sea. From the tip of this peninsula to the center of Kas is a 1 hour walk! If you are on the east side of the peninsula you will miss Kas' famous sunsets, and on the west side you will get some of the only unobstructed sunset views from Kas.
The center of town: obviously convenient, and definitely cool, there are many boutique hotels in this area for you to stay at. The only missing elements from this part of town are direct sunset views and potentially some peace and quiet.
'The mountain': this is where we stayed in an Airbnb, and there are many apartment rentals in this area. The reason I named this area 'the mountain' is because there is a steep hill that you need to climb to reach the apartments. The views are worth the hike, but it also really, really sucked dragging our luggage up and down 'the mountain'. (You can avoid this by taking a cab when you arrive/leave Kas)
Final Thoughts On Visiting Kas Turkey
I am typing this from eastern Turkey, about a month after we left Kas. Aimara, literally just yelled from our hotel bedroom: 'why did we ever leave Kas!'. After a few rough travel days, it's easy to miss one of our favorite places in Turkey.
Looking back, I would describe Kas as a great vacation spot. But it is not a travel destination where you will necessarily expand your perspectives of our diverse and fascinating world. We love Kas for everything that it was, and we are sure that it stay true to itself. So thanks for that beautiful little Kas. We know we will see you again soon!
Thanks for reading!
G
Have any questions about visiting wonderful Kas? Ready to head to one of our favorite spots Turkey? Send us any questions or comments below, or DM us on Instagram!
Ready To Plan Your Turkey Adventures? Read These Posts Next:
---
Tired of reading? We have an entire Turkey travel series on YouTube! Don't forget to subscribe to follow our adventures around the world 🙂
---
Did You Like This Post About 30 Things To Do In Kas? Share it on Pinterest!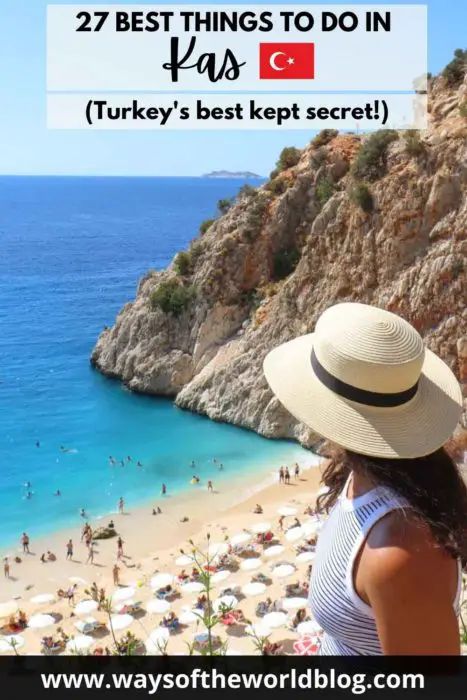 *Note: this post contains affiliate links. We receive a small commission at no extra cost to you if you purchase from these links. Thanks in advance for supporting WOTW!