Are you thinking about spending time in Oludeniz, Turkey? There's probably a good chance that you're interested in visiting this little seaside town for the Instagram favorite Blue Lagoon and nearby Butterfly Valley. Or you have big plans for an epic paragliding adventure from one of the world's top places for this bucket-list activity. And being one of Turkey's most visited beach towns, there are many things to do in Oludeniz beyond its iconic beaches.
Oludeniz is home to the Blue Lagoon and its spectacular blue-green waters, the famous Butterfly Valley, and lively Oludeniz beach. This place is packed with photogenic beaches that are great for lazy days admiring the turquoise waters sprinkled in with adventurous activities.
But with many great things to do in Oludeniz, you don't need to spend every minute lying in the sand. Keep reading below to discover 9 great ways to make the most of your visit to Oludeniz. And you'll get our honest thoughts about its iconic beaches. Ready to find out what you shouldn't miss and what you can skip when choosing the best things to do in Oludeniz?
Estimated reading time: 25 minutes
Ready To Discover The Best Things To Do In Oludeniz? Dive In Here!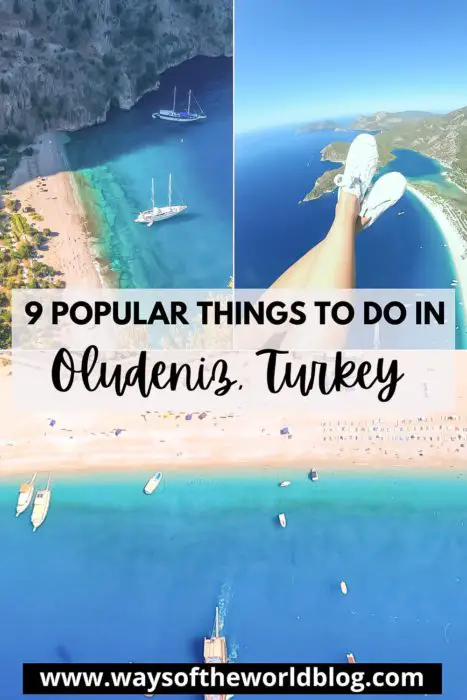 What To Know Before Visiting Oludeniz?
Oludeniz is a small town located about a 15-minute drive south of Fethiye's old city (75 minute drive from Dalaman Airport). Recognized for its world-class paragliding and stunning beaches, this small fishing village has developed to cater to a growing number of visitors. It is now one of Turkey's most popular beach destinations and there is a bounty of things to do in Oludeniz.
Flying under the radar naturally becomes more difficult when one becomes famous. Today Oludeniz is a high-energy town with restaurants and bars lining the beach-front, abundant water sports (yes, they have banana boats), and enough day tours to make sure that there is never a dull moment.
An Honest Review Of The Top Things to Do In Oludeniz
So you want to discover the famous Blue Lagoon, Butterfly Valley and Oludeniz beach? Spoiler alert, some of these are not entirely what they appear (keep reading to find out why). But don't worry, there are plenty of other things to do in Oludeniz beyond relaxing with sand between your toes.
We visited Oludeniz twice during our two weeks exploring Fethiye. The first time during an unforgettable day paragliding over the coast and Blue Lagoon and the second time when we stopped by its famous beaches to check them out for ourselves.
Here is our list of popular things to do in Oludeniz, including a hidden beach to get you away from the crowds. This honest review is of our personal opinion and experience. We recognize everyone has different travel styles and travel goals, but we hope to give you as much context as possible so that you can maximize your time off!
Map Of The Most Popular Things To Do In Oludeniz
1) Go Paragliding In Oludeniz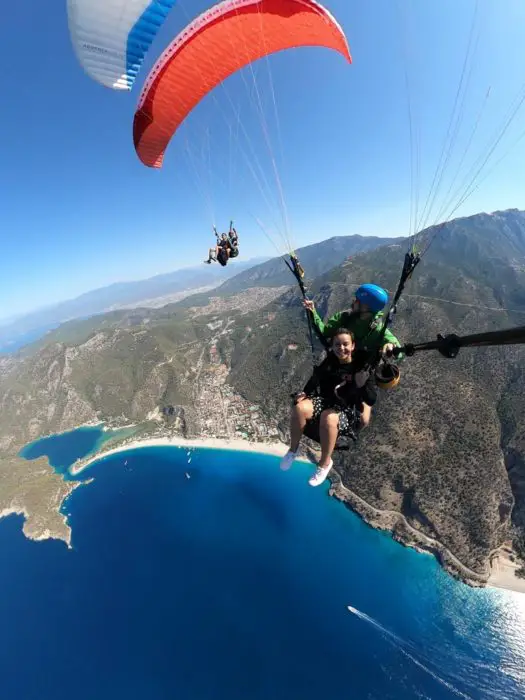 Price: 90 British Pounds ($122) per-person (the fee can be converted to USD using the day's exchange rate).
Time needed: about 3 hours from pick-up to landing; time in the sky is around 30-45 minutes.
Hours: fly times vary by season, but generally there are plenty of options between 10 am and sunset.
WOTW rating: 5/5
Oludeniz is a renowned paragliding destination, attracting professionals and first-timers like us from all over the world. From Babadag Mountain, you soar into the sky from one of the highest commercial paragliding take-off sites in the entire world! Generally perfect conditions also mean that paragliding is possible nearly 365 days of the year. And you spend more time in the air than at other locations in Turkey. You can expect to relish in the experience for between 30-45 minutes.
You can choose between an adrenaline-pumping or relaxing flight when paragliding in Oludeniz. It really depends on what type of experience you're looking for. Aimara went for a comfortable flight just soaking in the views, and I felt so much g-force that the lower half of my body went numb. Good times!
There are many companies offering paragliding adventures in Oludeniz. And you will encounter a lot of street vendors pitching their services as you walk around town. I wrote a detailed blog post about the full paragliding in Fethiye experience, along with costs, best companies, and our honest review.
Want to see why you shouldn't miss paragliding in Oludeniz? Check out the video of this bucket-list experience soaring over the beautiful Turkish coastline!
2) Visiting The Blue Lagoon In Oludeniz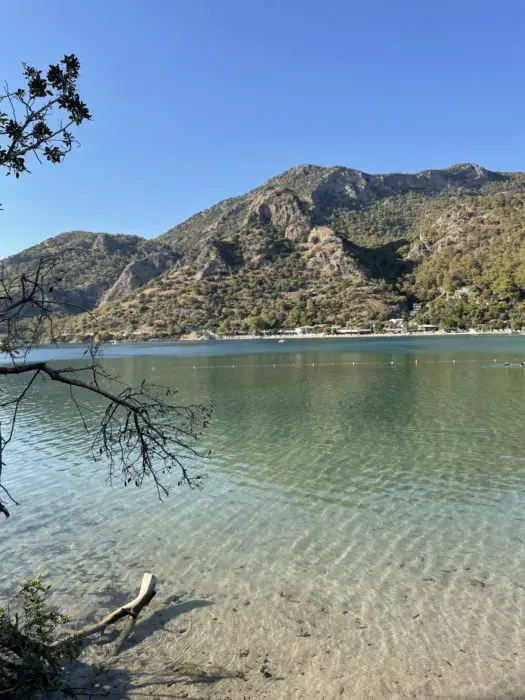 Price: free to enter (I read there was a minimal fee but that didn't seem to be the case in September 2021); loungers and umbrellas are 15 Lira each ($1.70).
Time needed: it's a beach, so take as much time as you like.
WOTW rating: 2.5/5
The Blue Lagoon is number one on many lists of things to do in Oludeniz. It's perhaps the most recognized image of southwest Turkey. During the summer months the Blue Lagoon fills up with sun-seekers claiming their spot in the small sandy beaches. It is easy to see why visitors come to see the incredible displays of blue-green waters with beautiful mountains in the background.
We went to see what all the fuss was about. While the view was definitely impressive, we unfortunately arrived when the sun was lower, so the layers of colors were not as vibrant as in the mid-afternoon. But the water was crystal clear (a consistent theme in Turkey) and we could totally understand why people are drawn to the Blue Lagoon.
Despite the Blue Lagoon's alluring water, we decided to skip spending any actual time there. The beach spaces were smallish and busy with families picnicking. I don't think there was any space to lay down our towel. On-top of that, the super-calm water makes it a great place for kids to play in the shallows. It was great to see all the families enjoying their time, but it just wasn't the scene for us.
WOTW Tip: there is only a small inlet feeding into the Blue Lagoon. Oludeniz Beach on the other side faces the open sea. The water at Oludeniz Beach seemed cleaner and fresher because it is less stagnant. We passed on the Blue Lagoon to spend our afternoon on Oludeniz Beach and were happy with our decision.

Also, there is parking at the Blue Lagoon, but you can park in any lot in town for a reasonable fee (around $3)
Click Our YouTube Video so You Can See the Reality of the Most Popular Things to do in Oludeniz!
3) Explore The Famous Butterfly Valley
Price: free to hike into; 70 Lira ($7.90 US) for round trip ticket with water taxi
Time needed: you will be somewhat dependent on the water-taxi schedule; water taxis have a set schedule that varies by season
Opening hours: N/A
WOTW rating: 2.5/5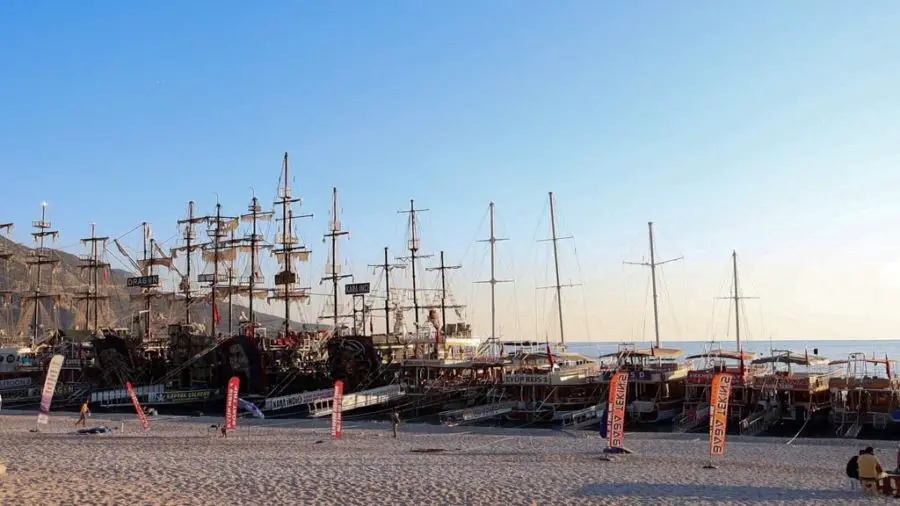 Butterfly Valley is located about 10 kilometers south of Oludeniz. The setting is stunning, with steep cliffs surrounding the valley and a small beach. Search results from 2014 describe Butterfly Valley as an untouched paradise unspoiled by mass-tourism.
However, with the development of Oludeniz as a popular vacation spot, Butterfly Valley's secret is out. It is now an easy and popular day-trip stop for the many boats (and pirate ships) leaving from Oludeniz beach. It ranks high on most articles listing all the best things to do in Oludeniz.
The name Butterfly Valley comes from the various species of butterflies that called the valley home. Sadly the butterflies have left because of the music and engine noises that come from the day-trip boats reverberating through the canyon.
What's The Best Way To Get To Butterfly Valley?
It is possible to hike down into Butterfly Valley from Faralya. I'm pretty confident that it is not technically allowed, but there is no enforcement from local authorities. Everything I have read indicates that this is no walk in the park, so please hike into Butterfly Valley at your own risk. This seems to be a decent guide if you are up for the adventure.
WOTW Tips: Hiking shoes are required and you won't be able to do it while carrying suitcases or large bags. Some parts require you to descend by rope. This is not for the faint of heart!
Make Sure To Pin This Post For Later!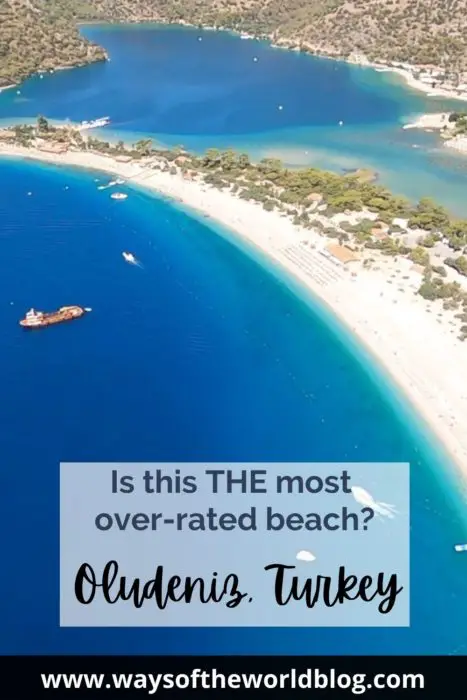 Is It Worth Visiting Butterfly Valley?
Butterfly Valley is undeniably a beautiful setting. That said, it has probably lost some of its undiscovered charms. From the top of the cliff we could see the tour boats lining the beach and I heard the distinctive sound of Daddy Yankee blaring from the pirate boats. No disrespect to Mr. Yankee, he's a fine artist, but it does take-away from the rustic and tranquil vibes that Butterfly Valley was known for.
If you are super curious about checking-out Butterfly Valley and can't resist the temptation, staying there overnight might be your best option. Just note that the lodging options available in Butterfly Valley are rustic.
WOTW tip: there are different tent and bungalow options for lodging and a little restaurant. Camping options will run for about 200 Lira ($22.40 US) per night.
Are you heading to Turkey's Turquoise Coast? Check out these posts next:
4) Grab A Beach Umbrella And Lounge On Oludeniz Beach
Price: beach is free; beach-umbrella is 15 Lira ($1.70 US) for the day; beach umbrella with two loungers is 45 Lira ($5 US)
Time needed: it's a beach, so as much as your heart's desire
WOTW rating: 3/5
The water of Oludeniz Beach is crystal clear and inviting and is a great place to relax for a couple of hours. It is not as famous as the Blue Lagoon or Butterfly Valley, but is a great alternative to these more famous places. We enjoyed both our visits and honestly consider it a better option than the Blue Lagoon.
There are plenty of places to find a spot to relax and watch the paragliders gliding across the sky above. There was something very calming about watching the dozens of colored parachutes coasting through the sky. Also, if you walk in the direction of the Blue Lagoon then the beach becomes less crowded. Just make sure you pass the pirate boats by a reasonable distance.
Interested in receiving upcoming destinations blog posts? Leave your name and email below and we'll let you know!
5) Take A Cable Car To The Top Of Babadag Mountain
Price: 80 Lira ($9 US) round-trip, per person
Time needed: 7 minutes on the cable car one-way, plus time spent enjoying the views
Hours: 8 am-10 pm
The cable cars in Oludeniz can be found on the outskirts of the town along the highway from Fethiye. They have been open since November 2020, and are one of the newer things to do in Oludeniz. The cable cars take you up to the same area where the paragliders run off Mount Babadag, over 1 mile above sea level! If you want scenic views without the adrenaline (or cost) of paragliding, then taking the cable cars is a great option.
I personally wish we had more time at the top of the mountain before running off the side of it. It is such a unique and memorable sight to see people flying through the sky with nothing but a parachute! Seriously, humans do some amazing things.
6) Watch The Sunset From Babadag 1700 Grill And Wine Bar
Price: food and drink prices are higher than average due to location.
Hours: 11 am-10 pm
Babadag 1700 Grill and Wine Bar sits on-top on Babadag mountain and can be reached by cable cars or taxi. The restaurant is directly next to the runway where the paragliders constantly run into the open sky. To see this from above with a cold beer would be epic.
Note: the food reviews for Babadag 1700 Grill and Bar are pretty average. So consider drinks and maybe a small bite before heading somewhere better for dinner.
WOTW Tip: do not take a taxi up Babadag mountain if you get car sick. We took a shuttle bus up the mountain for our paragliding trip and it was easily more nauseating than the actual paragliding.
7) Visit The Kayakoy Ghost Town
Price: 10 Lira ($1.15 US)
Time Needed: 2-3 hours
Hours: 9 am – 7 pm
Kayakoy is a ghost town about a 15 minute drive from Oludeniz beach. What happened at Kayakoy is fascinating story, making it a great option if you want to learn about local history. Kayakoy dates back to the 14th century when it was a flourishing city inhabited by Anatolian Muslims and Greek Orthodox Christians, coexisting peacefully.
At the end of the Turkish-Greco war (which followed World War I), there was a population exchange between Turkey and Greece. Greek-Orthodox Christians left their homes in Kayakoy to move to Greece, and Greek Muslims were relocated to Turkey. But the Greek Muslims never actually settled in Kayakoy, and many homes were left empty. Finally, an earthquake proved to be the straw that broke the camel's back, and the city was abandoned in 1923.
The ghost town is now part museum and part monument. If you are interested in more details, Daniella Travels does a nice job giving you everything you need to know about visiting Kayakoy ghost town.
8) Hike Part Of The Lycian Way Trail
Interested in more active things to do in Oludeniz with a little sprinkle of history? Consider taking a hike along an ancient trail used for thousands of years. How cool is that? Hiking the trail will get you spectacular views of the sea below and will help you burn off some of the köfte kebabs and ekmek (bread). Seriously, they love themselves some ekmek around here.
Anyways, the Lycians were an ancient civilization that resided in this part of southwest Turkey. The trail is over 300 miles long, starting in Fethiye and ending near Antalya. You do not have to do the entire thing (obviously), but you might consider taking it to Kayakoy and making a day of it. The Montana Pine Resort marks the official trailhead near Oludeniz. Also, please confirm that with someone in town. We hiked the Lycian way near Kas, so I suggest you get a second opinion on that detail.
WOTW Tip: wear sturdy walking shoes. The terrain is uneven and there are parts to the Lycian Way trail that are legitimately a hike. Also, bring plenty of water – especially in the hot summer months. Büyük su, people! (büyük su means 'large water' and is one of the newest and most valuable additions to my Turkish vocabulary).
9) Bonus: Visit Off-The-Beaten-Track Beach Of Cennet Koyu
On our final day trip from Fethiye, I was dead-set on visiting the most epic beach near Oludeniz. So we (I) made some last-minute plans to drive our little Fiat on mountain roads less traveled. Knowing that Butterfly Valley and the Blue Lagoon were not hidden gems, I took it on myself to discover an off-the-beaten-path beach. The morning of the day trip I found Cennet Koyu, and without reading the fine print, I thought, 'this is the one!'
A Total Fail Visiting Cennet Koyu Beach Near Oludeniz
Cennet Koyu means heaven bay, and lounging in heaven was the image I had in mind when we set out that day. I thought that we would be seeing what Butterfly Valley used to be like.
After some seriously windy roads with amazing views, Google Maps decided that we had arrived. Meanwhile we are still at about 1,000 feet above sea level. We put the e-brake on and poked around until Aimara found a little wooden sign with an arrow pointing down a bumpy dirt road to Cennet Koyu. So down we went.
One minute later we reached a dead-end at a rustic dome-bungalow campground where a man popped out of his dome to have a chat with us. Excited at the idea that we were getting somewhere I asked the way to Cennet Koyu? He told us it would be at least an hour hike down the mountain! And worse, he looked at my sandals and said 'in those shoes, impossible'.
What a deflating way to end this adventure. I try my best to be flexible, but I really don't like when things don't go as planned – especially when the plan is an unspoiled beach! Anyhow, here is the beach in question – please if you ever go to Fethiye and are up for an adventure visit this beach and let me know how it was!
Also consider renting a private boat to get there if you are not up for the hike 😉
WOTW tips: despite its remoteness, Cennet Koyu does have some services at the beach for basic food and drinks. I think the key word is basic, so maybe bring some extra provisions considering you will be participating in a decent hike up and down from the beach to reach this slice of paradise.

Parking at the dome bungalows is 15 lira.
Final thoughts on Exploring Best Things to do in Oludeniz
In full transparency, Oludeniz did not steal our hearts. I read several blogs praising the town for having so much to offer visitors and being a place that you could spend your entire vacation. And there are absolutely a ton of things to do in Oludeniz. But what we found disappointing was that it seems to have adapted too much to visitors instead of the other way around.
Walking around Oludeniz we saw countless restaurants promoting English breakfasts, and bars had Irish dancing competitions, foam parties and shot menus that made it seem like you were in Key West instead of Turkey. These things probably don't come to mind when you think about immersing yourself in Turkish culture.
Hope this doesn't sound obnoxious, but the goal on this blog is to help you create your own travel plans, and we think transparency is important. We had a nice time in Oludeniz because we had the luxury of spending nearly three months traveling through Turkey. But if time is limited, we hope our perspectives help you get the most out of your travel experiences!
Is It Better To Visit Oludeniz Or Fethiye?
Our challenge with Oludeniz was the presentation of popular venues in town. There was very little in the way of Turkish charm. Being a larger city, Fethiye has a more local feel to it, but it doesn't have easy access to the photogenic beaches that many people visit this part of Turkey for
Oludeniz's beaches are beautiful, paragliding is amazing and there are countless activities to ensure an action-packed stay. If you are looking for water sports, convenient access to beaches and an happy hour spots, then Oludeniz is a great option for a hassle-free beach vacation.
Remember we have an entire post dedicated to discussing the pros and cons of visiting Fethiye, Oludeniz and Kas!
Thanks for reading!
G
Are you ready to explore Turkey's Turquoise Coast? Have any questions about visiting Oludeniz, Turkey? Reach out in the comments or DM us on Instagram!
Planning An Epic Trip To Turkey? Read These Posts Next:
---
Tired of reading? We have an entire Turkey travel series on YouTube! Don't forget to subscribe to follow along with the adventures 🙂
---
Did You Like Our Tips On Things To Do In Oludeniz? Save It To Your Pinterest!