With all the incredible things to do in Istanbul, you might be feeling overwhelmed planning your visit. But don't worry! We've got you covered with this ultimate Istanbul itinerary highlighting the very best of this amazing city. We spent 12 nights in Istanbul and had an unforgettable time exploring what has become one of our absolute favorite places to visit!
We've pulled together the must-have attractions for any Istanbul itinerary. Highlights include the Grand Bazaar, the Hagia Sophia, delicious food tours, and trendy neighborhoods. This itinerary will take you on a perfect adventure around one of the world's great cities! Whether you are looking for a 4, 7, or 10 day Istanbul itinerary, this post tells you everything you need to know to have an unforgettable time in the City on Seven Hills!
Jump Ahead To:
Estimated reading time: 48 minutes
*Note: this post contains affiliate links. If you make a purchase using these links, we receive a small commission at no extra cost to you. Thanks in advance for supporting WOTW!
Keep Reading To Discover Your Perfect Istanbul Itinerary!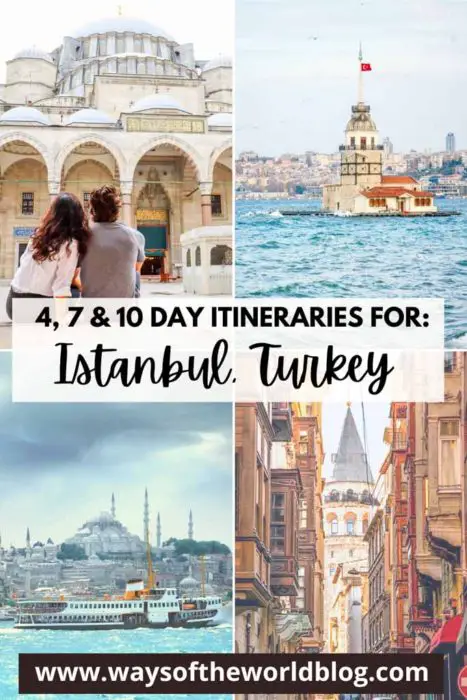 About This Istanbul Itinerary
Even though Istanbul is huge, the old city has a conveniently high number of attractions located in the same general area. However, venturing out the sites outside of old Istanbul takes some planning. This ultimate Istanbul itinerary was designed to hit the most unmissable things to do in town while minimizing time spent walking around.
This post is divided into 3 sections based on your ideal length of stay: 1) 4 Day Istanbul Itinerary 2) 7 Day Istanbul Itinerary 3)10 Day Istanbul Itinerary. The activities planned for each day are designed based on their proximity to each other and the general time needed to explore each attraction. But feel free to take ideas from the different sections to fit your travel style!
WOTW Tip: you will be visiting active mosques on many of your days in Istanbul. Proper attire is absolutely required when entering mosque grounds. Ladies must have the top of their heads covered when entering. Women and men also must have long pants or long dresses/skirts and no cutoff shirts. Finally, make sure to take your shoes off before entering a mosque!
How Many Days Is Enough In Istanbul?
It would take several weeks to fully appreciate everything that Istanbul has to offer. However, it is possible to experience Istanbul's most iconic landmarks after only several days in town.
But even if you can see many of the most famous sites in a few days, we personally prefer to travel more slowly. Longer stays allow us to build a connection with a city. And that connection often lasts longer than memories of popular attractions. To that point, Istanbul can easily be enjoyed for 10 days or more. We promise that you will never be bored in Istanbul!
Here is a guide to help you decide how many days in Istanbul is best:
4 days in Istanbul: enough to see the major attractions in Istanbul's old city, sample some delicious Turkish food, and experience the most popular tours.
7 days in Istanbul: same as above, but throw in a visit to Istanbul's cool Asian side and off-the-beaten-path islands.
10 days in Istanbul: see all the major attractions, visit Istanbul's hippest neighborhoods, go on a day trip and become a regular at your favorite neighborhood spots.
Related Post: Ultimate Guide To 27 Epic Things To Do In Istanbul
4 Day Istanbul Itinerary
What to expect on the 4 day itinerary:
With four days in town, you will have time to see all the major landmarks and mosques around Istanbul's old city, one of our favorite neighborhoods, and a lavish Ottoman Palace. You even have time to get scrubbed down in a traditional Turkish bath!
Where To Stay In Istanbul On A 4 Day Itinerary?
Sultanahmet is the most convenient neighborhood for being close to old Istanbul's most popular attractions. There are many great hotels only a short distance from landmarks like the Hagia Sophia, Blue Mosque, and Grand Bazaar.
Across the Galata Bridge from Sultanahmet are the beautiful and vibrant neighborhoods Karaköy and Galata. While located a moderate distance from the old city, Karaköy and Galata are great places to stay in Istanbul for 4 days for visitors looking for a more trendy neighborhood.
Day 1: Arrive In Istanbul And Relax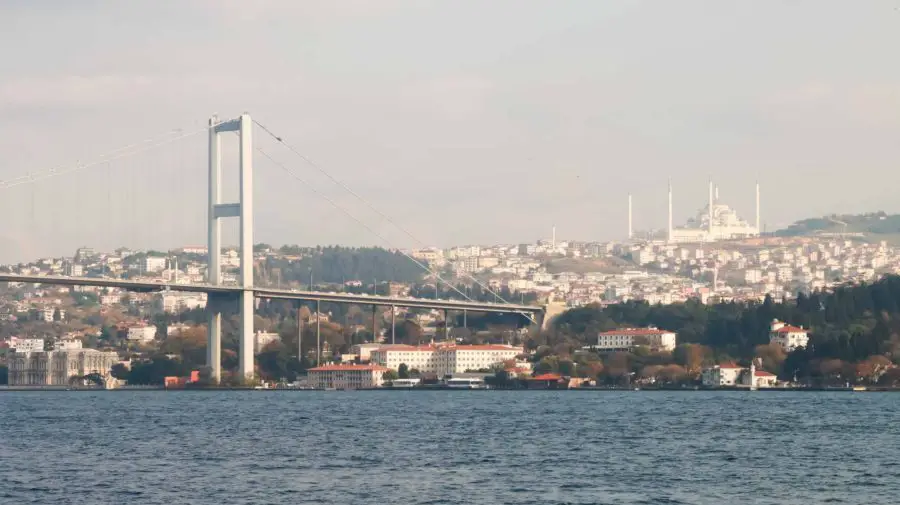 If Istanbul is your first destination in Turkey, you will likely arrive at Istanbul's International Airport (IST). It is also probable that you just got off of a long flight, so plan for a leisurely afternoon adjusting to your new surroundings.
The drive from the airport to Istanbul's most popular neighborhoods is about 45 minutes on a good day. Hopefully the traffic gods will be on your side so you can quickly settle into your hotel room.
Welcome to Istanbul!
WOTW Tip #1: the best way to get into downtown Istanbul from the airport is on the airport bus. Airport buses are common in Turkey and go by the name Havaş (pronounced Havash). Go here to find the routes and costs for all trip options from Istanbul Airport to Istanbul.

WOTW Tip #2: private airport transfers into Istanbul are available. They are relatively affordable and can be a decent option if you don't want to figure out local transportation after a long flight.
Day 1 – Evening: Recover From Your Travel Day With Dinner And A View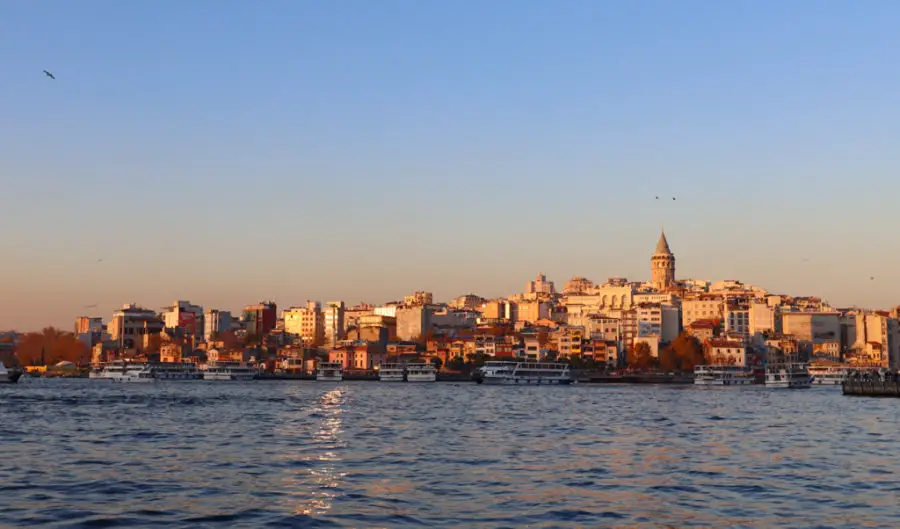 What better way to adjust to a new city than trying delicious local foods along with beautiful views! Take advantage of Karaköy or Sultanahmet's beautiful waterfront to get a sample of the many incredible sights you'll enjoy while in Istanbul.
Gazing across old Istanbul and the Golden Horn will give you a first look at many of the stunning landmarks on your Istanbul itinerary.
Where to eat in Karaköy or Galata: hop into one of the many casual restaurants along the waterfront, or head for a slightly more formal place like Ali Okbasşi or 3N Sofra Karakoy for traditional Turkish kebabs and homestyle meals.
Where to eat in Sultanahmet: try Hamdi Restaurant for Turkish kebabs and expansive rooftop views. Dinner here is a great way to end your first night in Istanbul!
Day 2: Explore Old Istanbul
Have you ever felt the energy of a city of 15 million people? Well, you will today! Get ready to jump into Istanbul's beautiful chaos!
On day two in Istanbul, you'll get unforgettable city views on a Bosphorus boat trip, enjoy a free walking tour around the historic Sultanahmet neighborhood, and visit two famous mosques.
Day 2 – Morning: Hop On A Boat For A Bosphorus Tour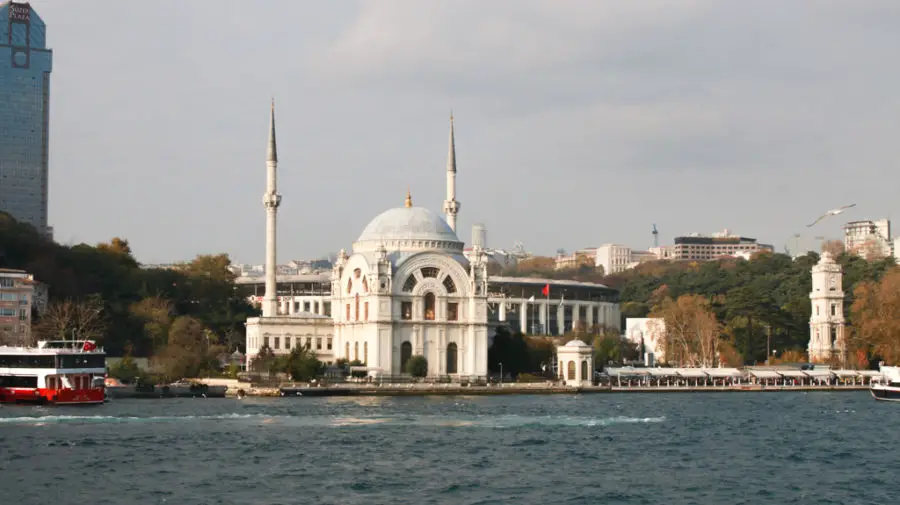 Price: $12 – $25 US. Prices vary depending on tour length and whether there is a guide.
Hours: vary
Time needed: 90 minutes (full-day Bosphorus tours are available)
WOTW rating: 3/5 (based on our experience with a not-so-great tour)
What better way to shake off the jet lag than to cruise the famous Bosphorus Strait and Golden Horn. The unforgettable views of Istanbul are just one benefit of this popular tour. You'll also get a sense of the vital roles these iconic waterways play for the city.
Make sure to look for Bosphorus tours leaving from Sultanahmet so that you are well situated for the rest of the day's activities. You will need about 30 minutes to walk to old Istanbul if you are staying in the Karaköy area. But you will pass over the Galata Bridge, one of my absolute favorite places in Istanbul!
WOTW Tip #1: you can take the T1 metro from Karaköy to Sultanahmet if needed. This ride takes about 10 minutes. It's not a bad idea to jump on the metro early in your stay so you can see how easy it is!

WOTW Tip: #2 be careful with which 'tour' you end up booking. Not all Bosphorus tours provide information about the sites. The basic tours simply cruise past the attractions without providing any actual information. If you don't care about receiving any information about what you are seeing, you can book a cheap Bosphorus Tour on Istanbul's ferries.
Where to eat in Sultanahmet: for a full sit-down lunch, head to Ziya Kebap Lahmacun and order the delicious lahmacun! If you want to try Turkey's famous baklava with some tea, head to the popular Hafiz Mustafa.
Day 2 – Afternoon: Free Walking Tour Of Istanbul's Old City
Price: tipping your guide the equivalent of about $12 – $15 US, is typical.
Hours: start times vary. GuruWalks starts at 1:30 pm
Time needed: 2.5 hours
WOTW rating: 5/5
Head toward's Istanbul's Sultanahmet Square after lunch to meet with your walking-tour guide. Istanbul's history is incredibly rich and complicated. The guided tour will help provide some essential details about what has historically been one of the most important cities in the world! These free walking tours are also great for getting your bearings in a new place.
We went on a terrific free walking tour with GuruWalk. Our guide was friendly, knowledgeable, and helpful. We totally recommend booking with GuruWalk!
Need a little break? Do the local thing and find a comfortable place for an afternoon çai (Turkish tea). Or head to one of the many rooftop restaurants for incredible views of the Blue Mosque and Hagia Sophia. These rooftops are perfect for getting those perfect pictures of Istanbul's old city!
Day 2 – Evening: Enter Istanbul's Most Famous Mosques
The Hagia Sophia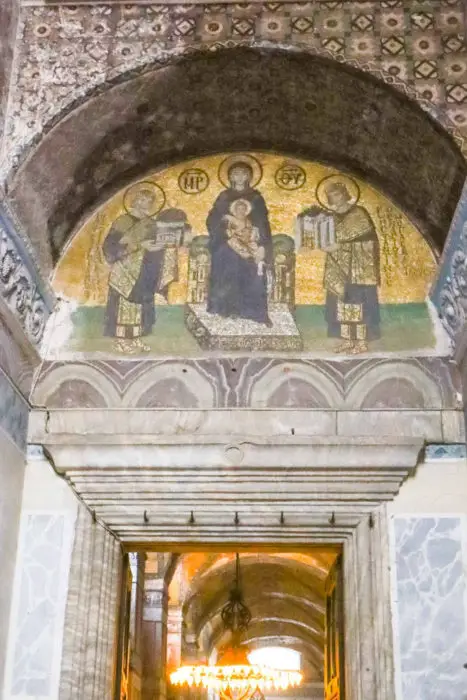 Price: free
Hours: 24/7. Note that visitors are required to leave during prayer times.
Time needed: 30-60 minutes
WOTW rating: 5/5
A visit to the Hagia Sophia is a must on your 4 day Istanbul itinerary. Currently an active mosque, the Hagia Sophia was originally constructed as a church by the Byzantine Empire. Later it was converted into a museum and then transformed into a mosque following a controversial decision made by Turkey's President Erdogan.
Entering this famous mosque will take your breath away. Once inside the Hagia Sophia you will fully appreciate the enormous size and grandeur of this religious site.
Location: Hagia Sophia, Fatih, Istanbul.
Sultanahmet Mosque (The Blue Mosque)
Price: free
Hours: 9 am – 7 pm
Time needed: the Blue Mosque is currently being renovated. You only need 15-30 minutes while it is under renovation.
WOTW rating: 3/5
The gorgeous Blue Mosque was commissioned by an Ottoman Sultan to exceed the size and grandeur of the nearby Hagia Sophia. And while it is debatable if this goal was accomplished, one thing for sure is that the Blue Mosque is stunning.
At the time of our visit, the mosque's famous blue-tiled interior is hardly visible due to the ongoing renovations. But it is still worthwhile to admire the fantastic architecture of this iconic mosque from outside.
WOTW Tip #1: the Blue Mosque and Hagia Sophia are directly next to each other. These two attractions should definitely be visited on the same day.

WOTW Tip #2: the lines to enter the Hagia Sophia and Blue Mosque can be daunting. But the great thing about the Hagia Sophia is that it is open late. If the lines are too much, consider going after dinner when many of the crowds will have left.
Where to eat in Sultanahmet: head to Dönerci Şahin Usta in Sultanahmet if you are dying to try Istanbul's famous döner. If you are looking for something more unique, try Şehzade Cag Kebab. Cag kebab is something we didn't see anywhere else during our 3 months in Turkey. And it was delicious!
Day 3: Explore Dolmabahçe Palace & The Galata Neighborhood
Old Istanbul's landmarks aren't going anywhere. So take the time to enjoy the beautiful sites around the Karaköy, Galata, and Beyoğlu districts! These neighborhoods are sometimes referred to as 'new Istanbul,' but don't worry, they are still plenty historic.
You will visit some great neighborhoods and a historic Ottoman palace on this day of your 4 day Istanbul itinerary!
But first, breakfast!
Day 3 – Morning: Have A Traditional Turkish Breakfast
Price: between $4-6 US, per person.
Hours: 7 am – 11 am
Time needed: 1 hour
WOTW rating: 5/5
Breakfast in Turkey is a big deal. And there is no better way to start this busy day than with a traditional Turkish breakfast! A Turkish breakfast typically consists of cheeses, sliced meats, tomatoes, cucumbers, olives, and unlimited bread accompanied by various spreads.
If you want to try something very traditional that is not always included in the standard Turkish breakfast, go for the delicious menemen! Menemen is scrambled eggs cooked in a tomato base, with onions and peppers. We first tried this typical Turkish breakfast dish while visiting Pammukale, and we totally approve!
Where to eat: for traditional Turkish breakfast try Yiğit Sofram Gözleme ve Kahvalti in Beyoğlu, or Van Kahvalti Evi in Sultanahmet.
Day 3 – Late Morning: Visit The Regal Dolmabahçe Palace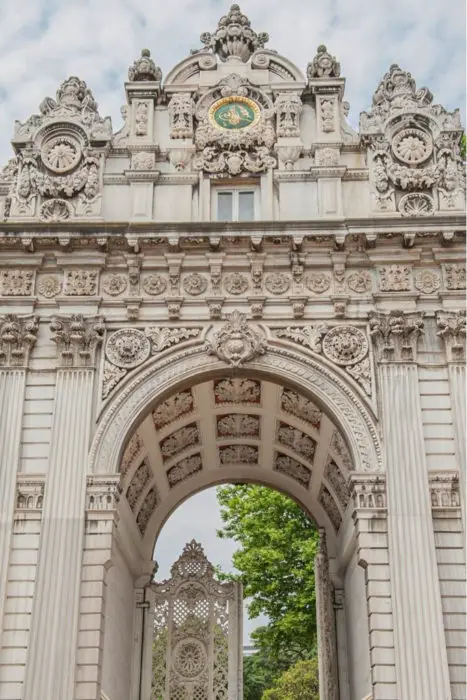 Price: general admission is 120 Lira ($10 US); 150 Lira for full access, including the harem ($12.50 US). (If you don't buy the combo ticket at the entrance you will have to pay 90 Lira to enter the harem ($7.50 US)).
Hours: 9 am – 4 pm (closed Mondays)
Time needed: 2 – 3 hours
WOTW rating: N/A
Dolmabahçe Palace might be the most impressive of Istanbul's famous landmarks! If you went on the Istanbul free walking tour, you surely learned about Istanbul's Ottoman history. A visit to Dolmabahçe Palace will provide more perspective on how wealthy and powerful the Ottoman Empire was. 14 tons of gold leaf were used to adorn the palace's ceilings!
A guided tour is included in the entry price. Tours start every 5 minutes during the high season. Consider a more private 'skip-the-line' tour of Dolmabahçe Palace if you are particularly interested in Ottoman history.
WOTW Tip: Dolmabahçe Palace is the closest you will be to Taksim Square on this 4 day Istanbul itinerary. If you are dead-set on seeing this famous square, this might be your best chance!
Where to eat in Karaköy: head to nearby Moise Karaköy for a full sit down lunch, or visit Kumbaraci Börek for a quick snack of delightful Turkish börek (we went here about 5 times during our 12 days in Istanbul).
Day 3 – Afternoon: Explore The Energetic Galata Neighborhood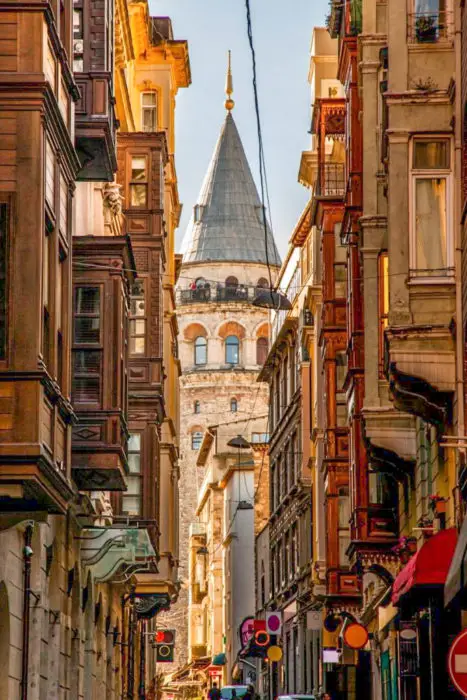 Price: free to wander around. Entrance to the Galata Tower costs 100 Lira ($7.50 US)
Hours: 8:30 am – 12 am for the Galata Tower.
Time needed: 1 – 2 hours
WOTW rating: 5/5
The small Galata Neighborhood is full of life. While the energy centers around Galata Tower, make sure to wander the little streets. You will find many colorful alleyways filled with cats, graffitied walls, and street musicians. This area is also great for visiting vintage shops and cool galleries.
It is possible to climb to the top of Galata Tower to have panoramic views of Istanbul. Built on one of Istanbul's 7 hills, the views from Galata Tower will be epic.
WOTW Tip: Galata Tower is about a 30-minute walk from Dolmabaçe Palace. The walk along the Bosphorus is nice, but consider a taxi if 30 minutes sounds ambitious.
Where to eat around Galata: recharge your batteries with some Turkish tea, coffee, and sweets before heading back out. We loved the cafes nearby Galata Tower.
Day 3 – Evening: Treat Yourself With A Turkish Bath
Price: between $40-60 per person.
Hours: 8 am – 11:30 pm (some hammams have different hours for women and men)
Time needed: 50 – 90 minutes
WOTW rating: 5/5
Ready to get scrubbed down at a traditional Turkish bath in Istanbul? After walking back and forth from Istanbul's historical sites, you deserve a little pampering. Visiting an Istanbul hammam is an unforgettable experience! Just make sure you go with the right expectations!
We got our deep cleaning at the beautiful and relatively affordable Kılıc Ali Pasa Hamam. The hammam experience at Kilic Ali Pasa is easy to book online, and we totally recommend this beautiful Turkish bath.
Where to eat: now that you are all scrubbed and clean, it's time to get dinner. Since you are in Galata, head back to the tower to join the energetic crowds hanging around the beautifully illuminated Galata Tower. There are plenty of restaurants with outdoor seating to choose from.
Day 4: Topkapi Palace, Iconic Bazaars, And One Of Istanbul's Best Sunsets
On day four you'll hit the remaining essential sites in Istanbul's. You didn't think we'd let you leave town before catching the Grand Bazaar and the most famous Ottoman Palace in town, did you? As a bonus, you'll get to see one of the best sunsets in Istanbul from a beautiful mosque.
Day 4 – Morning: Marvel At Topkapi Palace And A Ottoman Harem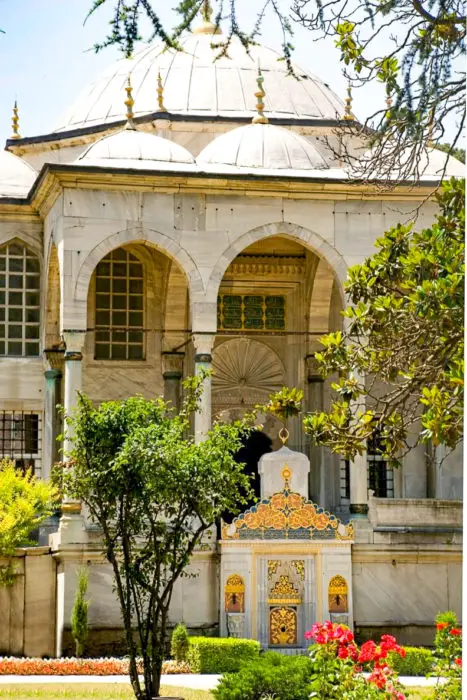 Price: the outside gardens are free to enter. General admission to the museum is 200 Lira ($17 US). Full admission with access to Topkapi Palace harem is 300 Lira ($25.50 US).
Hours: 9 am – 6 pm (closed Tuesdays)
Time needed: 2 – 5 hours
WOTW rating: 5/5 (we only visited the outside gardens)
Topkapi Palace is one of Istanbul's most famous attractions. It is also one of the more expensive and time-consuming sites on this 4 day Istanbul itinerary. Formerly a residence for Ottoman sultans, the Topkapi museum now boasts countless important artifacts from Ottoman and Islamic history. You can even see the Prophet Mohammad's tooth at Topkapi palace!
The number of exhibitions at the museum is enormous. Consider taking a guided tour of Topkapi Palace to get a full appreciation of the Palace's history, the role of the harem, and the importance of the most popular exhibitions.
Where to eat in Sultanahmet: your next stop will be the Grand Bazaar. While touristy, it is possible to eat some traditional Turkish foods. Havuzlu Restaurant is the highest-rated restaurant in the Grand Bazaar. If you want to try some street food, try the charcoal-grilled döner at nearby Gul Ebru Kantin.
Day 4 – Afternoon: Visit The Grand Bazaar & Spice Bazaar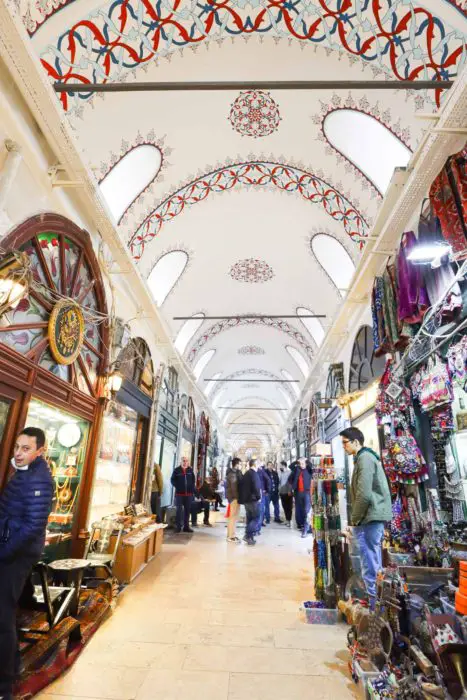 Even though visiting the infamous Grand Bazaar wasn't our absolute favorite thing to do, it's hard not to include a visit to this iconic marketplace on your itinerary. The Grand Bazaar is geared entirely to visitors, and you won't find many locals doing their shopping here. Still, it's fun to get lost in the massive market and to banter with the shop attendants.
Istanbul's Spice Bazaar is about a 10-minute walk from the Grand Bazaar. Although the Spice market is more organized than the maze of shops at the Grand Bazaar, the overall vibe is similar. Make sure your camera is charged so you can capture the colorful display of spices and Turkish sweets!
WOTW Tip: you can buy some basic souvenirs at the Grand Bazaar. However, if you are looking for better prices and higher-end items like rugs, ceramics, or Turkish towels, consider heading towards the smaller Arasta Bazaar near the Hagia Sophia.
Parts of Istanbul can be pretty touristy. Are you curious about getting off the beaten path in Turkey? Check out this itinerary for Trabzon and Rize, Turkey. Never heard of Trabzon and Rize? See what it's like on the video from one of our favorite places in Turkey!
Day 4 – Evening: End The Day At Sulemaniye Mosque And Enjoy A Perfect Sunset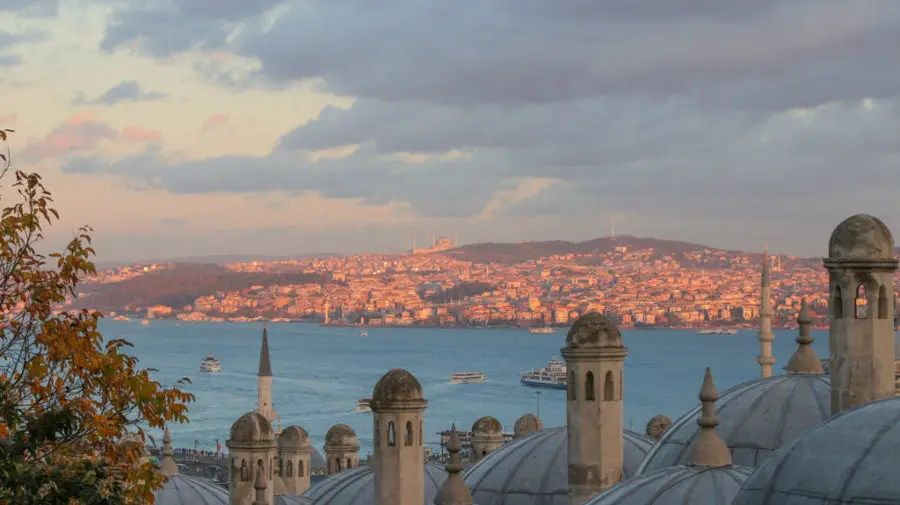 Price: free
Hours: 9 am – 6 pm
Time needed: 30 – 60 minutes
WOTW rating: 5/5
Sulemaniye was our favorite of Istanbul's famous mosques. Nestled at the top of one of Istanbul's 7 hills, Sulemaniye Mosque is an unmistakable presence on the city's skyline. It is also located a decent distance from old Istanbul's most visited landmarks, making it less crowded than the Hagia Sophia and Blue Mosque. Especially in the evening!
Sulemaniye is a stunningly beautiful mosque. But visitors can enjoy the added bonus of incredible views of Istanbul, Golden Horn, and the Bosphorus Strait from the Mosque's gardens. Try to be there at sunset to watch Istanbul get painted in beautiful hues of pink and orange.
Where to eat around Sulemaniye Mosque: Erzincanli Ali Baba is a popular place to try Kuru Fasulye, a famous Turkish white-bean dish.
Is This Post Helpful? Don't Forget To Pin It For Later!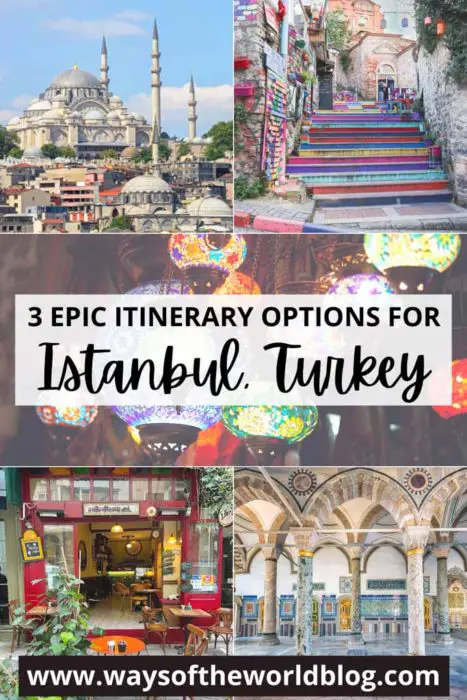 7 Day Istanbul Itinerary
Oh good, you decided to visit for this wonderful place for 7 days! Here's what to expect during the next three days of this 7 day Istanbul itinerary:
During your next 3 days in Istanbul, you'll head to Istanbul's underappreciated Asian side (one of our absolute favorite stops in Istanbul), go on a delicious food tour, and discover some of Istanbul's best neighborhoods! You'll also get to relax on the Princes' Islands. You are totally becoming an Istanbul local.
Where To Stay In Istanbul On A 7 Day Itinerary
Our recommendation for stays on a 7 day itinerary may differ from the 4 day itinerary. 7 days in Istanbul gives you the flexibility to stay a little further from the old city. We think Karaköy and Galata provide the best combo of proximity to sites and local flavor for visitors staying in town for 7 days.
The 7 day itinerary is a continuation of the 4 day itinerary above. If you jumped straight to the 7 day itinerary, scroll back up to see what you missed for your first 4 days in town!
Day 5: Spend The Day On Istanbul's Asian Side
Time to leave Europe and head to Asia! Many people that come to Istanbul skip a visit to the Asian side. This is totally a mistake. The neighborhoods in Anatolian Istanbul were our favorites! And they are not overly touristy. So you can totally enjoy the cool neighborhood vibes like a local.
Day 5 – Morning: Join Istanbul's Commuters On The Ferry To Kadiköy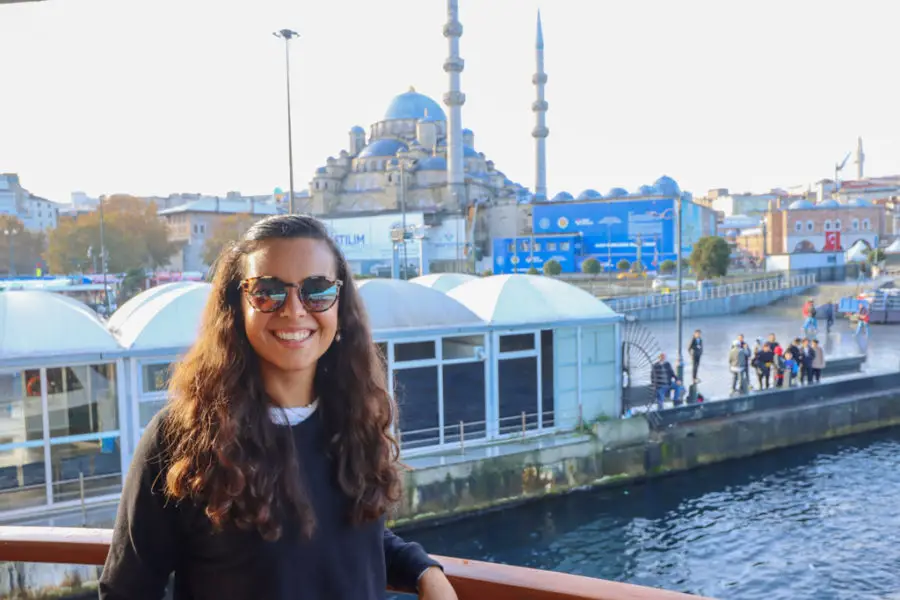 We loved the ferry ride to Istanbul's Asian side. We cruised next to some massive freight ships moving cargo along the Bosphorus Strait. And seeing all the cargo ships waiting in the Sea of Marmara gave us an appreciation for how important this trade route is and has always been.
The views from the water are also to die for. The commute between Istanbul's Asian side and the European side has to be one of the most beautiful in the world!
Day 5 – Late Morning: Grab Brunch Alongside Istanbul's Locals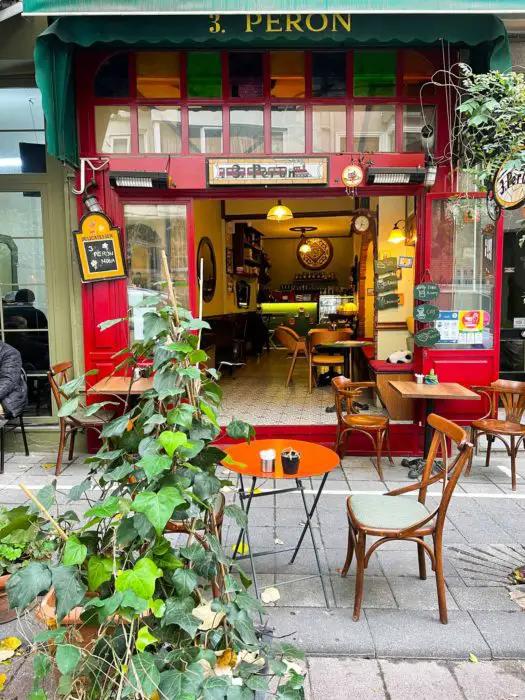 Price: about $5 – $10, per person
Hours: 10 am – 12 pm
Time needed: 1 – 2 hours
WOTW rating: 5/5
There is no reason not to experience Istanbul like a local if you are on a 7 day Istanbul itinerary. Today's brunch doesn't have to be like the traditional Turkish breakfast you experienced the other day. Neighborhoods like Moda and Kadiköy on Istanbul's Asian side are known for their hipster flair.
You'll find Istanbul's trendy locals enjoying the great ambiance in Kadiköy's lively backstreets. So just grab a table at the place with the most energy and make some new friends!
Day 5 – Afternoon: Head Back On The Bosphorus To Visit The Maiden's Tower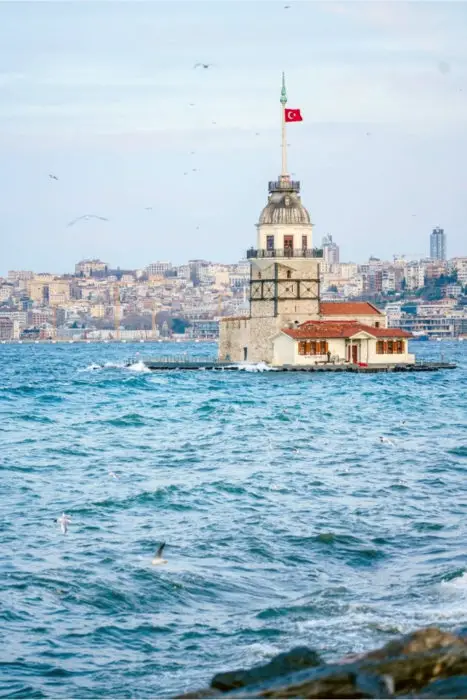 Price: 30 Lira for entrance to the museum ($2.50 US)
Hours: 9 am – 6:45 pm
Time needed: 60 – 90 minutes
WOTW rating: N/A
The legends surrounding the Maiden's Tower are bigger than the actual structure. Known locally as Kiz Kulesi, this tiny but historic landmark boasts a small museum and cafe where you can enjoy incredible views of Istanbul from the Bosphorus.
You'll need to hop back on a boat for a short cruise along the Bosphorus Strait to visit the photogenic Maiden's Tower. The boat trip from Istanbul's Asian side takes about 15 minutes and leaves regularly from the Üsküdar neighborhood.
Day 5 – Evening: Explore The Trendy Kadiköy And Moda Neighborhoods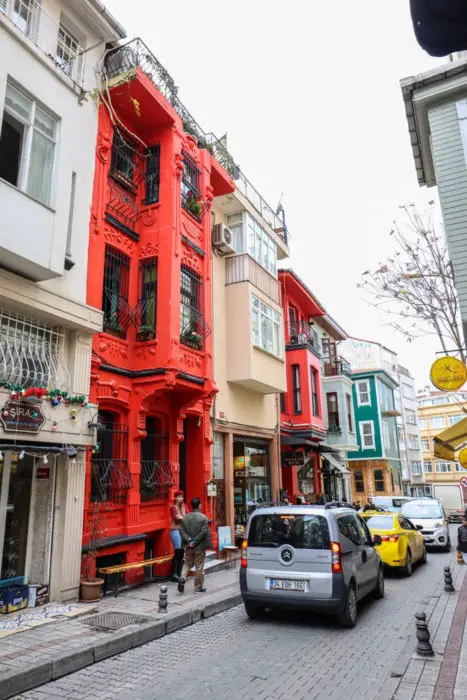 Price: free to wander around
Hours: N/A
Time needed: 1 – 2 hours
WOTW rating: 5/5
Kadiköy and Moda are known for their eclectic vibes and pumping nightlife. Walk around to explore the muraled walls, vibrantly colored buildings, vintage shops, and wonderful independent coffee shops. These neighborhoods are great for joining Istanbul's locals away from the tourist crowds.
Don't be fooled by the people that say Istanbul's Asian side isn't worth visiting. Spending a day in these neighborhoods was one of our favorite experiences in Istanbul.
Where to eat (and drink) on Istanbul's Asian side: there are infinite bars around Moda and Kadiköy where you can go for a drink. But if you are looking for something a little more chilled out, head to Viktor Levi Şarap Evi for a cozy wine bar on a beautiful outdoor terrace.
Sign-up to our newsletter to get useful travel tips from our future destinations!
Day 6: Roman History, Colorful Neighborhoods And A Food Tour
On day 6 of this 7 day Istanbul itinerary, plan to head to some of Istanbul's lesser-known sites. Get ready to go to a sixth-century church and the up-and-coming neighborhoods of Balat and Fener!
Day 6 – Morning: Discover The Historic Chora Church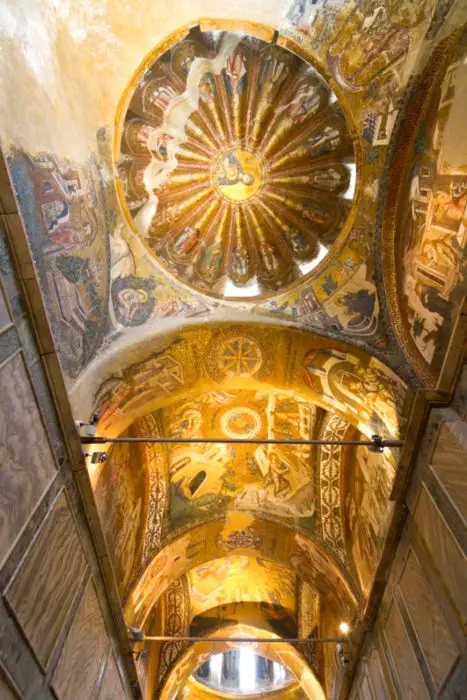 Price: free
Hours: 9 am – 5 pm (being renovated as of November 2021)
Time needed: 1 hour
WOTW rating: N/A
Along with the Hagia Sophia, Chora Church is one of Istanbul's few remaining Byzantine churches. And like the Hagia Sophia, the Chora Church converted into a museum before recently being turned into a mosque. Nevertheless, this 6th century roman structure continues to be a popular place to visit due to its beautiful mosaics and frescos depicting Christian imagery.
While the location is quite small, exploring the old Chora Church and the surrounding residential neighborhoods is a great way to get away from Istanbul's more touristy core.
Istanbul isn't the only place with fascinating Christian history. Did you know that Cappadocia's famous cave churches helped the early development of Christianity! Discover what you need to know about Cappadocia before visiting.
Day 6 – Afternoon: Head To The Historic Fener And Balat Neighborhoods
Price: free to explore
Hours: N/A
Time needed: 2 hours
WOTW rating: 4/5
What better way to get a true sense of Istanbul than to explore one of its up-and-coming neighborhoods. Located a short drive from the old city, this old Greek and Jewish neighborhood is becoming a popular place due to the photogenic rows of colorful homes.
Significant investment is being made to restore these historic neighborhoods. The increased foot traffic has resulted in the emergence of vintage shops, cafes, and attractive little restaurants. This is a great area to pick a nice spot and get caffeinated for the rest of the day.
WOTW Tip: watch out for the simit vendor posing for photos in Balat! He will pretend that he is simply posing for a picture before shoving a bag full of bread in your hands and charging you. He looks harmless, as you can see from the image above. But he's sneaky!
Where to get caffeinated in Balat: next on the agenda for today is a food tour. So it's probably best to take it easy for lunch and just go for some coffee and snack. We were happy to stumble into Pianto Cafe for our coffee fix.
Day 6 – Evening: Try Istanbul's Best Dishes On A Food Tour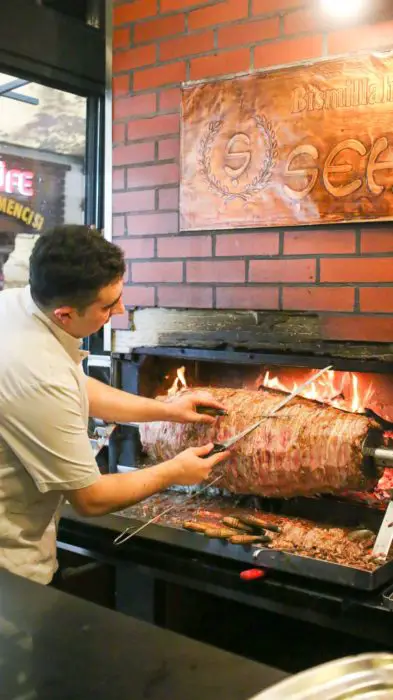 Price: $37 – $45 US, including food. (Read below about our DIY food tour)
Hours: 3:30 pm – 6:30 pm; 5 pm – 8 pm
Time needed: 3 hours
WOTW rating: 5/5 for our DIY tour
Istanbul's foods are amazing! And exploring the local cuisine is a great way to learn about a place's history and culture. So an Istanbul food tour is both educational and delicious! What more could you ask for?
Food tours are great for travelers on shorter stays who want to be sure to try Turkey's most popular dishes. Check out these highly-rated Istanbul food tour options:
Where to eat in Balat: if food tours aren't your thing and you would rather spend more time in Balat, consider splurging a bit on some fine dining. You can't come to one of the world's greatest cities and not indulge in a nice dinner. Smelt & Co. has a well-designed and intimate setting with craft cocktails and wines!
---
We created a DIY Istanbul food tour! After spending 3 months in Turkey, we realized that we had already tried many of the foods that would be sampled on the paid tour. So we saved money by creating our own DIY tour of the most delicious Istanbul's foods.
We also went on our own food tour in Gaziantep, Turkey's gastronomic capital! Don't forget to watch our video on Gaziantep's famous foods!
---
Day 7: Princes' Islands And Taksim Square
A visit to Princes' Islands is perfect for those spending a few extra days in Istanbul. These islands are popular with locals wanting to distance themselves from their 15 million neighbors. But visiting bustling Taksim Square in the evening will ensure that you won't have enough time forget about the crowds.
Day 7 – Morning: Enjoy The Beach At Princes' Islands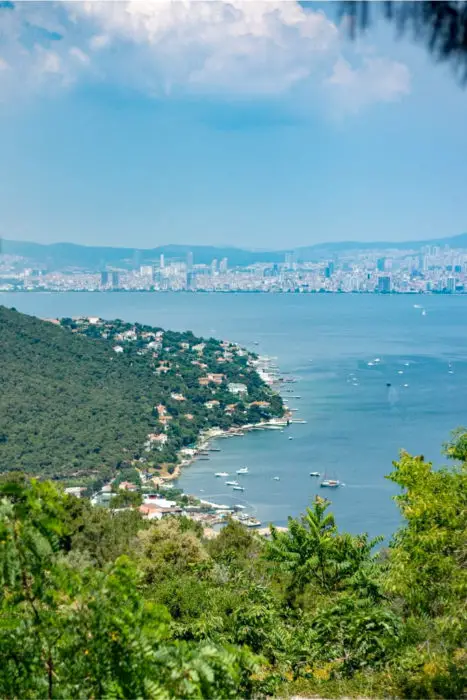 Price: 7 Lira for one-way ferry ride ($0.75 US).
Time needed: 3 – 5 hours
WOTW rating: N/A
Princes' Islands lie in the Sea of Marmara, just a short ferry ride away from Istanbul's waterfront. This beautiful group of islands is excellent for visitors on a 7 day Istanbul itinerary who are ready for a break from the hustle and bustle downtown. You won't find any cars, buses, or packed sidewalks on the Princes' Islands!
It's easy to jump between the islands via ferry. Check out this article to discover which one of Princes' Islands is best for you.
WOTW Tip #1: it is possible to spend an entire day exploring Princes' Islands. Consider scrapping Taksim Square from today's itinerary if you prefer to have a chill day away from Istanbul's intensity.

WOTW Tip #2: Princes' Islands can get busy with locals, especially on weekends when the weather gets too hot to be in the city. Try to get there early if you are planning for a beach day.
Day 7 – Evening: Join The Party At Taksim Square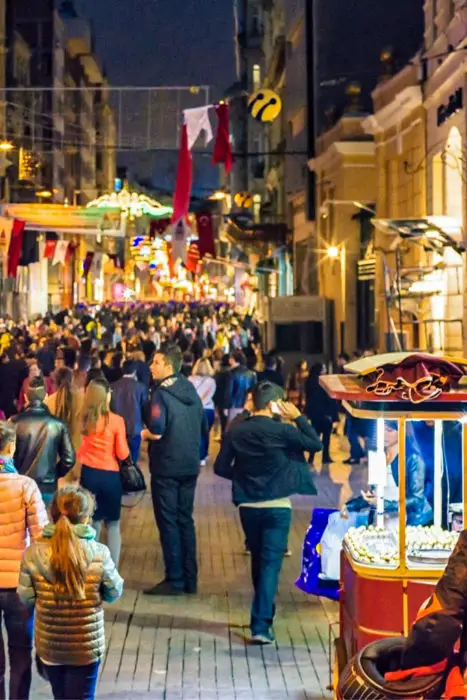 Price: free to explore
Hours: Taksim Square is most lively at night.
Time needed: 1 hour
WOTW rating: 3/5
Most people will expect to see Taksim Square during their visit to Istanbul. Even locals mention seeing this bustling area as one of Istanbul's more popular things to do. It makes sense to include a stop at Taksim in your itinerary if you are visiting for more than 4 days.
Taksim Square is famous for its nightlife and shopping. But there isn't a ton going on in terms of actual sites. The best plan is to wander around a bit before joining the party somewhere. Many bars are located on the side streets along Taksim's main shopping street.
Where to eat around Taksim Square: ready to try some of Istanbul's popular late-night snacks? The famous 'wet burgers' are surprisingly delicious after a few beers. Go for the iconic kokoreç if you are feeling a little more adventurous. This lamb intestine sandwich is one of Istanbul's most beloved drunk foods! You will find plenty of stalls selling these dishes around Taksim Square.
10 Day Istanbul Itinerary
10 days is plenty of time to explore Istanbul's most popular attractions and much more. One option for visitors enjoying a longer stay is to spread out the activities listed in the 4 and 7 day itineraries.
However, for those that want to keep a packed schedule, you can plan for a day trip to Istanbul's most famous forest, go underground in Istanbul to visit an old Roman cistern, and say goodbye to Istanbul from Galata Bridge.
Where To Stay In Istanbul On A 10 Day Itinerary
Our recommendation for stays on a 10-day itinerary is the same as the 7-day itinerary. What can we say? Karaköy and Galata are just two of the best areas to stay in Istanbul!
That said, think about staying in Kadiköy for a few days if you don't expect to pack your days with all the activities listed on this blog post and want to stay somewhere off the tourist trail.
The 10 day itinerary is a continuation of the previous itineraries above. If you jumped straight to the 10 day itinerary, scroll back up to read the epic adventures you have in store for your first 7 days in town.
Day 8: Day Trip To Belgrade Forest
After 8 days in Istanbul, it's time for a relaxing day trip. And a 10 day Istanbul itinerary gives lucky visitors the opportunity to discover where locals go to get away from the city and into nature! Time to experience Istanbul like a local!
Day 8 – Full Day: Enjoy Fresh Air And A Picnic At Belgrade Forest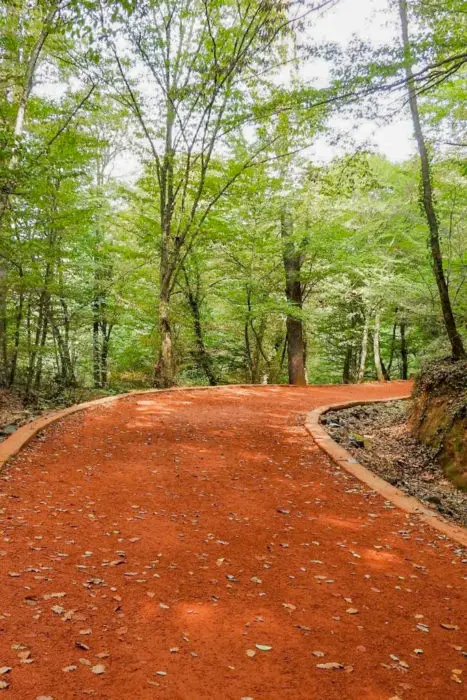 Price: free
Hours: 24 hours
Time needed: 4 – 6 hours (including transport)
WOTW rating: N/A
Located only 15 miles from Istanbul's core is the tranquil Belgrade Forest. Worlds away from the city's crowds and stimulation, Belgrade Forest is a protected natural area great for taking a stroll through nature. Bring your picnic supplies and enjoy a day away from Istanbul's non-stop commotion.
This popular Istanbul day trip is a luxury left for travelers on a day 10 Istanbul itinerary. It is possible to reach Belgrade Forest by public transportation.
WOTW Tip: there are a couple of restaurants located in Belgrade Forest if you prefer not to picnic during your visit.
Other Day Trip Options From Istanbul
Consider these other day trip options if Belgrade Forest isn't something you are too excited about:
Day 9: Say Goodbye to Old Istanbul
On day 9 of this 10 day Istanbul itinerary you'll head back to the old city for the last time. Get ready to go underground into an ancient Roman cistern, and explore the famous archeological museum.
Day 9 – Morning: Go Underground Into The Basilica Cistern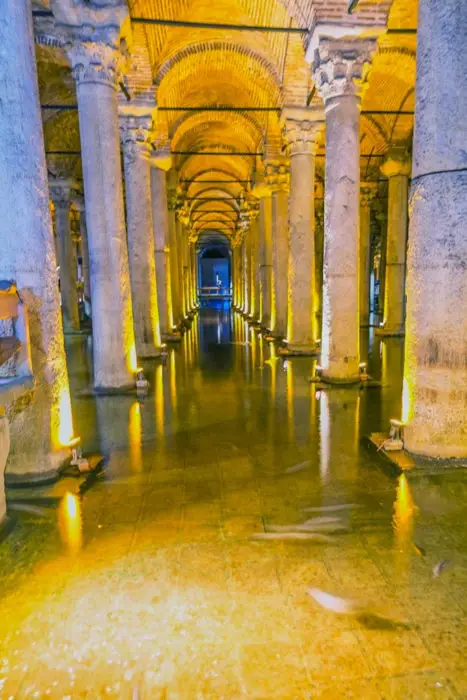 Price: 30 Lira ($2.75 US)
Hours: 9 am – 6:30 pm (the Basilica Cistern was closed for restoration during the time of our visit. Check the official Basilica Cistern website for updates)
Time needed: 30 – 60 minutes
WOTW rating: N/A
Did you ever think you would explore Istanbul's underground? Well, that's exactly what's in store to start your ninth day in the city. Venture under Istanbul's hectic streets to marvel at the Basilica Cistern's massive size and perfectly arranged columns. This remnant of the East Roman Empire supplied water to Istanbul's (Constantinople) most important administrative buildings
Make sure to look for the ghost-white carp patrolling the waters of the Basilica Cistern!
Day 9 – Afternoon: Relax In Gülhane Park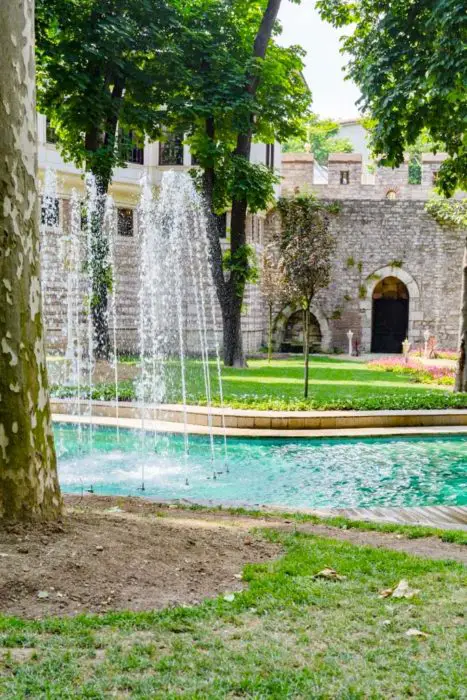 Price: free
Hours: 24/7
Time needed: 1 – 2 hours
WOTW rating: 4/5
After 9 days of running around Istanbul, it's okay to slow down a bit. Formerly a part of Topkapi Palace, Gülhane Park is the oldest public park in Istanbul. It's a great place to get away from the busy sidewalks and enjoy the beautiful surroundings. So just bring a book, listen to a podcast, or simply-people watch from a park bench.
If you happen to be visiting Istanbul in April, you might be lucky enough to see Gülhane Park filled with tulips. Tulips were the preferred flower of many Ottoman Sultans, and they are Turkey's national flower.
Where to eat: remember the street with the old Istanbul's best cag kebap and lahmacun? Well they also have a famous köfte place! We thought that the köfte and white bean salad were absolutely delicious!
Day 9 – Evening: Visit Istanbul's Archeological Museum
Price: 60 Lira ($5 US).
Hours: 9 am – 7 pm
Time needed: 2 – 3 hours
WOTW rating: N/A
Istanbul is one of the most historically significant cities in the world. What better way to appreciate Istanbul's remarkable history than a visit to the city's oldest and most renowned museum. Beyond containing a massive number of artifacts and exhibitions from Turkey's incredible past, this historic building also has beautiful gardens with a cozy cafe.
Istanbul's Archeological Museum showcases exhibitions from across Turkey. This is a great place to visit to get up to speed on Turkey's fascinating history. Definitely consider exploring the museum if you are also traveling to historic Cappadocia, or if you are interested in visiting Sanliurfa for its incredible stories of early human civilizations.
WOTW Tip: we are not huge museum people. If a visit to the Archeological Museum doesn't have your name on it, consider jumping back on the Bosphorus for a more extensive boat tour around Istanbul than was suggested on day 2 of this Istanbul itinerary.
Where to eat: head to Karaköy Gümrück if you are looking to dine somewhere trendy and slightly upscale for your last evening. If you want to finish your Istanbul travels with more traditional meals, try Buhara Kebab House Restaurant near the Istanbul Archeological Museum.
Day 10: Leaving Istanbul
After 10 action-packed days in Istanbul, it's finally time to say goodbye. If you are like us and live in the good old US of A, you will likely have an early morning flight to Istanbul International Airport.
But let's say your plan is to visit Cappadocia after your Istanbul stay. Or maybe you are going to explore Pamukkale and the famous Cotton Castle. In that case, what's the rush to get out of Istanbul? Enjoy a slow morning at one of our favorite spots our time in Istanbul!
Day 10 – Morning: Say Goodbye From Galata Bridge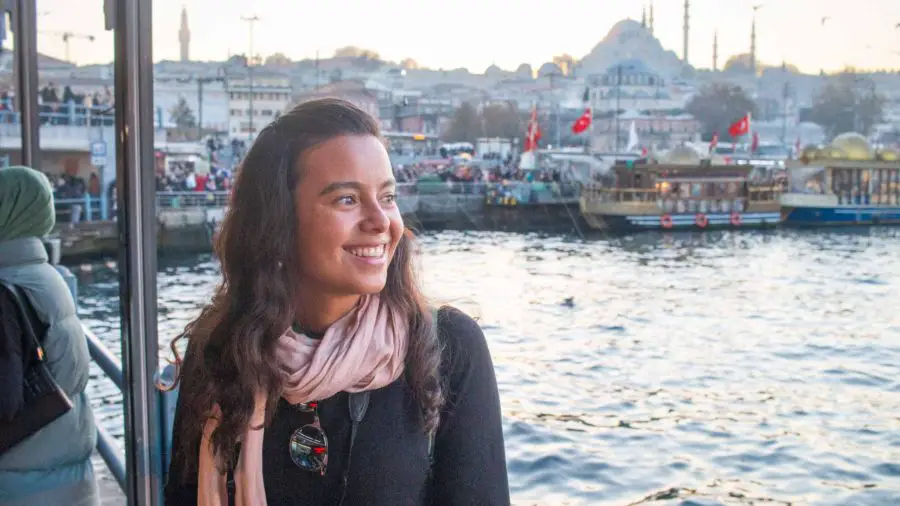 Price: free
Hours: 24/7
Time needed: 30 minutes
WOTW rating: 5/5
On your last morning, head out to Galata Bridge to take in the final views of incredible Istanbul. Make sure to stop by the simit vendor on the way out to say goodbye with one of Turkey's most famous street foods.
We think that the views and energy experienced from Galata Bridge are the best in town. And stopping there to soak in the final views of Istanbul is the best way we can think of to say goodbye to this incredible city.
Which Is The Best Area To Stay In Istanbul?
The best neighborhood to stay in Istanbul depends on the length of your stay and how close you want to be to the main tourist attractions. To summarize from the itinerary section, we think these are the best areas to stay in Istanbul based on the length of your visit:
Sultanahmet: great for the 4 day Istanbul itinerary. Close to the historical sites in the old city and many of the popular tours.
Karaköy & Galata: perfect for 7 and 10 day Istanbul visits. There is a more local feel to these beautiful neighborhoods, and you will still have good access to most of Istanbul's major attractions.
Kadiköy: better if you are not visiting Istanbul for the first time. It is also an option for travelers who are not eager to fill their days with activities and don't mind being in a great neighborhood away from the touristy sites.
How To Get Around Istanbul?
Getting Around Istanbul By Metro
Istanbul's extensive metro system is affordable and reliable. It is also the best bet for getting around Istanbul quickly. You may only need to learn a few popular routes to cut your walking time in half. Even if Istanbul is pedestrian-friendly, you will be happy to learn some basic routes to maximize your time and save your feet.
There are 8 Istanbul metro lines, and their routes are not too intricate. The most helpful metro line to us was the T1 to and from the center of old Istanbul to Karaköy.
Istanbul metro costs only a few Lira per ride. You can purchase the tickets from the automated machines located at each station.
WOTW Tip: Istanbul previously had a reloadable transit card called IstanbulKart. However, the reloadable card was unavailable for foreigners when we visited in November 2021. You will have to purchase non-reloadable tickets with a given number of trips pre-purchased.
Getting Around Istanbul By Ferry
Hopping on one of Istanbul's many ferries is by far the most fun way to get around town. You can find Istanbul's official ferry routes and timetables here.
Getting Around Istanbul By Bus
Buses in Istanbul are popular options for getting around town. Unfortunately, the intense traffic makes getting around Istanbul by bus less efficient than with the metro. Nevertheless, it could be a decent option if you are traveling around town beyond where the metro can take you. Just be prepared to be crammed in with plenty of others.
Getting Around Istanbul By Taxi
Taxis are ubiquitous in Istanbul, but we had some odd experiences while trying to use them to get around. More than once we flagged down a taxi, but when we told them our destination the driver declined to take us. That said, taxis are affordable and generally efficient ways to get around Istanbul.
WOTW Tip: make sure that your taxi driver turns the meter on once you get moving. We never had issues with Turkey's taxi drivers refusing to do so, but don't put yourself in the uncomfortable position of negotiating the fare after arriving at your destination.
Is Istanbul Safe?
Istanbul is a very safe city with a relatively low crime rate. While notorious terror attacks left many people wondering if Istanbul is safe to visit, our experience was incredibly positive. The Turkish people are welcoming and respectful of people and their property.
We would never advise you to throw caution into the wind, especially in bigger cities. But be comfortable in knowing that Istanbul is one of the safest cities for tourists. Beyond some common scams in Istanbul, you are unlikely to experience anything that would compromise your trip.
Final Thoughts About The Perfect Istanbul Itinerary
This Istanbul itinerary is not written in stone. It is written on the internet. If you are reaching your limit on mosques and landmarks, just dig a little further in the 7 day and 10 day Istanbul itineraries options to find the best attractions for you. Feel free to move things around based on your own travel style!
Thanks for reading!
G
Have any questions about the best way to explore Istanbul? Are you ready to check this incredible city off your bucket list? Reach out in the comments or DM us on Instagram!
Planning A Trip To Turkey? Read These Posts Next:
Tired of reading? We have an entire Turkey travel series on YouTub! Don't forget to subscribe to our channel while you're there 🙂
Was This Istanbul Itinerary Post Helpful? Share it on Pinterest!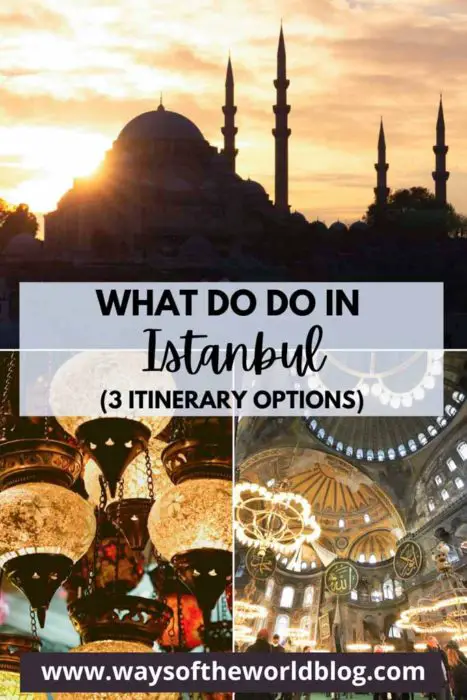 *Note: this post contains affiliate links. We receive a small commission if you make a purchase using these links, at no extra charge to you. Affiliate income helps to keep us on the road producing content that we hope is useful to you!