Estimated reading time: 18 minutes
Fethiye or Oludeniz? Oludeniz Or Kas? Keep Reading To See Which One Is For You!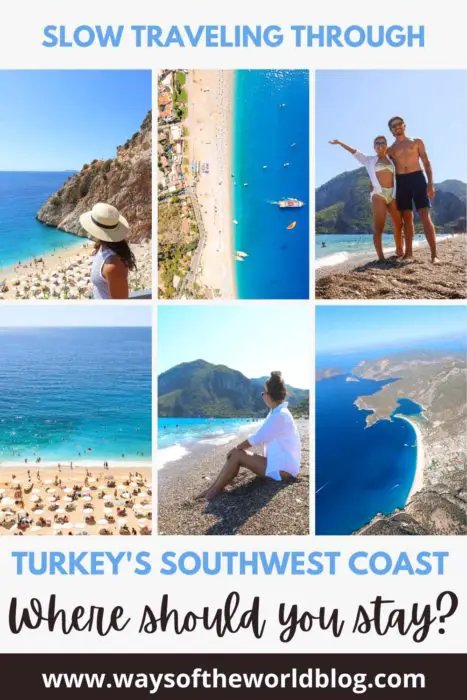 Oludeniz – The Social Media Darling
What To Know About Oludeniz
For most people, Oludeniz is THE crown jewel of Turkey's turquoise coast. If you have seen Instagram pictures of Turkish beaches, then it's likely that you were looking at the famous Blue Lagoon and Oludeniz beach. In fact, seeing images of these two iconic beaches might be exactly why you are interested in visiting Turkey in the first place! (just like it happened to us)
One of the biggest appeals of this place is that there are so many things to do in Oludeniz. And everything is packaged in a convenient little town that makes it easy to navigate once you arrive. You won't need Google Maps to find beaches, activities or restaurants in Oludeniz – everything is right at your doorstep.
And while Oludeniz translates to 'dead sea', the town is anything but dead. Even though international travel hasn't fully recovered yet, Oludeniz was still packed with people when we visited in September 2021. The Blue Lagoon had no space for our favorite beach towel, and there was a full armada of pirate boats heading out to sea with travelers ready to get the party started.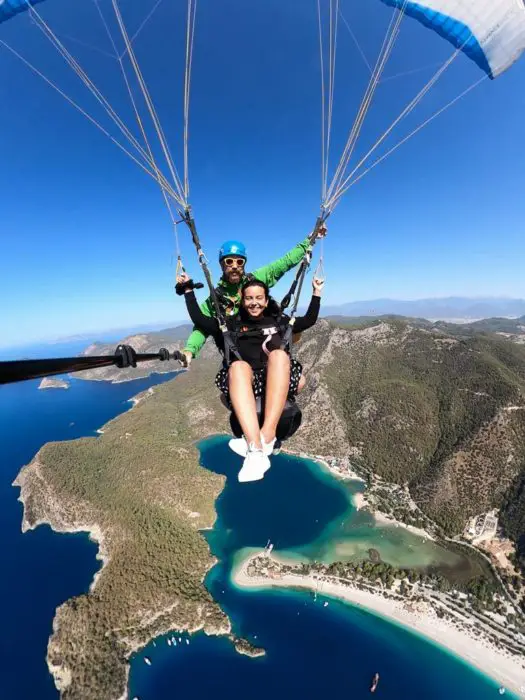 The Pros – Oludeniz Is For You, if:
You want to become a paragliding maestro (or at least want to try it once). Here you have easy access to world-famous paragliding!
You really just NEED to see the Blue Lagoon and Butterfly Valley for yourself.
You like the convenient access to beautiful beaches just a short stroll from your hotel or Airbnb.
You don't mind sharing paradise with fellow travelers. More friends for the party later!
You love the idea of water-sports galore. Tubing, jet skis, BANANA BOATS!!! There are so many things to do in Oludeniz!
The Cons – Leave Oludeniz Alone, if:
You pass out at the idea of running off the side of a mountain to paraglide a mile above sea level.
You actually don't care about tagging the famous Blue Lagoon or Butterfly Valley on your Instagram.
You would like at least a little taste of Turkish culture from the place you are staying. Shout-out to the English breakfasts everywhere.
You don't like the idea of small towns clearly catering to international travelers (sadly loosing their charm along the way).
You think that a fleet of double-decker pirate ships blasting party music is a tacky addition to your day at the beach.
Click The Play Button To See Why We Didn't Love Oludeniz.
Are you considering going to Oludeniz? Read this post next! We highlight all the best things to do in Oludeniz with costs and honest reviews. We promise it will be useful to plan your trip!
Is This Information Helpful? Don't Forget to Pin it for Later!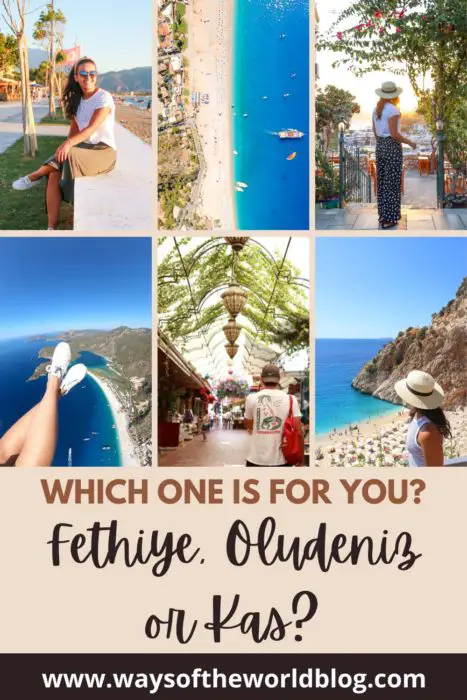 Fethiye – The City By The Sea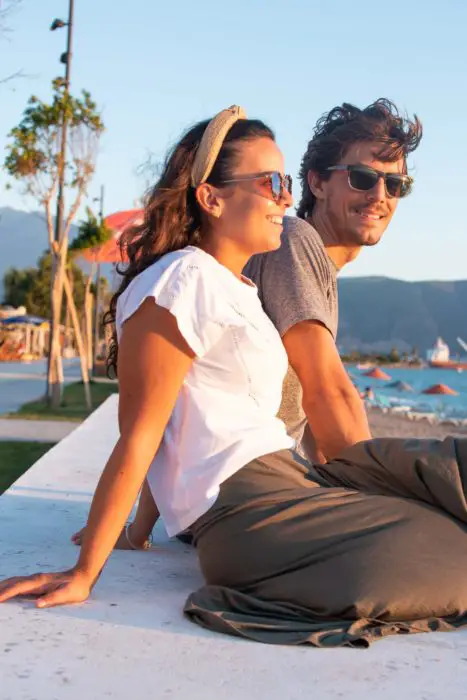 What To Know About Fethiye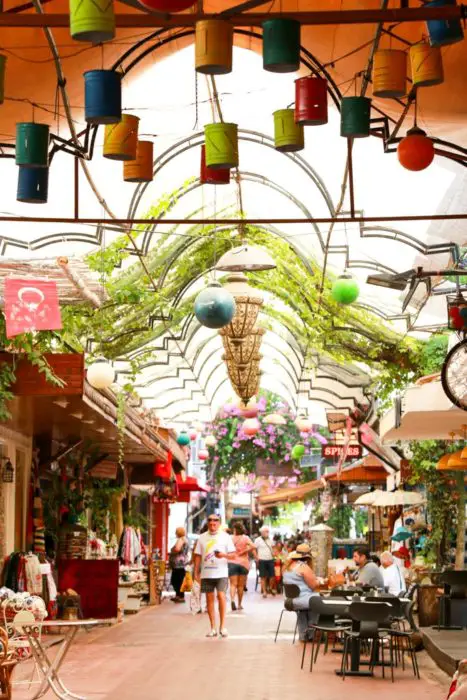 Fethiye is a small port-city located only a 20 minute drive from the infamous beaches of Oludeniz. The funny thing is, if you search Google Images for Fethiye, many of the pictures you will see are of Oludeniz's beaches! How confusing is that when you are trying to plan an epic vacation in Turkey?
Like Oludeniz, Fethiye offers plenty of access to boat tours and popular day trips. This place also boasts some cultural sights within the city itself – there are so many things to do in Fethiye! Want to see ancient tombs built into the side of a mountain? How about a bustling local market where you can stock up on Turkish olives and sweets? Fethiye has you covered!
Fethiye will give you an authentic glimpse of Turkish life in a small city, while still having access to the many activities in the area. Though it is important to know that there isn't much direct beach access in Fethiye. The marina dominates the shoreline in the old-town. And while Çaliş beach is nice, we consider it unspectacular.
The Pros – Fethiye is for You, if:
You want easy access to paragliding minus being constantly asked if you want to go paragliding… I'm talking about you Oludeniz.
You still want to see Oludeniz's famous beaches, but you want your home base to be in a bigger town (more like a small city).
You prefer having the diverse lodging and dining options that a small city can offer.
You are interested in seeing parts of Turkey's coast that are not entirely geared towards tourists.
You are planning to hike the entire Lycian-Way trail from the starting point in Fethiye.
The Cons – Leave Fethiye Alone, if:
You are desperate for easy access to crystal-clear water during your beach vacation.
You find the idea of being in a busier city during vacation unappealing. Who needs traffic on vacation??
You like to find stylish spots to enjoy the good life on vacation. There are not much Riviera vibes here my friends.
You don't want to end up on the same boat tour as all the other visitors.
You're not really interested in exploring Lycian tombs or shopping in the old-town area.
Check Out This Video From Wonderful Fethiye! We Loved This Little City By The Sea.
Sold on Fethiye? Make sure to discover all the best things to do in Fethiye! We promise it will be useful to plan your trip!
Want More Useful Travel Tips For? Sign-up Below To Get Travel Tips From Our Next Amazing Destinations!
Kas – The Bohemian Jewel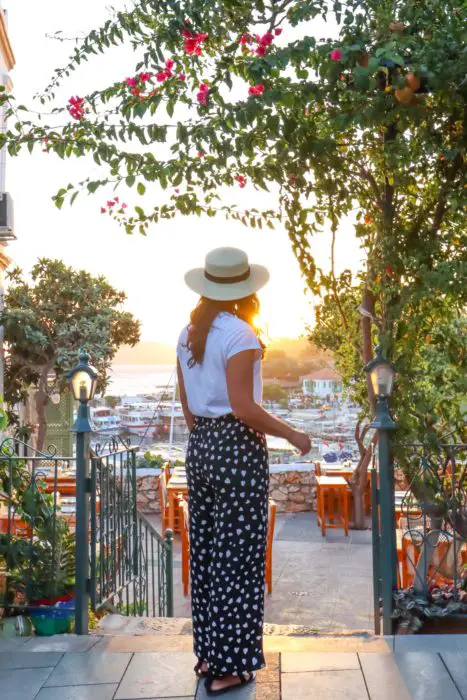 What To Know About Kas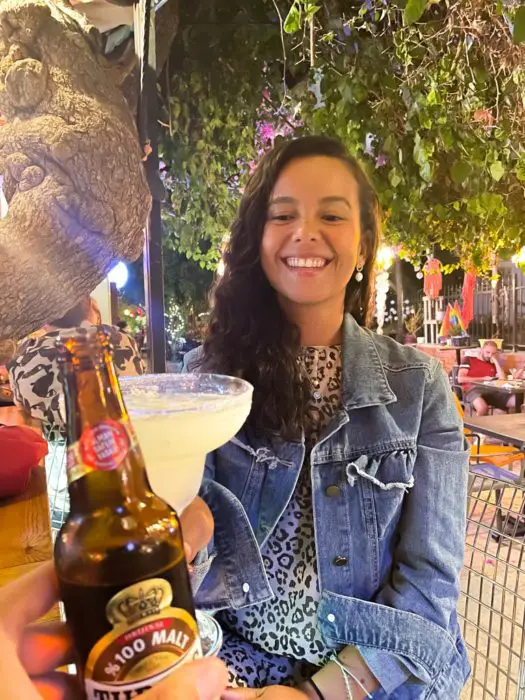 Player 3 has entered the game! When making plans to soak up the sun on Turkey's turquoise coast, most people think 'Should I go to Fethiye or Oludeniz'? But tiny little Kas should not be ignored. This picturesque sea-side town is not as well known to many western tourists.
Kas is a little Mediterranean jewel that has exploded in popularity over recent years. While the population of the town is only 10,000, the cobblestoned sidewalks keep getting busier and busier with visitors enjoying the easy-going, yet refined, atmosphere. And despite its small size, visitors will have no problem filling their days plenty of things to do in Kas, Turkey.
Kas is great if you are looking for a more upscale atmosphere for your Turkish beach vacation. While it is certainly geared to tourists, it has done a great job of maintaining its hip, bohemian character. If you are looking for hardcore Mediterranean vibes on your vacay – then Kas might be for you. More şarap (wine) please!
The Pros – Kas is for You, if:
You see yourself watching the sunsets from your swanky hotel with a nice drink in hand.
You enjoy towns with distinct bohemian vibes. Bonus points for the beautiful whitewashed buildings and orange roof tiles.
You love spending your night listening to live music at hip little patio bars.
You like to be in-the-know on Turkey's actual trendiest beaches. Move over Blue Lagoon – the beaches in Kas are too cool for you!
You want the boat tours minus the major crowds. A quick trip to a Greek island? Why not?!
The Cons – Leave Kas Alone, if:
You don't like the trade-off between beautiful sunset views and steep walks up a mountainside to get to your Airbnb.
You think that western prices in a small Turkish town is an injustice. $12 for a craft cocktail?!?
You are coming for the epic scuba diving that you've read about. We saw like 7 fish during our two dives. (Note mild sarcasm)
You hate the sound of getting a little dressed up on a Friday night. Beach vacations are for salty hair and flip flops!
You want more than just a couple average beaches within walking distance of town.
Check out this video of beautiful Kas! Find out why it was our favorite Turkish beach town.
Need to know more about Kas, Turkey? Read about all the incredible things to do in Kas! You'll be amazed by everything the beautiful little beach town has to offer.
Final Thoughts – Which One Would We Choose?
When we come back to Turkey's turquoise coast, we will stay in (drumroll please)…
Kas!! Cheers to you, Kas!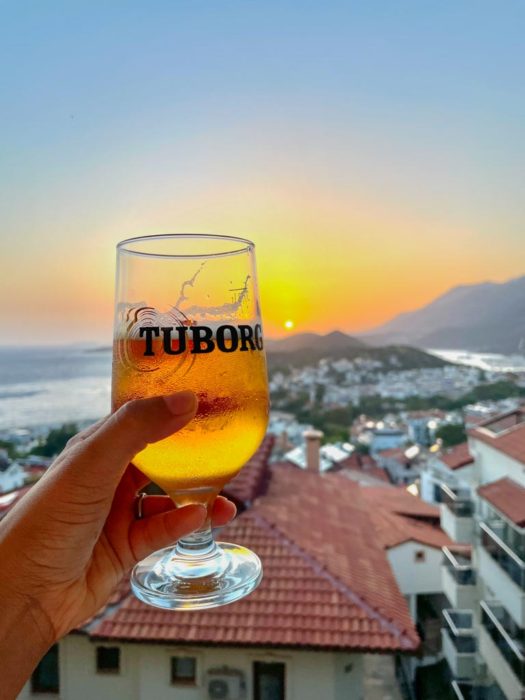 We almost (not really) quit our plans to travel the world full time just to move to Kas. It was so amazingly beautiful, and the vibe was just right for us. There was enough trendiness to make it cool, but it was combined with chilled-out beach vibes.
But just because we loved Kas doesn't mean it's the right stop for everyone. We hope our review helps you decide whether Kas, Fethiye or Oludeniz is right for you! Our goal is to be as transparent as possible so everyone can make the most of their travels.
Thanks for reading.
G
Still have questions about Oludeniz, Fethiye or Kas? Which one of these Turkish beach towns do you think fits your style? Reach out in the comments or DM us on Instagram!
Ready To Explore More Of Turkey? Read These Posts Next :
---
Tired of reading? We have an entire Turkey travel series on YouTube! Don't forget to subscribe to follow along with the adventures 🙂
---
Did You Like This Post Comparing Fethiye, Oludeniz and Kas? Share it on Pinterest!