Want to Know More About The Top Things To Do In Fethiye? Let's Go!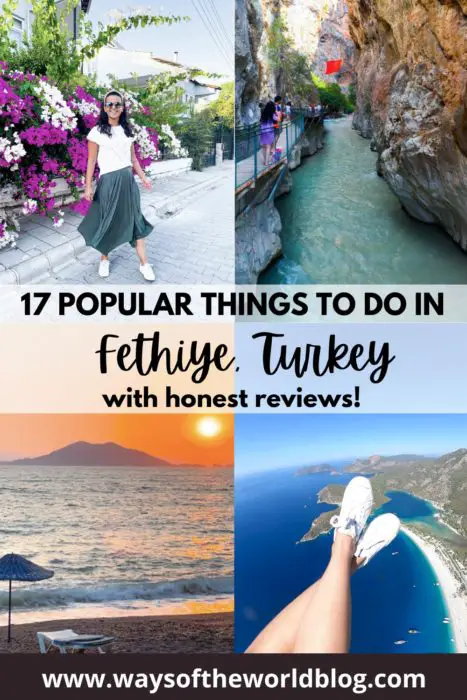 What To Know Before Visiting Fethiye
What Is Fethiye Known For?
Fethiye is a bustling port city on Turkey's southwest coast. I thought we would be visiting a small beach town, but in fact, Fethiye has a population of over 160,000. If you search 'Fethiye Turkey' on Google Images, most of the pictures you see are of nearby Oludeniz and its beaches. So just be aware that Fethiye is not a charming little beach town, but rather a lively small city.
Most people come to Fethiye for the beaches and the turquoise sea. But again, many of the beaches you might be dreaming of are likely located around Oludeniz. And like Oludeniz, the main things to do in Fethiye are also pretty commercial, so don't expect an off-the-beaten-path vacation here.
How To Get To Fethiye?
Getting To Fethiye By Air:
Dalaman Airport is the nearest airport to Fethiye. Once at the airport you can simply walk outside to find a bus into Fethiye. We heard that buses plan their trips to Fethiye around incoming flight schedules.
The ride from Dalaman Airport to Fethiye is an easy 45 kilometers ride. You can also get to Fethiye from Antalya Airport or Bodrum Airport. Both are located around 200 kilometers from Fethiye.
WOTW Tip: many flights into Dalaman arrive late at night. After a 20 hour travel day from Chicago, we weren't up for the late-night trip to Fethiye. We spent the night in a guesthouse right outside Dalaman Airport with the most amazing hosts. We had such a warm welcome and can't recommend this place enough! (check-out the Dalaman Guesthouse) Thanks for the fresh grapes Sevde & Ferhat 🙂
Getting To Fethiye By Bus:
Turkey's bus system is fantastic. It is very likely that you will find a bus that will take you to Fethiye from whatever Turkish city you are in. Check out these estimated bus travel times to Fethiye from other popular places:
Bus from Istanbul to Fethiye: 14 hours
Bus from Antalya to Fethiye: 3.5 hours
Bus from Izmir to Fethiye: 5.5 hours
Bus from Bodrum to Fethiye: 4.5 hours
WOTW Tip: you can search for bus routes and purchase tickets online at Obilet.com. We bought our bus tickets from Obilet for most of our bus trips throughout Turkey.
How Many Days Do You Need in Fethiye?
There are seemingly unlimited things to do in Fethiye and the surrounding area. 4 to 6 nights is a great amount of time to see the major attractions and head out on some day trips.
If you are gung-ho about paragliding in Fethiye or hiking the Lycian Way from start to finish, then this little city is a great stop. However, we recommend that travelers simply wanting to spend time on Turkey's beautiful beaches consider adding some lesser-known destinations to your itinerary. More on that at the end of this post.
Don't Forget To Check-out Our Travel Vlog About Fethiye, Turkey!
Honest Review Of The Top Things to do in Fethiye
During our two weeks in Fethiye we visited several beaches, went on awesome day trips, visited ancient ruins and shopped with locals at the Fethiye market. Here are our honest thoughts on 17 popular things to do in Fethiye. Hope it helps you decide which ones to visit and which you can skip!
1. Go Shopping At The Fethiye Market (And Try Turkish Pancakes)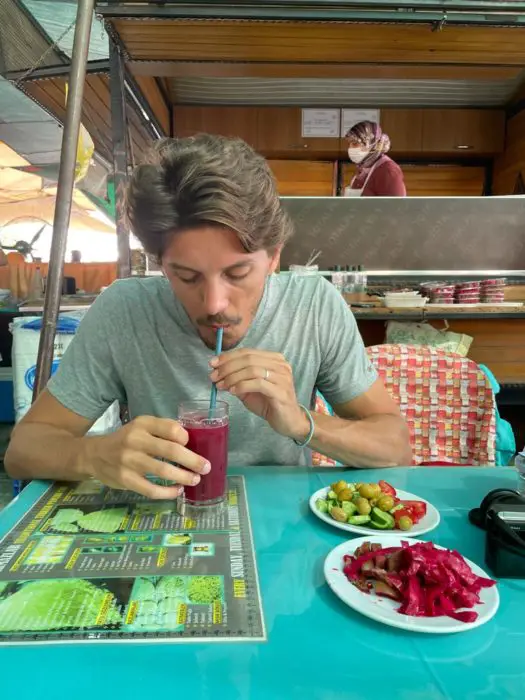 Price: free to enter; prices for fruits and vegetables are listed by the kilogram.
Time needed: 2 hours to have a quick bite, check out the stalls and do some shopping.
Hours: The market opens around 9 am. Tuesdays only!
Ways of the World (WOTW) rating: 4/5
Visiting the local market was one of our favorite things to do in Fethiye. Markets are a great way to interact with local people and get a pulse of life. Because this is mostly a local market, the sellers are not pushy with curious tourists.
Visiting the Fethiye market is a must if you are in town on a Tuesday. Especially if you plan are planning to cook for yourself. The sights and smells at Turkish markets are a treat to the senses. You'll discover vibrantly colored and fragrant spices, beautiful produce, and stands with an array of cheeses and olives you've likely never seen before.
We had so much fun shopping at the Fethiye market. Vendors explained the prices in broken English, by showing us the equivalent amount with their own cash or by taking the correct amount out of our hands. All of this with big smiles on their faces.
How to Get to the Fethiye Market:
Typing 'market area' into Google Maps surprisingly will take you to where you need to go. It is only a short walk from Fethiye's old town. You will be able to find it easily – I have faith.
WOTW Tip #1: morning is a perfect time to go and enjoy a local breakfast of gozleme (Turkish crepe/pancake) or bazlama (village bread). We preferred the bazlama in Fethiye, but gozleme is growing on us! These foods are pretty heavy for our breakfast tastes, so consider sharing one order of either dish if you're not dining solo. Don't forget to ask for your çay (Turkish tea)!

WOTW Tip #2: Turkish potatoes are amazingly delicious. Make sure to pick up some of these heavenly delights if you have plants to cook. It feels ridiculous writing about potatoes, but trust me!
2. Walk Around Fethiye Old Town
Price: free to walk around.
Time needed: 1 hour
Hours: the area is open to the public 24/7, and shops open around 9 am. But the old-town starts to get busier in the late afternoon.
WOTW Rating: 3.5/5
Fethiye's old town is a historic area in the southern part of the city. You can get there from the promenade running along the large marina. Here you'll find colorful Turkish-delight, dried fruit and spice stores. It's also a comfortable place to find some shade from the Mediterranean sun or grab a quick bite.
The old town comes to life at night. There are plenty of bars and clubs to help you wake up a bit fuzzy. This is a great place to check out at night if you are looking for a party.
A moderately interesting note – the old-town are with the shops is mostly covered with a plastic roof or awnings. For the most part it was unclear to Aimara and I what made Fethiye's old-town, well, old. It's not that I don't believe it, it's just difficult to see many of the actual buildings.
WOTW Tip: there is a famous outdoor fish market near Fethiye's old town with many restaurants serving the daily catch. We don't eat fish anymore because of over-fishing (which the Mediterranean especially struggles with). But everyone has their own perspectives on this, and it is one of the things to do in Fethiye, so consider this an FYI.
3. Watch The Sunset At Çaliş Beach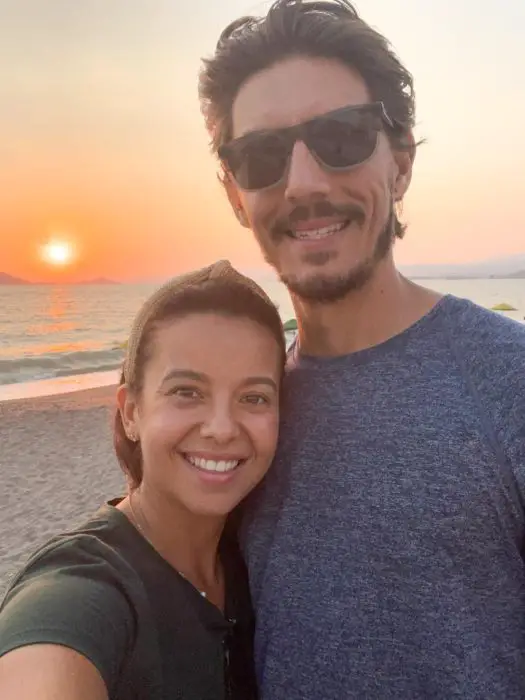 Price: beach is free; loungers and umbrellas are available for a small fee.
Time needed: 1-2 hours to watch the sunset and walk along the promenade.
Hours: sunset-time would be the best time to see the sunset 🙂
WOTW Ranking: 4/5 for the sunset views; 3/5 for the beach
Çaliş beach is a long stretch of beach with a wide and active promenade. From the beach you can sit and watch the sun sink behind beautiful mountainous islands. We spent most of our afternoons here while staying in Gunlukbasi. These sunsets ended up being one of our favorite Fethiye activities!
Çaliş beach is not easily accessible from Fethiye's old town – you'll need to take a 15-minute taxi to get to the main entrance. If you are staying in the old town area then you will be able to find other places along the marina that will give you nice sunset views. I would not consider it a huge miss if you didn't go out of your way to specifically watch the sunset from here.
WOTW Tip: if you have super-high expectations about the actual beach you might be disappointed. It is nice and has the amazing sunset views, but it's not one of Turkey's most beautiful beaches. I wouldn't see ourselves chilling there for an entire day.
4. Climb To The Tomb Of Amyntas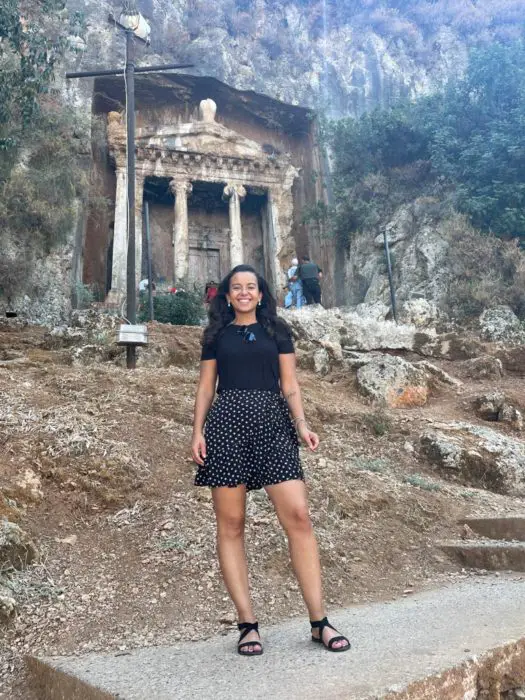 Price: 12.5 Lira per person ($1.40 US)
Time needed: 1 hour
Hours: 8:30 am-7:30 pm (This was indicated on a hand-written sign. I think it closes around sunset throughout the year).
WOTW Rating: 4/5
The Tomb of Amyntas is an old Lycian tomb located within walking distance from Fethiye's old town. It is a great walk that takes you through some local streets and gives you a new perspective away from Fethiye's touristy center. The walk is a little steep, and there are some steps once you reach the tomb, so be ready for a bit of exercise.
Visiting the impressive Tomb of Amyntas is one of the essential things to do in Fethiye. Amyntas is a massive and elaborate tomb carved into the mountainside. The Tomb of Amyntas is the largest Lycian tomb at the site, but there are several in the same area, which you can see in the picture above.
These specific tombs are dated from around 350 BC. The reason Lycians carved these burial places into the mountain is that they believed a mythical winged creature took the souls of the dead to the afterlife. You are likely to see a number of Lycian tombs while in the Fethiye area, but this one is famous for its size and detail.
Sign-up Below To Get Travel Tips From Our Next Destinations!
5. Definitely Go Paragliding In Fethiye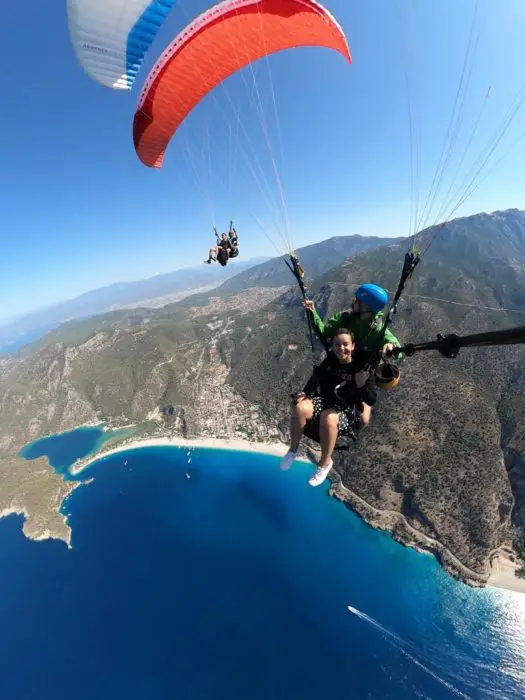 Price: 90 British Pounds ($122 US) per-person (the fee can be converted to USD using the day's exchange rate).
Time needed: about 3 hours from pick-up in Fethiye to landing; time in the sky is about 30-45 minutes.
Hours: the times vary by season, but there are usually plenty of options between 10 am and sunset.
WOTW rating: 5/5
Paragliding is one of the most popular things to do in Fethiye, and in our opinions it is an unmissable experience. We had the most incredible experience paragliding in Fethiye and highly recommend it. Depending on whether you ask Aimara or myself, paragliding was either the most peaceful or adrenaline-pumping experience of our lives.
WOTW Tip: shuttle pick-up from Fethiye to Oludeniz (where most companies are located) is only possible for the earliest flight times. We were picked up around 9 am from our Airbnb in Fethiye. If you choose a later time you will need to arrange your own transport for the 15-minute ride to Oludeniz.
---
We wrote an entire blog post about Paragliding in Fethiye that you can read by following this link: Guide to Paragliding in Fethiye. We also made a YouTube video about it – click here to see what Paragliding in Fethiye is like!
---
6. Hike The Start Of The Lycian Way Trail To Kayaköy
Price: free to hike; Kayaköy monument/museum is 10 Lira, per person ($1.15 US).
Time needed: about 2 hours to hike – this is a real hike! An additional 2 hours is needed to explore Kayaköy.
Hours: 24/7; but don't actually walk at night unless you are a prepared and experienced hiker. Otherwise you might need your own Lycian tomb. Just kidding 🙂
Fethiye marks the starting point of the Lycian Way trail. We did not walk this part of the trail, but hiking from Fethiye to the ghost town of Kayaköy is possible. There are signs pointing to the trailhead if you head towards the Fethiye Castle.
As a very simplified summary – the Kayaköy ghost town exists because there was a forced exchange of Greek Orthodox Christians living in Kayaköy and Muslims living in Greece. The Greek Muslims never settled in Kayaköy, leaving many homes unoccupied. The history here is associated with the Greco-Turkish War and World War I. So if you are into history and hiking, then add this activity to your itinerary!
WOTW Tip: you can also do a shorter hike from Oludeniz to Kayaköy. This is supposedly a beautiful hike and could be a good option if 2 hours hiking sounds aggressive. A starting point for the Lycian Way trail in Oludeniz is at the Montana Pine Resort.
7. Take A Ferry To The Greek Island Of Rhodes (When Borders Open)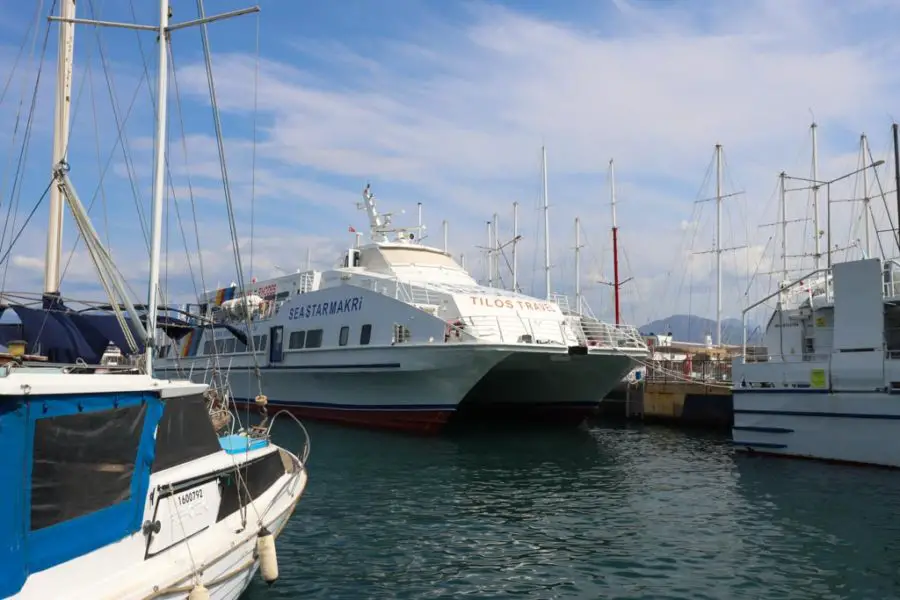 Price: the price varies by season, but the best information I could find was that a one-way trip costs 23-38 Euros ($28-44 US).
Time needed: 1.5 hours, one way.
Hours: there were no ferries operating in the fall of 2021. You can find the ferry schedule here.
We hoped to spend several days on the Greek island of Rhodes during our stay in Fethiye. Unfortunately, borders between Turkey and Greece were closed due to Covid, so we couldn't make the voyage. It is possible to take the ferry to and from Rhodes on a day trip, but we definitely recommend spending a few nights there. This blog does an excellent job listing many of the amazing things to do in Rhodes, Greece.
8-10: Popular Fethiye Excursions
Many of the incredible things to do in Fethiye will require a trip outside the city. We rented a car for two days to visit ancient ruins and national parks. These Fethiye attractions can be combined into a single day trip, and we enjoyed each one for different reasons. Each site is located about 45 to 60 minutes outside of Fethiye.
Check out our video about our Fethiye Day Trip to see what these popular Fethiye attractions are like!
8. Visit The Ancient City Of Tlos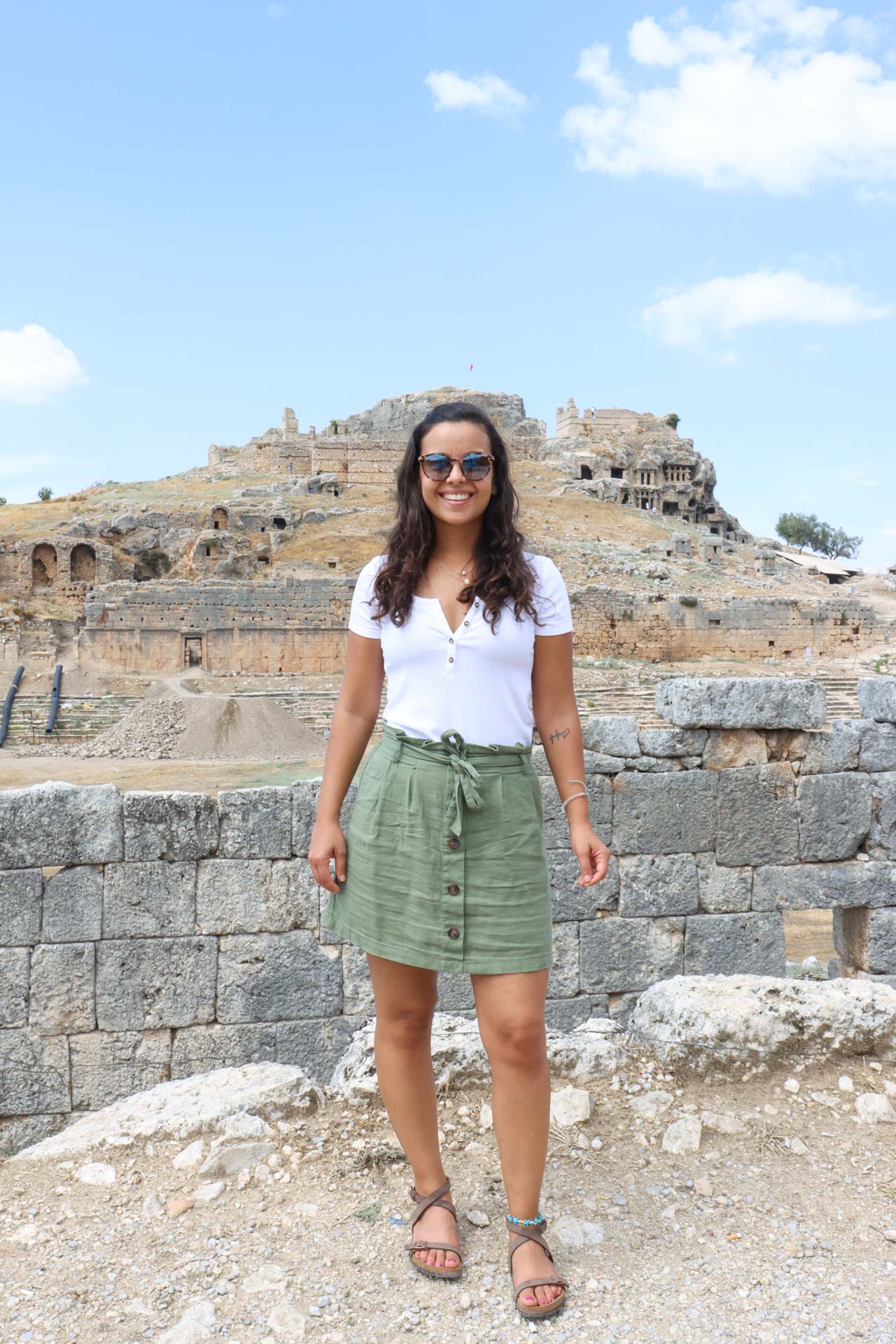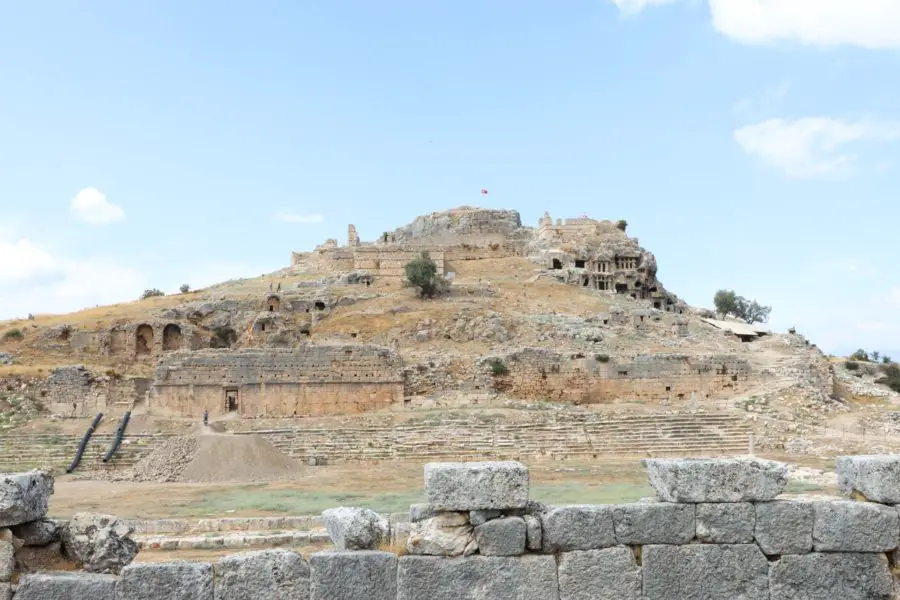 Price: 12.50 Lira per person ($1.45 US).
Opening hours: 8:30 am – 5:30 pm
Time needed: 1 – 3 hours depending on how many pictures you want to take.
WOTW rating: 4/5
The ancient city of Tlos was one of the main cities in Lycia. Lycia was a politically organized area of southwestern Turkey inhabited by the Lycian people.
The city of Tlos was an important religious site, which you can easily recognize when taking in the necropolis that dominates the view of the ancient ruins. The Lycians built elaborate tombs directly into the mountainsides because they believed that a mythical, winged creature carried the dead to the afterlife. The graves at Tlos are from around the 4th and 3rd centuries BC.
It is very easy to orient yourself at Tlos, with the tombs and theatre easily recognizable from the entrance. There is also an area that held a stadium to watch races. Unfortunately, the information available within Tlos is limited, so we don't know what kind of races, who was involved, or really anything else besides that the stadium was built for races. We did see a tortoise on our way to Tlos, so I'll go with tortoise races until someone can discredit that theory.
9. Walk Through A Gorge In Saklikent National Park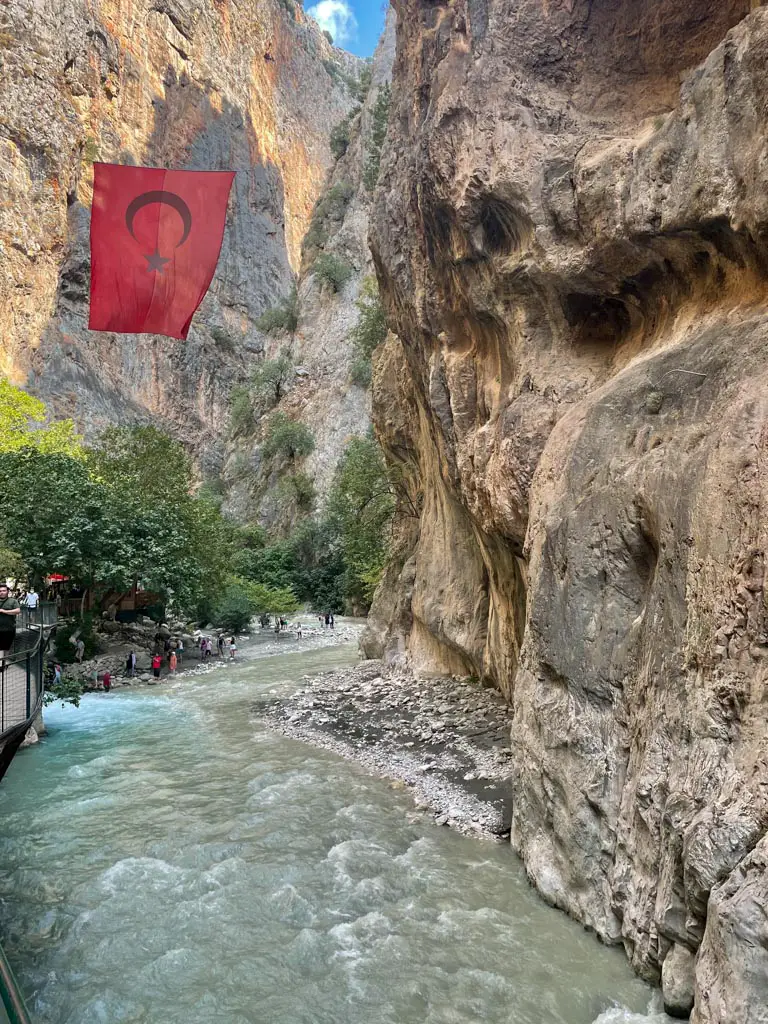 Price: 10 Lira ($1.15 US), each for the entrance fee; 15 Lira ($1.75 US) for parking.
Opening hours: 9 am-6:30 pm
Time needed: 1 – 3 hours if you are only visiting Saklikent Gorge. Add an extra 1 – 4 hours if you want to go zip-lining, 'rafting' or grab a bite in the area.
WOTW rating: 3.5/5
Saklikent National Park is an impressive gorge where you have the one-of-a-kind opportunity to walk at the bottom of a ravine. Visiting Saklikent gorge is one of the most popular Fethiye excursions. Few places give you the chance to walk through the bottom of an enormous canyon.
The main activity at Saklikent is putting on water shoes and sloshing through the muddy water to a poorly-defined endpoint. You wind your way through the narrow ravine climbing over rocks and walking gingerly over the uneven riverbed. It's pretty amazing to get up-close to the rock faces and boulders smoothed down from centuries (I don't know how old) of rushing water.
Ice-cold water pours through the canyon where melted snow from the Taurus Mountains feeds the river below. Thankfully there is only a small portion of this river where you need to cross through to get to the tranquil, muddy and thankfully warmer stream that you will be wading through.
WOTW Tip #1: try to get to Saklikent Gorge when it opens at 9 am to beat the crowds. I personally would have appreciated the experience at Saklikent more if there were fewer people.

WOTW Tip #2: rubber shoes are sold at the entrance for $2.50 These can be useful if you are also going to Gazlikent Selalesi (details below). You need some kind of stable water shoe, trust me.
10. Visit A Secret Waterfall At Gizlikent Selalesi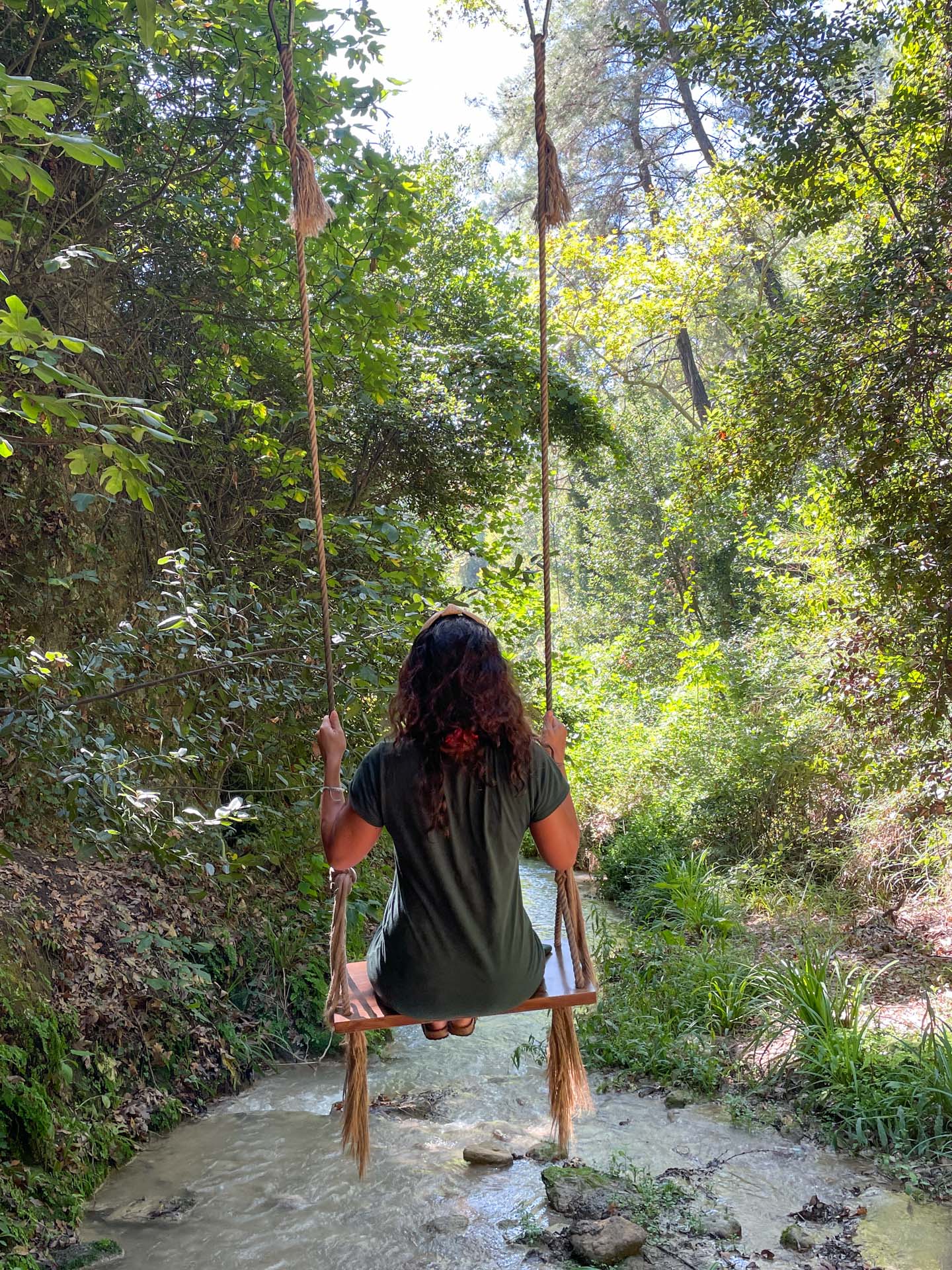 Price: 15 Lira total ($1.75 US). It seems like this is a parking fee that gives you access to the waterfall and facilities. I'm actually not clear how their pricing model works. But it was not expensive, so no questions were asked.
Opening hours: 8 am-8:30 pm
Time needed: 1-2.5 hours
WOTW Ranking: 4/5
Gizlikent Selalesi is a secret waterfall! So secret that Google only has 5,020 reviews. But seriously, this relatively undiscovered gem boasts a crystal-clear stream that runs through a lush, tropical environment. It is the complete opposite of the muddy waters and dry landscape of Saklikent Gorge.
The main activity at Gizlikent Selalesi is similar to that of Saklikent. You walk through a stream for 300 meters, but this time you end up at the bottom of a waterfall pouring cool water in a charmingly imperfect way. The water doesn't come down in a steady stream but just sprays out from the top. Even if the waterfall isn't a secret, this place is still magical.
It's hard not to compare Gizlikent Selalesi with Saklikent because the main activity is very similar. We think Saklikent is more impressive and unique. Still, our overall experience at the secret waterfall was more positive due to the lighter crowds. I guess that reinforces why you should go to Saklikent National Park early to beat the crowds!
WOTW Tip #1: you can put Gizlikent Selalesi into Google Maps, but it will tell you that you've arrived at a somewhat random fork in the road. Thanks, Google! But from that fork you can see a faded sign pointing you to the secret waterfall. The signs continue every kilometer directing you to where you need to be. Just follow the arrows, even when it looks like there couldn't be anything at the end of the road!

WOTW Tip #2: don't forget your water shoes!
11-14: Visit Oludeniz's Famous Beaches (Or Don't)
We spent some time hanging around Oludeniz on two separate days. The two towns are so close together that many popular activities and attractions in each town are easily accessible no matter where you stay.
That said, the town of Oludeniz and its most popular activities were not our favorite. You can read our honest opinions about popular things to do in Oludeniz by following the link.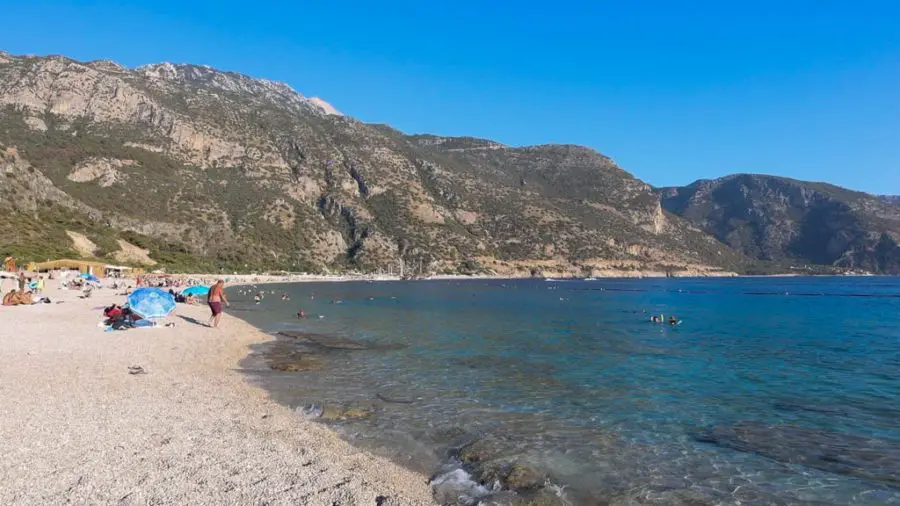 11) Visit Oludeniz And It's Famous Beach
12) Take The Cable Cars To The Top of Babadag Mountain And Watch The Paragliders From Above
13) Skip The World-Famous Blue Lagoon
14) Save The Butterflies By Skipping Butterfly Valley
Remember that you can find a detailed post about these locations in our blog about things to do in Oludeniz. Also check out our vlog about Oludeniz to see our honest review of its most popular sites!
15-17: Our Thoughts About Some Other Popular Things to Do In Fethiye
The following list of things to do in Fethiye are popular activities that we chose to avoid. We recognize that everyone has their own travel styles, but we want to be transparent with how we perceived these things.
The goal of this blog is eventually to build a community of travelers who like to travel differently. Hope that helps to explain why our opinion is negative about some of these popular Fethiye activities.
15. Jeep Safaris
My question is – what safari? There are no animals roaming around Fethiye. The Jeep safaris are an affordable way to visit Saklikent, Tlos and a trout farm…yes, a trout farm. Maybe trout is where the safari comes in.
The Jeeps can be seen all over Fethiye, each blasting their own music as they race around town. The vibe was not our cup of tea. We also saw some Jeeps pull in front of Tlos only to take pictures from the outside, missing out entirely on the amazing historical site.
16. 12 Island Boat Tour
There are so many boat tours from Fethiye that I could not understand the dynamics of supply and demand. Where do all the tourists come from to make these businesses work? I have no idea. All I know is that seeing all these tour boats (including the same pirate boats we saw in Oludeniz. Yikes!) made us realize how busy Fethiye must be during normal (non-Covid) times.
The 12 island boat tour is easily one of the most popular things to do in Fethiye. We heard that the trips are essentially identical. All the tour boats arrive at the same spots at the same time, so don't expect to discover any hidden gems. We skipped it for this reason.
17. Day Trip to Pamukkale
It is possible to take a day trip to Pamukkale from Fethiye by making the 3-hour drive (one-way). If you go with a guided tour, you will obviously be at the mercy of their schedule. We spent 4 days in Pamukkale, and the early morning and sunset times are easily the best times to visit the travertine pools.
With a day trip you risk being in Pamukkale with all the other tour groups. During peak time, Pamukkale becomes one giant photoshoot. If it were me, I would not have the best time there when it is at its most crowded.
Where To Stay In Fethiye?
During our visit we stayed in the center of the city and in the old-town. Most visitors to Fethiye will choose to stay in the old-town or near Çaliş beach. Here is our review of Fethiye's popular areas:
Stay in Gunlukbasi For a Taste of Local Life
Our first apartment was in Gunlukbasi, a residential neighborhood about a 25-minute walk from Çaliş beach. We absolutely loved this neighborhood because it gave us our first glimpse of local Turkish life.
This was the first time seeing the local tea shops with older men playing the popular Turkish game 'Okey'. We also visited our first local produce stands and spice stores in this neighborhood. And it was our first time thinking 'did that old lady just rip us off for these bananas' (I'm still not sure)?? Gunlukbasi was great because it was not touristy, and we immediately felt like we were experiencing a different way of life.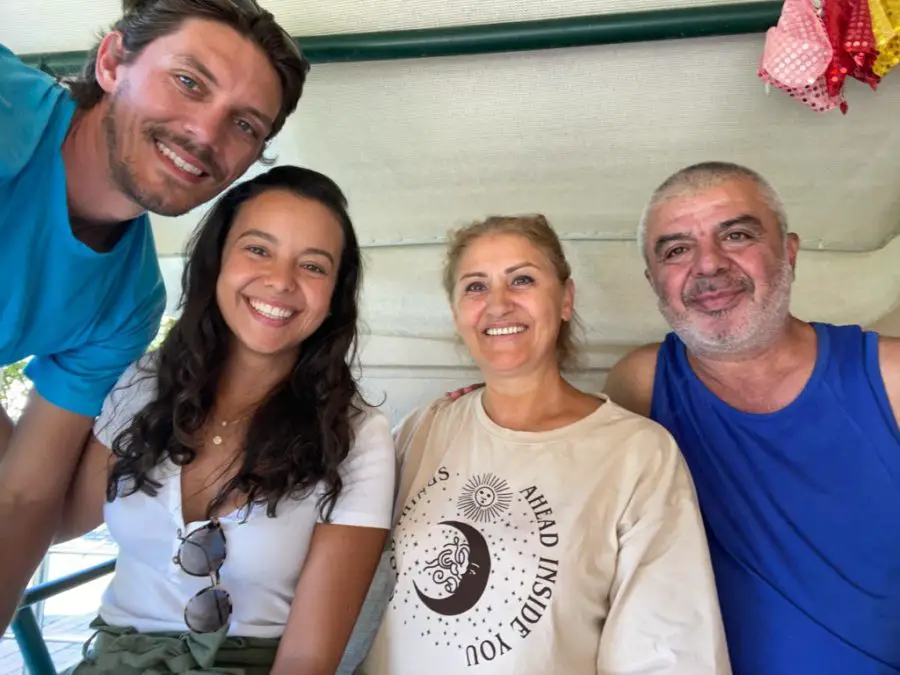 Stay in the Old-Town For Access to the Many Things to Do in Fethiye
Our second apartment during our visit to Fethiye was located in the old town. While the old town has some bars and restaurants that lack some Turkish charm, the area does allow you to get lost and find some great local spots. It is also a more convenient area if you are interested in visiting the Tomb of Amyntas and the Fethiye market.
Stay in Çaliş Beach For Epic Sunsets (but really, don't stay here)
Çaliş beach is known as a British retirement location. Many of the bars were advertising English soccer matches, and most restaurants along the water were not super inspiring (but they did have great sunset views). Also, the lodging options definitely looked a bit dated. Çaliş beach would be third on our list of best places to stay in Fethiye.
The winner: Fethiye Old-Town.
---
Are thinking of visiting Turkey's Turquoise Coast but can't decide where to stay? Read our post where we discuss the pros and cons of staying in Fethiye, Oludeniz and Kas.
---
Final Thoughts: Is Fethiye Worth Visiting?
We had a great time visiting Fethiye. There is no arguing that point. As the first stop of our travels through Turkey, Fethiye gave us our first taste of Turkish hospitality. We are grateful for the warm welcome we received here. You will have a wonderful time if your travels bring you to Fethiye.
It is important to know that the beaches you see when Googling Fethiye are likely from Oludeniz. So it's not like you walk from your hotel and dive elegantly into picture-perfect waters. Also, Fethiye is touristy. The number of tour boats we saw giving the same exact tour was unbelievable. That doesn't necessarily bother everyone, but we personally like places that are a little quieter.
Turkish Beach Destinations to Visit Instead of Fethiye
We encourage you to consider visiting some lesser-known destinations along the Turkish coast if you are open to options beyond Fethiye. If you enjoy small beach-towns that still have plenty of things to do, our advice is to consider visiting Kas, Kalekoy, or Cirali beach. Even if there are amazing things to do in Fethiye, towns like Kas, Kalekoy, and Cirali are higher on our 'must-see' list.
Thanks for reading!
G
Ready to head to Turkey's Turquoise Coast? Have any questions about visiting Fethiye? Send us any questions or comments below, or DM us on Instagram!
Planning a Trip to Turkey's? Read these posts next:
---
Tired of reading? We have an entire Turkey travel series on YouTube. Don't forget to subscribe to follow along with the adventures 🙂
---
Did You Like This Post About Things To Do In Fethiye? Share it on Pinterest!