Of course you are thinking about visiting Cappadocia. Not many places on earth evoke the same senses of wonder and amazement as this Turkish gem. With its fairytale landscapes and magical attractions, there is really no good reason not to add Cappadocia to your Turkey travel plans.
Everyone knows about Cappadocia's hot air balloons, cave hotels, and fairy chimneys. But not everyone knows that there is a mix of incredible things to do in Cappadocia. Yes, the hot air balloons are amazing, but did you know that this region is also an outdoor lover's paradise? And if you are even remotely into history and culture, then you will be mind-blown by the incredible stories from this one-of-a-kind destination.
Want to experience all of Cappadocia's magic yourself? This ultimate travel guide includes 21 magical things to do in Cappadocia. Keep reading to discover the can't-miss activities and attractions in one of Turkey's most awe-inspiring places.
Estimated reading time: 40 minutes
Ready To Discover 21 Magical Things To Do In Cappadocia?
What To Know Before You Go To Cappadocia
What Is Cappadocia?
Cappadocia is one of Turkey's most popular destinations, and definitely for a good reason. But no city, town, or province goes by the name Cappadocia. So what's up with that? Well, let me share nine facts about it that you can use to impress your friends:
Cappadocia is the name of a historical region in central Turkey.
The region stopped having political relevance after Turkey became an independent nation in 1923.
Cappadocia is used to describe the general area popular with tourists, but there are no defined boundaries.
The region was shaped by volcanic activity over 60 million years ago.
Millions of years of erosion of the soft volcanic rock created the geological wonders that Cappadocia is known for today.
Civilizations have been living in caves carved into volcanic rock for thousands of years.
The soft volcanic rock made it easy for civilizations to build communities by digging into the rocks.
Cappadocia is on the UNESCO World Heritage list for natural and historical reasons.
The natural environment created by millions of years of erosion and the historical significance of cave dwellings means that Cappadocia is a huge deal.
Curious to learn more about Cappadocia? Don't Forget To Read 21 Things You Need To Know Before Visiting Cappadocia, Turkey.
How To Get To Cappadocia?
Getting To Cappadocia By Bus
Turkey's bus system is fantastic. You can easily navigate getting to Cappadocia by bus, but be aware that the distances will be long. Turkey is a large country, and when you factor in the frequent cigarette breaks that your bus driver will make, you are in for a long day.
If your starting point is Istanbul, Izmir or Oludeniz, you can expect to spend at least 12 hours on a bus to Cappadocia. If you are leaving from the Pamukkale area, it will take about 9 hours to get to Cappadocia, Turkey. Those are some serious distances!
WOTW Tip #1: visit this link to find schedules and fares for bus travel through Turkey.

WOTW Tip #2: We were never really in a rush to get anywhere during our 3 months in Turkey. So the bus was a good option for us. We also try to minimize flights for environmental reasons.
Getting To Cappadocia By Plane
Flying to Cappadocia is likely the most efficient travel option. It is ideal if you are short on time in Turkey (or if a 12-hour bus ride generally sounds like a nightmare to you). Turkish and Pegasus Airlines offer affordable domestic flights. You will likely find that flights are not much more expensive than taking the bus.
There are two airports close to the main touristy area in Cappadocia (aka Göreme):
This is the closest airport to Cappadocia, and you can find direct flights from Istanbul throughout the year. If you are not flying from Istanbul to Nevşehir, then you will likely have a layover in Istanbul.
Distance from Nevşehir Airport to Göreme: 23 miles; 35 minutes
Kayseri Airport is larger but less conveniently located. However, you are more likely to find direct flights to Kayseri if you are coming from tourist hubs like Antalya or Izmir, especially during the peak summer months.
Distance from Kayseri Airport to Göreme: 50 miles; 70 minutes
WOTW tip #1: our favorite place to look for cheap flights is Skyscanner, but we always book through the actual airline.

WOTW tip #2: follow the link if you are getting ready to book a trip to Cappadocia and you prefer the convenience of a shuttle transfer from Nevşehir Airport or Kayseri Airport.
Istanbul To Cappadocia By Train
Unfortunately, the passenger-train network in Turkey is not very well developed. From Istanbul, it is possible to take a high-speed train all the way down to Konya (one of our favorite places in Turkey). You will need to hop on a bus to Cappadocia from Konya for about 3.5 hours.
Another option would be to take a high-speed train from Istanbul to Ankara. From there you can connect to another train towards Kayseri. And as mentioned earlier, Kayseri would still be 50 miles from Goreme.
As you can see, train travel in Turkey is more about adventure than convenience. If you are curious, you can check out Turkey's main train routes here. Train travel might not be for you if you are short on time. Besides the high-speed trains connecting Istanbul and Ankara, train travel through Turkey moves slowly.
Getting To Cappadocia By Car
First of all, the highway system in Turkey is fantastic. Roads are generally in good condition, and for the most part, driving in Turkey is low-stress (except in large cities).
The problem with getting to Cappadocia by car is that most car rental agencies are independent, so there are few opportunities to drop off your car in a different location. So, if your trip doesn't start and end in the same city, then getting to Cappadocia by car probably isn't your best bet.
21 Magical Things To Do In Cappadocia
1. Take An Unforgettable Hot Air Balloon Ride For Sunrise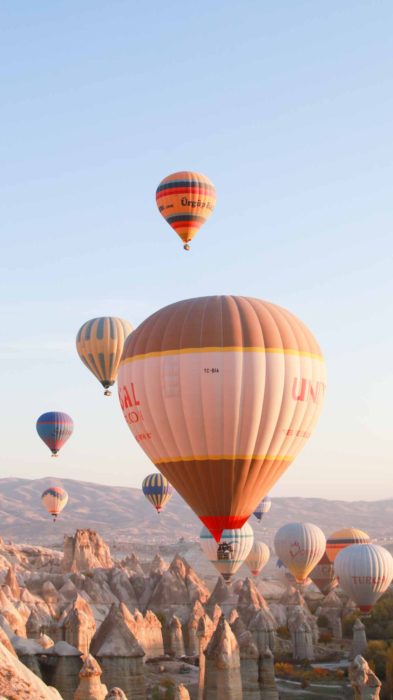 Price: $70-$100 US for a standard flight.
Hours: the vast majority of balloon rides are for sunrise.
Time needed: between pick-up from your hotel to drop-off is about 3-4 hours.
WOTW rating: 5/5
Of course the iconic hot air balloon rides make the list of top things to do in Cappadocia. Experiencing a sunrise flight here is something that should be on your bucket list. I can't think of anywhere else in the world where over 150 hot air balloons rise simultaneously into the morning sky to create a scene that can only be described as a dream.
Cappadocia has to be THE number one place in the entire world to check a hot air balloon ride off of your bucket list. But it's not just the view of dozens of colorful balloons lighting up the sky that makes this place unique. The hot air balloons fly in and out of the valleys and past the fairy chimneys. And will stare in absolute wonder at the landscape's changing colors as the sun comes up for the day.
WOTW Tip #1: prices for hot air balloon rides vary by season and demand. Before Covid, costs could reach 400 Euro ($450 US) per person. We paid 75 Euro ($85 US) in October 2021.

WOTW Tip #2: definitely book your hot air balloon in advance if you are going to Cappadocia in the high season. Tour groups block off spaces in the balloons for their clients, making it difficult to find tickets last minute. You can book a hot air balloon in advance at a good price through Airbnb.
2. Enjoy The Hot Air Balloons At Sunrise From The Ground (With Video)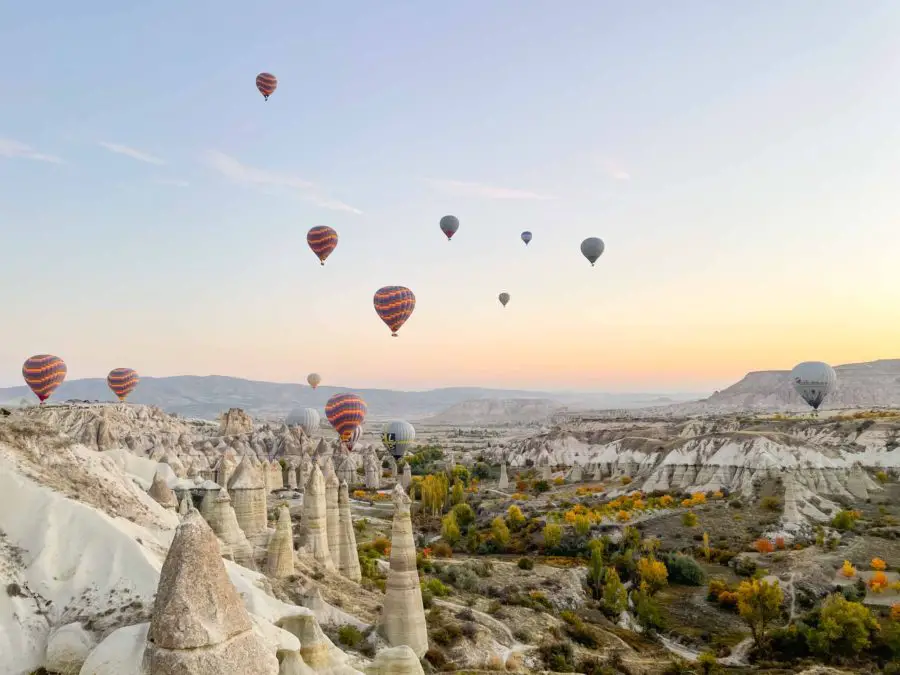 Price: N/A
Hours: sunrise – don't be late!
Time needed: 1 hour
WOTW rating: 5/5
Finding a viewpoint and watching the spectacle of over 150 colorful hot air balloons rise up in the morning sky is almost as amazing as actually being in one of the balloons. What is it about hot air balloons that just you feel like you are in a movie? Trust us when we tell you that you need to add this experience to your list of things to do in Cappadocia!!
Whether or not you actually do the hot air balloon ride yourself, you will want to see the magical display from the ground at sunrise. You don't need to book a restaurant terrace or stay at a fancy hotel to enjoy the epic views. Just set your alarm and head out into the valleys around Göreme before sunrise, and you will have even better views for free!
We watched the hot air balloons from Love Valley. It was such an unforgettable sight to see the balloons dip into the valley among the fairy chimneys and then rise back over the cliffside. Sometimes the hot air balloon baskets literally got close enough to touch!
WOTW Tip: make a mental note or ask around to find out the best place to view the balloons from the ground. Weather conditions can change the flight patterns and launch sites, so be safe and confirm with some locals where the best viewpoint is at the time of your visit.
Words do not do the sunrise hot air balloon experience any justice. Click to watch the incredible show of balloons as we watch from Love Valley!
3. Visit The Göreme Open Air Museum
Price: 100 Lira ($11 US) for single entry; add another 50 Lira ($5 US) for audio guide.
Hours: 8 am-7 pm (April 1 to October 1); 8 am-5 pm (October 1 to April 1)
Time needed: 1-2 hours
WOTW rating: 4/5
Taking the time to visit Göreme's Open Air Museum is a must if you want to understand a piece of Cappadocia's most fascinating history. The museum showcases the remnants of early Christian communities built into the rock faces. It's possible to explore the inside of cave churches with very well-maintained frescos, along with tombs and different living spaces that were all part of this cave community.
Göreme's Open Air Museum is historically significant because early Christians could live in their cave homes in relative peace. They were able to develop the world's first monastery because they lived hidden from outsiders. The safety and sense of religious community attracted followers from around the region, helping the early spread of Christianity.
Before coming to Cappadocia, I had no idea about the vital role that this part of the world played in the development of Christianity. What a pleasant surprise to learn about this fascinating part of history in this beautiful place!
WOTW Tip #1: there is an additional fee of 75 Lira ($7.50 US) to enter The Dark Church. We felt like we had already seen enough beautiful churches and frescos and chose not to pay the fee. The Dark Church has the best-preserved frescos in Cappadocia.

WOTW Tip #2: we thought it was worth it to purchase an audio guide at the Open Air Museum. We just got one and shared the details with each other. After a while, the information gets too detailed and a little excessive, but we still recommend purchasing an audio guide.
4. Sleep In One Of Cappadocia's Famous Cave Hotels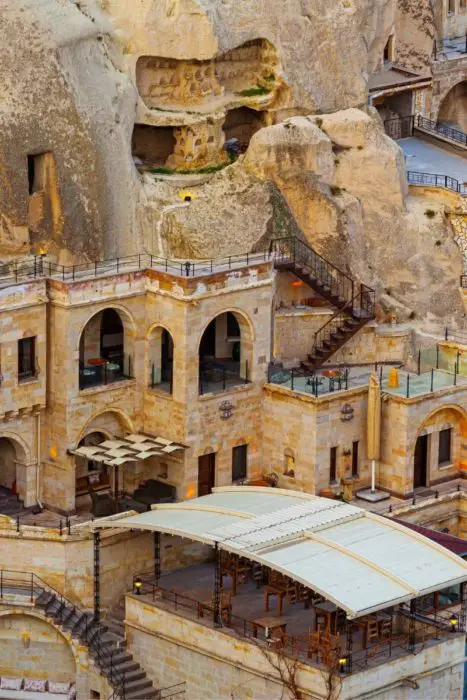 Price: varies from about $60-300, per night.
WOTW rating: N/A
Along with hot air balloons, cave hotels are high on the list of reasons why Cappadocia is considered such a special place to visit. And the good news is, you don't have to break the bank to sleep in one! Cave hotels are available in most of the region's major touristic towns, so you will have plenty of options to experience one of these unique accommodations.
Interestingly, original cave dwellings carved into Cappadocia's rocks are so abundant that many cave-hotel rooms are actually original homes. Sure they've been spruced up a little, but there is a chance that you will be staying in an ancient home if you decide to stay in a cave hotel. How cool is that!?
WOTW Tip: we really wanted to stay in Avanos during our stay in Cappadocia. And while Avanos doesn't have any cave hotels, it is still a great place to stay! We stayed in the beautiful and affordable Sendian Guesthouse.
5. Take Advantage Of Cappadocia's Amazing Hikes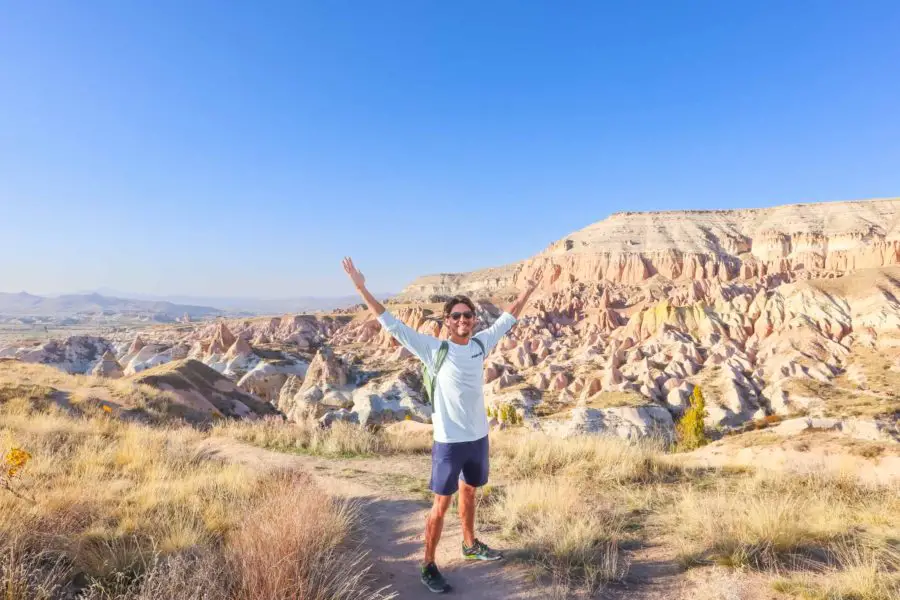 Price: N/A
Hours: N/A
Time needed: hikes in Cappadocia can vary from 1 hour to multi-day hikes.
WOTW rating: 5/5
Do you love the great outdoors? Well, you are in luck, my friend. Because Cappadocia is home to world-class hiking. If you are physically able, there is no better way to explore Cappadocia's otherworldly landscapes than hiking through its ancient valleys.
The beauty of Cappadocia's hikes is that they are diverse and convenient to access. The following hikes are the most popular hikes, easily reachable from Göreme:
6. See Some Interestingly Shaped Fairy Chimneys At Love Valley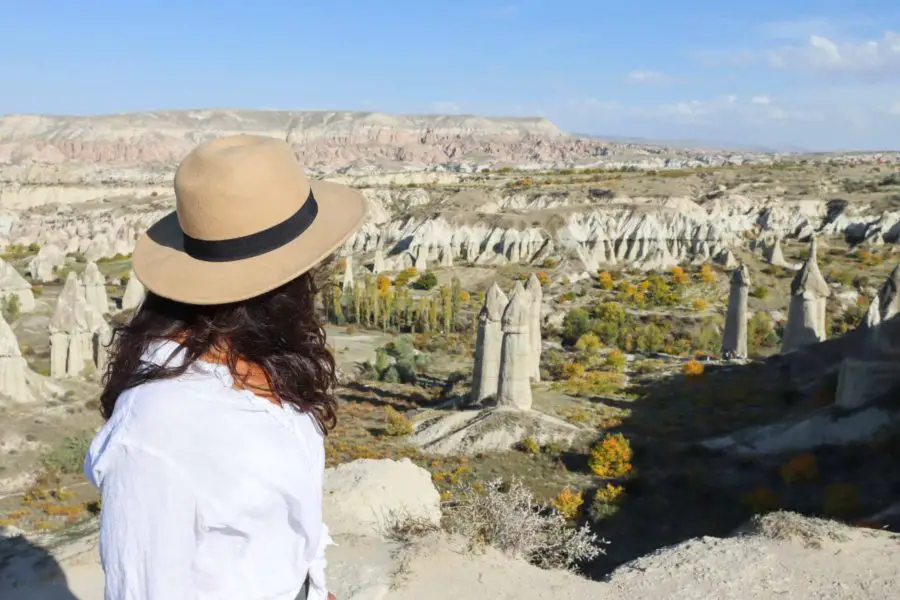 Price: there is a very small fee to enter the viewpoint by car.
Hours: N/A
Time needed: 30-60 minutes
WOTW rating: 4/5
While exploring the fairy chimneys is possible all over Cappadocia, those you find in Love Valley are some of the most famous and uniquely shaped. You will have a great view of the famous 'mushroom-shaped' fairy chimneys from the top of Love Valley. It is also possible to hike through Love Valley to get a closer look at these alien formations.
Fairy chimneys are mounds of hardened volcanic ash that have been shaped by millions of years of erosion. The top of the chimneys are comprised of basalt, a harder type of rock. The softer volcanic rock erodes faster than the harder basalt, creating the interestingly-shaped formations found in Love Valley.
Can you figure out why they call it Love Valley?
Save This Post To Your Pinterest for Later!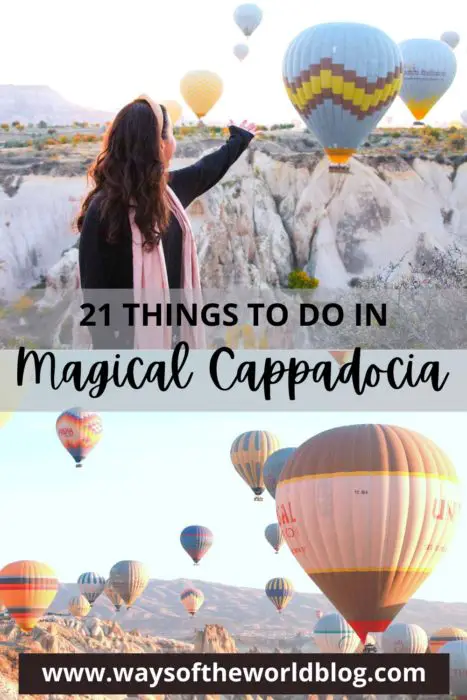 7. Head Out For A Full Moon Hiking Adventure
Price: $28 per-person for a guided hike.
Hours: 8 pm-10:30 pm
Time needed: 2.5 hours
WOTW rating: N/A
Want to add another layer of adventure to your fairy chimney experience? How about hiking through Göreme Valley during a full moon?!
Most people aren't familiar with full-moon hikes in Cappadocia, but from what we heard from local guides we met, it's an unforgettable way to add some extra magic to your hike. If the landscape wasn't alien enough during the day, then experiencing the fairy chimneys under the moonlight would definitely make you feel like you're on another planet.
WOTW Tip #1: while technically possible to do this without a guide, your best bet is to go with one. Getting lost at night would probably not be the best. But on the other hand, there are plenty of caves to sleep in… 😉

WOTW Tip #2: our friend Ali was born and raised in Cappadocia and has worked in the tourism industry for quite some time now. He knows all the best companies to book with and can organize your dream Cappadocia trip for you! It's all customized too, so just tell him what you want and he'll make it happen! Here's his Instagram (@ali_tpz).
8. Visit The Remarkable Kaymakli Underground City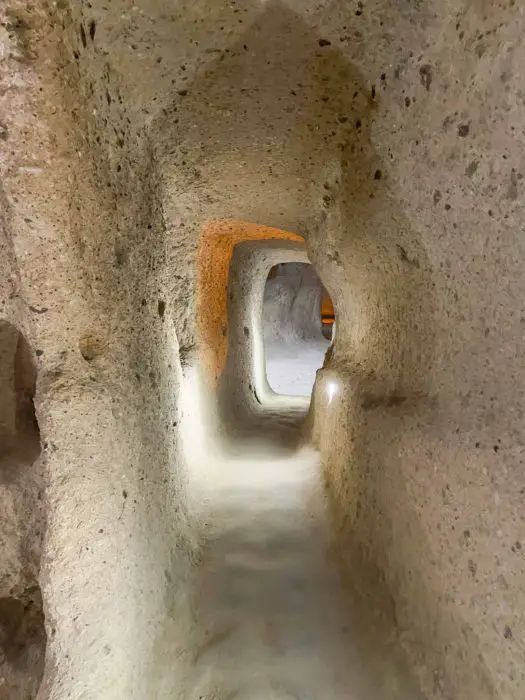 Price: 60 Lira ($6.50 US)
Hours: 8 am-7 pm (April 1 – October 1); 8 am-5 pm (October 1 – April 1)
Time needed: 1 hour
WOTW rating: 5/5
Curious about other things to do in Cappadocia besides hot air balloons and hikes? Then definitely do yourself a favor and visit one of the underground cities in the area. If you are literally claustrophobic, then do yourself a favor and completely ignore my previous statement.
We visited Kaymakli on a day trip and found it absolutely worth the 40-minute drive outside of Göreme. Kaymakli and other underground cities in the area show the incredibly unique human history in Cappadocia. How crazy is it that people had entire cities underground with churches, animal stables, kitchens, and even trap rooms!? You just have to see it for yourself!
There are a lot of guided tours at this site. Even though you can sometimes listen in and steal some information from the tours, booking a private tour for yourself is worth it. The stories at Kaymakli are fascinating. And without a guide you won't fully appreciate why and how people lived in these underground cities. You can check out guided Kaymakli tours here.
9. Explore The Lesser Known Ihlara Valley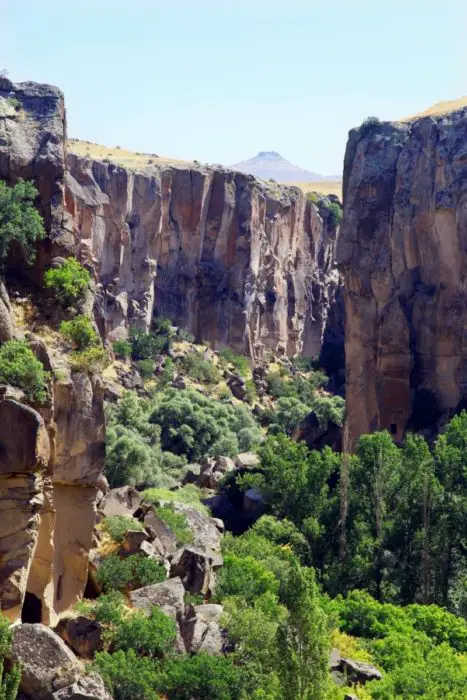 Price: 55 Lira ($6 US)
Hours: 8 am-7 pm (April 1 – October 1); 8 am-5:30 pm (October 1 – April 1); closed on Tuesdays.
Time needed: 1-6 hours, depending on where you start and finish the hike.
WOTW rating: N/A
Ihlara valley is known as one of the most beautiful spots around Cappadocia. You will walk through a lush, green canyon that differs from some of the typically more arid landscapes found around Göreme. A beautiful river runs through the canyon, offering visitors a fresh escape from the dustier hikes around Cappadocia.
Ihlara Valley is a 90 minute drive outside of Göreme, and it's great to add to your list of things to do in Cappadocia if you have a longer stay in the area. Note that the length of your hike depends on your starting point, but none are particularly strenuous.
WOTW Tip #1: Ihlara valley can be added to your itinerary alongside Kaymakli underground city. They are about 45 minutes drive from each other and in the same general direction from Göreme. If you are driving, it could be worthwhile to explore both on the same day. If you prefer guided tours, check out this tour that takes you to Ihlara Valley and Kaymakli.

WOTW Tip #2: if you opt for the longer route for this hike, you will likely need to take a taxi back to your car. The path is not a loop, so a taxi is the best bet if you don't want to retrace your steps for 3 hours.
10. Visit The Highest Point In Cappadocia At Uchisar Castle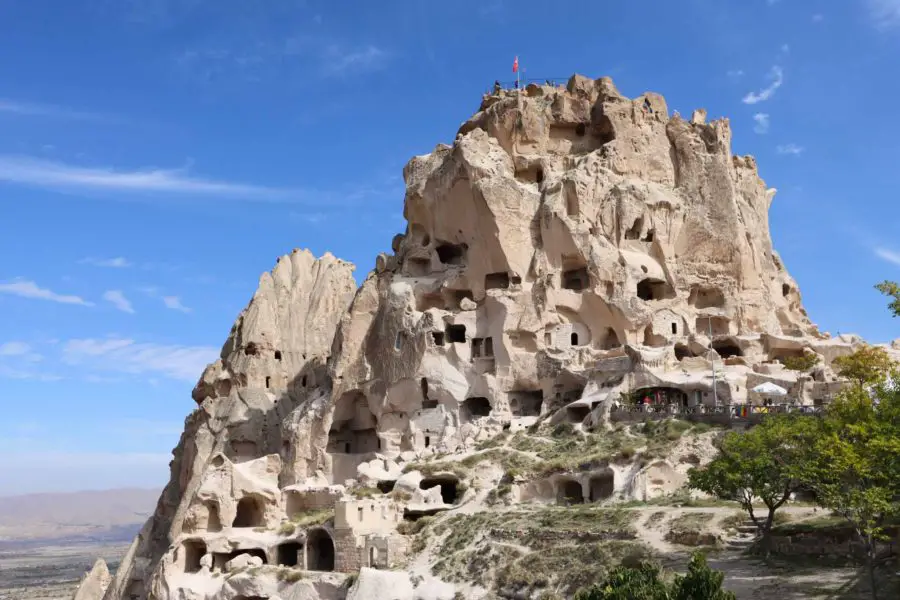 Price: 20 Lira ($2 US)
Hours: 7:30 am-8 pm
Time needed: 30 – 60 minutes
WOTW rating: 3/5
Oooo what's that weird-looking thing up there? That hornet's-nest looking thing is Uchisar Castle, the highest point in all of Cappadocia. Like all other structures found around Cappadocia, the castle was built into the side of the mountain. Uchisar Castle is easily the craziest looking castle we have ever seen!
It is only a short walk to the top of the castle to get incredible views of the surrounding valleys. Even though you can't really explore the inside of the castle, it is still worthwhile make the short walk to enjoy the view. The entrance fee is cheap. So there is no real downside to visiting Uchisar Castle.
Sign-up To Our Newsletter To Receive Useful Travel Tips From Our Next Destinations!
11. Visit Derinkuyu For More Underground Adventures
Price: 60 Lira ($6.50 US)
Hours: 8 am-7 pm (April 1 – October 1); 8 am-5 pm (October 1 – April 1)
Time needed: 1 hour
WOTW rating: N/A
Can't get enough of crouching through underground tunnels? Well, you are in luck because Kaymakli isn't the only underground city in Cappadocia. Located about 40 minutes south of Göreme, Derinkuyu is the deepest underground city in Turkey, extending down to about 450 feet.
If you are somewhat claustrophobic, you'll be happy to know that Derinkuyu is less narrow than Kaymakli. If you struggle with small spaces but still want to see an underground city, then be sure to consider Derinkuyu when looking for things to do in Cappadocia.
WOTW Tip: we heard from several local guides that Kaymakli is the 'better' underground city to visit if you had to choose just one.
12. Go Horseback Riding Through Red and Rose Valleys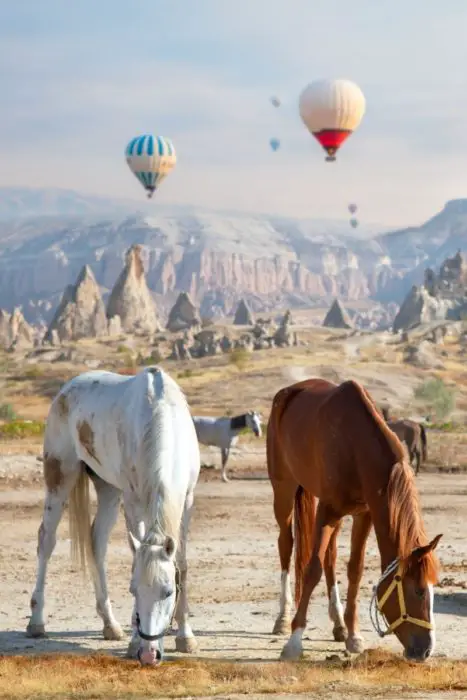 Price: $15-20 US
Hours: very popular for sunset.
Time needed: 2 hours
WOTW rating: N/A
Horseback riding is a great way to explore the beautiful Red and Rose Valleys if you cannot hike or if you just want to mix things up a bit. As a bonus, trotting through the valley by horse is a more responsible way to enjoy Cappadocia's beauty than driving an ATV or a Jeep (keep reading below to find out why).
There are many horseback riding operators around Göreme. You can check out the link if you prefer to book your horseback riding adventure in advance. If you like riding horses, then this tour would definitely be one of the best things to do in Cappadocia for you!
13. Catch A Sunset At One Of Cappadocia's Best Spots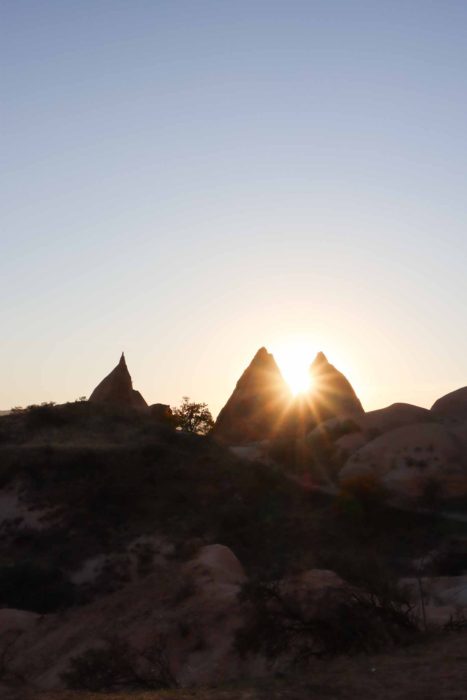 Price: it depends. You may need to pay for a taxi to reach the sunset spots if you don't have a car.
Hours: check for sunset times at the time of your visit.
Time needed: 1-2 hours
WOTW rating: 5/5
Watching the sun descend behind Cappadocia's plateaus should be enjoyed as often as possible. Make sure to plan ahead and have a destination in mind so that you can be fully settled before the sun starts to drop. You won't want to miss it when the valleys get painted with beautiful shades of oranges, reds, and pinks.
The unique color palates and fairy chimneys create some of the most amazing sunset views we have ever seen. Our suggestions for the top places to watch the sunset include:
*Click the links above for directions.
14. Go Star-Gazing From Sunset Point
Price: N/A
Hours: 10 pm-5 am is usually the best time to see the stars.
Time needed: up to you.
WOTW rating: N/A
If you head to Red Valley Sunset Point for sunset, you will likely see a bunch of brilliant people with their foldout chairs, blankets, and a little picnic set-up. These people are legends. You can relax out here until well after sunset to watch the night sky fill with stars.
If star-gazing sounds like a great idea, make sure that your phone works and that you have the ability to contact a taxi. Or take it easy on the vino if you drive yourself to Sunset Point.
15. Enjoy Local Wine Tasting in Urgup or Avanos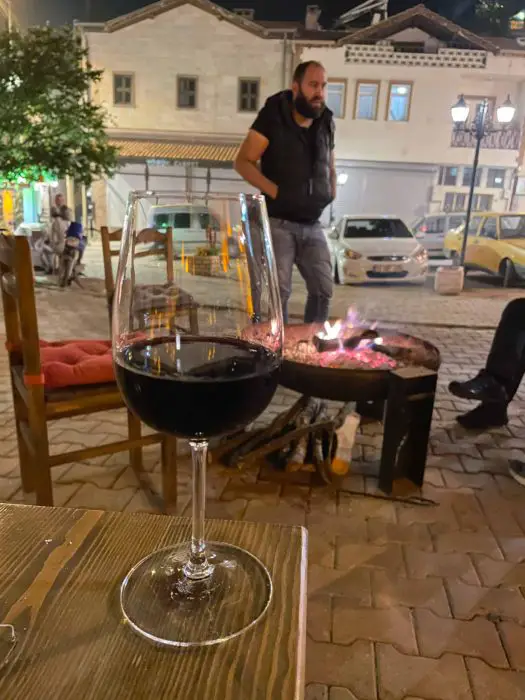 Price: free to taste; bottles are inexpensive by most standards.
Hours: open from morning until 7-11 pm depending on the store and the season.
Time needed: up to you drunky pants.
WOTW rating: 4/5
The volcanic ash that created Cappadocia's unique landscapes just keeps on giving! It turns out the volcanic soil is actually great for producing wine grapes. Hooray volcanoes!
There are several wine shops in Avanos and Urgup where you can taste some local wines. While they might not be world-class, it is still fun way to try local products. And there's wine involved, so there's no way this can be a complete fail. We visited one during a night out in Avanos and enjoyed a delicious bottle next to a cozy fire.
16. Visit Çavuşin's Bizarre Looking Cave Dwellings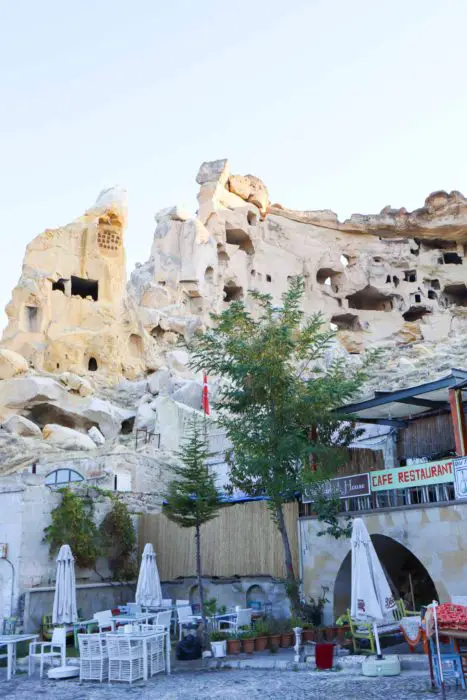 Price: N/A
Hours: N/A
Time needed: 30-60 minutes
WOTW rating: 3/5
Located directly between Göreme and Avanos is the tiny but stunning little village of Çavuşin. You will notice a massive rock with many old cave dwellings right when you enter the town. These had been inhabited until the 1960s before falling boulders made it unsafe to live there. To me, the image of Çavuşin's cave dwellings was one of the most striking in all of Cappadocia.
Çavuşin is also home to the 5th-century church of St. John the Baptist, one of the oldest and largest churches in Cappadocia. While it doesn't get much fanfare, it is a nice place to hike around without many crowds. Çavuşin is not really set up for visitors, and visitors are free to explore the old cave dwellings without any restrictions. For better or for worse.
17. Try Testi Kebab
Price: about $5-7 US per plate.
WOTW rating: 4/5
Testi Kebab is the most famous regional dish in all of Cappadocia! It is not testicle kebab, which we thought it was when we first saw it on the menu. Instead, testi kebab consists of a choice of meat (chicken, lamb, or beef) and vegetables baked in a sealed clay jar (they also have a vegetarian option).
It takes time – and a pre-order – if you are going to try the real testi kebab. While you can find it at many restaurants around Cappadocia, Dibek Restaurant is the most famous place in Goreme to try this regional specialty.
Hungry for more delicious Turkish food? Check out our post about the best Gaziantep foods to try! Read about baklava, delicious kebabs and more from Turkey's culinary Capitol!
18. Find The Camel In Imagination Valley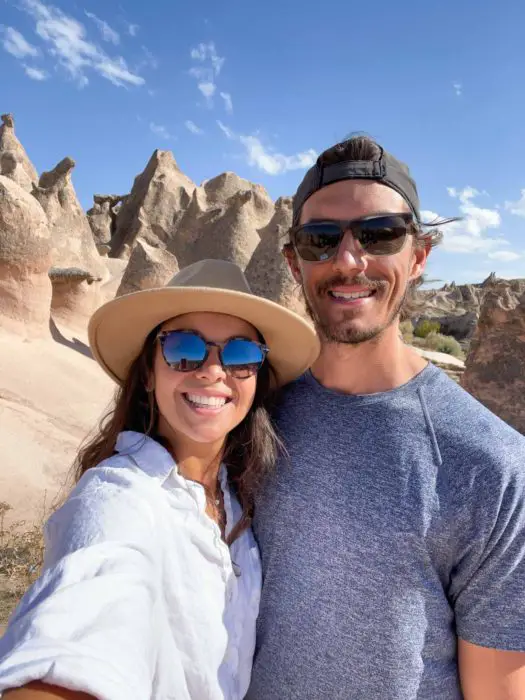 Price: N/A
Hours: N/A
Time needed: 30-60 minutes
WOTW rating: 3/5
Also known as Devrent and Pink Valley, Imagination Valley is an interesting sight to stop by for a short time if you have a rental car or other private transportation. Known for its unique rock formations, you might be able to spot a camel, snake, dolphin, and the Virgin Mary holding baby Jesus.
The first time we visited Imagination Valley we didn't know that we were supposed to let our imagination run wild. So we didn't even notice any special formations. But the second time we passed, we did see the camel. Turns out we are not robots!
WOTW Tip: tour buses drop people off to take pictures of the famous camel, but it seemed like most people didn't venture down into the valley. If you are able, it's fun to hike around the fairy chimneys for 30 minutes to an hour.
19. Visit A Pink Salt Lake & Possibly See Flamingos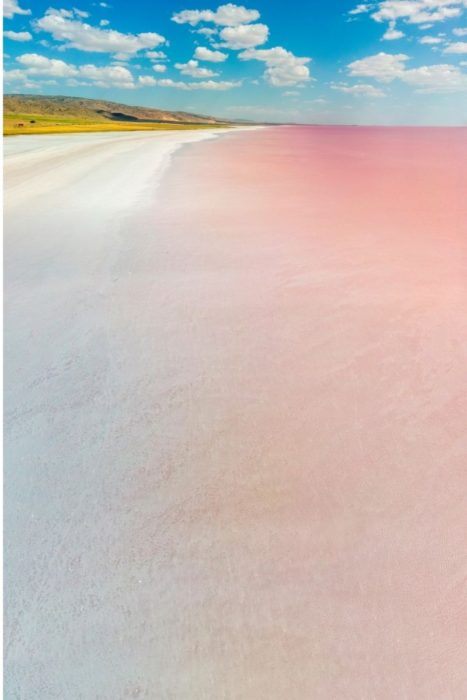 Price: N/A
Hours: N/A
Time needed: 1-2 hours to explore and take photos, plus 1 hr drive for Göreme.
WOTW rating: N/A
Visiting Lake Tuz is one of the lesser-known things to do in Cappadocia, but it could be a good option if you have an extended stay. Lake Tuz is a salt-water lake that can turn pink under the right conditions. It is also an important breeding ground for flamingos who migrate here to have their little flamingo babies in the summer.
WOTW Tip: sadly, Lake Tuz is drying due to severe droughts and poorly managed agricultural practices. I read that the lake completely dried at the end of summer 2021. While the dried-salt lake can still create some impressive views, we advise getting some local advice about the conditions of Lake Tuz before making the trip out.
20. Try Your Hand At Pottery Making (And Shopping) In Avanos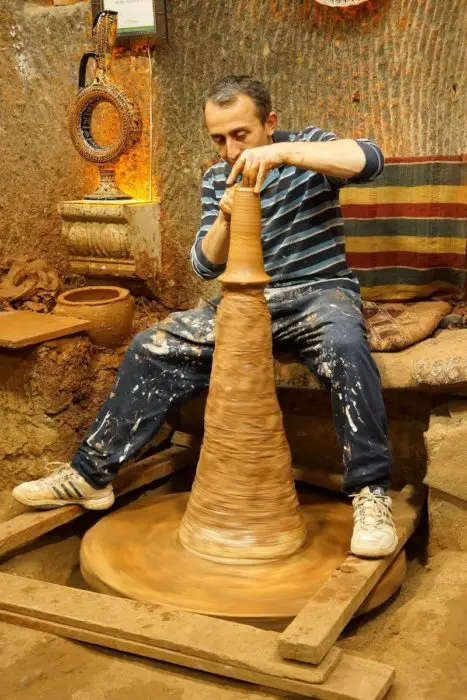 Price: free to visit; if you make your own pottery you will probably be encouraged to buy something. You should try to bargain if you are interested in buying anything.
Hours: 9 am-5:30 pm (depending on the shop)
Time needed: 1 hour
WOTW rating: N/A (but we will be back when we have a home)
While many people associate Turkey and Cappadocia with ceramics, Avanos is famous for its pottery. There are many pottery shops that will invite you into their shops where you can watch the masters make beautiful pottery. Some shops even give you the opportunity to make your own pieces!
Things Not To Do In Cappadocia
21. Don't Ride The ATVs Or Go On Jeep Safaris
ATV and Jeep Safari trips are popular ways to explore the Göreme valley. Unfortunately, they are not the best way to travel to Cappadocia responsibly. For one, the noise and dust pollution take away from the experience for all the other people in town. ATVs and Jeeps race around the valley in the peak season. They stop at viewpoints with hundreds of other people and form a line to see the clouds of dust just created.
I vividly remember our friend and hiking guide Mustafa bluntly commenting: "I hate those jeeps."
I understand exploring the valley by ATV or Jeep makes a lot of sense for those unable to hike or ride horses. But the calm and pristine environment of the outdoors is taken away by these noisy vehicles racing through Cappadocia's dusty valleys.
Also, we heard from local guides that all the dust generated by these vehicles accelerates the erosion rates of the fairy chimneys and it suffocates the native plants. Those are bad things for the future of Cappadocia!
WOTW Tip: a general lack of information exists about how the ATVs and Jeeps impact the environment and affect the overall experience. We hope that these notes help educate on why it might be best to consider other options, like exploring the valleys by foot or horse.
Where To Stay In Cappadocia?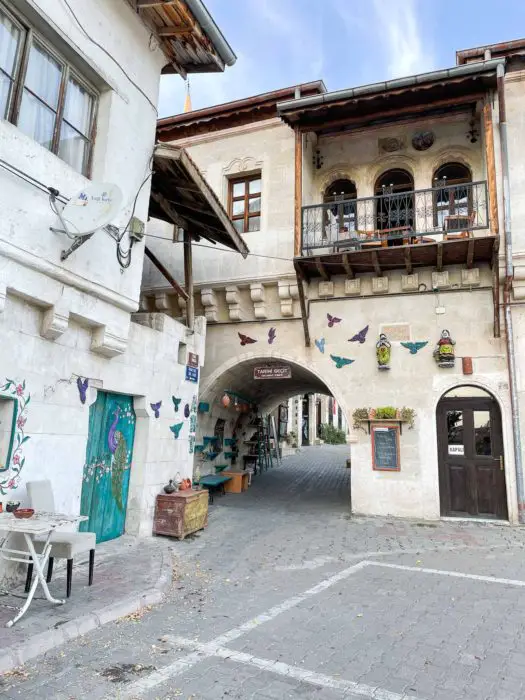 Are you already convinced that this magical land should be part of your Turkey itinerary? Well, then let's talk about where to stay in Cappadocia. There are a number of towns that you can use as your base to explore all the wonderful things to do here, and they offer different pros and cons.
Here's a high-level review of the most popular towns where visitors stay in Cappadocia:
Staying in Göreme
Pros: convenient, plenty of lodging opportunities.
Cons: touristy, busy, locals don't live there, so you won't have genuine interactions with them.
Staying in Ürgüp
Pros: famous cave hotels, larger and upscale town.
Cons: expensive, not centrally located.
Staying in Avanos
Pros: less touristy, friendly locals.
Cons: no cave hotels, need taxi or car to get around.
Staying in Uçhisar
Pros: amazing views, cool hotels.
Cons: remote, quiet at night. (which can be a pro too)
Staying in Çavuşin
Pros: convenient location, less crowded.
Cons: very small, limited amenities.
When Is The Best Time To Visit Cappadocia?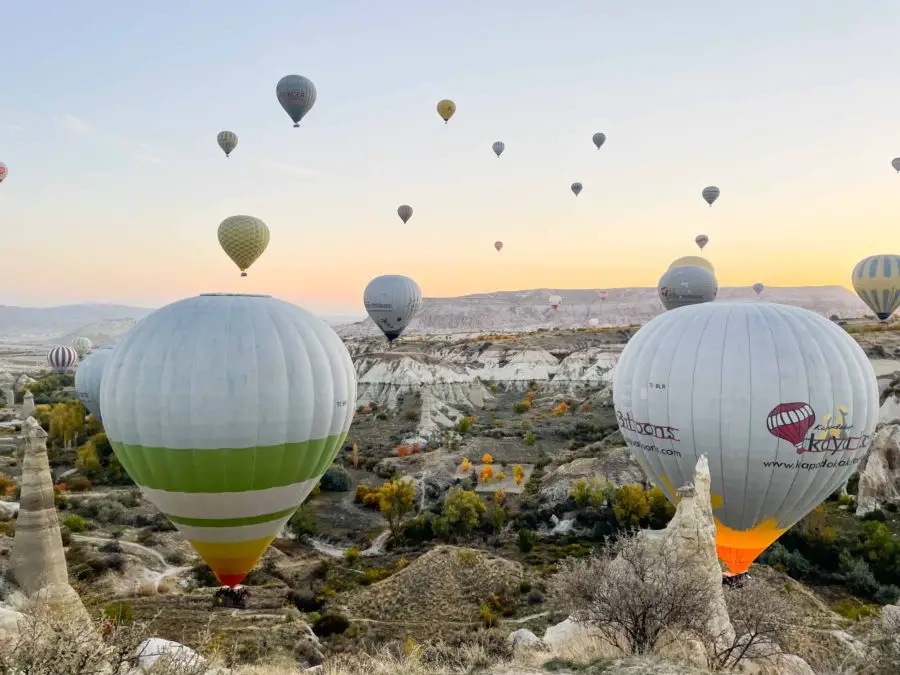 'When is the best time to visit Cappadocia' is a difficult question to answer because travel is so subjective. Most things to do in Cappadocia are available all year-round, so there are no bad times to visit Cappadocia. I outlined some general considerations for each season here:
Spring (March – May): spring is a great time to visit Cappadocia. Though the evenings can be quite cold, spring is a great time to take advantage of fewer crowds and a much greener landscape compared with the dry summer months.
Summer (June – August): summer is easily the busiest time to visit Cappadocia. Crowds can get pretty intense, and the temperatures get toasty. Since most activities are outdoors, consider how well you manage the heat if planning on visiting in the summer.
Fall (September – November): while still relatively busy, the crowds start to diminish in the late fall, and the weather is pleasant. We visited in mid-October, and we experienced warm days, cool nights, and some amazing scenery with the fall foliage.
Winter (December – February): understand that it can be pretty chilly in Cappadocia during the winter months – especially in the evenings. And much to my surprise, it even snows! That said, the winter is generally mild, and there will be far fewer people around. Activities like hot air balloon rides and hikes are still available.
How Many Days In Cappadocia?
With so many incredible things to do in Cappadocia, you will not be disappointed with adding additional days to your Cappadocia itinerary. Flexibility is also important if you are planning a hot air balloon ride. Last-minute cancellations happen due to weather, and rescheduling can be tricky depending on the season. So it's always good to give yourself a buffer.
2-3 days: enough for a hot air balloon ride, Göreme Open Air Museum, and a hike.
3-5 days: perfect for a hot air balloon ride, Göreme Open Air Museum, several hikes, and a visit to an underground city.
5-7 days: you can see nearly all the key sights, including the underground cities, several hikes and potentially a longer day trip to Lake Tuz.
Is Cappadocia Safe?
In terms of crime, yes, Cappadocia is exceptionally safe. In fact, during our 3 months in Turkey, we never felt remotely unsafe. You are unlikely to experience any form of crime, except for getting your heart stolen by Cappadocia's beauty. I'll walk myself out…
But seriously, the primary safety concerns you might encounter are on some tours or hiking trips. ATVs are notoriously dangerous, not just in Cappadocia. Also, some of the hiking trails require some physical fitness. But in general the worst thing that would happen is slipping on some steeper hiking trails.
Finally – hot air ballooning is extremely safe. The industry is highly regulated, and Cappadocia's balloon pilots are some of the best in the world. Accidents can always happen, but they are very rare. You can go on a hot air balloon ride with complete confidence that the pilots are experienced and that quality standards are taken very seriously.
Final Thoughts About Visiting Cappadocia
Who knew there were so many incredible things to do in Cappadocia? Seriously – it was a complete revelation to us to discover the amazing diversity of Cappadocia's activities and sites. You could not get bored here even if you tried!
Cappadocia is high on our list of places we want to go back to. And while we definitely wouldn't mind going for another hot air ballon ride, we would love to take more advantage of the outstanding hiking opportunities next time. And most importantly, we will come back to hang out with our friends in Avanos and hopefully have more drinks around the fire.
Thanks for the incredible memories, Cappadocia! We will see you again one day soon 🙂
Thanks for reading!
G
Have any questions about visiting Cappadocia? Ready to visit one of our absolute favorite places in Turkey? Let us know your thoughts in the comments or DM us on Instagram!
Planning A Trip To Turkey? Read These Posts Next:
Tired of reading? We have a full Turkey travel series on YouTube. Don't forget to like & subscribe while you're there 🙂
Save these Cappadocia Travel Tips to Your Pinterest!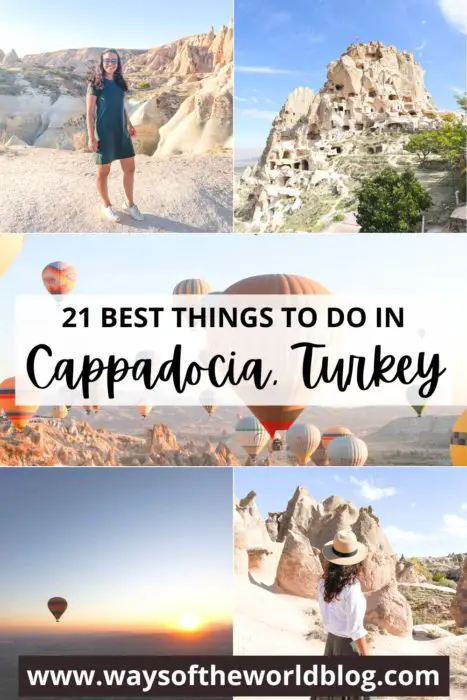 *This post contains affiliate links. If you make a purchase using one of our links we receive a small commission at no extra cost to you. The commission helps us to stay on the road producing content we hope is useful to you!