Most people don't think about Sanliurfa when planning their trip to Turkey. Hell, most people probably have never even heard of Sanliurfa, Turkey. Fondly referred to by locals as Urfa, this city of 2 million people is most popular with tourists visiting religious pilgrimage sites and traditional Sira nights.
The fact that you are even curious about Sanliurfa probably means that you are interested in getting off the beaten path in Turkey. But there is not much information out there about visiting Urfa. So how will you know how to make the most of your adventure?
We spent 5 eventful days in Urfa after adding it to our itinerary at the last minute. We discovered that there are plenty of great things to do in Sanliurfa to keep you entertained for a few days.
Keep reading below to find out everything you need to know before visiting Sanliurfa. This post includes travel planning tips and a list of the top 13 things to do in the City of Prophets.
Estimated reading time: 29 minutes
Ready To Learn About Sanliurfa, Turkey!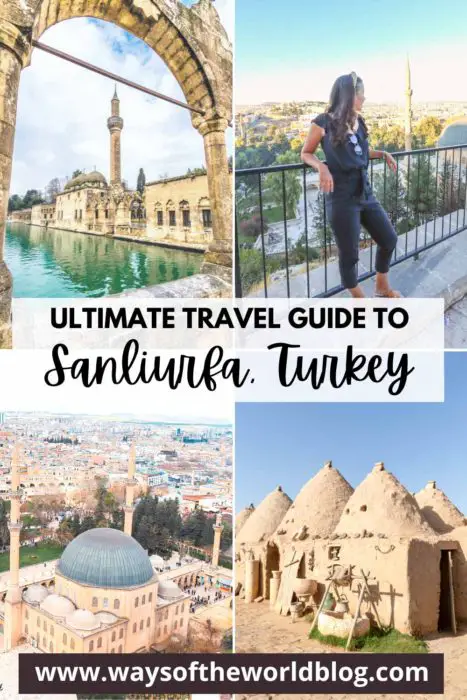 About Sanliurfa (Urfa), Turkey
Urfa was a last-minute addition to our Turkey itinerary. Our new friends in Cappadocia, Turkey informed us that the oldest recorded human settlement, Gobekli Tepe, was located right outside Sanliurfa. We thought it sounded fascinating, so we figured why not add a couple of days in Sanliurfa, Turkey to our travel plans. This kind of flexibility is one of the luxuries of slow travel. You can just go where the wind takes you!
Sanliurfa is an extremely important city for followers of Abrahamic religions. Christianity, Islam, and Judaism all recognize Abraham as the first Prophet. It is said that Abraham was born, lived and died in Urfa. The Prophet Job also lived, and was miraculously healed from terrible ailments, in Sanliurfa. Urfa is therefore known as the City of Prophets, and it is a popular pilgrimage site, especially among followers of Islam.
Many of the top attractions in Sanliurfa are associated with the Prophets. Add Gobekli Tepe's ancient ruins into the mix, and it is a great place to visit for travelers interested in religious sites and human history. Continue reading to discover more about Sanliurfa!
Are you curious to see what Sanliurfa is like? Don't forget to check out our vlog for an on-the-ground view of the City of Prophets!
How To Get To Sanliurfa?
Getting to Sanliurfa by bus:
The bus system in Turkey is convenient, affordable and mostly reliable. You will likely have no problems finding multiple buses to Sanliurfa per day. But remember that Turkey is a large country, so be ready for some longer bus rides! Here are some average drive times by bus from other popular destinations in Turkey:
Istanbul to Sanliurfa: 21 hours
Izmir to Sanliurfa: 18 hours
Antalya to Sanliurfa: 15 hours
Cappadocia (Nevşehir) to Sanliurfa: 9.5 hours
Gaziantep to Sanliurfa: 3 hours
WOTW Tip: you can confidently book your bus tickets online at obilet.com. Obilet is the most popular site for purchasing bus tickets in Turkey, and it's easy to use. All you need is a screenshot of your reservation when boarding your bus.
Getting to Sanliurfa by plane:
Sanliurfa Airport is about 18 miles from the city. You can reach it via direct flights from Istanbul and Ankara, however most other routes are likely to require a layover in one of those two cities. Turkish Airlines and Pegasus Airlines offer incredibly cheap domestic flights around Turkey.
WOTW Tip: I like to use SkyScanner when searching for the cheapest flights, though I prefer to book directly with the airlines.
Where To Stay In Sanliurfa?
Even though Sanliurfa, Turkey is a large metropolis, the old-city and surrounding attractions are mostly close together and easy to access. There are plenty of lodging options in the old-city, and most will advertise their proximity to Balikli Gol. If you search in the general area of Balikli Gol or Ulu Mosque (Ulu Camii) then you will be in a prime location.
We researched the best places to stay in Sanliurfa for you! Follow the link to find all hotels in Urfa that have higher than 9 rating.
WOTW Tip #1: we visited Sanliurfa towards the end of October, and it was packed with visitors from countries in the region. Don't assume that you can easily find last minute lodging in the old city during Urfa's high season.
WOTW Tip #2: be careful if you see a hotel called Rehavi Konagi. We had a terrible experience there, as the hotel seems to be more focused on hosting Sira Nights than attending to its guests. We had to listen to Sira Nights for 4 nights in a row, from 8-11pm (plus more noise until 2 am). We don't recommend you stay there.
Is Sanliurfa Safe To Visit?
Unfortunately eastern Turkey has a reputation of being less stable than the more visited western part of the country. Due to its proximity to Syria, Iraq and Iran, there is a general apprehension about venturing to Sanliurfa and its surrounding areas. Add to that, the more conservative Islamic nature of eastern Turkey, and people start to pump the breaks on heading that way.
Preconceived notions about safety concerns and a lack of information about the current situation in Sanliurfa might make people hesitant about visiting. But we can say that we felt completely safe in Sanliurfa. Like everywhere else in Turkey, people in Urfa are extremely welcoming and respectful, and the chance of anything happening to you or your personal belongings is very unlikely.
You may see recent travel warnings claiming that it is not a good time to visit Sanliurfa, Turkey. Not to tell you to throw caution into the wind, but our view is that these statements are exaggerated. The further east we went in Turkey, the safer we felt. Islamic hospitality is real, and don't be afraid to let your guard down and connect with the lovely people of Urfa.
13 Amazing Things To Do In Sanliurfa, Turkey
1. Feed The Fish At The Pool Of Abraham (Balikli Gol)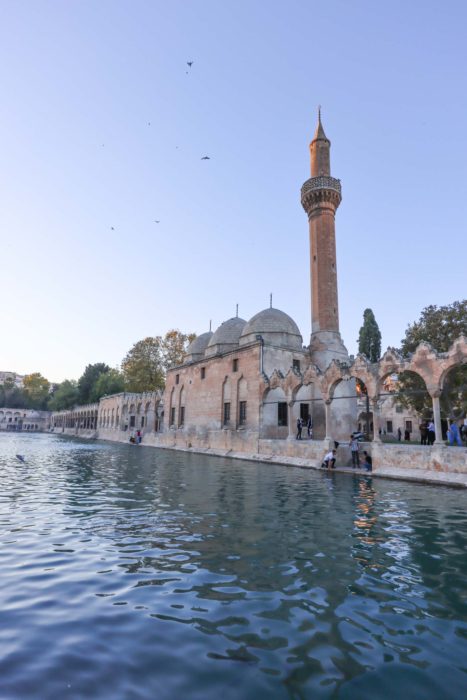 Price: free to explore; fish food costs 5 Lira ($0.45 US).
Hours: 24/7
Time needed: 30-60 minutes
WOTW Rating: 4/5
One of the most important religious sites in Sanliurfa, Turkey is Balikli Gol, or Abraham's Pool. Situated in a beautiful park complex, Balikli Gol is a must-do for people visiting Urfa on religious pilgrimage or for those who want to understand the essence of the city.
Born and raised in Sanliurfa, the Prophet Abraham caught the wrath of King Nimrod who was revered as a god by people under his rule. Abraham denounced worshiping anyone but his God, angering King Nimrod, who sentenced Abraham to death. King Nimrod's follower's went to throw Abraham into a fire, but right before he fell into the fire, God turned it into a pool of water, and the burning embers turned into fish.
The pool and fish are now considered holy, making Balikli Gol an important stop for religious tours through Turkey. The fish have protected status, and you are encouraged to feed them, as it brings good luck. If you spot a white fish, that means the doors to heaven will be immediately opened to you. We did not spot the white fish…
2. Check-out The Cave Where The Prophet Abraham Was Born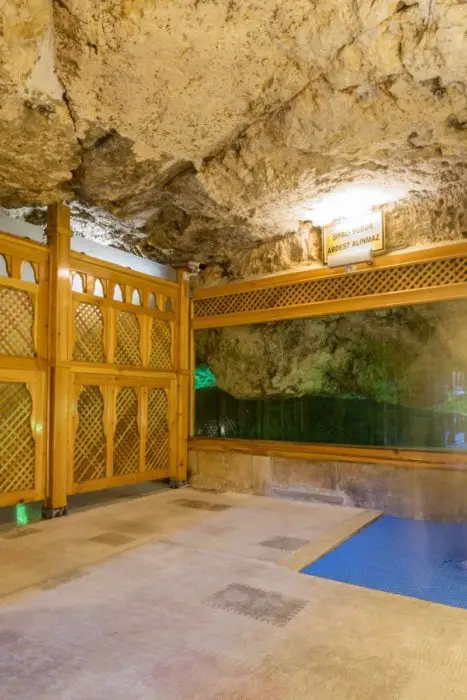 Price: free
Hours: N/A
Time needed: 30 minutes
WOTW rating: N/A
The cave where Abraham was born is located near Abraham's pool. As you might imagine, a visit to the first Prophet's birthplace is a popular addition to religious tours around Sanliurfa. The water-filled cave is located within the Mevlid-I Halil Mosque's complex. While the cave can be quickly observed, it is attractive due to its significance for so many religions.
Abraham was born in a cave because the the region's ruler, King Nimrod, received a prophecy that a boy born in present day Urfa would come to kill him. The King ordered that all baby boys in the city be killed, so Abraham's mother made the wise decision to discretely give birth in a cave. The story goes that Abraham's mother hid him in the cave until he turned 7.
WOTW Tip: note that women need to cover their heads and men cannot wear shorts when entering the mosque's complex and cave area. Being that it is a highly religious site, many visitors will be praying inside the cave, so be conscious of your behavior.
Are you fascinated by ancient religious sites and Islamic traditions? Don't forget to explore Cappadocia's rich human history and Konya's fascinating dervish culture.
3. Spend The Afternoon Around The Dergah Complex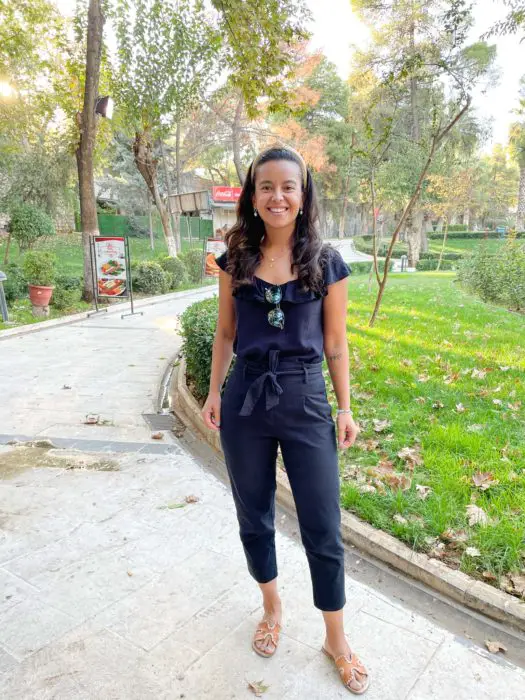 Price: free
Hours: 24/7
Time needed: 1-2 hours
WOTW rating: 4/5
Dergah Complex is the name of the broader area that also contains Abraham's Pool and birthplace. The park and restaurants within the complex are also Sanliurfa's social center, and Dergah Complex is a popular place for both locals and visitors, alike. The park is a fun place to grab some street food, find a comfortable bench and observe local life under the shade of the palm trees.
You will also find busy restaurants, various pools and mosques in Dergah Complex. The restaurants are very popular with regional tourists, and there are some nice places to sit alongside the pools. It could be worth it to grab a bite to enjoy the energetic ambiance.
4. Admire The Views From The Top Of Urfa Castle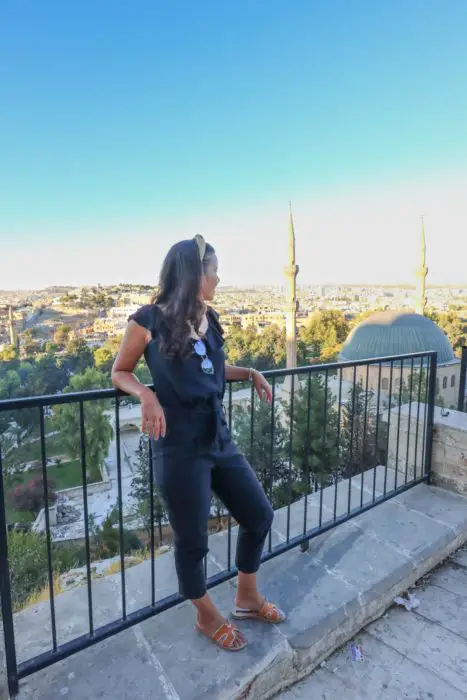 Price: free
Hours: 24/7
Time needed: 30 minutes
WOTW rating: 2/5
Walking up the steps behind the Mevlid-I Halil Mosque (Abraham's cave) will take you past a number of cozy restaurants where you can have Turkish tea and some hookah, if you so desire. But if you ignore the temptation to just plop down and relax then you will quickly make it to the top of Urfa Castle.
The castle appears a bit worse for wear, and there is quite a bit of litter and graffiti around the old fortress. Also, it is not possible actually enter the castle. I would recommend to make your way up for expansive views of Urfa, especially around sunrise or sunset. But even though the views are nice, you shouldn't lose sleep if you are unable to make the walk up to Urfa Castle.
Want to explore some fun in the sun in addition to Urfa's historical and religious sites? Don't forget to read about our favorite Turkish Beach Town: Kas, Turkey.
5. Visit Gobekli Tepe – Ground Zero Of Human Civilization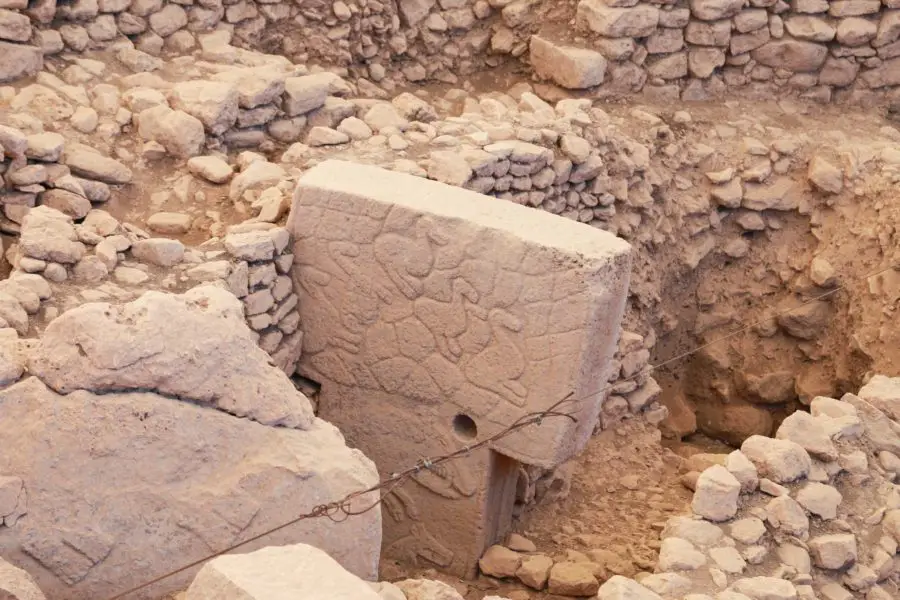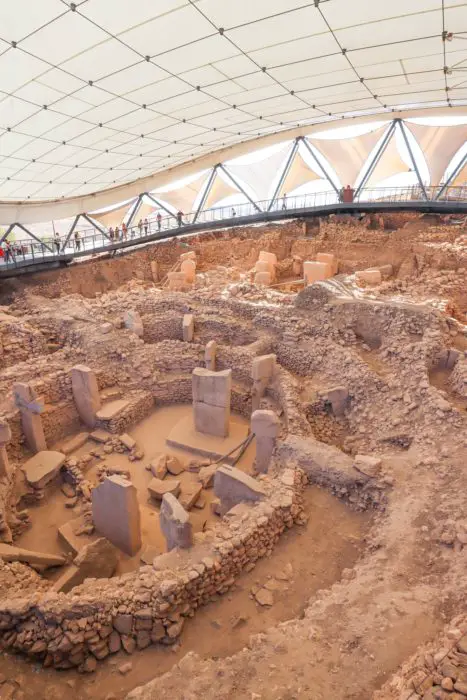 Price: 65 Lira per ticket ($5.50); 45 Lira for the audio guide ($3.50 US).
Hours: 8:30 am – 5 pm
Time needed: 1.5 hours
WOTW rating: 5/5
What is the Significance Of Gobekli Tepe?
Exploring Turkey gives you a new appreciation for ancient history. And Gobekli Tepe is officially the most ancient, and unofficially the coolest, archeological site in the world. Also known as Potbelly Hill, Gobekli Tepe is a recently-discovered, 11,000 year-old religious temple. 11,000 years old is absolutely bonkers. The Pyramids of Giza are about 4,500 years old, so Gobekli Tepe is more than twice as old as the Pyramids! That was a long-ass time ago, trust me.
Bear with me as I nerd out a little bit here…before Gobekli Tepe was discovered, it was thought that people during this period of humanity were hunter and gatherers. It was also believed that societies and culture didn't develop until after the invention of modern agriculture, which allowed people to stay put and develop a common identity.
Gobekli Tepe took that theory and flushed it down an 11,000 year old toilet. The scale of the temple suggest that it took organization, social hierarchy and a supply of resources to construct it. These elements are features of community, culture and society. Therefore it was religion that brought the first community together, not agriculture. And religion was the first seed that helped grow modern civilization as we know it today. That's why they call Gobekli Tepe the ground zero of human history!!
What To Expect At Gobekli Tepe?
Gobekli Tepe is a well managed attraction that starts with a great interactive museum explaining the origin stories for early humans in this area of Turkey. There are some ancient artifacts and interesting displays to help build an understanding of Gobekli Tepe's significance before heading out to the archeological site.
After leaving the museum you will head up a small hill where there are shuttle buses running people up and down from the ruins. After a short drive in one of these shuttles you arrive to the Gobekli Tepe ruins area, where you can observe the ancient structures and well-preserved engravings. The site is relatively small, and it is mostly impressive because of its historic context.
Even if the ruins are quite small, the overall experience is really amazing. Do yourself a favor, add Gobekli Tepe to your list of things to do when visiting Sanliurfa, Turkey.
WOTW Tip: there is no super convenient way to get to Gobekli Tepe if you don't have your own car, or if you are not on a tour. We went with a taxi and agreed that he would wait for us to take us back to Urfa. We paid about 200 Lira for the total trip ($18 US).
Save This Post To Your Pinterest for Later!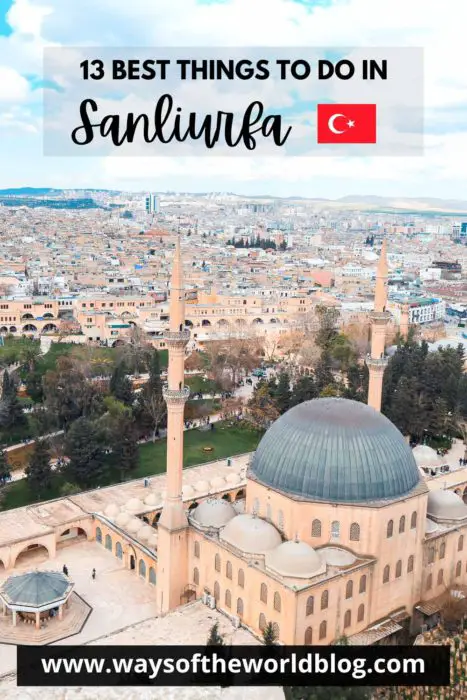 6. See The Prophet Job's Cave, Tomb & Holy Well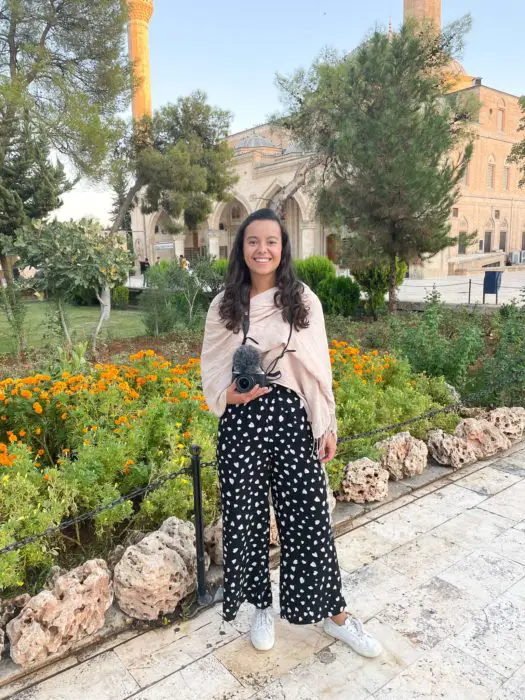 Price: free
Hours: the mosque area is open 24 hours, but it was unclear if they close that gates to Job's tomb.
Time needed: 1 hour
WOTW rating: 3/5
Abraham isn't the only prophet that called Urfa home. The Prophet Job spent seven years suffering in a cave before being healed by holy water. During 7 years of anguish Job never lost faith in God, and his unwavering faith is what made him a prophet. The cave where he was tormented is accessible at the front of a mosque. You can also find the well that contained the holy water that God provided Job to relieve his suffering.
Job's tomb is mostly a religious site, again popular with people on pilgrimages. Going down into the tomb was kind of tight, and there was a line, so we chose not to enter. Overall it was an interesting detour, but not the most memorable thing to do in Sanliurfa.
Click here to read more about Prophet Job, if you are curious.
WOTW Tip: Job's cave is about a 30 minute walk from the core of Sanliurfa's old city. We walked there, but the distance might make taking a taxi the more convenient option. There is also a taxi stand directly across for the mosque when heading back into the center.
7. Visit Sanliurfa's Bustling Bazaar
Price: free
Hours: 9 am – 5 pm; CLOSED SUNDAYS
Time needed: 30-60 minutes
WOTW rating: 4/5
Sanliurfa's bazaar just felt a bit different. Not necessarily in a bad way, but there were A LOT of eyeballs following us as we wandered through the narrow walkways. And for whatever reason it just felt a little more intense.
Nevertheless, it was fun to experience the authentic feeling of Urfa's bazaar. Seeing the local craftsmen and vendors selling mounds of loose tobacco, sheep skins and pigeons (yep, pigeons) was definitely a change-up from our previous bazaar experiences. You might say that this bazaar was the most…bizarre. Damnit – I couldn't resist. Sorry!
WOTW TIP: there is a famous courtyard within the bazaar named Gumruk Han. For centuries this has been a place for locals to gather, drink tea and play different games. Today it has converted into more of a tourist attraction, but it can be an enjoyable stop for some mid-day tea or menengic coffee.
Don't Forget To Sign-up To Our Newsletter For Travel Stories And Tips From Our Next Destination!
8. Try Sanliurfa's Most Popular Dish: Çig Köfte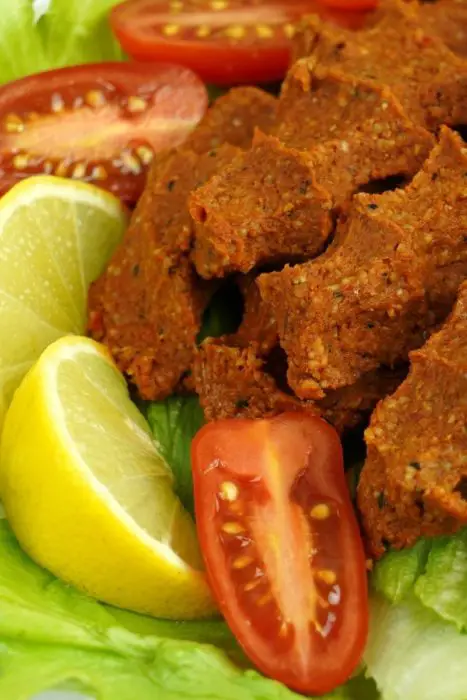 Sanliurfa, Turkey is know for several regional dishes, including the ever-present lahmacun. But if you want to experience Urfa's most iconic food, then you have to try çig köfte. While çig köfte is not our favorite Turkish food, you shouldn't come to Urfa without trying çig köfte at least once.
This flavor-packed dish can consist of raw ground beef, kneaded bulgur wheat, tomato paste, onions, garlic and spices. The ingredients are packed into squeezed beef-tartare style 'meatballs' and served over lettuce. However, these days çig köfte is more often than not, served as a vegetarian dish.
WOTW Tip: while çig köfte is Urfa's most iconic dish, lahmacun is one of our personal favorites. We suggest you enjoy our beloved lahmacun many times during your stay in Turkey. It is amazing!
Hungry for more delicious Turkish food? Check-out our post about the best Gaziantep foods & Istanbul foods to try!
9. Enjoy Urfa's Famous Dessert: Şillik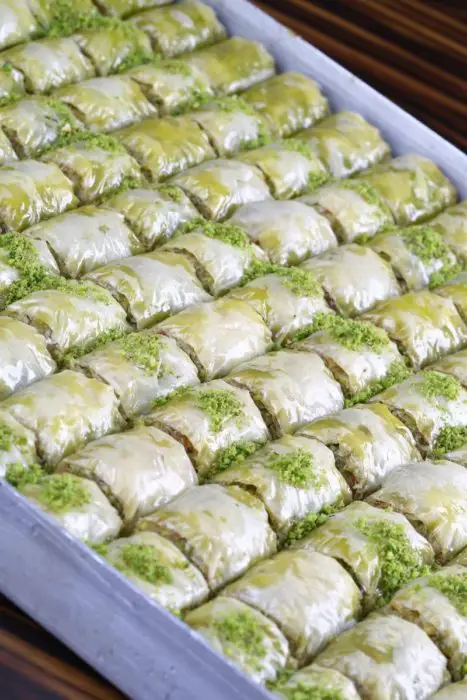 You will see a lot of dessert shops while walking around Urfa in the evenings. They are often set-up with inviting tables outside, and enticing displays of various desserts in the windows. Şillik is Urfa's most traditional dessert, and it is a must-try if you are a fan of the sweet stuff.
A distant cousin of baklava, şillik consists of a crepe like dough filled with walnuts and topped with simple syrup and, of course, pistachios. It's important for vegetarians to be aware that the crepe is usually prepared with animal fat as the cooking grease.
WOTW Tip: the word şıllık actually translates to bitch or slut, which is an interesting choice of names for a dessert in a region known for being conservative. So be careful when asking around for this popular dessert! You don't want to get slapped in the face!
10. Experience Traditional Urfa Music With Sira Nights
Price: 250 Lira for dinner and a show ($20 US). Prices may vary by venue.
Hours: 8 pm – 11 pm (typically)
Time needed: 4 hours
WOTW rating: 2/5
Where to start with Sira nights…Sanliurfa is known around Turkey and the Middle East for its musical history. These days, many tour groups visiting the city don't leave without experiencing Sira nights. Sometimes Sira nights are performed directly on the door step of your hotel room. Yes, that literally happened to us! Almost for 4 straight nights until we couldn't take it anymore and had to switched hotels last minute!
For some additional context, Sira nights are full of energy, with a full band of string instruments and drums playing to crowds of people, culminating in a grand finale of drum banging and dancing at nights end. Again, this happened RIGHT OUTSIDE OF OUR HOTEL ROOM! FOR FOUR NIGHTS IN A ROW! That is why even the slightest sound of Sira nights makes us run for the hills.
WOTW Tip: if you do want to experience traditional Urfa music then you might need to reserve with one of the many venues around town. The venues are huge, but spaces easily fill up with tour groups. For us, the grand scale of the performance made it lack some authenticity. But hey, most people seemed to be enjoying themselves.
11. Take A Day Trip To The Ancient City Of Harran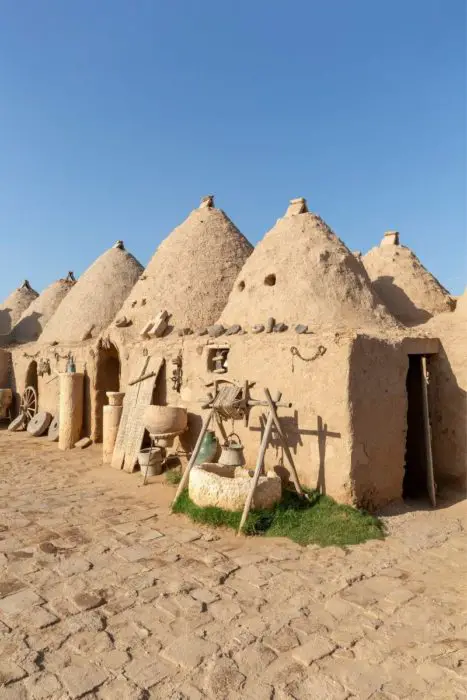 Price: free to enter
Hours: N/A
Time needed: 1-2 hours at the site; Harran is about a 40 minute drive from Urfa.
WOTW rating: N/A
The ancient city of Harran is a popular day-trip option from Sanliurfa. Located about 30 miles south-east of Sanliurfa, this 5,000 year old settlement was one of the most important cities in the region. Harran was once the capitol of the Islamic Empire, reaching its golden age between 700-900 AD.
A visit to Harran will send you back in time to imagine life in an ancient Islamic city. There are the ruins of an old mosque, and many well-preserved mud huts that were used as homes. If you are visiting this part of Turkey for ancient ruins, then a day trip to Harran should definitely be on your list of things to do in Sanliurfa.
WOTW Tip: you can negotiate a trip to Harran with local taxi drivers. They will be able to take you there and back for a flat fee. Note that most drivers will not speak English, so don't consider this a private tour.
12. Explore Sanliurfa's Archeological And Mosaic Museum
Price: 25 Lira per ticket ($3 US). Additional 25 Lira for audioguide.
Hours: 8:30 am – 4:30 pm
Time needed: 1-2 hours
WOTW rating: N/A
Sanliurfa's Archeological Museum is a sprawling attraction with a large number of archeological artifacts from the surrounding region, including Gobekli Tepe and Harran. The museum takes visitors through different historical periods via the ancient artifacts from the different civilizations that called this part of Turkey home.
WOTW Tip: if you missed the mosaic museum in Gaziantep, then consider making a visit to the Archeological and Mosaic Museum in Sanliurfa. If you have to choose between one or the other, then Gaziantep's Mosaic Museum is considered to be superior for its collection of mosaics.
13. Admire The Beautiful Ulu Camii (Grand Mosque)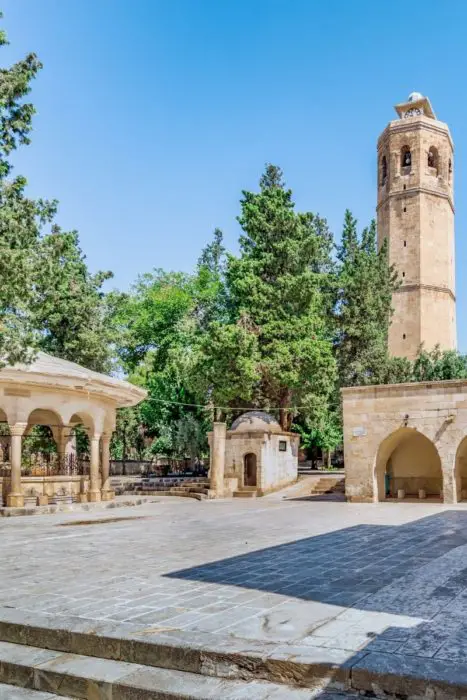 Price: free
Hours: N/A
Time needed: 30-60 minutes
WOTW rating: 4/5
Ulu Camii translates to 'grand mosque' and it is one of the most iconic sights in Urfa. Finished towards the end of the 12th century, Ulu Camii is the most ancient mosque in Urfa. The mosque consists of a beautiful clock tower on top of the minaret, that makes for quite a different looking aesthetic compared with the traditional ones seen throughout Turkey.
You can enter the beautiful courtyard to admire the architecture, and the interior is also open to visitors. Note that Ulu Camii is a functioning mosque, so remember to dress appropriately and to be respectful when entering.
Final Thoughts: Is Sanliurfa Worth Visiting?
Sanliurfa, Turkey has a number of interesting sights and has a hectic energy that can be enjoyed for a few days. While we were happy to explore Urfa's amazing history, especially that of Gobekli Tepe, we never felt a great connection with the city. For whatever reason it was more difficult for us to feel like were part of Sanliurfa's flow. Maybe it's because we were emotionally scarred from the Sira nights and because we literally didn't sleep in 4 days.
Thanks for reading!
G
Have any questions about visiting Sanliurfa? Ready to check-out the City of Prophets for yourself? Send us any questions or comments below, or DM us on Instagram.
Planning a trip to Turkey? Read these posts next:
Tired of reading? We have a full Turkey travel series on YouTube. Don't forget to Like & Subscribe 🙂
Did You Like This Travel Guide To Sanliurfa, Turkey? Share it on Pinterest!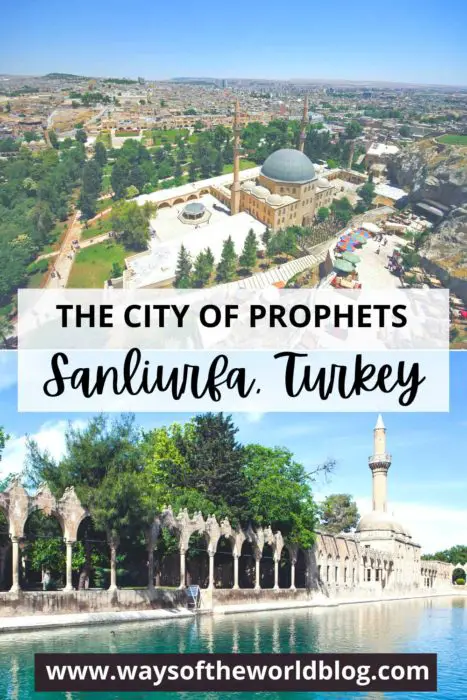 *Note: this post contains affiliate links. When you purchase from these links we might receive a small commission at no extra change to you. Affiliate income helps keep us on the road and producing content the we hope is useful to you!