If snow-covered mountains, rushing rivers, and alpine pastures are your idea of paradise, then go ahead and add Trabzon and Rize to your Turkey itinerary! This area's natural beauty is right up there with Cappadocia, Turkey as the country's most stunning. We fell absolutely in love with Trabzon and Rize's breathtaking wilderness, unique attractions, and friendly locals!
Unfortunately, there is not much information out there to help you plan a trip to Trabzon and Rize, Turkey. But lucky for you, we spent 9 days exploring these beautiful Black-Sea provinces. And after long drives through majestic mountains, white-knuckle adventures to alpine meadows, and failed attempts to reach some of the most epic destinations, we know how you can make the most of your trip here.
To be clear, we didn't necessarily visit Trabzon and Rize the right way. We spent too much time driving around and missed some amazing spots. That's why we are totally suited to write this objective travel guide for Trabzon and Rize, Turkey! Keep reading to discover the perfect week-long itinerary with the best things to do in Rize and Trabzon.
Estimated reading time: 37 minutes
Keep Reading To Discover The Ultimate Travel Guide And Itinerary For Trabzon And Rize, Turkey!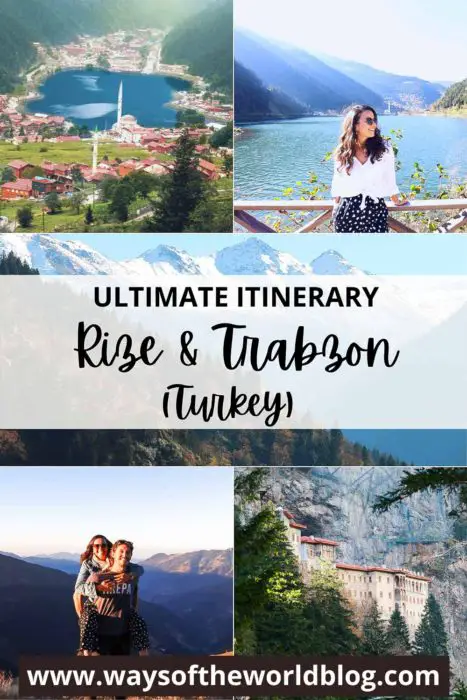 *This post contains affiliate links. If you book/purchase anything using our links, we receive a small commission at no extra cost to you! Thanks in advance for supporting WOTW!
About This Trabzon And Rize, Turkey Itinerary
This week-long itinerary for Trabzon and Rize hits all the major sites while traveling at a reasonable pace. Because the distances between major attractions are significant, the itinerary suggests moving your lodging 3 times so you can be situated as conveniently as possible to nearby attractions.
This itinerary is great for those with a high sense of adventure. Some of the destinations are pretty remote and require venturing off-the-beaten-path. But don't worry, if white-knuckle driving up to far-away mountain pastures is not your thing. We also include some other things to do in Rize and Trabzon that are more accessible.
Curious to discover more about Turkey's incredible Black Sea coast? Make sure to check out our post about beautiful little Amasra, Turkey! Amasra is one of the country's best small towns!
What To Expect When Visiting Trabzon And Rize, Turkey
It's helpful to know that Rize is the name of a province and a city. For the purpose of this post, we will talk about attractions in both the beautiful region and the seaside town. Also, the post contains some can't-miss sites in neighboring Trabzon province. The most popular things to do in both provinces can be experienced on the same itinerary.
What To Expect Around Trabzon & Rize Province
After spending 9 days traveling around Trabzon and Rize, we concluded that the following traits are essential to these regions' characters:
They are Turkey's primary tea-growing region.
They have spectacular mountain ranges and mountain-top plateaus called yaylas.
Rize is where Turkey's current President is originally from. You won't fail to notice this point if you spend any time there. Billboards of President Erodgan are everywhere!
The best dairy and honey products in Turkey come from these provinces. Fresh honey and butter on our breakfast rolls? Yes, please!
I expected that we were getting totally off the beaten path in Turkey when we took the overnight bus from the ancient city of Mardin to Rize. But to my surprise, some places in the region are well set up to accommodate a large number of visitors.
But with a bit of planning, it is still possible to explore the unmissable things to do in Trabzon and Rize without the crowds. Keep reading here to find out how to make the most of your trip in what are arguably the most beautiful regions in Turkey!
What To Expect In Rize City
We were surprised to find that Rize is a very religiously conservative city. In some respects, the vibe we got was similar to what we experienced when visiting Konya. We found a lot of traditional clothing, political conservatism, and absolutely zero other tourists in Rize city. We were surprised because we always imagine coastal towns to be more liberal, for whatever reason.
While Rize city isn't beautiful in the traditional sense, it is easy to get your bearings and feel like you are part of the city's flow. And because Rize doesn't receive many international tourists, the locals will be delighted to welcome you to their city. The people in Rize were among the friendliest we met in all of Turkey!
Note: we spent 8 nights in Rize city and only quickly passed through Trabzon city. Therefore we don't talk about Trabzon city here.
Can't wait to see Trabzon and Rize? Don't forget to watch as we explore one of our favorite regions in Turkey!
How To Get To Trabzon And Rize?
Trabzon and Rize are remote cities on Turkey's northeast coast, situated about 100 miles from the Georgian border. Despite being located far from Turkey's most popular spots, you shouldn't worry about how to get to Trabzon and Rize. Turkey's transportation network is fantastic, and you will have no problem finding your way there.
Getting To Trabzon & Rize By Bus
You can easily find bus tickets to any major Turkish city from almost anywhere. But the enormous distances you might need to travel to reach Rize is the actual problem. We took a nearly 20 hour overnight bus ride from Mardin to Rize! It was long and boring, but totally comfortable and easy. Here are some average drive times by bus from other popular destinations in Turkey:
Istanbul to Trabzon/Rize: 20 hours
Izmir to Trabzon/Rize: 21 hours
Antalya to Trabzon/Rize: 21 hours
Cappadocia (Nevşehir) to Trabzon/Rize: 15 hours
Gaziantep to Trabzon/Rize: 17 hours
WOTW Tip: it is easy and reliable to book your bus tickets online at obilet.com. Obilet is the best online place to purchase bus tickets in Turkey. Just take a screenshot of your reservation, or make sure you can access the confirmation sent to your email.
Getting To Trabzon & Rize By Plane
Trabzon Airport is the airport of choice when traveling to Trabzon and Rize by plane. Located about an hour away from Rize, Trabzon Airport is a convenient little airport that services direct flights from Istanbul and Ankara. On arrival, you can ask for a Havaş bus (pronounced Havash), which runs directly from the airport to Trabzon and Rize's city center, and vice-versa.
WOTW Tip #1: Turkish Airlines and Pegasus Airlines have extremely affordable domestic flights all throughout Turkey.

WOTW TIP #2: I use SkyScanner when searching for the best and cheapest flights, though I usually book directly through the airlines themselves when it's time to purchase our tickets.
How To Get Around Trabzon And Rize?
The region is relatively large, and many of Trabzon and Rize's most popular attractions are somewhat spread out. You will absolutely need a car if you want to see the most incredible places in a convenient amount of time. It is also possible to join tour groups to visit the hard-to-reach places, particularly the yaylas.
WOTW Tip: there are plenty of car rental places located in Trabzon and Rize. We rented a car from Avis in Rize and had a good experience. Remember to ask for a 4X4 if you plan to drive yourself into the remote mountains! A compact SUV is the best option for these narrow, pot-holed roads.
Are Trabzon And Rize Safe To Visit?
Trabzon and Rize are absolutely safe to visit. There is little reason to worry about your personal safety or the safety of your belongings while traveling here. The only disclaimer I would give is to avoid driving up to the more remote yaylas (mountain pastures) on your own if you are not a confident driver or if the conditions are poor. The roads are filled with holes, and space is tight in certain areas.
When To Visit Trabzon And Rize?
There are two main things to consider when deciding when to visit Trabzon and Rize, Turkey:
The weather: as Turkey's rainiest region, you have to be aware of weather conditions. We visited in early November and got absolutely lucky with cool, sunny days and gorgeous fall foliage. As a general rule, plan for rain but hope for the best.
The crowds: many of the region's attractions are extremely popular with local and Arab travelers. Who knew? If you prefer lighter crowds, then early October to May is your sweet spot. Just be aware that some sites may be closed.
The Perfect One-Week Trabzon And Rize, Turkey Itinerary
Remember that we didn't necessarily visit this part of Turkey the best way possible? Well, our loss is your gain. This section will highlight how to plan an absolutely epic one-week visit to the Rize and Trabzon area. We'll show you how to maximize your adventures in one of our favorite stops in Turkey! After all, we just want what's best for you.
Day 1: Arrive In Trabzon And Pick Up Your Rental Car For The Week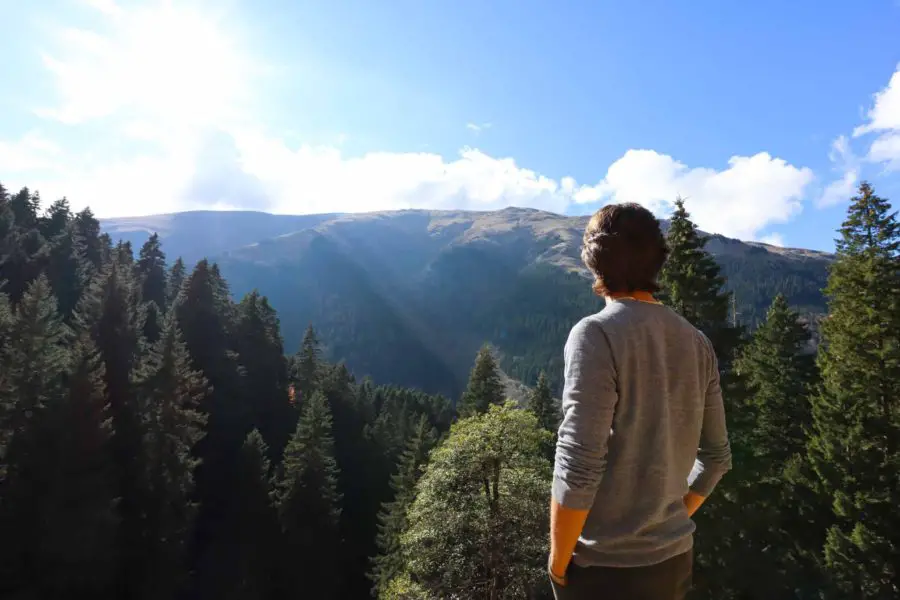 Trabzon will likely be your start and endpoint if you fly to this remote area. Therefore it makes sense to rent a car at Trabzon airport and return it to the same place at the end of your trip. While known as a friendly city, there is not an abundance of things to do in Trabzon. Unless you have a burning desire to check-out Trabzon city, it makes sense to immediately head into the mountains and check in to your hotel.
The next two days will be spent exploring the Sümela Monastery and its surrounding areas, so take the afternoon to relax in your hotel surrounded by beautiful wilderness.
Where To Stay Near Sümela Monastery?
There are several hotels near Sümela Monastery where you can be surrounded by the region's lush natural beauty. This mountain lodge is a beautiful yet affordable option close to the famous monastery. You will stay around Sümela Monastery for two nights.
Day 2: Explore Altindere National Park And Sümela Monastery
You will stay around Sümela Monastery on day two of the itinerary. Enjoy a guided hike through Trabzon's raw wilderness and the opportunity to enter one of the most stunning structures ever built! Day two kicks off your adventures around Trabzon and Rize with a great blend of nature and culture.
Morning: Take A Guided Hike Through Altindere National Park To Sümela Monastery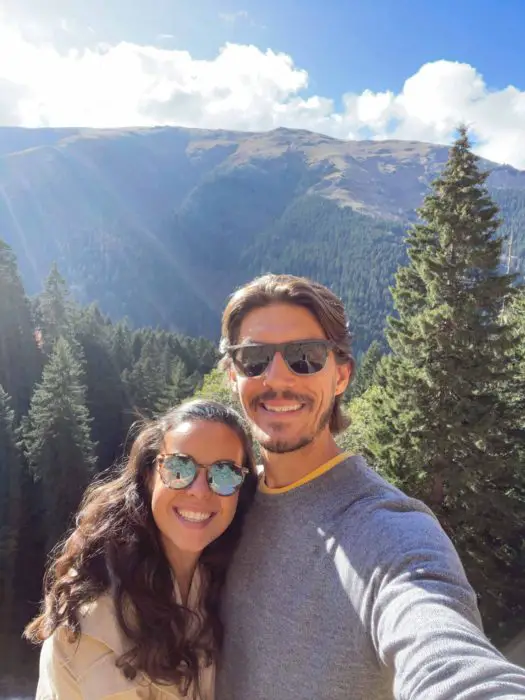 Price: $46 per person
Hours: 9:30 am-12:30 pm
Time needed: 3 hours
WOTW rating: N/A; sadly, I only found this guided hike after we left Rize 🙁
The unmissable Sümela Monastery can be found inside the breathtaking Altindere National Park. Driving through the national park will give you a sample of the area's natural wonders. But if you really want to experience the region's raw beauty, you should hike through Altindere National Park to Sümela Monastery!
Unlike national parks in the US, Turkey's national parks are not the most convenient for self-exploration. There is virtually zero information within the parks themselves, and there is limited signage informing visitors about hiking trails. While I can't vouch for its quality, this guided hike to Sümela Monastery looks excellent! Please confirm what's included with the guide to ensure that it is a good fit for you.
Fun Fact: we got somewhat lost looking for the Sumela Monastery and decided to try and hike in the direction that Google Maps was pointing us. We just got done saying how the mountains and forests reminded us of Canada when we saw giant bear prints on the trail! There are bears in Turkey!? We decided we wouldn't try and figure out if they were friendly bears and walked briskly back to our car.
Discovering bear tracks not your idea of a vacation? Make sure to read about our Turkey adventures at the beach! Read about the top things to do in our favorite beach town, Kas, beautiful Fethiye, and popular Oludeniz.
Afternoon: Explore The Jaw Dropping Sümela Monastery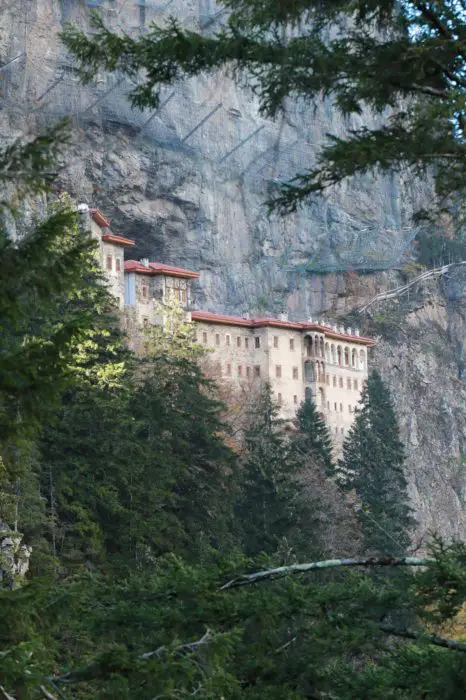 Price: 75 Lira, per person ($6.50 US).
Hours: 9 am-7 pm
Time needed: 1-2 hours depending on how many photos you like to take.
WOTW rating: 5/5
Sümela Monastery is an absolute must-visit when in Rize, Turkey. The stunning sight of a 4th-century monastery perched on a cliff is a highlight of any visit to this area. Constructed by Greek Orthodox Christians, the monastery is dedicated to the Virgin Mary, and it continues to hold great importance for the Greek Orthodox Church.
Sümela Monastery's interior was closed when we visited. But even though we couldn't go inside, we still loved the experience of seeing this absolute wonder from the outside. Add to that a scenic drive through Altindere National Park, beautiful fall foliage out in full force, and some aimless wandering through nature, and we had ourselves an unforgettable day!
WOTW Tip #1: Sümela Monastery's interior was closed in November 2021. Crews are securing the mountainside where Sümela is perched to prevent falling rocks from injuring visitors and from destroying the monastery. It was a bummer, and there was no online information indicating that it would be closed. If possible, have your host call ahead to check on the current situation.

WOTW Tip #2: there is very little signage in the area. If you are visiting in the off-season, and if Sümela is closed for repairs, you may just drive right by it like we did! Google Maps does not take you directly to where you need to go, so keep your eyes up on the mountain to look for the monastery!

WOTW Tip #3: there is a small church next to the path's starting point to Sümela Monastery. If Sümela is closed, then this tiny church is the best place to get a glimpse (and photos) of the beautiful monastery. Just walk up the steps to the end of the church.
Save This Post To Your Pinterest for Later!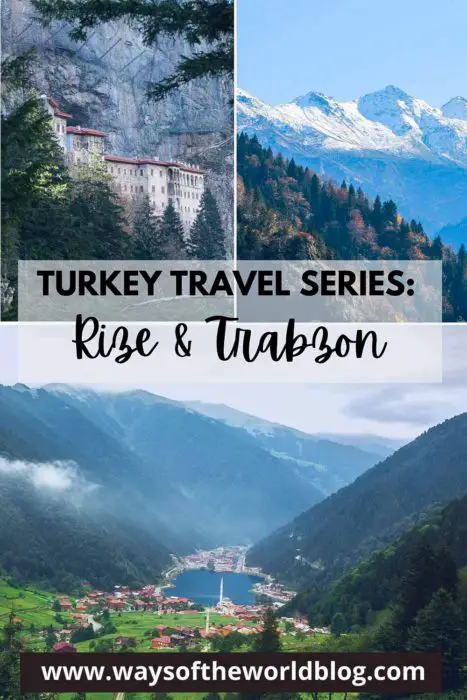 Day 3: Reenergize In Rize City
On day 3 you will pack up and leave Sümela and head to Rize city.
It hurts to be objective because we loved having Rize city as our base during our 9 days in the area. But for visitors short on time, it is tough to argue that it deserves more than a day on your itinerary. That said, Rize is still an excellent base for exploring Uzungöl before venturing east to the province's most well-known sites.
If you are interested in mixing-up your itinerary with a bit of city living, then there are enough things to do in Rize to keep you entertained for 24 hours.
Morning: Visit Rize's Chilled-Out Tea Garden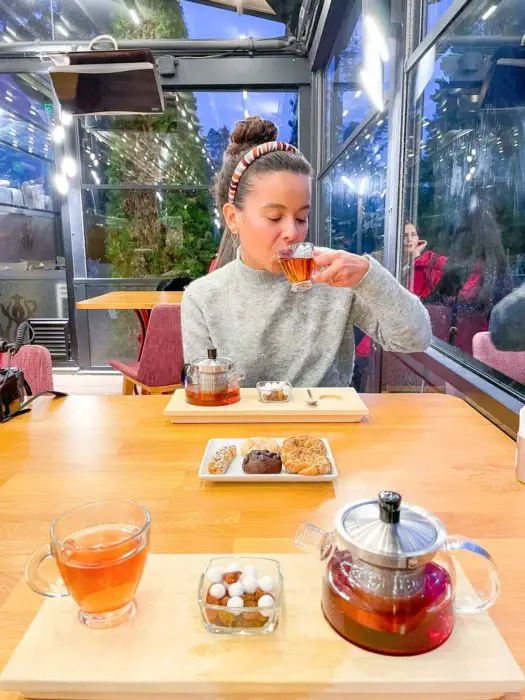 Price: the exclusive teas are not cheap by Turkish standards. You can expect to pay about $2 US for the premium teas that include lavender, hibiscus and other cool ingredients.
Hours: 9 am-11 pm
Time needed: 1 hour
WOTW rating: 5/5
Ziraat Tea Garden in Rize is probably the most famous attraction in town. The tea garden set at the top of a hill overlooking the city is a world away from Rize's hectic city center. There is a lush garden where you can walk around and a nice indoor restaurant where you can enjoy one-of-a-kind tea varieties that you won't find anywhere else in Turkey. This is a great place to relax and taste some truly unique tea varieties alongside delicious pastries.
Afternoon: Stroll Along Rize's Sea-Front Promenade
Price: free!
Hours: best experienced around sunset.
Time needed: 1 hour
WOTW rating: 3/5
Unlike any other coastal town that we have experienced, the pulse of Rize city does not beat around the waterfront. That said, if you wander out to the seaside promenade, you will run into many restaurants, bike rentals, and random carnival-style attractions for children. While it is not the most epic promenade, it's still a cool place to see Rize's locals enjoying the waterfront.
Afternoon: Walk Around Rize's City Center
Price: free (unless you buy something)
Hours: N/A
Time needed: 1-2 hours
WOTW rating: 4/5
Despite lacking any notable landmarks, Rize's busy little center is a great place to experience a completely non-touristy Turkish city. Check out the group of shops selling mounds of fresh butter, cheese, and honey. Also, make sure to go for some roasted chestnuts that are sold by the many street vendors across the city. They taste as good as they smell!
WOTW Tip: the honey and butter found in Rize are recognized globally for their incredible quality! The Hemshin people in this area are famed beekeepers and dairy farmers. Definitely don't forget to try honey and butter on your breakfast pastries!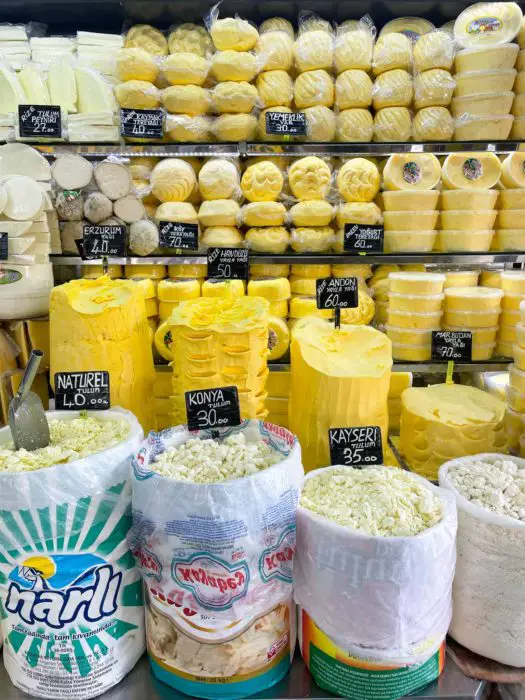 Sunset: Visit The Rize Castle For Epic Views
Price: free
Hours: 8am-12am
Time needed: 30 minutes
WOTW rating: N/A
A visit to the Rize Castle near the town center is an easy addition to your list of things to do in Rize. While it's unlikely that a visit to the old fortress will be the most memorable moment of your trip, it is an excellent spot to take in the views and kick back at one of the cafes.
Where To Stay In Rize City?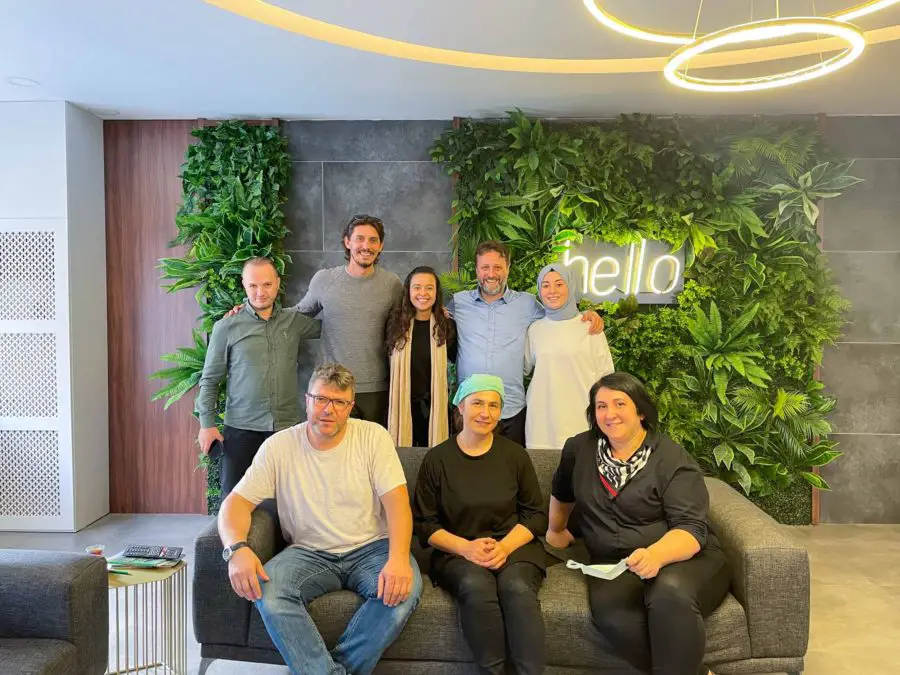 We stayed in the Rhisos Otel and had a fantastic experience. The rooms are relatively small, but the staff is beyond incredible, and they do everything to create a wonderful stay. The Rhisos Otel also serves a great breakfast from its wonderful top-floor terrace. You will stay in Rize city for 2 nights.
WOTW Tip #1: the Rize Meydani square is the approximate center of town. Check any lodging options in relation to the square if you would like to stay in the center of Rize.

WOTW Tip #2: our favorite place to eat in Rize city was by far Liman Lokantasi. The servers there were so friendly and the helped us work on our Turkish pronunciations. And the food was great too!
Day 4: Visit The Town Of Uzungöl And Your First Yayla
Day 4 of your Trabzon and Rize itinerary will require a bit of driving. Plan for the one-hour drive from Rize to Uzungöl (each way) and about 30-45 minutes to head up to Karester Yayla (each way).
Morning: Drive To Uzungöl And Walk Around The Picturesque Town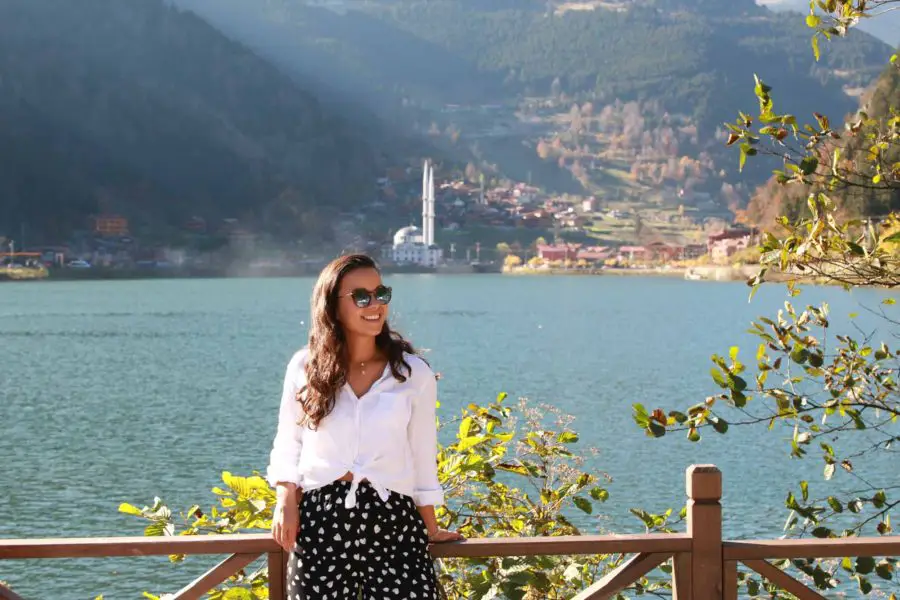 Price: free
Hours: N/A
Time needed: 2-4 hours
WOTW rating: 4/5*
Uzungöl is known as the Switzerland of Turkey. I'm not sure why people always need to compare things. I prefer to think of Uzungöl as the Uzungöl of Turkey. These are the types of hot takes that I'm sure you are looking for from your favorite travel blog!
Uzungöl is a picturesque lake town located about an hour's drive from Rize city. While its beauty can't be argued, Uzungöl also gets very crowded with visitors during the high season. And judging by the activities and shops around town, it seems like carnival-style attractions and staged photos are the most popular things to do in Uzungöl.
The highlight of our visit to Uzungöl was a relaxed walk around the lake and enjoying a warm cappuccino lake-side. There is also an observation deck that you can access from the street to get beautiful lake views. However, the vista will be similar to what you will get from Uzungöl's mountainside restaurants.
WOTW Tip #1: Uzungöl is the first destination that received an asterisk next to its rating. This is because our experience would likely vary depending on when we visited. Uzungöl is immensely popular, and being there with carnival vibes would have taken away from our experience. We visited in early November, and even though the weather was chilly, there were very few other visitors.

WOTW Tip #2: it is possible to paraglide in Uzungöl. If you want to pump some adrenaline into your visit, then definitely consider going paragliding. We went paragliding in Fethiye and absolutely loved it!
Afternoon: Drive Up To Karester Yayla For Your First Mountain Pasture Adventure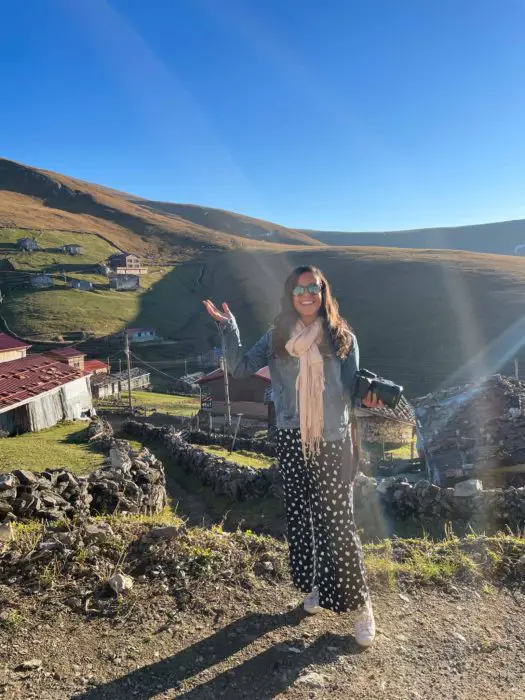 Price: free
Hours: the drive would be sketchy after sunset, so plan accordingly.
Time needed: 30-60 minutes; about a 30 minute drive from the center of Uzungöl.
WOTW rating: 5/5
If you continue on the road leading up to Uzungöl's viewpoint restaurants, you can explore your very first yayla! YAYYY-la! Because there are not a ton of things to do in town, adding Karester Yaylasi to your Uzungöl itinerary is a fantastic way to add a unique experience to your day.
Yaylas are alpine meadows or pastures where local farmers raise their livestock to produce dairy products. The landscapes are one-of-a-kind, with beautiful vistas surrounding lush fields with grazing cows.
Unfortunately for us, the pastures at Karaster Yaylasi were empty because the farmers and their cows had moved to warmer places for the winter. But we still loved wandering around the village and taking in the incredible views even though the yayla was empty.
WOTW Tip: the road up to Karester Yaylasi is not the absolute worst. The roughest section is up to the restaurants overlooking Uzungöl. But once you pass the restaurants, the path becomes wider and much less busy. That said, it requires 100% attention because there are no guardrails to protect you from the edges. Also, it will be more challenging to see the giant potholes if it has been raining.
Sunset: Enjoy The Views Of Lake Uzungöl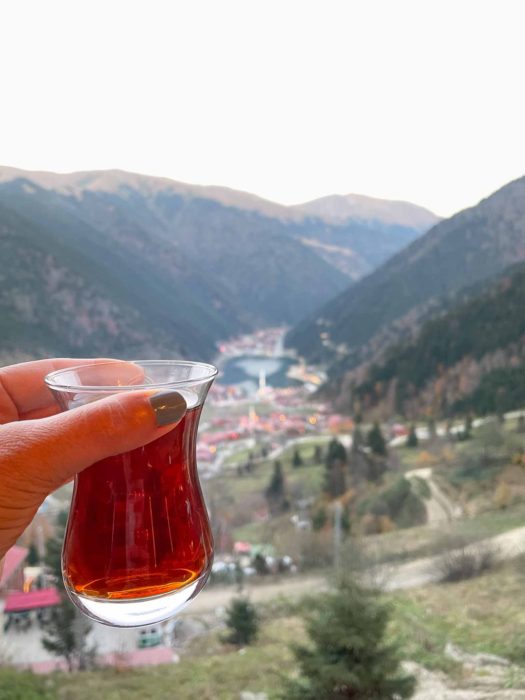 Price: slightly higher than most standard Turkish restaurants. We paid about $8 US for two appetizers, waters and tea.
Hours: 8 am – 12 am
Time needed: 1 hour
WOTW rating: 4/5
Uzungöl has a handful of restaurants located on the surrounding mountainsides that overlook the lake. We visited two, and our favorite was Şomine Kafe, situated the farthest up the mountain. The drive is a bit of an adventure, but it is doable with a little bit of caution.
The restaurants are great for warming up with some local soup or tea after your adventure to the Karaster Yaylasi. The staff at Şomine Kafe were super friendly, and they said we were the first Americans they had ever welcomed to their restaurant! Hopefully, we won't be the last.
WOTW Tip: many people try kuymak, a regional specialty, while in Uzungöl. We tried it at one of the mountainside restaurants, and it felt more like a tourist attraction than an actual dish made to enjoy. I am more confident making that claim because we tried kuymak at an adorable little spot off the road which was much tastier!
Day 5. Road Trip To Some Of Çamlihemşin's Most Famous Stops
On day 5 you will pack up and leave Rize to head to Çamlihemşin. Located a one-hour drive from the center of Rize, the Çamlihemşin region is the province's most recognized destination. This will be another day where you will put a lot of miles on your car, but you will be rewarded by a gorgeous route through Kaçkar National Park.
Morning: Head To Senyuva Bridge And Grab An Early Snack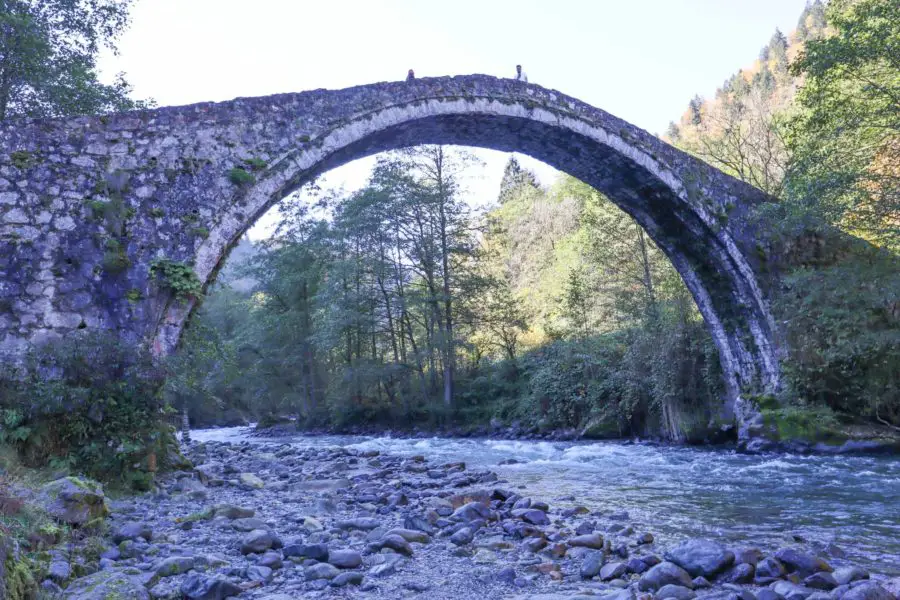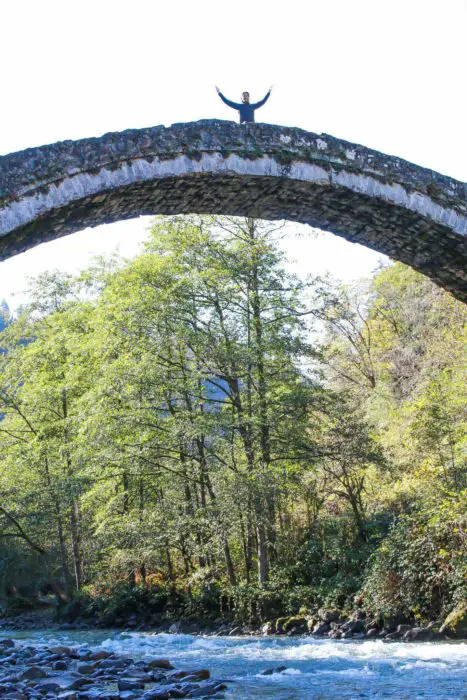 Price: free
Hours: N/A
Time needed: 60-90 minutes (including a stop at the restaurant)
WOTW rating: 4/5
The first stop on your mini road trip will be Senyuva Bridge. Along the Firtina River are 20 beautiful Ottoman Bridges, with Senyuva Bridge being the most popular. It is a great place for taking gorgeous photos and enjoying pristine nature. Don't forget to visit the cute little family-run restaurant and try delicious kuymac. It was way better than the one we tried in Uzungöl!
Afternoon: Stop By Zil Castle And Palovit Waterfall Before A Relaxed Evening In Town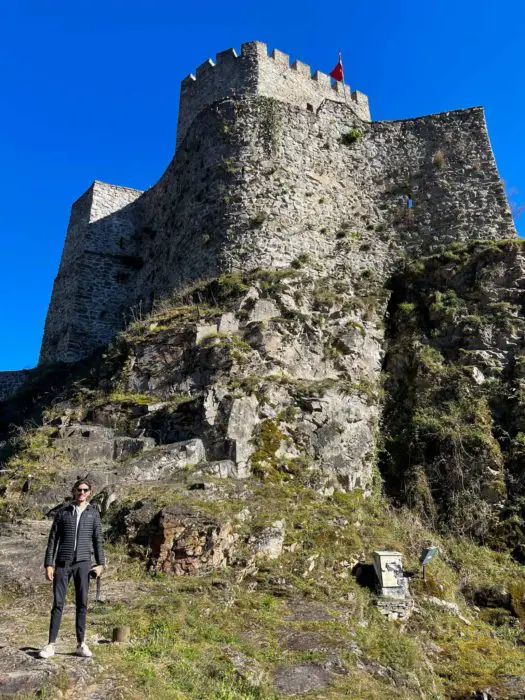 Price: only Zil Kale has an entry fee of 4 Lira ($0.35 US)
Hours: Zil Castle: 9 am – 8 pm
Time needed: 30-45 minutes at each stop.
WOTW rating: 4/5
From Senyuva Castle you can make a quick stop at Zil Castle, because why not? Nobody would consider Zil Castle one of the most epic things to do in Rize, but still, it's a nice little break between Senyuva Bridge and Palovit Waterfall.
Finally, you will reach the powerful Palovit Waterfall, where you can climb down and get drenched by the spray of the falling water.
You will want to head back to your hotel early to get out of your damp clothes and enjoy a relaxed evening and the incredible lodging options in Çamlihemşin.
Where To Stay Around Çamlihemşin
There are incredible places to stay around Çamlihemşin! After your epic adventures you'll be able to rest your head in dream cabins with gorgeous river views. You will stay here for three nights.
Day 6: Go Hiking Through The Extraordinary Kaçkar Mountains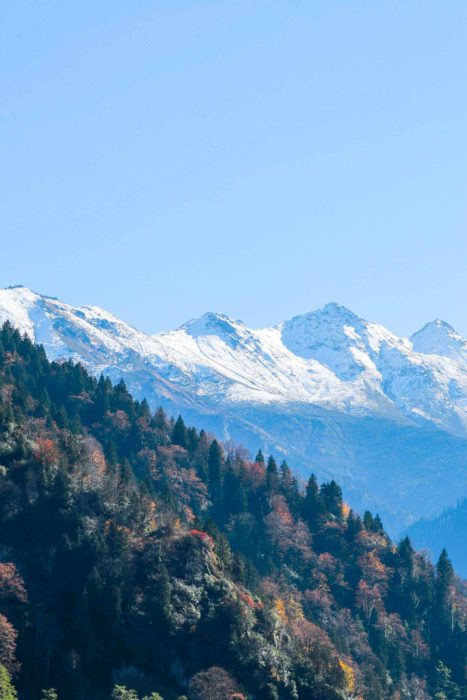 Price: free
Hours: N/A
Time needed: varies
WOTW rating: N/A
It was a total OMG moment when we first caught a glimpse of the Kaçkar Mountain range. We thought we already had been driving through Rize's most impressive mountains. But when we saw those snow-capped peaks in the distance, we realized that we ain't seen nothing yet. Seeing the Kaçkar Mountains blanketed in snow emerge was a complete shock. We had no idea that Rize had such dramatic landscapes!
The Kaçkar Mountains are known as one of the best hiking destinations in Turkey. If you are a hiking enthusiast, then the chance to trek among peaks over 2 miles above sea level and through yaylas with grazing livestock is once in a lifetime.
WOTW Tip: it is not easy to find hiking trails in the Kaçkar Mountains. All Trails lists two hikes that range between 5.5 and 6.5 hours. These are serious hikes, so you'll need proper footwear and equipment.
Day 7: Enjoy A Relaxed Day On The Famous Pokut Yaylasi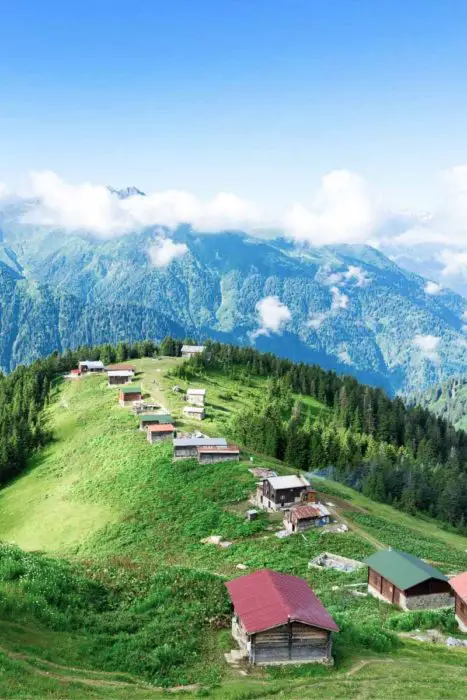 Price: free
Hours: it's best to avoid driving up or back from Pokut Yaylasi in the dark.
Time needed: 2-4 hours
WOTW rating: N/A
Pokut Yaylasi might be the most famous attraction in Rize. Visitors can enjoy incredible views of clouds rolling over the pasture while staying cozy with Turkish tea. There are now several lodging options that allow you to catch epic sunrise and sunsets in one of the most unique landscapes in all of Turkey!
Unfortunately, we did not have the appropriate car to make a trip up to this yayla. Also, it's a two-hour drive from the town of Çamlihemşin, so it is not exactly the most convenient to access. But if you are up for an adventure, then Pokut Yaylasi is an unforgettable thing to do in Rize.
WOTW Tip: the roads up to Pokut Yaylasi are apparently in very bad shape. Traveling up with your own car could be dangerous if you don't have 4×4 vehicle or if the road conditions are poor.
Sign-up To Our Newsletter To Receive Useful Travel Tips From Our Next Destinations!
Other Things To Do In Rize
Visit Ayder Yayla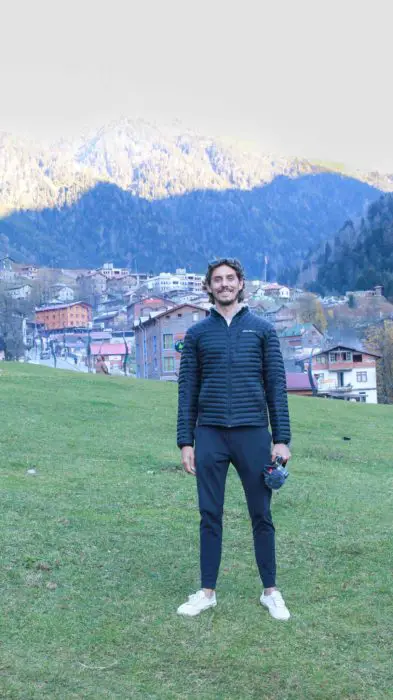 Price: e

ntry to the National Park

is 11 Lira per car ($1.20 US).
Hours: N/A
Time needed: 1-4 hours
WOTW rating: 3/5
Ayder is the most easily accessed, and therefore, most popular yayla for visitors to Trabzon and Rize, Turkey. The area around Ayder Yayla is developed with shops and restaurants, and the vibe is definitely more commercial than other yaylas. However, if you simply want to get a sense of what these mountain pastures are all about, then Ayder is an easy win.
WOTW Tip: also in Kaçkar Mountain National Park, Huser Yaylasi is far more remote and much less commercial than Ayder. Tours can take you up to Huser Yaylasi, and it is advised not to try and reach it on your own, as the roads are in poor shape.
Go On A Whitewater Rafting Adventure On The Firtina River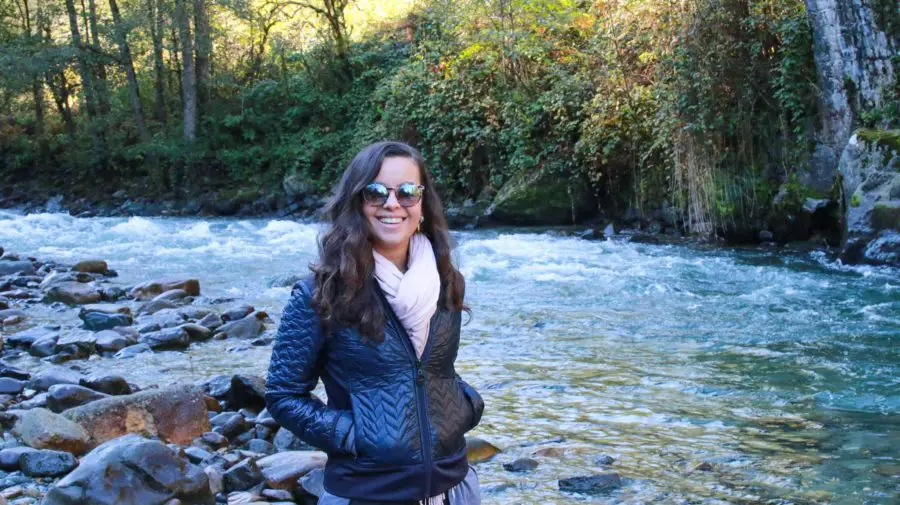 Price: 240-360 Lira depending on difficulty and time.
Hours: N/A
Time needed: varies
WOTW rating: N/A
There are a ridiculous number of whitewater rafting operators along the Firtina River in Rize. And no matter your experience level, you can find whitewater rafting adventures in Rize, Turkey to suit your abilities. This is a perfect option if you want to get your adrenaline pumping while also admiring Rize's impressive natural beauty.
Click for the most popular rafting options offered by the most reviewed operator in Rize.
WOTW Tip: available rafting excursions can change based on the season and water conditions.
Explore The Çeçeva Tea Plantation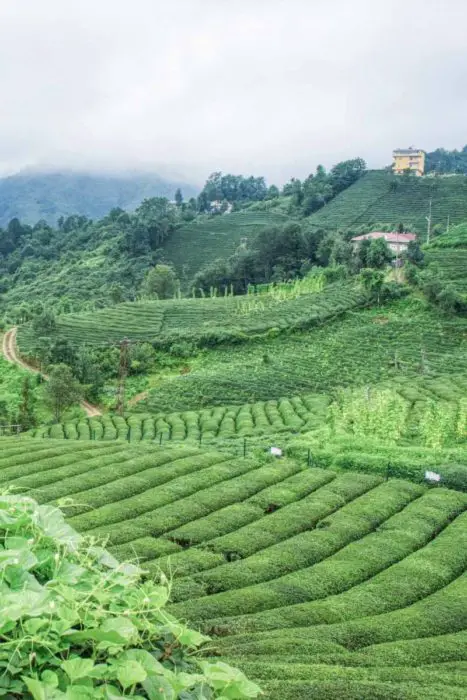 Price: 5 Lira ($0.45 US)
Hours: 7 am-10 pm
Time needed: 1-2 hours
WOTW rating: N/A
Rize's mountainsides are covered in tea plantations. Unfortunately, if you want to visit a plantation to see how Turkey's highest-quality tea is made, you need to do some homework. Or just keep reading the next paragraph because we already did that for you 🙂
Located about a 30-minute drive east of Rize, the Çeçeva Tea Plantation is a friendly location to explore how tea is grown and produced. It's also a fantastic place to enjoy Turkey's highest quality tea and some delicious regional food!
Final Thoughts On Visiting Trabzon And Rize, Turkey
Rize is not an easy place to visit, and the gorgeous wilderness is not the most accessible for first-time visitors who don't know their way around. That said, we absolutely loved Rize city and its beautiful surroundings. We left Rize feeling like there was still more to explore, and we are hopeful that life will bring us back to that part of Turkey in the future.
After 3 months of slow-traveling through Turkey, we can say that Rize is high on our list of favorite places in Turkey!
Thanks for reading!
G
Have any questions about visiting Trabzon and Rize? Are you ready to explore Turkey's Black-Sea Region? Let us know your thoughts in the comments or DM us on Instagram!
Planning A Trip To Turkey? Read These Posts Next:
Tired of reading? We have an entire Turkey travel series on YouTube! Don't forget to like & subscribe while you're there 🙂
Did You Like This Ultimate Guide And Itinerary To Trabzon & Rize, Turkey? Share it on Pinterest!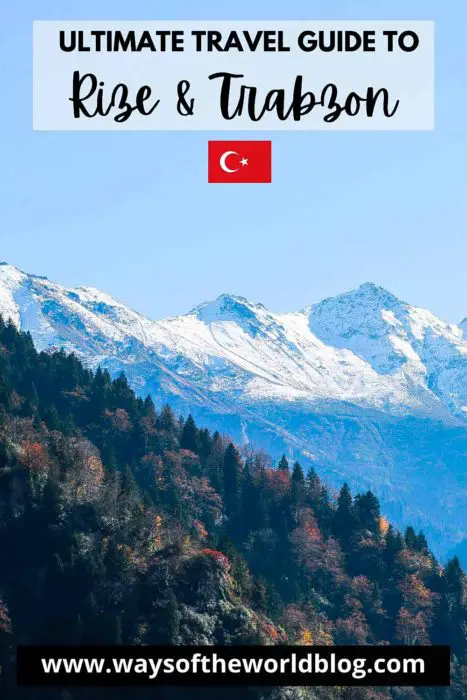 *Note: this post contains affiliate links. When you purchase from these links, we might receive a small commission at no extra charge to you. Affiliate income helps to keep us on the road producing content that we hope is useful to you!